Traditional pecan pie gets a flavor makeover with the addition of brown butter and bourbon! The resulting gooey, sweet, and flavorful pecan pie is anything but traditional!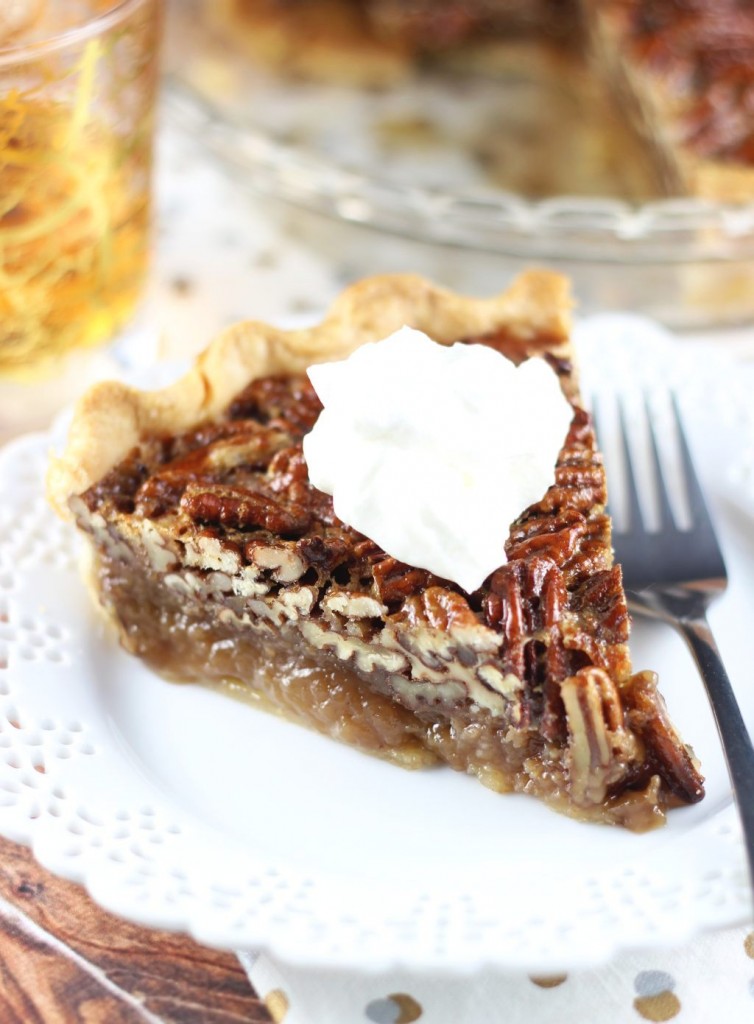 Omgosh, you guys. When I was talking about all the brown butter recipes I have coming up, I wasn't even exaggerating. I started editing pictures and was jotting down a list of all the recipes I have ready for fall, and I just kept writing "brown butter" over and over. I almost couldn't believe how much I got carried away.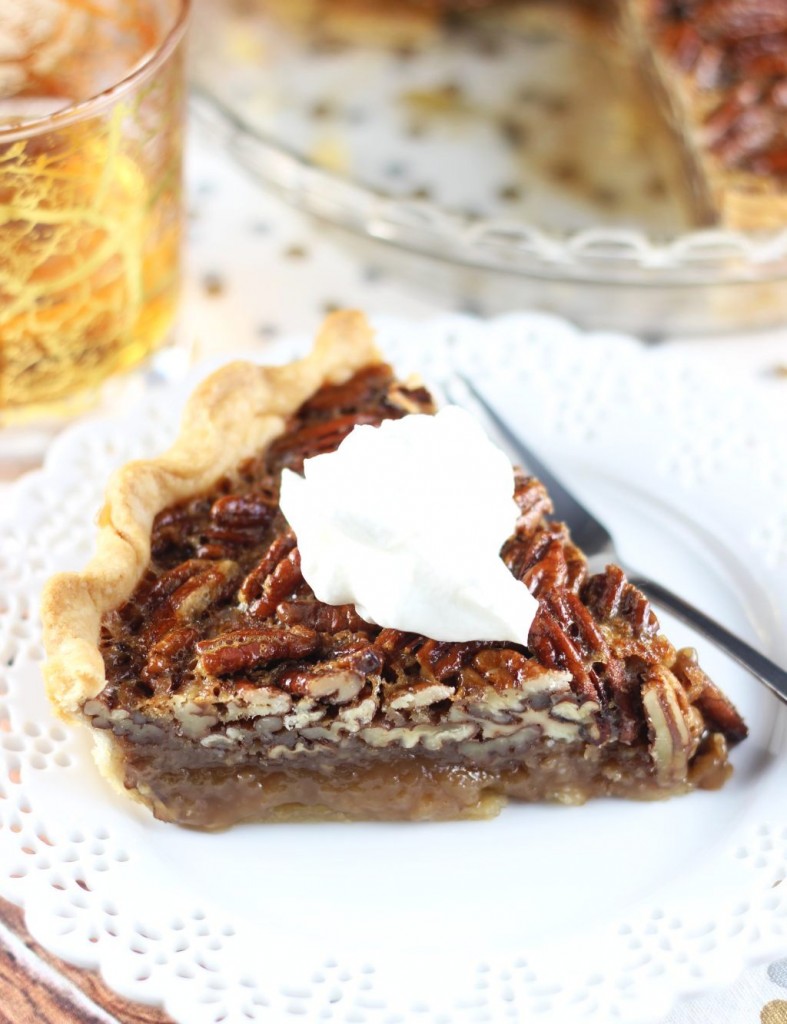 This is not bad news. Anything but. Who doesn't want 8,000 more brown butter recipes in their collection? Still, I could've diversified a little more!
I guess I just feel like if you are melting butter for a recipe anyway, you might as well brown it! Anybody else?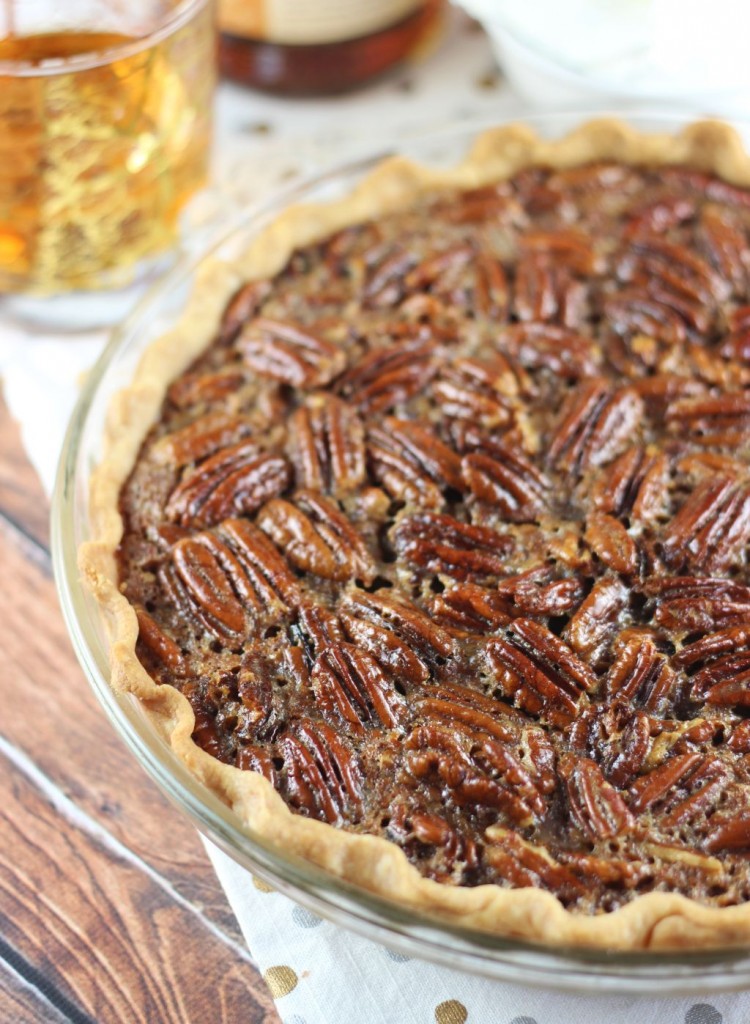 And while we're on the subject of ingredients with which I become overly-infatuated with and binge on, this pie also has bourbon! Wait that came out wrong. I don't binge on bourbon. By itself. I mean I have, but not recently. Okay, I never have. Unless it's in a dessert, I hate bourbon. Though I have binged on other liquors, but thankfully those days are long gone. We're getting very off topic here.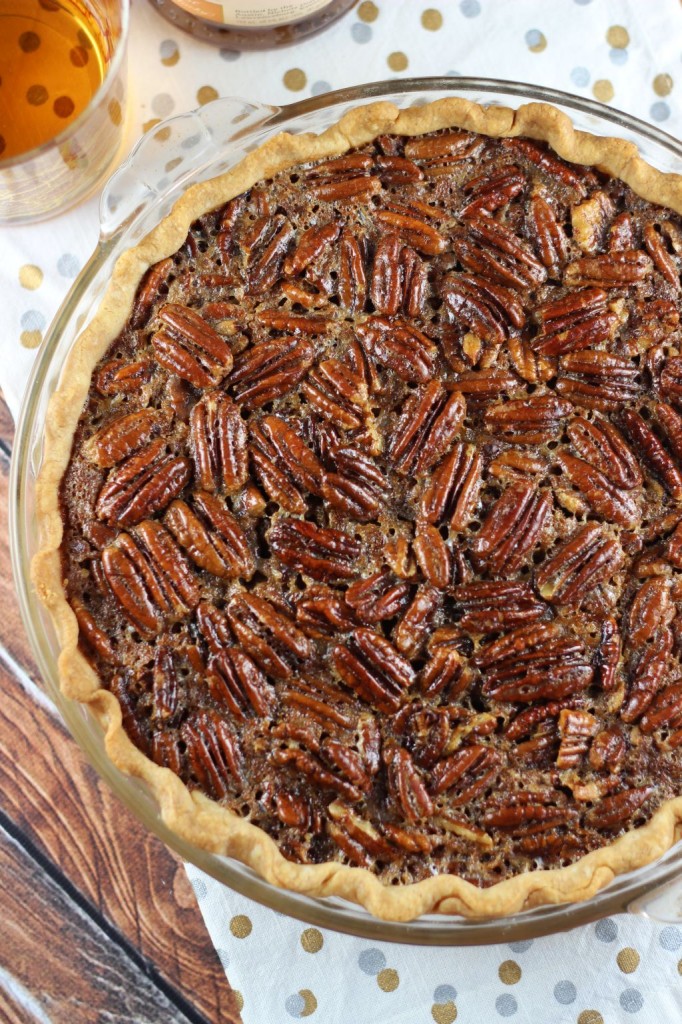 Back to the subject at hand: bourbon in baked goods. It's delightful! Bourbon in almost any other setting = intolerable swill. But in baked goods, like this perfect pecan pie, it adds richness, depth, and caramel-like flavors. It just gives an extra level of richness and warmth that you don't get without it.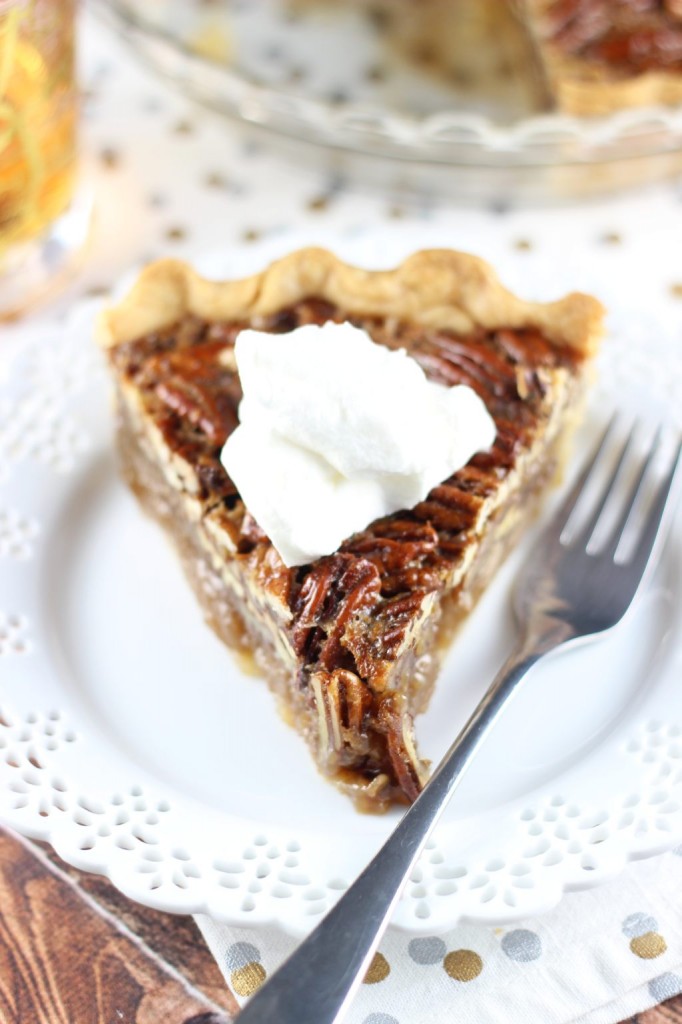 Brown butter… well, I could go on and on, but it has a pretty similar effect as the bourbon, but still different too. The brown butter also adds richness, depth, and nutty, caramel-like flavors, but the flavors are still different from the bourbon. They have different essences, so while they lend similar characteristics to the recipe, the underlying flavors are different. Hmmmm, how do I explain this? Just try the pie. K?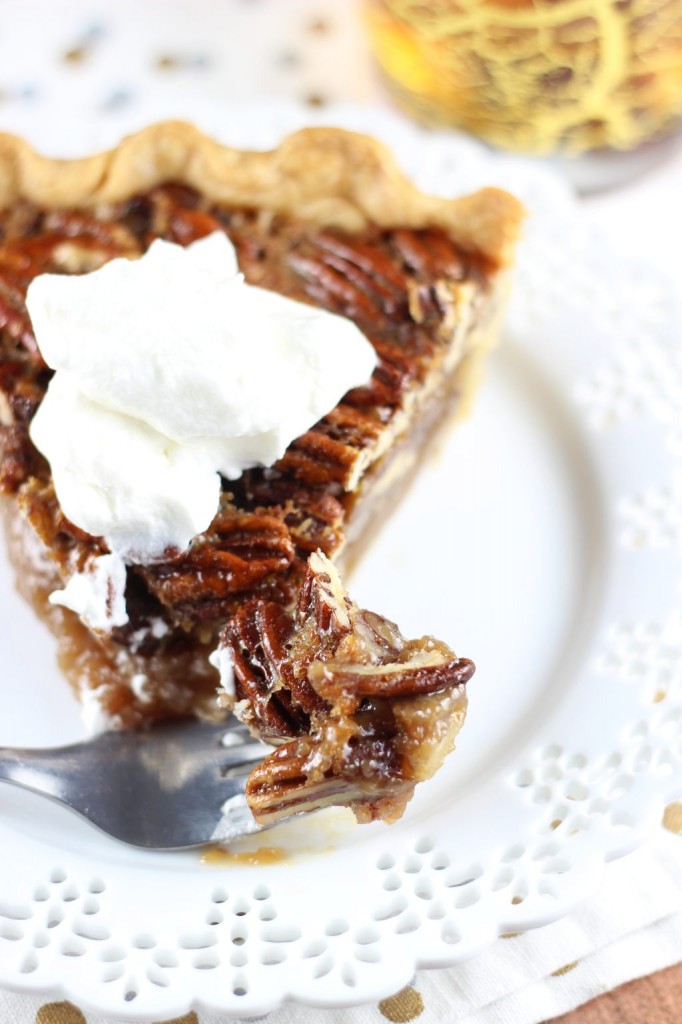 It's ooey, gooey, sweet, and full of buttery pecans, sugar, and corn syrup. You get all the favorite things you love about traditional pecan pie, but with deeper and richer flavors. With a dollop of fresh homemade whipped cream, spiked with a teensy bit of bourbon, well, this particular pie is quite sensational.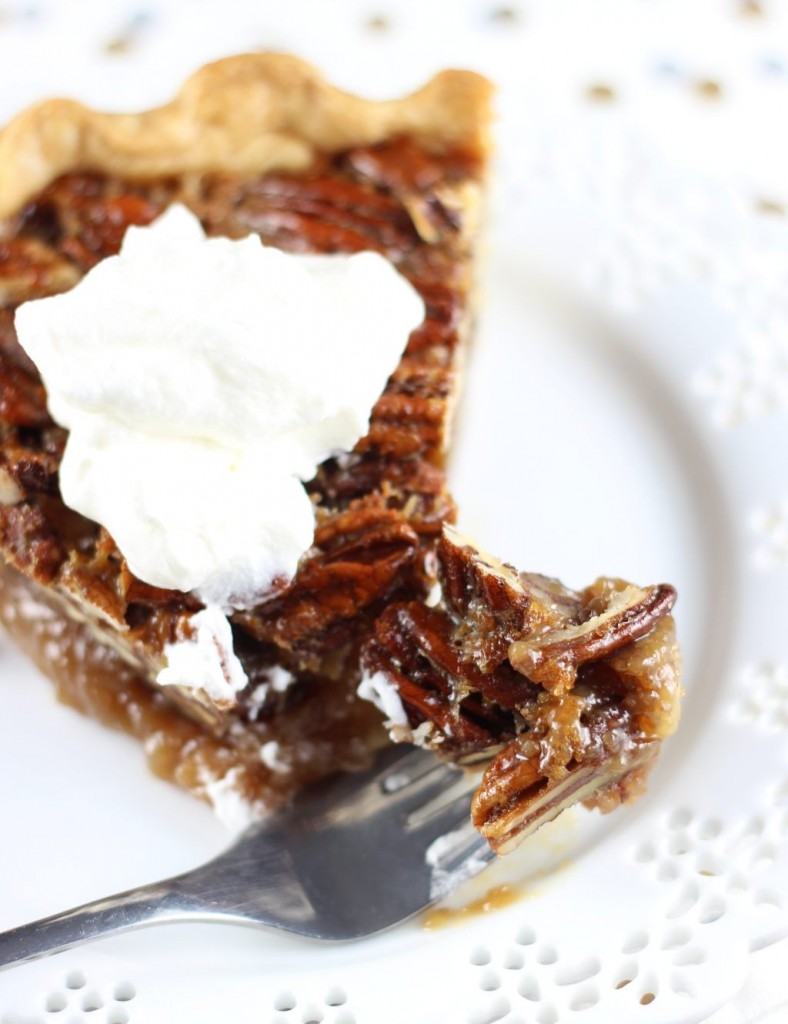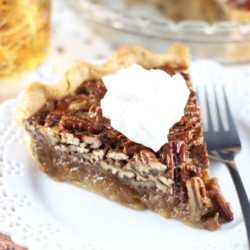 Brown Butter Bourbon Pecan Pie
An unconventional pecan pie that starts with a brown butter and bourbon base!
Ingredients
For pie:
1 - 9-

inch

unbaked prepared pie crust

1/2

c.

unsalted butter

1 1/3

c.

dark corn syrup

1

c.

sugar

4

large eggs

3

tbsp.

bourbon

2

tsp.

vanilla

2

c.

pecan halves
For whipped cream:
1 1/2

c.

heavy cream

3

tbsp.

powdered sugar

1-2

tbsp.

bourbon
Instructions
For pie:
Melt butter in a small saucepan over medium heat, stirring frequently, until golden brown. It will develop brown flecks and a nutty fragrance. (About 6-8 minutes.)

Add the dark corn syrup and sugar, cooking for an additional 1-2 minutes, or until the sugar is dissolved.

Remove from heat and cool for 10-15 minutes, or until the mixture is close to room temperature.

Whisk in the eggs, bourbon, and vanilla.

Fold in the pecan halves.

Pour the mixture into the unbaked pie shell.

Bake at 350 degrees for 40-45 minutes, or until the center of the pie puffs, and the filling is set.

Transfer to a wire rack to cool completely. It helps to chill the pie in the refrigerator for 1-2 hours before cutting. Even if you serve the pie at room temperature, an hour or so in the fridge helps it to firm up.
For whipped cream:
Combine heavy cream and powdered sugar in a large mixing bowl.

Beat until the mixture just reaches stiff peaks, about 5-6 minutes.

Beat in the bourbon. Serve with the pie!