Homemade soft pretzels start out with pumpkin beer as a base! What goes together better than beer and pretzels?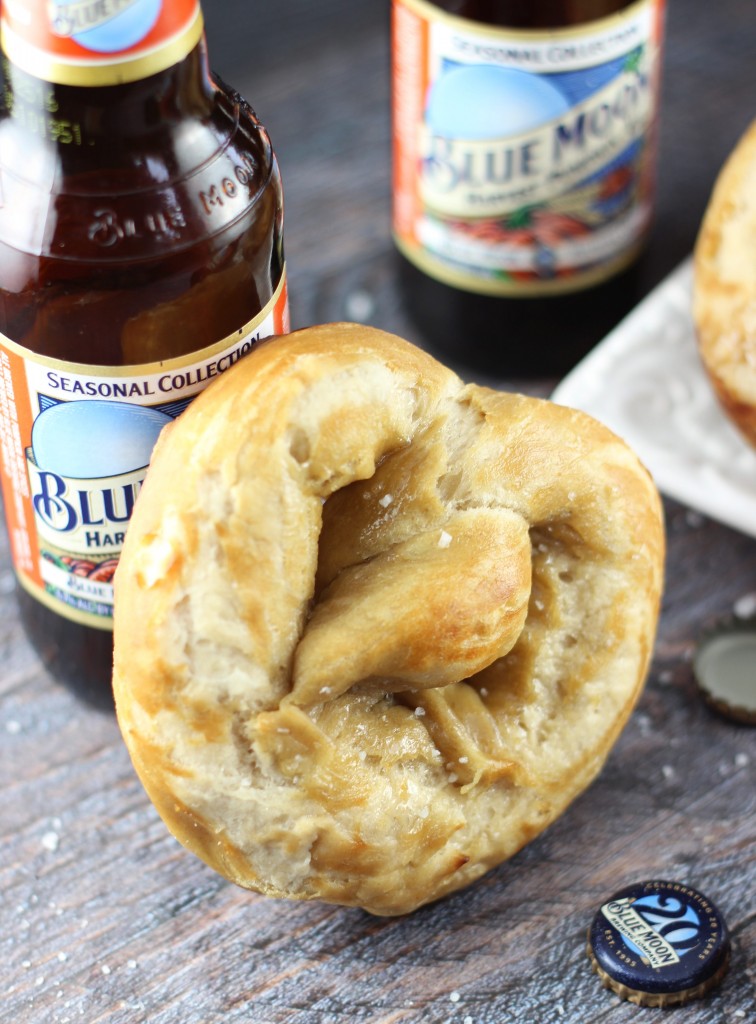 It's finally football season. FI.NAL.LY. I seriously wait all year for it to be football season. And it's here! At long last. What better way to kick it off than with beer soft pretzels, amiright? Right. And they are made with PUMPKIN beer. Is there anything they won't cram pumpkin into? Nope. Thank goodness. All pumpkin, all the time.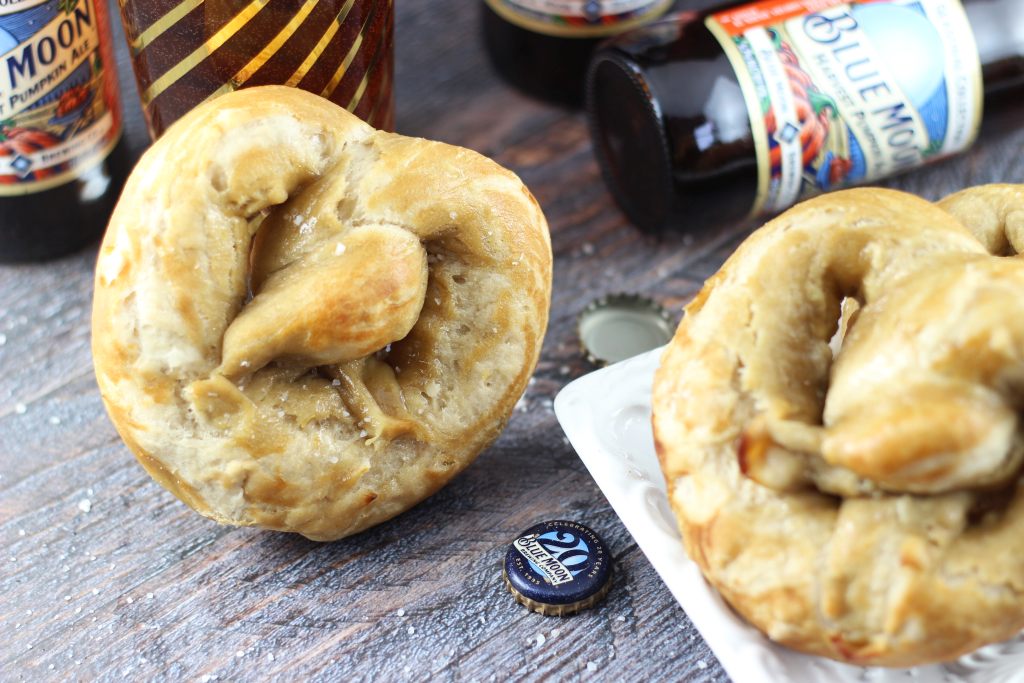 I wanted to share this recipe earlier in the day today, but even though it's about 5:30pm (by the time I hit 'publish'!), you could still actually make these soft pretzels, and have them fresh from the oven before 8:30pm kickoff. And with a ton of time to spare. They are quite quick. Easy too. And that's coming from someone who is heavily challenged in the yeast-based breads department. If I can make them, anybody can make them. I typically don't even attempt recipes requiring yeast, but I've made these 4 or 5 times with success.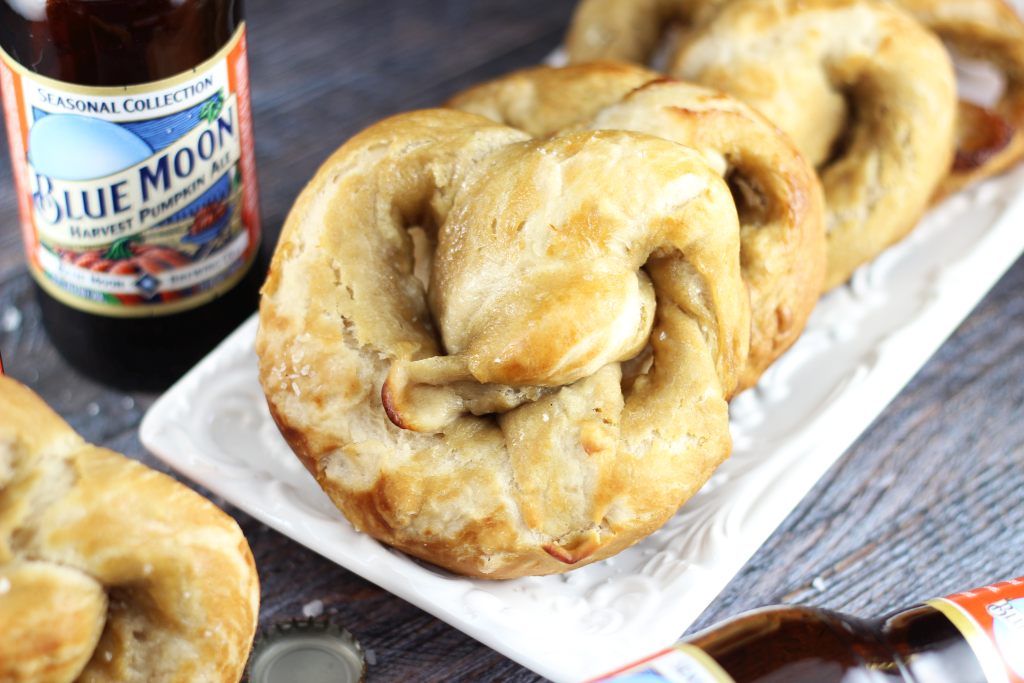 I ate the last batch in two days flat, without any help from my S.O. whatsoever. I don't even think he had a single bite. They were gone too fast. Admittedly, I have a soft pretzel addiction anyway and lose all control around them, but these were exceptional.
They're salty and buttery, of course, but  also slightly sweet and you catch a little bit of warm spices like cinnamon too. The beer flavor is detectable, but not overwhelming. You definitely know that pumpkin beer went into the dough, but it doesn't overtake the whole flavor profile. It adds the perfect amount of pumpkin beer flavor, basically, while still feeling like it's a traditional soft pretzel. I love them and am totally hooked. You can make them in an hour and a half… an hour of which is idle time while the dough rises. Easy peasy.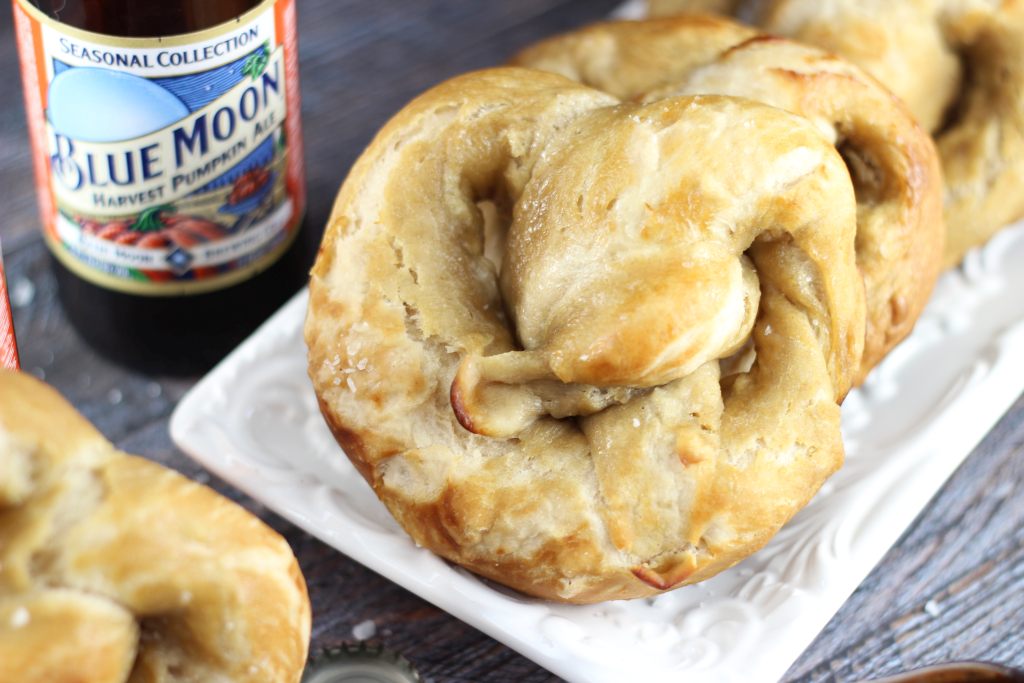 If you get to work now, you could actually make these AND a pie, and still be sitting down for kickoff. 😉
So who are you rooting for tonight? I'm going to give it to you straight: I hate both teams. BUT, my disdain for one team trumps the other by a long shot. I dare not say which.
Happy football season!!!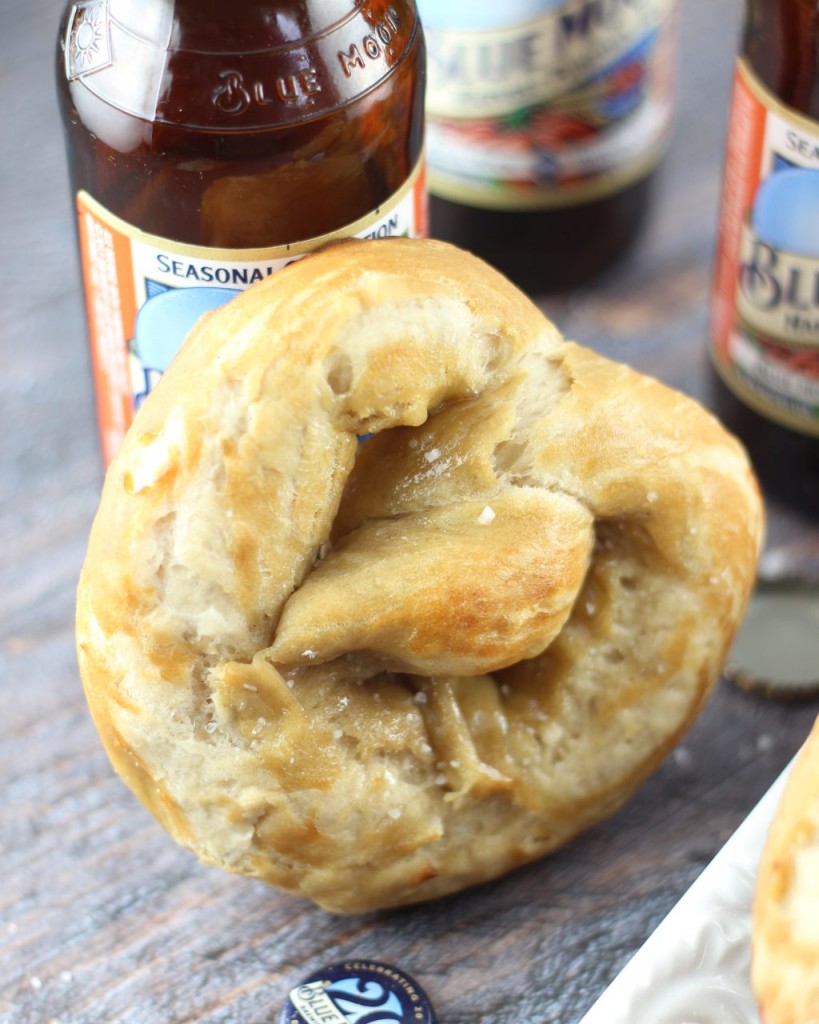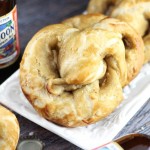 Pumpkin Beer Soft Pretzels
Homemade soft pretzels start out with pumpkin beer as a base! What goes together better than beer and pretzels?
Prep Time
1
hour
20
minutes
Total Time
1
hour
30
minutes
Ingredients
1 - 12

oz.

bottle pumpkin beer

I love Blue Moon's seasonal Harvest Moon Pumpkin Ale, at room temperature

1

envelope

1/4 oz. active dry yeast

3

tbsp.

unsalted butter

melted

2

tbsp.

sugar

1

tsp.

salt

3 1/2 - 4

c.

flour

8

c.

water

1/2

c.

baking soda

3

tbsp.

unsalted butter

melted

coarse sea salt
Instructions
Pour the room temperature beer into a microwave safe bowl or large mug. Microwave for 45 seconds. It should be about 100 degrees.

Add the yeast to the beer, and stir until dissolved.

In a large mixing bowl, combine butter, sugar, salt, 3 c. flour, and the yeast-beer mixture.

Beat on medium speed until smooth.

Add enough flour to form a soft, smooth dough, but still sticky.

Turn the dough out onto a lightly floured surface, and knead for 5-6 minutes, or until it's very smooth and elastic.

Place in a large greased bowl, making sure to lightly grease the top of the dough, and cover it with plastic wrap.

Let it rise until double in size, about 1 hour.

Punch the dough down, and turn it out onto a lightly floured surface.

Divide the dough into 8 equal pieces.

Roll the pieces into 18-inch ropes, and form into pretzel shapes.

In a large pot, bring the water and baking soda to a boil.

Carefully drop the pretzels, one at a time, into the boiling water.

Boil for 1 minute, then remove from water with a slotted spoon, draining any excess water.

Place the pretzels 2 inches apart on greased baking sheets.

Brush the melted butter onto the pretzels, and sprinkle them with coarse sea salt.

Bake at 425 degrees for 10-11 minutes, or until golden brown.

Remove to wire racks to cool completely. Enjoy!!