Soft, chewy homemade soft pretzels recipe! Butter-soaked, pillowy soft pretzels with a slightly crisp exterior! So easy to make, and fresh from the oven in 90 minutes or less!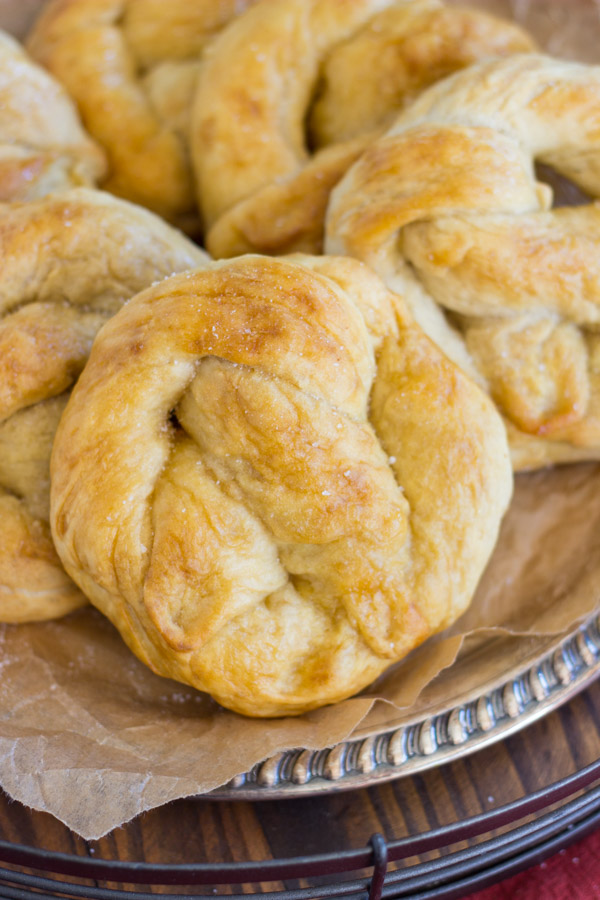 We were watching the Pro Bowl last night, and I realized that the Super Bowl is coming up next weekend. It snuck up quickly! I nearly forgot that I actually have Super Bowl recipes for you this year, but that's not helpful to you if I don't get them posted.
I can't believe I actually managed to prepare for the Super Bowl this year. In fact, I was so on top of things that I made my Super Bowl recipes in SEPTEMBER. Long before I even made Thanksgiving and Christmas recipes.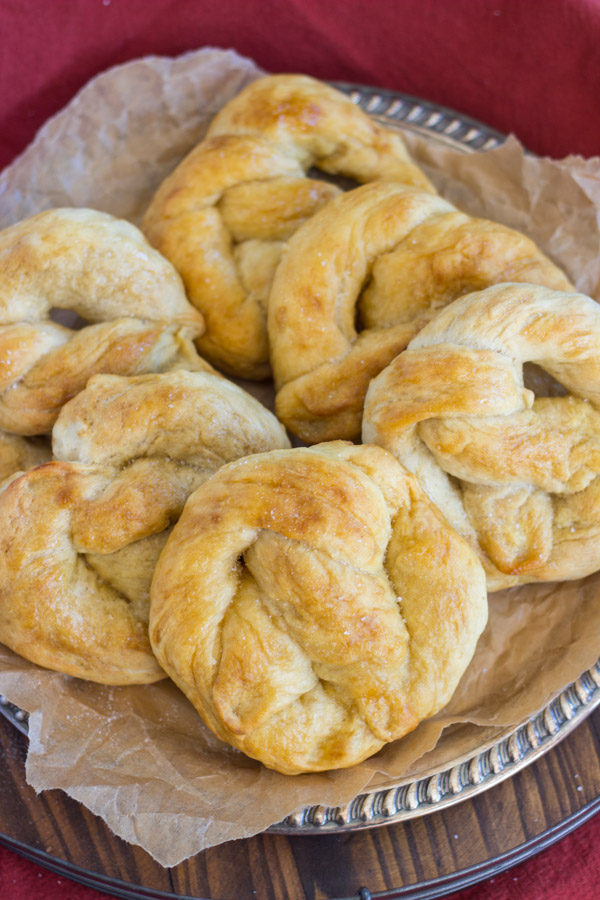 I know myself. I knew that I would get totally caught up in making all sorts of Thanksgiving and Christmas recipes, and all things pumpkin, and then January would come, and I'd have NOTHING to share. I'd also be pretty burned out from the holidays, and wouldn't feel like baking or cooking for a few weeks. So most of what you've seen in January, I made it in the early fall.
Impressive, huh? I'm never this organized or well-planned.
Except that it's 6 days to the Bowl of Super, and you'd probably like to have an idea of what you're making.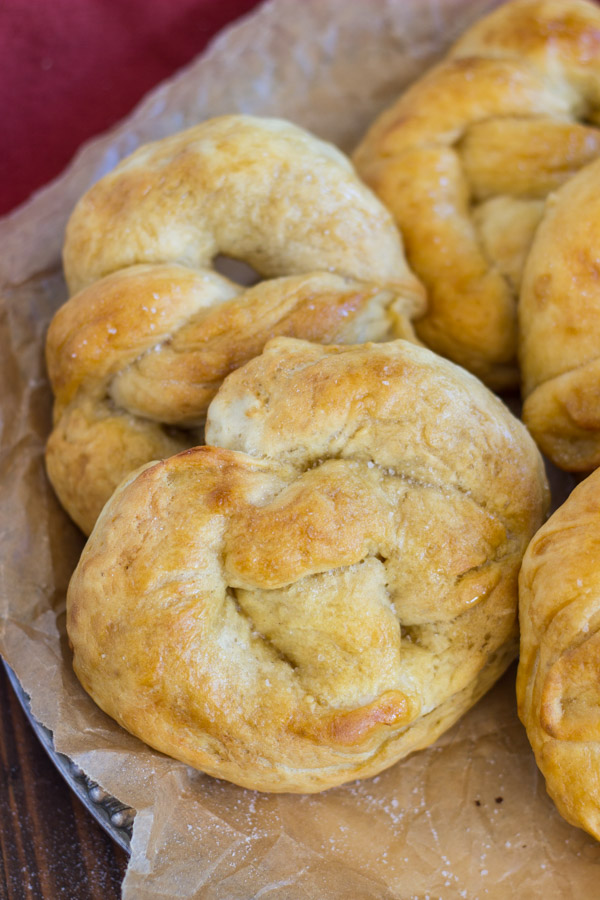 Okay, so I love any and all things pretzel. We buy big boxes of Super Pretzels from…where else? Sam's Club. I stock up on 5 or 6 sleeves of pretzel bagels at a time from Trader Joe's. I love, love, love pretzel things, so I know a good pretzel thing when I try it.
These are slightly crispy on the edges and are super soft and buttery. They're more like Auntie Anne's than Super Pretzel. Know what I mean? Super Pretzels have a crusty exterior, and thick, doughy interiors. I like those too, but these are not like them. There are definitely different kinds of soft pretzels, and all are great, but they're just different. I should know – I'm a soft pretzel expert.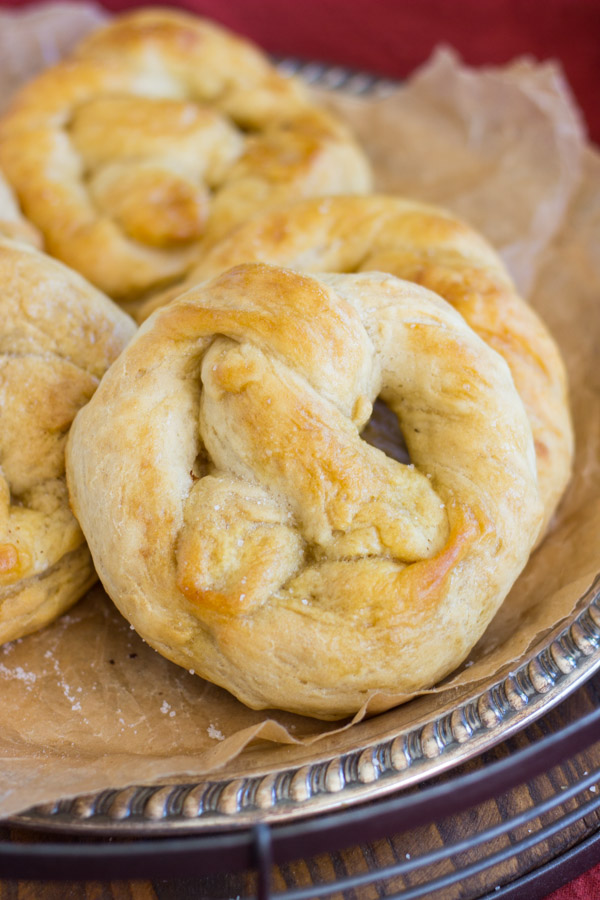 I love these for how soft, pillowy, and buttery they are.
Also, that I can make these in about 90 minutes. Maybe that seems long? But when you're doing anything with yeast, 90 minutes is a pretty damn good timeframe.
The baking soda bath – it's essential. It gives the pretzels that signature pretzel-y taste.
The week I made these, I made them 3x. They are just so soft, buttery, and salty. I love this recipe. If you like an Auntie Anne's style soft pretzel, this is the Homemade Soft Pretzels recipe for you.
More importantly, they will make for excellent football food. You can throw these together so easily the day of the Super Bowl. Serve them with just mustard or with a cheddar dip. And definitely beer. That's key.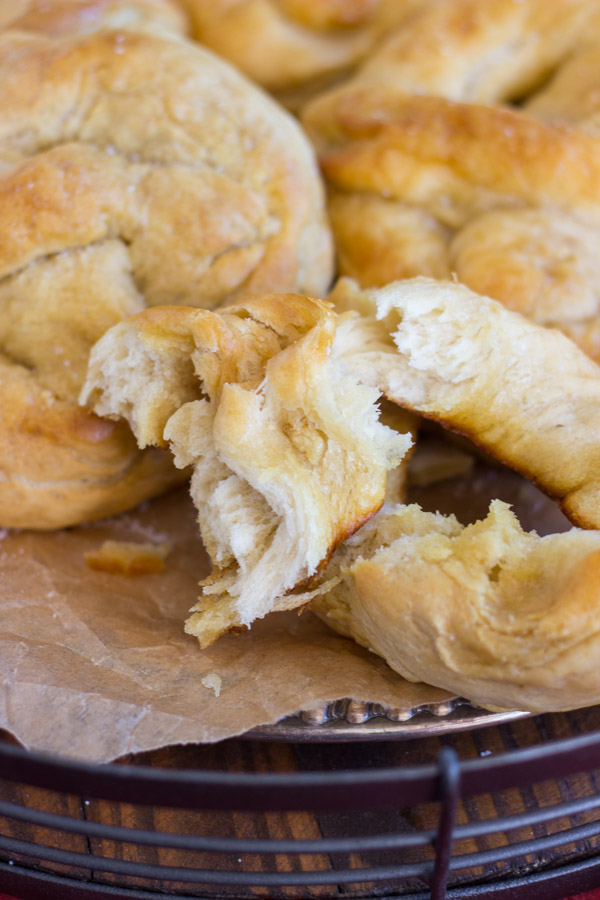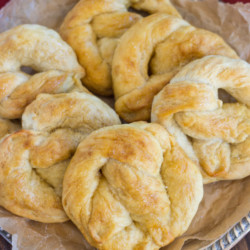 Homemade Soft Pretzels Recipe
Crispy-edged and soft, chewy homemade buttery pretzels! Butter-soaked, pillowy soft pretzels with a slightly crisp exterior!
Ingredients
2

c.

2% milk

2 - 1/4

oz.

packets active dry yeast

1/3

c.

packed brown sugar

4 1/2

c.

all-purpose flour

6

tbsp.

unsalted butter

melted, cooled

1

tsp.

salt

1/2

c.

baking soda

4

tbsp.

unsalted butter

melted

2

tbsp.

coarse sea salt
Instructions
In a medium microwave-safe bowl, heat the milk for 45 seconds, or to about 110 degrees.

Pour into a large mixing bowl, and sprinkle the yeast over the milk.

Let stand 5 minutes, or until yeast is foamy and dissolved.

With a wooden spoon, stir in brown sugar, flour, butter, and salt, until just combined.

Fit the mixer with a dough hook attachment, and beat on medium speed for 3-5 minutes, or until dough is soft, smooth, and elastic. It should come together in a ball, but be slightly tacky. Add more flour, one tablespoon at a time, if dough is too sticky.

Place dough in a greased bowl, turning over once to grease the top.

Cover and let rise in a warm place for 1 hour, or until nearly double in size.

Punch down dough, then turn out onto a lightly floured surface.

Cut the dough into 12 pieces - they will each be about the size of a baseball or a lemon.

Roll and stretch each piece of dough into 24-inch long ropes, and form into pretzel shapes: twist the ends, and fold over to the round edge. Pinch at the edges to seal.

Dissolve the baking soda in 3 c. hot water.

One at a time, gently dunk each pretzel in the baking soda solution.

Arrange pretzels onto parchment paper-lined baking sheets, about one inch apart.

Bake at 450 degrees for 9-12 minutes, or until edges are golden.

Remove from heat, and immediately brush with melted butter.

Sprinkle with coarse sea salt.

Best served warm, but they reheat well in the toaster oven.
Notes
These are best eaten within the first 2 days. After about 2 days, they lose some of their softness and pillowyness.