Super easy football field and Hail Mary decorated brownies! These are a simple and festive snack, perfect for game days and the Super Bowl!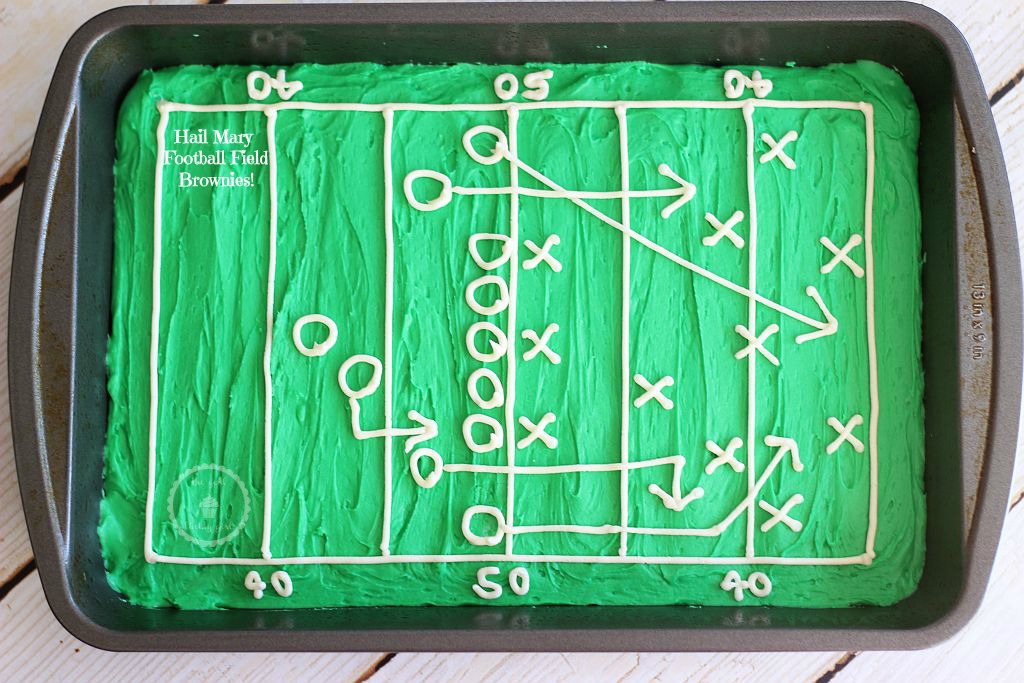 I think these brownies will round out the few recipes I had planned for Super Bowl snacking. And I call this a 'recipe' in the loosest sense of the word! I wanted these to be more about the fun decoration on top then about the brownies. In the interest of full disclosure, they are just a box brownie mix. #notashamed. The Hail Mary play is cool, right? That's what this is all about.
Like I said, these are just brownies made from a mix. But I gotta tell you, they are really good. I bought the Hershey's kind that has the pouch of Hershey syrup you pour into the batter? Holy deliciousness. They're so moist and fudgy. I do not turn up my nose at box brownies, that's for sure, and these are solid evidence that box brownies don't suck.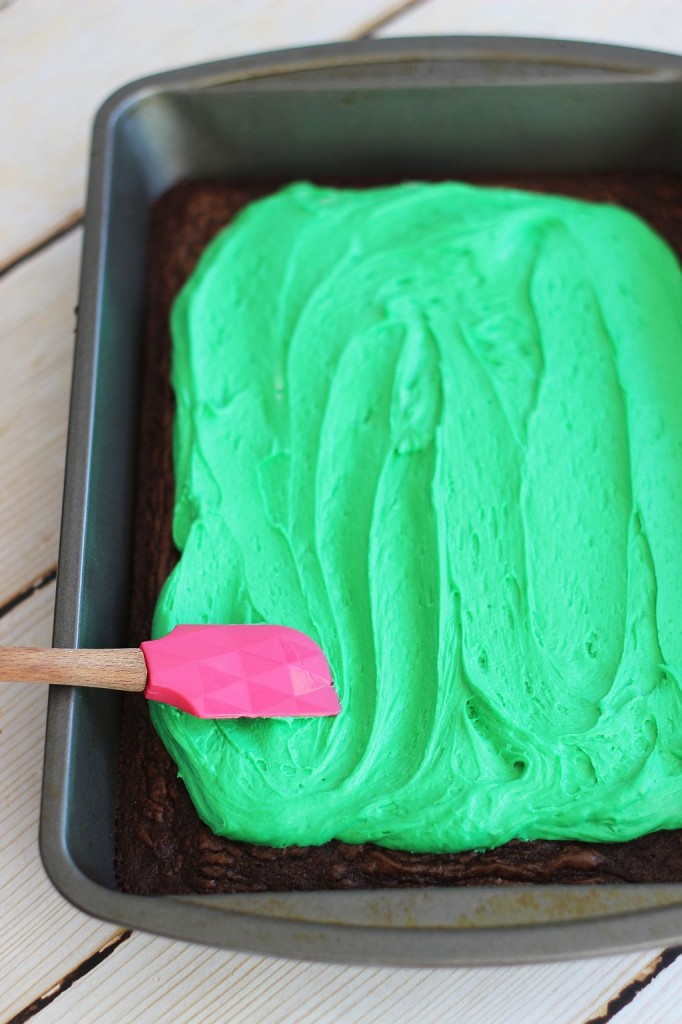 I'm a firm believer in homemade frosting though. Even if I make other shortcuts, I like to make a frosting from scratch. I think it makes all the difference. That said, there is nothing particularly special about the frosting I made for these brownies. It was just a basic vanilla buttercream! Don't get me wrong, it's delicious! But it's simple. We're keeping it simple. If you want even more of a time-saver, buy a can of frosting and this will truly make this the easiest treat ever.
It occurred to me as I was frosting these brownies that I've never had a brownie in my life with a vanilla buttercream on top. Chocolate frosting, or mint, or chocolate mint, or cream cheese.. yes to all of those. But seriously, how often do you have a brownie with vanilla buttercream? Me? Never. It was a first. It knocked my socks off! Not kidding. For future reference, I will definitely be remembering that brownies with vanilla buttercream are sensational. I couldn't believe how good they were.
Instead of traditional chocolate frosting, I stuck with vanilla because I felt like the green color of the 'field' would pop a lot more if the frosting didn't have cocoa powder in it!
Onto the 'tutorial' and 'recipe'. These are so simple I feel that I must put those words in quotes. You know what a cinch it is to make brownies from a box, and it took me about 15 minutes in total to make the buttercream, frost the brownies, and pipe on the football field!
1. Prepare the brownies according to the package instructions for a 9×13 pan. Allow to cool completely.
2. Prepare buttercream frosting (recipe below), and set aside about 1/2 c. plain white buttercream frosting for piping the lines. With the remaining buttercream, add green food coloring until it achieves desired vibrant green color. I used a few drops of AmeriColor Gel Paste in Leaf Green.
3. Spread the green frosting evenly over the brownies.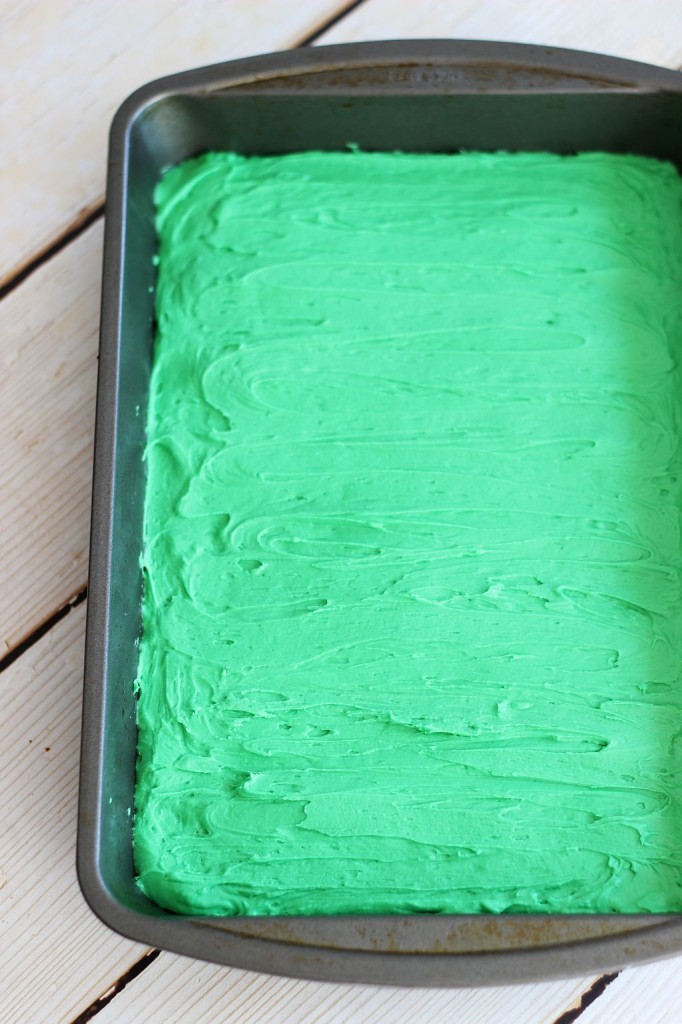 4. Using a parchment bag and #4 tip, pipe a rectangular border 1-inch in from the edge of the brownies.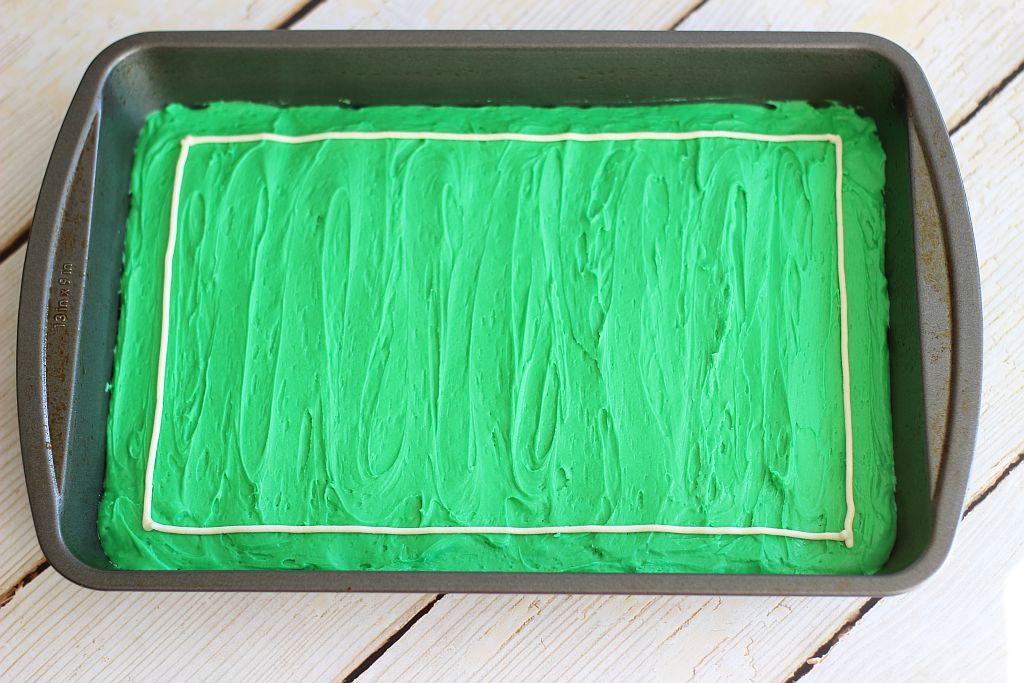 5. Divide the 'field' into 6 even segments. First, pipe a line directly down the middle of the field. In each half, pipe 2 more evenly spaced lines.
6. Pipe the markers for the 50 and 40 yard-lines on each side of the field, as show in the image. The numbers should be facing you right-side-up as you are looking at the side of the field closest to you.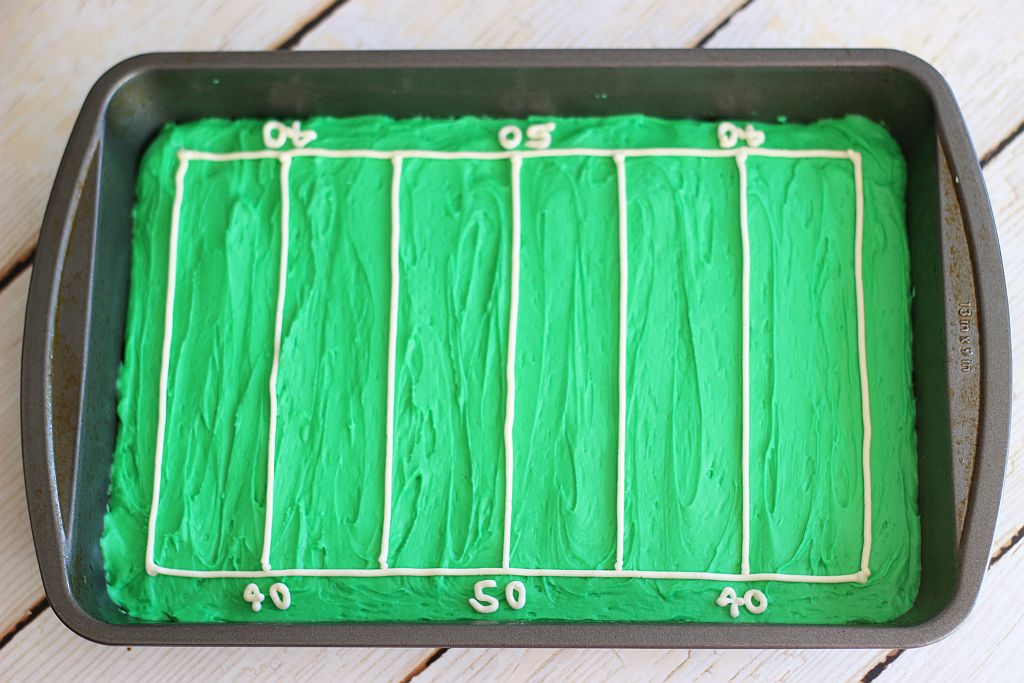 7. Add a bunch of Os and Xs for your offense and defense, respectively! Just kind of copy what I did? Haha! I used this image as a template for my Hail Mary play! Make sure you have 11 players on each team.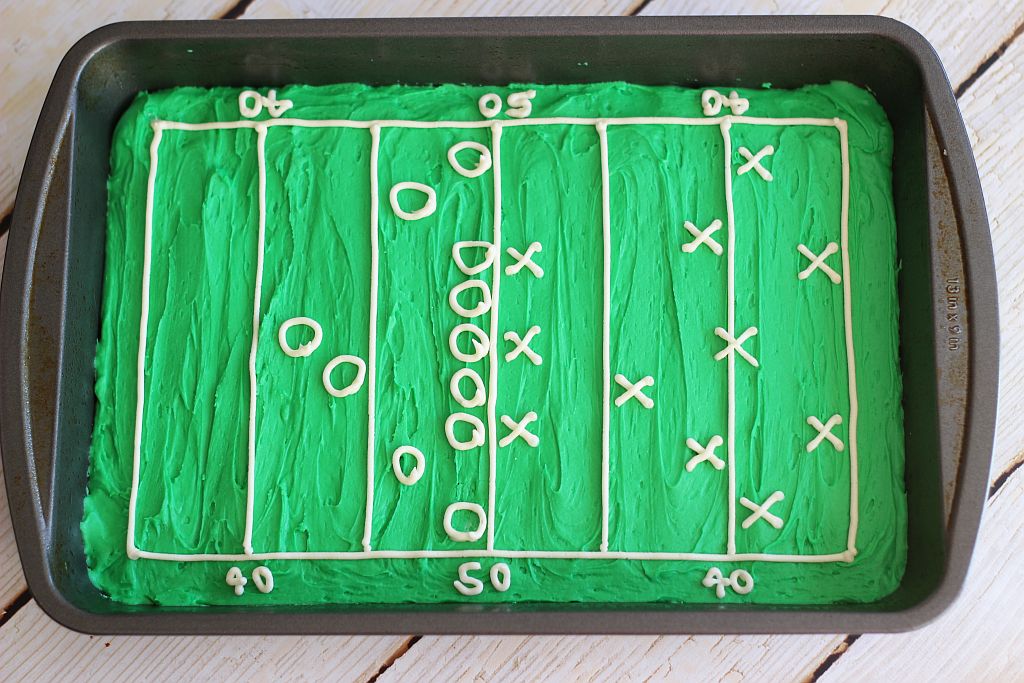 8. Draw lines with arrows from the 4 wide receivers positions to show their running routes. Um, again, just roughly follow the image. Yeah, this is a precise tutorial, huh? Also, draw a line with an arrow for the running back position's route. Isn't this all so clear? 🙂 That's what photos are for!
9. EAT. They are awesome.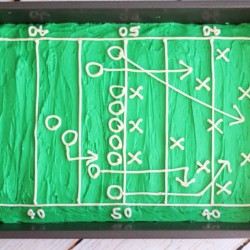 Hail Mary Football Field Brownies
Super easy football field and Hail Mary decorated brownies for Super Bowl parties! Made with simple vanilla buttercream and boxed brownie mix.
Ingredients
1

box brownie mix - your brand of choice!

1/2

c.

butter

softened

2-3

tbsp.

milk

1

tsp.

vanilla

4-5

c.

powdered sugar

green food coloring

parchment bag and #4 tip
Instructions
Prepare brownies according to package instructions for a 9x13 pan. Allow to cool completely.

To make the buttercream, in a large mixing bowl, combine butter, milk, vanilla, and 4 cups powdered sugar.

Mix until well-combined and fluffy. Continue adding powdered sugar or milk, as needed, so that frosting reaches a consistency that will spread easily, but will not run off the brownies.

Set aside 1/2 c. plain white buttercream for piping. Color the remaining buttercream with a few drops of green food coloring.

Spread the green frosting evenly on the brownies.

Fill the parchment bag, fitted with a #4 tip, with the white buttercream.

Following the tutorial instructions and photos (see blog post) to pipe the white lines and Hail Mary play onto the brownies. Enjoy!
Try to share, but that's not required. I really didn't. 🙂