Layers of fudgy brownies are slathered with peanut butter buttercream, topped with full-size Reese's cups, and then stacked high, for an ultra-decadent chocolate-peanut butter dessert! This Peanut Butter Cup Brownie Torte is a serious show-stopper, but it's shockingly easy to make!!
I went to Target a few weeks ago specifically to get a new glucometer and blood sugar test strips for my diabetic cat. While there, I stocked up on baking supplies too, and about 1,000 other things I don't need, of course. It is Target, after all.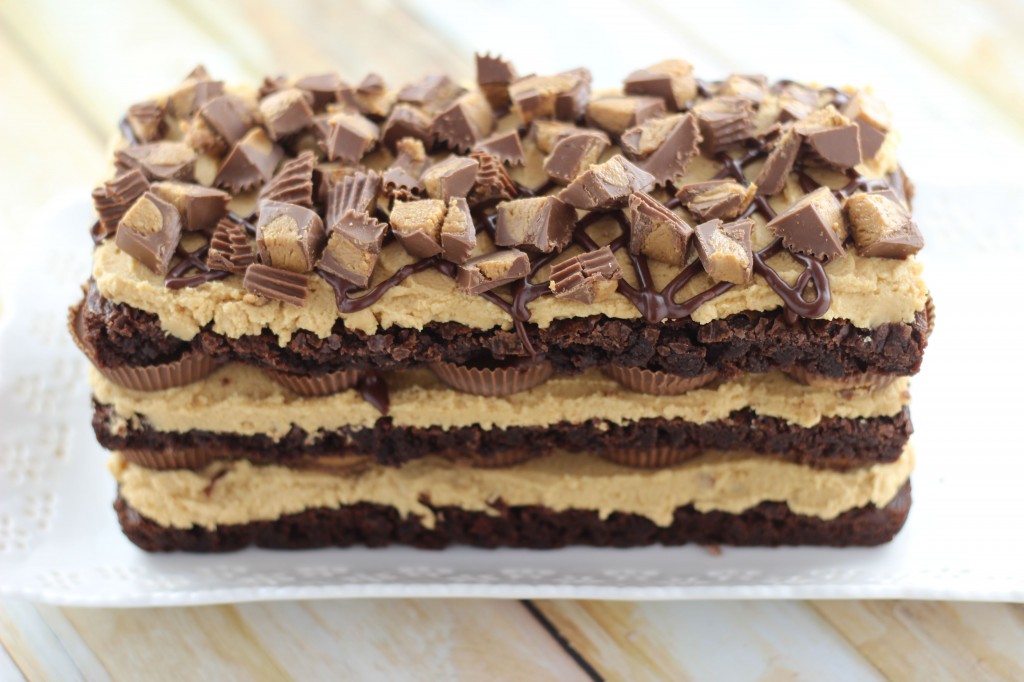 The cashier rang up the glucometer and the test strips, then looked at my cart full of Oreos, chocolate chips, brownie mix, caramel sauce, chocolate donuts, and Reese's cups, and said, "Aren't you diabetic?"
I explained to her that I'm not diabetic, but my cat is.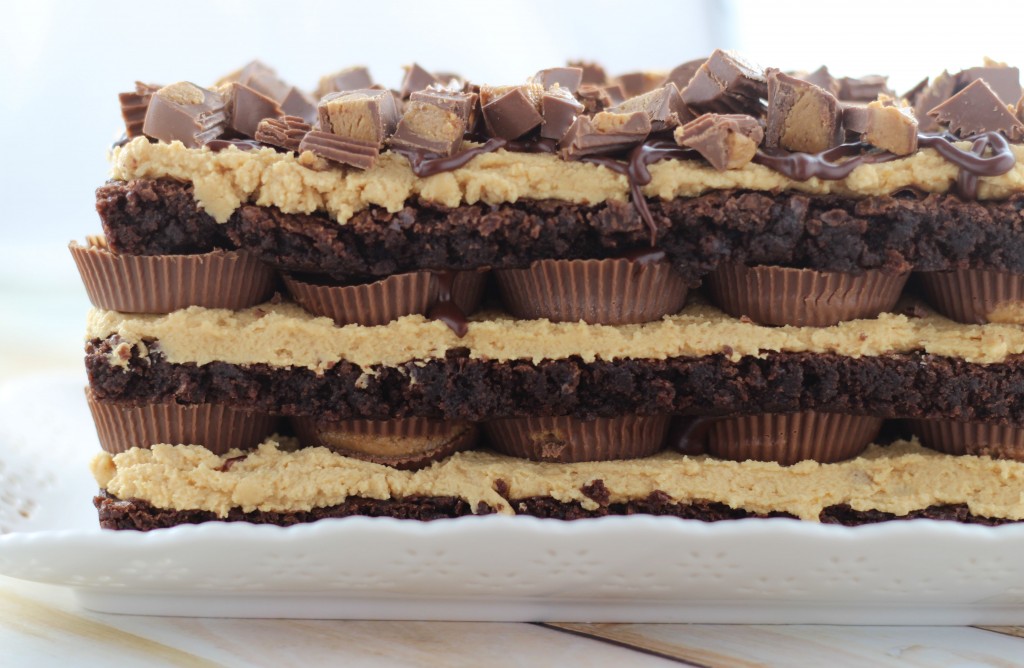 That was followed by a totally confused stare. I think she thought I was crazy. We've had cats in my family all our lives, and I had no idea they could be diabetic. I never even considered it. Clearly she was not aware either. Then she asked a series of questions about how you test a cat's blood sugar, and if I give her shots, and does she run away from me all the time because of this…. no, she does not. Thank goodness.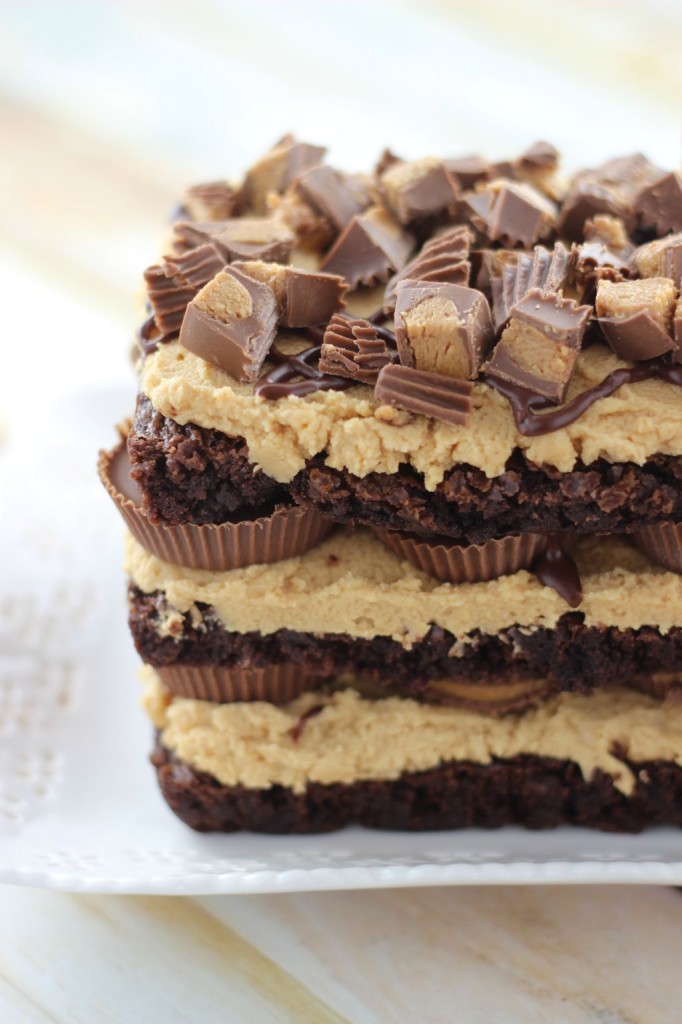 As a general update, things are going much more swimmingly than they were a few months ago, and it's been a big relief, but it's been a lifestyle adjustment for all of us. She gets insulin shots twice/day, and so now whenever we're out and my S.O. is ready to leave, his favorite excuse is, "We have to go, we have a diabetic cat at home that needs a shot." It's true, but it's still funny to hear. It's not a line I would've imagined him saying a few years ago, that's for sure.
Anyway, I thought the Target experience was kinda funny, so I thought I would share it since I was out shopping for ingredients for this here Peanut Butter Cup Brownie Torte when it happened. Which, btw, if you don't get along with sugar, you should probably steer clear of it. If you love sugar, like me, and it agrees with you, then you will loooooove this torte. You'll also need to like peanut butter a lot, but I know you wouldn't be here reading if you didn't.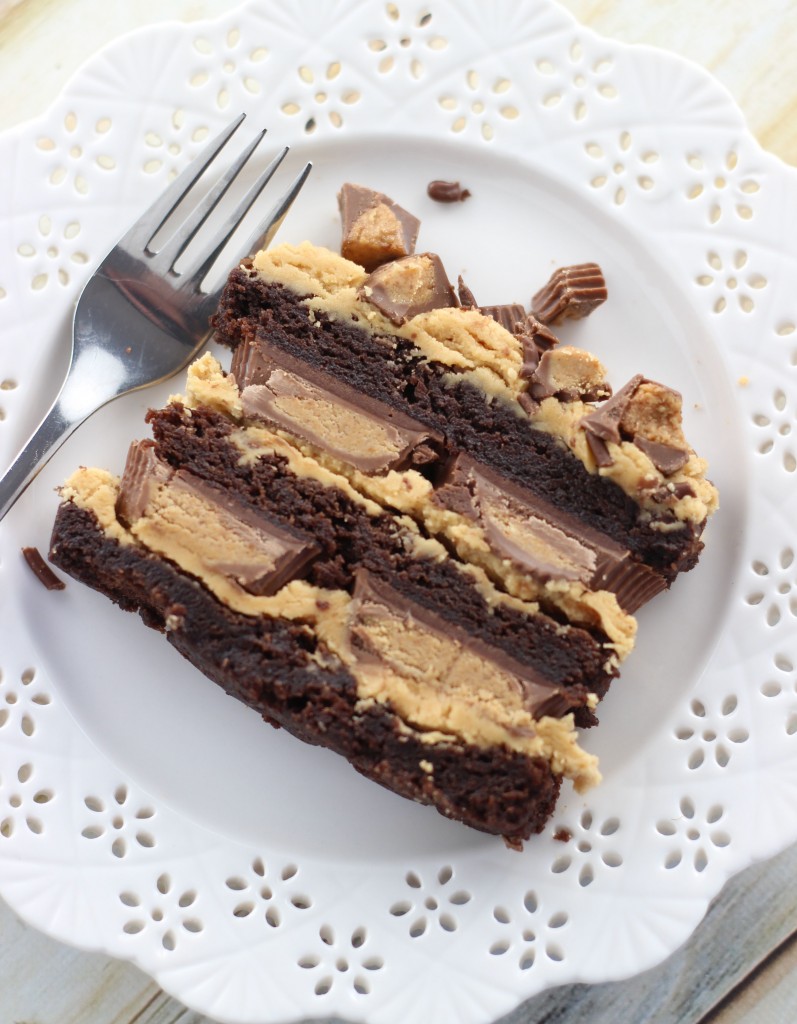 This torte couldn't be easier and that's the truth. It is seriously incredibly easy to make this. However, it's a dessert that really impresses with its presentation. Look at it! It's neat, right? It's just boxed brownie mix, lots of Reese's cups, and my favorite recipe for peanut butter buttercream. Stack, layer, and stack some more. So simple. But it is decadent. No two ways about that.
I cannot say enough good things about how AMAZING this torte is. For a person who loves chocolate and peanut butter together, this is heaven on earth, or as close as we're gonna get.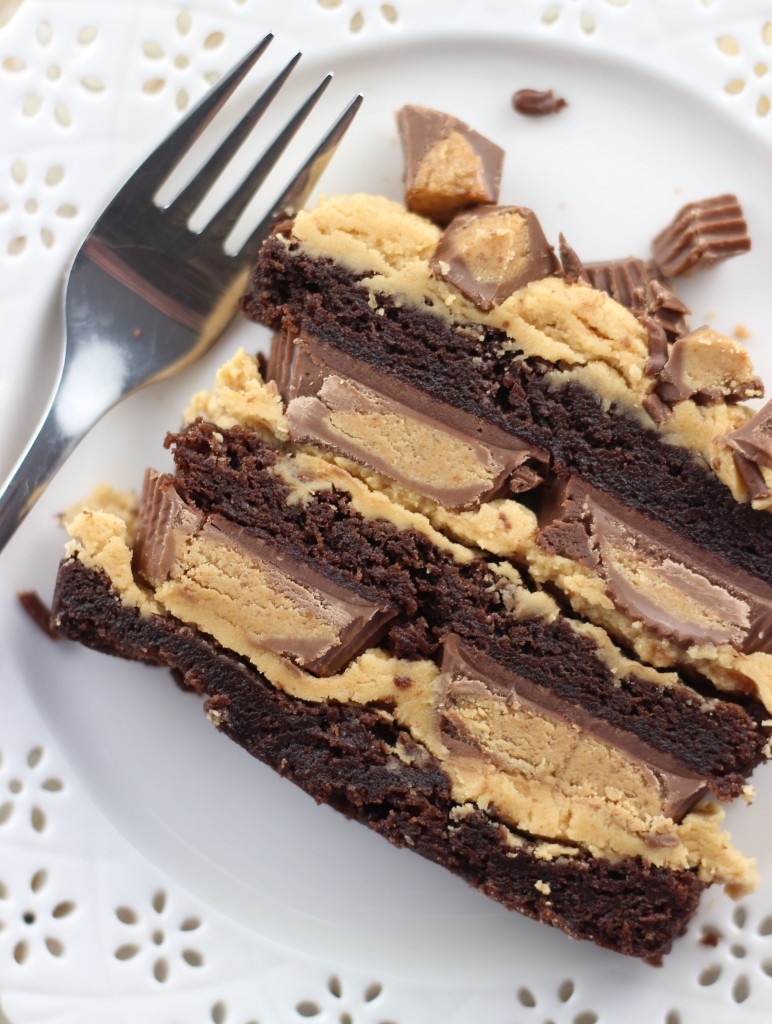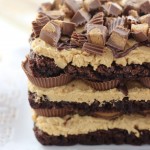 Peanut Butter Cup Brownie Torte
Layers of fudgy brownies are slathered with peanut butter buttercream, topped with full-size Reese's cups, and then stacked high.
Ingredients
1

box brownie mix

I like Betty Crocker Hershey's Original Supreme

1/4

c.

water

1/2

c.

vegetable oil

1

egg

1/2

c.

butter

softened

1

c.

peanut butter

2 - 2.5

c.

powdered sugar

1

c.

semi-sweet chocolate chips

1/3

c.

heavy cream

25

snack size Reese's cups

20 whole, 5 chopped
Instructions
Prepare brownie mix according to package instructions for a 9x13 pan. For my brownie mix, I combined the brownie mix, water, vegetable oil, and egg.

Spread in a well-greased 9x13 pan.

Bake at 350 degrees for 22-25 minutes, or until a toothpick inserted near center comes out clean.

Cool completely on a wire rack.

Meanwhile, prepare peanut butter buttercream.

In a large mixing bowl, combine butter, peanut butter, and enough powdered sugar to form a thick but spreadable frosting.

Whip until light and fluffy, about 3-5 minutes.

In a large saucepan over low heat, combine chocolate chips and heavy cream.

Cook and stir until the chips are melted and the mixture is smooth.

To assemble torte, cut the tray of brownies horizontally into 3 large pieces. They will each be approximately 9x4 inches.

On a serving platter, carefully lift out and place one of the brownie pieces.

Spread about 1 c. peanut butter frosting onto the brownie layer.

Arrange 10 whole Reese's cups on top of the peanut butter frosting.

Drizzle 1/3 of the ganache over the Reese's cups.

Carefully top with a second layer of brownie.

Repeat steps - spreading with 1 c. peanut butter frosting, cover with 10 Reese's cups, and drizzle another 1/3 of the ganache over top.

Carefully arrange the final layer of brownie.

For this final layer, spread it with peanut butter frosting, drizzle it with the remaining ganache, and top it with the chopped Reese's cups for garnish.

Refrigerate for about 1 hour to firm the torte before slicing and serving.

Store in refrigerator. EAT!!!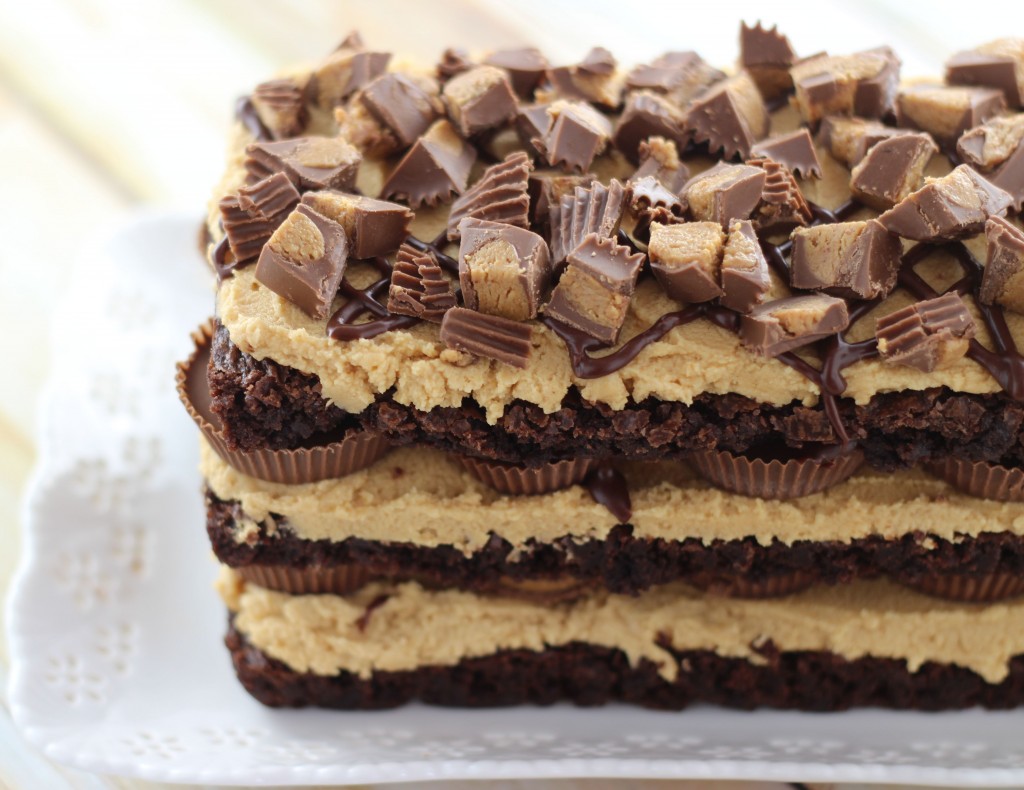 You may also like these peanut butter recipes!
No-Bake Peanut Butter Pie recipe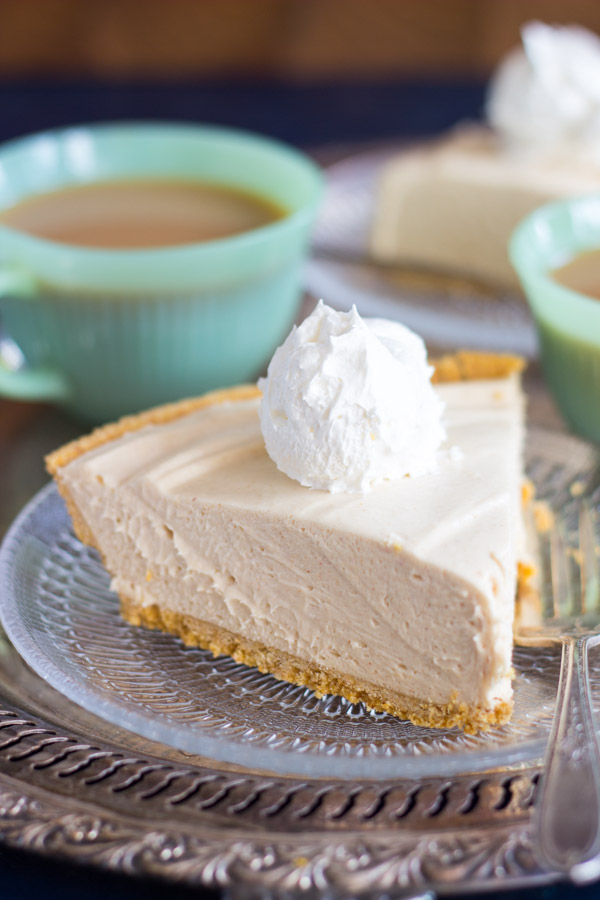 Reese's Cup No-Bake Peanut Butter Pie recipe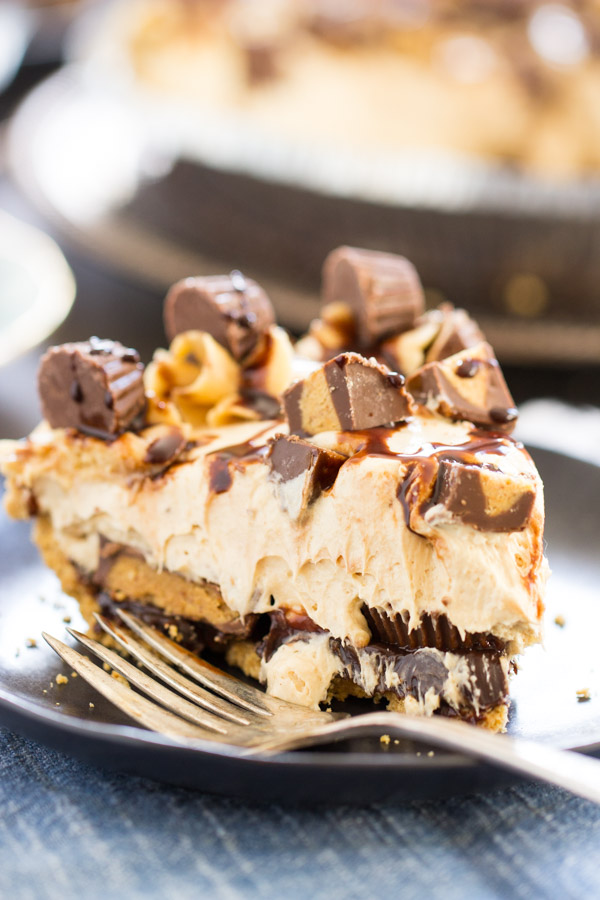 Peanut Butter Chocolate Chip Pancakes