Messaging below is intended for ages 21+ and is intended to be enjoyed responsibly, in moderation. This shop has been compensated by Collective Bias, Inc. and its advertiser. All opinions are mine alone. #RefreshinglyIndependent #CollectiveBias
Buttery, pillowy soft, chewy, easy-to-make, from-scratch Soft Pretzel Twists! These are a dream carb!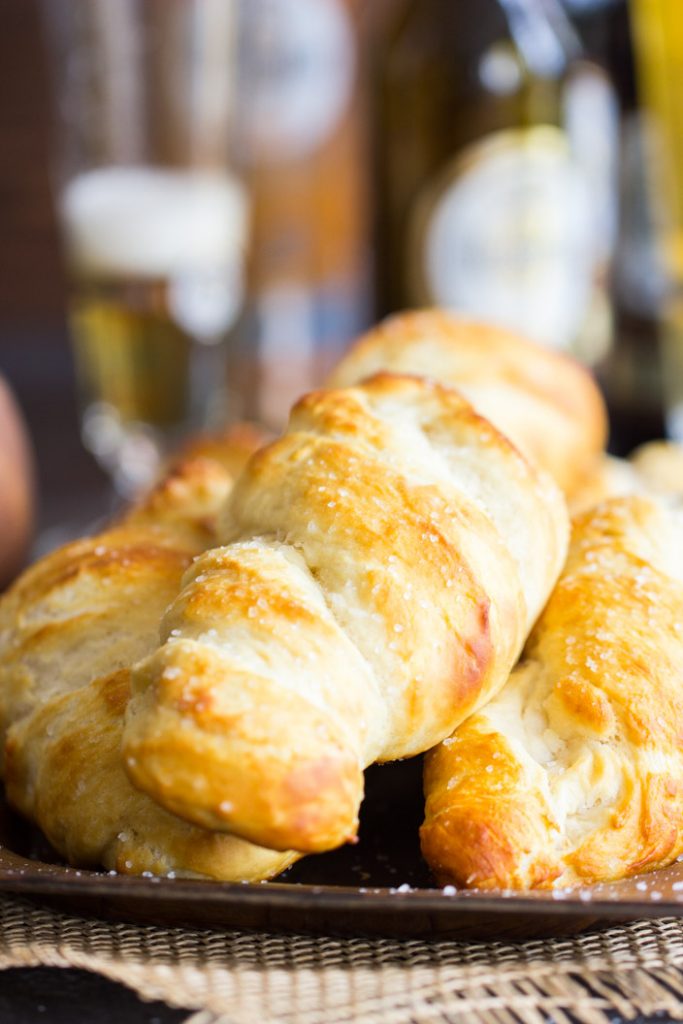 I have two distinct memories where I learned about German beer.
The first time was at a social event for young lawyers. I attended the event with another attorney at the firm where I was working, and she ordered some kind of German beer, I don't know what it was, but said to the bartender, "This is supposed to have an orange slice with it, right?" Um… what? I'd never heard of a beer served with an orange slice, and I'd just finished telling her how much I like beer. I thought I was pretty well-versed in the beverage.
I was in my third year of law school, and graduating with a professional degree, but was still such a kid in so many ways. I thought I knew good beer, but I was clueless. About that, and many other things, it turned out.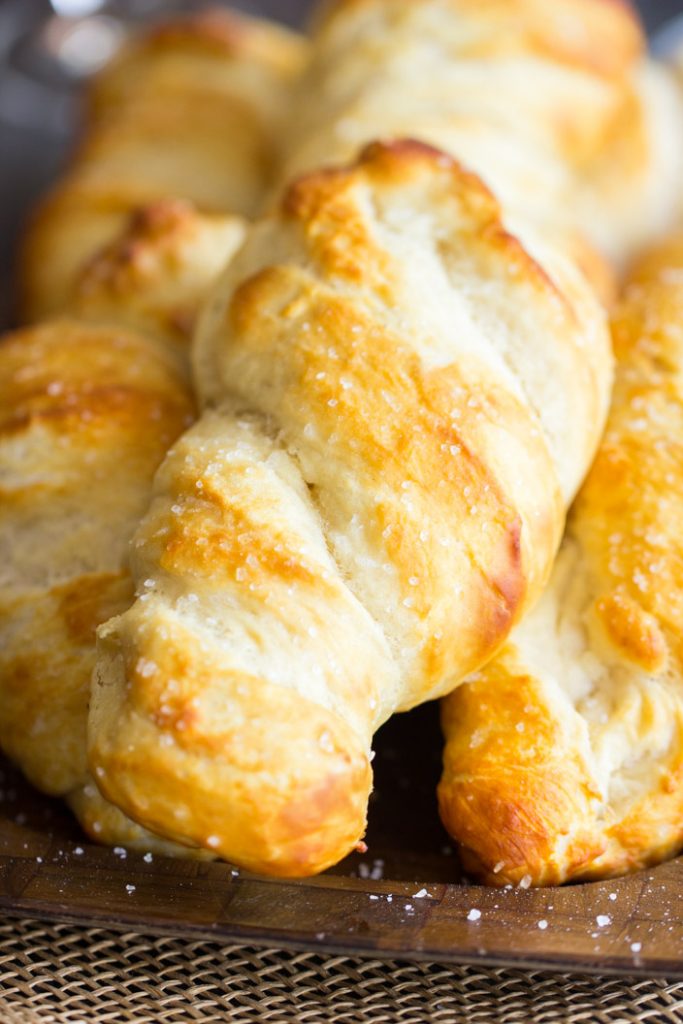 The second time I remember learning about German beer was when I'd just moved to the San Francisco Bay Area, and friends took me to Berkeley to go to a craft brewery. Everyone was ordering Hefeweizen. Nobody stopped to think about what they wanted, they just ordered Hefeweizen. I had no idea what it was. They all encouraged me to give it a try because it was this brewery's signature beer. I might've known what Hefeweizen was before that, but it's the first time I remember knowing for sure. Ha! I loved it at first sip. Orange slice and all.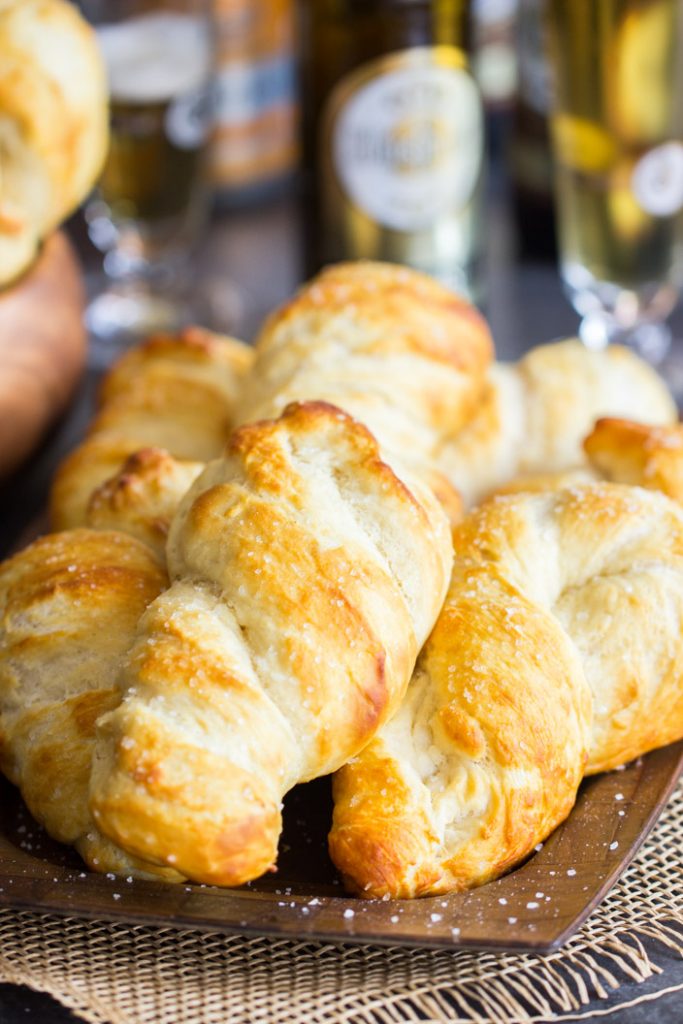 Since then, I'm a German beer fan, and Hefeweizen is one of my top orders. I got the chance to try three varieties from Warsteiner recently: Warsteiner German Pilsener, Warsteiner Dunkel, and Warsteiner Grapefruit.
I really loved the Pilsener – it was really bright, crisp, and refreshing. A perfect summer beer. It had a little bit of hoppy bitterness, but it was generally quite mild. I don't love a lot of hops, and this was on the lighter side. For summer BBQs, this is going to be your go-to.
But the Warsteiner Grapefruit… that is an unforgettable experience too, and we LOVED that brew. Part Pilsener, part grapefruit juice, it's so refreshing. Sweet and fruity, but not too much. This is possibly even more fitting for summer than the Pilsener. The bright citrus adds a special twist!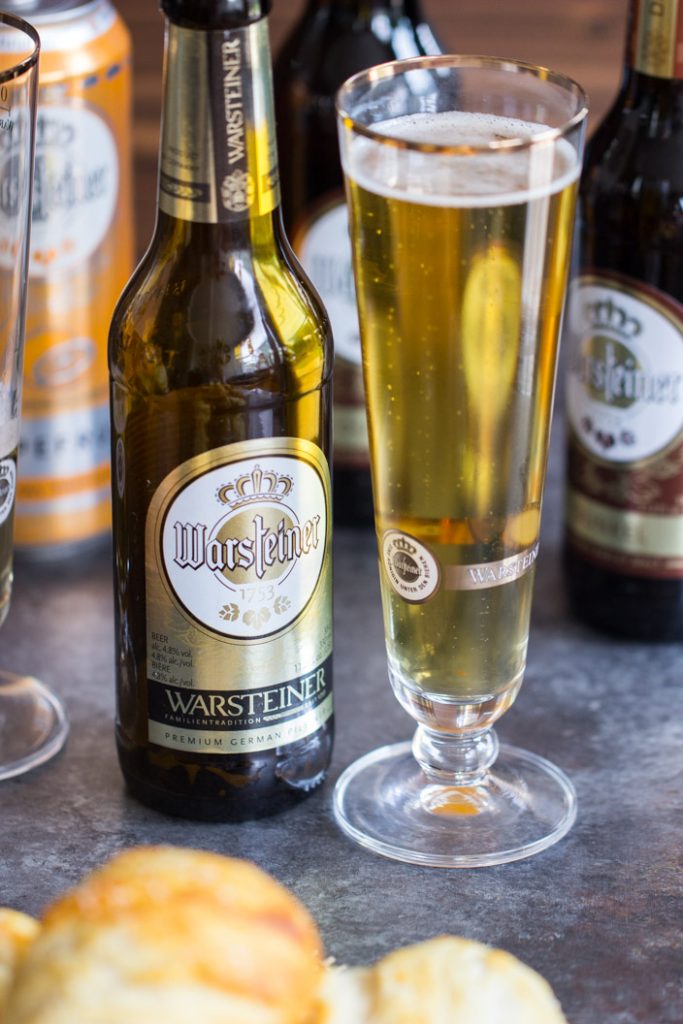 Are you familiar with Warsteiner? Their beer has been brewed by the same German family since 1753, and they continue to focus on improvement and innovation when it comes to sourcing their ingredients, refining their brewing technique, and  product packaging. I appreciate that they like to stay sharp and current when it comes to technique and production. Warsteiner beers are brewed in Germany using water from the Arnsberg Forest (wow!!) which surrounds the brewery (imagine how gorgeous!). The naturally soft water from the forest is ideal for brewing, and is in keeping with the standards of the German Beer Purity Law of 1516. Yes, such a statute exists! It's seriously interesting.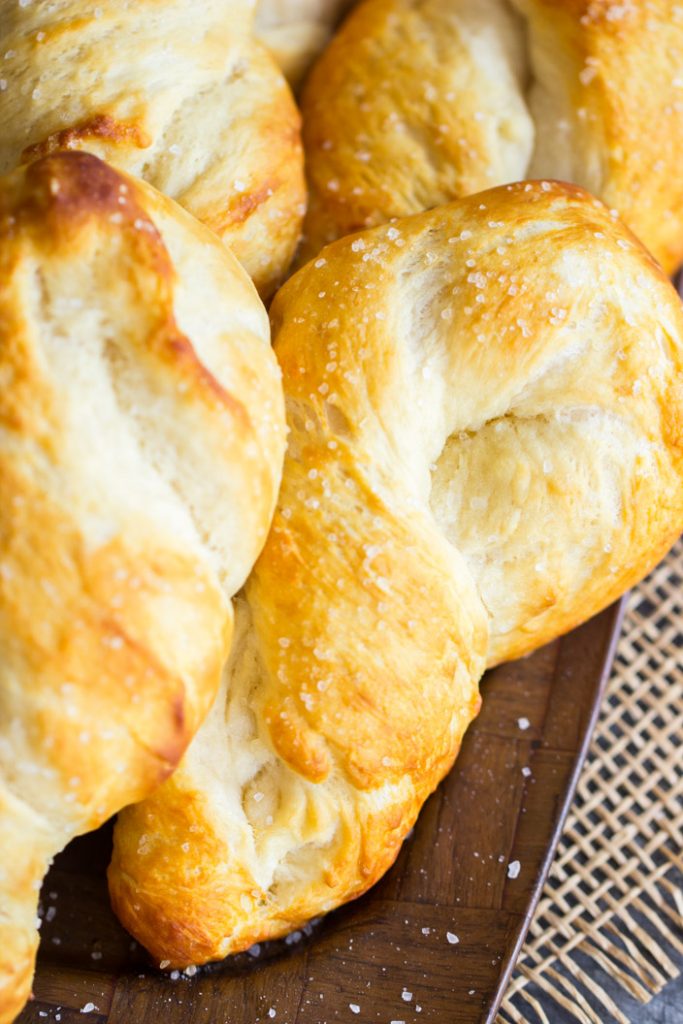 If you want to sample these three Warsteiner beers – Warsteiner German Pilsener, Warsteiner Dunkel, and Warsteiner Grapefruit, there are sampling events happening at Total Wine from now through July 1st. There are 450 live events, 3 times at 150 different locations, and you can find the dates and locations of these events at the Total Wine website.
You'll receive free glassware when you attend the event! So you get to sample the beers, you'll go home with glassware, and there are coupons. There's a BevRage (love that!) digital coupon for $1 off 6-pack purchases, or $2 off a 12-pack.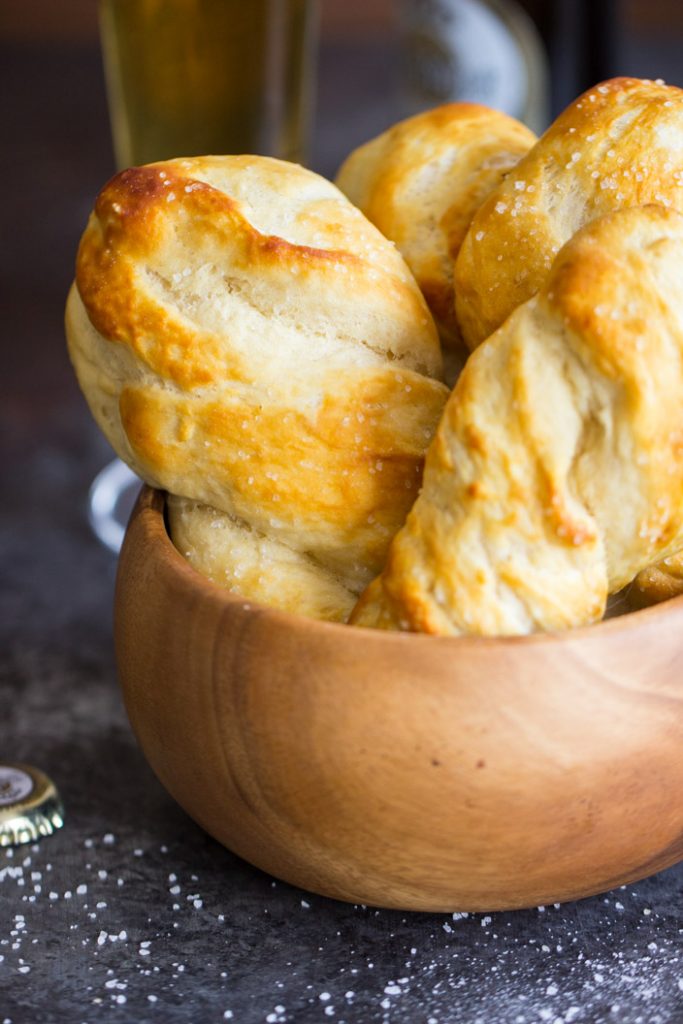 I created a recipe to pair with the Pilsener (or with any of the varieties!), and you know how much I love pretzel things. Is that too cliche? Pretzels and German beer? I don't care. I love soft pretzels, and I found a great way to jazz up a standard, homemade soft pretzels recipe — as pretzel twists!
As a person that's really addicted to pretzel things (I've bored you about this topic here, here, here, and here), it was only natural that I make soft pretzels. As a rule, I'm all about sweet carbs, not salty, but pretzels are the exception.
I have a few other soft pretzel recipes on the blog, but there are different kinds of soft pretzels. This Homemade Soft Pretzels Recipe produces a really soft, squishy, buttery soft pretzel. These Pumpkin Beer Soft Pretzels are denser, chewier, and not quite as buttery, but the yeast in those is really enhanced by the beer.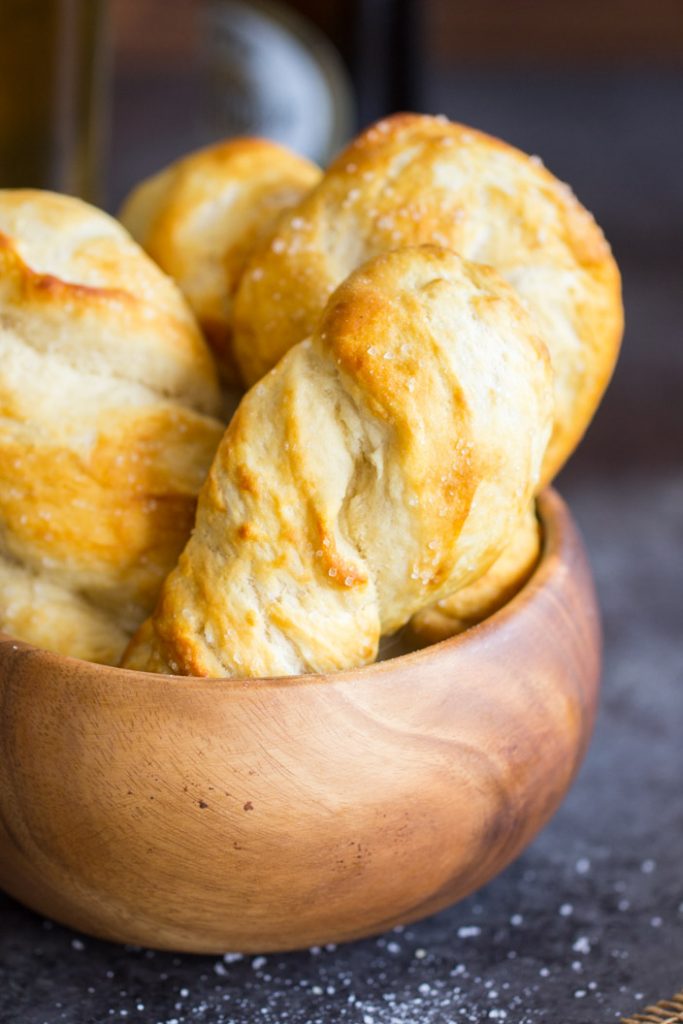 What I love about these Pretzel Twists is that there's more chewy, squishy center, and less edges. There's so much more 'middle' to pretzel twists, so you get a lot more chewy, soft, center. I'm all about that. Funny how a change in shape can change the texture so much. These are so soft and buttery! This particular dough would make for really nice pretzel rolls too.
I made these Pretzel Twists over the weekend, which was a very laid-back one, and we snacked away on Pretzel Twists, threw back a Pilsener, and caught up on our favorite shows. Beer and carbs are one of my favorite ways to weekend!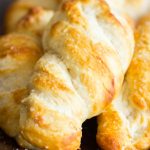 Pretzel Twists
Buttery, soft, chewy, easy-to-make, from-scratch, soft pretzel twists! These are a dream carb!
Prep Time
1
hour
20
minutes
Total Time
1
hour
35
minutes
Ingredients
2

c.

2% milk

2 - 1/4

oz.

packets active dry yeast

1/4

c.

packed brown sugar

4 1/2

c.

all-purpose flour

6

tbsp.

unsalted butter

melted, cooled

1

tsp.

salt

1/2

c.

baking soda

4

tbsp.

unsalted butter

melted

2

tbsp.

coarse sea salt
Instructions
In a medium microwave-safe bowl, heat the milk for 1 minute, or to about 110 degrees.

Pour into a large mixing bowl, and sprinkle the yeast over the milk.

Let stand 5 minutes, or until yeast is foamy and dissolved.

With a wooden spoon, stir in brown sugar, flour, butter, and salt, until just combined.

Fit the mixer with a dough hook attachment, and beat on medium speed for 2-3 minutes, or until dough is soft, smooth, and elastic. It should come together in a ball, but be slightly tacky. Add more flour, one tablespoon at a time, if dough is too sticky. You don't want it to be tough though - it should still be tacky and sticky.

Place dough in a greased bowl, turning over once to grease the top.

Cover and let rise in a warm place for 1 hour, or until nearly double in size.

Punch down dough, then turn out onto a lightly floured surface.

Cut the dough into 12 pieces - they will each be about the size of a baseball or a lemon.

Roll and stretch each piece of dough into 16-inch long ropes. Fold the ropes in half, pinch the edges, and twist both ends three times.

Dissolve the baking soda in 3 c. hot water - make sure it's thoroughly dissolved.

One at a time, gently dunk each pretzel in the baking soda solution.

Arrange pretzels onto parchment paper-lined baking sheets, about two inches apart.

Bake at 450 degrees for 9-12 minutes, or until edges are golden, and the centers feel set when lightly pressed.

Remove from heat, and immediately brush with melted butter.

Sprinkle with coarse sea salt.

Best served warm, but they reheat well in the toaster oven.
Recipe Notes
These are best eaten within the first 2 days. After about 2 days, they lose some of their softness and pillowyness. They may not last that long though!
To find Warsteiner near you, check out the store finder here! And you can learn more about Warsteiner at their website here! I definitely recommend looking at the Total Wine website to find out when a sampling event is happening near you. It will be worth it.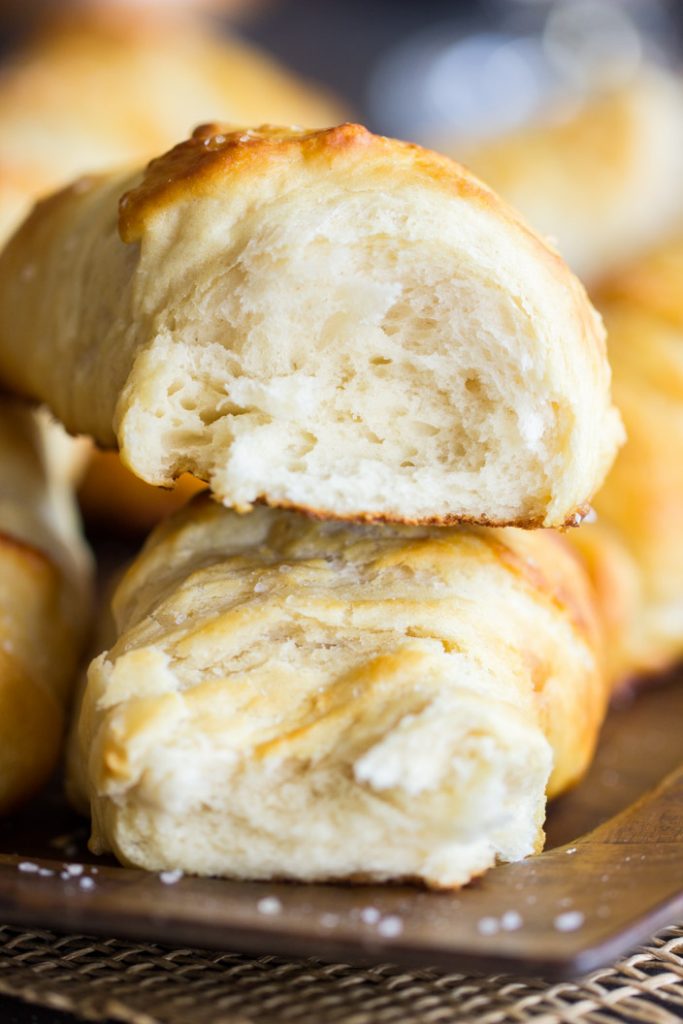 You may also like: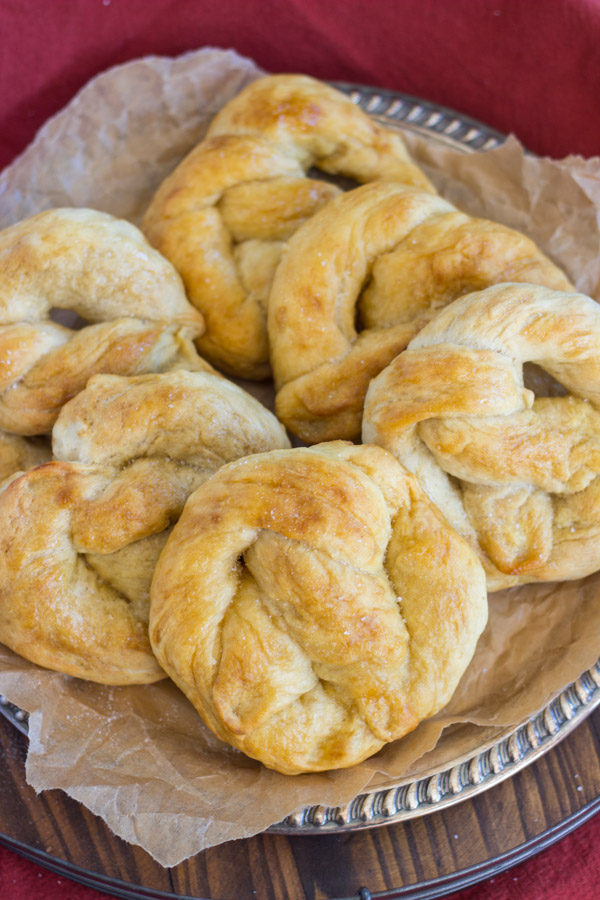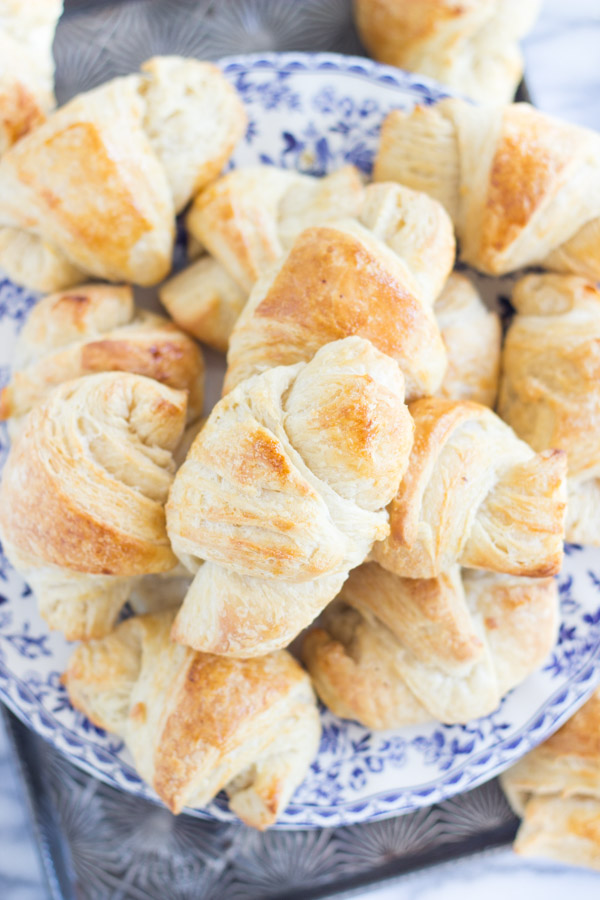 Toasted Pecan & Goat Cheese Biscuits