A light and airy coconut-flavored pavlova with a layer of sweet Mascarpone, and a fresh mango-kiwi compote!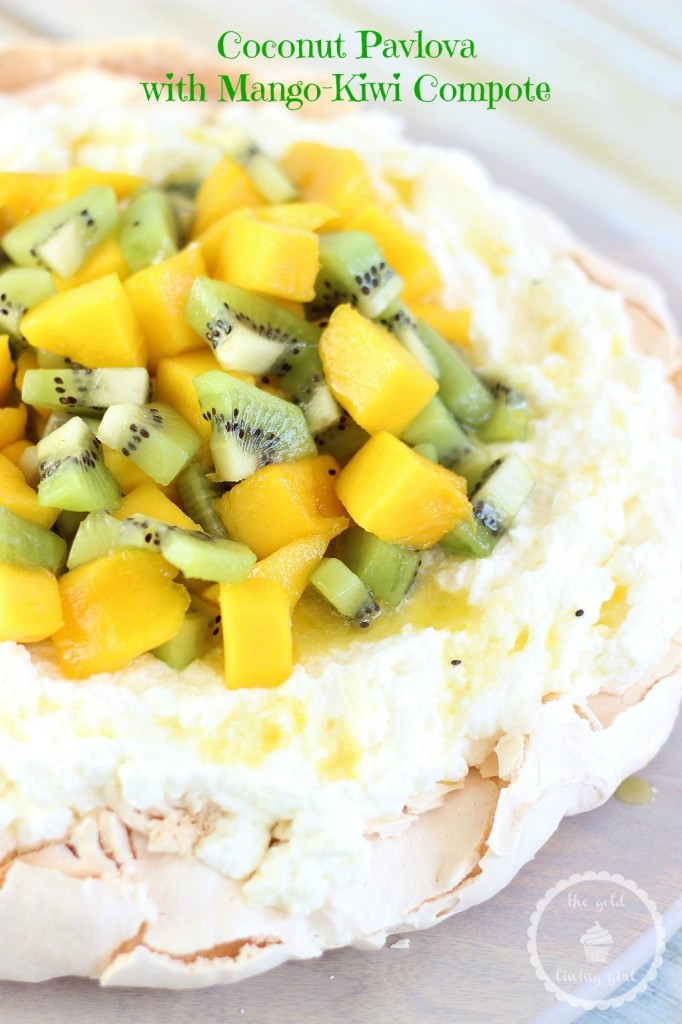 I think I love marshmallow things almost as much as peanut butter. No. That's a big fat lie. It's not even close. I love peanut butter SO MUCH MORE. I do really love marshmallow things too though. It's why I've shared a number of different homemade marshmallows recipes on the blog. This pavlova is sort of marshmallowy, which is why I am in love with it.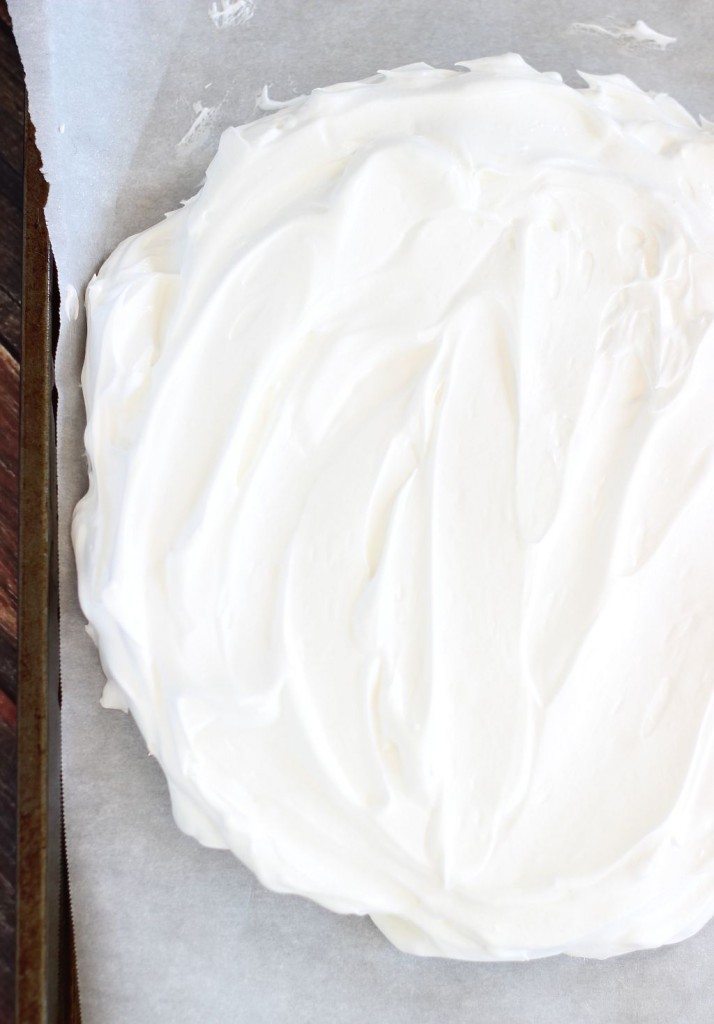 If you've never had a pavlova, it's like a cross between a meringue and homemade marshmallows. I know it sounds so weird. It's hard to conceptualize without trying it, but that really is the most accurate way I can think of to explain a pavlova. It's like an enormous meringue cookie, but under-baked in the center. Well now that doesn't sound appealing, does it?
Let's try again. You basically whip the daylights out of a big batch of egg whites with sugar, and it turns into a big puffy cloud of sweet goodness (aka, meringue), and you pile it up on a cookie sheet in a big mound, and bake it. So kinda like I said, an enormous meringue cookie. But because it's so big, it stays soft and pillowy in the center. The edges are crispy and crumbly of typical meringue, but the center is marshmallow-like!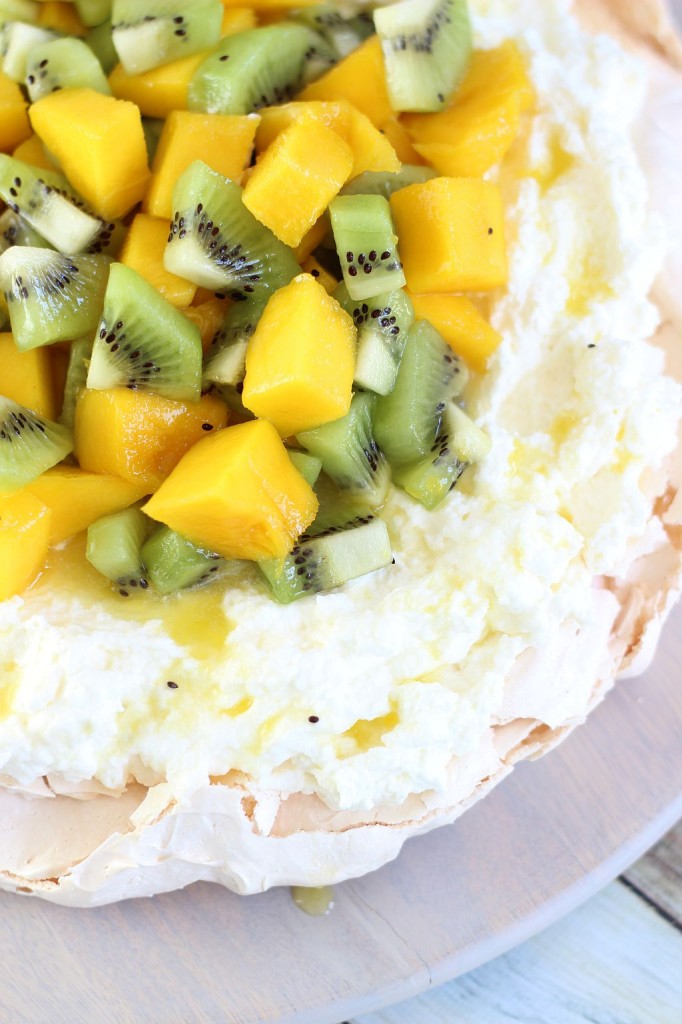 Okay, I wrote three other blog posts today and I think I'm getting punchy. Did any of the above writing make any sense? I repeated myself 4 or 5 times, I think.
Pavlova are typically topped with whipped cream and berries, but this pavlova features a tropical spin! A little coconut extract into the meringue before the pavlova bakes gives it a beautiful coconut flavor, a layer of sweet Mascarpone mixed with fresh whipped cream gives it a light and creamy topping, while a mango-kiwi compote tops off the tropical theme.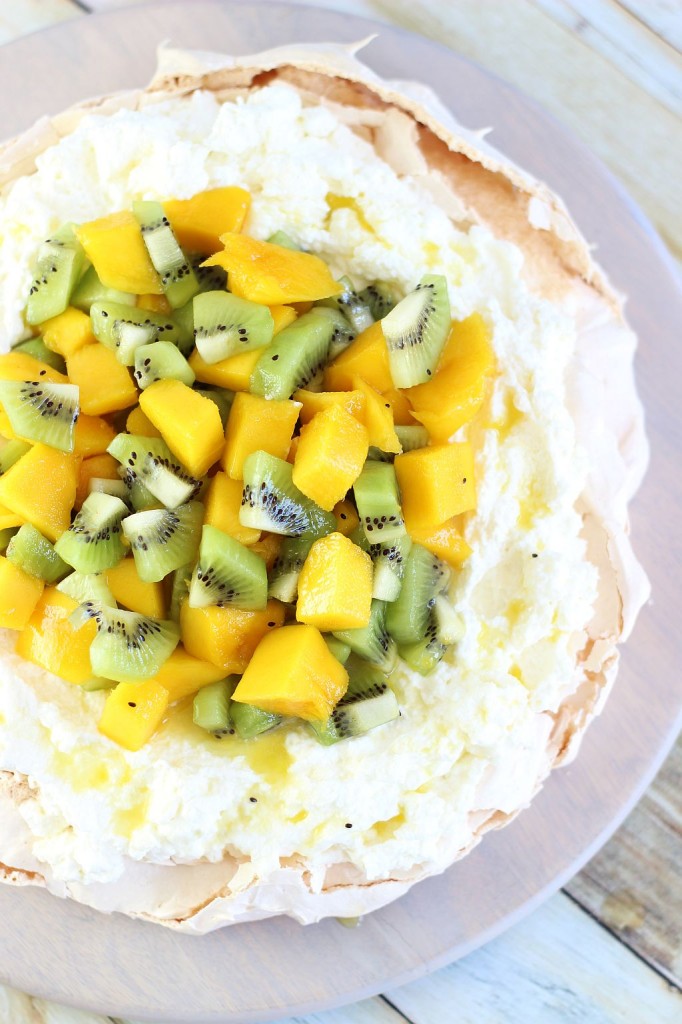 I don't think you can know the amazingness of a pavlova until you try one! So you should go and do that now. 🙂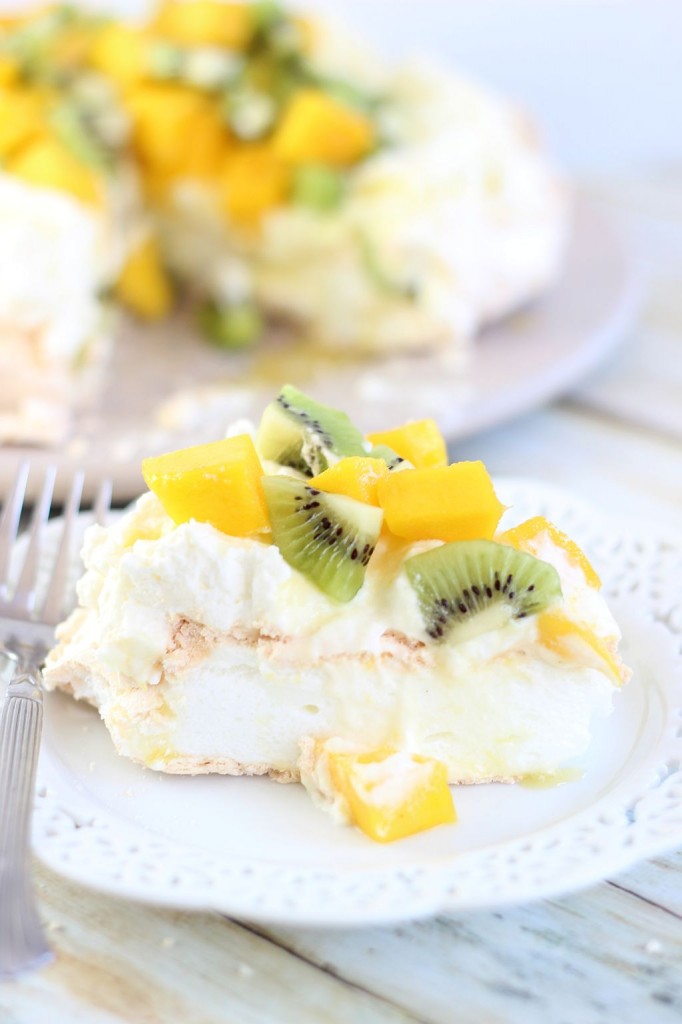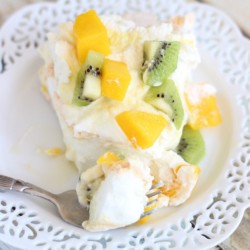 Coconut Pavlova with Mango-Kiwi Compote
A light and airy coconut-flavored pavlova with a layer of sweet Mascarpone, and a fresh mango-kiwi compote!
Ingredients
For Mango-Kiwi Compote:
1

mango

peeled and chopped

2

kiwi

peeled and chopped

2

tbsp.

sugar
For Coconut Pavlova:
5

large egg whites

at room temperature

1

c.

sugar

1/4

tsp.

salt

1/2

tsp.

cream of tartar

1 1/2

tsp.

coconut extract
For Mascarpone Topping:
1

c.

heavy cream

2

tbsp.

sugar

1 - 8

oz.

container Mascarpone cheese
Instructions
For compote:
In a medium-sized bowl, combine mango, kiwi, and sugar. Toss to gently coat. Set aside.
For pavlova:
Line a large cookie sheet with parchment paper. Using a plate or bowl as a guide, trace a 9-inch circle onto the parchment paper. I used a toothpick so I could see the indentation of the circle, without needing to use ink.

In a large mixing bowl, beat the egg whites until thick, about 2 minutes.

With the mixer running on medium-high speed, gradually add the sugar, about 2-3 tbsp. at a time, followed by the salt, cream of tartar, and coconut extract.

Increase the speed to high, and beat until the egg whites form stiff peaks, about 4-5 minutes.

Pile the meringue mixture into the middle of the circle on the parchment paper, and carefully spread it to the edges of the circle, making a disk. It doesn't have to be perfect - the ruffles and edges look rustic and pretty!

Bake at 250 degrees for 1 hour and 30 minutes. Turn off the oven, and keeping the oven door closed, allow the meringue to cool in the oven for about 1 hour.

Remove from the oven, and cool completely on the pan.

Carefully shift the pavlova from the parchment paper to a serving plate.
For Mascarpone topping:
In a large mixing bowl, combine heavy cream and sugar. Beat until stiff peaks form.

Beat in the Mascarpone cheese until just blended.
To assemble:
Carefully spread the Mascarpone topping onto the pavlova, leaving a 1-inch border at the edges.

Top with the mango-kiwi compote. Slice and serve! DEVOUR!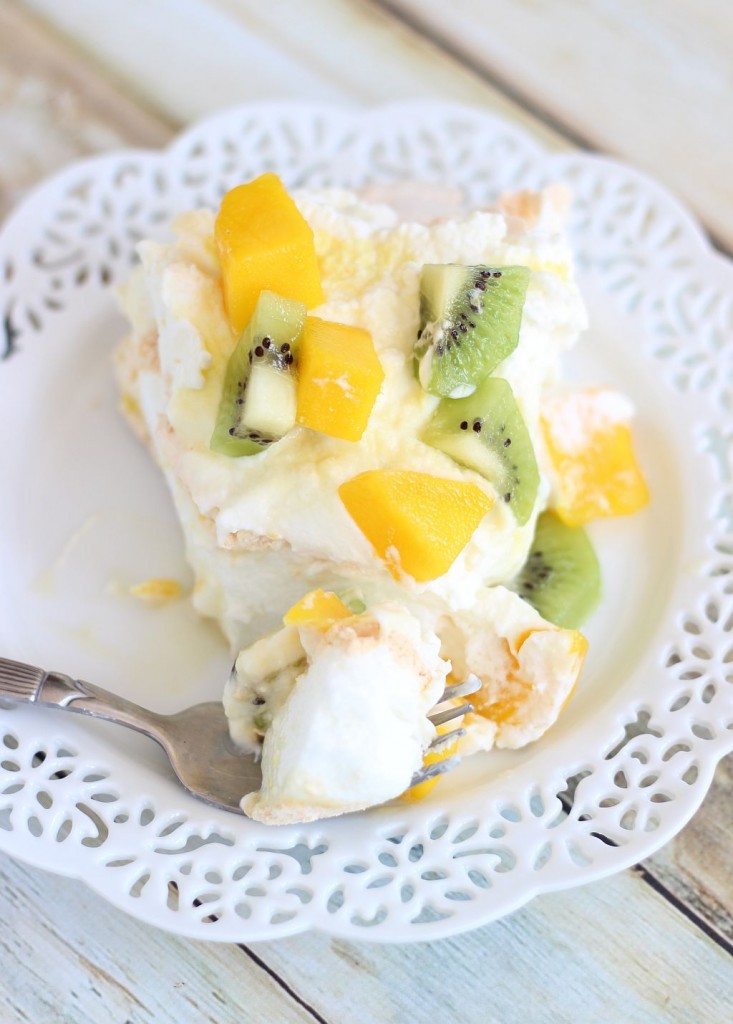 And now I've maxed out on my ability to think and write today, so I think I'll go take a nap.