Shortcakes are topped with fresh blackberry sauce and slathered with homemade tangy lemon curd for an unforgettable dessert!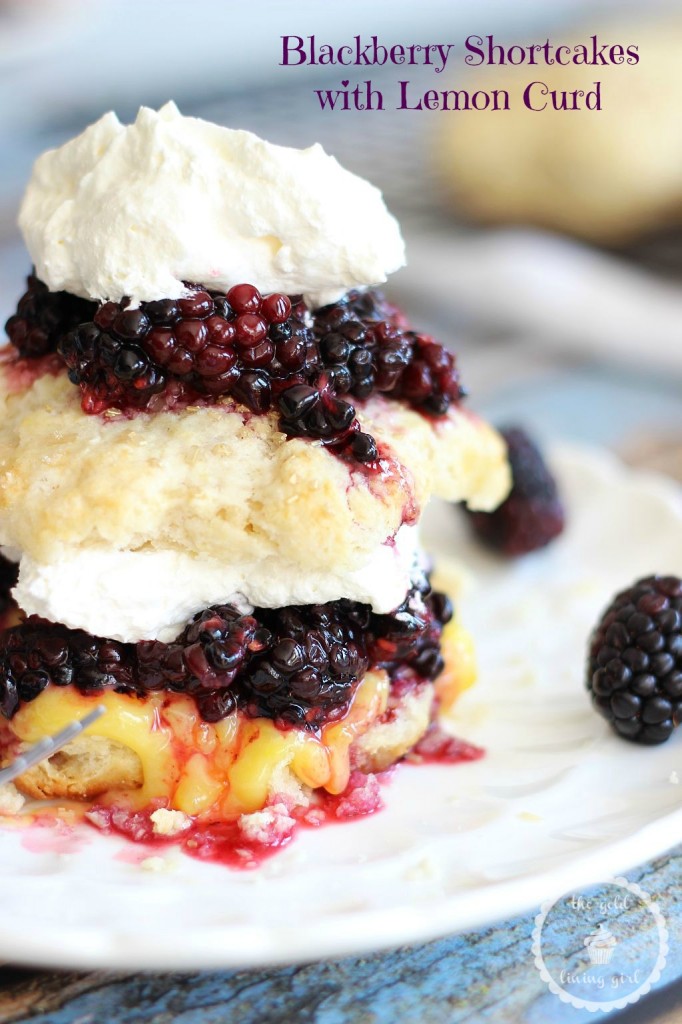 What the heck. Let's do it. It's "Citrus Week." Or, at the very least, it's "Lemon Week."  No matter that it's Friday night, and not really an ideal time to start a series. Whatev. Also, it's probably going to be more like 2 weeks. I just have that many citrus recipes sittin' in the queue. I'm way behind on getting stuff posted, but what else is new?
I also have 3 loads of clean laundry sitting in a massive pile on a chair in the living room waiting to be folded for the last 1.5 weeks, and plenty of dirty dishes in the sink, but what are you gonna do? Never enough time in a day! Back to procrastinating by downloading music from iTunes for a new workout playlist. #priorities
As soon as I posted the Lemon Pound Cake with Strawberry-Kiwi Sauce yesterday, I felt so rejuvenated thinking about those fresh, fruity, and springy flavors again. Writing about that bright and cheery dessert got me excited about all the other good stuff coming up! Sunshine and smiles and puffy white clouds… okay, maybe that's overkill. But we've been enjoying so many amazing springtime desserts that I'm looking forward to sharing, so I need to get on that, and that's what we're gonna do.
First of all, let's talk about the lemon curd. Curd: it's not a great word. A very unfortunate word for a food that is so incredible. The term "curd" just doesn't do justice to how amazing curd is. We just have to get over that and look past it though. Curd is phenomenal. This homemade curd has intense sweet and tart lemon flavor. Once again, lots of fresh lemon juice and lemon zest get the job done. It's very strong and lemony, but the sweet and sour is nice and balanced! It's very silky and luscious. You can sit around eating the lemon curd out of a jar with a spoon if you want. I won't judge you, so don't judge me.
I live in a house where we eat egg whites like they're going out of style. What do you do with an abundance of yolks? Why, you make curd, of course! (Or you make custard, but more on that further into Citrus Week). I made grapefruit curd recently, now lemon curd, and spoiler alert: key lime curd and orange curd are also on the docket. I know, it's ridiculous. But we just have so many extra yolks! I'm certainly not going to waste them, and since curd is so fantastic and easy to whip up, I just keep making it.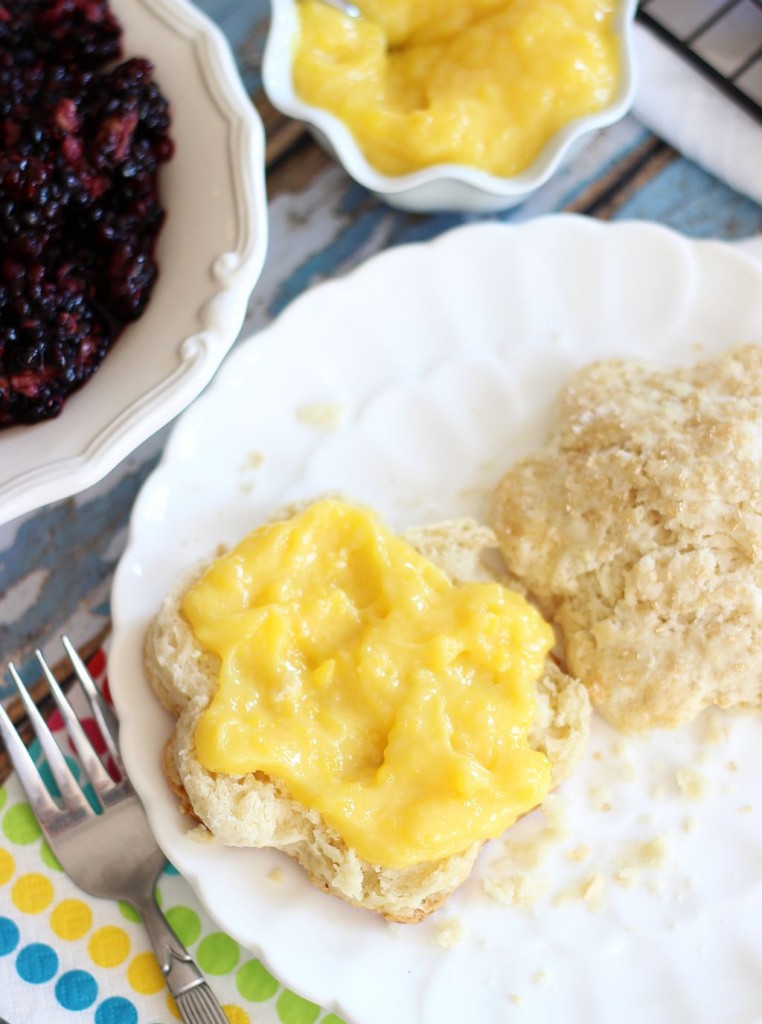 The lemon curd is slathered onto a tender and flaky shortcake – the shortcake has lemon zest mixed right into the batter (!!), and topped with a simple fresh blackberry sauce. With all the plump berries I've been seeing at the grocery store, I was really craving shortcakes. And with summer around the corner (so they say), it seemed very fitting. Shortcakes just scream spring and summer, don't ya think? I love a lemon dessert, always, and I love how lemon pairs with berries. I just couldn't pass up the big containers of plump, ripe, and juicy blackberries to combine with the lemon curd on these unique shortcakes!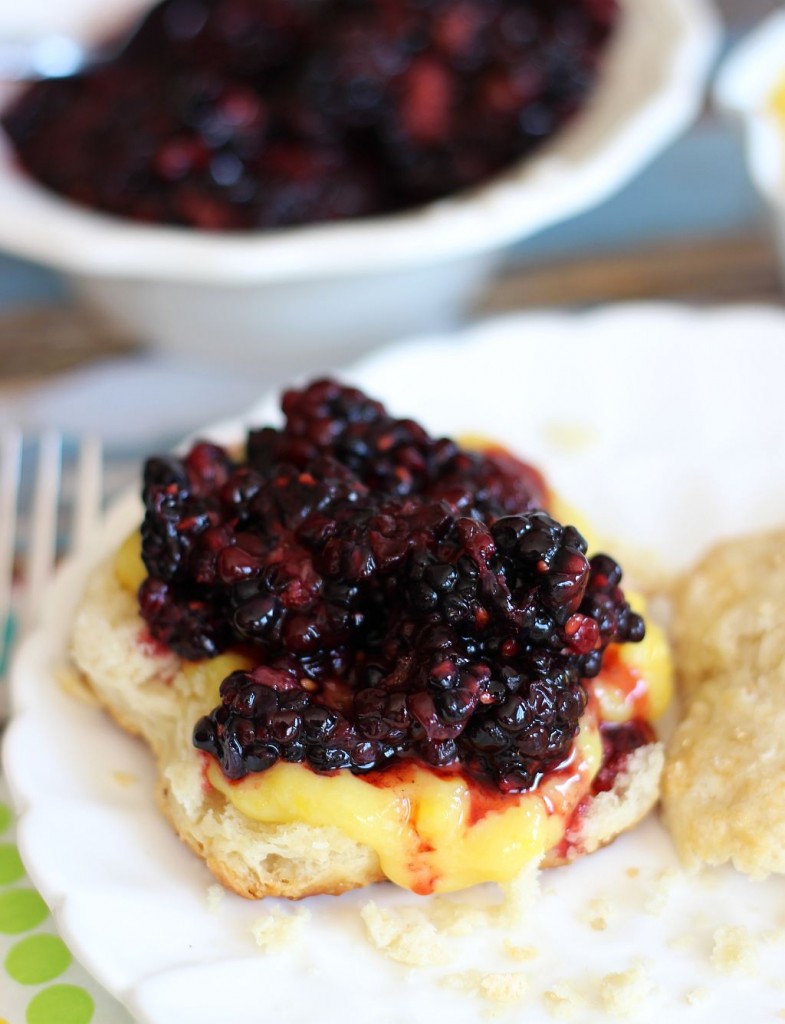 I say this all the time, but this is one of my favorite desserts to date!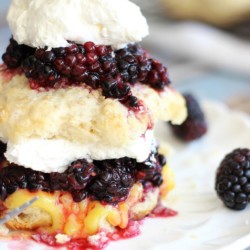 Blackberry Shortcakes with Lemon Curd
Shortcakes are topped with fresh blackberry sauce and slathered with homemade lemon curd for an unforgettable dessert!
Ingredients
Lemon curd:
4

egg yolks

at room temperature

Zest of 3 lemons

1/3

c.

fresh lemon juice

1/2

c.

sugar

pinch

of salt

3

tbsp.

unsalted butter

softened
Blackberry sauce:
18

oz.

fresh blackberries

3

tbsp.

sugar
Shortcakes:
2

c.

flour

5

tbsp.

sugar

1

tbsp.

baking powder

1/2

tsp.

salt

1/2

c.

unsalted butter

cold

2/3

c.

half-and-half

1

large egg

2

tbsp.

sugar

1 - 8

oz.

container whipped topping

thawed
Instructions
For lemon curd:
In a small bowl, whisk together the egg yolks, lemon zest, lemon juice, sugar and salt. Transfer to a small saucepan.

Cook the mixture over low-medium heat, stirring constantly, until it is thick enough to coat the back of a spoon, 3 to 5 minutes.

Remove from heat and add the butter. Mix until smooth.

Transfer the curd to a small bowl and cover with plastic wrap.

Refrigerate until chilled, about 30 minutes.
For blackberry sauce:
In a medium bowl, combine blackberries and sugar, tossing gently to combine.

Crush the blackberries slightly with a potato masher.

Allow to sit for about 30 minutes to macerate.
For shortcakes:
Adjust oven rack to lower-middle position.

In a large bowl, combine flour, sugar, baking powder, and salt. Whisk til combined.

Grate the cold butter into the bowl, and combine until the mixture is coarse and crumbly.

In a separate small bowl, combine half-and-half and egg.

Add egg mixture to flour mixture, stirring until just combined.

Turn the dough out onto a lightly floured surface, and knead lightly until it comes together.

Pat into a rectangle about 1-inch thick, and cut into 6 biscuits using a 3-inch biscuit cutter.

Reform remaining dough into 1-inch thick pieces, and cut 2 more biscuits.

Place biscuits on parchment paper-lined baking sheet, about 1 inch apart.

Brush each biscuit lightly with half-and-half, and sprinkle evenly with the 2 tbsp. sugar.

Bake at 425 degrees for 12-14 minutes, or until golden brown.

Allow biscuits to cool on baking sheet for 10 minutes, then remove to wire rack to cool completely.
To assemble:
Split apart the shortcakes and spread one half of each shortcake with lemon curd.

Top the lemon curd with a spoonful of blackberry sauce, and then with the other half of the shortcake.

Top with more blackberry sauce, if desired, and definitely lots of whipped topping!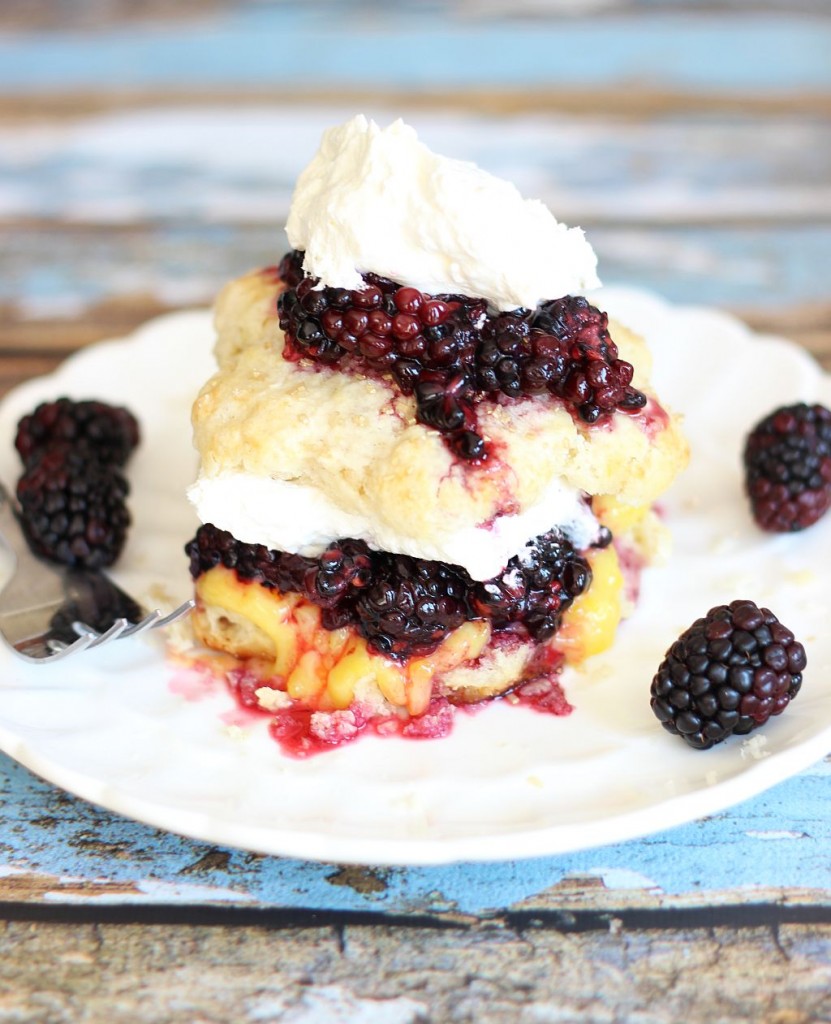 Oh, and it's imperative to have lots of whipped cream!