Chocolate swirled with melted peanut butter, chock-full of Reese's pieces, peanut butter chips, and salty crushed pretzels!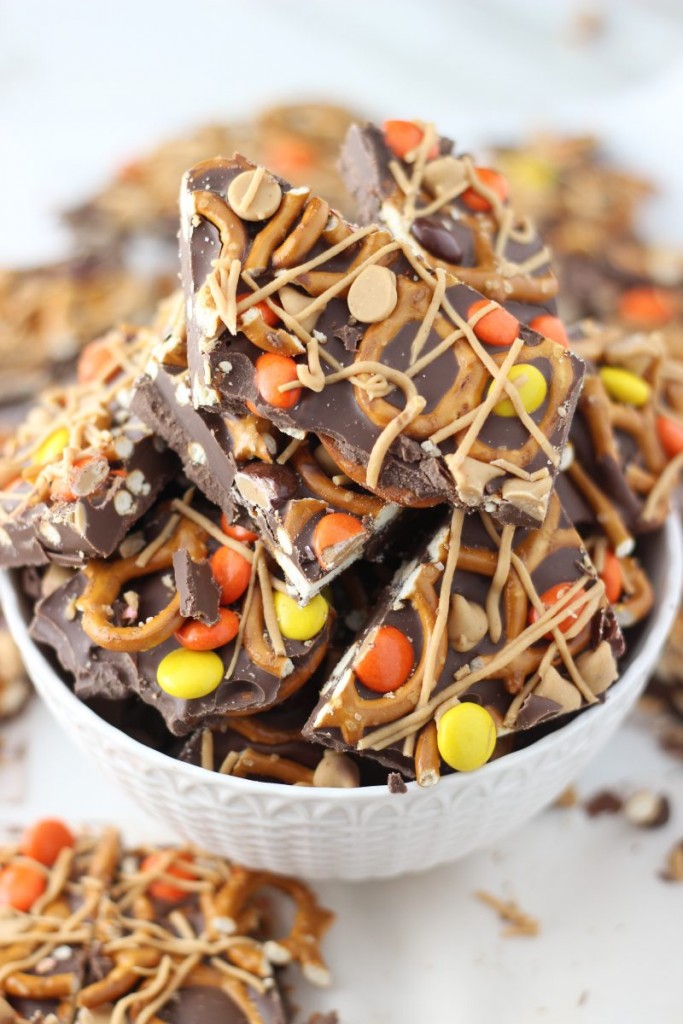 Chocolate, peanut butter, and pretzels, perhaps one of my favorite combinations of all-time. I love pretzels anyway. I'm a pretzel person. Add peanut butter? I'm losing it. Add chocolate? I'm dead. I hope you feel the same way, but if you don't, I'm about to convince you.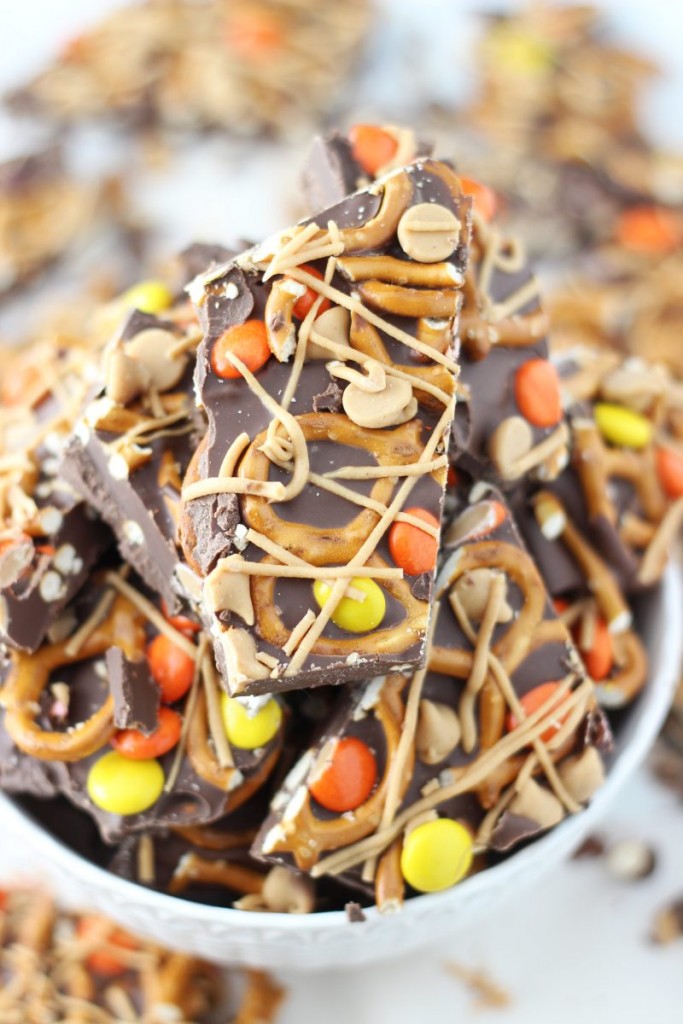 I'm not generally a salty snack person at all, I'm a sweet-tooth. Take potato chips, for example. I will rarely crave potato chips, and I virtually NEVER buy them. If they're in front of me, I'll eat them and I won't be able to stop, but they are just not what I go for. I want sweet stuff. I'm a sweet-tooth through and through.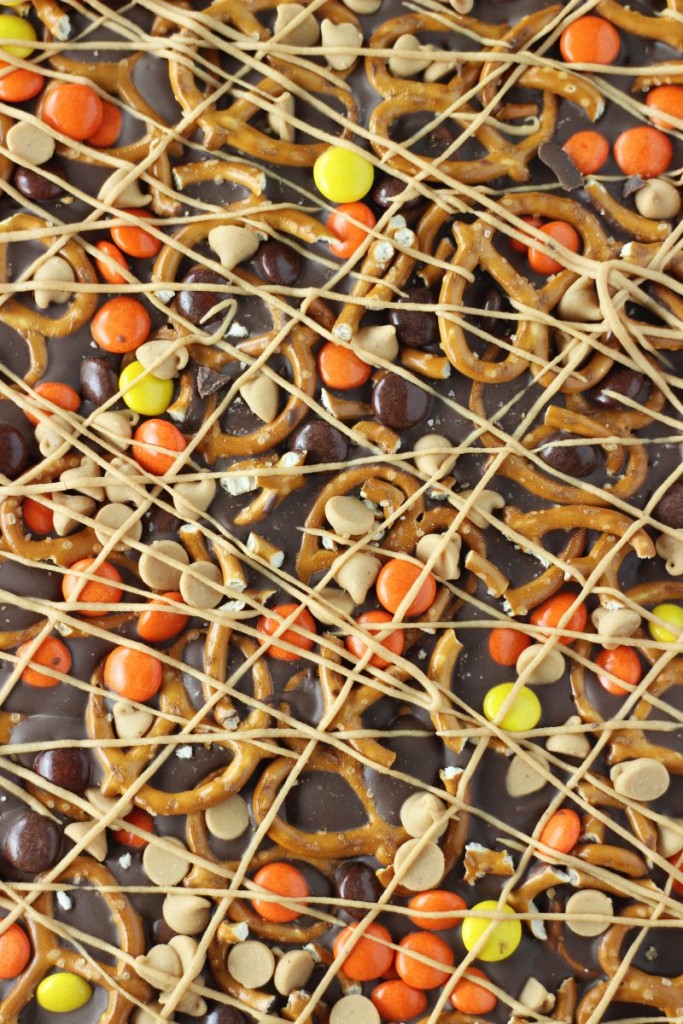 Pretzels are the exception though. They are my salty snack weakness. Anything pretzel-like. Of all the salty food snacks, I love pretzels, pretzel sticks, pretzel buns, soft pretzels, and perhaps my favorite of all: pretzel bagels. I find them at Trader Joe's, and I buy 4 or 5 sleeves at a time, stashing them in the freezer so that I never have to be without them. Try them for yourself, and you can thank me later.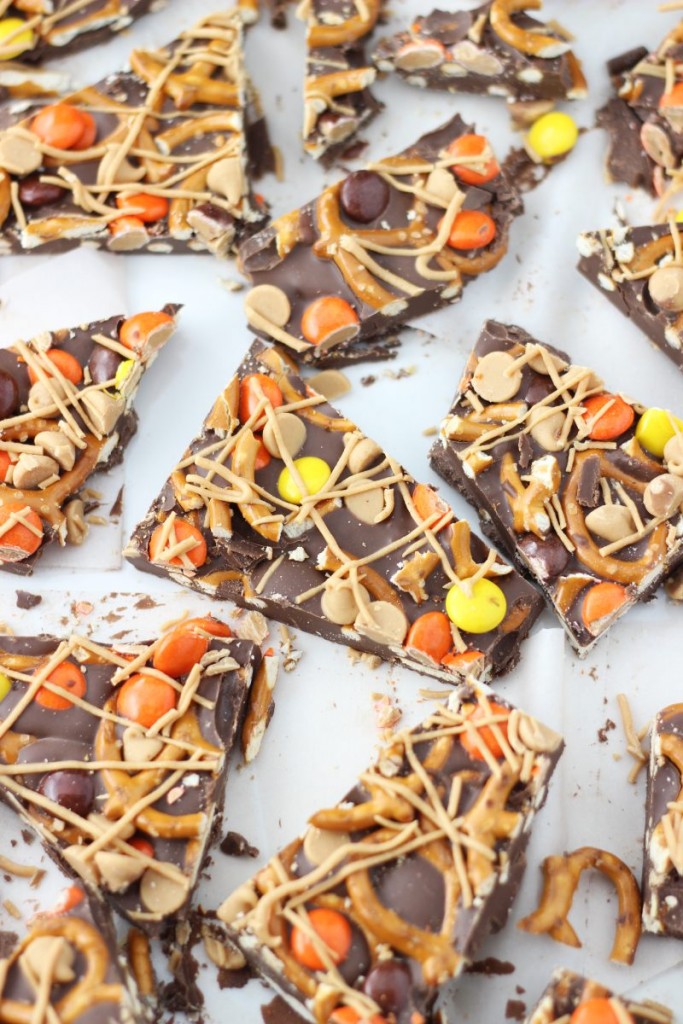 I wanted to make a candy bark featuring that exact combo: chocolate, peanut butter, and pretzels. The perfect trifecta. This bark was initially somewhat inspired by this Reese's Peanut Butter Cup Tiger Butter bark. I love how that Tiger Butter recipe has peanut butter melted right into the white chocolate base, so it's extra peanut-buttery!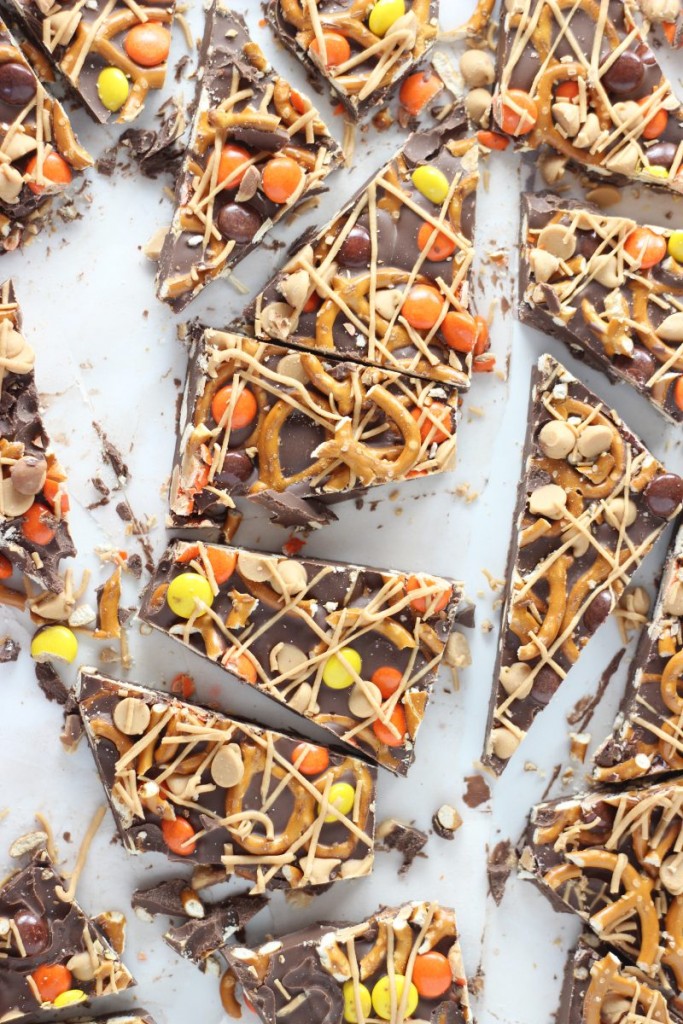 This bark uses milk chocolate, but I still wanted to add creamy peanut butter right to the base. For this Chocolate Peanut Butter Pretzel Bark, I added peanut butter into the melted chocolate bark base, so there's peanut butter every step of the way. I topped the bark with peanut butter chips, Reese's pieces, and crushed, salty pretzels. This bark is salty, sweet, crunchy, and full of that epic trifecta of chocolate, peanut butter, and pretzel! Even better, this Chocolate Peanut Butter Pretzel Bark recipe is ready in minutes!