This candy corn bark is ready in minutes! Silky white chocolate sprinkled with candy corn and salty pretzels, it's a sweet-and-salty Halloween candy delight!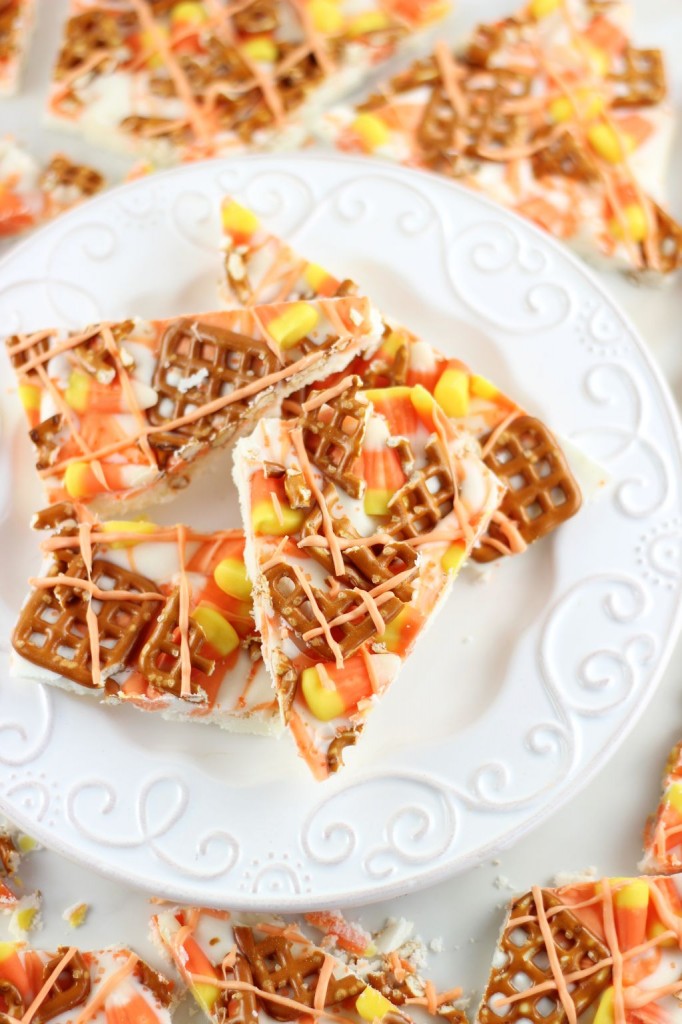 Let me tell you how this recipe went. The day I planned to make this bark, I ran out of candy corn making these Candy Corn White Chocolate Blondies. I was making many of these Halloween recipes back in August!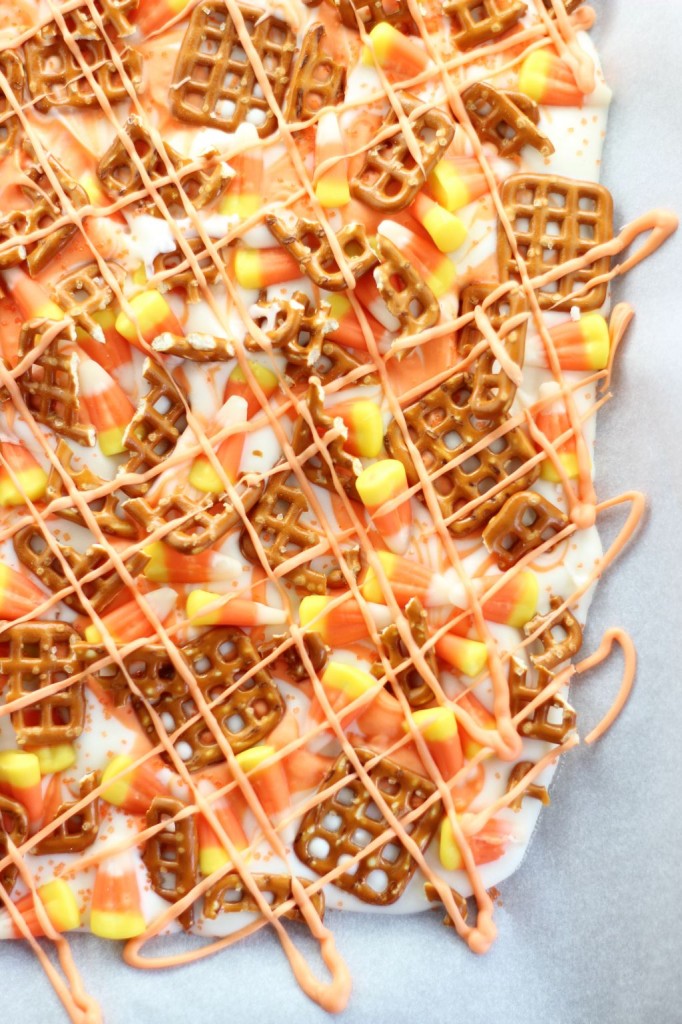 I think I'd originally found the candy corn at the dollar store. I sent my S.O. out to Publix for more candy corn and five other ingredients, and he was gone for two hours. TWO. HOURS. Just for a handful of items…. during which time I received a phone call and two texts asking me where to find everything. He left the store ready to burn it down, and said that we needed to call corporate headquarters to thank a sales associate named Greg for all his help. Lol! #drama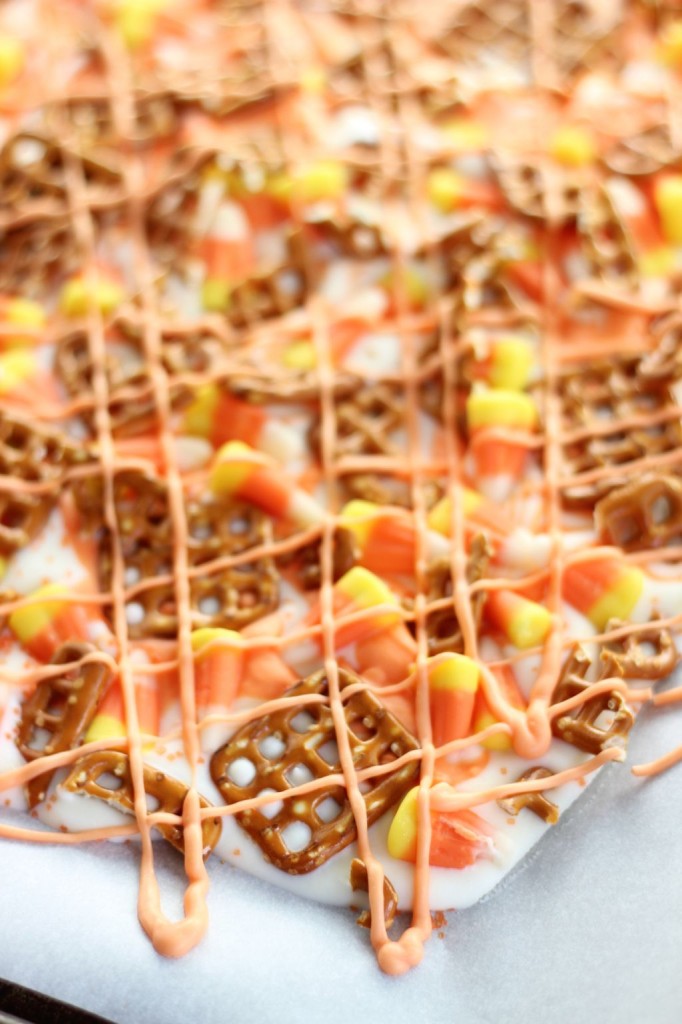 When he came home, I asked him which ingredient really did him in… he usually struggles with finding all baking ingredients (I do not understand this?? They are generally all in one or two aisles!!), but one typically causes him more grief than the others.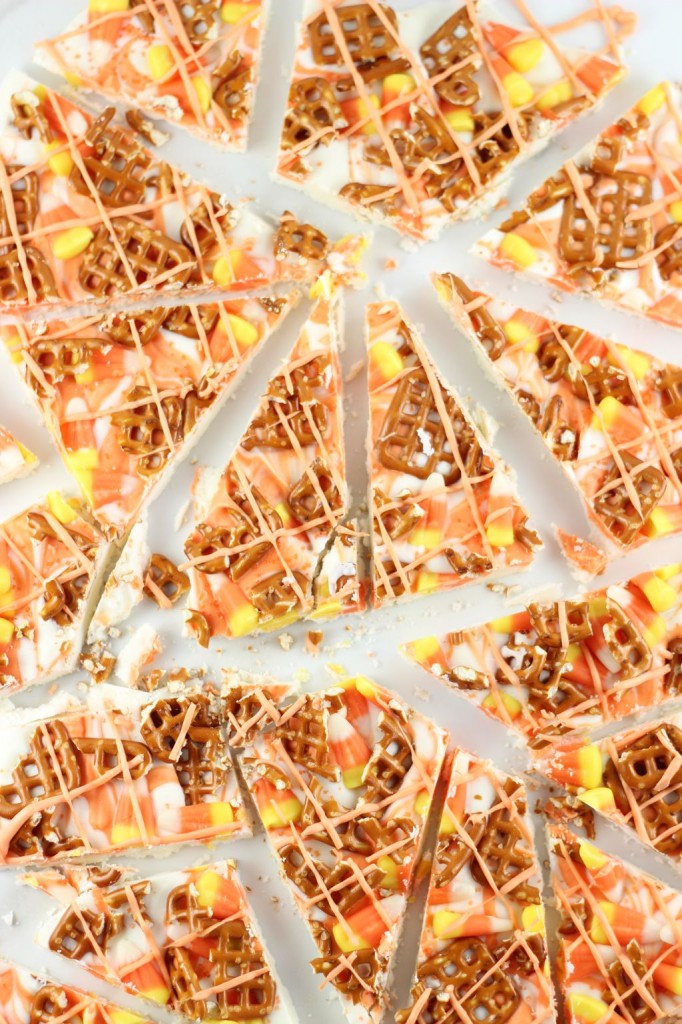 I was surprised to hear that it was the candy corn. I noted the day – it was August 30th – why on earth didn't Publix have candy corn then? How very unreasonable. Okay, so it's not, it was only August, but stores are always sooooo far ahead on holidays.
I should mention that I found candy canes and Christmas decorations at Sam's Club in August, but no candy corn. Mystifying, isn't it?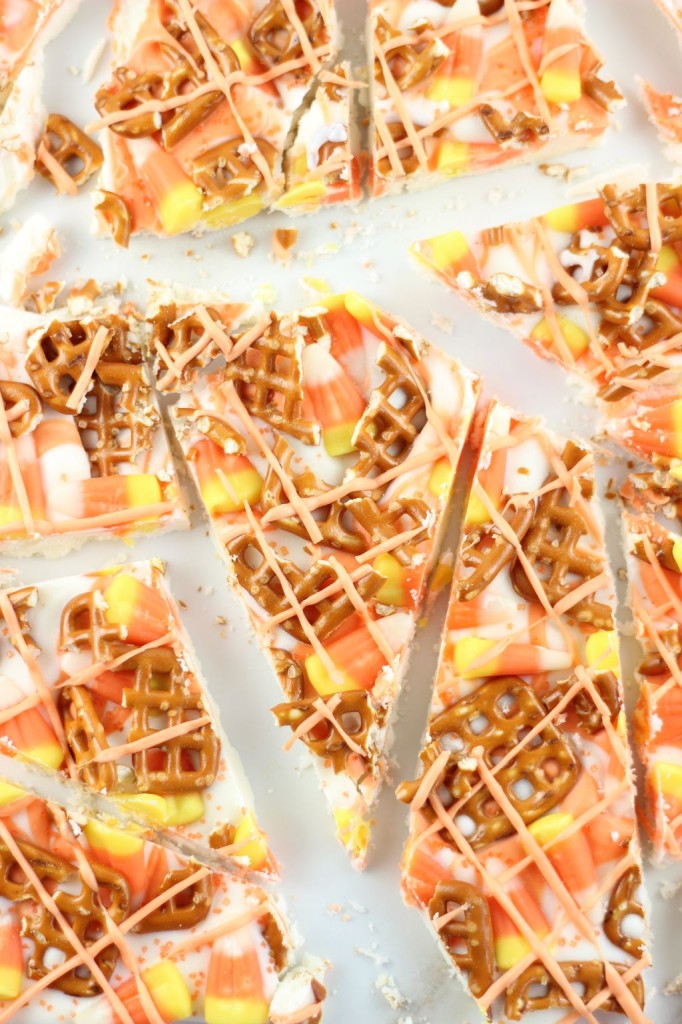 He tracked it down eventually at a different store, and our relationship survived that test. Ingredient runs can get a little dicey around here. I'm sure he'd tell you it was worth it so that I could bring you this Candy Corn Bark recipe!
Smooth white chocolate is sprinkled with candy corn and crushed pretzels for that perfect combination of sweet-and-salty. If you've never known the deliciousness of silky white chocolate with salty pretzels, than this is a must-try candy. Adding candy corn for seasonal flair, you can make this in the microwave in just a few minutes, and it's a fun and festive treat!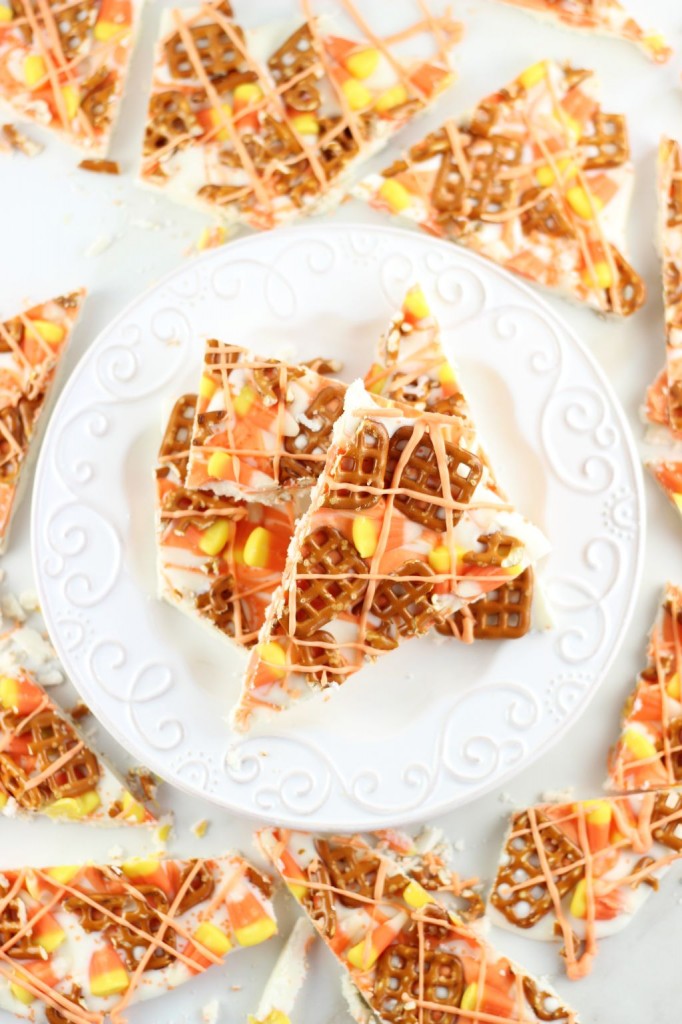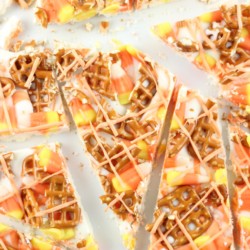 Candy Corn Bark
Silky white chocolate sprinkled with candy corn and salty pretzels, it's a sweet-and-salty Halloween candy delight!
Ingredients
1 - 24

oz.

package almond bark

coarsely chopped

1 1/2 - 2

c.

candy corn

1

c.

pretzels

broken into pieces (I like Snyder's Butter Snaps!)

about 1/2 c. orange Wilton melts

for drizzling (optional)
Instructions
Line a large baking sheet with parchment paper.

Place the almond bark in a large microwave-safe bowl.

Microwave the almond bark at 30-second intervals until melted and smooth.

Spread it onto the parchment paper in a thin, even layer.

Sprinkle the candy corn and pretzels over the chocolate, pressing lightly to adhere.

In a small microwave-safe bowl, heat the orange melts at 15-second intervals until melted and smooth.

Drizzle over the bark.

Allow to set completely, and break or cut into pieces.
Btw, can we not talk about how overexposed some of these photos are?? Awesome, thanks. 🙂