Buttery and rich white chocolate blondies get a Halloween makeover with the addition of candy corn!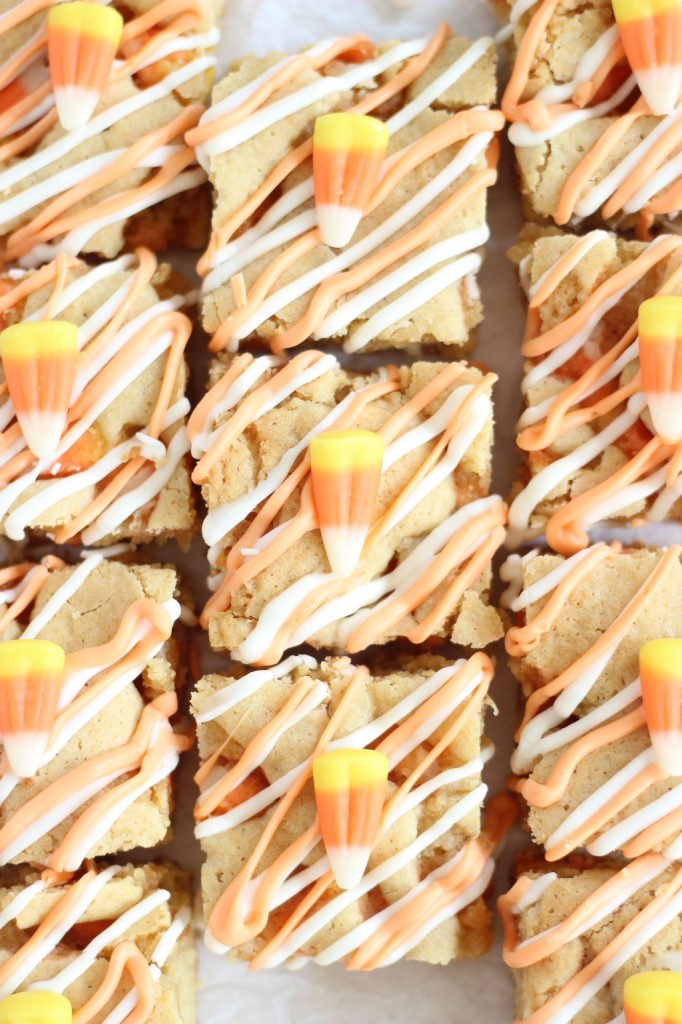 Candy corn is such a quintessential fall and Halloween candy, so it's fun to include it in baked goods, but it's a little tricky to incorporate into baking (more about that later this year in my recipe fails). It has a tendency to turn into sticky goo when baked, and not in a tasty and delicious way. It's still workable to bake with candy corn, but there's a few tips that must be practiced.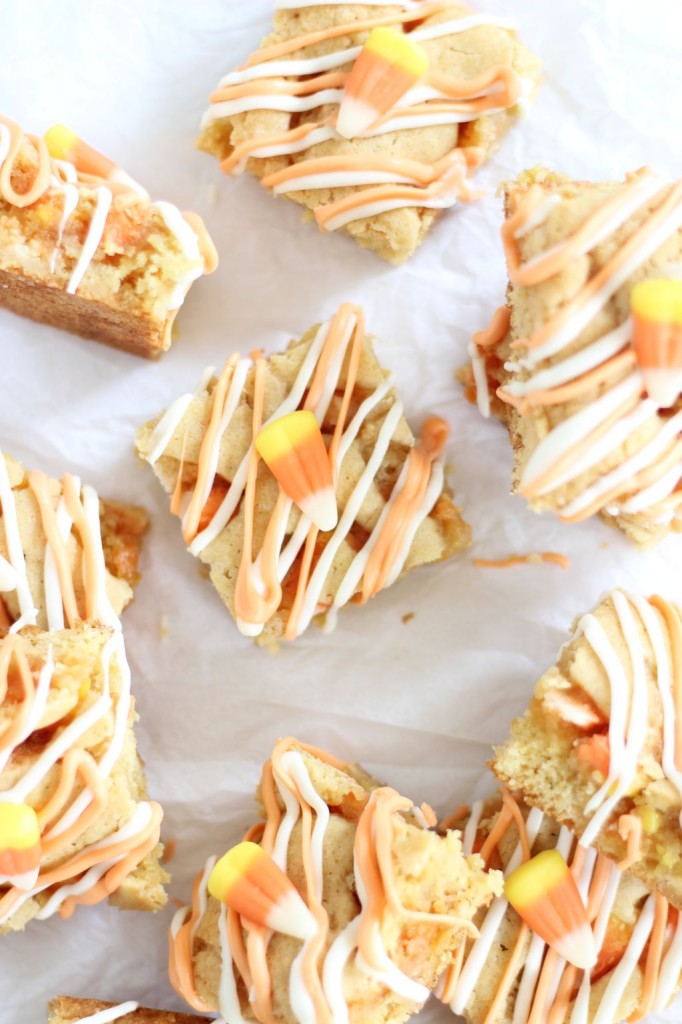 Actually, the main tip is to never let it sit directly on a baking pan, and you should be good. It melts and sticks like glue. When I use candy corn in baked goods, just make sure that when you mix it into a dough or batter, that none of the candies touch the bottom of the pan directly.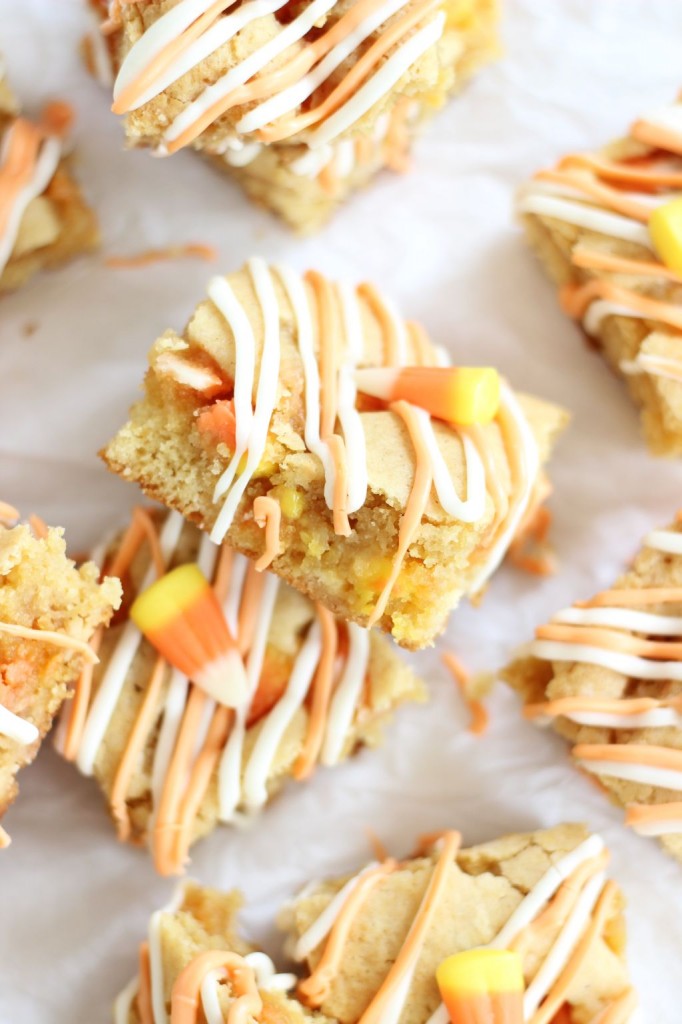 Case in point: these Candy Corn White Chocolate Blondies. You'll spread the entire batter into the pan, and then you'll sprinkle it with candy corn. The candy doesn't even get mixed in before baking. As these bars bake, the candy corn sink quite a bit, so they still end up enveloped in batter, but they also have a buffer at the bottom so they don't stick to the pan like glue. Make sense?  Even if it didn't, just take my word for it!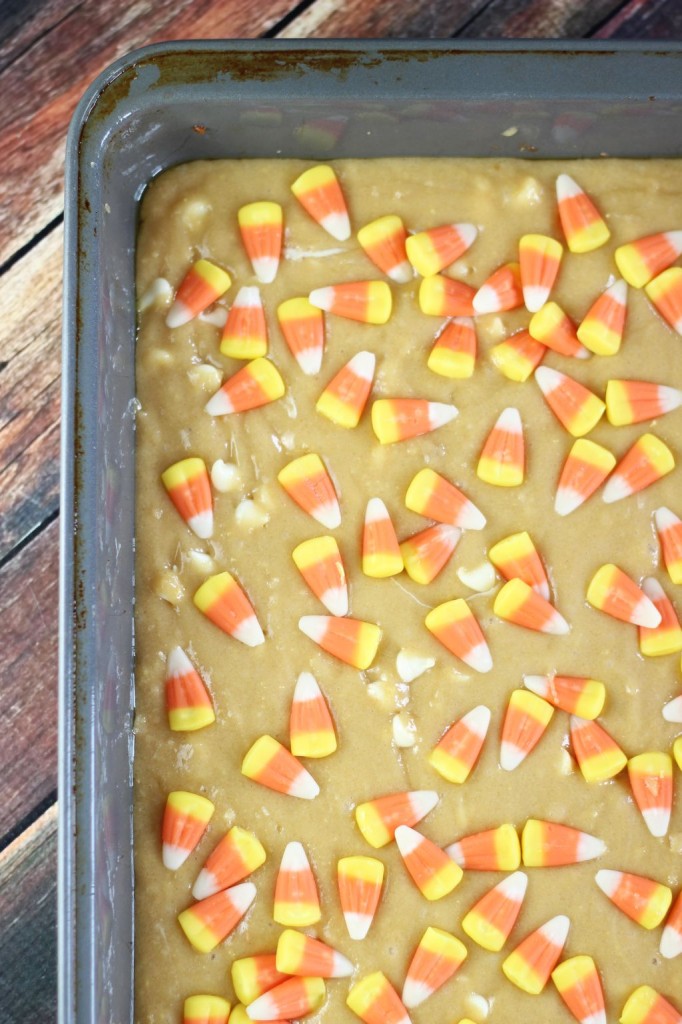 Candy corn is shockingly awesome in baked goods. It's not just a gimmick. I mean, it is a gimmick… throwing candy corn into cookies and brownies and other things just for the sake of using it in a recipe. Yeah, it's kind of a gimmick and a novelty, and it capitalizes on the fact that people are all about Halloween candy this time of year (hey, give the people what they want!), buuuuuut it's also actually awesome. Candy corn and white chocolate go together like peanut butter & jelly, for starters, but the candy corn also get perfectly melty and delicious when they are baked – provided they are not baked right on a baking pan. 🙂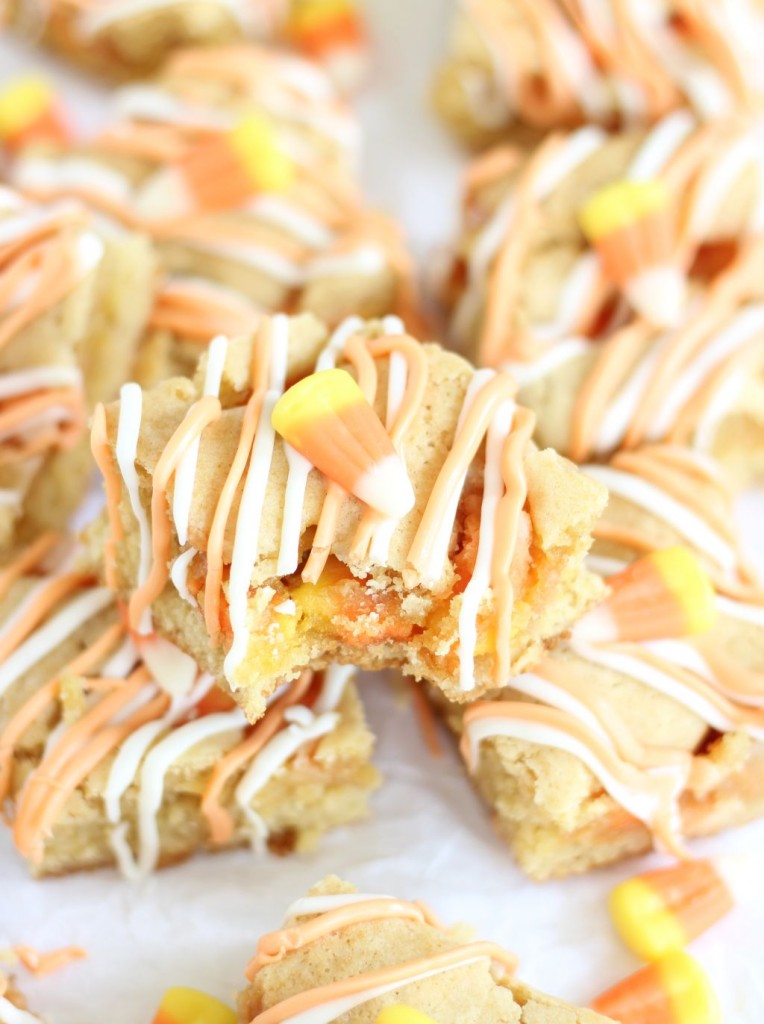 The batter for these blondies has white chocolate melted right into it, and is mixed up with plenty of butter and brown sugar. Rich, buttery, and super chewy blondies. Throw in more white chocolate, a boatload of candy corn, and a drizzling of still more chocolate, and you have a real winner here. You need to have a serious sweet-tooth for these, but I'm assuming you wouldn't be reading here if you didn't?!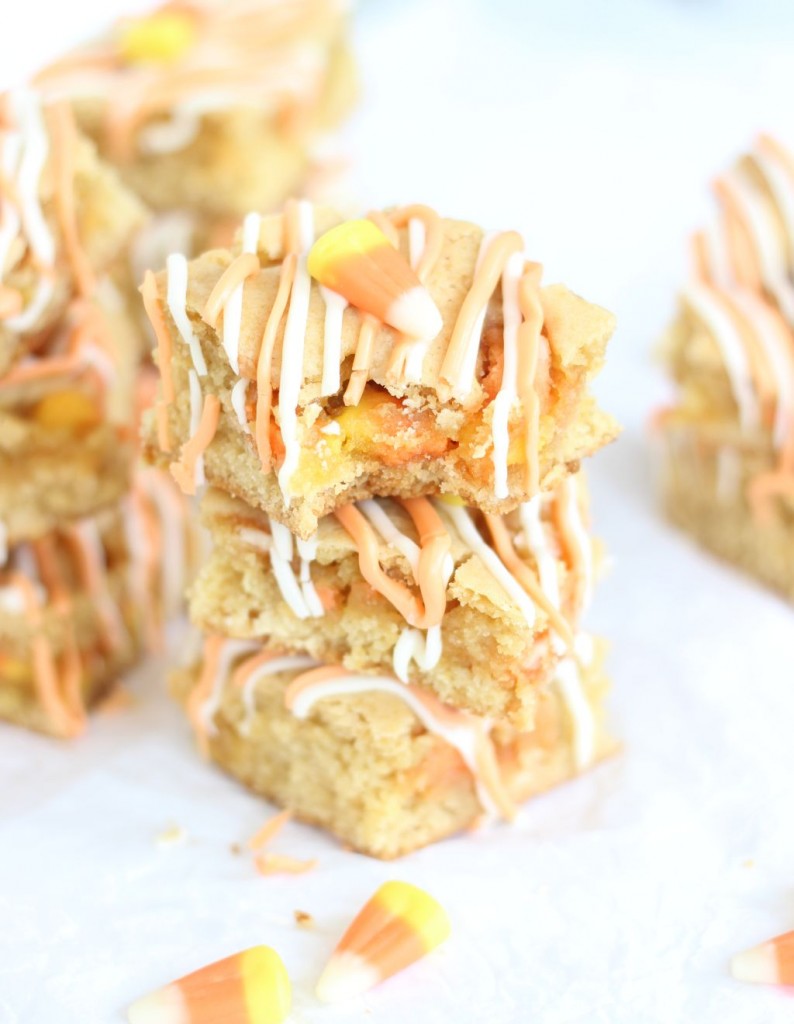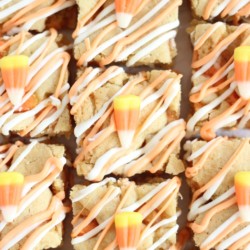 Candy Corn White Chocolate Blondies
Ingredients
2

c.

white chocolate chips

divided

1/2

c.

butter

1 2/3

c.

flour

2/3

c.

packed brown sugar

2 1/2

tsp.

baking powder

1/4

tsp.

salt

1

tsp.

vanilla

2

eggs

1

c.

candy corn

optional: orange and yellow chocolate wafer melts

for drizzling
Instructions
In a medium saucepan over low heat, melt the butter.

Remove from heat and scatter 1 c. white chocolate chips over the butter. Do not stir.

Allow to sit for 2 minutes, then gently stir the chips and butter together until mostly combined. Set aside to cool to lukewarm, about 10 minutes.

Meanwhile, in a large bowl, whisk together flour, brown sugar, baking powder, and salt.

Add the eggs, vanilla, and white chocolate mixture to the flour mixture. Mix until just combined.

Fold in the remaining 1 c. white chocolate chips.

Spread into a greased 9x13-inch pan.

Sprinkle the batter with the candy corn, and do not even press them into the batter. As it bakes, they will sink significantly!!

Bake at 325 degrees for 20-25 minutes, or until edges are golden brown and a toothpick inserted near the center comes out clean.

Remove to a wire rack to cool completely, and cut into bars.

Drizzle with melted orange and yellow chocolate wafer melts, or white chocolate, if desired.