A super easy holiday candy recipe – white chocolate fudge with peppermint chips, peppermint extract, and crushed pretzels. Pretty and delicious!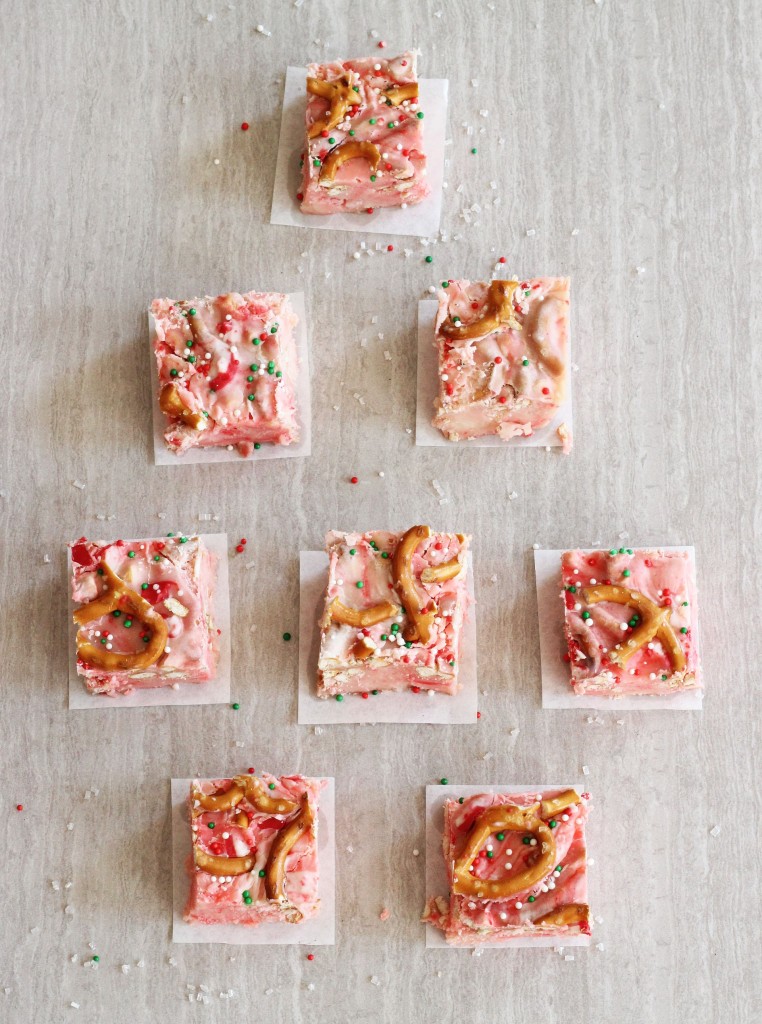 Today I was planning to share an eggnog-themed recipe to kick off Christmas and holiday baking. I was super excited about it! As you can see, we are NOT looking at a recipe including eggnog! I wrote down the recipe on a scrap of paper and stuffed it in a notebook, lost it for about 2 weeks, found it again yesterday and was thrilled that it turned up, and now I've gone and misplaced it again! So stay tuned… I'm *sure* it will reappear!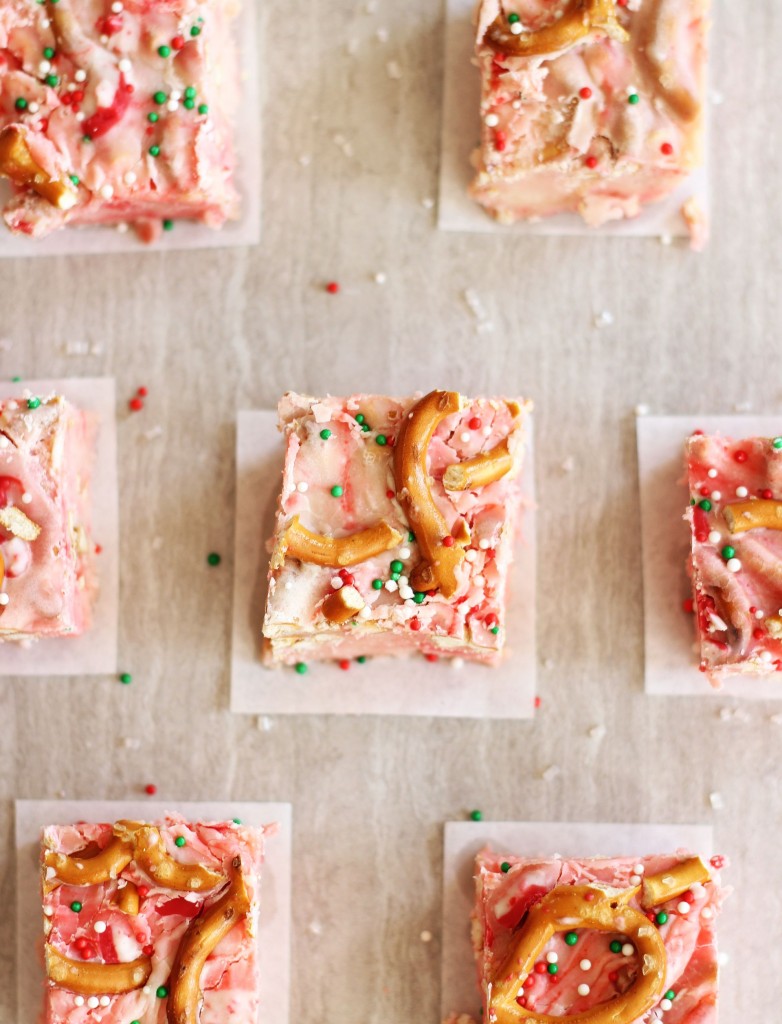 As of now though, I looked all over the place yesterday and it is not to be found. That's okay though because we still have a holiday recipe in the form of this incredible and festive White Chocolate Peppermint Pretzel Fudge! It's fudge so it's obviously no-bake, and it's fudge so it takes about 10 minutes and is quite easy. And since it's fudge, it also does not require a 1,001 ingredients. Best of all, you don't need a candy thermometer to get this particular fudge to turn out right. THANK.GOODNESS.
If candy isn't idiot-proof, I can't make it. I typically won't even attempt. Candy-making should be nice, easy, stress-and-thermometer free. I'm just not really into hovering over a boiling pot of sugar trying to gauge its temperature. Um, no. But I am agreeable when it comes to setting a timer. That's all you'll need in terms of 'special equipment.' 🙂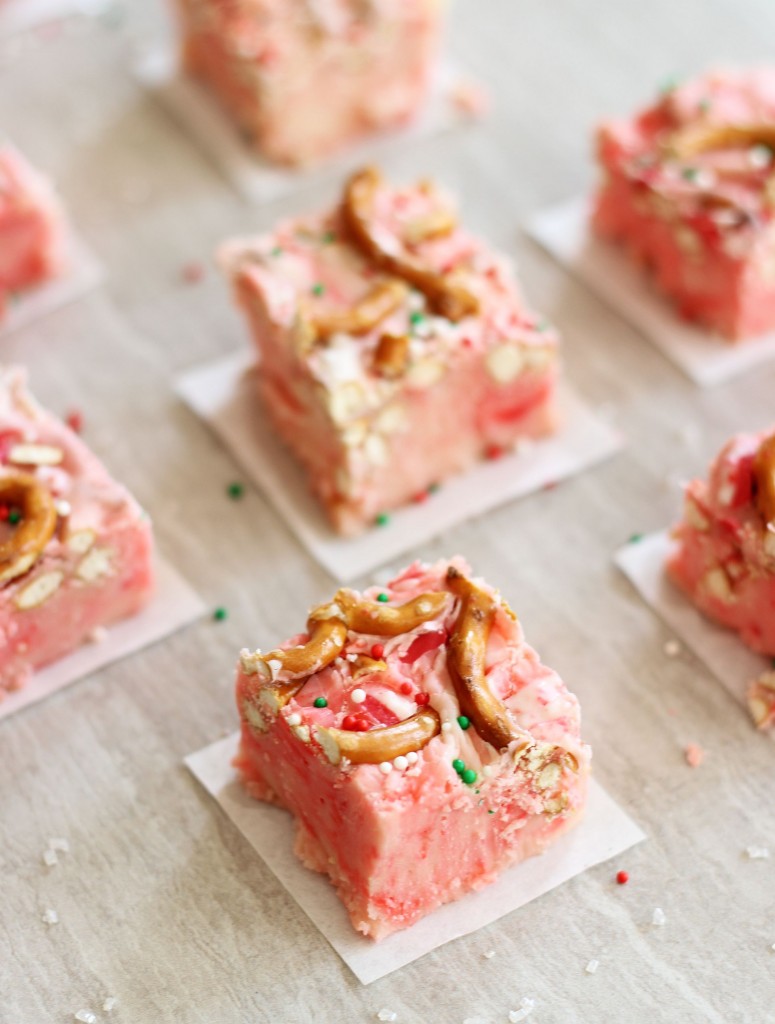 A few weeks ago while S.O. and I were visiting his family in Buffalo, we had to stop into CVS for eye drops and other sundries. It was immediately after we'd gone to the gym, and we were too hungry to wait for a proper meal. We left CVS with some string cheese, and 3 bags of chocolate covered pretzels, all in various flavor combos. A post-workout meal of champions, I tell you.
The white chocolate peppermint covered pretzels were the BEST ones. Initially, I wanted to recreate those, but then I got to thinking and decided: how much fun would that really be? I don't know… just dunking pretzels in white chocolate flavored with peppermint? Didn't sound all that riveting. Plus it requires patience. I'm short on that. BUT if I could put all those flavors into something else, now that would be much more interesting! The fudge idea was born.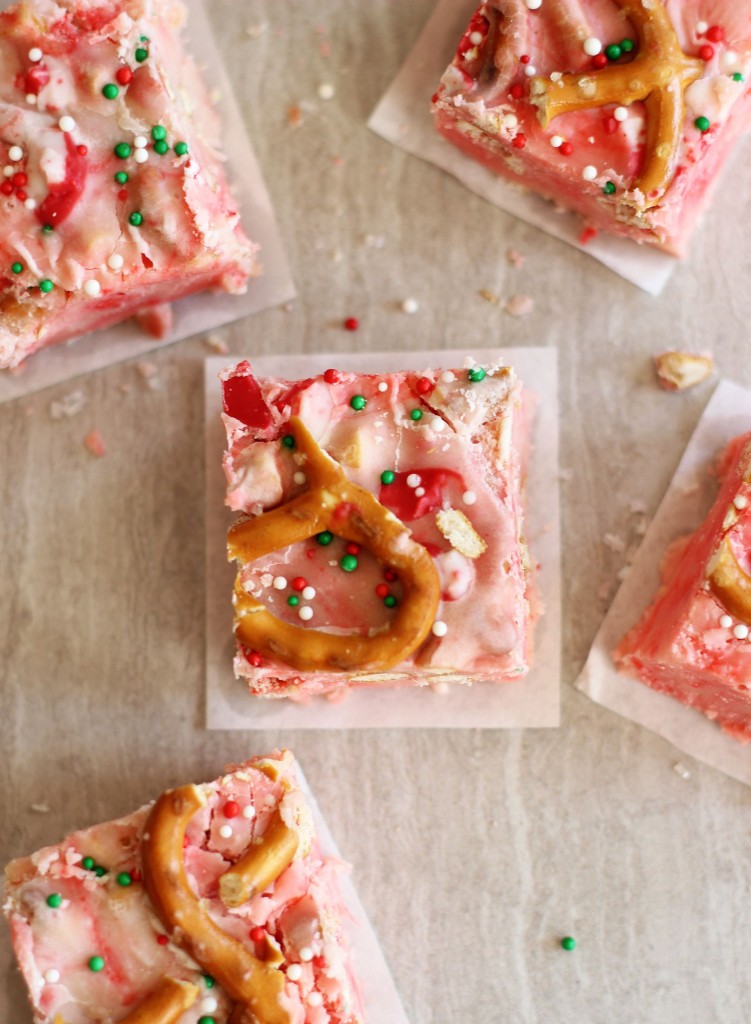 White chocolate and peppermint are a flavor combo that is so perfect for this time of year. They're a classic holiday flavor team. My favorite part of combining them with pretzels is that awesome sweet + salty thing that happens. Unless you're a white chocolate hater (seriously, how's that possible?), you'll love this fudge. You could easily substitute for milk or dark chocolate if that's your fancy though!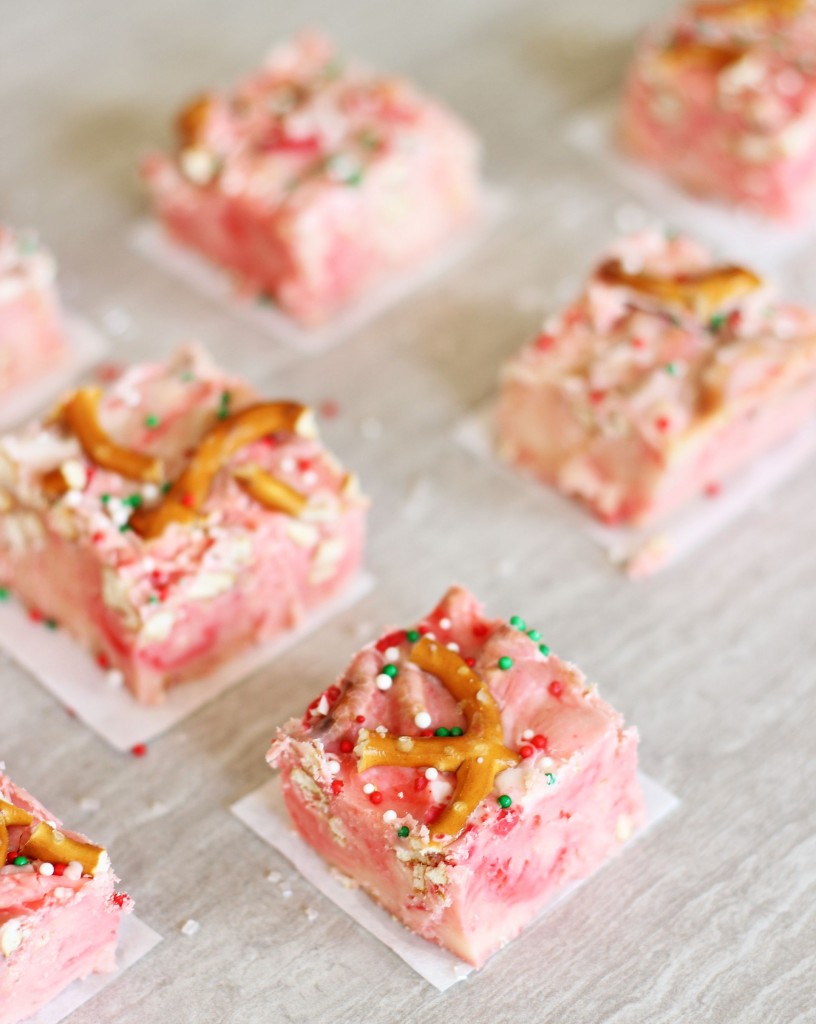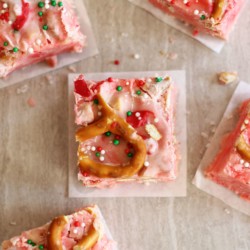 White Chocolate Peppermint Pretzel Fudge
An easy white chocolate fudge with peppermint crunch baking chips and chopped pretzels! Super festive and simple!
Ingredients
1/4

c.

butter

2 1/2

c.

powdered sugar

2/3

c.

milk

1 - 12

oz.

package white chocolate chips

1

tsp.

peppermint extract

2

c.

coarsely chopped or broken pretzels

1/2

c.

Andes Peppermint Crunch baking chips

or similar
Instructions
Coat a 9-inch square pan with non-stick spray.

In a large saucepan, combine the butter, powdered sugar, and milk.

Cook and stir over medium heat until well-combined.

Bring to a boil and boil for 6 minutes without stirring.

Reduce heat to low, and add in white chocolate chips, stirring until they're mostly melted.

Remove from heat, and mix in peppermint extract.

Carefully transfer mixture to a large mixing bowl.

On low speed, gradually increasing mixer speed to medium, mix for about 1 minute, or until mixture is completely smooth.

Gently fold in peppermint baking chips and pretzels.

Immediately spread into prepared pan. Fudge sets quickly!

Garnish with sprinkles and a few additional pretzels, if desired, lightly pressing them into the fudge.

Refrigerate until set.

Cut into squares. Store in refrigerator.
Notes
Update 12.14.19: I had a reader who wrote in that she planned to make mini muffin cups of fudge (love this idea!!), and the fudge was setting a bit too fast. I think this could probably be done if you act super quickly and know ahead of time that it's fast-setting. Now I've updated the notes, so hopefully that info helps someone else if they have a similar idea!