This Cashew Pie is all the best things about a traditional pecan pie, but made with cashews, and extra filling! An unforgettable Cashew Pie recipe that you will ADORE. Lots of ooey-gooey, brown sugar goodness, and it's simple to make!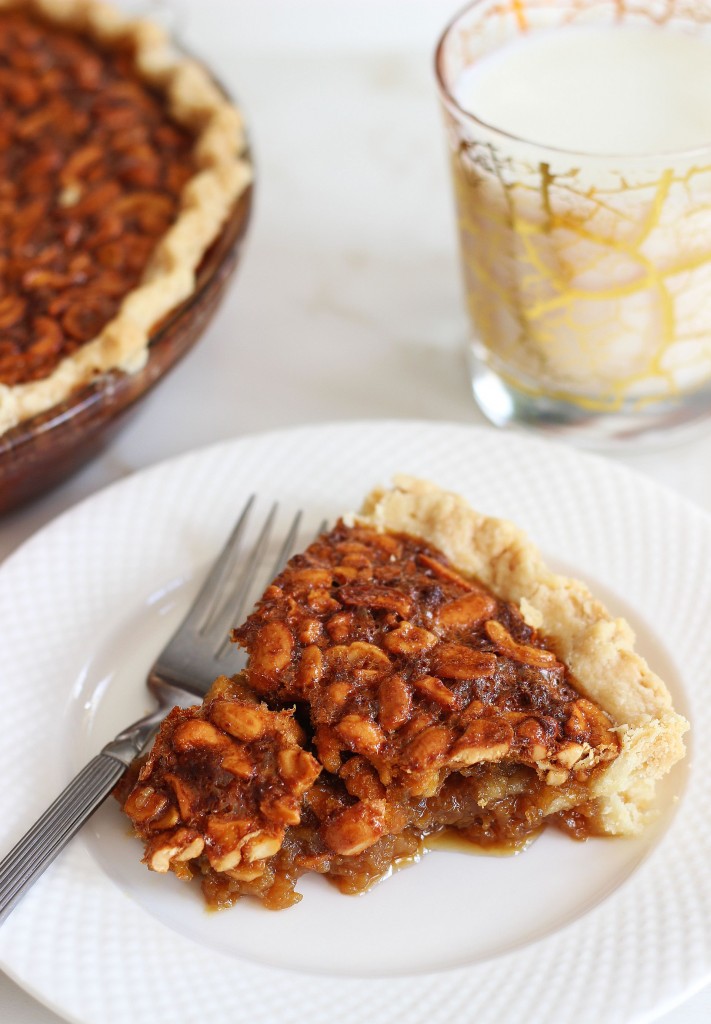 I was in the car yesterday afternoon for several hours traveling for work, and I decided it was a good time to brainstorm what to write about each of the myriad of recipes sitting in my queue. Not a bad plan. I'm always looking for ways to make my time behind the wheel be more productive! Safely productive, that is.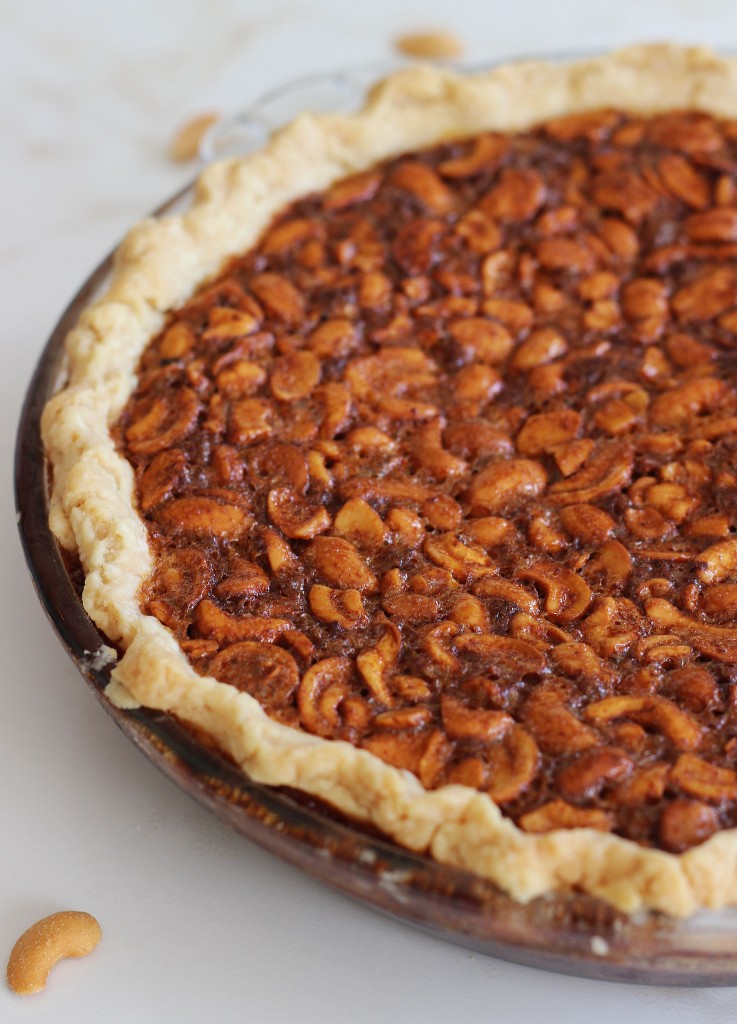 Then my mother called and somehow she got started on a diatribe about the differences between buying greeting cards from Hallmark versus the Dollar General, and how she thinks where you buy the card really depends on who you're buying it for. How on earth did we get there? I have no idea, but it lasted for about 10 minutes.
By the time we got off the phone, I felt like any creative flow was slightly derailed by the world's most random conversation! One of my Mom's known foibles is that she often has tangents that can most accurately be labeled as just super random. She's also quite prone to telling stories about the wildlife she sees in her yard. Lots of updates about deer and turkeys from her end. So now, here I sit, finally at my keyboard, and not an interesting thought in my little head.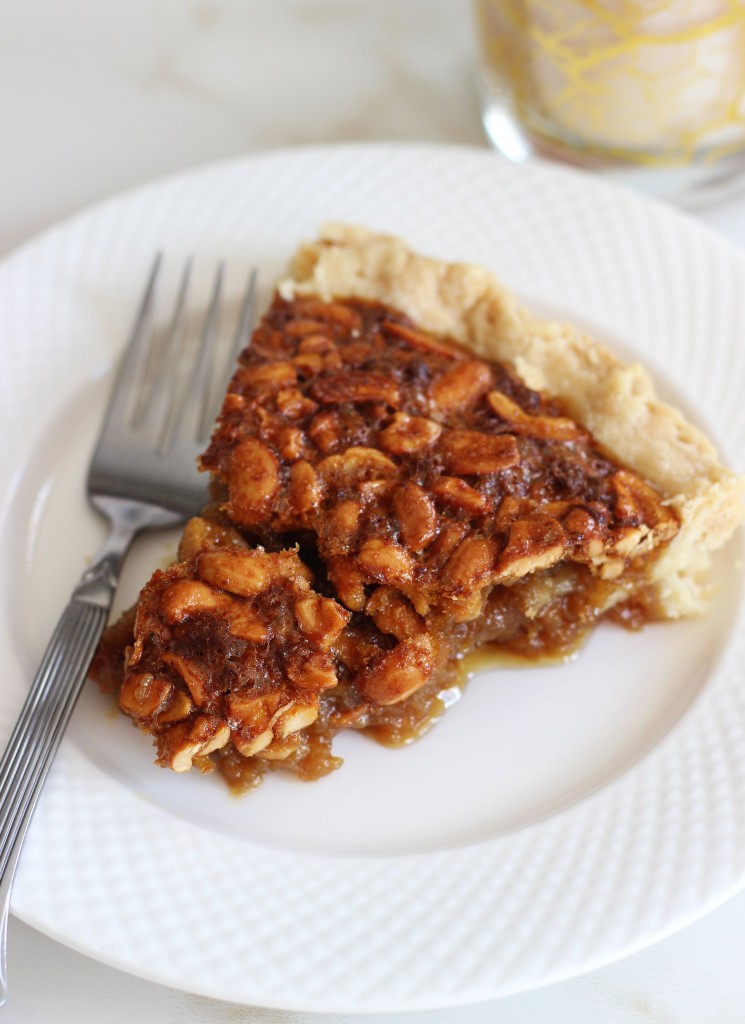 Except to say that this Cashew Pie is really special. The ingredients, you'll see, are basically in keeping with what you find in a traditional pecan pie, however there's EXTRA filling (read: more sugar), and it's extra nutty too, but with cashews. Aka, the best nut of them all. Actually, I have a pretty equal love affair with pecans too, but for today, cashews are our favorite nut. Sound good? Something about the cashew spin gives this Cashew Pie an extra buttery quality. They're just… rich and buttery-like. Plus, more filling is always a good thing.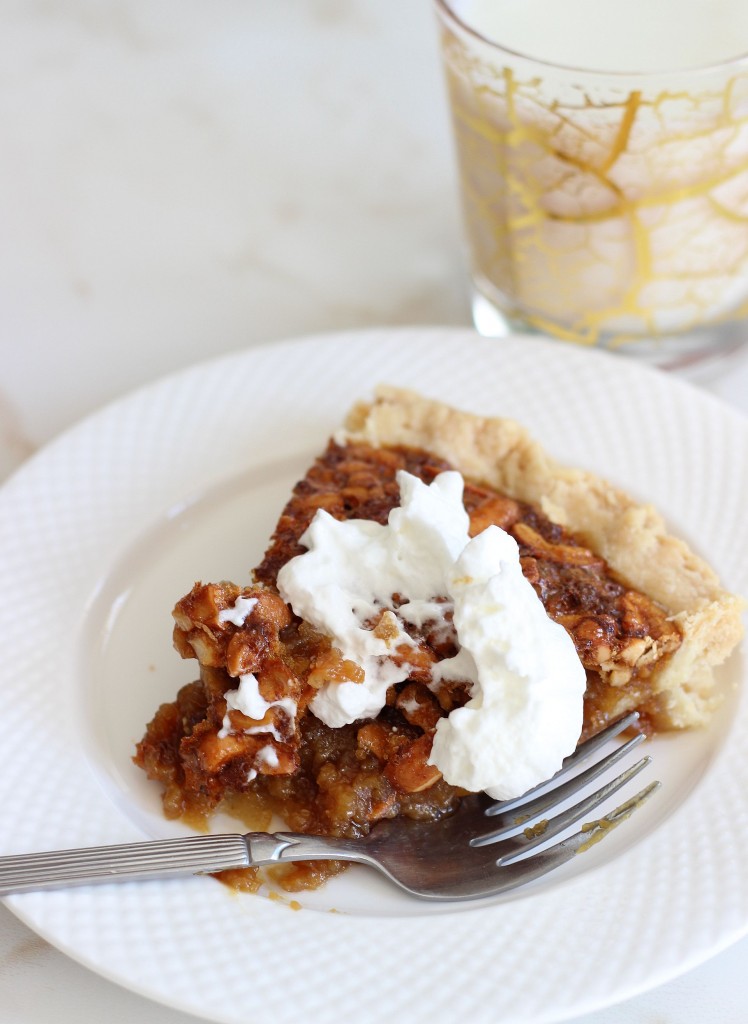 We've eaten two of this Cashew Pie recipe in the last week and a half. It's been full of both wonder and self-loathing. By the second pie, I was winding down and moving on to other baked treats, but S.O. was still going strong. Half of it disappeared overnight and I was stunned when I noticed the next morning. Needless to say, this Cashew Pie was well-received. I've served this to my family before, years ago, and they still talk to me. I can safely tell you that it's pretty damn good.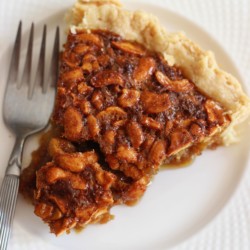 Cashew Pie
Instead of conventional pecans, this pie features cashews and includes extra filling! More wonderful brown sugary goodness!
Ingredients
Crust:
1 1/3

c.

flour

1/ 2

tsp.

salt

1/2

c.

Crisco

4-6

tbsp.

cold water
Filling:
1 1/2

c.

brown sugar

6

tbsp.

butter

melted

1 1/4

c.

light corn syrup

2

tsp.

vanilla

5

eggs

slightly beaten

1 1/2

c.

salted cashew pieces
Instructions
For crust:
In a medium bowl, combine flour and salt. Cut in shortening using a knife or pastry blender, until crumbly.

Add water, 1 tbsp. at a time, until dough holds together when pressed.

Shape dough into a ball.

On a lightly floured surface, roll out dough for a single pie crust.
For filling:
In a large bowl, combine all but cashews. Mix with a whisk until well-blended.

Stir in cashews.

Pour into 9-inch unbaked pie shell.

Bake at 350 degrees for 65-75 minutes. The center will still be slightly jiggly and unset, but the edges will be set and golden brown.

Cool completely.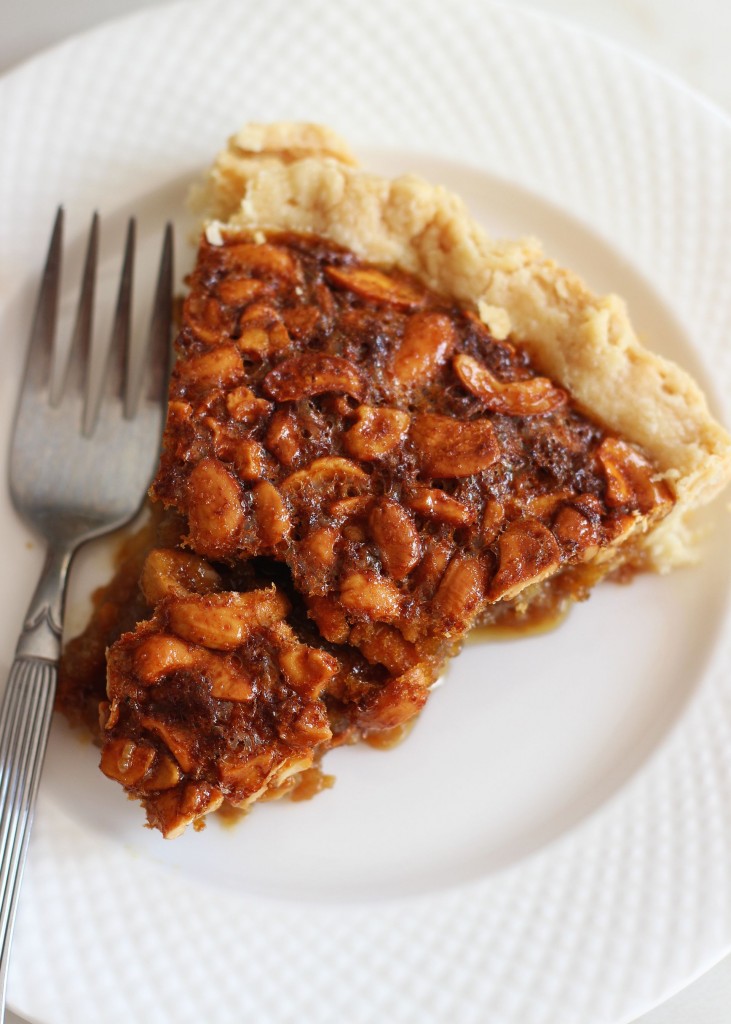 This Cashew Pie *will not* disappoint!
P.S. Pie crusts suck. 🙂