This Cranberry Pomegranate Walnut Pie is ridiculously easy to prep and is a gorgeous holiday dessert! It bursts with caramelized fruit, walnuts, and ooey gooey brown-sugary goodness!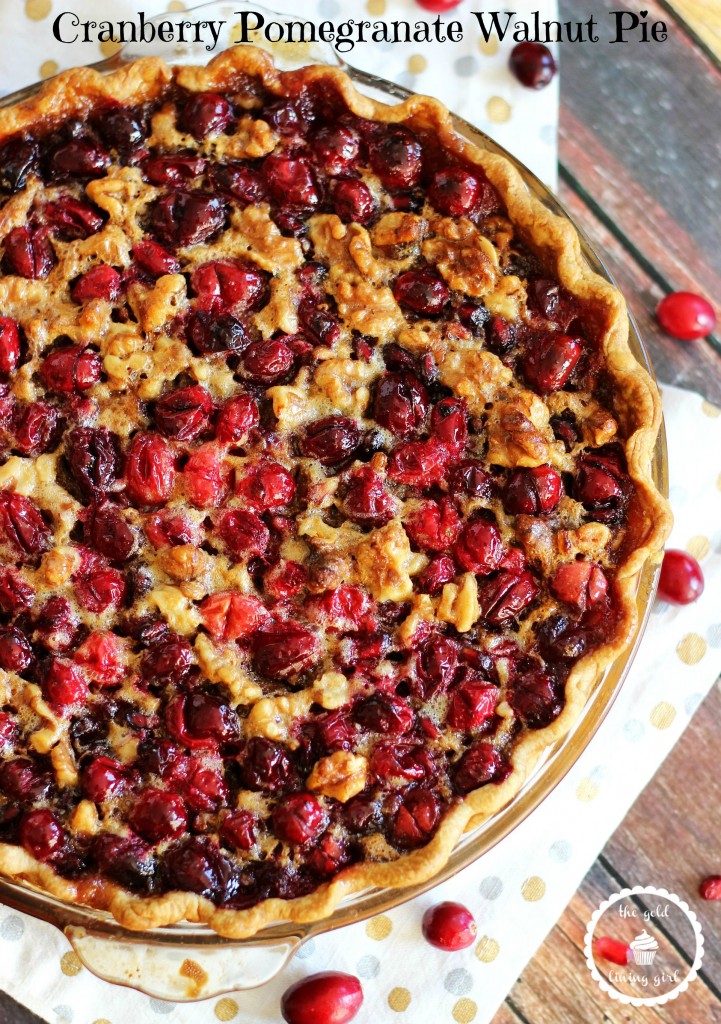 Merry Christmas Eve, friends! This Cranberry Pomegranate Walnut Pie is the second recipe of the two Christmas recipes I forgot to share yet.
Isn't it a beautiful pie? The vibrant colors practically shout Christmas! And Festivus. And the whole holiday season.  Shoot, that reminds me: I meant to wish you all a Happy Festivus yesterday and I forgot.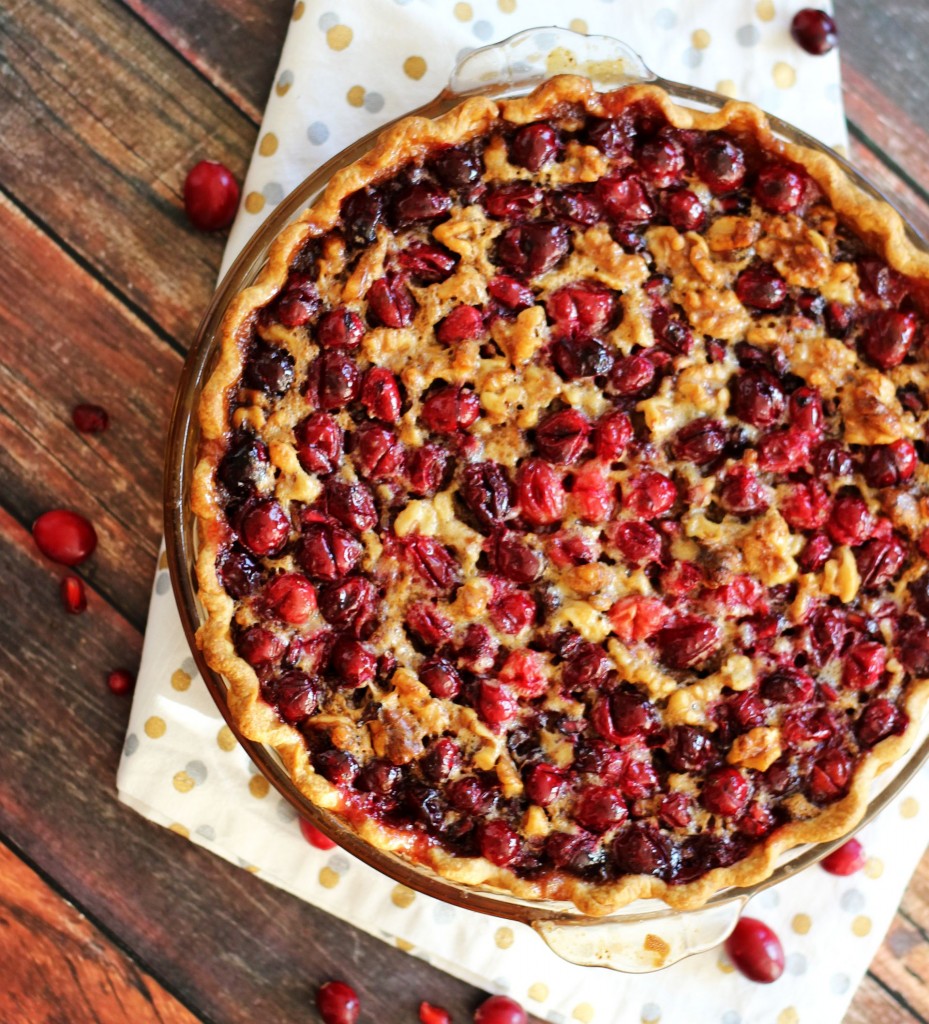 S.O. loves Seinfeld! He can't sleep unless Seinfeld is on tv in the background, so there's about 98 episodes recorded on our DVR at all times, and throughout the course of a night, we probably watch about 3-4 episodes. He's up a lot. So Happy Belated Festivus to you Seinfeld-watching friends!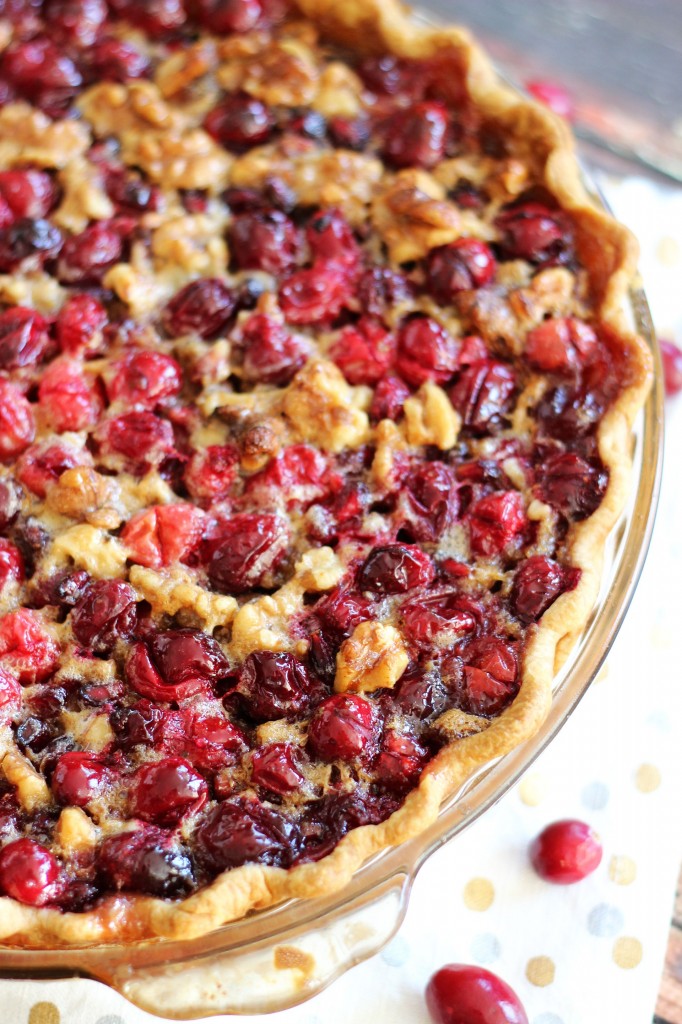 On a related note, S.O. and I decided to donate to our favorite causes this year instead of giving each other gifts (not that we usually exchange anyway), but we thought that even if we were to exchange, this was a better use of that money. He sent me an email letting me know that a donation had been made in my name to The Human Fund. He's swell. Lol!
I made this pie. I took photos of the finished product whole, but then the sun was going down. I stuck it in the fridge (still intact) to finish the photos the next day, and I woke up to the pie looking like this: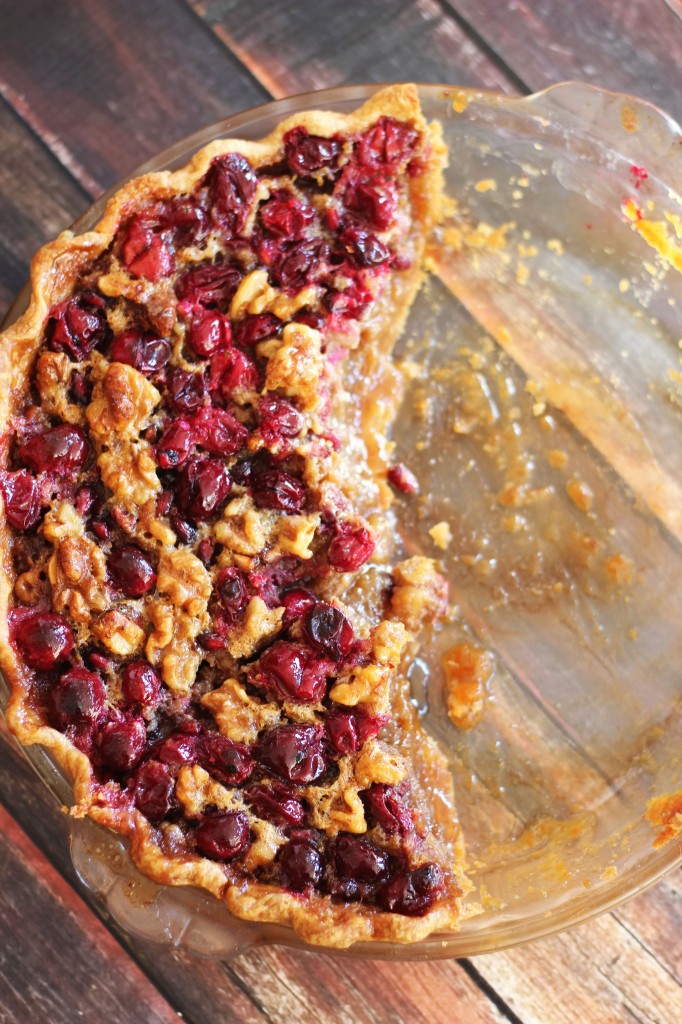 S.O. ate all of that overnight, sometime between 11pm and 7am. In addition to watching a lot of Seinfeld in the middle of the night, he also eats. A lot.
Suffice to say, the pie is good. It's really, really good. Eat-half-of-it-in-8-hours-good. It's also so beautiful! Look at the pretty and vibrant colors! The cranberries look like jewels and the pomegranates, um, also look like jewels! They're sweet and tart and amazing, and they're completely enveloped in gooey brown sugar-goodness. Think of it as a pecan pie gone walnut, plus caramelized fruit. You're on board, right?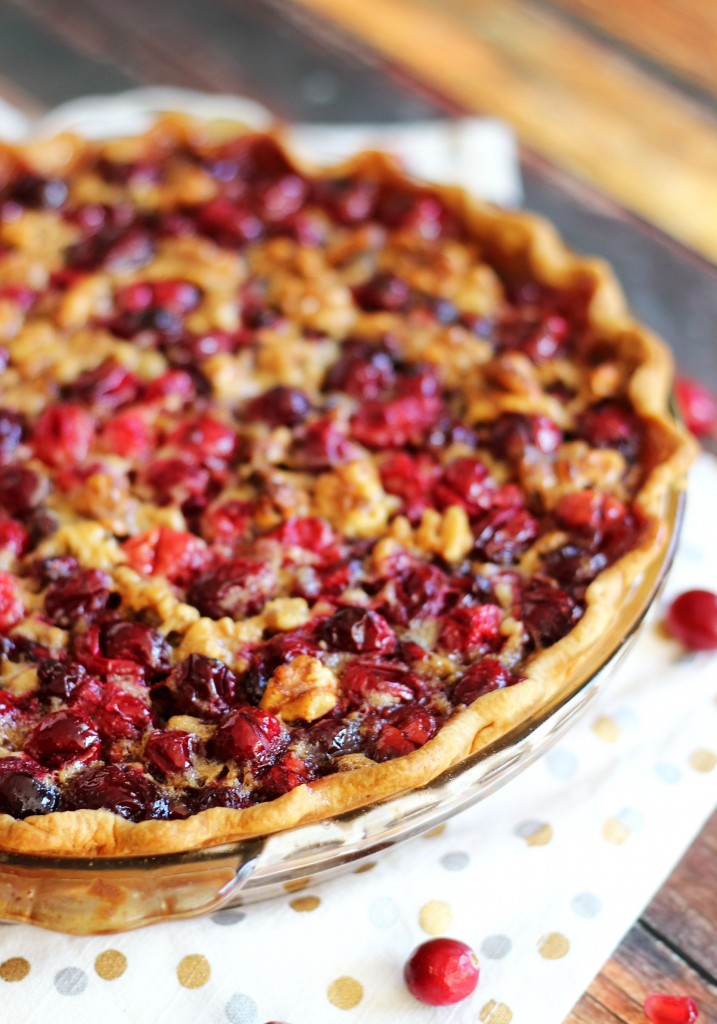 It's seriously SO EASY. Buy a prepared pie crust from the grocery store, throw all the ingredients together in a bowl, pour it in the pie shell, bake it, and you're done. You could do all the prep in about 5 minutes. For a last minute dessert, you can't go wrong here. And it totally impresses!
MERRY CHRISTMAS, FRIENDS! I hope you have a wonderful holiday!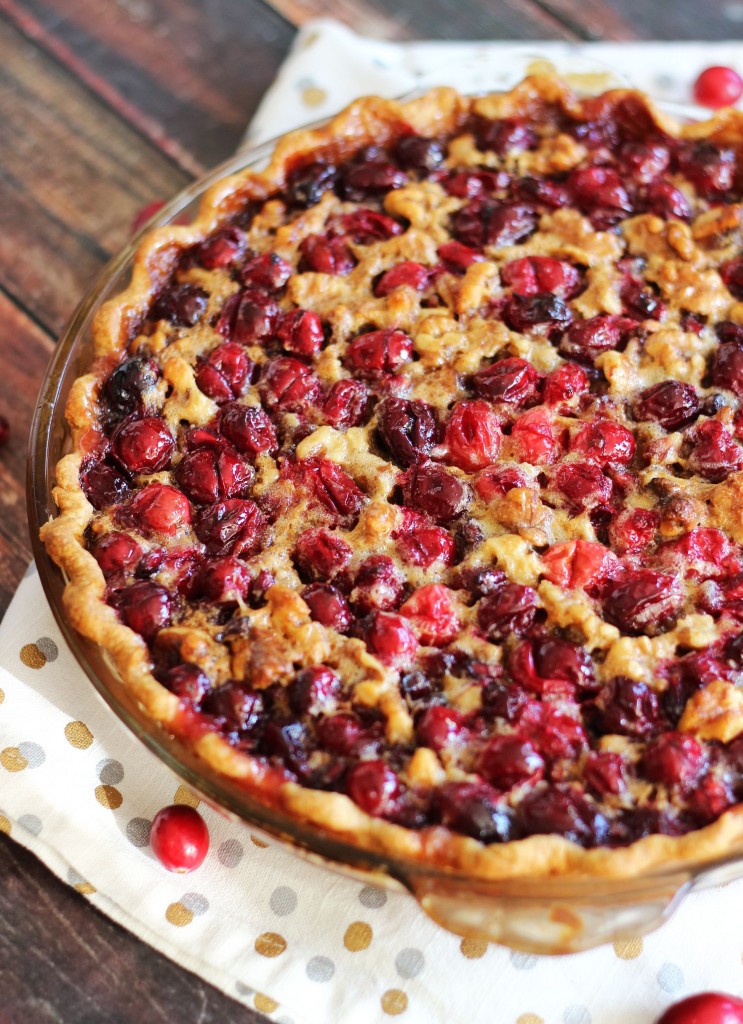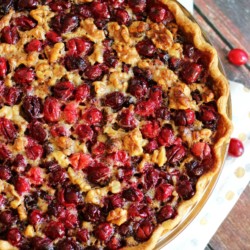 Super Easy Cranberry Pomegranate Walnut Pie
A super easy pie that bursts with fresh cranberries, pomegranate seeds, walnuts, and tons of brown sugary goodness!
Ingredients
1 - 9

inch

prepared pie shell

1 1/2

c.

brown sugar

1/4

c.

butter

melted

1 1/4

c.

light corn syrup

2

tsp.

vanilla

5

eggs

slightly beaten

1 1/2

c.

chopped walnuts

1

c.

fresh cranberries

2/3

c.

pomegranate seeds
Instructions
In a large bowl, combine brown sugar, butter, corn syrup, vanilla, and eggs. Whisk until well-combined.

Fold in walnuts, cranberries, and pomegranate seeds.

Pour into 9-inch unbaked pie shell.

Bake at 350 degrees for 50-65 minutes. The center will still be slightly jiggly, but the edges will be set and golden brown.

Cool completely.