These light and fluffy almond-flavored Italian Christmas Bars are topped with layers of raspberry jam and rich chocolate ganache! These layered bars are elegant and delicious!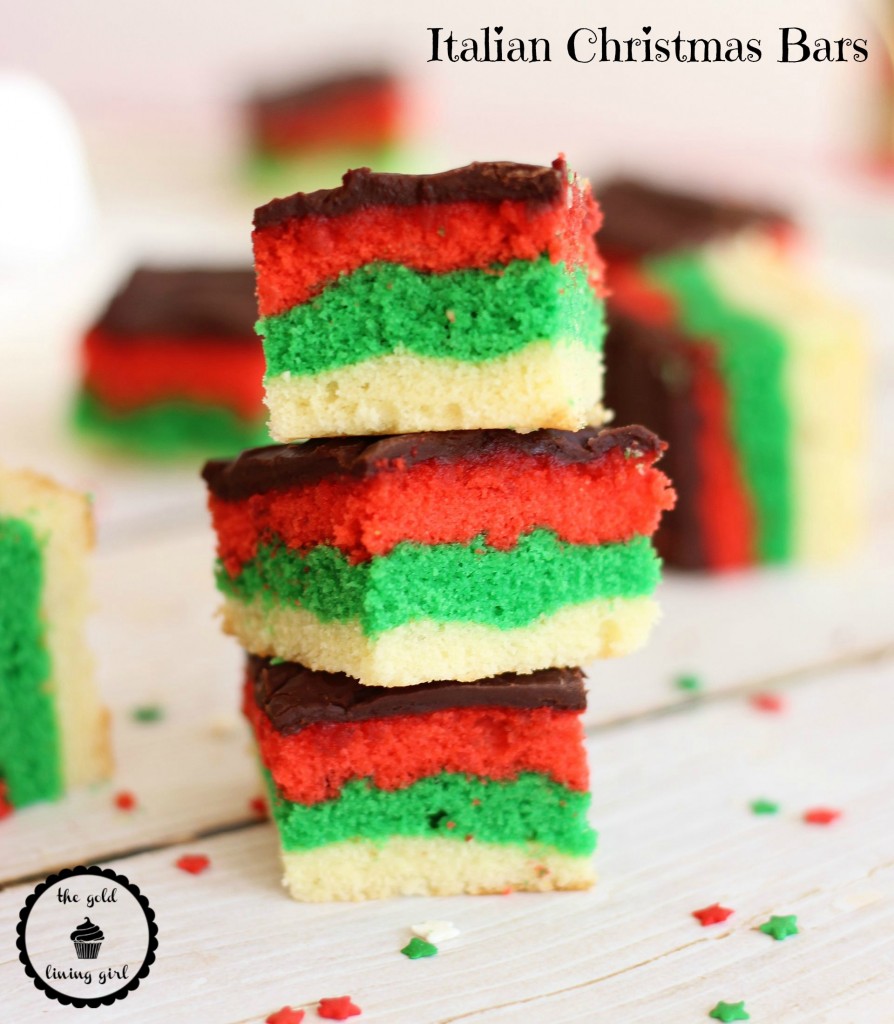 I either planned very poorly, or over-planned, but I found two Christmas-y recipes that I didn't share yet. Hey, I'm kinda new at this. Poor planning is probably the culprit. Now I'm burning the midnight oil to get these out to you if you're looking for last minute recipe ideas!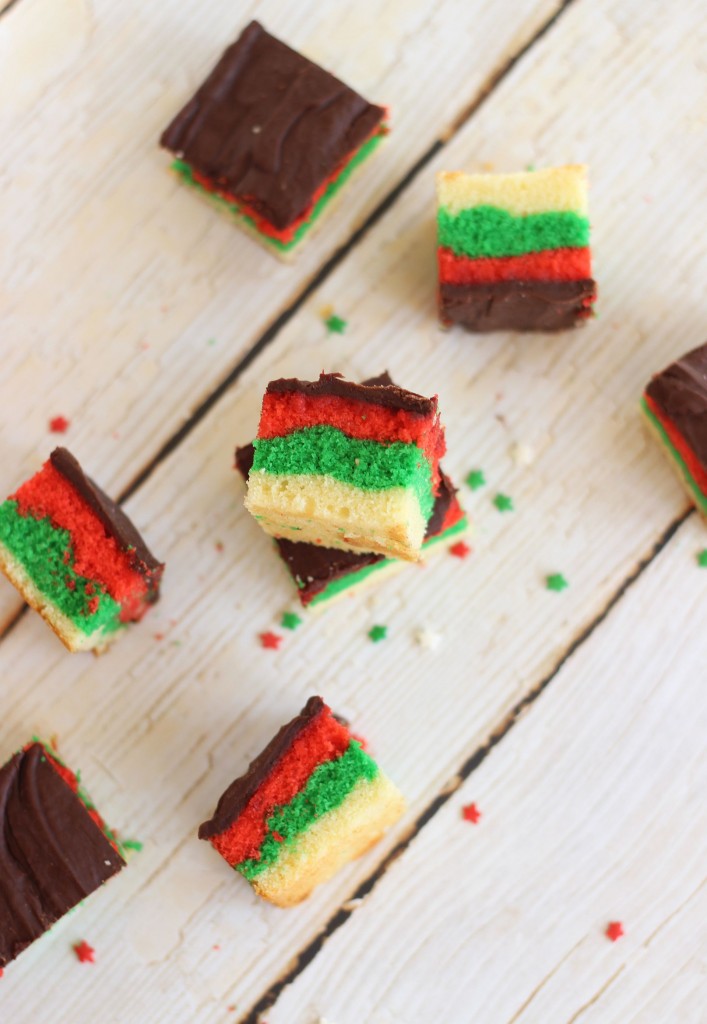 After I discovered that I'd forgotten to post these two recipes, I decided I wasn't going to bother at all and would save them for next year. I figure everybody must already have their Christmas recipes planned out and decided upon! I'm wrong… y'all are still looking. People are still searching the blog for 'Christmas cookies', so here's another option for all the procrastinators out there! 😉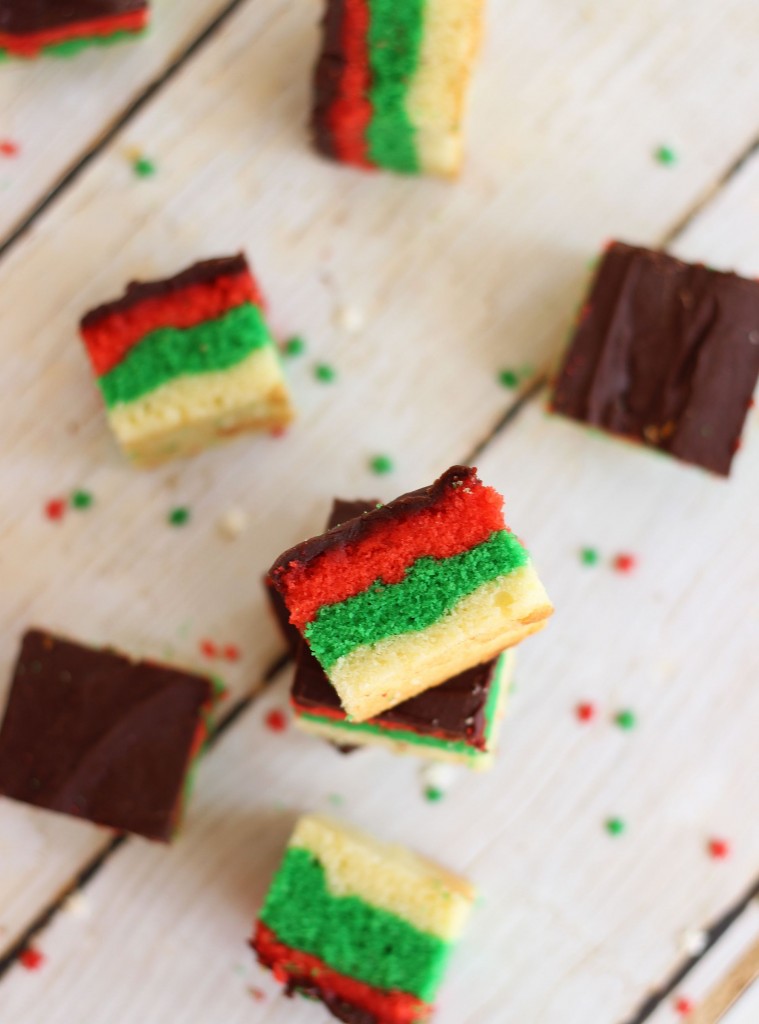 I had to make these Italian Christmas Bars for the holidays. Couldn't resist. I practically beat you over the head with the fact that I live with a 100% Italian who loves all things Italian! For that reason alone, I thought it would be fun to make these. Plus, they're Christmas colors! They're so colorful and festive! And look at all the layering action going on. Sure, some of the layers are a little wonky and uneven, but it just adds character! They're PRETTY.
I mostly don't care about pretty food and nice presentation, but it definitely doesn't hurt. These are so elegant! Imagine what a perfect adornment they'd be to your dessert table! For holidays, you also have an entire table dedicated just to desserts, right?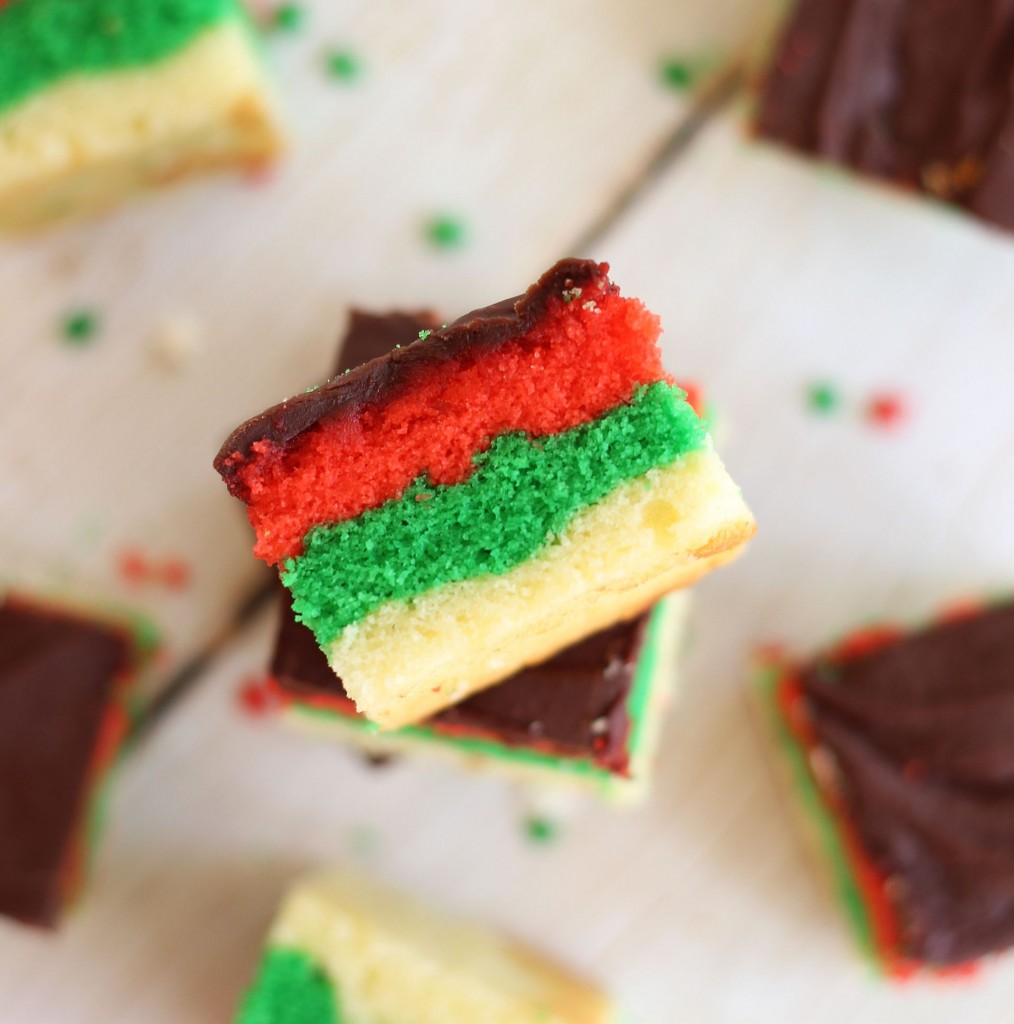 They also taste fabulous! They have a delightful fluffy and springy texture. They are pretty heavy on the almond flavor, and that's just the way I like them. I already know I love almond and raspberry together, so a layer of raspberry jam on these bars is a lovely addition. Then, topping them with a generous slathering of semi-sweet chocolate ganache is a beautiful complement to the almond and raspberry. They're completely wonderful!
They practically scream Merry Christmas too!!!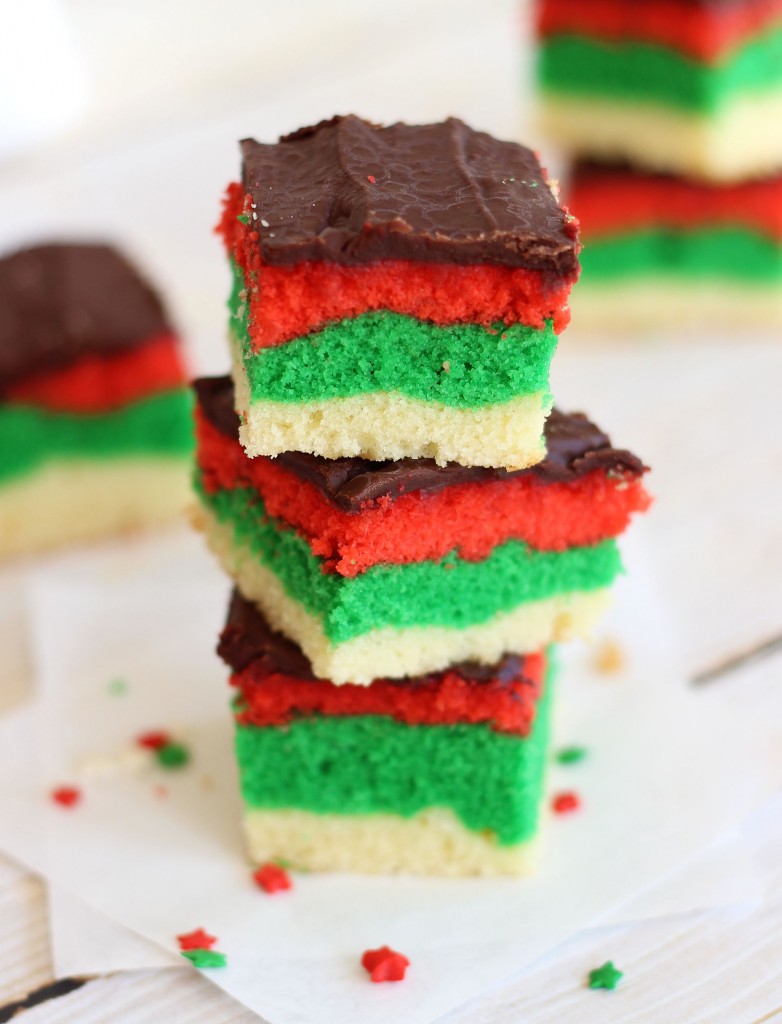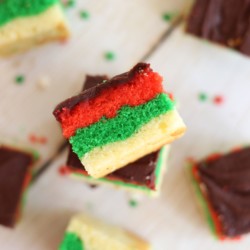 Italian Christmas Bars
Light and fluffy almond-flavored bars, topped with rich chocolate ganache!
Ingredients
2

c.

flour

1/4

tsp.

baking powder

1 1/4

c.

butter

softened

1

c.

sugar

1 - 7

oz.

package almond paste

1

tsp.

almond extract

3

eggs

green and red gel food paste

1

c.

seedless raspberry jam

1 - 12

oz.

package semi-sweet chocolate chips

1/4

c.

heavy cream
Instructions
Spray a 9x13 inch pan with non-stick spray.

In a small bowl, mix flour and baking powder until well-combined.

In a large mixing bowl, beat butter, sugar, almond paste, and almond extract at medium speed for 3-4 minutes, or until light and fluffy.

Beat in eggs, 1 at a time, until well-blended.

Beat in flour mixture.

Divide the batter evenly into thirds. Spread one portion of the batter thinly and evenly in the prepared pan. Freeze the pan for 5 minutes.

Meanwhile, mix green food coloring into a second portion of the batter. Gently spread over batter in the pan. Freeze the pan for 5 minutes.

Meanwhile, mix red food coloring into the third portion of the batter. Gently spread over the green batter in the pan.

Bake at 350 degrees for 24-30 minutes, or until a toothpick inserted near center comes out clean.

Cool completely on a wire rack.

Place jam in a small microwave-safe bowl. Microwave for 15-25 seconds, or until slightly thinned.

Spread jam evenly over bars.

In a large saucepan over low heat, combine chocolate and heavy cream. Whisk gently until smooth.

Spread chocolate ganache over the jam layer.

Allow chocolate to set. Cut into bars.