A buttery dark chocolate thumbprint cookie with a miniature peppermint patty pressed into the middle and covered with sprinkles!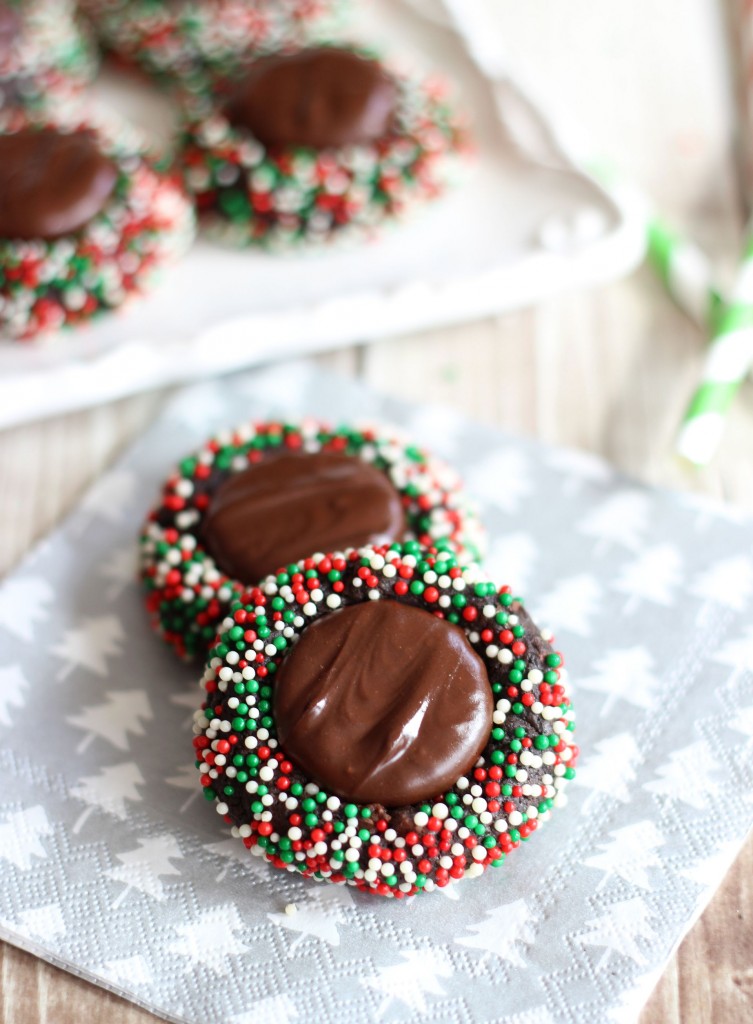 I've watched Elf 3x in the last 2 days, and I can't even estimate how many times I've watched it since mid-November! Nor would I want to admit the number of viewings even if I could! Still not sick of it either. I am a Christmas movie addict.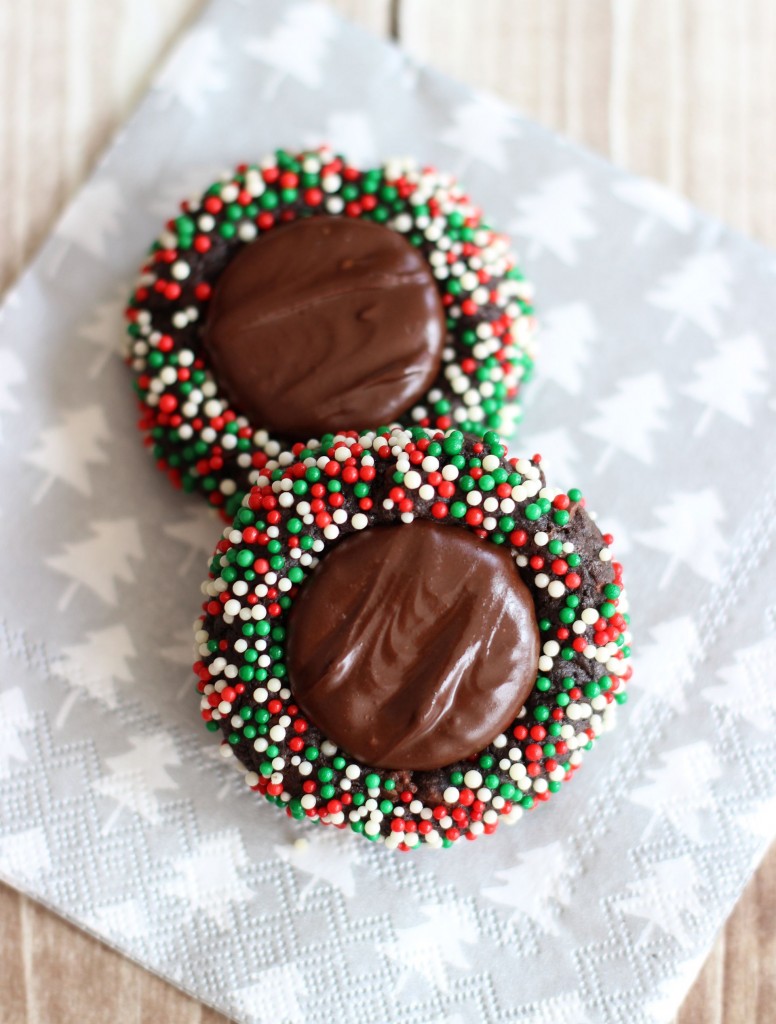 I'm also hooked on those ridiculously sappy made-for-tv Christmas movies. I can't stop watching the ones on Hallmark and ABC Family. I love them for their heartwarming and wholesome goodness, yet I laugh at how corny and cheesy they can be. I'm not even a romantic-comedy person, but if romance happens around Christmastime? I'm in. I'll still roll my eyes the entire time though.
Let's talk Christmas movies! If you love Christmas movies too, share your favorites down in the comments, including the made-for-tv ones too! Don't leave out those gems!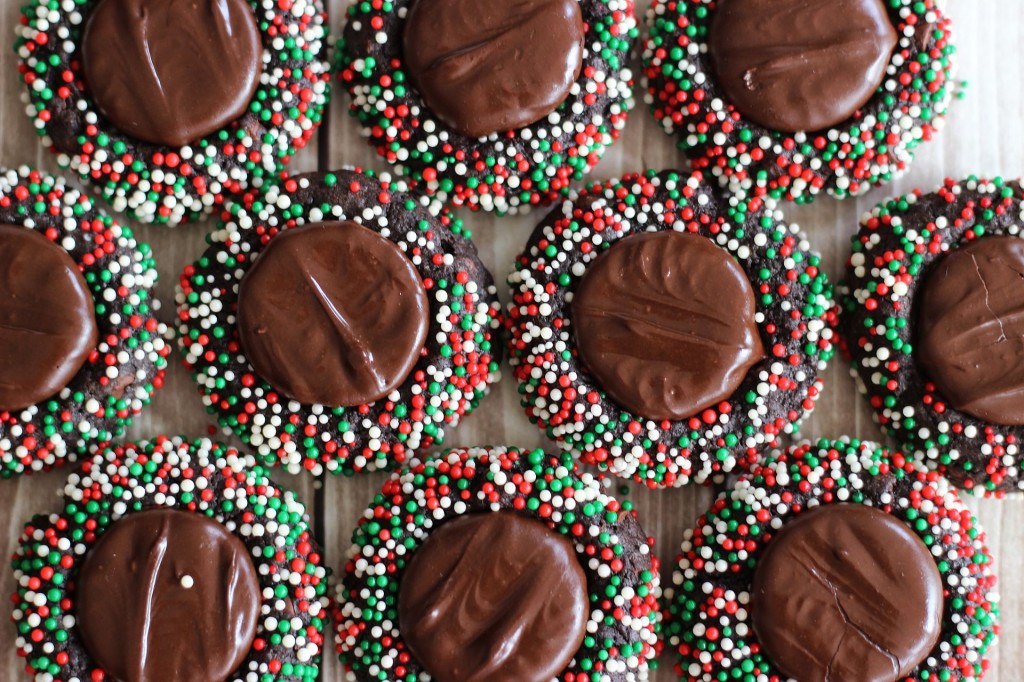 Last night I got S.O. to watch Home Alone with me, which is a HUGE accomplishment. Perhaps a Christmas miracle. He didn't even fight me on it. It's a big deal because not only is he pretty scrooge-like and grinch-y about Christmas, but it's also a kids movie, basically. I love it and it's one of my favorite holiday movies, but I saw it in the theater when I was 8 years old, so of course it's a classic to me! Home Alone wasn't really a film from his era though. He didn't seem bored or miserable, and actually laughed a few times, so I consider that a success!
Incidentally, I also saw Home Alone 2 in the theater! Does that classify me as a super fan?
Okay, enough movie talk, I guess! As we were watching it last night, we snacked on these cookies. More specifically, I snacked on these cookies. A lot. I had one of those days where I just couldn't get full. I know you know what I mean. We plow through a lot of sweets in this house, but I stuff things in the freezer sometimes too, because if I didn't, cookies would make up our entire diet. So, if you're wondering, these Dark Chocolate Peppermint Patty Thumbprints taste pretty darn good frozen!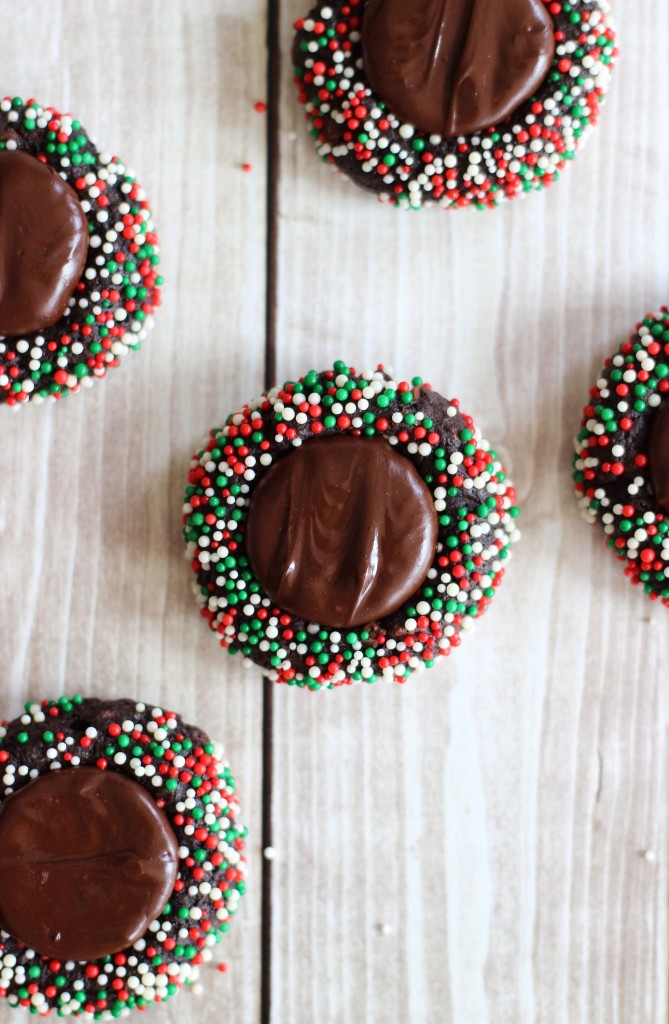 They're also quite perfect straight from the oven. The peppermint patty gets a little melty and gooey from sitting on the warm cookie, and a warm chocolate cookie in and of itself is quite dreamy! I used dark chocolate cocoa instead of regular cocoa in these because it makes them extra rich and chocolate-y! It pairs so nicely with the dark chocolate surrounding the peppermint patty. I probably don't need to persuade you anymore why it's a good idea to put a peppermint patty on top of a chocolate cookie, right?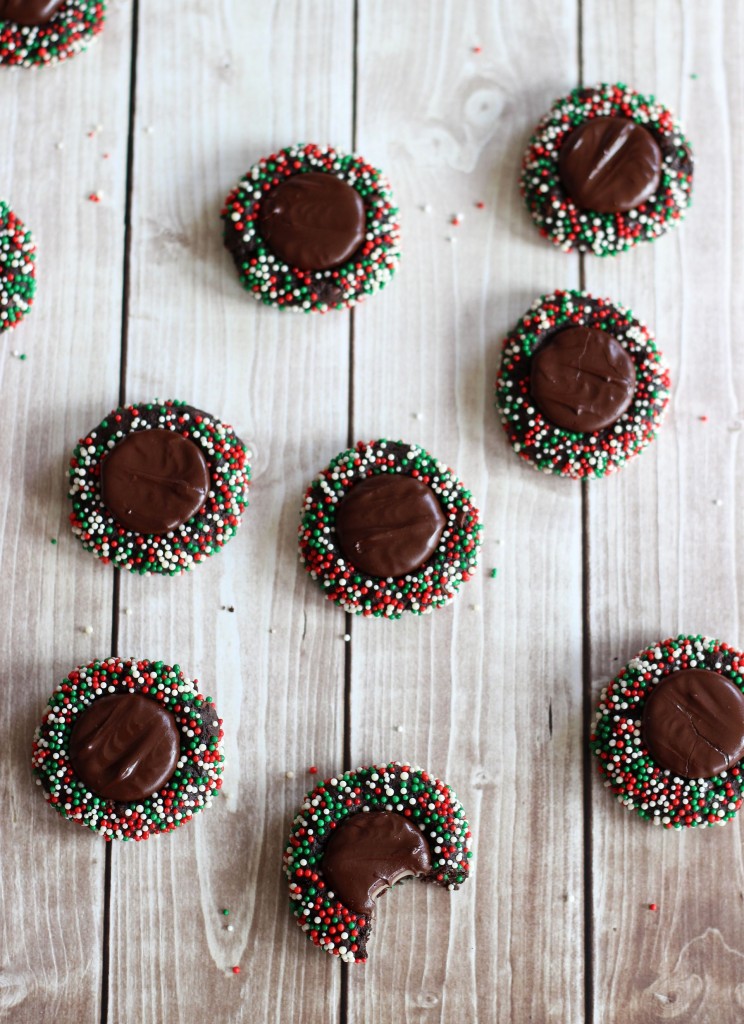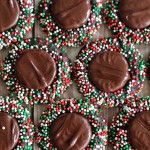 Dark Chocolate Peppermint Patty Thumbprints
A buttery dark chocolate thumbprint cookie with a miniature peppermint patty pressed into the middle!
Ingredients
1/2

c.

butter

softened

2/3

c.

sugar

1

egg yolk

2

tbsp.

milk

1

tsp.

vanilla

1/2

tsp.

peppermint extract

1

c.

flour

1/3

c.

Hershey's Special Dark baking cocoa

1/4

tsp.

salt

1 - 3

oz.

bottle of sprinkles

36

mini peppermint patties
Instructions
In a large mixing bowl, combine butter and sugar. Cream until light and fluffy.

Beat in egg yolk, milk, vanilla, and peppermint extract.

In a large bowl, combine flour, cocoa, and salt. Blend well.

Add dry ingredients to the wet ingredients in the mixing bowl. Mix until well-blended.

Refrigerate for 1 hour or until dough easily forms into a ball.

Shape into balls slightly larger than 1-inch.

Pour the sprinkles into a small bowl, and roll each ball in the sprinkles until well-coated.

Place each ball 2 inches apart on greased baking sheets.

Press an indentation in the center of each dough ball using your thumb.

Bake at 350 degrees for 10-12 minutes, or until set when you lightly touch an edge (carefully).

Remove from oven and allow to cool on pan for 1-2 minutes.

Press a peppermint patty into the middle of the cookie, into the indentation.

Remove cookies from pans with a spatula, and cool completely on wire racks.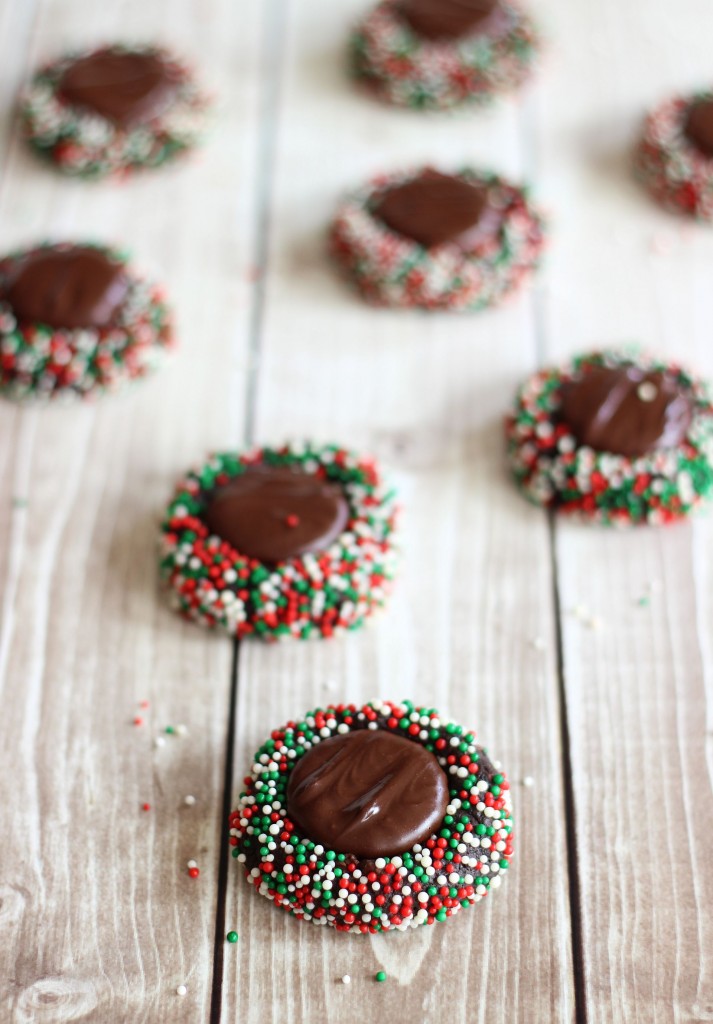 Also…. SPRINKLES. Yay!