These easy cracked top ginger cookies are chewy in the middle, crispy on the edges, and full of molasses, ginger, cinnamon, and cloves! A perfect holiday cookie!
*updated (again) 11/15/16!*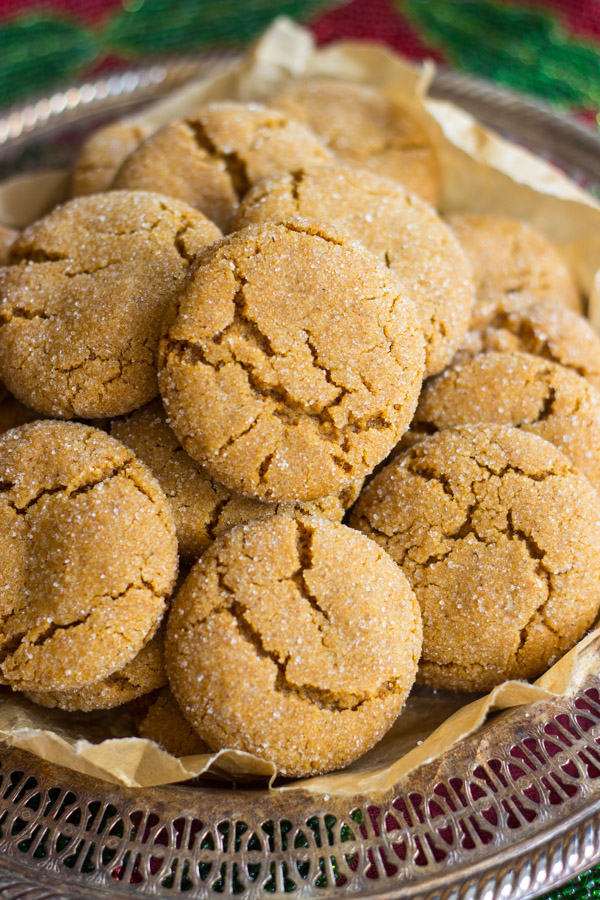 If I had to pick just one recipe to represent my family, I'd pick our Cracked Top Ginger Cookies. I'm not even sure precisely who or where this recipe came from, but it's been with us for decades now.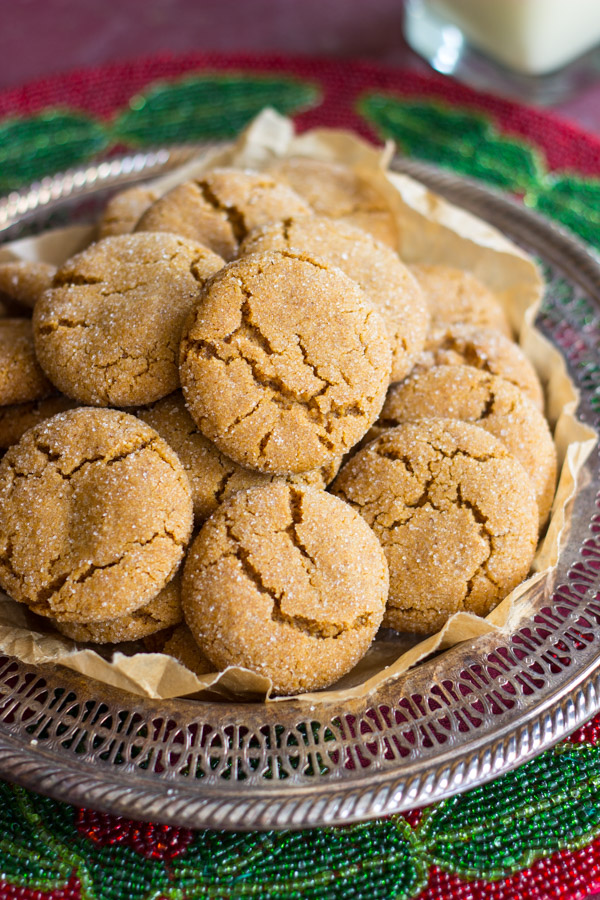 I posted this recipe a few years ago, but it was during my 'red-shirt' year of blogging, where I was rambling pretty aimlessly and was clueless about taking food photos (some things don't change), so the pictures are totally humiliating and awful. Please don't look. Okay, go ahead! I know you will! 🙂 I feel that a cookie so delicious warrants a 're-do'. The old photos don't do justice to these delightful cookies. Not sure the new photos do either, but I tried. And now, you also have a VIDEO!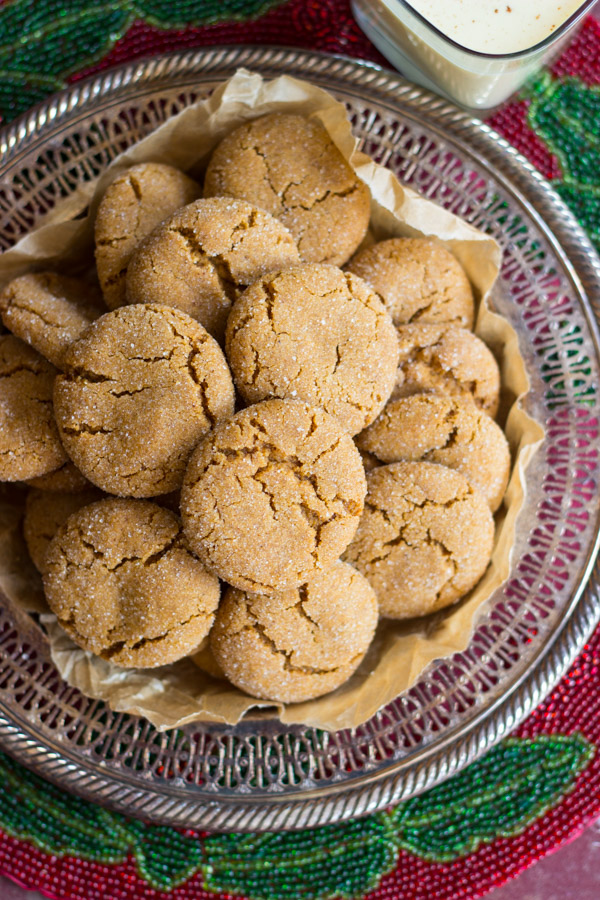 These Cracked Top Ginger Cookies are adored by all. They're eveeeerybody's favorite. I *love* them, to be sure, but I'm careful about throwing around the word 'favorite.' Wait, I call everything my favorite. Anyway, my mom, brother, Gma, etc, would all deem these their favorite cookie of all time, and my in-laws devoured them last year at Thanksgiving, calling them 'addictive.'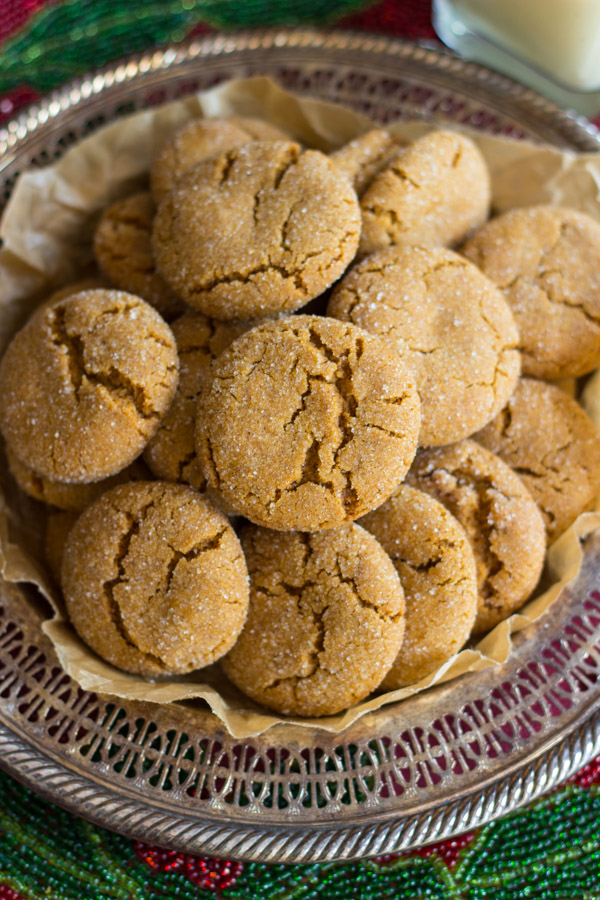 But I think my Grandpa truly loved Cracked Top Ginger Cookies more than anyone. I will always think of him when I make these. As I recounted in the original post, as soon as a pan came out of the oven, he would trudge into the kitchen from his man-cave den, fill a little plate with several cookies, and be back 10 minutes later to fill up again. Repeat cycle 3-4x. He couldn't stop.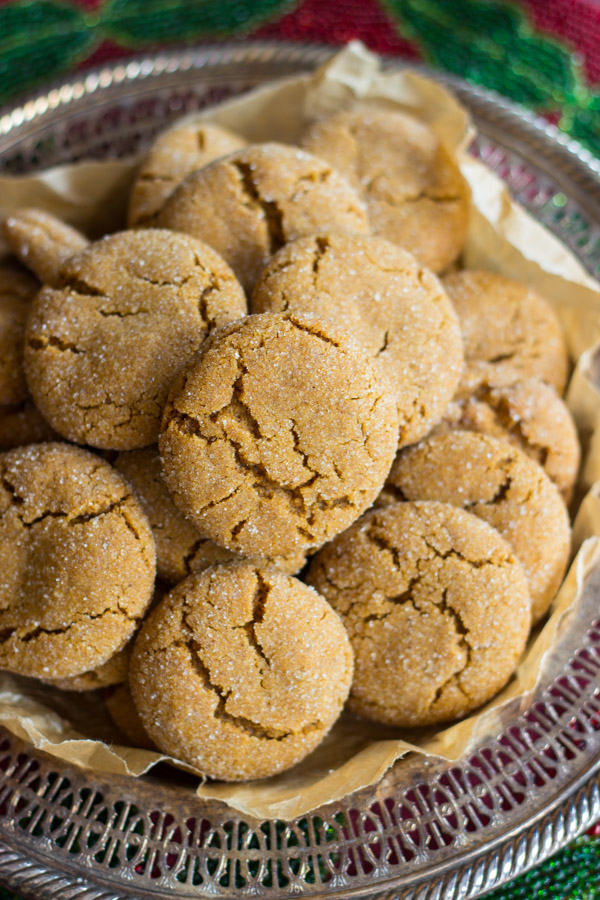 They are amazing cookies. They're always raved about. They're like gingersnaps, but chewier. They are the perfect amount of spice, and the perfect amount of sugar. They stay deliciously soft and chewy in the middle, thanks to molasses, but still crispy at the edges. Dunked in a glass of milk, they're perfection.
They are a perfect holiday cookie (though we eat them year-round). Take these to a party, they will disappear, and everyone will be telling you how amazing and addictive they are. They're a crowd-pleaser. You'll be super popular. And let's face it, ultimately, it's nice to be liked.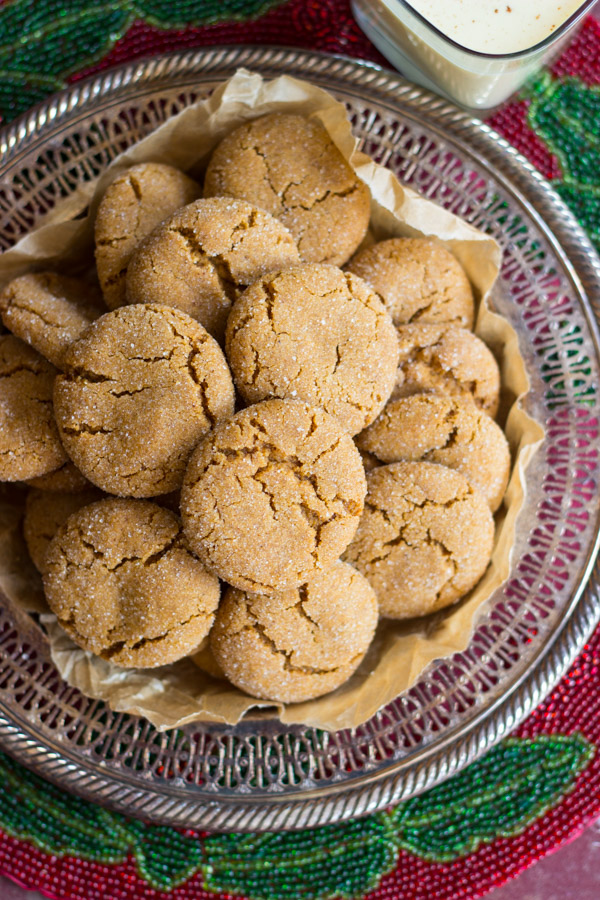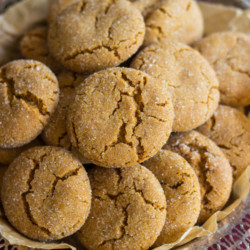 Cracked Top Ginger Cookies
Soft and chewy molasses cookies with ginger, cinnamon, cloves spices!
Ingredients
1

c.

sugar

3/4

c.

shortening

Crisco

1

egg

1/4

c.

molasses

2

c.

flour

2

tsp.

baking soda

1

tsp.

ginger

1

tsp.

cinnamon

1/2

tsp.

cloves

1/3

c.

sugar

for rolling
Instructions
In a large mixing bowl, cream together sugar and shortening.

Add in egg and molasses. Mix until well-combined.

In a medium bowl, combine flour, baking soda, and spices until well-blended.

Add flour mixture to mixing bowl, beating until well-combined.

Refrigerate dough for at least 1 hour.

Roll dough into 1-inch balls and roll the balls in granulated sugar.

Place them 2 inches apart on ungreased baking sheets.

Bake at 350 degrees for 8-10 minutes. Cool on wire racks.

Enjoy!
You have my written guarantee that these cookies will be adored by all.