White chocolate bark with crushed potato chips, caramel bits, pretzel pieces, and salted peanuts!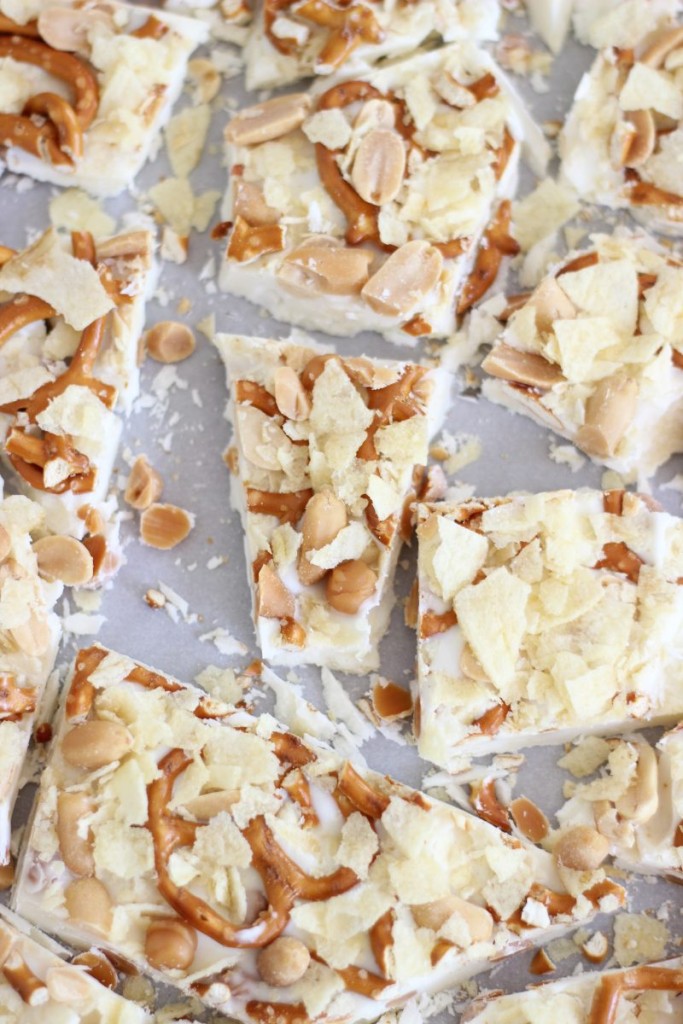 I never buy potato chips. I am a sweet-tooth through and through. If I want to have a treat, it's going to be loaded with sugar or chocolate. Or both, maybe a donut. If I find potato chips in front of me at a friend's house or at a picnic or something, I'll have some, and it's hard to stop eating them once they are there, but I don't really gravitate toward them at the grocery store.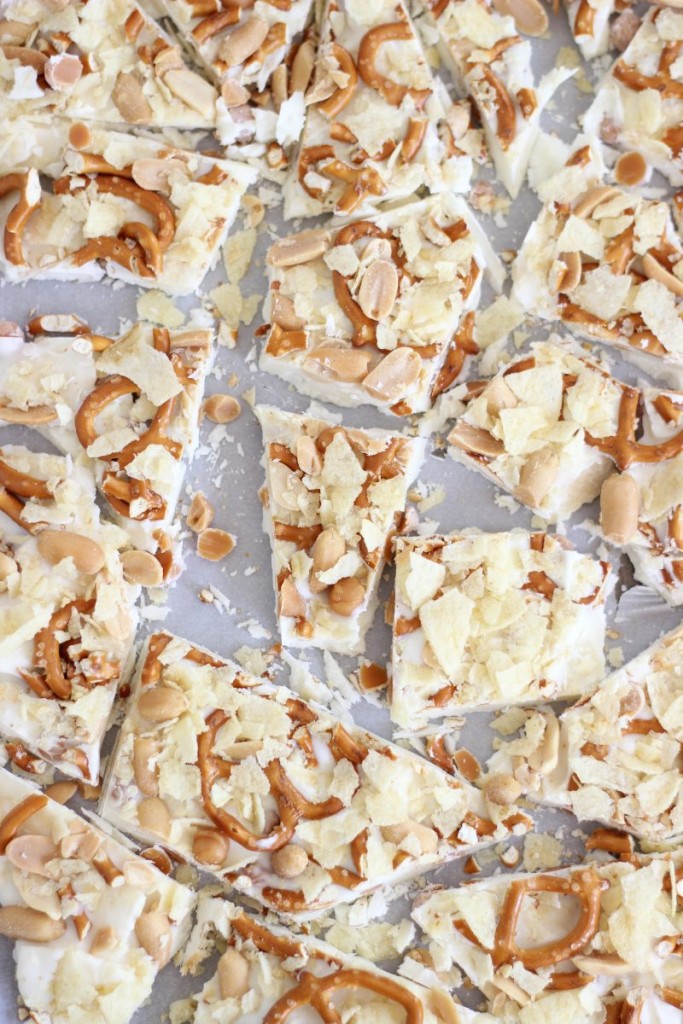 Every couple weeks, my S.O. will pick up a bag of potato chips though, and I always curse him for it. Once they are already in the house, I can't resist. He gets a craving for them, eats a whole bunch in one sitting, and then doesn't touch the rest of the bag. I know how he operates, and the remaining bag of chips will sit there for days.
For me, they are out of sight, out of mind. But now that they've made it into the house, and I can see them, I can't resist.
Still, my sweet-tooth reigns. As I was snacking on them, I was thinking how great it would be to have a little bit of something sweet with the salty and crunchy potato chips. Chocolate and potato chips make for a popular odd couple. They seem strange together – combining sweet and rich chocolate with slices of fried, salty tuber?? But chocolate and potato chips recipes are all the rage right now, and for good reason. They have that perfect mix of sweet and salty!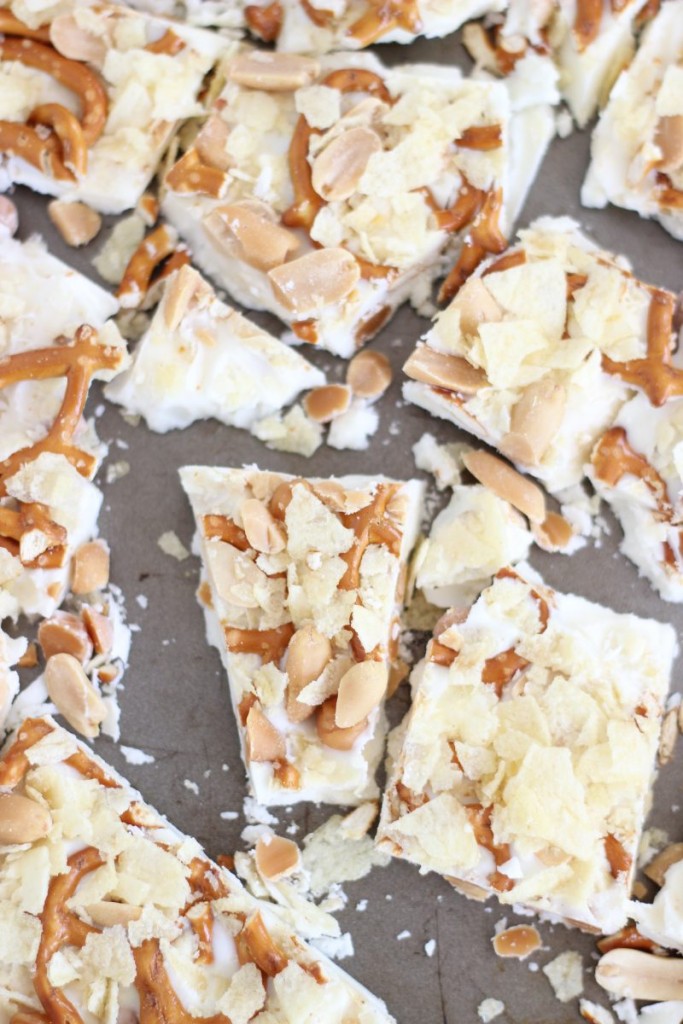 I wanted to take it a step farther with this Caramel Pretzel Salted Peanut Potato Chip Bark. Add extra levels of sweet and salty. Add sweet caramel with salty pretzels and salted peanuts. Cram a whole bunch of sweet and salty items together into one simple chocolate bark for a total explosion of sweet and salty.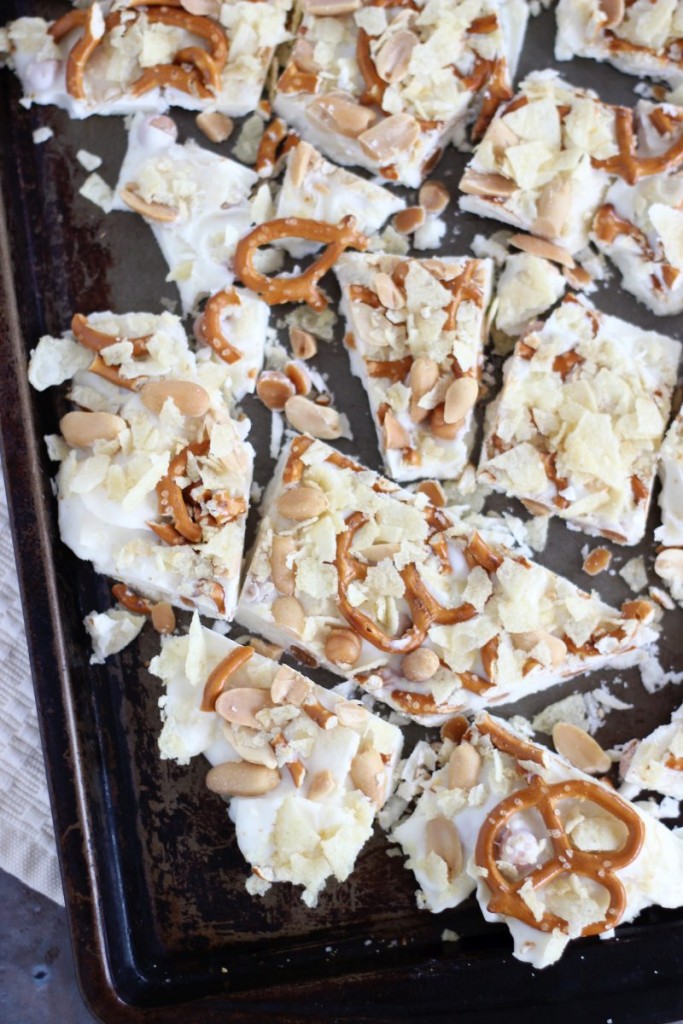 They also happen to be party food and snack mix items – potato chips, pretzels, and peanuts.
This Caramel Pretzel Salted Peanut Potato Chip Bark recipe has the most epic combo of sweet and salty foods. It feeds a crowd, so it's perfect for parties and get-togethers, or even a snack for watching football with friends. You only need a microwave to make it, and it comes together in minutes!