The quickest and easiest biscuits in the universe, these cream biscuits are only a few ingredients, and are moist, fluffy, and have perfect flakiness. Goat cheese and pecans add extraordinary flavor.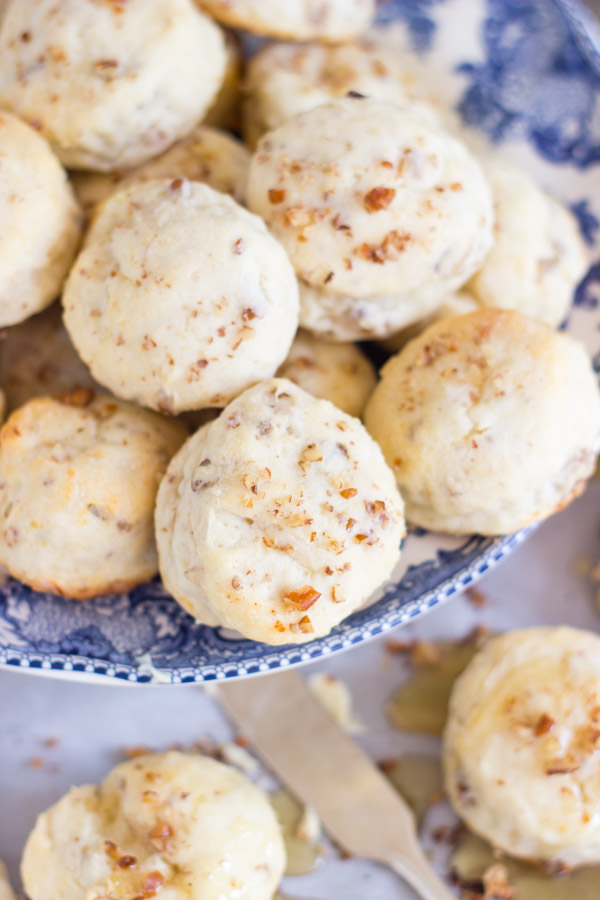 These are my new favorite carb. A favorite non-dessert carb, that is.
For Thanksgiving, I'm usually so focused on all the other food, that I sometimes forget to eat any rolls or bread. I want to, but I know that I can eat rolls or bread anytime, and I want to stay focused on the dishes that I won't necessarily get to eat the rest of the year.
I like to have maybe just 1 or 2 bites of a roll. These mini biscuits are the perfect solution.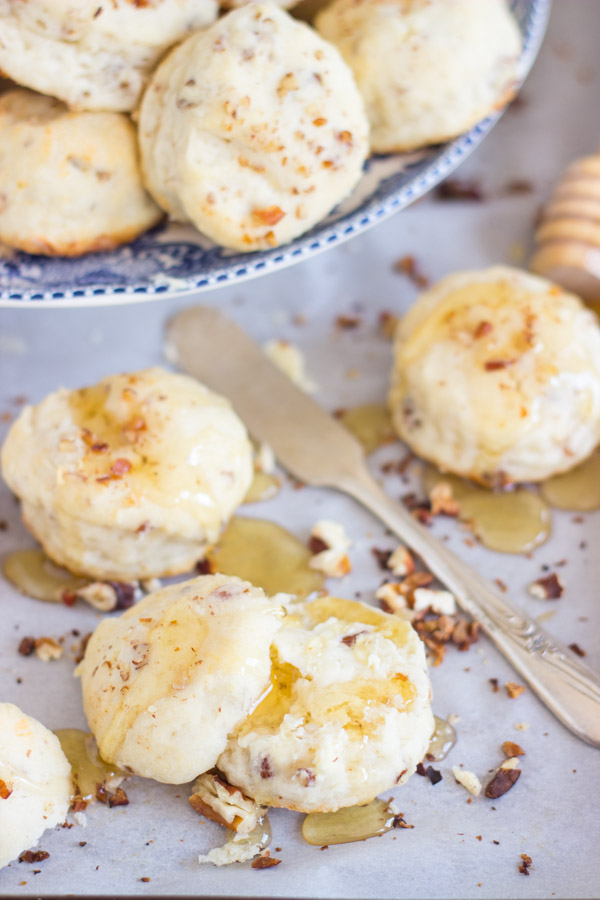 These are cream biscuits, and they couldn't be easier, and despite the super simple list of ingredients and lack of butter, they are anything but tasteless and tough. They're fluffy and moist, with perfect flakiness. Just mix the ingredients altogether, cut into biscuits, bake. You can make these in 25-30 minutes – total.
These use heavy cream instead of butter for the fat component and as a binding agent. The heavy cream gives all the richness and necessary fat content of butter, but is much quicker and easier to incorporate into the dough. Butter is typically worth the extra effort to cut in or grate into a biscuit dough, but it's just not necessary in these cream biscuits.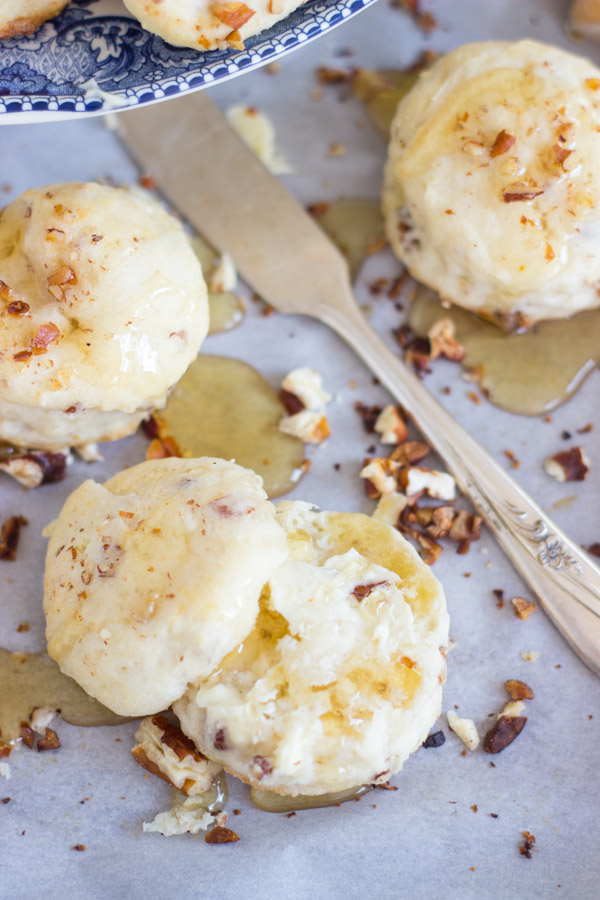 For additional moisture and flavor, I added toasted pecans and goat cheese to these biscuits, and it really elevated them to be extra special. It was no more work to add these ingredients, and they reap high reward in texture and flavor. The biscuits are so moist, they're almost creamy? And if you know goat cheese, you know how ridiculously creamy it is. It makes these biscuits taste so wonderfully rich, and the toasted pecans are perfect for nuttiness and crunch.
Without butter, these don't brown as easily as standard biscuits. I found it was best to move the oven rack to the upper-middle position, so they bake high and puffy, with lots of flakiness.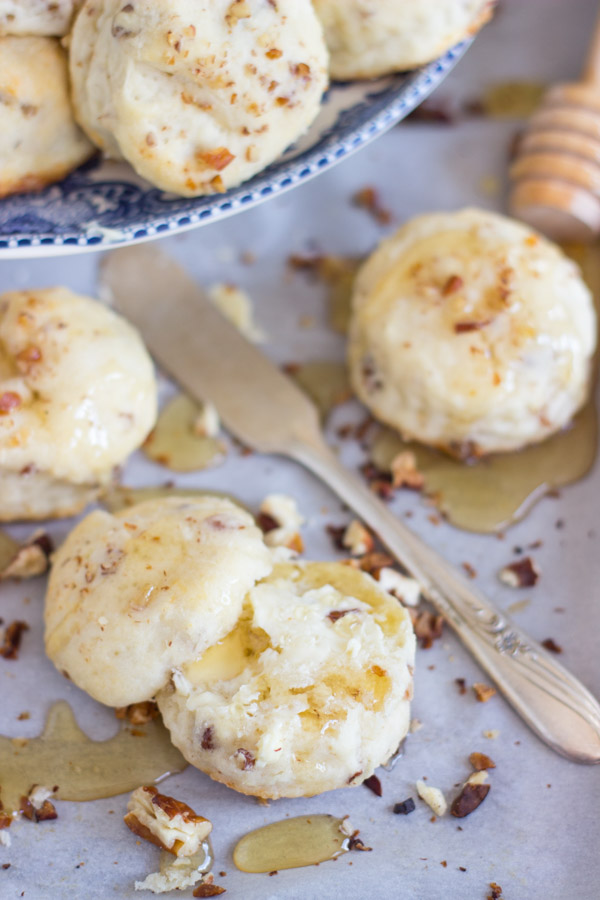 I am IN LOVE with them, and wish I could've stopped eating them, but was grateful that I was headed to the gym shortly after so I could put those carbs to good use.
These are amazing with holiday dinners, and I had extra that I served with the Sweet Potato White Bean Soup.
These are the easiest biscuits in the universe, and they are anything but ordinary!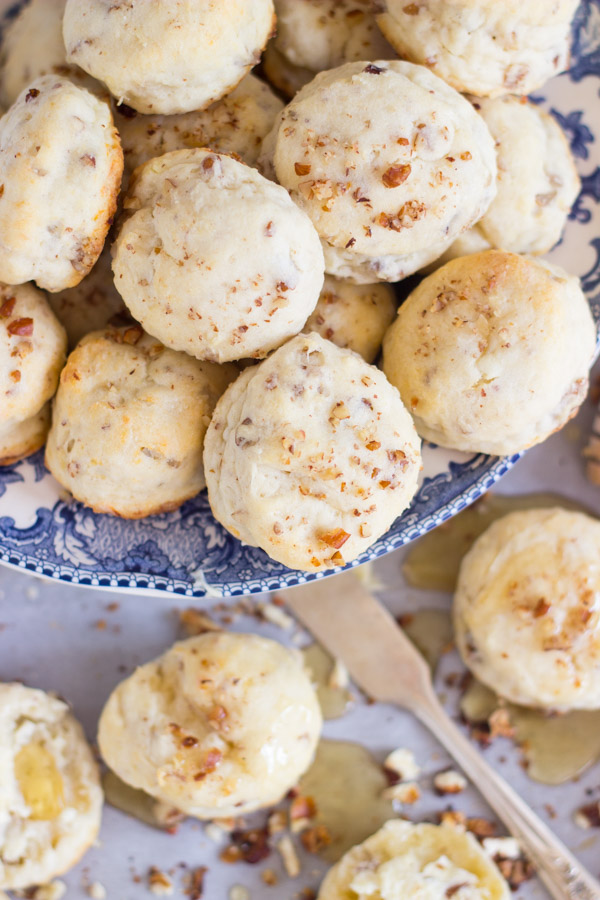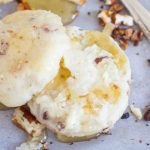 Super Quick & Easy Toasted Pecan Goat Cheese Biscuits
Ingredients
2

c.

all-purpose flour

1

tbsp.

sugar

2

tsp.

baking powder

1/2

tsp.

salt

1 1/2

c.

heavy cream + 1 tbsp.

divided

3/4

c.

toasted chopped pecans

divided

6

oz.

crumbled goat cheese
Instructions
In a medium bowl, whisk together flour, sugar, baking powder, and salt.

Add heavy cream, 1/2 c. toasted pecans, and goat cheese.

Stir with a wooden spoon just until the dough forms, which will happen quick - just a few stirs. The cream absorbs very fast.

Knead on a lightly floured surface for just 4-5 turns.

Form dough into a 3/4-inch thick disk.

Cut dough into rounds with a 1 or 1 1/4-inch biscuit cutter or round cookie cutter.

Place rounds on a parchment paper-lined baking sheet, at least 1 inch apart.

Brush the tops lightly with heavy cream.

Sprinkle with remaining toasted pecans.

Bake at 450 degrees for about 15 minutes, or until the bottoms are golden brown.

Serve warm.