This Sweet Potato White Bean Soup with bacon and crispy sage is like a big autumn hug! Is that a thing? It's warm, cozy, filling, and loaded with flavor. Salty with bacon, smoky with paprika, and sagey with… sage!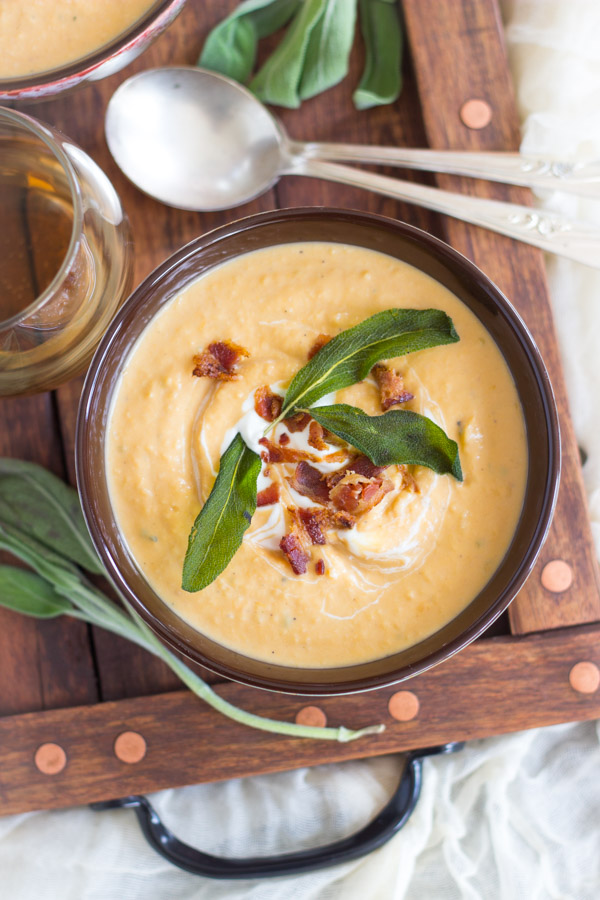 I posted a recipe for
Sausage Pepper Mushroom Spaghetti Pie
 last week, and my brother and SIL made it that same week after I posted it. They loved it, and it makes me so happy that 1. they made it 2. they liked it and 3. that they (and the rest of my family) are always so supportive of the blog.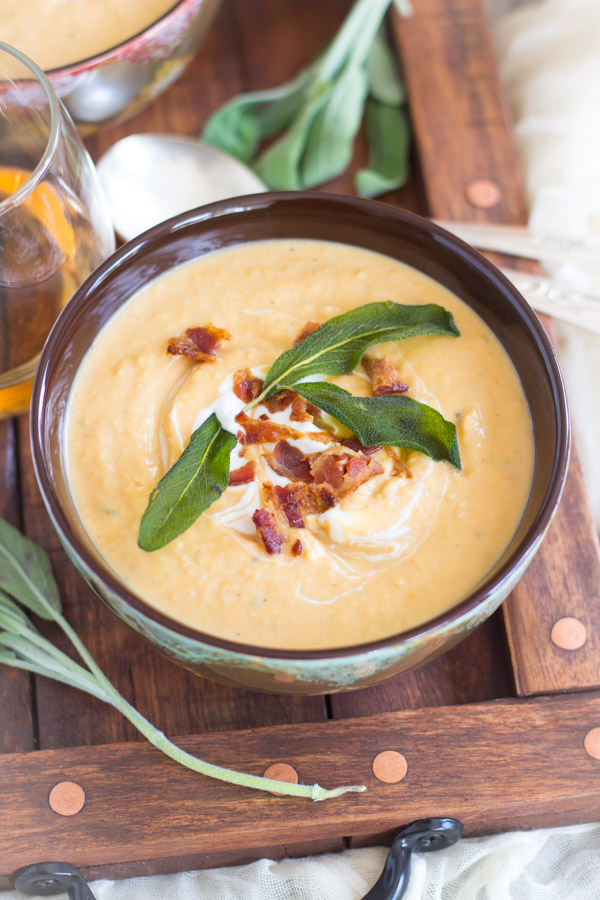 The fact that they made that recipe so quickly after I posted it inspired me to share another savory, non-dessert recipe because I know that people need
meal and dinner ideas
. I was holding onto a few for after the holidays, but here's one for you now.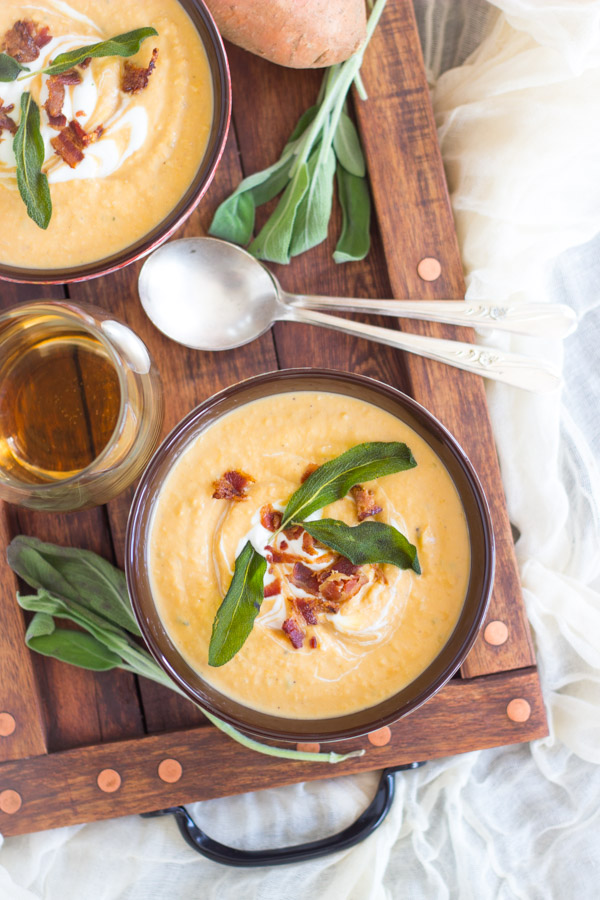 My passion in the kitchen is – and always will be – desserts and baking, but I really love to make 
soup
,
slow-cooker meals
, and breakfast. That's my favorite savory stuff.
So here's a curveball to mix up all the
pumpkin
/
apple
/
snickerdoodle
recipes in your feed. Oh, and election articles. It felt uncomfortable even writing the word election because of how divisive it was. Whatever outcome you wanted, sending lots of love, and let's all be united as Americans first and foremost. *Hugs*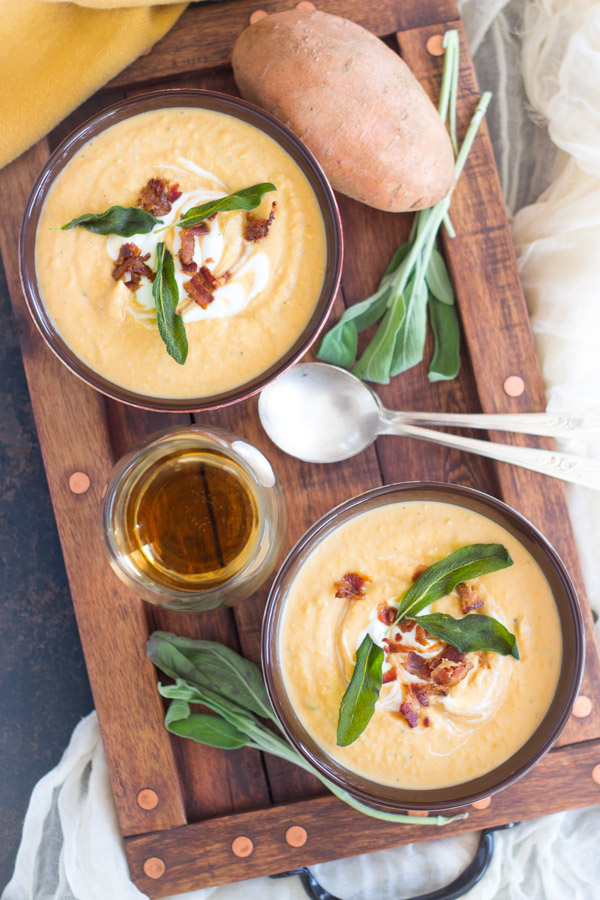 I do almost all my recipe-making early on weekend mornings, and I couldn't stop eating this Sweet Potato White Bean Soup with Bacon and Crispy Sage even though I made it at
8:30 AM
on a
Sunday. Not exactly normal breakfast. 
Then I followed it up with a few helpings of a skillet cookie, btw.
The base of this soup is pureed sweet potatoes and pureed white beans! With a bit of onion, garlic, and cream, it's just so cozy and hearty. It's smooth, creamy, and almost luxurious-tasting. A little sweet from the potatoes, smoky from a touch of paprika, salty with bacon, and savory with… everything else.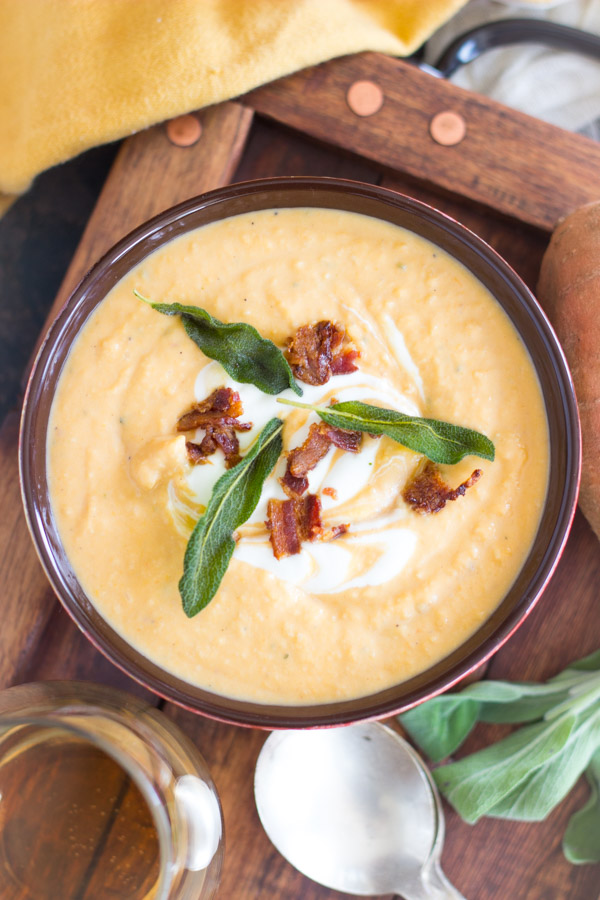 I mixed warmed
bacon grease
into this soup. It's a must. It's a big flavor enhancement in this soup, and it makes the soup heartier and more filling. There's crumbled
bacon
in it too, but I also just poured bacon grease right in there. Today is not a day where we are concerned with health food, k?
Top it with crispy sage leaves. Crispy sage leaves are like potato chips to me. Crispy, salty, buttery, and you can't stop at one. Is it crazy to want to watch a movie with a big bowl of crispy sage leaves instead of popcorn? Perhaps. I find them addictive.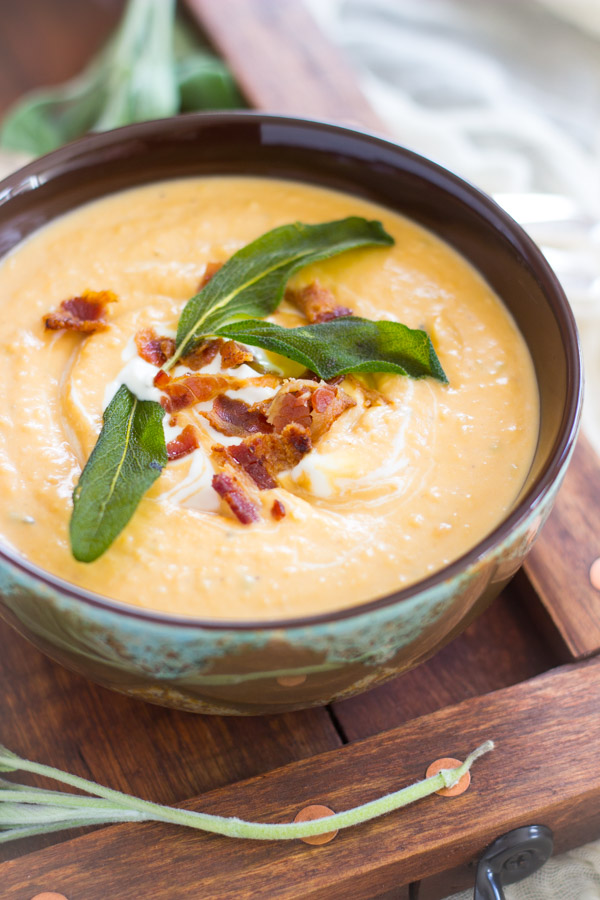 Like a warm and cozy hug in a bowl!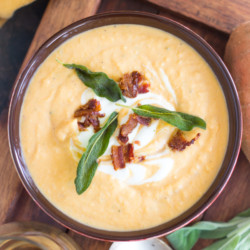 Sweet Potato White Bean Soup with Bacon and Crispy Sage
Ingredients
1 - 12

oz.

package center cut bacon

note: you'll reserve the bacon grease

15-20

fresh sage leaves

1

large yellow onion

chopped

1

tbsp.

chopped fresh sage

3

garlic cloves

minced

2

c.

chicken broth

1/4

c.

water

3

large sweet potatoes

peeled, cut in 6-8 chunks

1 - 15

oz.

can cannellini beans

rinsed, drained

1

c.

evaporated milk or heavy cream

1/4

tsp.

paprika

salt & pepper

to taste

sour cream
Instructions
In a large saucepan or skillet over medium heat, cook the bacon til crispy and brown.

Remove bacon with tongs onto paper towels to drain excess grease. Once cool, crumble bacon into small bits. You may not need to use all 12 oz. for 4 servings, but that's up to you!

Add the fresh sage leaves to the bacon grease, and fry until golden and crispy, about 1 minute each side. Carefully remove sage leaves with a slotted spoon, and drain on paper towels to remove excess grease.

Add the onion, chopped fresh sage, and garlic to the bacon grease in the skillet.

Cook until onions are soft and tender.

Add chicken broth, and bring to a low simmer.

Place potatoes and water in a large microwave-safe bowl. Cover loosely with plastic wrap, and use a knife to create 3 or 4 slits in the plastic wrap. Heat potatoes on high for 10-15 minutes, or until they are tender.

Place the sweet potatoes, white beans, evaporated milk, paprika, salt, pepper, and chicken stock mixture into a blender.

Remove center piece of blender lid (to allow steam to escape, and to keep pressure from popping the lid off), but place a clean towel over the opening in the lid to prevent splatter. Puree until smooth.

Return the mixture to the pan, and cook over medium heat for 3-4 minutes, or until heated through.

Stir in the bacon bits, reserving some for topping, if desired.

Divide soup among 4 bowls, and top each with a dollop of sour cream, 4-5 sage leaves, and reserved bacon bits.