The best ever apple pie just got the most amazing upgrade. This perfect Fireball Apple Pie is baked with a delicious sweet, cinnamon syrup, and is infused with Fireball for a boozy makeover! Try this Fireball Apple Pie recipe once, and you'll never go back to others!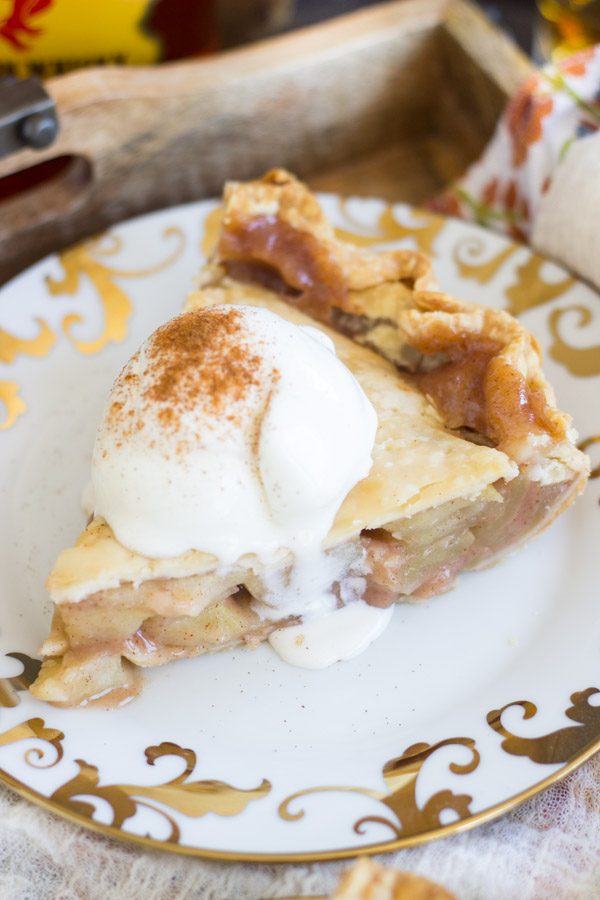 I'm beyond ready for fall, but we don't experience it in Florida until late October, at least. Most Halloweens here are HOT, and we spend the night either sweating our asses off in our costumes (less likely) or attempting to sit outside handing out candy to trick-or-treaters (more likely, these days), and it's just too warm and muggy.
We could get cool days here and there throughout fall, but it's still going to be hot through October, generally. I'm in Erie, PA, this week to visit my family though, and today is a sunny, cool 69 degrees. As much as I've been baking fall things for the last few weeks, it now actually feels a little like fall to me.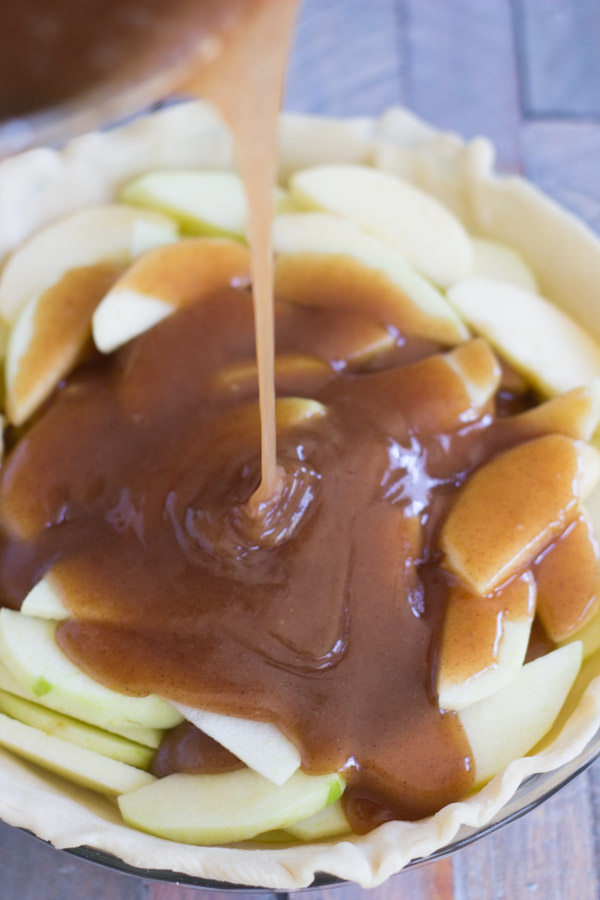 I love to get you guys a few apple recipes this time of year, and this year I have one of the best ones yet to kick things off, this Fireball Apple Pie. I love baking with liquor, and I've got quite a few recipes that are spiked with booze. Last fall I shared this Fireball Whiskey Caramel Sauce recipe and this Fireball Apple Crisp, and you guys loved both those recipes.
I actually made this Fireball Apple Pie last year, and decided not to share it because I didn't want to tire you of Fireball recipes, but it's a whole year later, and I think you're up for it. I think almost every kind of booze has a time and place in baking – bourbon, rum, whiskey, but almost none as much as Fireball.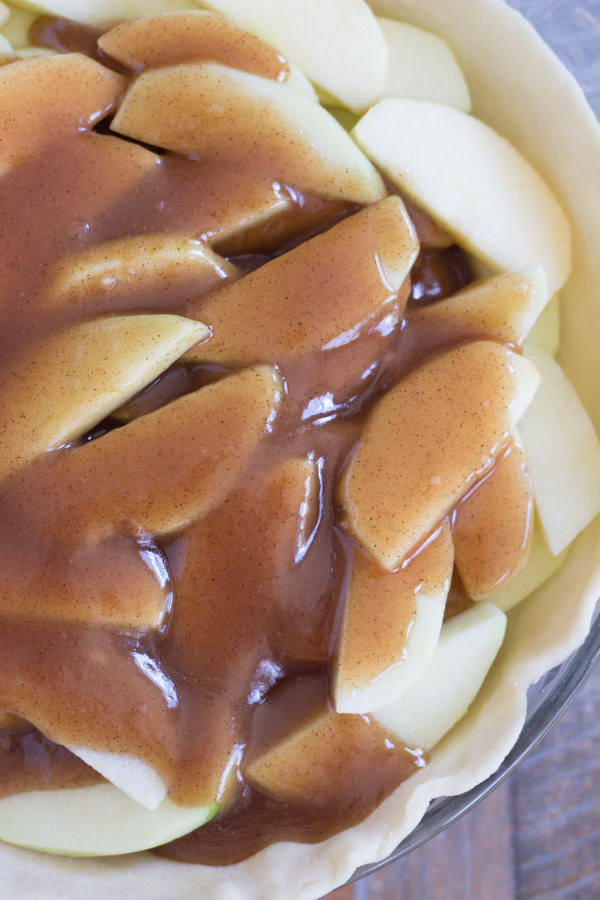 The warmth and fiery cinnamon has a lot of kick, but not too much bite – Fireball is so smooth. You know, it's more sweet than anything, but it adds a really nice warm, spicy, cinnamony flavor, and a tiny kick of booziness. I love baking with it!
This Perfect Apple Pie recipe is the BEST version, with or without Fireball. This is the Perfect Apple Pie recipe that my mom found in a Seventeen magazine when she was a teenager (where she also found the Chocolate Scotcheroos recipe!), and it's the only one we use in my family.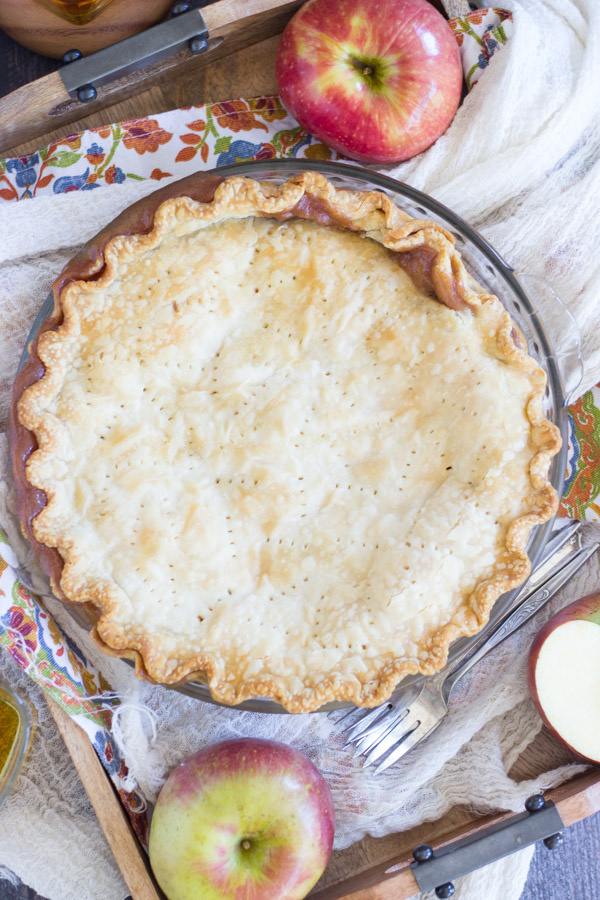 What makes it so special? With most apple pies, you just toss sliced apples with some cinnamon and sugar, and bake them in pie crusts. With this pie, you actually cook a sugary, cinnamon syrup, and the apples get doused in it. The cinnamon syrup softens the apples as they bake, and also makes this pie insanely gooey. The cinnamon syrup is so sweet and delicious that it's always tempting to eat spoonfuls of it by itself, or to use it as an apple dip. The syrup cooks in about 10 minutes, so it's a small extra step from classic apple pies, but it's worth it.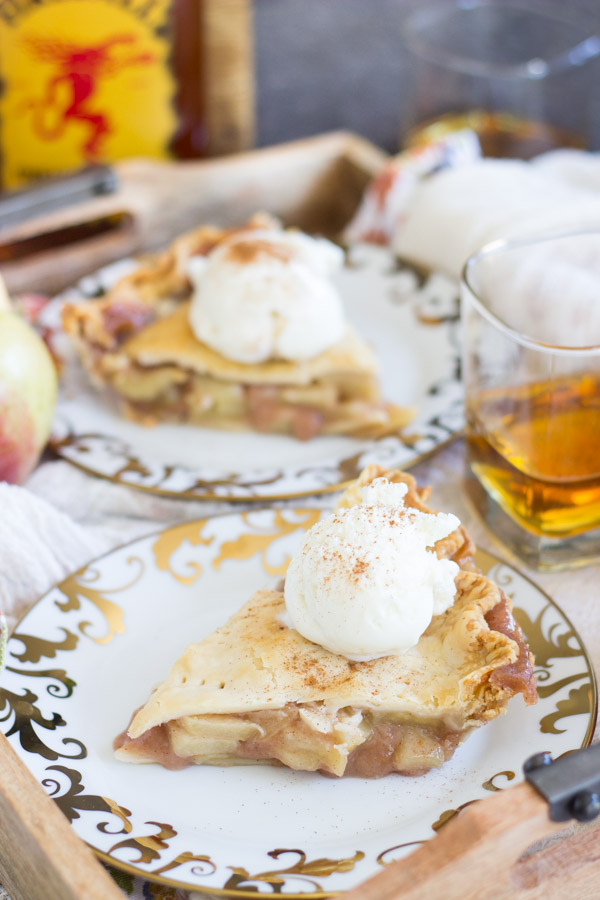 Granny Smith apples are the way to go here. They are my favorite apple for baking. They're firm, so they hold up well and don't turn to mush. Their tartness is also a benefit because you're already adding a decent amount of sugar to this dessert, and tart Granny Smith prevents the pie from being overly sweet. It's all a balance!
I know that everyone has that particular apple pie recipe that they love more than others, but if you try this perfect Apple Pie  recipe just once, you'll never go back! And the shot of Fireball makes it particularly special.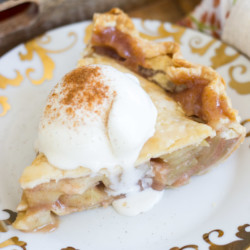 Fireball Apple Pie
The best ever apple pie just got the most amazing upgrade. This perfect apple pie is baked with a delicious sweet, cinnamon syrup, infused with Fireball for a boozy makeover!
Ingredients
1

box of prepared pie crusts for a 2-crust pie

the kind that you unroll (my favorite are Pillsbury)

5

large Granny Smith apples

peeled and sliced

1

c.

sugar

1/4

c.

flour

1/2

tsp.

salt

3/4

c.

water

1

tbsp.

apple cider vinegar

no substitutions

2

tbsp.

butter

1

tsp.

vanilla

1

tsp.

cinnamon

1/3

c.

Fireball whiskey

vanilla ice cream or whipped cream
Instructions
Arrange one of the pie crusts into the bottom of a deep dish pie pan.

Fill the pie shell with the apples.

In a medium pot, whisk together sugar, flour, salt, water, and apple cider vinegar.

Cook over medium heat, stirring constantly, until thick.

Remove from heat, and add butter, vanilla, cinnamon, and Fireball whiskey.

Pour mixture evenly over the apples.

Arrange the top crust, and pinch edges to seal. Prick with a fork.

Bake at 400 degrees for 45-50 minutes, or until pie is golden brown, and the apples feel soft when a toothpick is inserted near the center.

Remove to a wire rack to cool.

Serve with ice cream or whipped cream.
If you love apple recipes, one of my all-time favorites on the blog is this Caramel Apple Crisp Cheesecake. Apple crisp bakes right on top of a full cheesecake! It's perfect.
This Apple Pie Cinnamon Roll Cobbler uses cinnamon rolls as the biscuits, and the apple pie filling is the same as from this here Fireball Apple Pie recipe. And these Pumpkin Apple Streusel Muffins are heaven! Don't you love a good streusel-topped baked good?