This Dark Chocolate Molasses Pecan Pie is a seriously memorable version of a classic pecan pie! Molasses adds depth to the sticky sweet brown sugar filling, and it's gooey with melted dark chocolate too!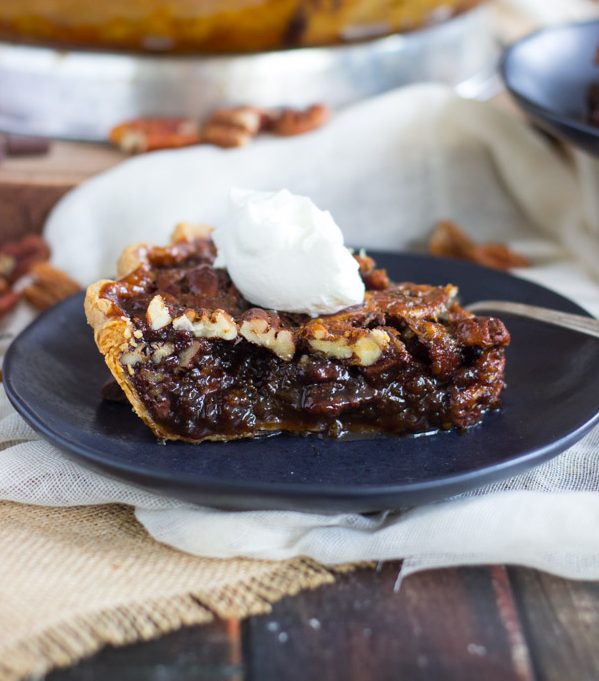 I almost forgot to tell you about this pie before Thanksgiving, and that would terrible. I really think you need to know about it before you finalize your Thanksgiving menu. Maybe you only stick with pumpkin pie for Thanksgiving, but it's nice to have pie options.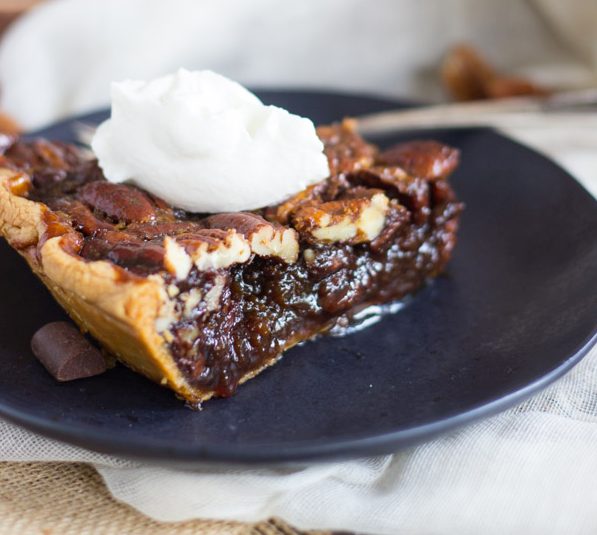 For all the pumpkin desserts I made this year, I didn't share a pumpkin pie recipe. I made one, but we ate it before I got pictures. I can't tell you what it is because I'll make and share it next year instead. So sorry to keep you in suspense. 🙂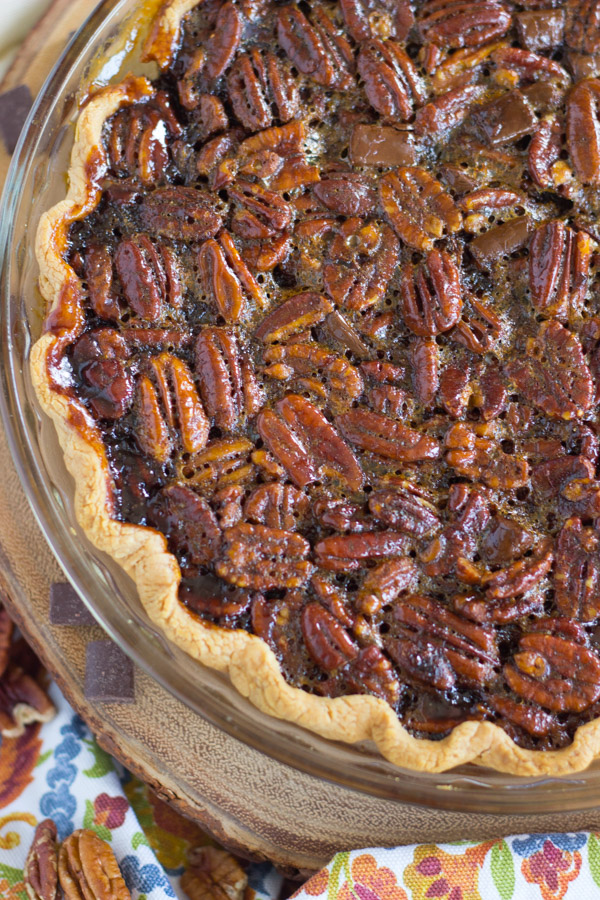 Meanwhile, if you are still hunting down a pumpkin pie recipe for this year, here's a few: Walnut Streusel Pumpkin Pie, Amaretto Pumpkin Pie with Almond Brittle, and I also have a million pumpkin cheesecakes, including: White Chocolate Pumpkin Cheesecake, Double Layer Pumpkin Cheesecakes in no-bake form and traditional form, Cinnamon Roll Pumpkin Cheesecake, Pumpkin Spice Oreo Cheesecakes, and Pumpkin Chocolate Chip Brownie Cheesecake.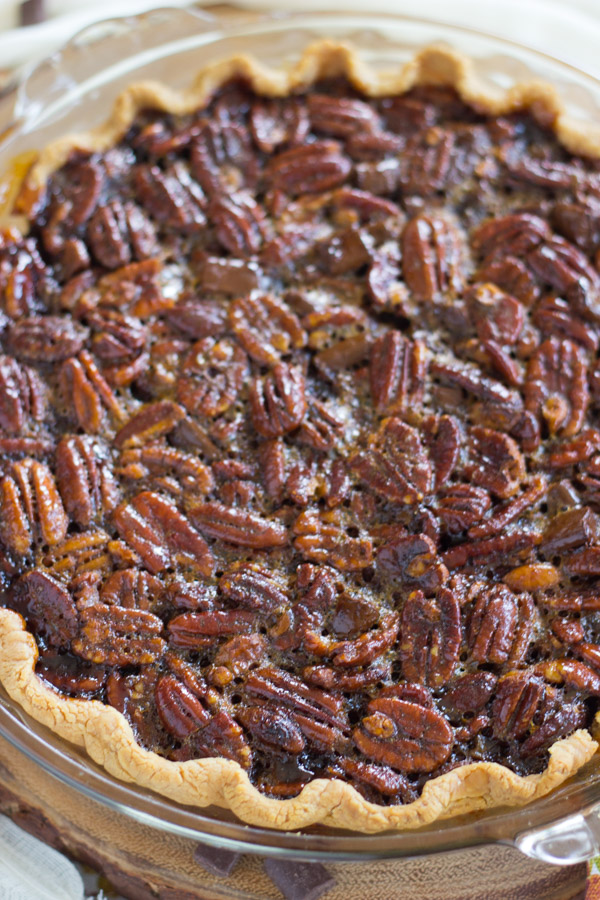 It's not pumpkin, but this Caramel Apple Crisp Cheesecake is incredible, and I feel it worth mentioning it again.
Otherwise, there's a billion pumpkin desserts to choose from aside from pies! I have a category tag for pumpkin recipes. You are covered, one way or another, whatever your Thanksgiving dessert preference!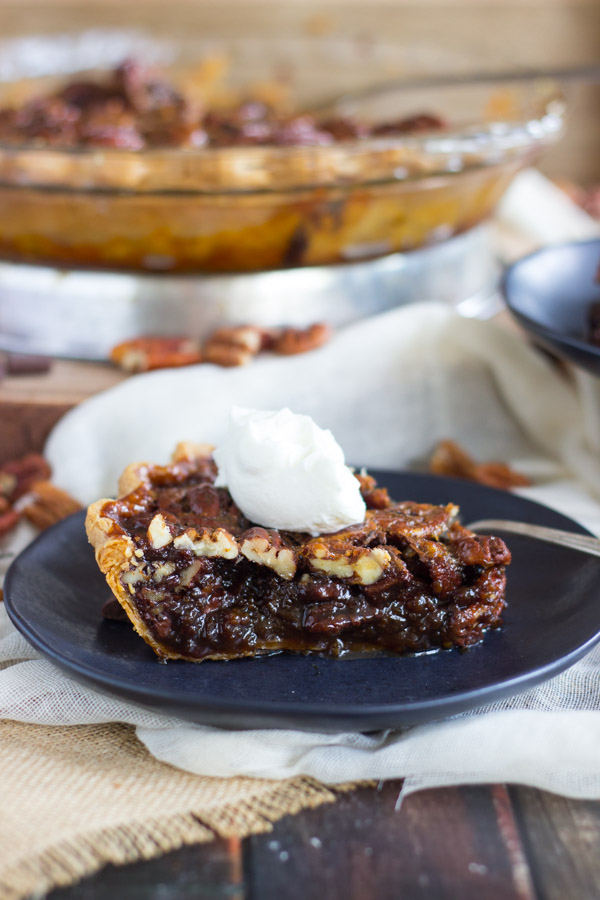 Now, for pecan pie options, here you go: Orange Coconut Pecan Pie, Brown Butter Bourbon Pecan Pie, and Chocolate Espresso Pecan Pie.
And then there's this Dark Chocolate Molasses Pecan Pie. That's what this post was supposed to be about. It's also incredibly special. Molasses adds intensity and depth to the sticky sweet filling, and the dark chocolate gives it deeper, richer, flavor. And extra gooeyness too.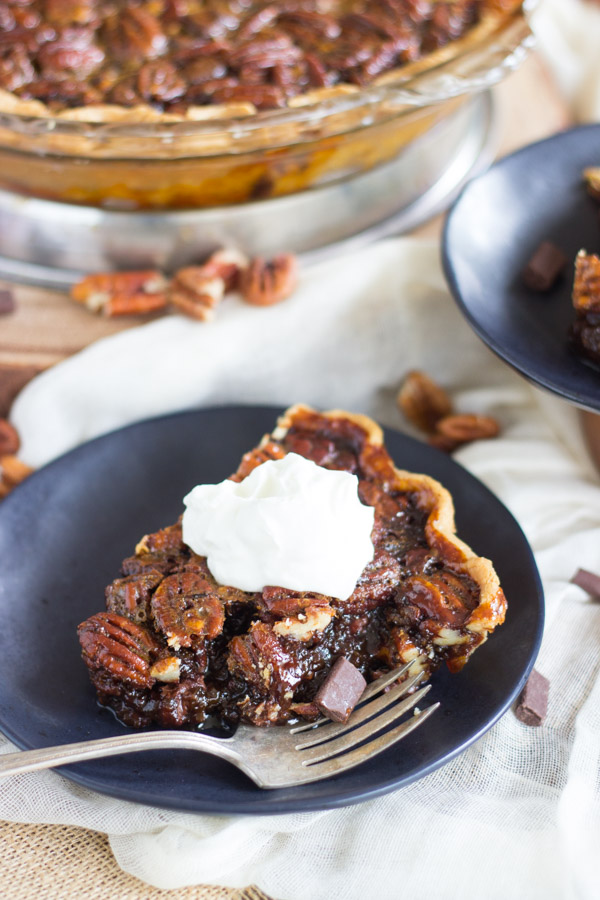 Also, a little dark rum never hurt.
I think that pecan pie is one of the easiest desserts you can make, and the return on investment is so high. Prep time is short, but the reward is so great. Fancy enough for holidays, but still easy and approachable, and you cannot beat the sticky sweet gooeyness!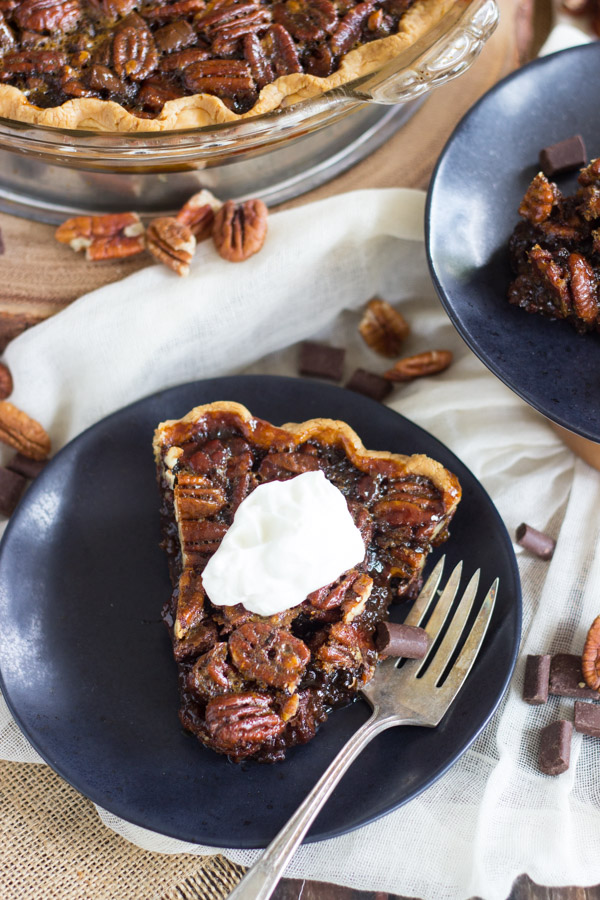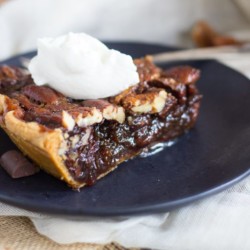 Dark Chocolate Molasses Pecan Pie
This is a seriously memorable version of a classic pecan pie! Molasses adds depth to the sticky sweet filling, and it's gooey with rich dark chocolate!
Ingredients
1 - 9-

inch

unbaked prepared pie crust

3/4

c.

packed brown sugar

3/4

c.

corn syrup

1/2

c.

molasses

3

tbsp.

butter

1/4

tsp.

salt

1

tsp.

vanilla

3

tbsp.

dark rum

3

eggs

2

c.

pecan halves

1

c.

dark chocolate baking chunks

whipped cream
Instructions
Arrange crust (if it's the kind you unroll) into a deep dish pie pan.

In a large saucepan, whisk together brown sugar, corn syrup, molasses, butter, and salt.

Bring to a simmer over medium heat, and cook just until sugar is dissolved, about 3 minutes.

Remove from heat, and add vanilla and dark rum.

Allow mixture to cool to room temperature.

Whisk in the eggs, pecan halves, and chocolate chunks.

Pour into pie crust.

Bake at 350 degrees for about 50 minutes, or until edges are golden brown, and the center is set.

Remove to a wire rack to cool.

Cut and serve, topped with whipped cream.