If my S.O. had to pick one food to eat for the rest of his life, it would be this pumpkin cheesecake–>Btw, I'd already written that, and he later said, word for word, that I should write that. By his own admission, my pumpkin cheesecake is half the reason he keeps me around. Or in my view, more like 30-40% of the reason. Either way, if I produce it for him on the reg, then we enjoy co-habitation bliss!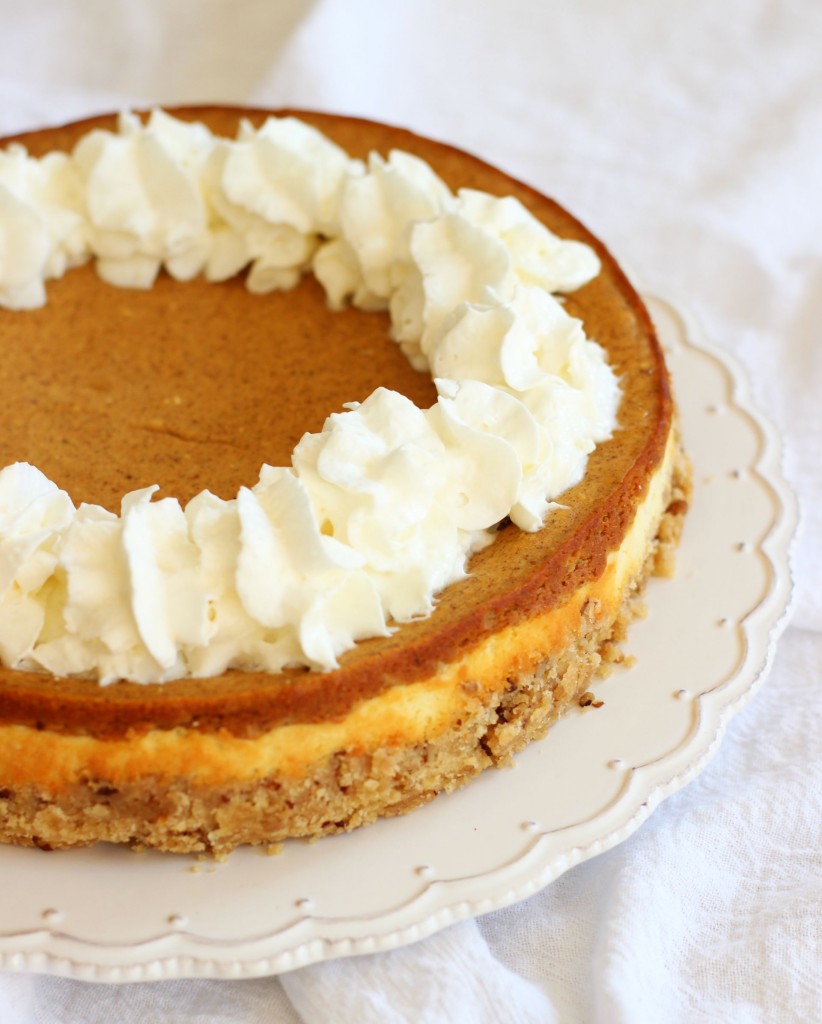 I asked him if he had any remarks he'd like to add about this dessert, and he said: "If you like cheesecake, and you like pumpkin, you'll love this." He's usually much more profound than that statement would suggest. I responded, "That's what you're gonna go with?" Then he added, "It's only as good as the last time you made it, which was the best it ever was. Therefore, it's always the best dessert of all time." Really?
His contribution felt convoluted, but I promised I'd include it. Maybe next time I'll take a few creative liberties when I'm relaying this all to you, because I don't know that this exchange really captures how intelligent and likable S.O. can be! Haha.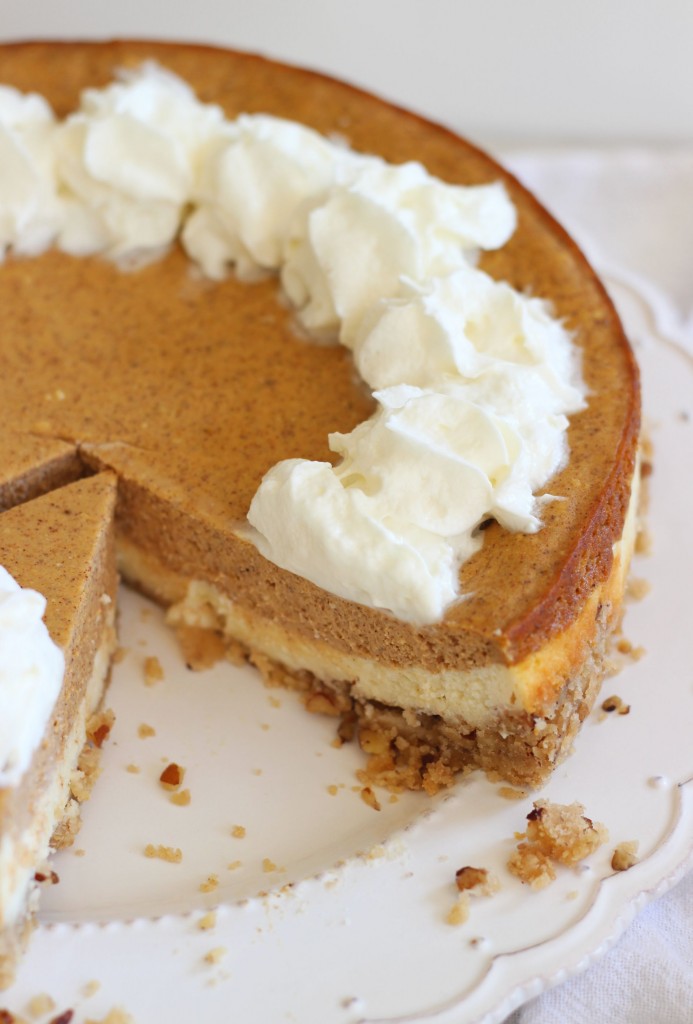 I can't tell you how many times I've taken this cheesecake to a holiday party where it's been raved about. I also make this even if it's May, and we're just in the mood for it. Yes, it's pumpkin, but it knows no boundaries in my house. If you're in the mood for pumpkin cheesecake, who cares if it's 94 degrees outside and it's July?
I really knew this was a hit when I brought it to Thanksgiving a few years ago and my uncle told me that it was the best cheesecake he'd ever had. He's a legit foodie who LOVES to cook, and he's excellent at it. I love him to pieces, but he's also (cough) a touch stubborn and arrogant (cough), so for him to admit that something is delicious… that means A LOT. To me, that is a compliment of the highest order.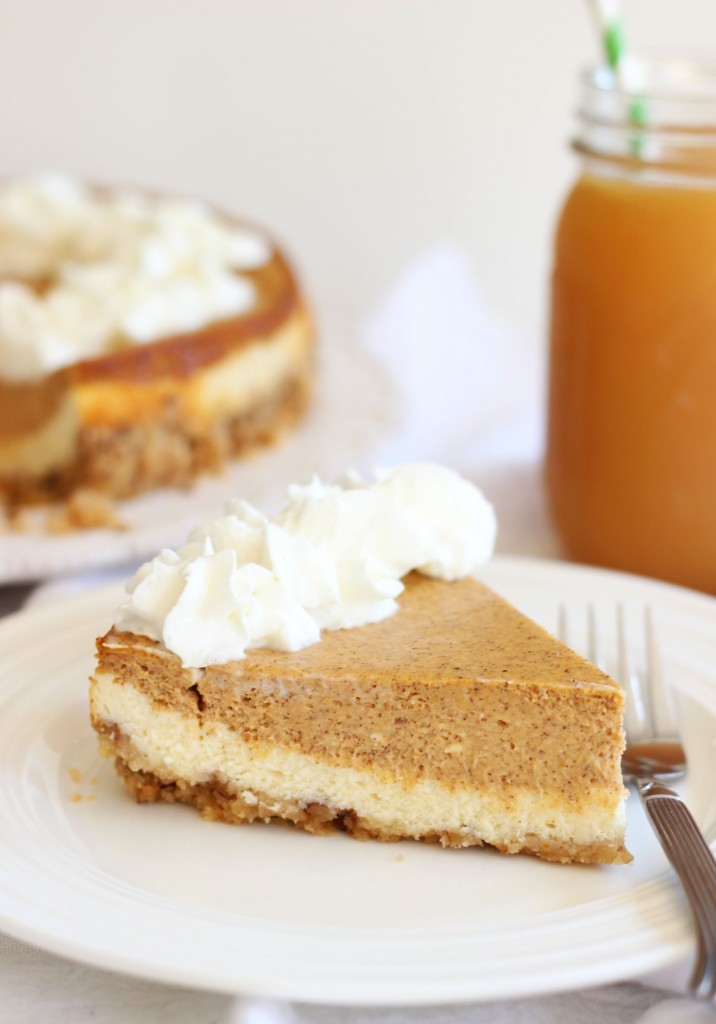 Incidentally, I have 2 recipes for double layer pumpkin cheesecakes. I've used them both a ton, and while they sound similar, they're totally different. They each have a separate time and place, so I thought it would be fun to do a 2-part post! Check back for Part 2 – the no bake version!
This is the 'fancier' version, but it's simple and easy, as far as cheesecakes go. Graham cracker crusts just don't do anything for me, so I give this an upgrade with a shortbread and pecan crust. It's soooo much better. It has a layer of traditional rich and creamy cheesecake, with a layer of pumpkin spice cheesecake on top. It is nothing short of phenomenal. The perfect amount of spice and pumpkin flavor.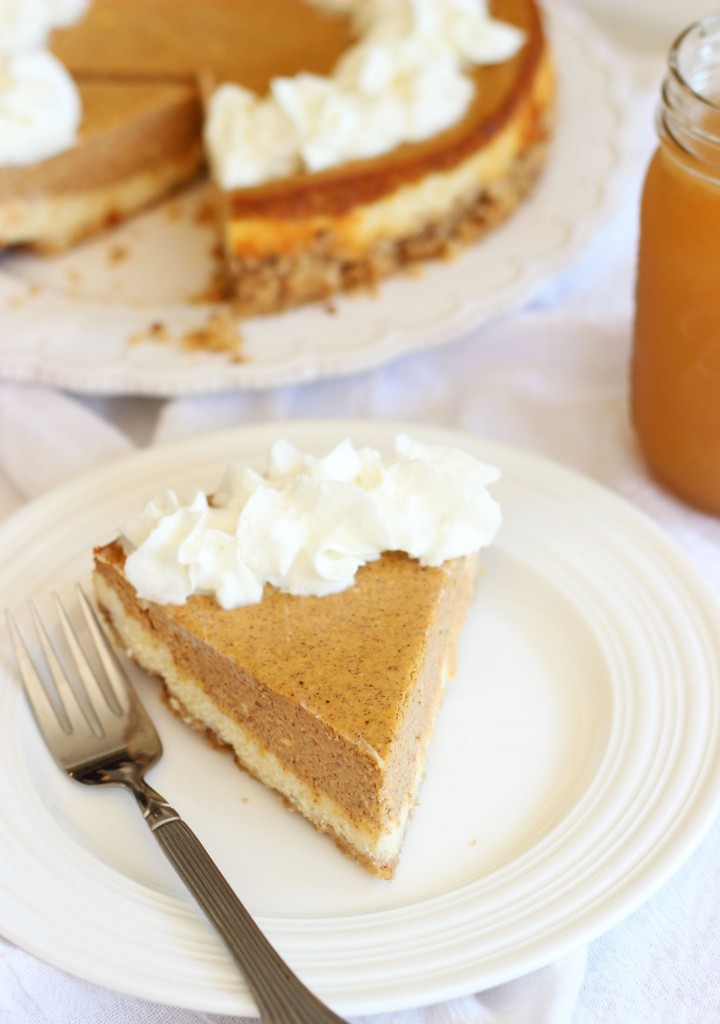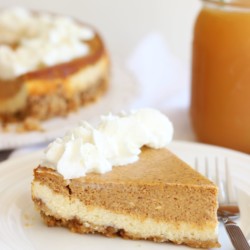 Double Layer Pumpkin Cheesecake
A double layer pumpkin cheesecake with pumpkin pie spice, cinnamon, and clove, and a shortbread pecan crust!
Ingredients
Crust:
1 - 11

oz.

package pecan sandies or shortbread cookies

crushed

1/4

c.

finely chopped pecan pieces

1

tbsp.

sugar

2

tbsp.

melted butter
Filling:
3 - 8

oz.

packages 1/3 reduced fat cream cheese

softened

3/4

c.

sugar

1

tsp.

vanilla

3

eggs

1

c.

pumpkin

1

tsp.

cinnamon

1/2

tsp.

pumpkin pie spice

1

pinch

clove
Instructions
For crust:
In a medium bowl, combine cookie crumbs, pecan pieces, sugar, and melted butter.

Mix until crumbly, and press into the bottom of a 9-inch springform pan, pressing the crumbs slightly up the edges.
For filling:
In a large mixing bowl, beat cream cheese until smooth.

Add in sugar and vanilla, and beat until smooth and well-combined.

Mix in eggs, one at a time.

Remove about 1.5 cups of cream cheese batter and gently spread onto crust in an even layer.

Add pumpkin and spices to remaining batter and stir gently until well-combined.

Carefully spread the pumpkin batter over the first layer of batter in an even layer.

Bake at 325 degrees for 50-65 minutes. The edges will be golden brown, and the center will still jiggle slightly, but will set as it cools.

Allow to cool completely. Serve and enjoy!
Notes
The easiest way I've found to crush the cookies into crumbs is by placing them in a gallon-size ziplock bag, and smashing them with a rolling pin!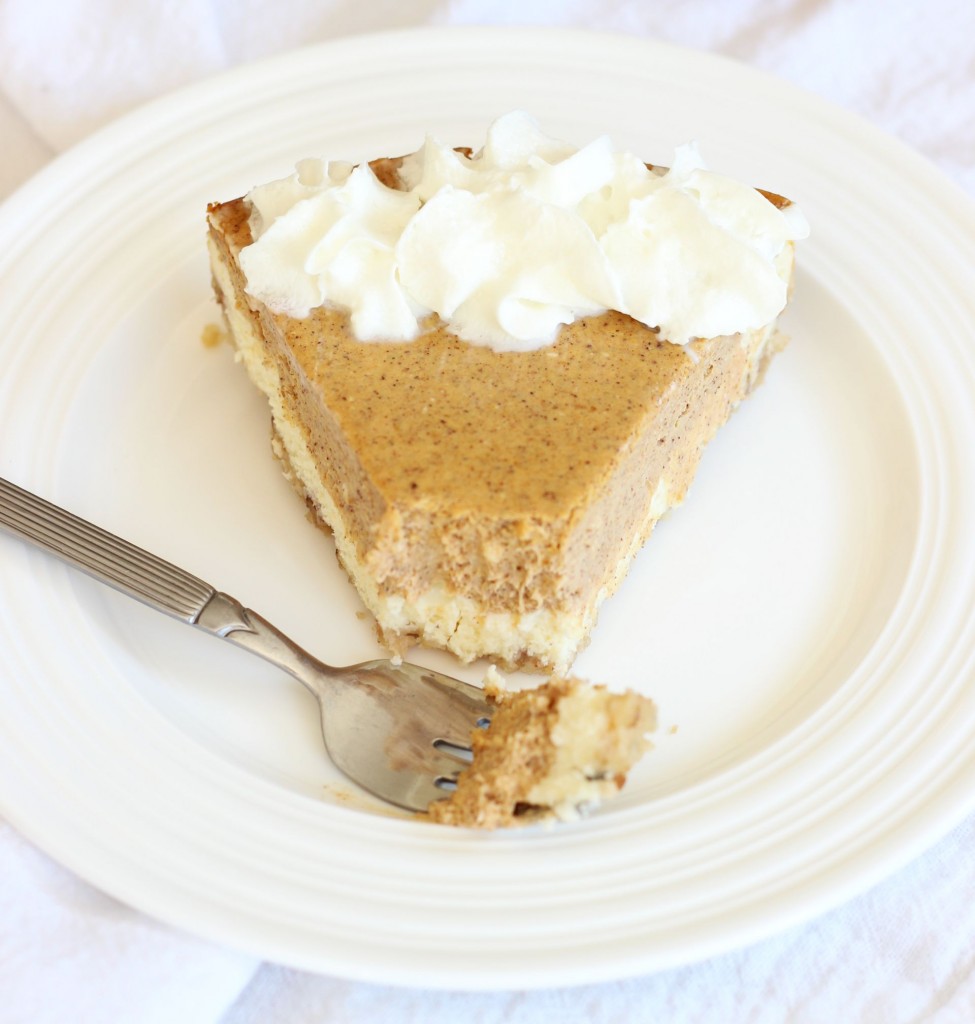 You just died and went to cheesecake heaven!