This quick and simple No Bake Pumpkin Cheesecake comes together in 10 minutes! With just a handful of ingredients, this No Bake Pumpkin Cheesecake is a delicious dessert for holidays and Thanksgiving. Loaded with pumpkin and spice, and a layer of creamy cheesecake, it's always a crowd-pleaser!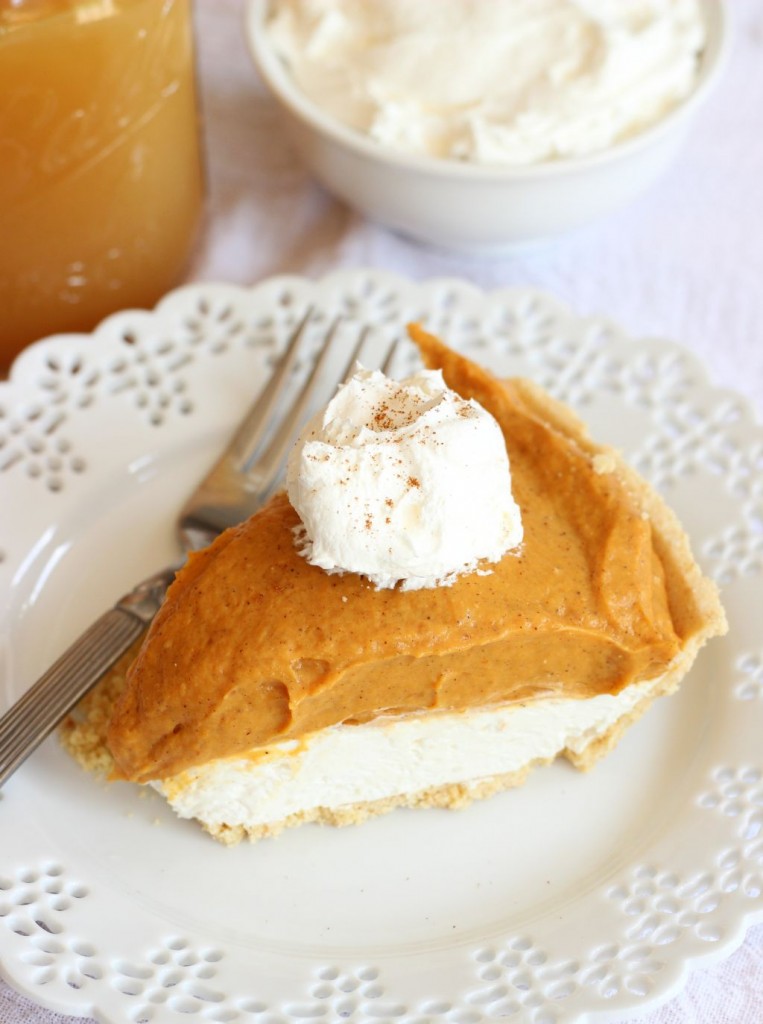 A couple of days ago, I gave you the world's best traditional pumpkin cheesecake. The one food that keeps my domestic relationship running as smoothly as it does. Without it, who knows where S.O. and I would be? Okay, I kid. We do just fine either way, but good food doesn't hurt.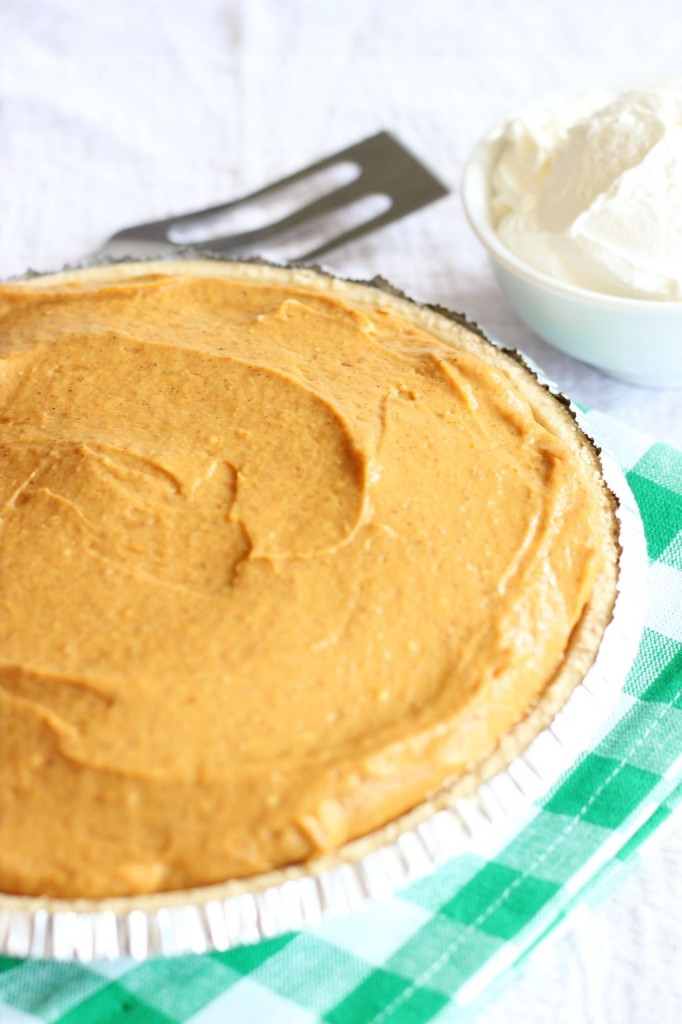 Now, the previous pumpkin cheesecake I shared is NOT hard, and it's not a ton of work, but it does require some time. Cheesecake has to bake for so long, and cool for even longer, so if you're in a pinch, it's probably not the way to go.
This recipe ultimately yields a similar result, a Double Layer No Bake Pumpkin Cheesecake, but in basically 10 minutes flat.
Admittedly, this No Bake Pumpkin Cheesecake is not as 'fancy' or elegant as a traditional cheesecake, but it's still super delicious. At the end of the day, what will people focus on? This is the recipe I relied on for years when I wanted a quick seasonal dessert on hand, and it's also the recipe that inspired the more traditional version I made and shared.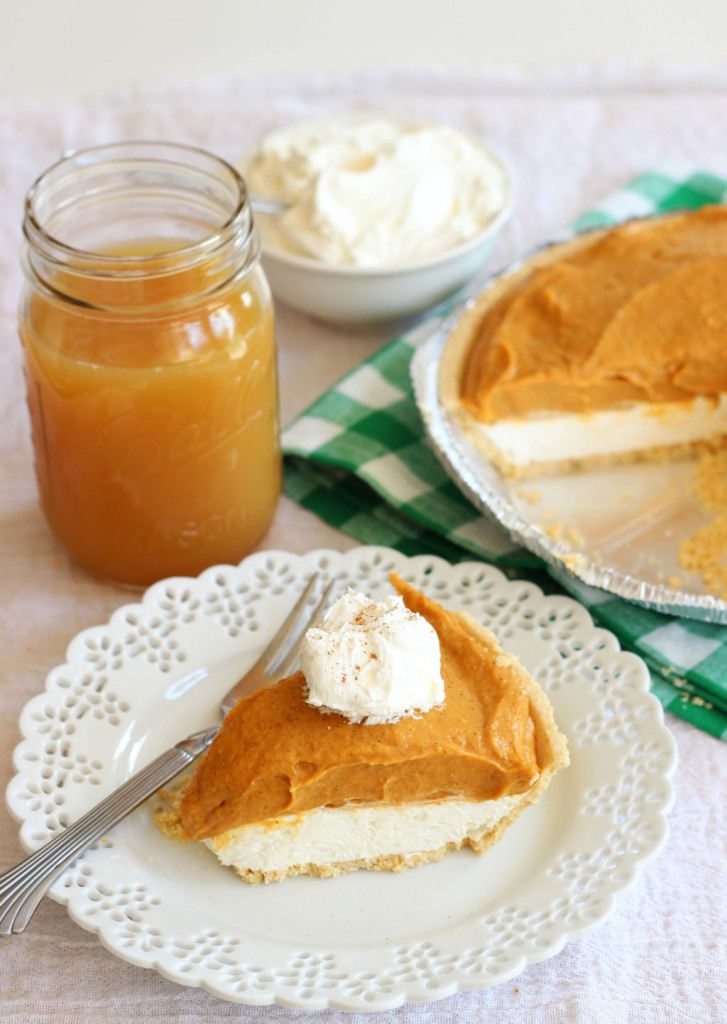 This No Bake Pumpkin Cheesecake is not my own creation – pretty sure this recipe has been floating around for decades – but it is one I keep around for good reason. (I've been making it so long, I didn't know where it came from, but it's Kraft).
It doesn't get faster or easier than this No Bake Pumpkin Cheesecake, and it still gives you all the awesomeness that comes with combining pumpkin, spices, and cheesecake. It's also very light, not heavy like traditional cheesecake, so it's a good post I-stuffed-myself-silly-at-dinner option.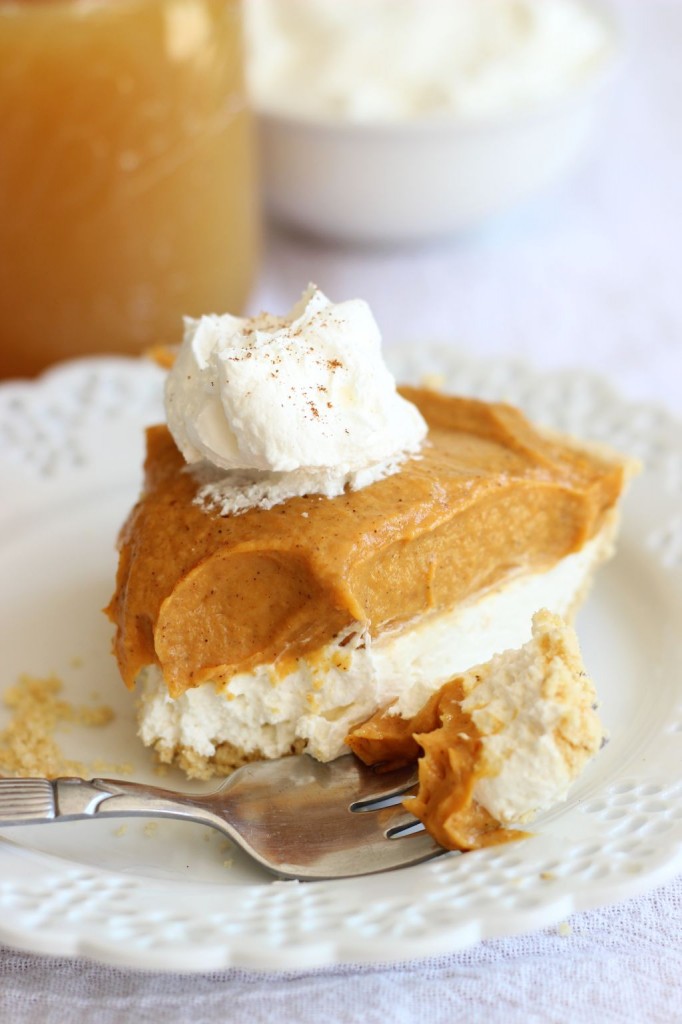 You can make this No Bake Pumpkin Cheesecake in literally 10 minutes. Maybe even 7-8 if you reeeeally focus. That's the beauty of no bake desserts!! I'd be lost without a few of those in my repertoire!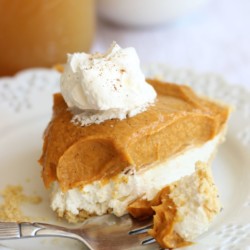 No-Bake Double Layer Pumpkin Pie
A super quick and easy no-bake layered pumpkin pie! This pie has a cheesecake layer, and a pumpkin pie layer, with lots of spice and creaminess.
Ingredients
8

oz.

package cream cheese

softened (I used reduced fat)

2

tbsp.

milk

2

tbsp.

sugar

1

tsp.

vanilla

2

c.

Cool Whip

1

9 oz.

prepared shortbread or graham cracker crust

must be the LARGE prepared crust, not 6 oz.

2

small boxes instant vanilla pudding

1

c.

milk

1 - 15

oz.

can pumpkin puree

1

tsp.

cinnamon

1/2

tsp.

pumpkin pie spice

1/4

tsp.

ginger

1/4

tsp.

clove
Instructions
In a small mixing bowl, beat cream cheese, 2 tbsp. milk, sugar, and vanilla until smooth.

Fold in Cool Whip.

Spread this mixture evenly into the bottom of the crust, careful not to lift up any crumbs in the crust.

In a large bowl, whisk together vanilla pudding mixes, 1 c. milk, pumpkin, and spices until smooth.

Carefully spread the pumpkin mixture over the cream cheese layer.

Refrigerate for 2-3 hours. Serve!

Dollop with Cool Whip for garnish, if desired!
Now go whip this No Bake Pumpkin Cheesecake up in a jif!