This Cranberry Pumpkin Upside Down Cake is gorgeous, and it features the two best flavors of the season! It's a thick, soft, and moist pumpkin cake, with a topping of caramelized brown sugar and cranberries. This Cranberry Pumpkin Upside Down Cake is EASY too, and does not require a lot of effort!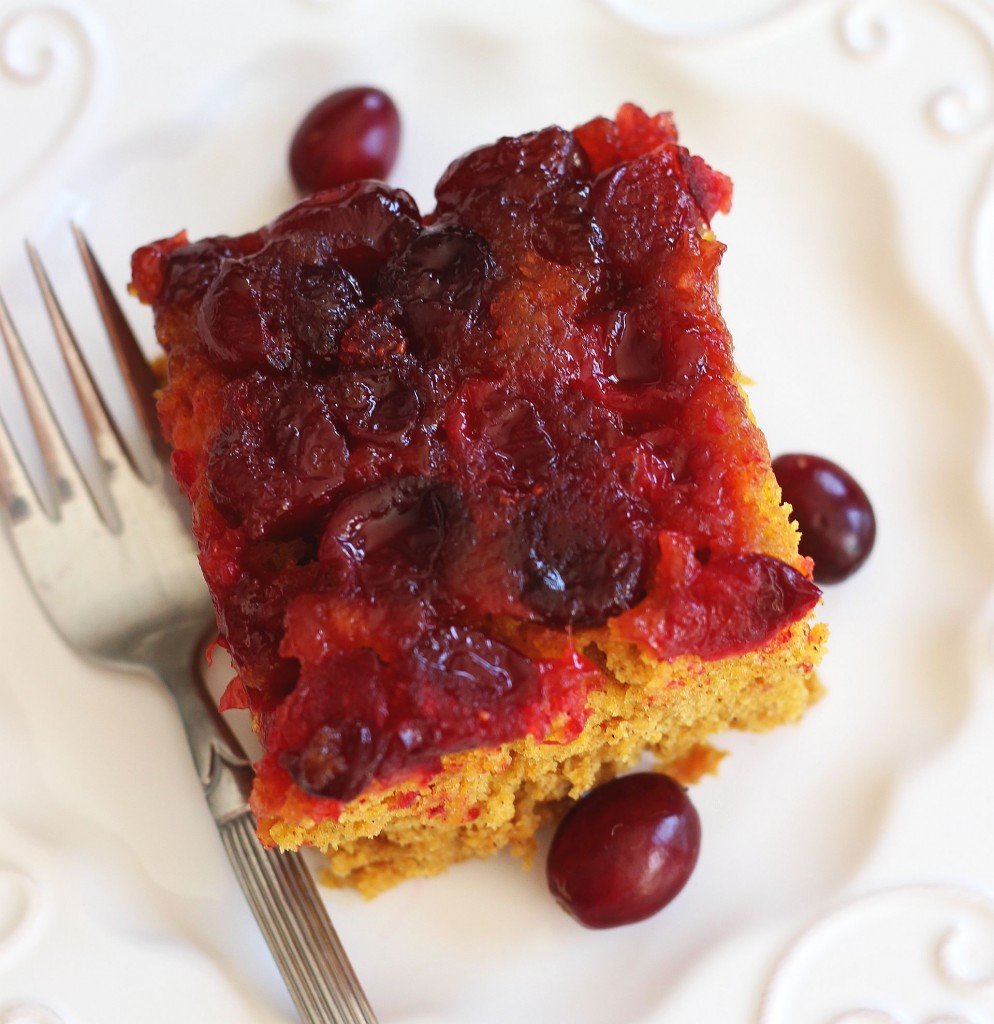 Happy Nov. 1st! Can you believe it's November already? How did we get here so fast?
Is November 1 too soon for eggnog stuff? What about gingerbread? I'm nearly ready to get out my Christmas decor, so in my mind, anything's game! How do we feel about cranberries? In the case of this Cranberry Pumpkin Upside Down Cake, cranberries are paired with pumpkin so it really bridges the gap between fall baking and true holiday baking anyway! Right? That's my theory and I'm sticking to it. How beautiful is this Cranberry Pumpkin Upside Down Cake?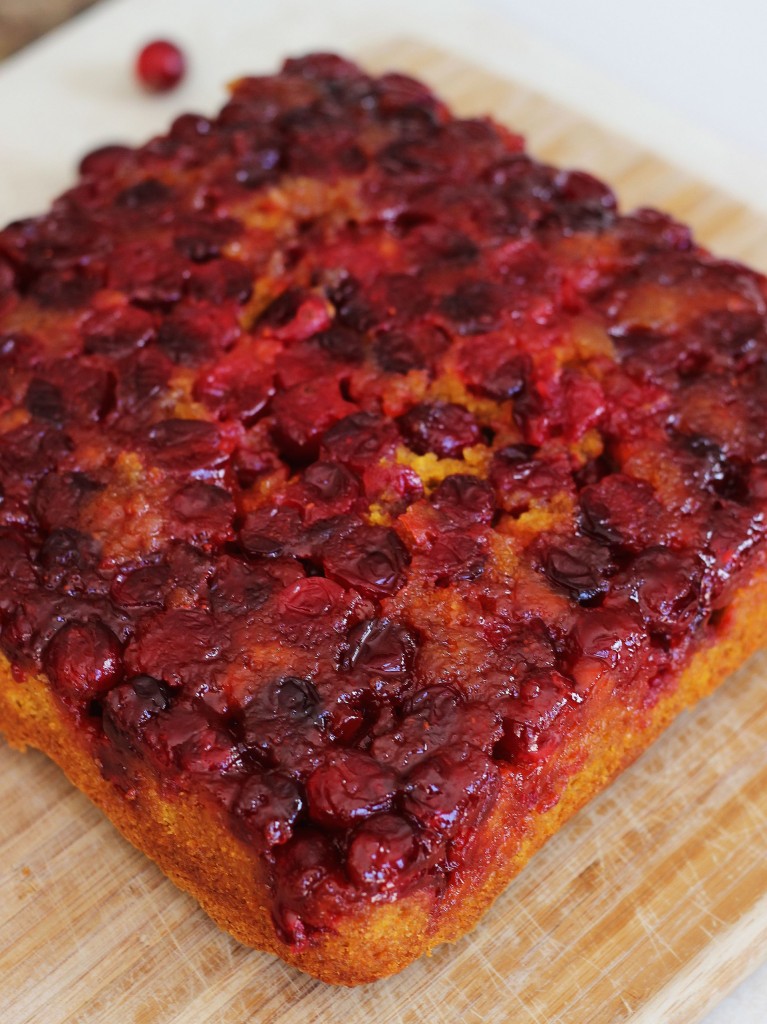 I am SO excited for the holidays. This is my favorite time of the year. I really get ahead of myself though. Halloween was just yesterday and we're still finishing up desserts like this Candy Bar Brownie Pie, Candy Bar Cookie Pie, and Leftover Halloween Candy Bar Brownies, yet I will probably start listening to Christmas music, like, tomorrow. I am part of the reason you see Christmas decorations in stores in September.
Getting a head start on holiday baking is also how I roll. I really like to extend and elongate all the festive activities as long as I can. The decorations, the movies and music, the food, all of it. Did I mention the decorations? I have A LOT of those. I'm an over-zealous holiday celebrator… well, minus Halloween and Valentine's Day. They're alright.
What's funny about being such an over-the-top holiday person is that S.O. is very, very much NOT. He's a scrooge in every sense of the word! His disdain isn't for one particular holiday either. It's basically all of them! He's just not a holiday person. I think it's the pressure? If you like the guy, you learn to find this behavior endearing and almost hysterical. But if it were up to him, holidays would pass by unnoticed and be just like every other day. If you're like me, you have 3 different Christmas trees, each with a different theme. 🙂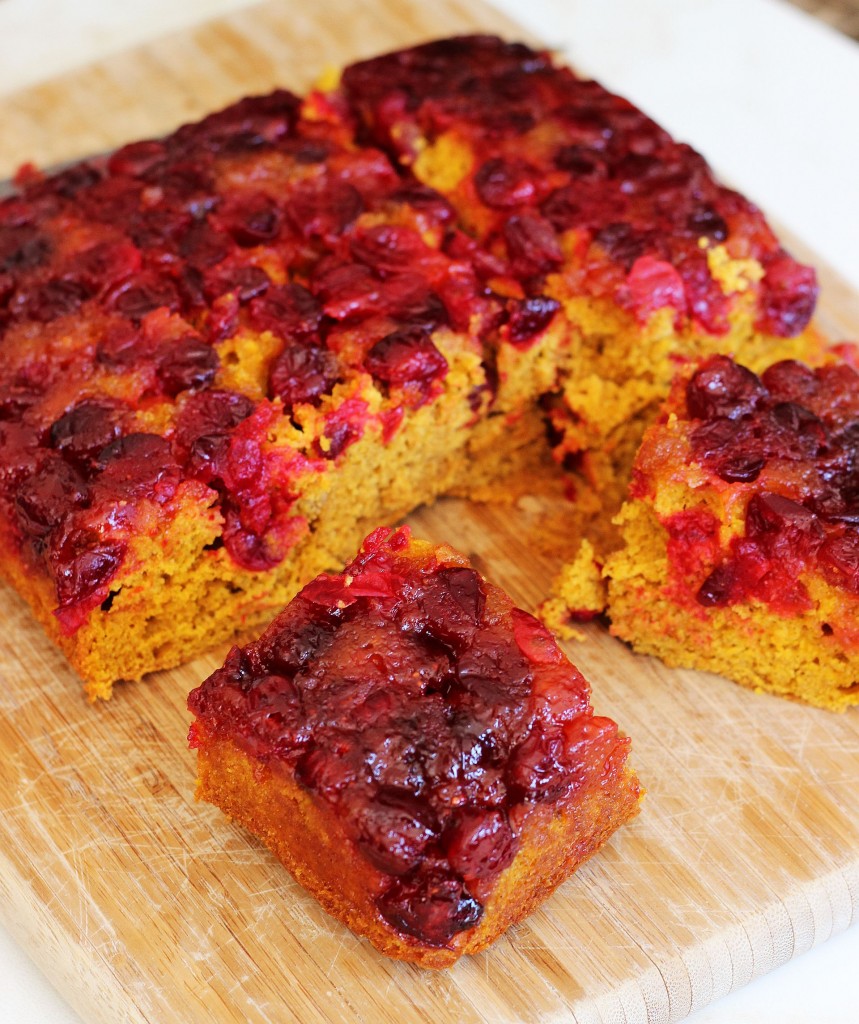 At least he can get on board with the food aspect of holidays. It's a big help having him around to taste-test (and then some). This Cranberry Pumpkin Upside Down Cake, for example. We found it to be a perfect cake for fall, Thanksgiving dinner, or even brunch. It could totally pass as a coffee cake. It's moist and rich, and the cranberries are so pretty and festive, like red jewels. They're also coated in brown sugar and butter, so they taste like a dream. Caramelized cranberries are something you don't know your life is missing til you try them.
Plus, this Cranberry Pumpkin Upside Down Cake is easy. Super easy. As in, you don't need a mixer and prep time is minimal. So you get an amazingly delicious, seasonal, festive, and pretty cake with little effort. That's a baker's dream, friends!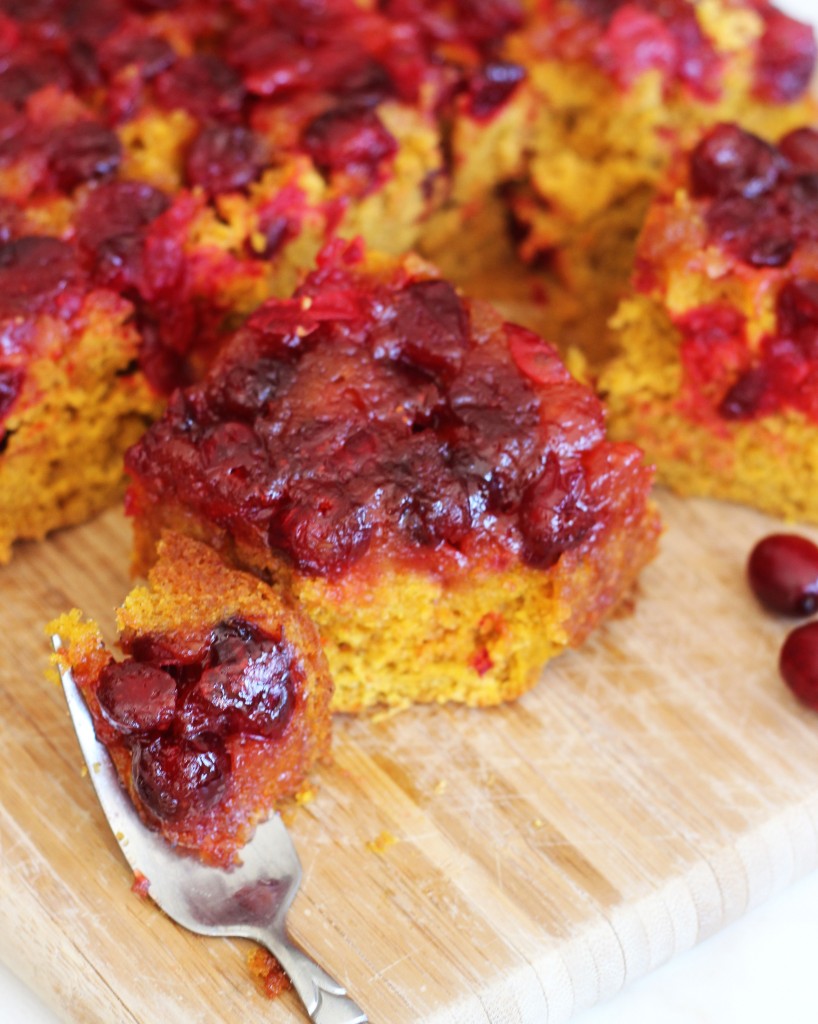 If you want to try other awesome pumpkin recipes, these Pumpkin Spice Latte Cookies are phenomenal! They're so soft and chewy, with a hint of coffee, and a load of spice! These Pumpkin Nutella Whoopie Pies are really popular, and you really haven't lived until you've had pumpkin and Nutella together. The Nutella Buttercream in those whoopie pies is insane! These Snickerdoodle Pumpkin Nutella Muffins are another good example of that power duo! And I'd be remiss if I didn't include one of the most popular recipes on the whole blog – this Double Layer No-Bake Pumpkin Cheesecake comes together in 10 minutes flat!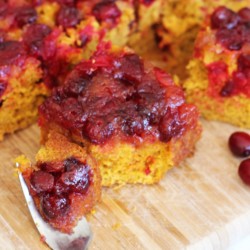 Cranberry Pumpkin Upside Down Cake
A delicious and moist upside down pumpkin cake, with brown sugar and cranberry topping!
Ingredients
3

tbsp.

unsalted butter

melted

3/4

c.

packed brown sugar

2

c.

fresh cranberries

2

eggs

1

c.

canned pumpkin puree

2

tbsp.

oil

1 1/2

c.

flour

1

c.

sugar

1 1/2

tsp.

baking powder

1

tsp.

cinnamon

dash of salt
Instructions
Lightly grease a 9-inch square pan.

Pour melted butter into pan, covering the entire bottom.

Evenly sprinkle brown sugar over butter.

Evenly sprinkle the cranberries over the brown sugar.

In a large bowl, combine eggs, pumpkin puree, and oil. Whisk until well-blended.

In a separate bowl, combine flour and remaining ingredients. Mix until well-blended.

Add the flour mixture into the pumpkin mixture, and stir until just combined.

Carefully spread the batter over the cranberries in the pan.

Bake at 350 degrees for 40-45 minutes, or until a toothpick inserted near center comes out clean, and edges are golden brown.

Cool for 15 minutes on a wire rack. Place a large platter on top of the cake, and invert.

Cool for an additional 15 minutes. Best served warm. Enjoy!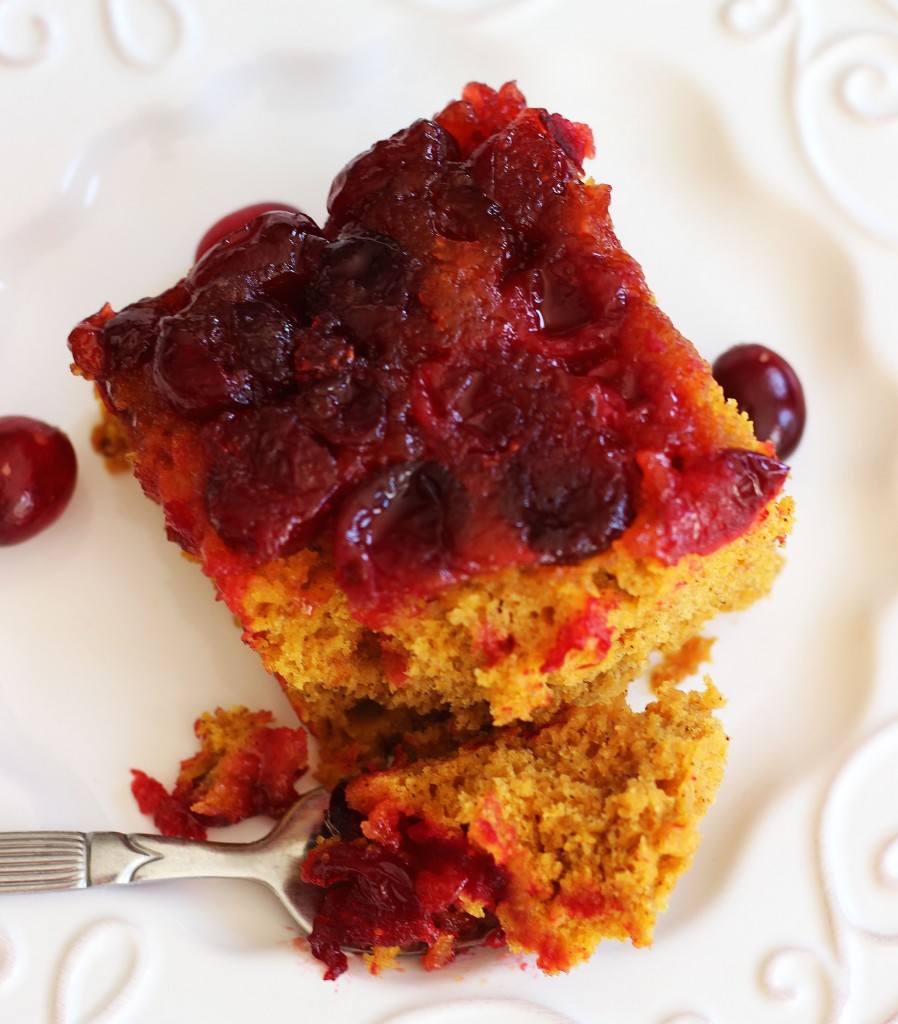 Next up: gingerbread stuff! But if you try this Cranberry Pumpkin Upside Down Cake, let me know! I love to hear from you.