A rich and moist, but fluffy and light citrus almond olive oil cake. This Citrus Almond Olive Oil Cake is full of flavor and easier than you'd think!
We are going out of order with things here. I had something more seasonal on tap to share next, but even the best laid plans… so instead, you're seeing this Citrus Almond Olive Oil Cake first.
As some of you may have seen on Instagram, I'm visiting family this week in Pennsylvania. I worked ahead so I'd still have posts for you though! I got out my laptop yesterday morning to put finishing touches on a post, and no sooner had I sat down with the laptop in hand, my mom's dog, who weighs about 50 lbs and isn't exactly a lap dog, jumped up on my lap and knocked over a cup of coffee next to me, spilling it all over the entire keyboard. Aaack!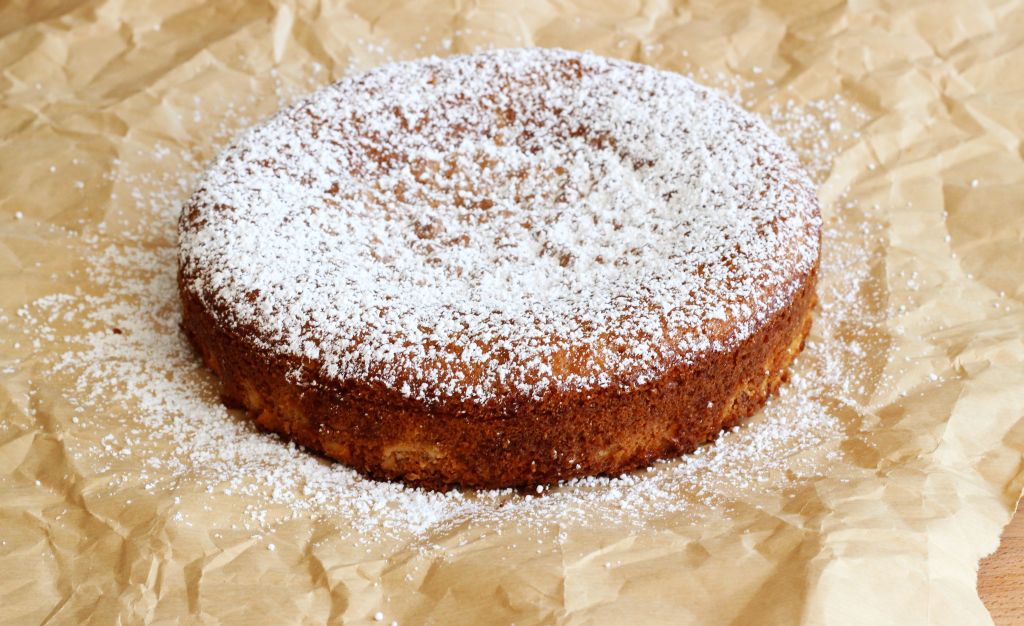 I was in shock. I couldn't believe how fast it all happened. Once I came to my senses and starting cleaning up, then I went into kind of a sad stupor and just laid back in bed for an hour. #drama. I'm praying that the hard drive isn't fried. I will know more when it dries out, but it's quite an unexpected snafu!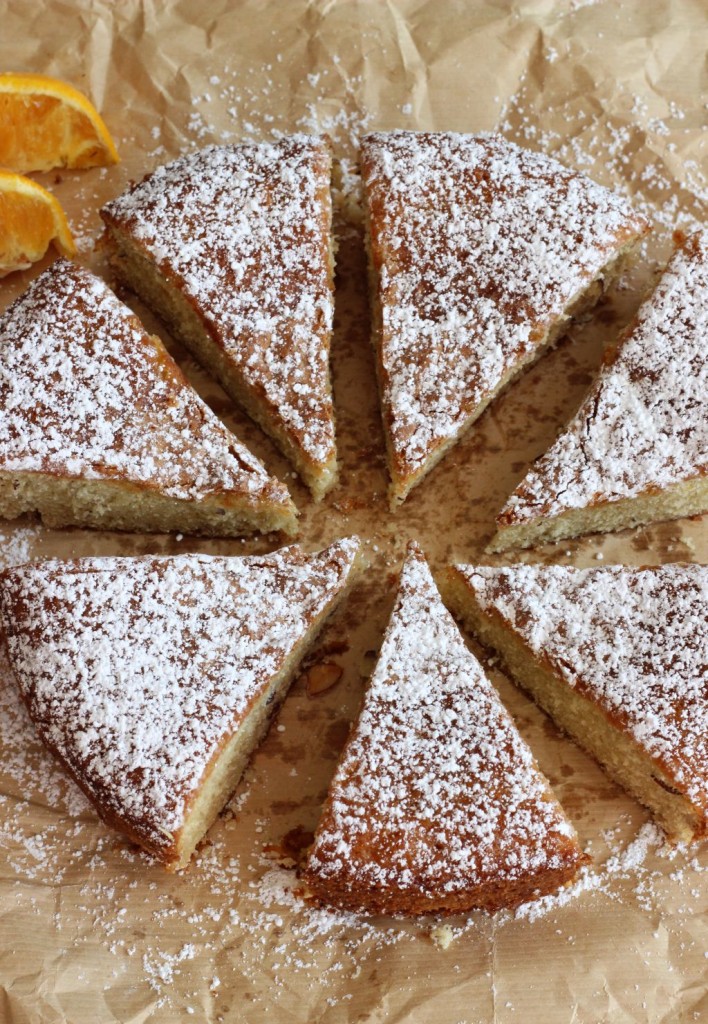 So instead of seasonal, today I'm sharing this Citrus Almond Olive Oil Cake that I probably needed to show you soon anyway since I made it weeks ago! One of our favorite Italian restaurants here in Tampa has Olive Oil Cake on the dessert menu and up until a few years ago, I didn't know such a thing existed. Since my first introduction to it, I've seen citrus versions and almond versions, but never both together! I had to make this Citrus Almond Olive Oil Cake.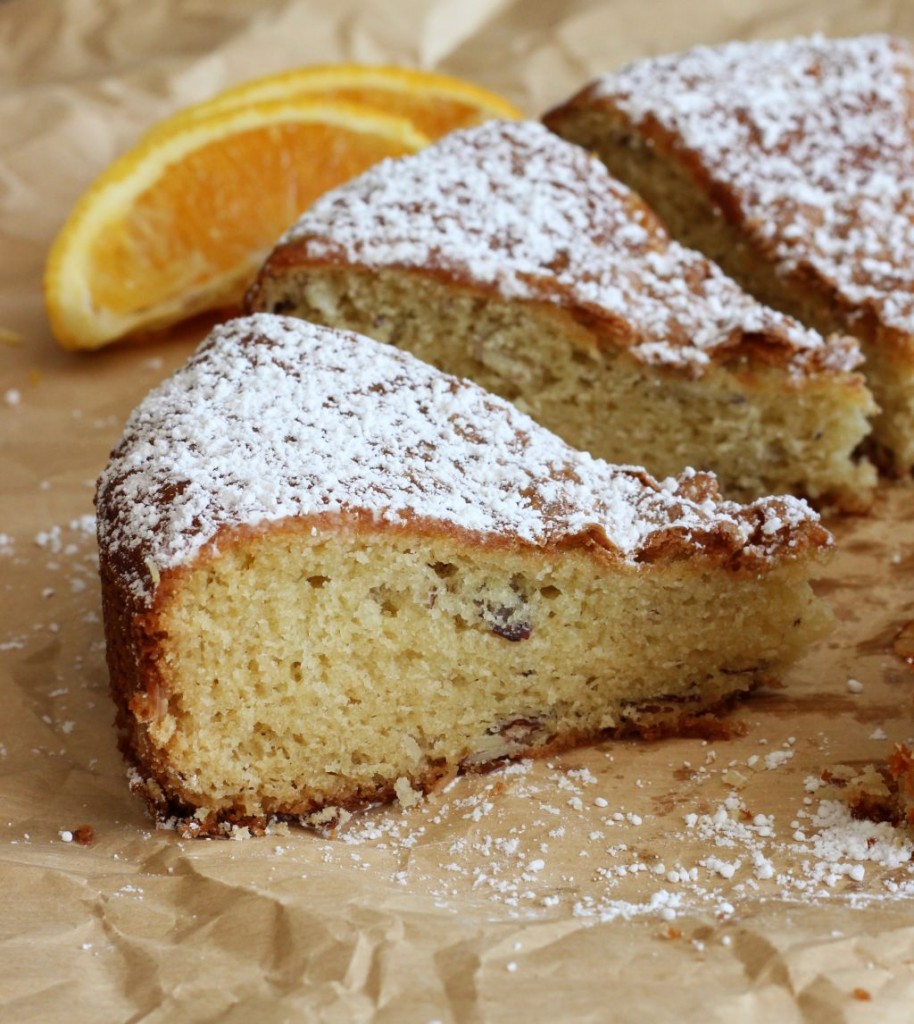 The essences and subtle flavors of the olive oil blend beautifully with the citrus and almond flavors. This Citrus Almond Olive Oil Cake is also a very rich and smooth cake, while still be light and springy, not heavy. Rich, yet somehow delicate. I'm such a huge fan.
Enjoy it for dessert or even for breakfast with a tall mug of coffee. Or a short, stout mug of coffee. But definitely coffee.
Wait… or wine. Maybe wine if your computer was doused with coffee that day and you're feeling resentful toward it. 🙂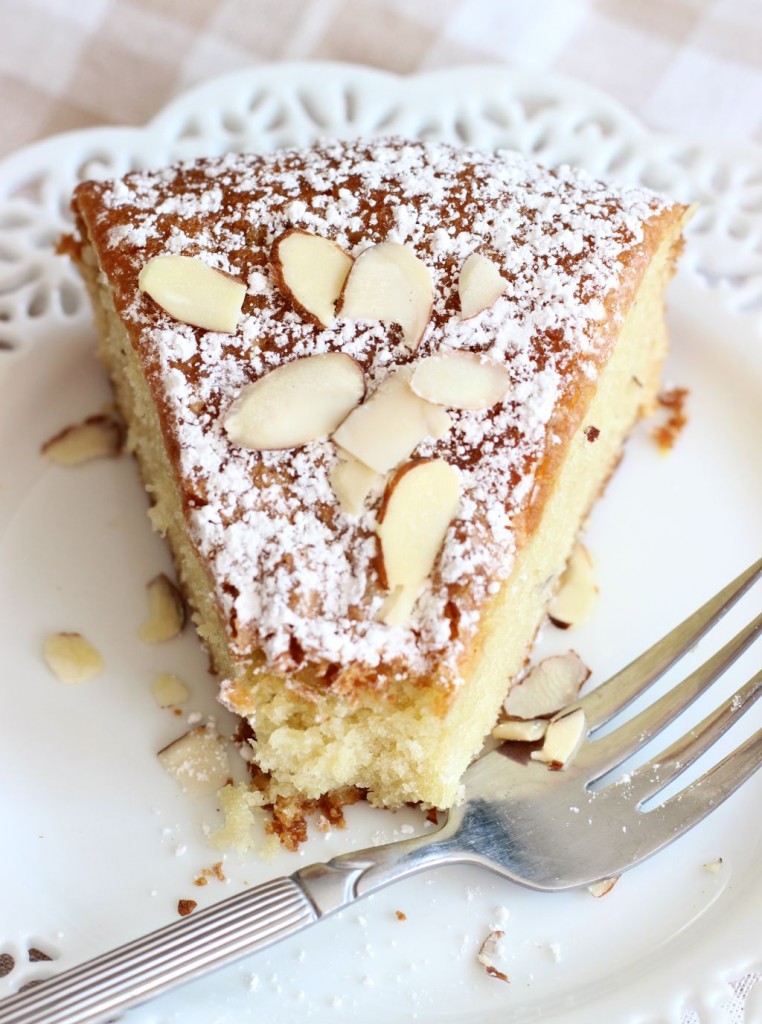 And if you like this Citrus Almond Olive Oil Cake recipe, I have an olive oil cake recipe for fall, and it's this amazing Apple Spiced Olive Oil Cake with Caramelized Apples. It's incredible. You'll adore it. 🙂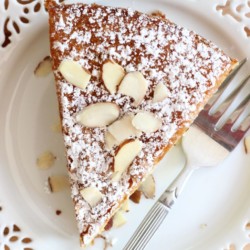 Citrus Almond Olive Oil Cake
A citrus and almond-infused olive oil cake. The flavors of this cake are so incredibly unique and wonderful!
Ingredients
2

c.

flour

2

tsp.

baking powder

1/2

tsp.

baking soda

pinch

of salt

1/2

c.

buttermilk or sour milk

1

tsp.

vanilla extract

1

tsp.

lemon zest

or 1/2 tsp. lemon extract + 2 tbsp. lemon juice

1

tsp.

orange zest

or 1/2 tsp. orange extract + 2 tbsp. orange juice

1

tsp.

almond extract

3

eggs

at room temperature

1 1/2

c.

sugar

2/3

c.

extra virgin olive oil

3/4

c.

slice almonds
Instructions
Lightly grease a 9-inch springform pan.

In a medium bowl, whisk together the flour, baking powder, baking soda, and salt; set aside.

In a small bowl, mix together the buttermilk, lemon juice, and orange juice; set aside.

In a large mixing bowl, beat the eggs and granulated sugar at high speed until pale and fluffy, about 5 minutes.

Lower the speed to medium-high, and drizzle in the olive oil slowly, beating until incorporated.

Mix in the lemon and orange zests (of if using extracts, add them to the buttermilk mixture).

With the mixer on low, add half the flour mixture until incorporated.

Add the buttermilk mixture next, then the remaining flour mixture, until just blended.

Fold in the almonds.

Scrape batter into prepared pan.

Bake at 350 for 40-45 minutes, or until the top is golden and a toothpick inserted near the center comes out clean.

Let the cake cool in pan on a wire rack for 20 minutes, then carefully remove the pan sides and allow cake to cool completely.

Dust with powdered sugar just before serving.