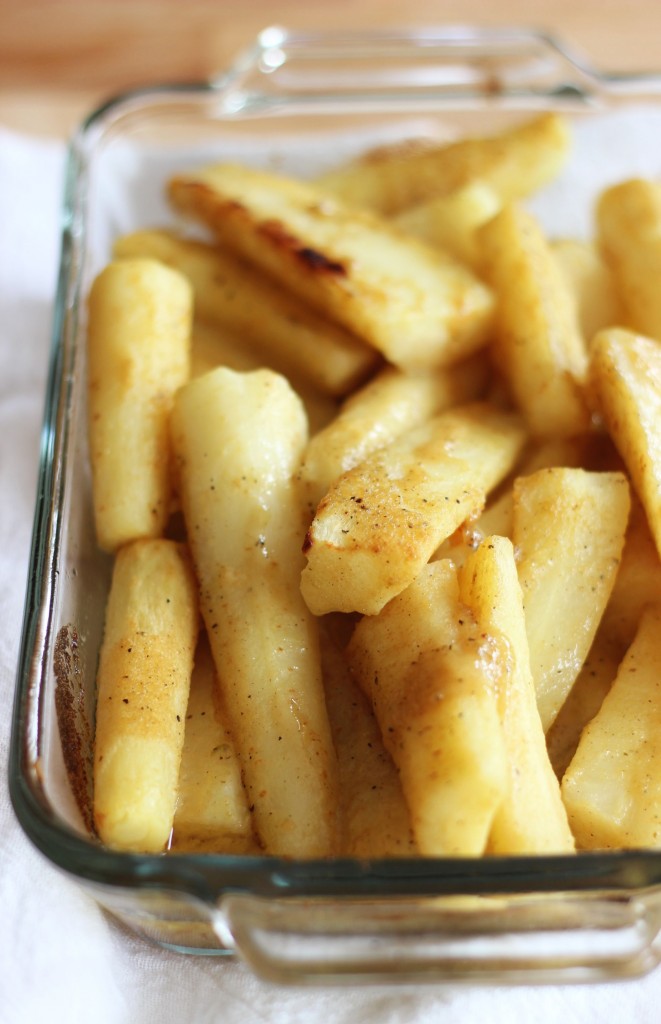 Hiiii. How's everybody's weekend going so far? Get ready for another Grandma story this morning! I can hear your enthusiastic cheers from all the way over here! You already know how special my Gma is to me (she's my favorite person on earth, but don't tell S.O. that), and she's been instrumental in shaping so many parts of my life, least of all, what I do in the kitchen. But her impact on my passion for baking and (some) cooking is very substantial too, of course.
My brother and I were raised by a single parent, my brave and selfless mother. When we were pretty small tykes, we moved into my grandparents house to live with them. Enter some of the best years of our lives! Maybe not the parts where my Grandpa would hound us for leaving every light on, but the rest was the BEST.
My Grandma would make bacon and eggs for breakfast, and let me watch back-to-back cartoons while she watched for my school bus out the front window. I did nothing to help… just zoned out to the Smurfs and Scooby Doo. We'd regularly bake together, making pans of her famous Lemon Bars or batches of Cracked Top Ginger Cookies. My brother and I would sit out on their enormous screened in patio listening to oldies, reading, and playing with our bevy of cats. My Grandpa would gather us all in the den to watch game shows or episodes of Alf. I could go on and on…
I totally just sighed wistfully and dreamed of going back to those wonderful and easy good old days.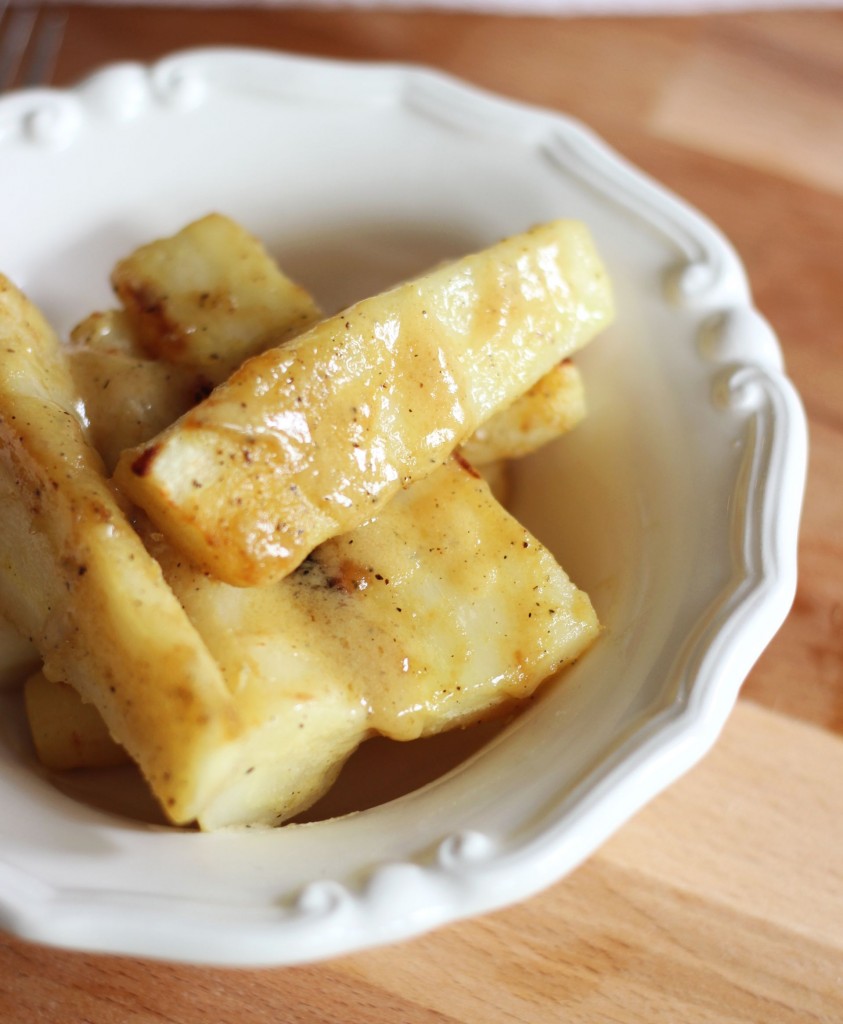 Anyway, at the ripe age of 89, my Gma doesn't do much cooking these days, but one of her long-standing traditions was making a roast on Sundays. An enormous, juicy roast with parsnips, carrots, potatoes, and gravy. While I was in college and law school, for my last meal before I had to go back, Gma still always planned a special roast. I credit her for introducing me to parsnips through her amazing roasts, and it kind of began a parsnip love affair for me.
Have you ever tried them though?? S.O. had never even heard of a parsnip til he met me. A grown man in his 40s! Then again, what bachelor-for-life has been exposed to parsnips, right? I explained, they're sort of a cross between carrots and potatoes. Which… makes them kinda the perfect vegetable, don't you think?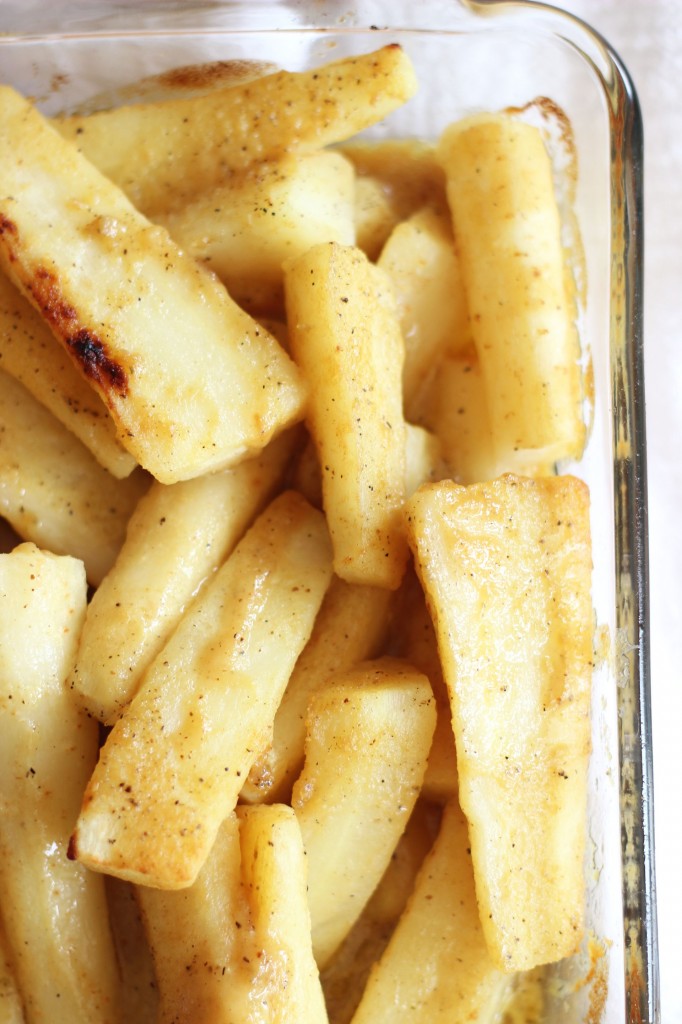 I love them with a roast and gravy for a savory touch, but they're also excellent when dressed up a little sweeter. Like how sweet potatoes can go both ways. After parboiling the parsnips, they roast away in a honey dijon mustard glaze that is sweet, tangy, and a little spicy. The perfect cozy fall side dish.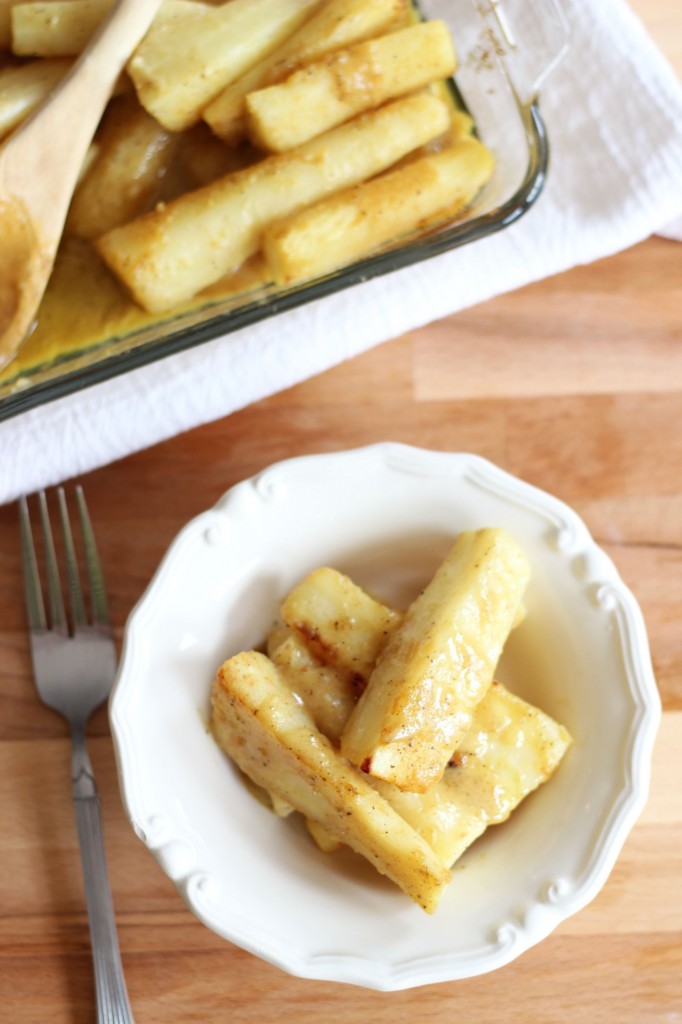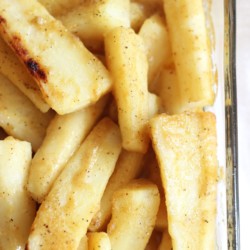 Honey Mustard Glazed Parsnips
Parsnips glazed and broiled in a tangy honey mustard sauce. A delicious comfort food for fall, or side dish for Thanksgiving.
Ingredients
1

lb.

parsnips

peeled, halved lengthwise

1/4

c.

butter

1/2

c.

dijon mustard

1/4

c.

honey

1

tsp.

white balsamic vinegar

optional

splash of white wine

salt & pepper to taste
Instructions
Cook parsnips in boiling salt water til nearly tender, approximately 10-12 minutes.

Drain and place in a 1 quart baking dish.

In a small saucepan on low-medium heat, combine remaining ingredients and cook until the butter melts and the honey thins. Whisk well to throughly blend.

Pour over parsnips.

Bake at 400 degrees for 10 minutes.

Change oven to broil, and cook an additional 5-7 minutes, watching closely, til parsnips are lightly golden. You can turn them or stir after several minutes if you'd like, to get more of the parsnips edges browned.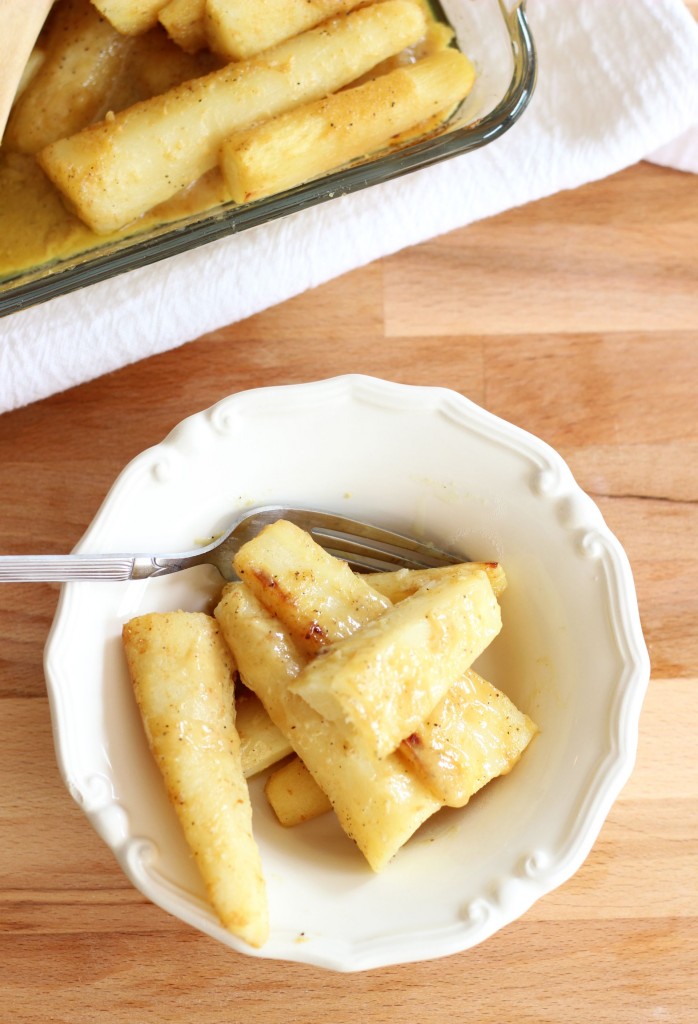 Yep, that was a very long-winded story and intro to have approximately 1 sentence about the parsnips themselves. Whatev. Look at the pics. That's all you need to know!