A layer of cinnamon rolls serves as a crust, while a layer of pumpkin cheesecake with cinnamon chips bakes on top!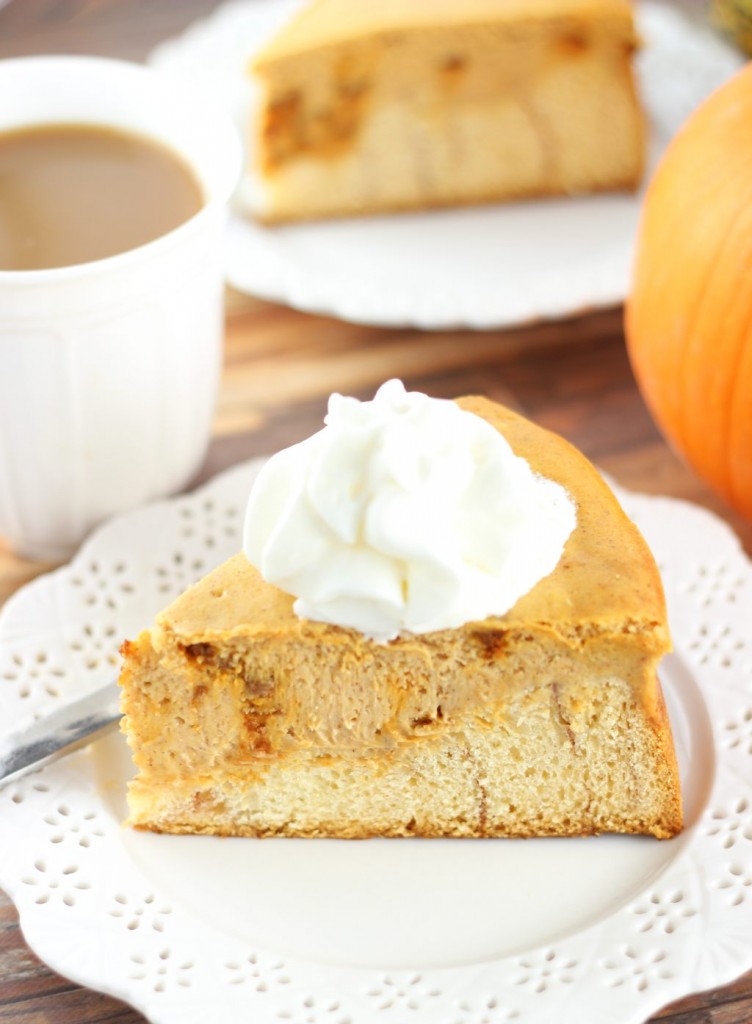 This recipe was inspired by a recipe from Tastes of Lizzy T, one of my favorite blogs. They are geniuses over there, and if you aren't following along, you are missing out.
Last year, I was entranced by their Cinnamon Roll Cheesecake. I love the creativity behind this idea – a layer of cheesecake over a cinnamon-roll crust – it's a brilliant recipe.
I wanted to give it a fall makeover, incorporating pumpkin. Ultimately, we can never get enough variations of pumpkin cheesecake in my house, so if I see an opportunity to pumpkin-ify a cheesecake, I'll do it.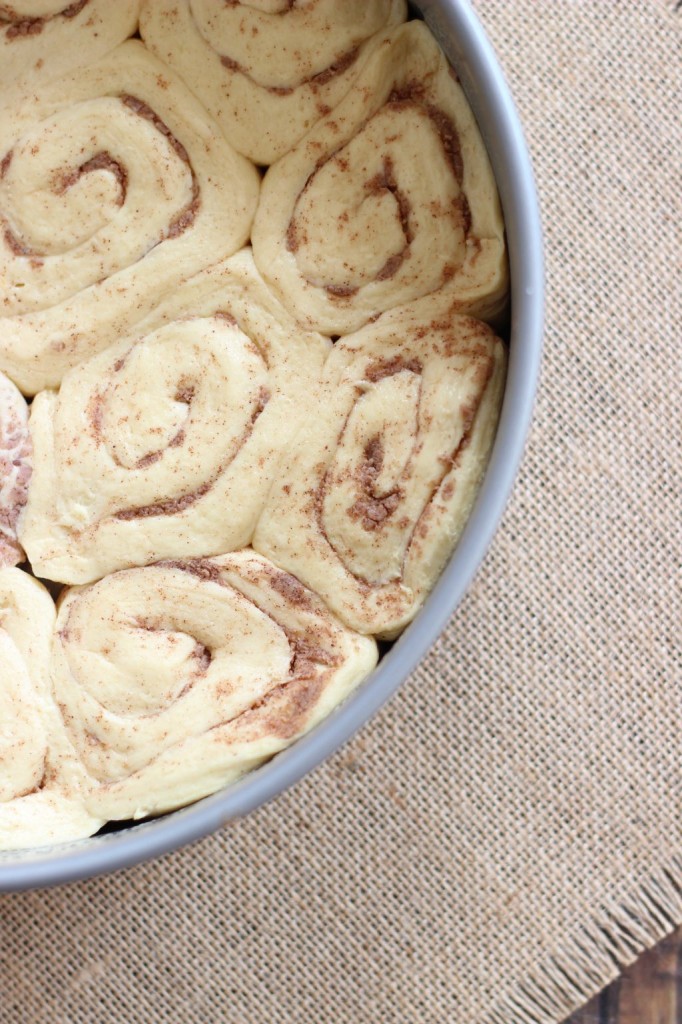 Besides, a cozy fall spice like cinnamon belongs with pumpkin. As flavors that complement each other well, I decided to put them together. I know you would agree that if you are making a cinnamon roll cheesecake in November, it begs for pumpkin. I also tossed in cinnamon chips because… why not. They are glorious, and this is a cinnamon roll-themed dessert, after all. The more, the merrier.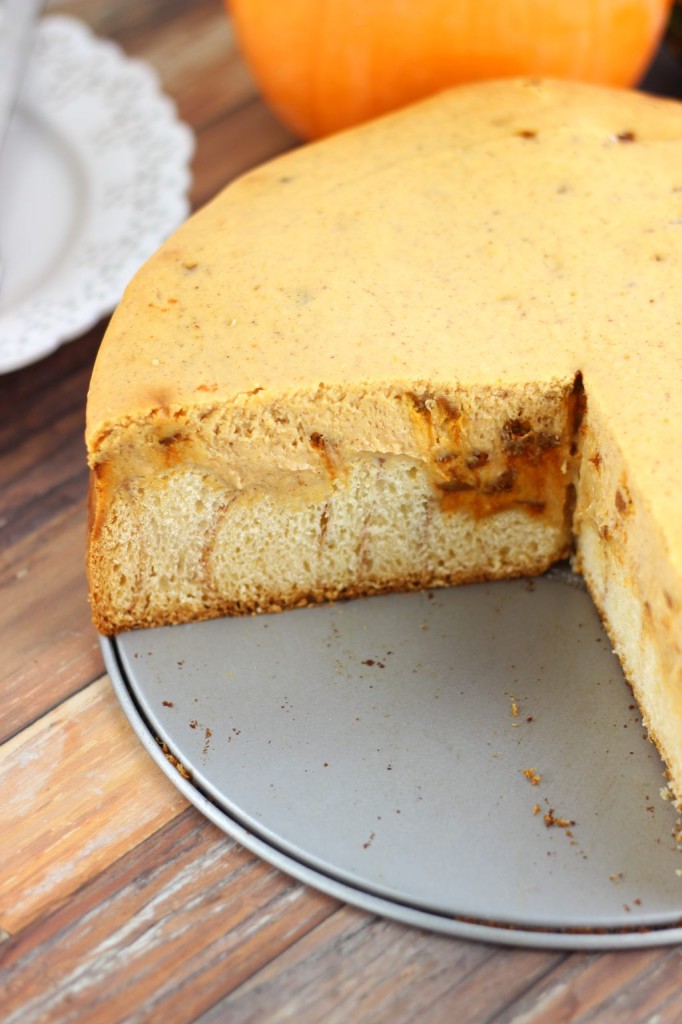 Another key change I made from the original recipe is that I used canned cinnamon rolls. I know you saw that coming. I don't do yeast, not if I can help it. And while making a cheesecake isn't difficult or hard, it does bake for a long while, so it's time-consuming. I skipped out on making the cinnamon roll layer from scratch for the sake of time.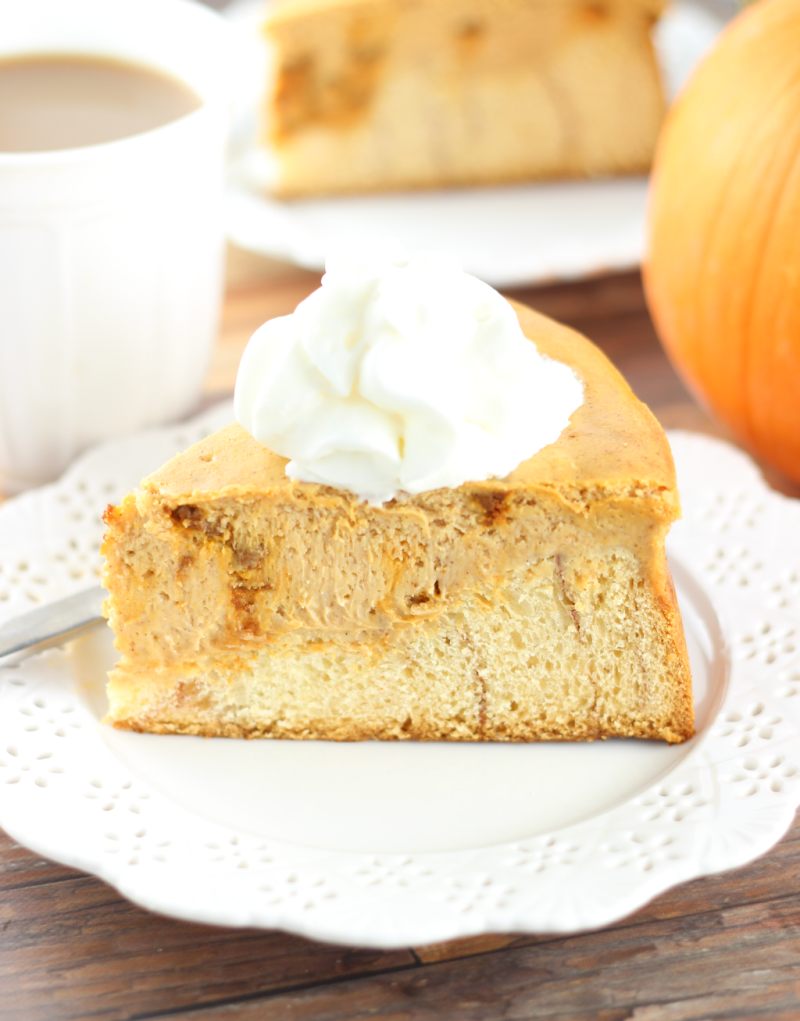 I don't think it sacrificed on quality. The cinnamon rolls stayed pillowy and soft while baking, and blended perfectly with the creamy cheesecake. Both layers melt in your mouth, while still retaining distinct textures, and you'll believe that they were always meant to be together. Who knew that cinnamon rolls and cheesecake were so compatible?
When you stick your fork into a slice of this cheesecake, it doesn't meet a rough, cardboard-y crust. It's a surprisingly soft and fluffy layer of cinnamon roll goodness.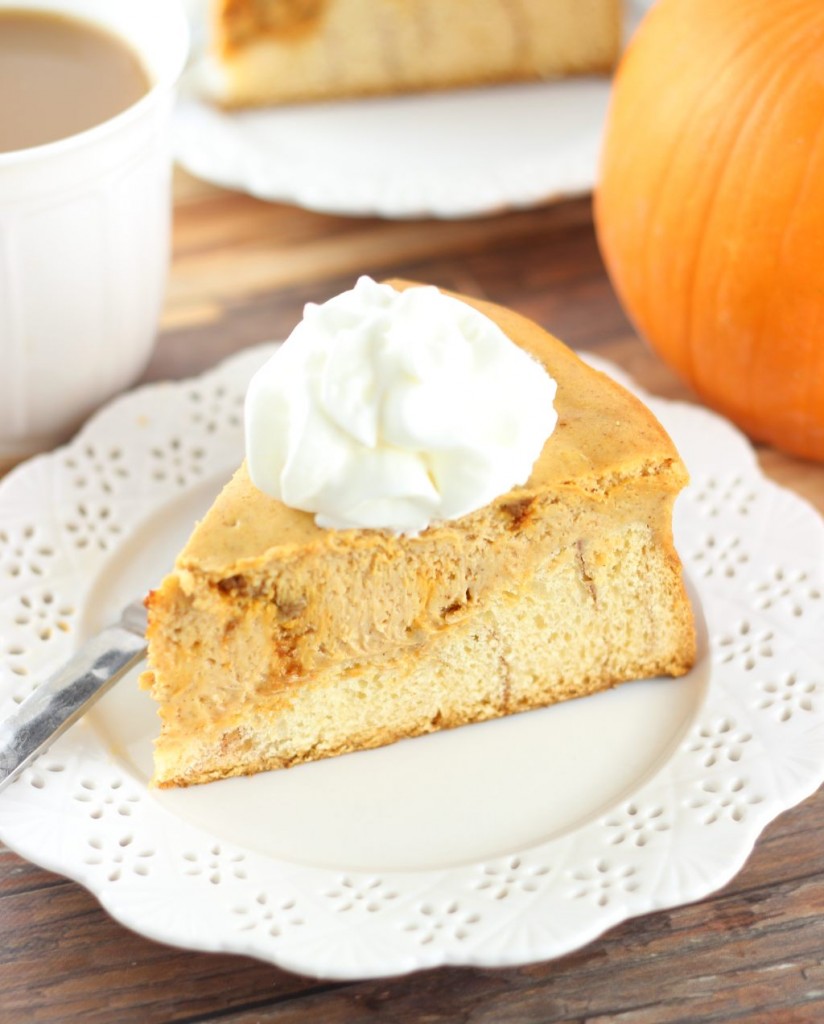 One caveat: while I was recreating this cheesecake, I discovered that one particular brand and type of cinnamon rolls works best. I used several, and the ones I would highly recommend seeking out are the Pillsbury Orange Sweet Rolls. You won't even need the glaze (although you have to use that stuff somehow because it's GOLD), but these cinnamon rolls stayed soft and tender, while the others I tried were more dense and biscuit-like…. too tough, and so the texture didn't work nearly as well with the creamy cheesecake.
Other than that, this cheesecake is easy to assemble, and the result is outstanding. If you will be entertaining for the holidays, or hosting family get-togethers, this is a dessert that will undoubtedly impress!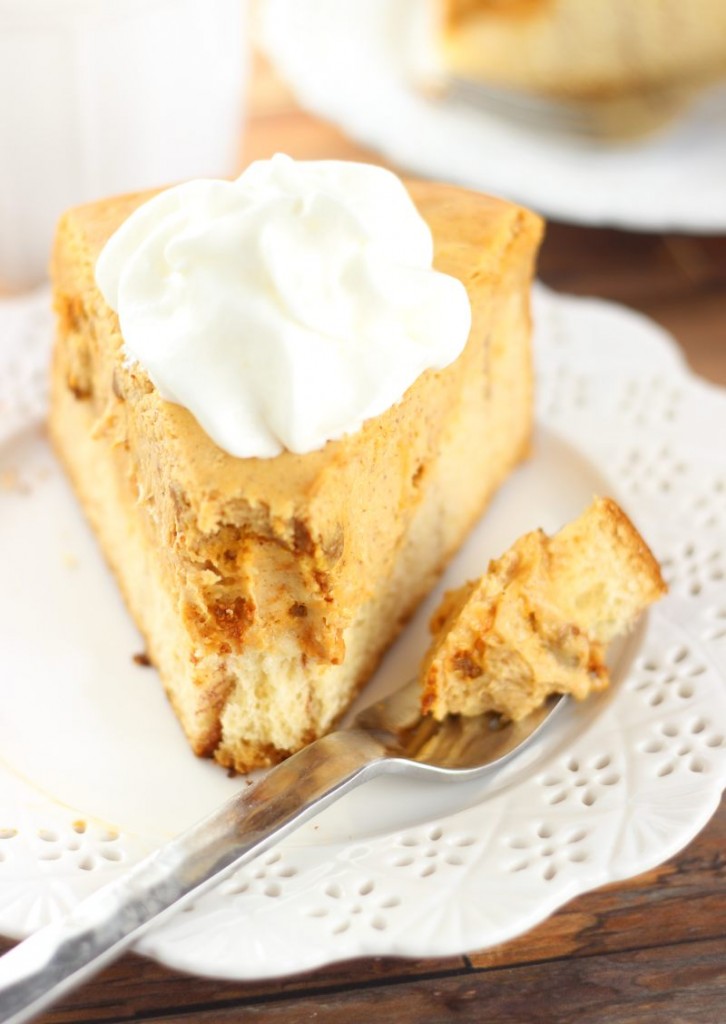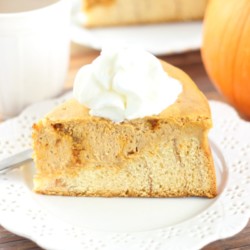 Cinnamon Roll Pumpkin Cheesecake
A layer of cinnamon rolls serves as a crust, while a layer of pumpkin cheesecake with cinnamon chips bakes on top!
Ingredients
2

cans Pillsbury Orange Sweet Rolls

do not substitute, at room temperature

3 - 8

oz.

packages reduced-fat cream cheese

softened

1 1/4

c.

sugar

1

tsp.

vanilla

3

eggs

at room temperature

1

c.

pumpkin

1

tsp.

cinnamon

1/2

tsp.

pumpkin pie spice

1/4

tsp.

cloves

1

c.

cinnamon chips

whipped cream

for garnish
Instructions
Lightly grease a 10-inch springform pan.

Press the cinnamon rolls in a single layer into the bottom of the springform pan, making sure to seal any crevices between the rolls. Press them slightly up the sides of the pan - about 1/2 inch. They are much easier to press if they are at room temperature, rather than cold from the fridge.

In a large mixing bowl, combine the cream cheese, sugar, and vanilla. Beat until smooth.

Add eggs, one at a time, beating well after each addition.

Add pumpkin, cinnamon, pumpkin pie spice, and cloves, beating until combined.

Fold in the cinnamon chips.

Pour the cheesecake filling over the cinnamon rolls.

Bake at 350 degrees for 50-60 minutes, or until the center is almost set.

Top with the glaze from the cinnamon rolls (even though it's orange - it goes with this deliciously!) or with whipped cream.