Homemade, from-scratch, buttery, flaky croissants! This recipe for Homemade Croissants produces buttery and flaky pastries, perfect for weekend brunch. They're time-intensive, but the reward for fresh, hot-from-the-oven Homemade Croissants is so worth it!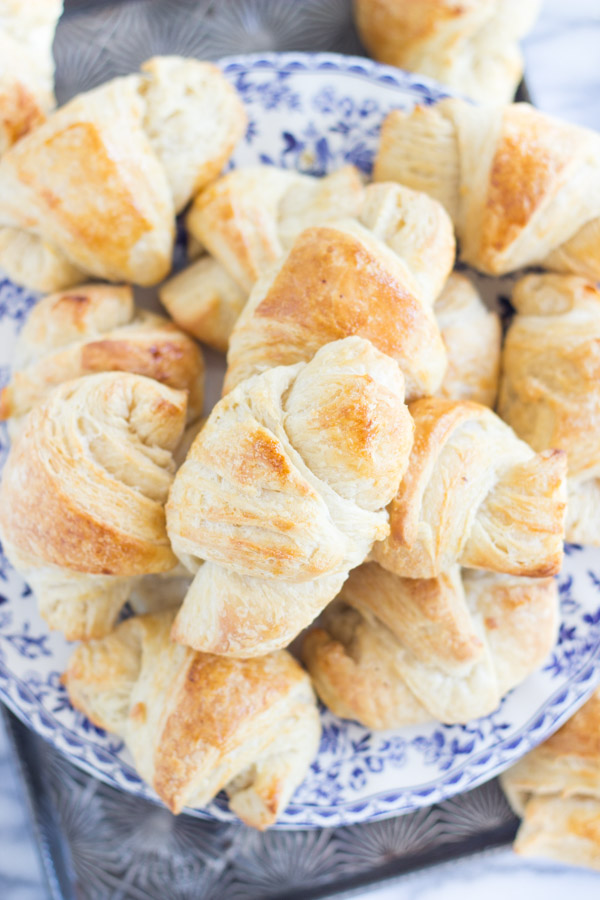 Homemade Croissants from a person who hates working with yeast!!! Can you believe it?
I actually first made these last August, and I've been hooked ever since. It was a Sunday morning at 7:30am when I started this process of making from-scratch croissants, and I had actual nerves. I was totally, totally nervous. As in, I'm measuring out the brown sugar and yeast and getting the milk to the right temperature, and I was fumbling  around, spilling things, and felt super tense.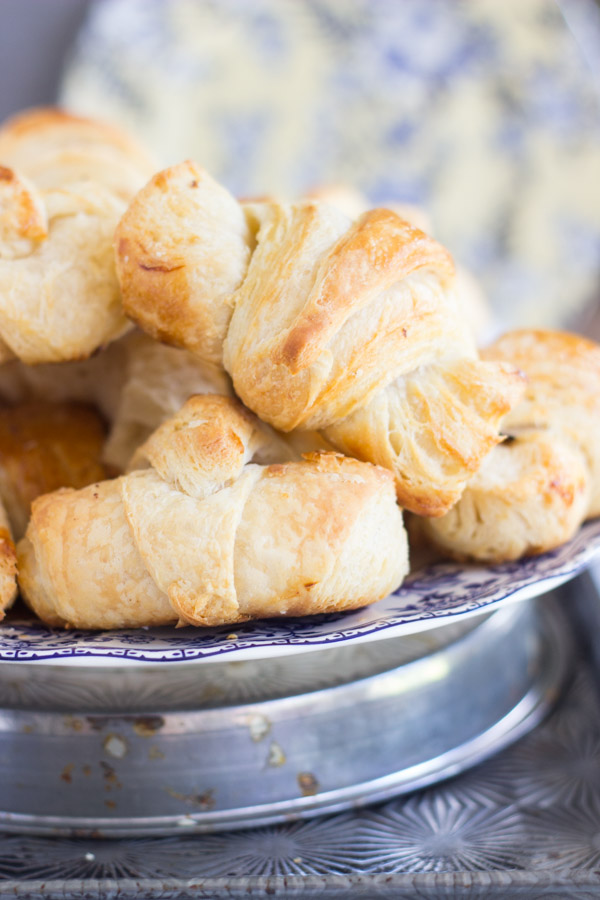 It's silly because making croissants is a marathon. It's not like I was on the verge of knowing whether this was going to fail or not. No, I was only getting the dough mixed up, and there are still hours of croissant-making before I'd know if they were a success. Homemade Croissants take about 14 hours, start to finish.
That's part of the nerves though – the stakes are high. There's a lot of time invested if they don't turn out.
I threw the milk, brown sugar, and yeast in the mixing bowl, and then waited. The mixture foamed! I could hardly believe it. It did exactly as it was supposed to do! This never happens for me with yeast. I would've moved the bowl to my photography set-up to get a picture of the foaminess, but I was afraid to do anything to rock the boat.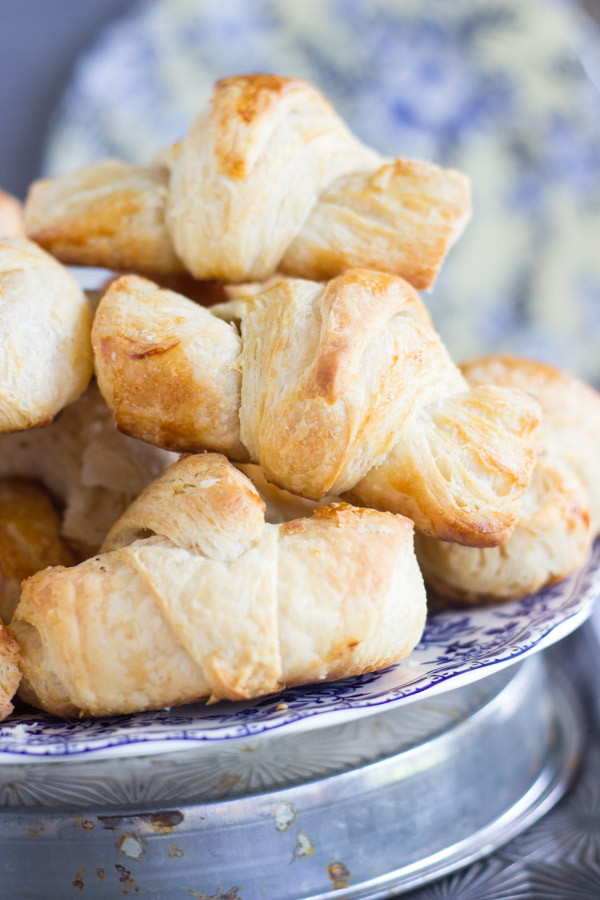 On that note, a lot of the step-by-step photos (below recipe) really suck. Sorry about that, but I just couldn't risk moving the dough around too much for better pictures.
Homemade Croissants aren't hard, and that's the truth. They're also not labor-intensive exactly, but they are time-intensive. Turns out, it takes an eternity and a half to produce homemade croissants, and I didn't know this til I made them. However, there is quite a lot of idle time, so it's not too bad.
Here's a little bit about how it works: once you make the dough, you have to chill it. Then you make a slab of butter, and you fold the dough a few times with the butter (a technique called 'laminating'), and you chill it in-between these folds. There are 4 folds total with an hour chill between each. Even after all of that, the completed dough has to chill for at least eight hours. And then, once you've cut and rolled the croissants, there's more idle time again while you wait for them to rise on the pan.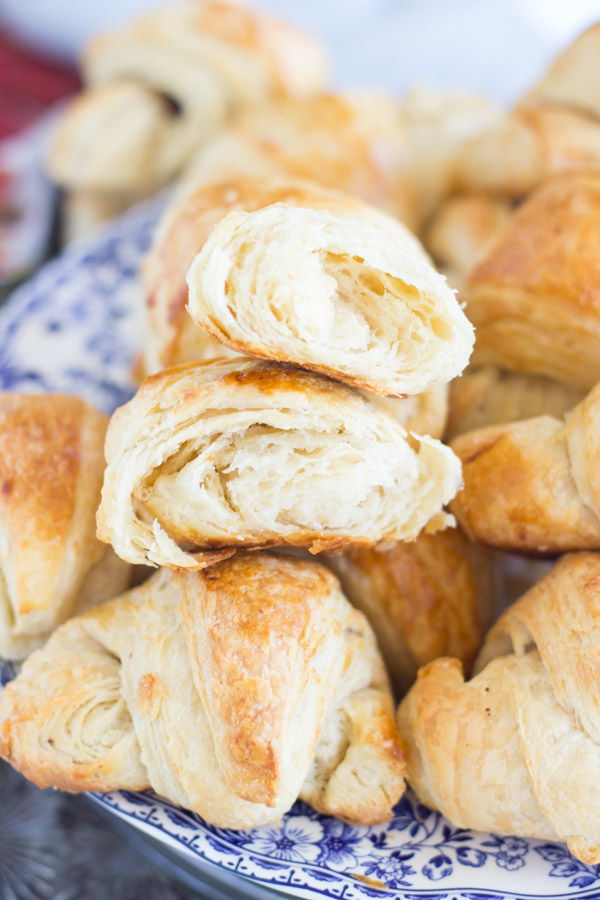 I'm totally guilty of not reading the entire recipe through before starting it, and I got to the point where the dough had to chill for at least 8 hours, and I almost lost it. My sanity was at stake. I had no idea that they took so long to make, and I should've managed my expectations before I started.
The next morning, I cut and rolled the croissants, and I was super nervous putting the trays in the oven. I just kept watching and watching to see what would happen. I stationed myself in front of the oven. If I burned these Homemade Croissants, I would've cried.
I could hardly believe it when the croissants actually turned golden and puffy. I waited with bated breath til they finished baking, and then I burnt my tongue like a mofo because I couldn't stand to wait for them to cool. I had to know if they tasted as wonderful as they looked.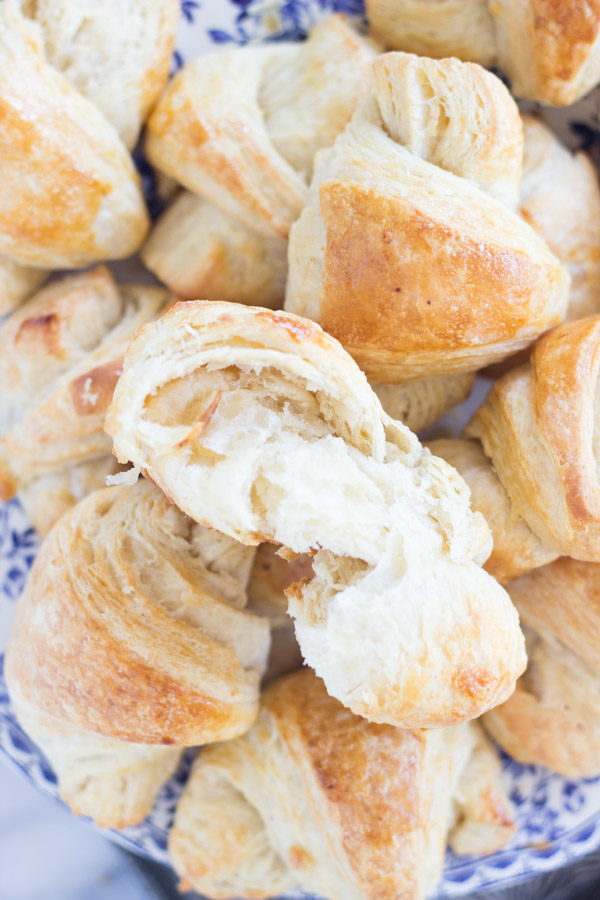 This recipe for croissants produces flaky, buttery, puffy, golden croissants that melt-in-your-mouth. They're irresistible with their gorgeous, signature flaky layers, and crispy golden exteriors. They are quite the culinary challenge, but totally worth it.
I don't want to call these foolproof because I think that would be bold, but they are actually kind of foolproof! They're really not hard. If I can make them, and I'm yeast-challenged, then you can make them. They're just a time commitment, so I'd save these mostly for holidays and special events.
The only problem with learning how to make homemade croissants from scratch and learning a homemade croissant recipe is that everybody then wants you to make them homemade croissants from scratch! You have to reaaaaally love the people that you make these for. Like, really love them a whole damn lot.
Once you've mastered a homemade croissant recipe though, you'll feel like you can accomplish anything in the kitchen. This homemade croissant recipe is trusty, reliable, and dare I say: foolproof.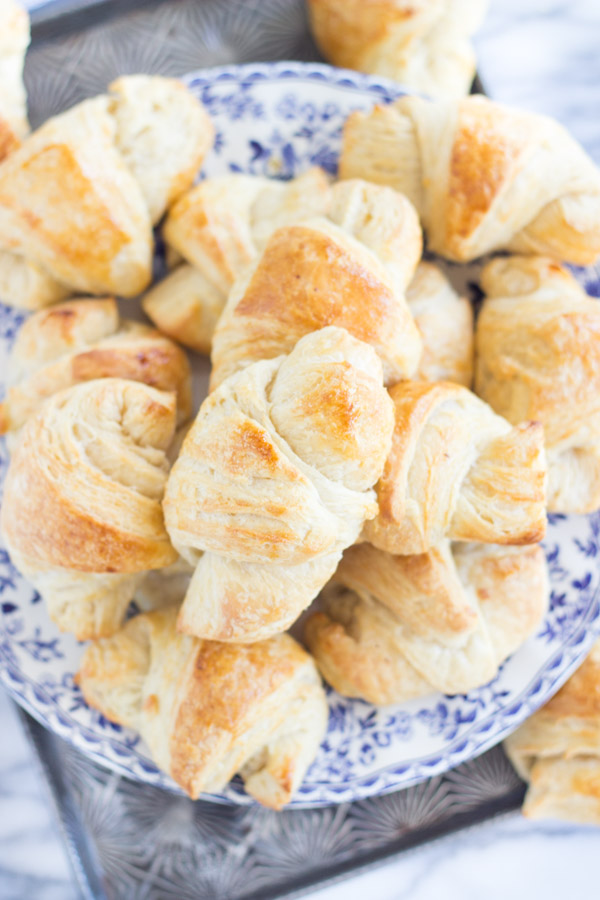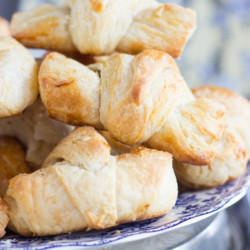 Homemade Croissants
Homemade, from-scratch, buttery, flaky croissants! This recipe for homemade croissants produces buttery and flaky pastries, perfect for weekend brunch!
Ingredients
1 1/2

c.

whole milk

warmed to 105-110 degrees

1/4

c.

packed brown sugar

1

tbsp.

+ 1/4 tsp. active dry yeast

3 3/4

c.

to 4 1/2 c. all-purpose flour

1

tbsp.

salt

1 1/2

c.

3 sticks cold unsalted butter

4

tbsp.

salted butter

melted
Instructions
In a large bowl fitted with a dough hook, stir together the warm milk, brown sugar, and yeast.

Let stand until foamy, about 5 minutes.

Add 3 3/4 c. flour and the salt, and turn the mixer to low speed.

Beat until dough is smooth and soft, 6-7 minutes.

On a lightly floured surface, knead dough by hand for 1-2 minutes, adding more flour as needed to produce a soft, slightly sticky dough.

Form it into a 2-inch thick rectangle, wrap it in plastic wrap, and refrigerate it until chilled, about 1 hour.

On a large piece of parchment paper, arrange the 3 sticks of butter adjacent to each other, sides touching.

Top with a second large piece of parchment paper.

Using a rolling pin, pound and roll the cold butter into a uniform 8x5-inch rectangle.

Once it measures 8x5 inches, place it in the refrigerator to chill while you roll out the dough.

Unwrap the dough onto a lightly floured surface.

Gently stretch and knead the dough into a 16x10-inch rectangle, careful not to overwork it.

Remove the butter slab from the fridge.

With the shortest side of the dough near you, unwrap the butter slab and place it in the center of the dough so that the long sides of the butter slab are parallel to the short sides of the dough.

Fold the dough over the butter as you would a letter - fold the bottom third of the dough over the butter, then the top third over that dough.

Again with the short side near you, use the rolling pin to flatten the dough slightly by pressing down with it horizontally across the dough at regular intervals. Then roll the dough into a 15x10-inch rectangle.

Fold the dough in thirds, like a letter (as above), and form a 10x5-inch rectangle. This process completes the first 'fold'.

Wrap the dough rectangle in plastic wrap, and return it to the refrigerator. Chill for 1 hour.

Repeat this folding process 3 more times: roll it into a 15x10-inch rectangle using flour as necessary to keep it from sticking, fold it like an envelope in thirds, and form a 10x5-inch rectangle. After each fold, refrigerate the dough for 1 hour. You'll complete a total of 4 folds.

Wrap the dough tightly in plastic wrap, and refrigerate for at least 8 hours, but no more than 24 hours (after which, the dough may not sufficiently rise when baking).

Ready to roll and bake! Cut the dough in half, and chill one half while working with the other.

On a lightly floured surface, roll out that half to a 16x12-inch rectangle. Trim edges with a pizza wheel or sharp knife so that it's a uniform, clean rectangle.

With the shortest side near you, cut the dough in half horizontally. Cut those halves vertically into thirds, forming 6 rectangles. Then cut each of those 6 rectangles diagonally. It will form 12 triangles.

Now we'll use our hands to form each triangle into a croissant. Hold 1 triangle, and lightly stretch it with your hands to elongate it by about 30%. Roll the triangle from the long side to the tip, and make sure to tuck and pinch the tip to the bottom of the croissant. If the tip isn't on the bottom, the croissant will unroll and open up while baking.

Place the croissant, tip side down, on a parchment paper or silicone mat-lined baking sheet.

Repeat with remaining triangles, then repeat the rolling/cutting process with the remaining dough half in the fridge, arranging croissants two inches apart on the baking sheets.

Let croissants rise for 1 hour.

Adjust oven racks to upper and lower thirds, and preheat oven to 400 degrees.

Brush croissants with melted butter.

Bake at 400 degrees for 10 minutes, then switch the position of the sheets in the oven AND rotate sheets 180 degrees.

Reduce oven to 375 degrees, and continue baking until croissants are golden, about 7-8 minutes.
Notes
These freeze really well for 2-3 months.
A few step-by-step photos:


Adapted from Epicurious.
You may also like these biscuits and breads!
Quick & Easy Toasted Pecan Goat Cheese Biscuits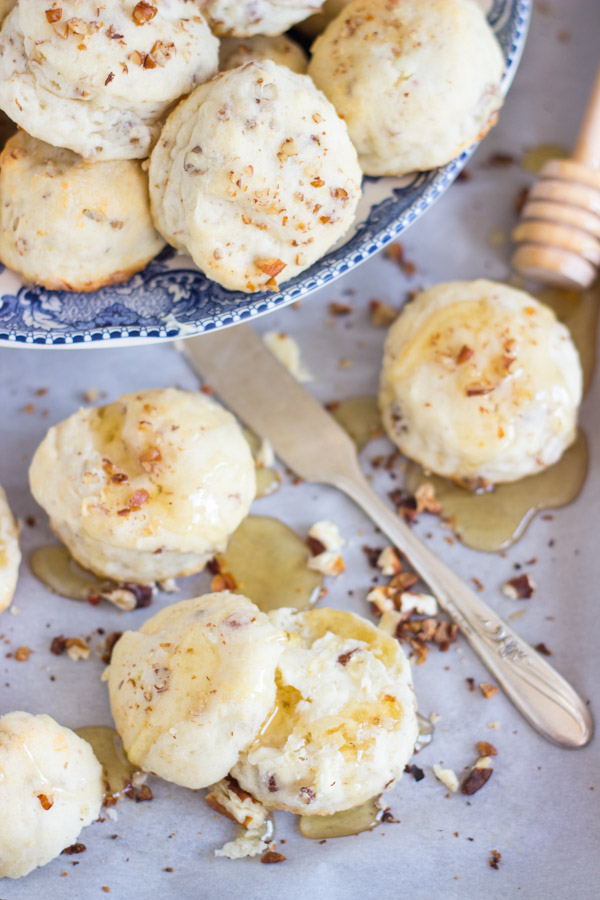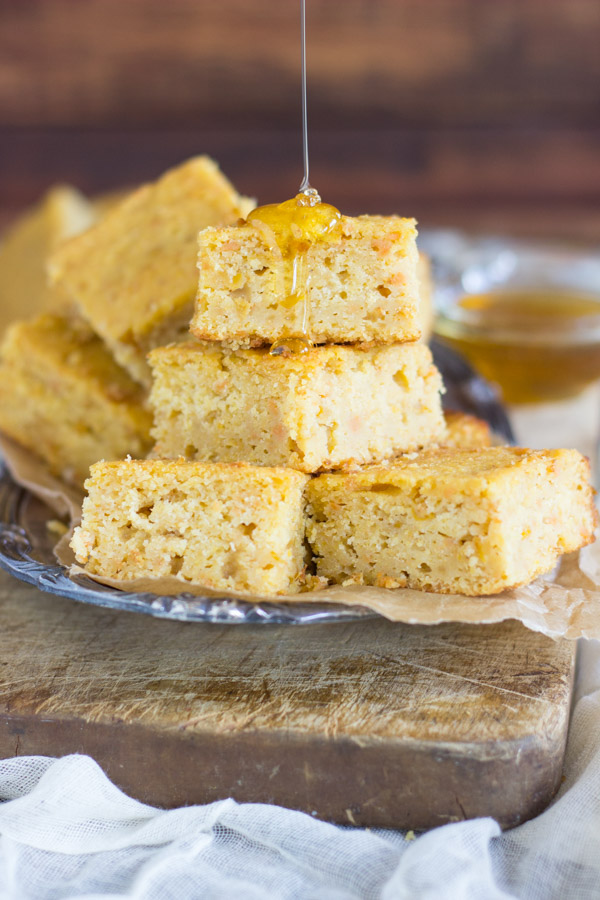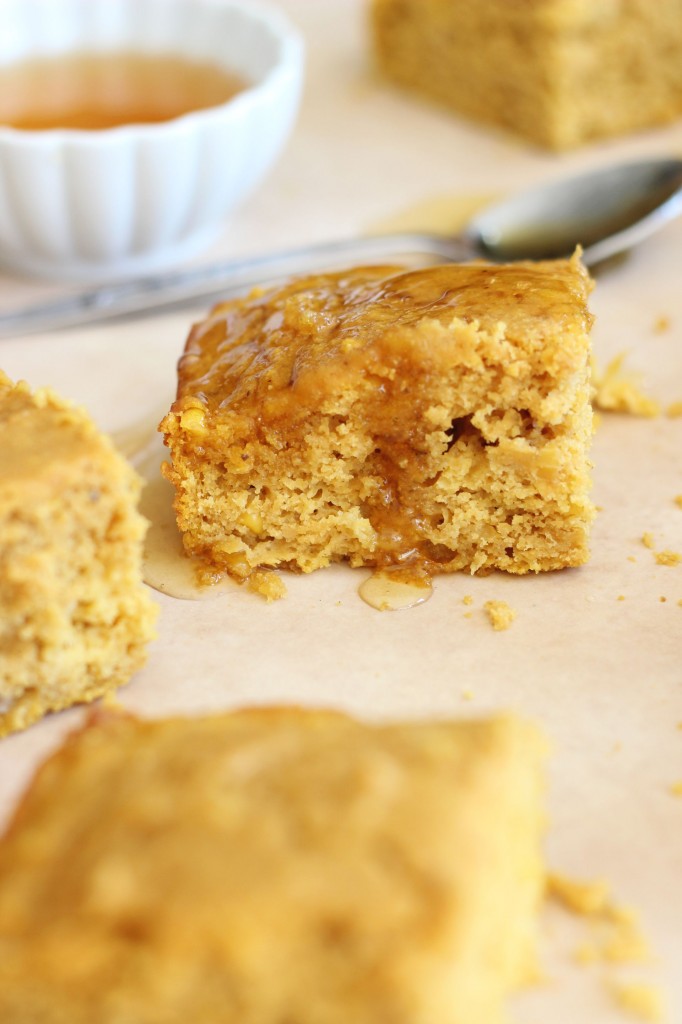 Caramelized Apple & Pecan Cornbread