The most moist cornbread recipe you'll find, nothing dry or crumbly about it, and loaded with a holiday must-have ingredient, chestnuts! With a touch of honey, a smattering of pecans and dates, and a few savory herbs too, this Chestnut Cornbread is crammed with flavor and the perfect balance of sweet & savory.
To easily view all of the blog recipes, follow along on Pinterest!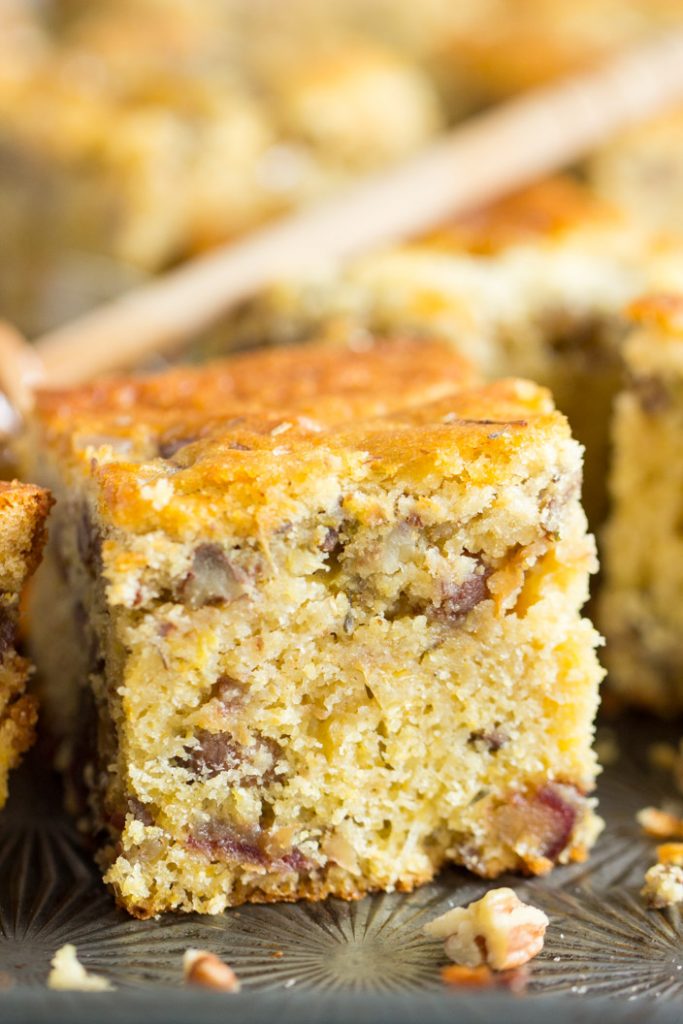 My family is alllll about the chestnuts when it comes to stuffing. They can never have enough.
There are years when I'm the person preparing the stuffing for holiday dinners, and I continue to add more and more chestnuts, but it never seems to be enough. Everyone wants evermore.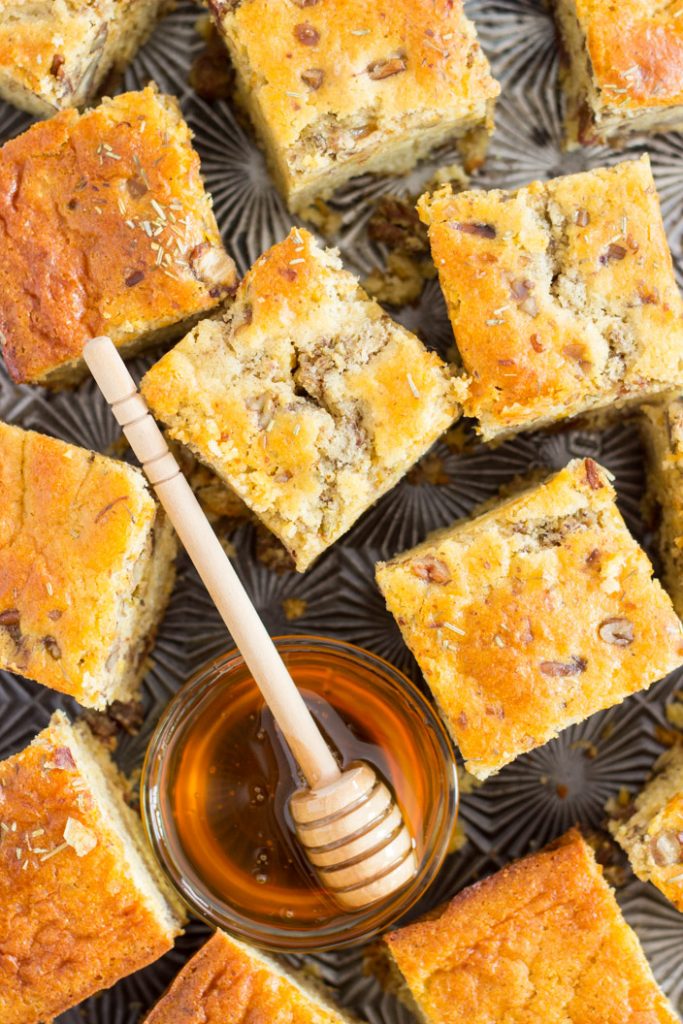 Last year I added what I felt was an epic and almost excessive amount — several cups of chopped chestnuts! — and it still wasn't enough. My family loves their chestnuts and they are not shy about telling you when your effort wasn't up to snuff. 🙂
It's always been a HUGE deal. Who is buying the chestnuts?? We have to make sure someone is assigned chestnut duty. The most important part of a holiday dinner is not the turkey or main course: it's the chestnuts. Period.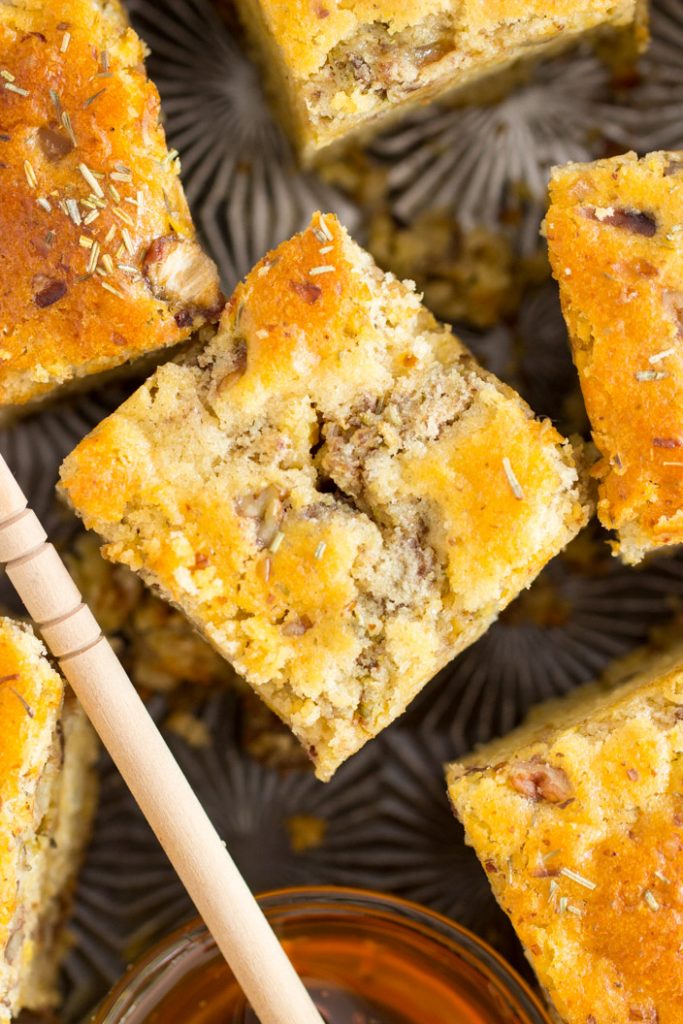 It's practically a family event to roast and peel them. All hands on deck for chestnut-peeling because it is quite a struggle sometimes. Finicky chestnuts are the worst.
I never understood it at all… I could take or leave the chestnuts! I felt they were overhyped. But I changed my mind a few years ago, and became a chestnut lover too.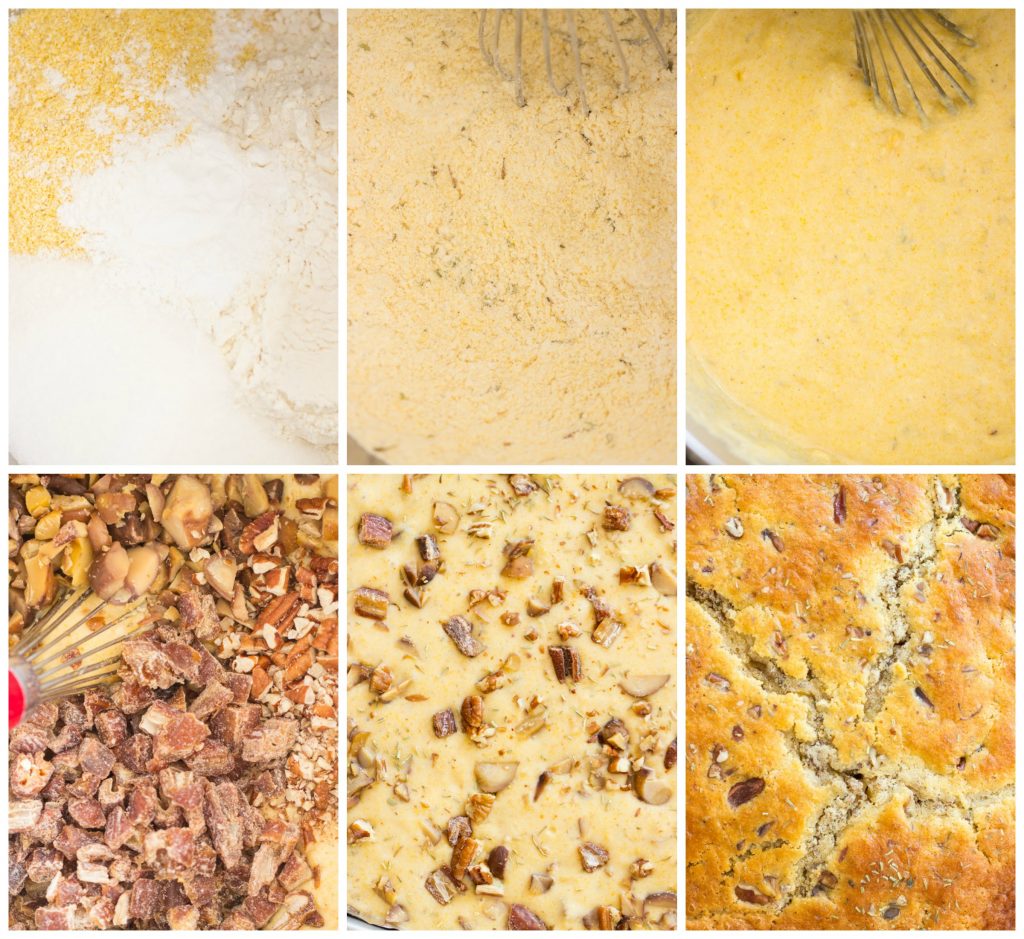 It was on an excursion to Sam's Club. They had bulk packages of roasted, peeled chestnuts at a good price, and we bought them on a whim. I had no clear purpose for them at the time, but the price was too good to pass up, and the fact that they were already peeled and ready to go.
We actually ended up snacking on a lot of them straight out of the packets. I had to cut us off from snacking so that I had enough to make a recipe.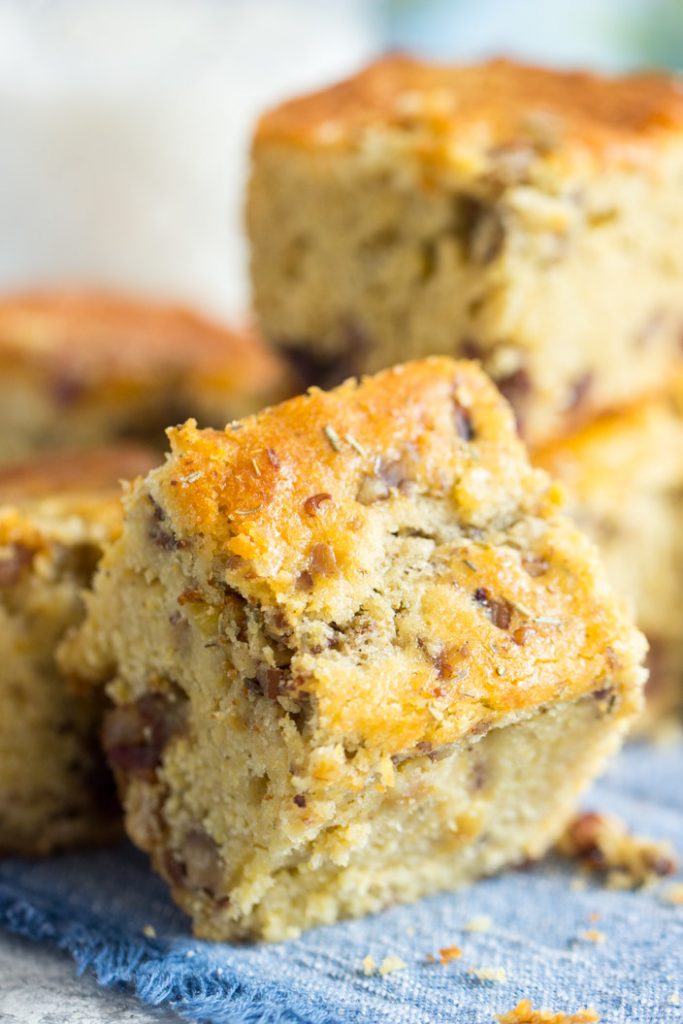 I found these Corn-Chestnut Muffins in Food Network magazine recently, and immediately knew that I wanted to make Chestnut Cornbread. I used my own cornbread recipe, and incorporated a few elements and ingredients from the Food Network recipe.
Given my family's history with chestnuts, and the fact that I love to make at least one cornbread recipe every fall/holiday season, I can't believe I didn't come up with Chestnut Cornbread sooner.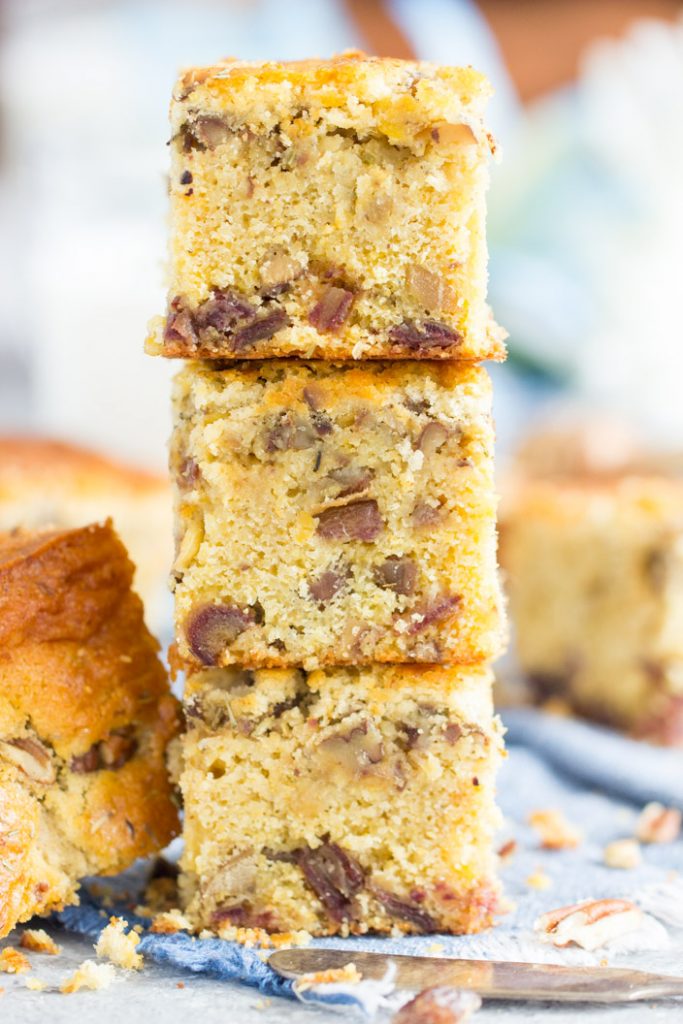 I was scrambling this year to come up with a cornbread recipe idea, and thought I'd just skip it altogether since nothing was really clicking, until I stumbled on the Chestnut Cornbread idea.
This cornbread is phenomenal! I used one of my regular cornbread recipes, which is insanely moist, thanks to creamed corn and buttermilk, and it's a touch sweet with help from a little brown sugar and honey. I love a sweeter cornbread personally, and the more moist, the better, I say.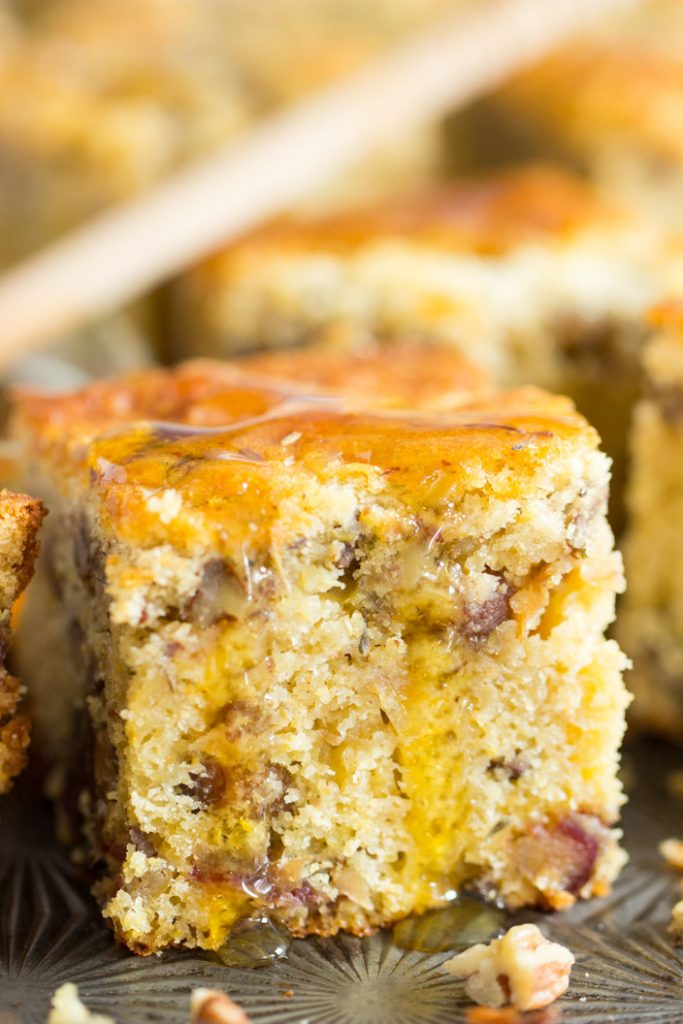 But this is nicely balanced because it's also infused with a few savory herbs, including thyme and rosemary, and a pinch or two of Lawry's seasoned salt. All provide a lovely savory touch!
Lastly, the real fun: mix-ins. The chestnuts are the star of the show, and a must. Chop them coarsely, not too finely, that's a lesson I learned. You want to have good chunks of chestnuts or they don't get to shine and they can get lost in the bread.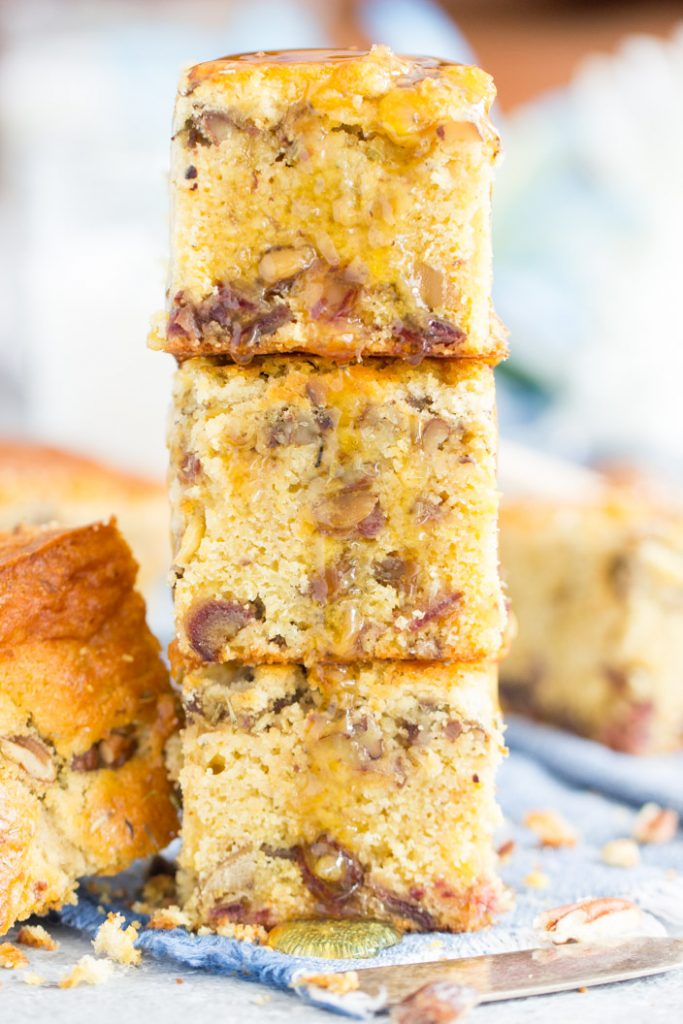 Dates add soft, sweet chunks here and there, and pecans give nutty crunch. Both are excellent complements to the other ingredients in this Chestnut Cornbread.
There's a lot going on here: sweet, savory, herbs, nuts, fruit, etc., but this Chestnut Cornbread comes together easily and is pretty quick to prep. The flavors and ingredients all play together splendidly!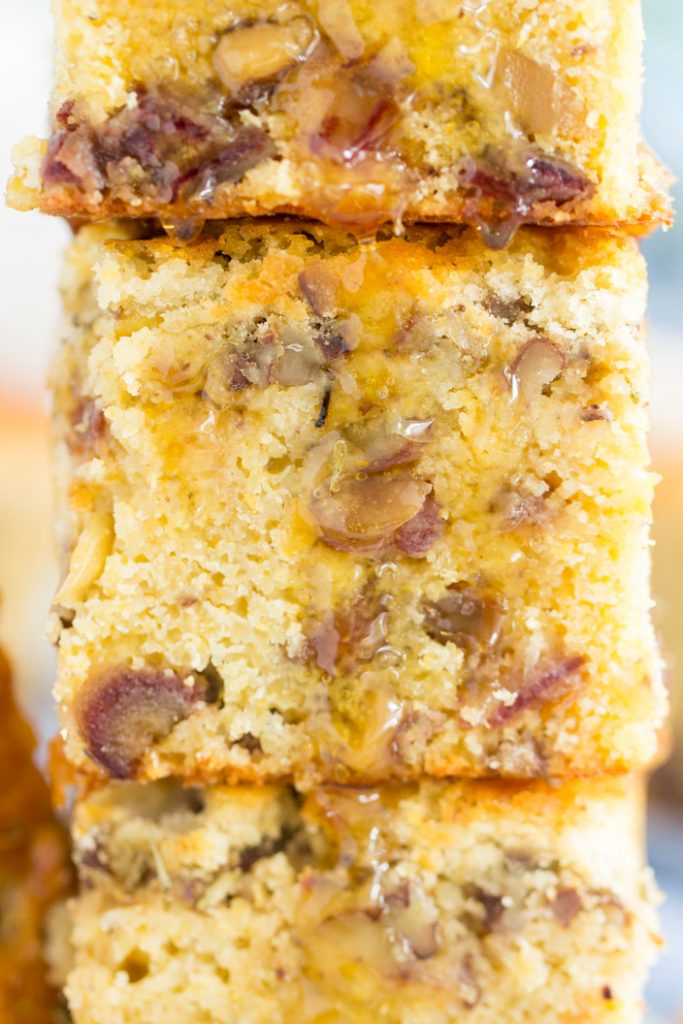 Cornbread doesn't usually steal thunder from the main course, but in the case of this Chestnut Cornbread, it just might!
Other cornbread ideas — one of my very favorites is this sensational Pumpkin Cornbread, which is so delightful that I've also made it into this Goat Cheese Pumpkin Cornbread. Adding goat cheese to baked goods is a fabulous idea, trust me.
And since brown butter makes everything better, I also made it as this Honey Brown Butter Pumpkin Cornbread.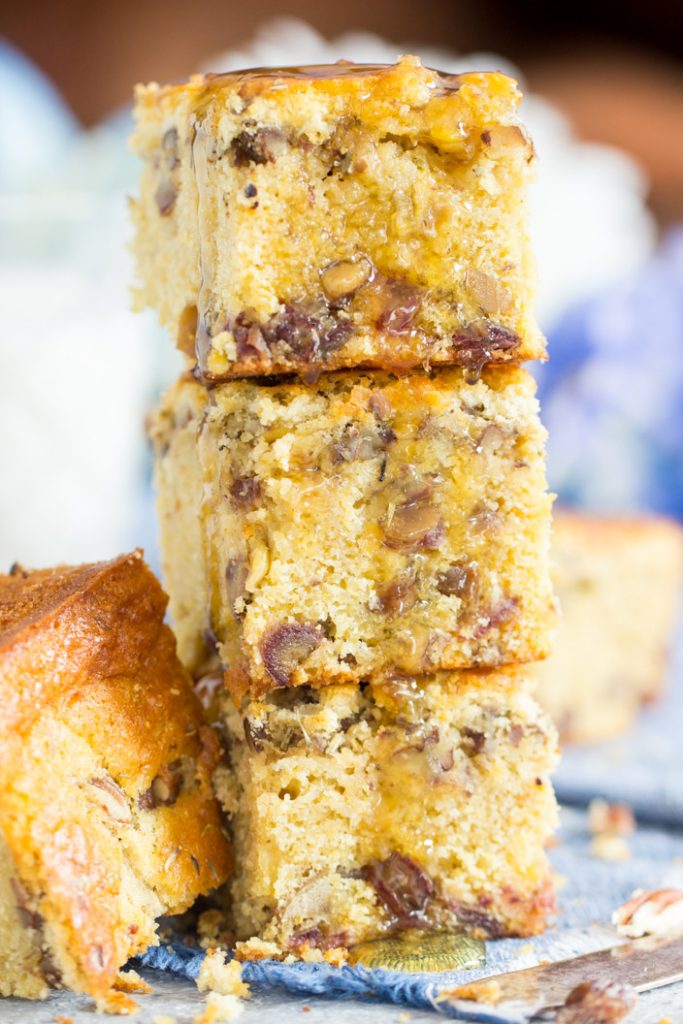 Still others, check out this Sweet Potato Cornbread, this Parmesan Zucchini Cornbread, these Maple Bacon Cranberry Cornbread Muffins, or this Caramelized Apple & Pecan Cornbread.
A few other seasonal bread/biscuit recipes would be these Pumpkin Cranberry Biscuits, or these Sweet Potato Bacon Biscuits.
What's on your Thanksgiving menu this year??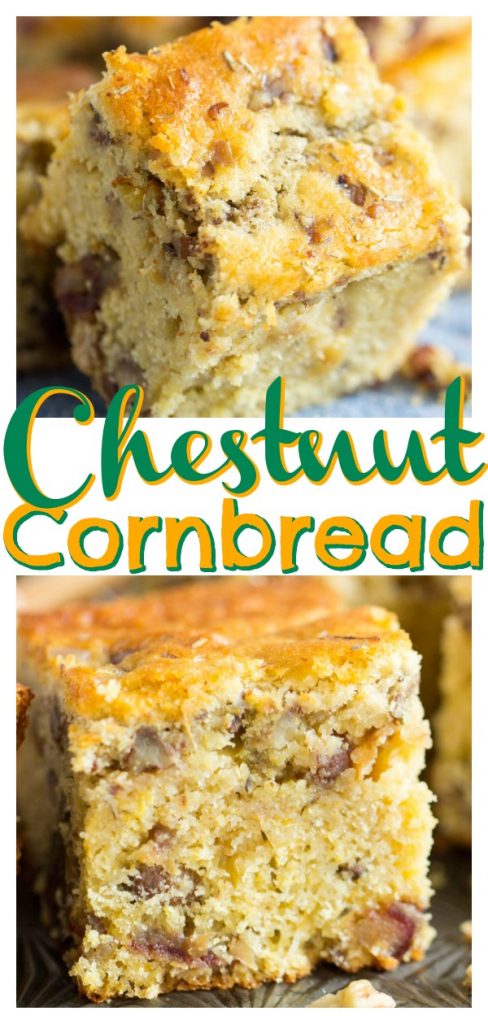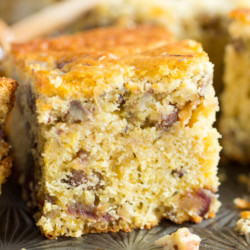 Chestnut Cornbread with Dates, Pecans, & Honey
The most moist cornbread recipe you'll find, nothing dry or crumbly about it, and loaded with a holiday must-have ingredient, chestnuts! With a touch of honey, a smattering of pecans and dates, and a few savory herbs too, this Date & Chestnut Cornbread is crammed with flavor and the perfect balance of sweet & savory.
Ingredients
1 1/2

cups

yellow cornmeal

1 1/3

cups

all-purpose flour

1/3

cup

packed brown sugar

2

tsp.

baking powder

1/2

tsp.

baking soda

1

tsp.

dried thyme

1

tsp.

dried rosemary

1/2

tsp.

Lawry's seasoned salt

1 1/2

cups

buttermilk or sour milk

3/4

cup

canned creamed corn

3

large

eggs

1/2

cup

butter

melted, slightly cooled

1/4

cup

honey

1

cup

coarsely chopped roasted shelled chestnuts

I used Galil brand found at Sam's Club or Amazon

1

cup

chopped dates

1/2

cup

chopped pecans
Instructions
In a large bowl, stir together yellow cornmeal, flour, brown sugar, baking powder, baking soda, thyme, rosemary, and Lawry's seasoned salt.

In another large bowl, whisk together buttermilk, creamed corn, eggs, melted butter, and honey.

Add the wet ingredients to the dry ingredients, and stir until just combined -- do not overmix. A few clumps are okay.

Fold in chestnuts, dates, and pecans. If you'd like, hold back a tablespoon of each to scatter on top of the cornbread batter.

Line a 9x9-inch square pan (MUST be 9-inch square pan, 8-inch is too small) with foil or parchment paper, allowing the edges to hang over the pan.

Lightly spray with non-stick spray, particularly where there are corners that are not lined by foil or parchment paper.

Spread batter into prepared pan taking care not to shift the foil or parchment paper.

Bake at 350 for 35-45 minutes, or until edges are golden brown, and the center is set. A toothpick inserted near the center should come out clean.

Remove pan to a wire rack to cool completely.

Once cool, I find it helpful to chill the bread in the refrigerator for about an hour. This seems to help "cure" and firm up the bread, even if it doesn't remain refrigerated thereafter. If desired, chill bread for about an hour. I recommend this step.

Using the edges of the foil or parchment paper, lift the bread out of the pan.

This will freeze terrifically, so it's easy to make ahead. When freezing, I like to wrap baked goods in 1-2 layers of plastic wrap, folllowed by a layer of foil.
Inspired by this Food Network recipe, but adapted from my own cornbread recipes.