Bourbon-stewed cherries are added to buttery and fudgy brownies, and topped with brown sugar frosting for a slightly fancier-than-usual Cherry Bourbon Brownies with Brown Sugar Frosting recipe! These Cherry Bourbon Brownies with Brown Sugar Frosting are one of my most popular recipes, and receive a ton of rave reviews!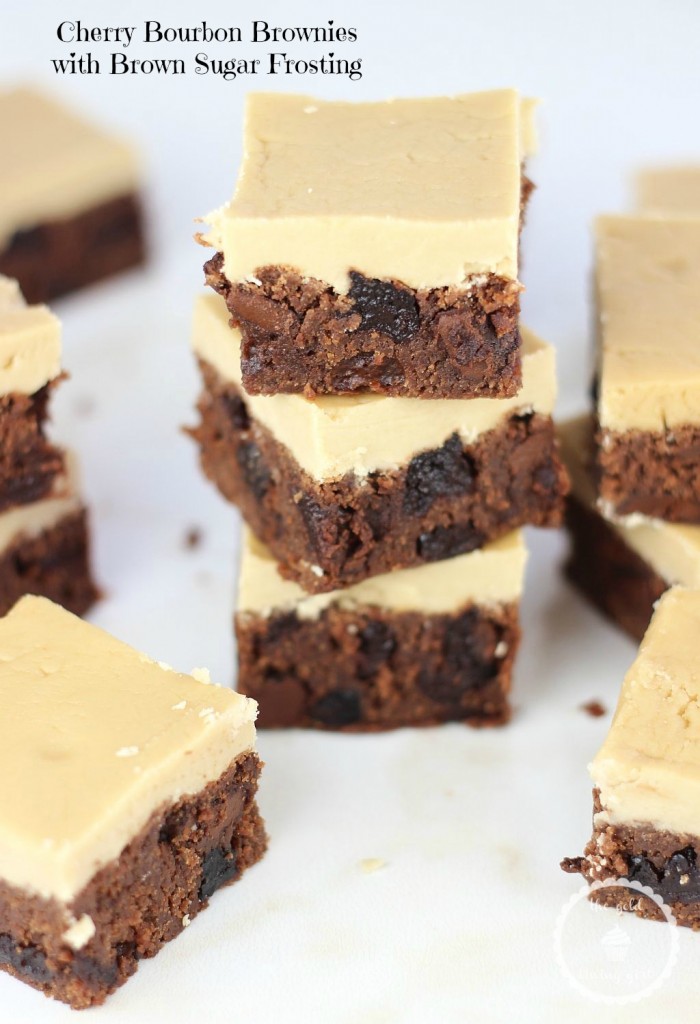 I don't like bourbon at all. As a drink, I think it's awful. But it does something magical to baked goods. You must try these Cherry Bourbon Brownies with Brown Sugar Frosting, and you'll see what I mean. Prime example.
Actually, hamburgers too. A good friend of mine from college used to douse grilled hamburgers with Wild Turkey before serving them (hi Gardy!). We all thought he was crazy, and I don't remember where that tradition of his stemmed from, but he was onto something.
If you're grilling out burgers, maybe have some Wild Turkey on hand. I'm going to make a point to do that more often as we grill out this summer, along with eating more banana split desserts as I talked about in these recipes for Banana Split Ice Cream Dessert and No-Bake Banana Split Pie. I love me some banana splits in the summertime.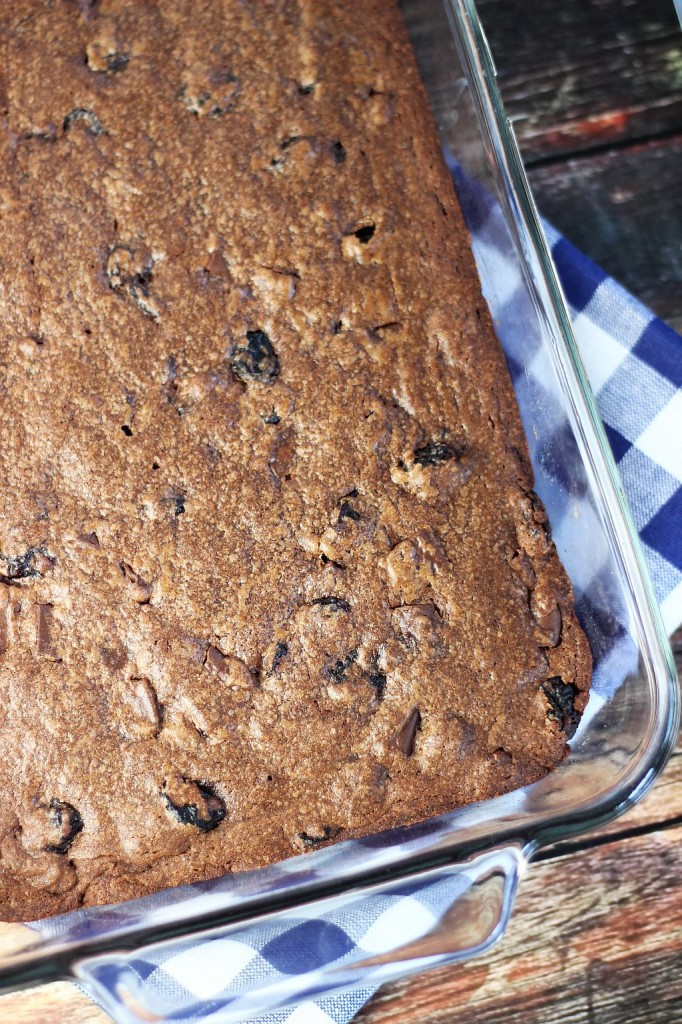 Bourbon seems to make all the other flavors it hangs out with taste richer, deeper, and more caramel-like.
Flipping through cooking magazines over the years, I've seen a lot of recipes that combine cherries and bourbon. That combo was on my baking bucket list for a long time. I don't know why I felt inspired to make these Cherry Bourbon Brownies now, but something about them just felt like summer to me. Anybody else? Bourbon in the summer? It has a very '4th of July' feeling to me, and I have no idea why!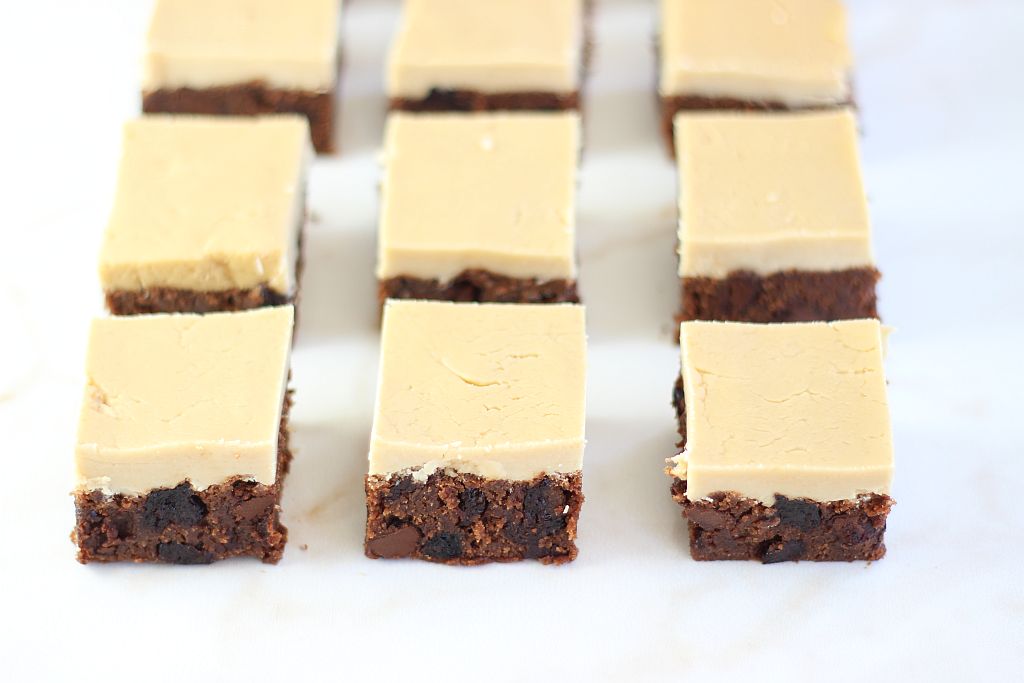 Maybe it's the cherries. Even if this recipe calls for dried cherries, cherries are definitely a summer thing to me. Fresh ones will start popping up in groceries stores soon, and because I'm a cherry fanatic, I will find myself accidentally spending $25 on a bag of cherries because they're deceptively expensive. Or not so deceptively since they are usually $6-$8/lb. and I should just know better.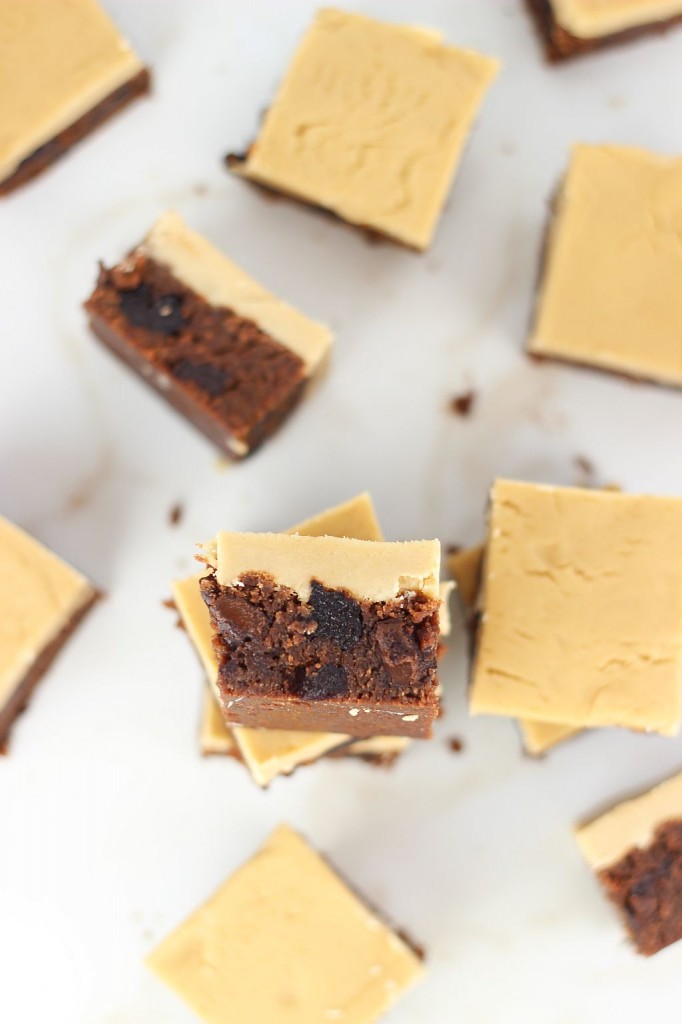 I love dried tart cherries for baking, and I buy big bags from the club. In these brownies, I stewed the cherries with bourbon and brown sugar, cooking them together until the cherries became soft and plump. The brownies are adapted from these Brown Butter Red Velvet Brownies. The chocolate in that recipe isn't so heavy that it will overtake the cherries and the bourbon, so they're the perfect canvas to start with. Just enough chocolately richness to marry with the other flavors.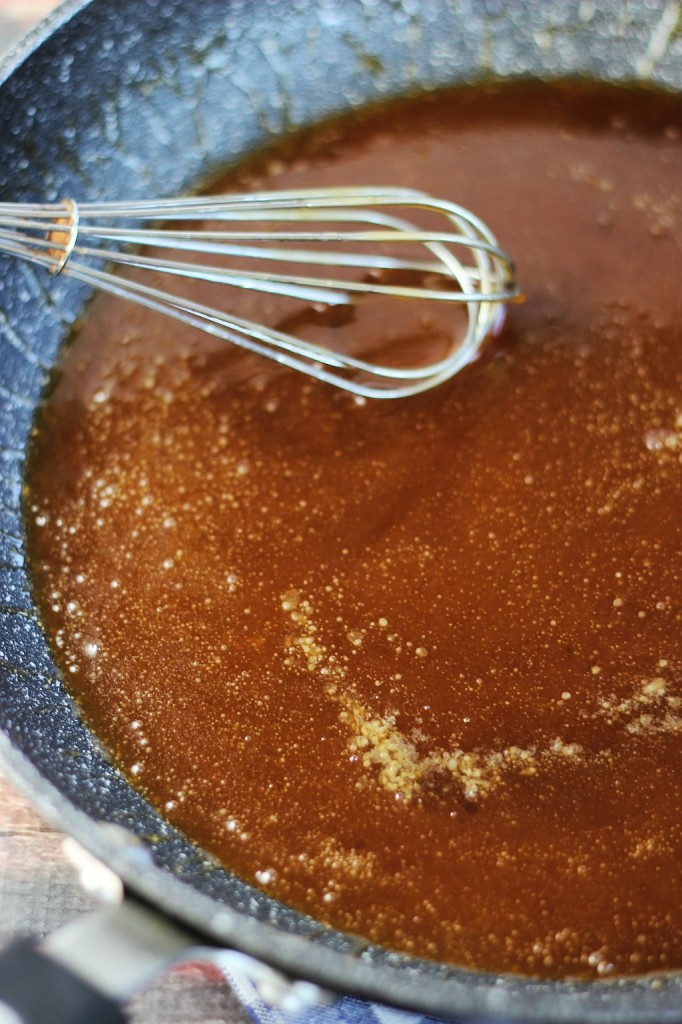 I felt that brown sugar frosting was the only way to go with these Cherry Bourbon Brownies. So far we have highlighted all the other key components to these brownies – the tart cherries, bourbon, and chocolate, but I wanted to reemphasize the brown sugar that ties everything together! There are recipes for really fluffy brown sugar frosting…. this is not that. It's really thick. A brownie like this doesn't call for big puffy dollops of fluffy and light. It calls for rich and thick.
With all the lovely flavors packed into these Cherry Bourbon Brownies with Brown Sugar Frosting, they are quite irresistible and sure to be a summertime favorite!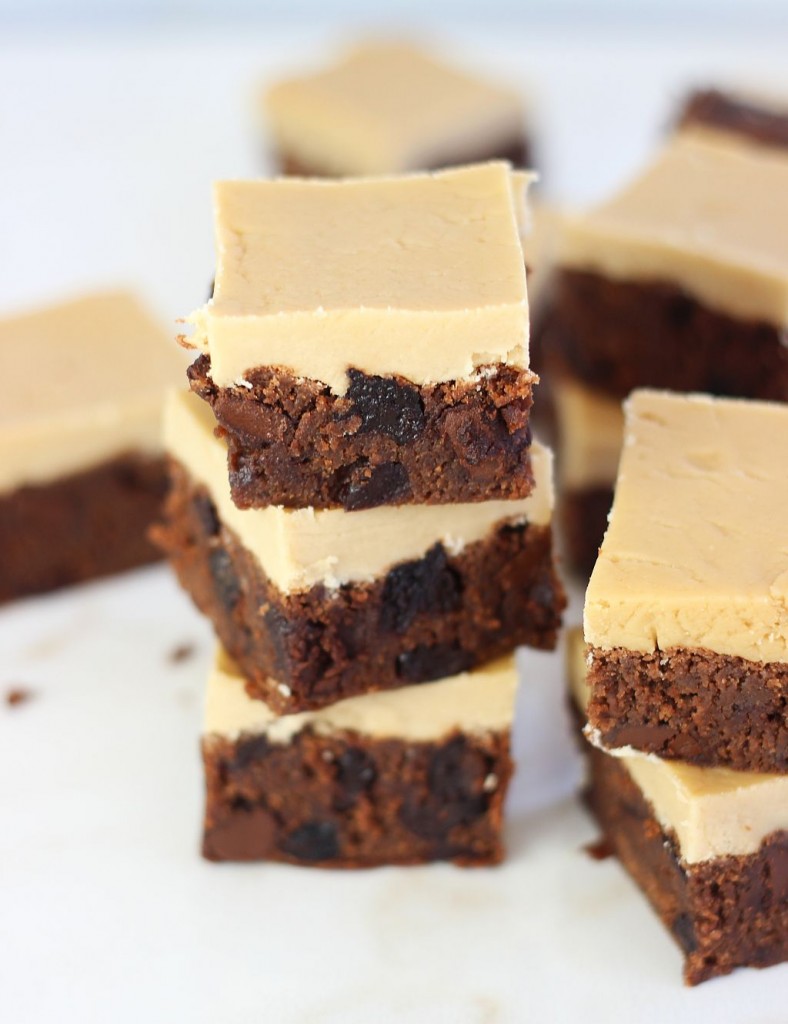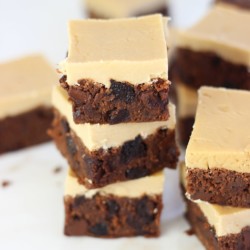 Cherry Bourbon Brownies with Brown Sugar Frosting
Bourbon-stewed cherries are added to buttery and fudgy brownies, and topped with brown sugar frosting!
Ingredients
For Cherry Bourbon Brownies:
1

c.

dried cherries

1/4

c.

packed brown sugar

1/3

c.

bourbon

1/2

c.

butter

melted and cooled

1

c.

sugar

1

tsp.

vanilla

1/4

c.

cocoa powder

1

tsp.

vinegar

2

eggs

3/4

c.

flour
For Brown Sugar Frosting:
1/2

c.

butter

1

c.

packed brown sugar

1/4

c.

milk

1

tsp.

vanilla

3

c.

powdered sugar

approximately
Instructions
For brownies:
In a small saucepan over medium-high heat, combine cherries, brown sugar, and bourbon. Bring to a boil, reduce heat, and simmer for about 5 minutes, or until cherries are soft and plump.

Remove from heat, drain the liquid, and set aside the cherries to cool.

Meanwhile, pour the melted butter into a large mixing bowl.

Add the sugar, vanilla, cocoa powder, and vinegar to the mixing bowl, and mix until blended.

Add in the eggs, and mix until well-incorporated.

Add in the flour, and mix until just combined.

Pour into a greased 8-inch square pan.

Bake at 350 degrees for 18-22 minutes, or until a toothpick inserted near center comes out clean.

Allow to cool completely on a wire rack.
For frosting:
In a large saucepan over medium heat, melt the butter.

Add in brown sugar and bring the mixture to a boil, stirring constantly.

Boil for 1 minute, remove from heat, and whisk in milk and vanilla.

Transfer to a large mixing bowl, and beat in powdered sugar until it reaches desired thickness and consistency.

You can add additional milk or powdered sugar as needed to make the frosting thick, but spreadable.

Spread frosting evenly over cooled brownies. Enjoy!