This layered banana split dessert features a chocolate sandwich cookie crust, sliced bananas, loads of vanilla ice cream and chocolate sauce, as well as pineapple and maraschino cherries. A banana split sundae in a simple frozen dessert!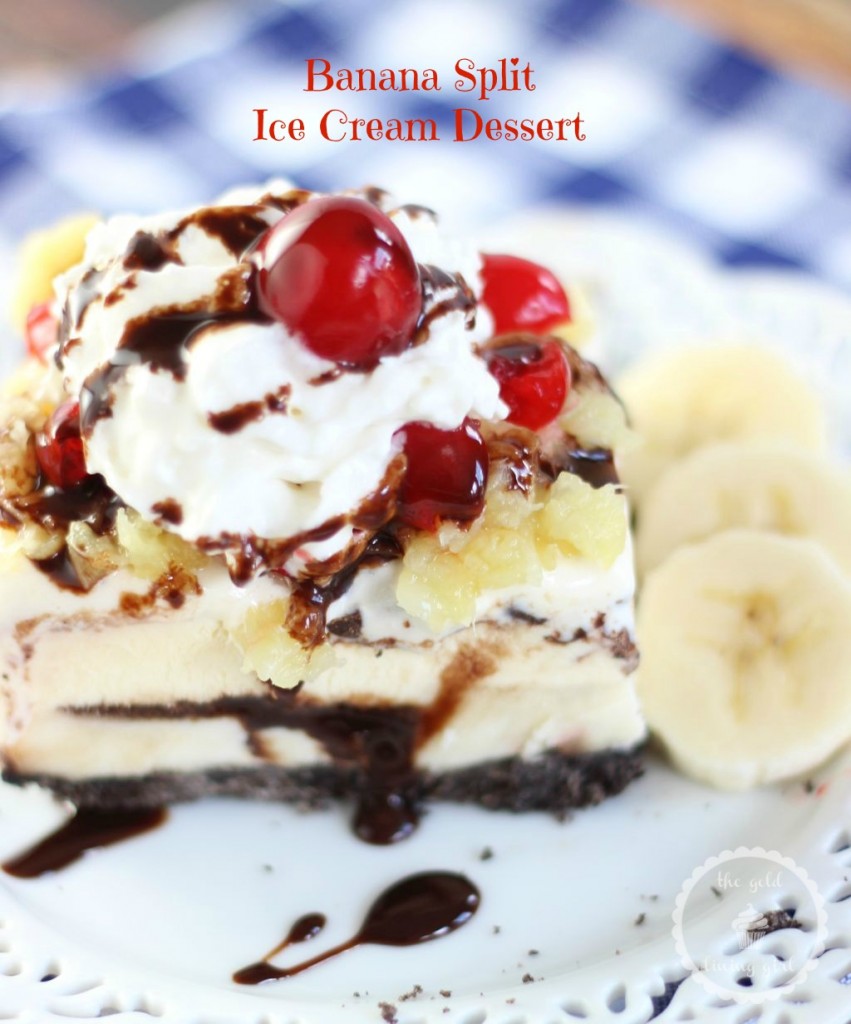 Banana splits. My favorite ice cream dessert. Yet, the last time I had one was circa 1999.
I used to eat them constantly. I wouldn't order anything but a banana split when my friends and I went to get ice cream in high school. Two of my best friends worked at two different local ice cream shops. Lucky me, I had plenty of options for free ice cream and they always gave extra toppings too. Oh, the good old days….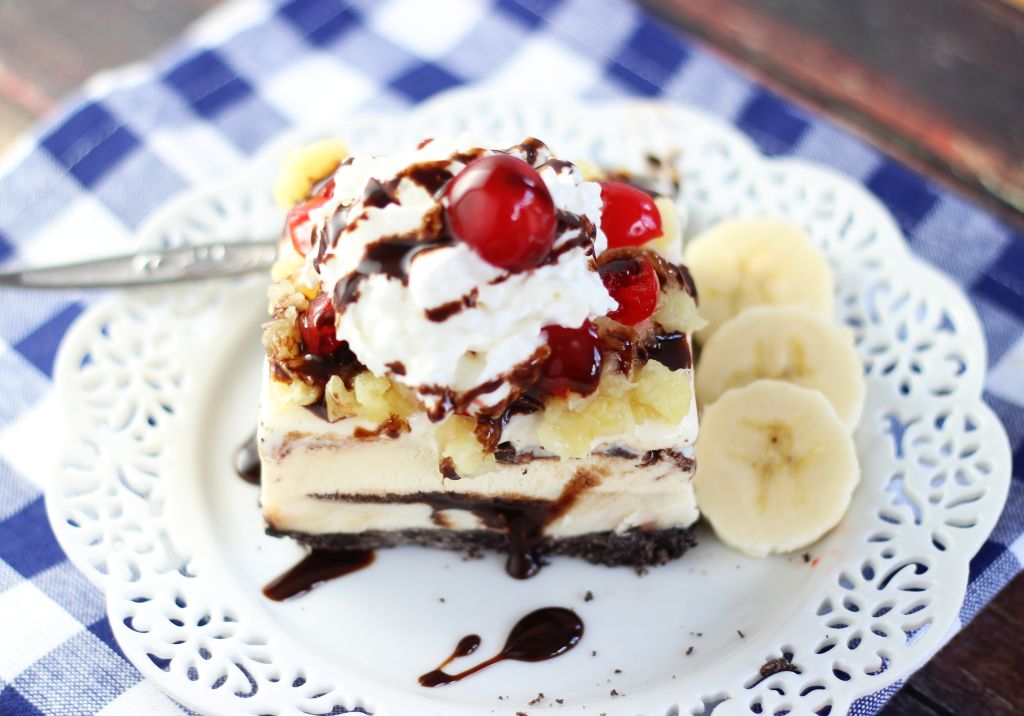 I have no idea why I got out of the habit of ordering banana splits when I want ice cream, but I'm making it a summer goal to enjoy them more often. Banana splits are on my summer bucket list.
I love the idea of a summer bucket list. You? Although…. it's too hot here in Florida to accomplish anything. So other than a goal to order more banana splits, I think I'll just start planning my winter bucket list. Scratch that. Fall bucket list. How do you feel about seasonal bucket lists?? Summer bucket lists tend to float around the blogosphere this time of year, and I'm curious if you have one. If you do, share what your top goal is! Inquiring minds want to know… so I can maybe steal the idea too.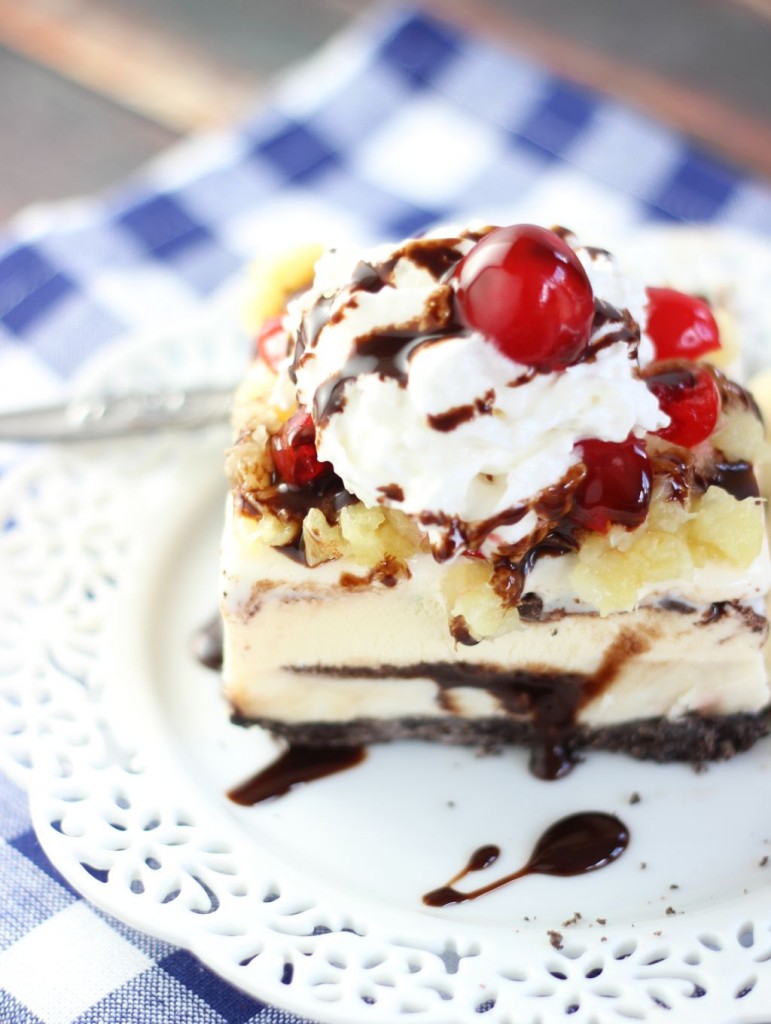 There is something about summer that triggers a consistent ice cream craving for me. A few years ago, I wouldn't have considered myself an ice cream person, but I've gradually become one. It's not like I'd ever turn it down, but it wasn't the first sweet that I'd reach for. That's all changed. Between May-August, it's my top choice for dessert.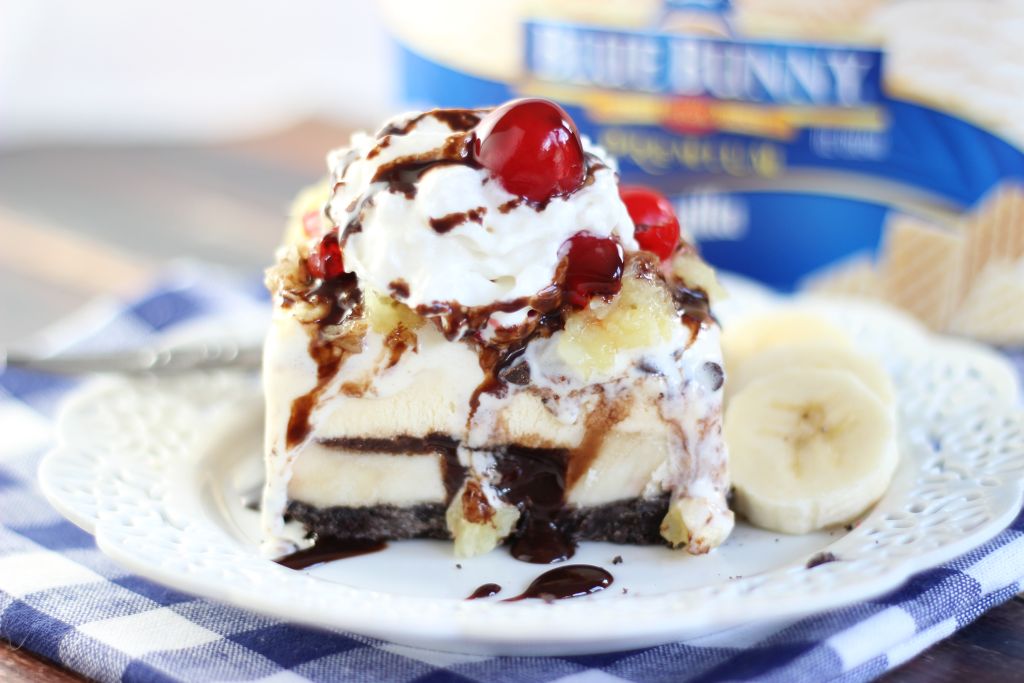 Inspired by my favorite sundae, I decided to make this banana split dessert, similar to one that I remember my Aunt Mary making for a family picnic years ago.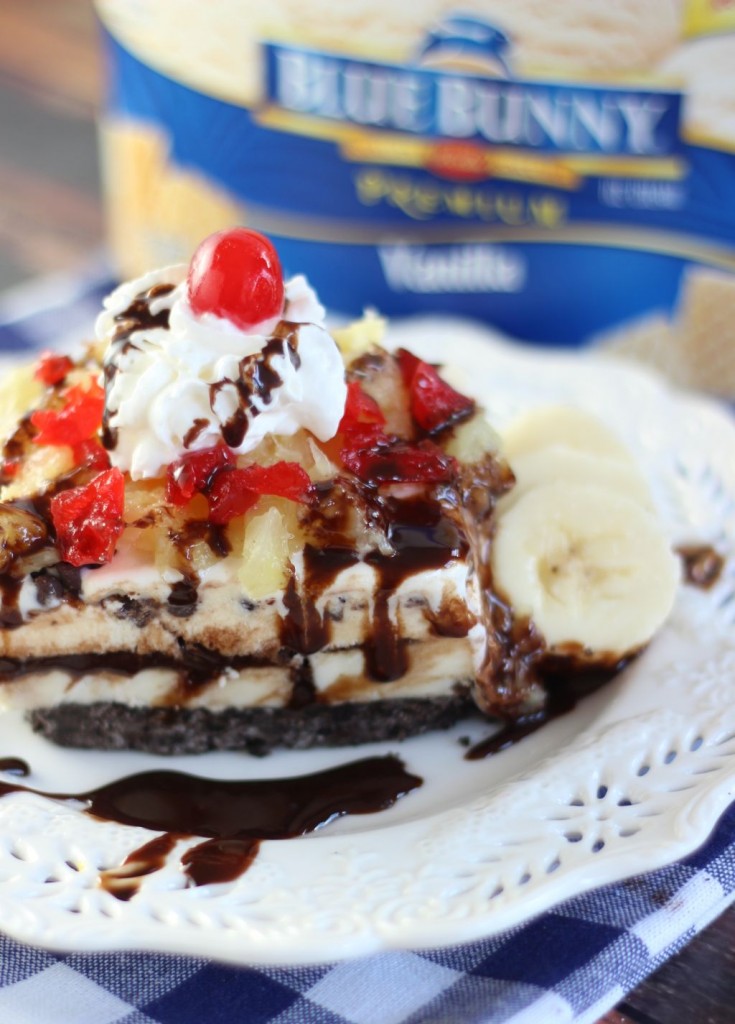 Aunt Mary made this simple frozen layered dessert that was so summery and refreshing. It was like a banana split sundae in casserole form. Simple to throw together, and it easily fed a crowd. I don't have that exact recipe, but this one captures the essence. All the favorite traditional flavors of a banana split, but in a layered dessert. Just keep it in the freezer til you're ready to slice and serve.
The crust is made from crushed chocolate sandwich cookies, and creamy vanilla ice cream is layered with sliced bananas and chocolate sauce, then topped with crushed pineapple and maraschino cherries. And whipped cream too, of course. That's a must!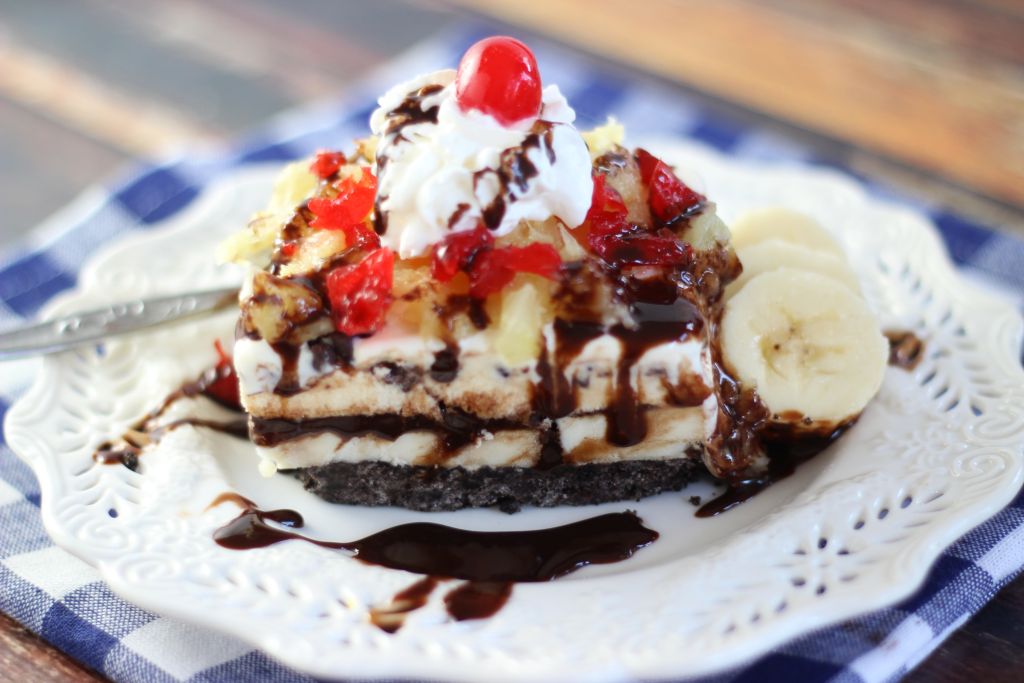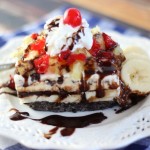 Banana Split Ice Cream Dessert
A layered frozen dessert with chocolate cookie crust, sliced bananas, vanilla ice cream, chocolate sauce, and maraschino cherries!
Prep Time
1
hour
30
minutes
Total Time
1
hour
30
minutes
Ingredients
28

chocolate sandwich cookies

2

tbsp.

sugar

3

tbsp.

melted butter

4

large bananas

sliced

1 - 1.75

quart

container Blue Bunny Premium Vanilla ice cream

softened, divided

1 - 24

oz.

bottle chocolate syrup

divided

1/2

c.

mini semi-sweet chocolate chips

1 - 20

oz.

can crushed pineapple

drained well

1 - 10

oz.

jar maraschino cherries

drained well, diced

whipped cream
Instructions
In a food processor, pulse chocolate sandwich cookies until they resemble fine crumbs.

In a large bowl, combine cookie crumbs, sugar, and melted butter.

Press into the bottom of a 9x13 glass dish.

Evenly spread the sliced bananas over the crust.

Evenly spread half of the softened vanilla ice cream carefully over the layer of bananas.

Freeze for 30 minutes.

Evenly pour about 2/3 bottle (just estimate!) of chocolate syrup over the ice cream.

Sprinkle with chocolate chips.

Evenly spread remaining vanilla ice cream over the chocolate chips.

Freeze for at least 30 minutes, or until ready to serve.

When ready to serve, scatter the pineapple and diced cherries evenly over the dessert.

Top with whipped cream, remaining chocolate syrup, and more cherries for garnish. Enjoy!