This recipe for Black Forest Crepes is simple and delicious! Chocolate crepes are filled with a light and fluffy cherry cream filling, topped with cherry pie filling, and drizzled with chocolate sauce.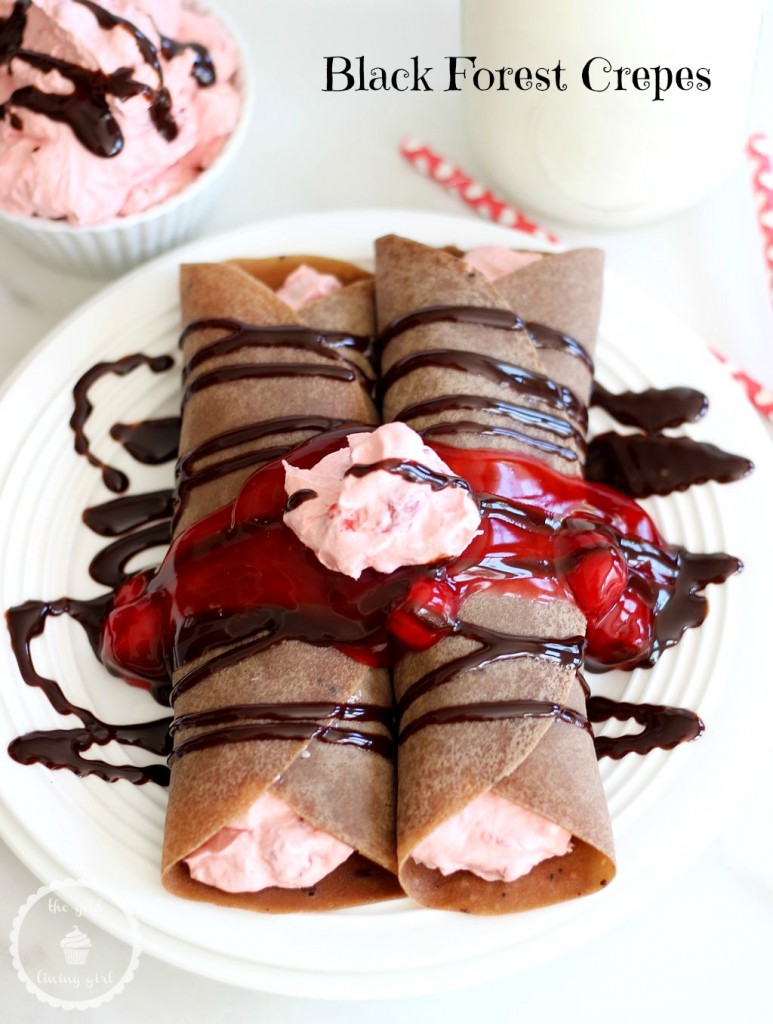 Chocolate and cherry. I think of these two as a Valentine's Day pair. You too, right? But it wasn't really Valentine's Day that inspired me to make these Black Forest crepes.
Sometimes inspiration comes from the darndest of places. The idea for these sprouted from two.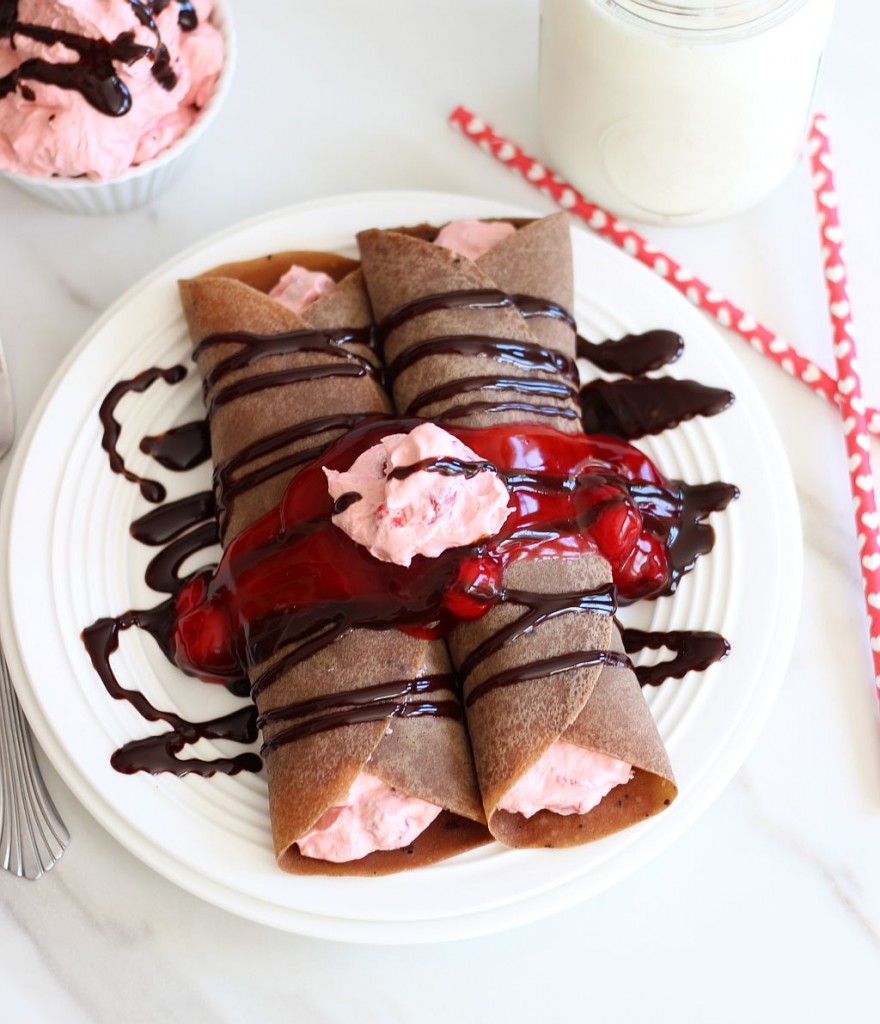 First, if you didn't already know, there is a special edition of Bailey's available right now in Salted Caramel (!!!!), which partly inspired these crepes. There is also a special edition of Bailey's in Chocolate Cherry flavor! I didn't actually use that liqueur in the crepes though. I should've. All crepes should have liqueur in them. But collecting every single flavor of Bailey's that exists now (there's like 20) would be a pretty expensive habit. Sorry!! If you have it in the budget to collect all the Bailey's flavors, you should do it. They're delicious.
In any event, that bottle of Chocolate Cherry liqueur got the wheels turning for me about how I wanted to incorporate those flavors this year in my Valentine's Day baking.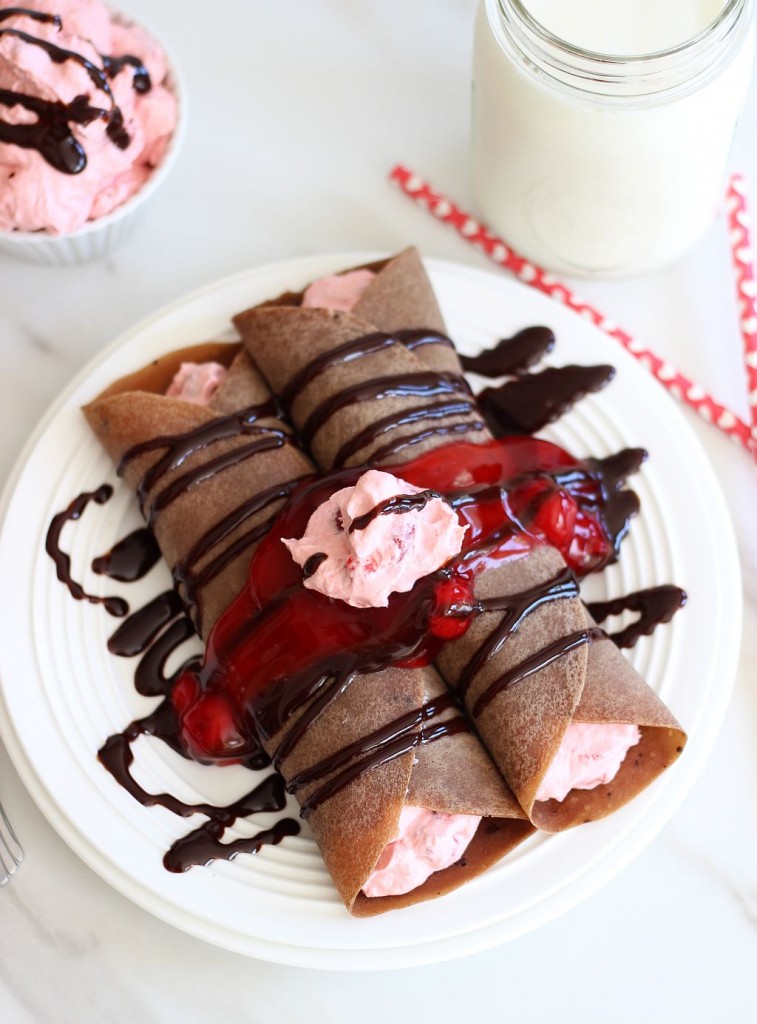 I was also inspired by a can of cherry pie filling that was sitting on my counter that I was determined to use up. Yep, sometimes inspiration comes from 'what needs eaten up' or 'what am I sick of looking at in the house' type of moments. Not glamorous, but true life nevertheless.
I presented these to S.O. when he came home from work on Friday and asked him for his feedback. True to form, he gave me this gem: "They're sweet and tasty." If you'll recall, I often rely on him for profound and thorough food reviews.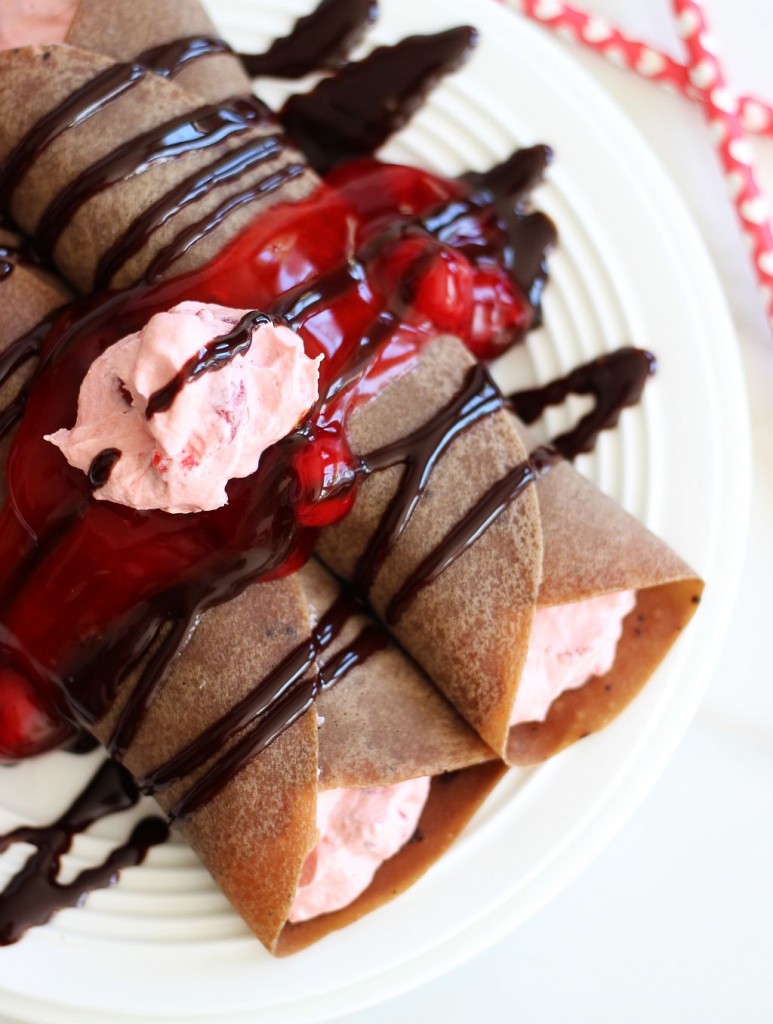 Not to say that my descriptions are any better, but here goes: these Black Forest Crepes are simple but pretty, and definitely impress. Look how colorful and fun they are! They're filled with a cherry cream filling, made from cherry pie filling and whipped topping. It's a very sweet, light, and fluffy filling! The crepes are topped with a little more cherry pie filling for extra cherry oomph, and drizzled with chocolate syrup. I cannot tell you the last time I had chocolate syrup prior to the last few days, and I forgot how good that stuff is.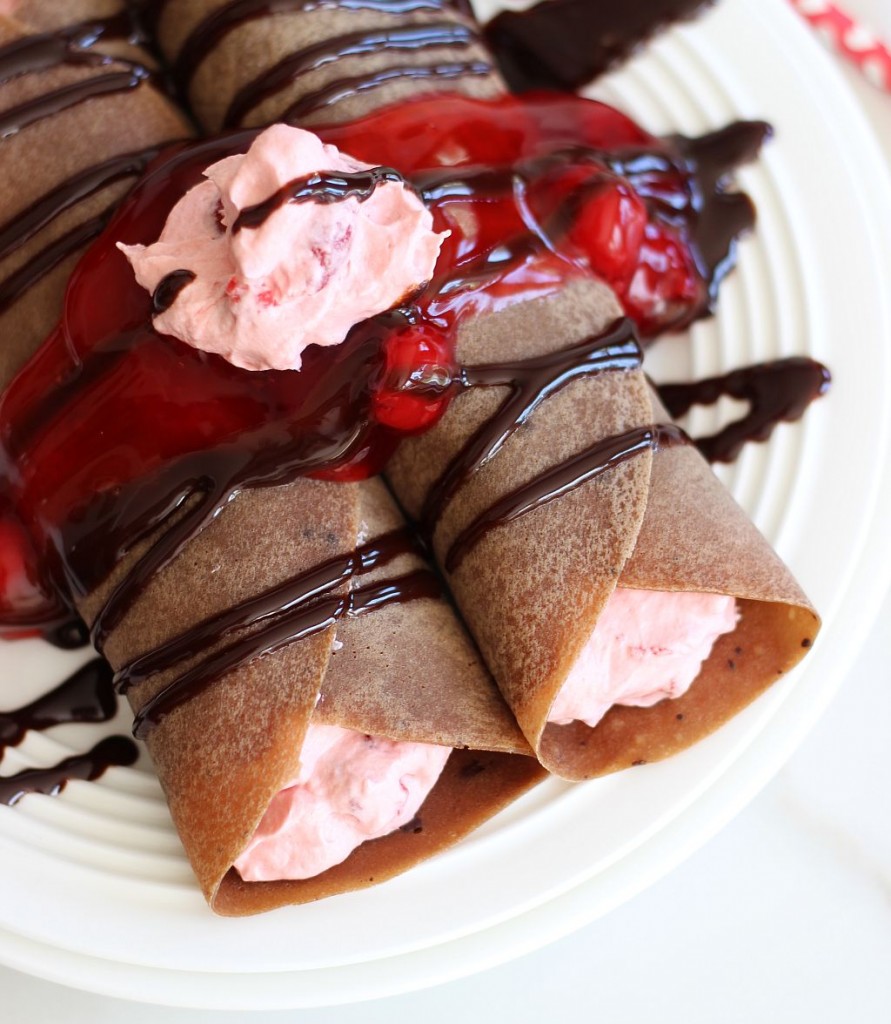 I really wanted these to be easier and simpler than some of the other crepe variations I've shared. These are just as pretty and elegant as the others, but a little more approachable, and most of the ingredients are pantry staples or super easy to find!
And they scream Valentine's Day!! So they're perfect for the upcoming occasion. They also scream 1950s diner, don't they?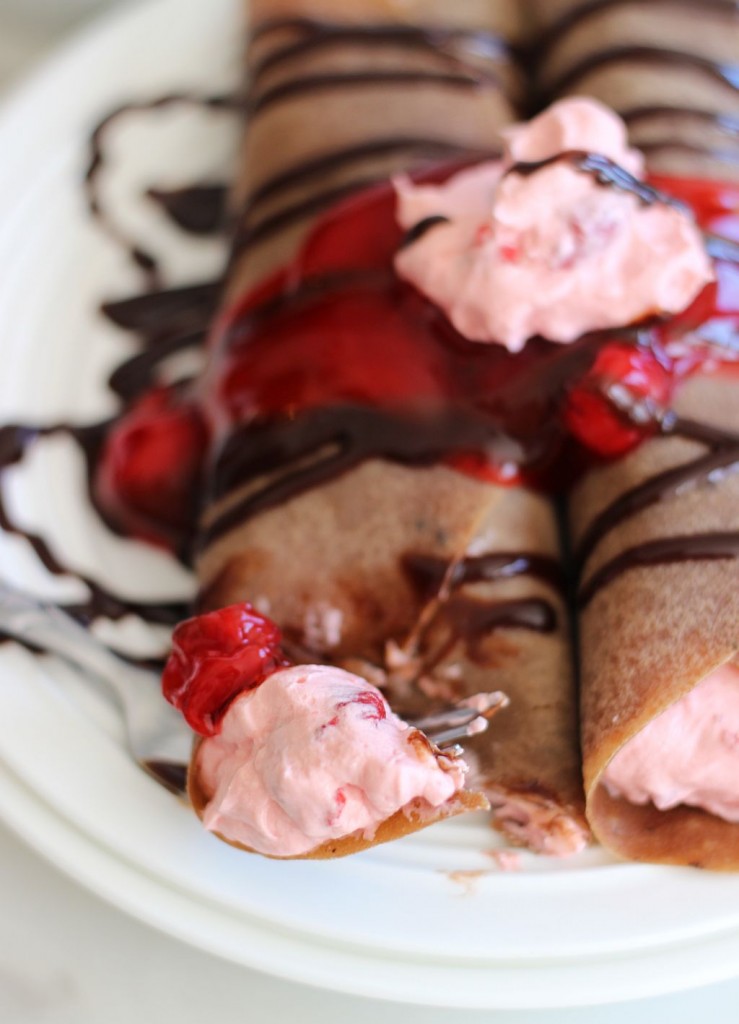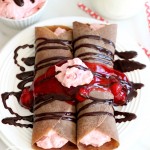 Black Forest Crepes
Chocolate crepes with a fluffy and light cherry cream filling, topped with cherry pie filling, and drizzled with chocolate sauce.
Ingredients
Chocolate Crepes:
4

eggs

11/2

c.

milk

1

c.

water

2

c.

flour

3

tbsp.

cocoa powder

6

tbsp.

melted butter

slightly cooled

1/3

c.

sugar
Cherry Cream Filling:
1 - 21

oz.

can cherry pie filling

divided

1

c.

Cool Whip or whipped topping

thawed

1

tbsp.

sugar
Topping:
1/2

c.

cherry pie filling

1/2

c.

chocolate syrup
Instructions
For crepes:
In a large bowl, combine all crepe batter ingredients and whisk vigorously until smooth.

In a large saucepan over medium heat, pour about 1/3-1/2 c. batter, covering the entire bottom of the pan in a thin layer.

Cook for about 2-3 minutes, or until the top looks mostly cooked too, even before flipping. Carefully (it will be thin and delicate) flip the crepe over, and cook for about 30 seconds.

Remove crepe from the pan to a plate or platter, and continue making crepes with remaining batter. (If not serving immediately, they can be stored in the refrigerator for several days. They stack well between plastic wrap lightly greased with non-stick spray.)
For filling:
In a small bowl, combine all but 1/2 c. of the cherry pie filling (set it aside), the whipped topping, and the sugar.

Fold together until thoroughly blended.
To assemble crepes:
Evenly divide filling among crepes, spooning it across the diameter of each crepe, and then roll them into 2-inch tubes.

Top with a spoonful of cherry pie filling, and drizzle with chocolate sauce. Enjoy!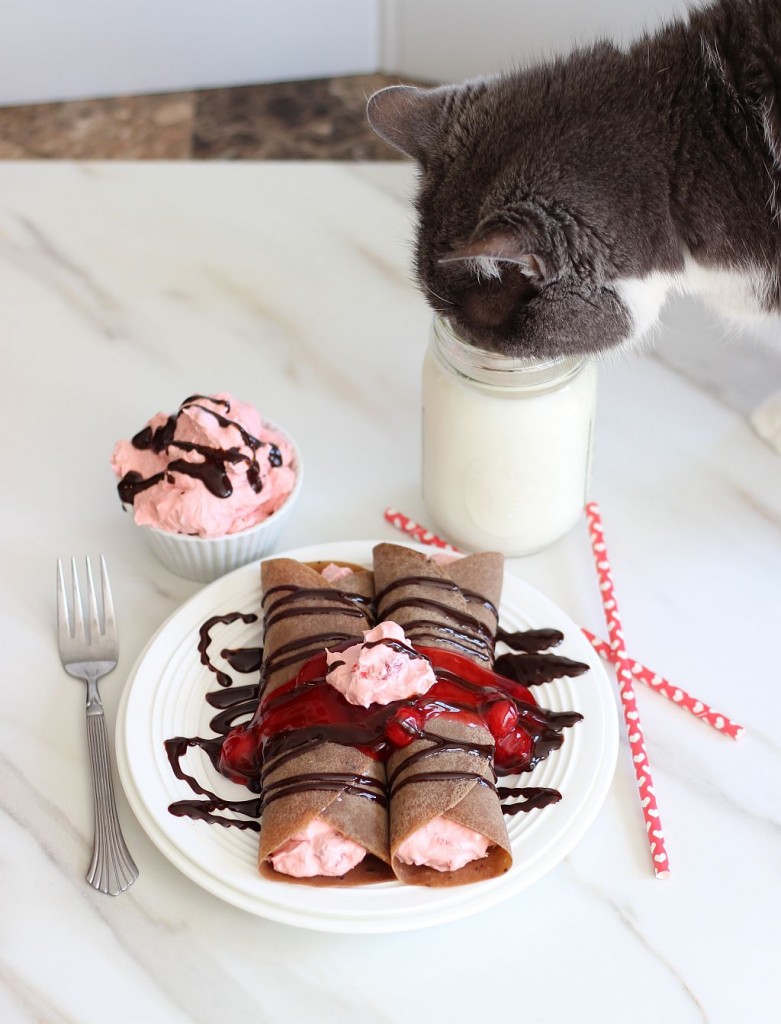 Uh, wait. That wasn't supposed to happen. #catphotobomb
Yeah, you're not really supposed to be up there. I think S.O. drank that milk after the photo shoot. Oops. Don't tell him.