Sweet vanilla-champagne crepes are filled with an easy white chocolate mousse and topped with a strawberries & champagne sauce made with fresh strawberries!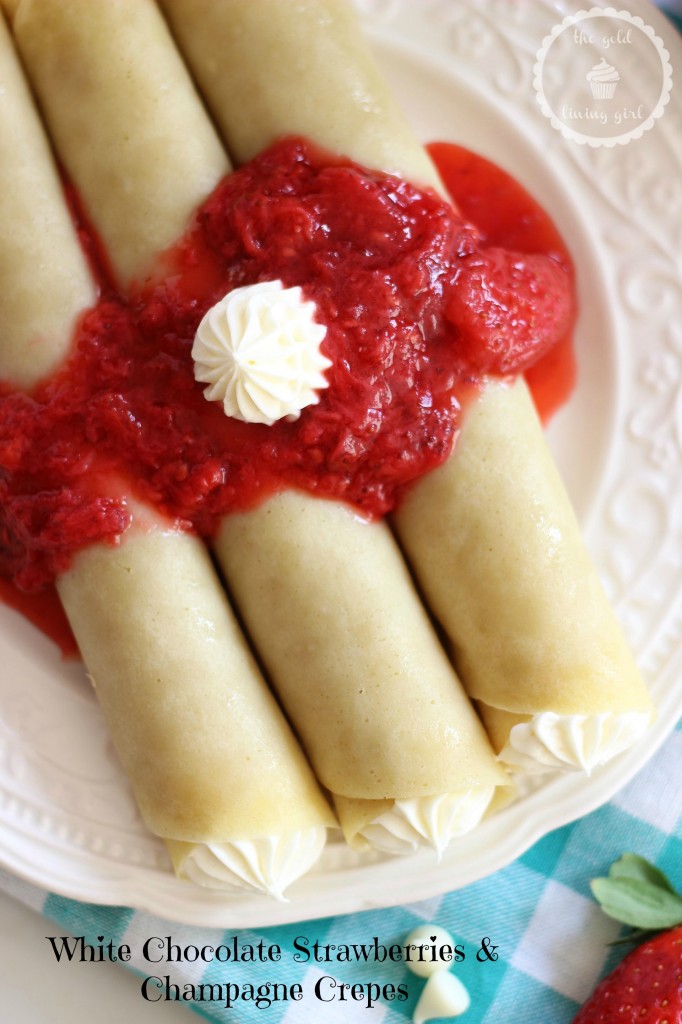 Okay you Valentine's Day celebrators, you! Here we go! It's time! I finally feel mentally prepared to talk about Valentine's Day recipes. I've been making V-day themed stuff for weeks now, since roughly December 26th, but I just wasn't ready to chat about them until at least February 1st. Now that I'm ready to delve in, I realize that I may have more recipes than days leading up to it. I guess I'll try to cram?
 In keeping with our stance on Christmas gifts, S.O. and I don't exchange gifts on V
alentine's
 Day either. Although, I should mention that I did receive an unexpected and very, very late Christmas gift this year in the form of a squat rack! It arrived sometime around Jan. 25th. I had no idea it was coming, and I am thrilled.
 We do exchange Valentine's Day cards. So I guess there's that! Tradition dictates that we buy each other both a funny one, and a nice one. Last year we forgot to exchange them altogether though so I'm hoping I can reuse? The year before, we gave each other the same funny card. At least we are on the same page and we "get" each other. That matters, right? Sense of humor is everything.
While we really don't celebrate it or basically do anything out of the ordinary on Valentine's Day, we like it this way. We are old and boring, and we are okay with it. Every day is special, so that's enough!
 In fact, for me, since starting this little blog here, the excitement in each holiday has a lot to do now with the baking! I've been preparing for
Valentine
's Day for weeks. It was a blast brainstorming all the Valentine's Day food possibilities! Naturally this holiday brought to mind champagne, strawberries, and chocolate. However, my hope is that despite using lots of cliche and expected ingredients, the result is still something innovative. What do you think? How'd it go?
 Who cares. It tastes phenomenal. That's what counts! These sweet vanilla crepes are spiked with a little champagne. The flavor is subtle, but definitely adds extra dimension. The white chocolate mousse filling is super simple, and something you'll want to make all on its own to eat spoonful by massive spoonful. It's light and fluffy, but decadent with lots of white chocolate deliciousness. And the sauce… fresh strawberries cooked with sugar and champagne until they break down and release their perfectly fruity juices!
This dish is easier than it looks, but your Valentine doesn't need to know that. These crepes are perfect for a Valentine's Day breakfast or dessert!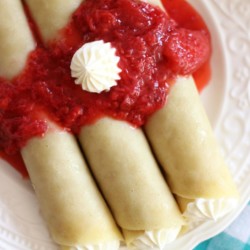 White Chocolate Strawberries & Champagne Crepes
Fresh Strawberries & Champagne sauce spooned over crepes filled with an easy White Chocolate Mousse!
Ingredients
Strawberries & Champagne Sauce:
1 - 16

oz.

container fresh strawberries

washed and sliced

3

tbsp.

sugar

1/2

c.

champagne

1/4

tsp.

almond extract
Crepes:
4

eggs

1 1/2

c.

milk

1/4

c.

water

1/2

c.

champagne

2

tsp.

vanilla

2

c.

flour

6

tbsp.

melted butter

slightly cooled

1/4

c.

sugar
White Chocolate Mousse Filling:
2/3

c.

white chocolate chips

3

oz.

cream cheese

softened

1 1/2

c.

whipped topping
Instructions
For Strawberries & Champagne Sauce:
In a large pot, combine all ingredients and cook on medium-high heat, bringing to a boil.

Reduce heat to low, and simmer for 15 minutes.

Remove from heat, and allow to cool until ready to serve it over the crepes.
For Crepes:
In a large bowl, combine all ingredients and whisk until smooth.

In a large saucepan over medium heat, pour about ⅓ - ½ c. batter, covering the entire bottom of the pan in a thin layer.

Cook for about 2-3 minutes, or until the top looks mostly cooked too, even before flipping. Carefully (it will be thin and delicate) flip the crepe over, and cook for about 30 seconds.

Remove crepe from pan, and continue making crepes with remaining batter.
For White Chocolate Mousse Filling:
In a small saucepan over low-medium heat, melt the chocolate chips until smooth. Cool to tepid.

Meanwhile, in a mixing bowl, beat cream cheese until smooth.

Gradually add the cooled chocolate to the mixing bowl, and beat until thoroughly combined and smooth.

Fold in whipped topping.

To assemble crepes, spoon or pipe 3-4 tbsp. of white chocolate mousse across the diameter of each crepe, and roll them into 1-inch tubes. Serve 2-3 crepes per person with about 1/4 c. sauce spooned over each serving.
Notes
If not serving immediately, the crepes keep well in the refrigerator for several days, stacked between plastic wrap lightly greased with non-stick spray.
The strawberry sauce also keeps for 3-4 days. All the components can be prepared ahead of time and stored in the refrigerator until ready to assemble and serve!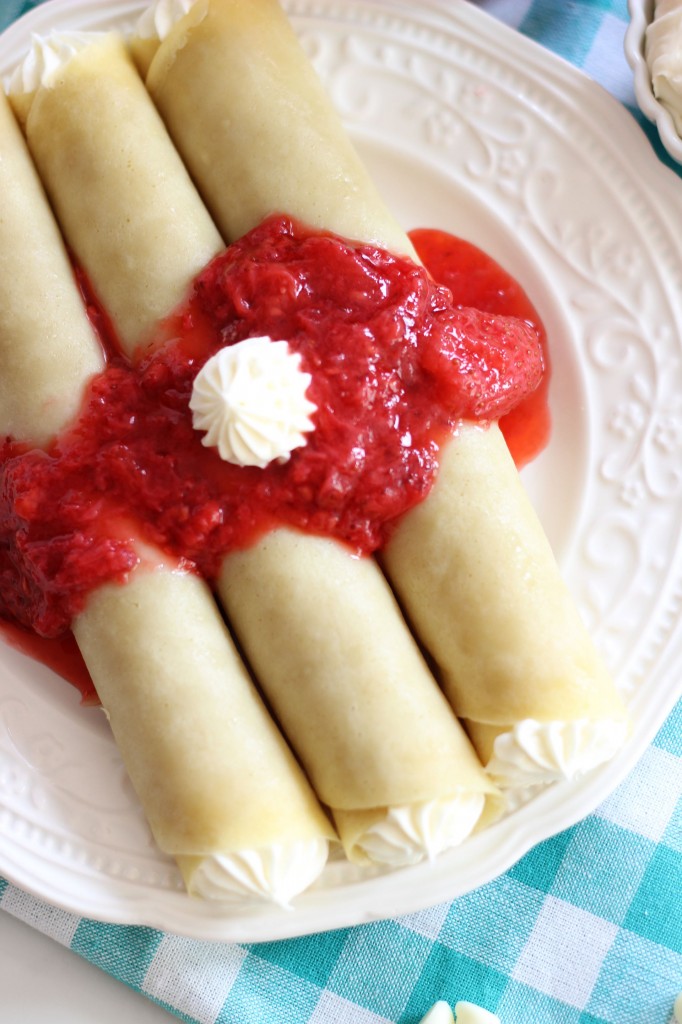 Btw, happy Super Bowl! So far today I've watched the Kitten Bowl, Puppy Bowl, and I'm putting the finishing touches on this post as we watch the real deal. Since the Bills aren't in it, go Seahawks!