Super easy baked maraschino cherry cake donuts with a simple cherry glaze and crunchy Fruity Pebbles for a topping! These Baked Cherry Donuts with Cherry Glaze are my FAVORITE, and they're SO simple!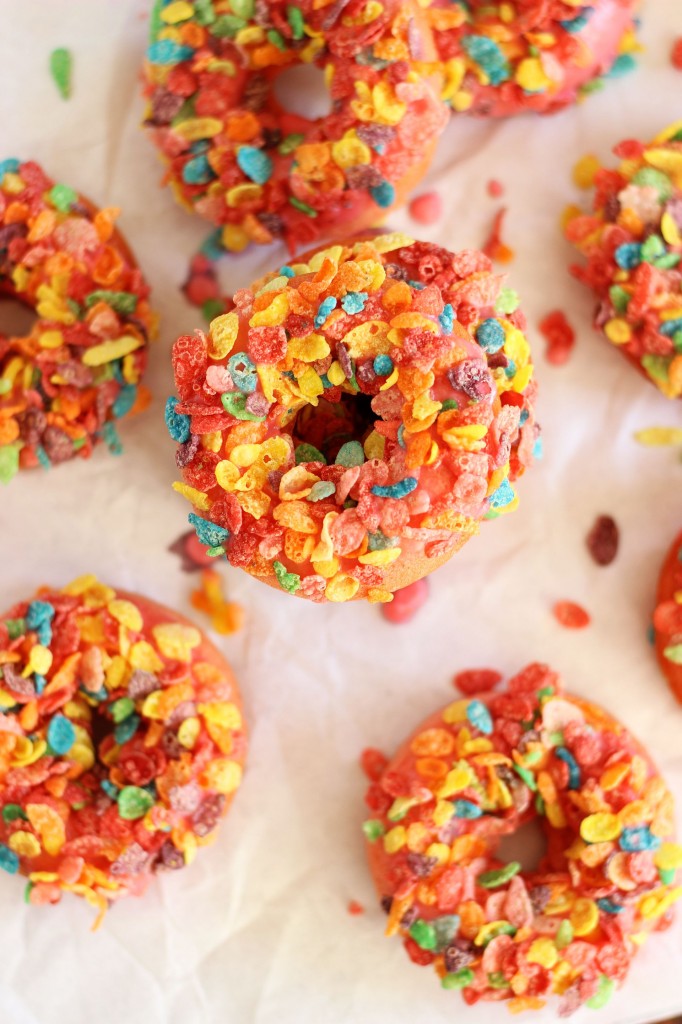 I have a special soft spot for cherry donuts. I really love them. They're delicious and they're one of my favorite. Sooo, yeah. 🙂 I had to create these Baked Cherry Donuts with Cherry Glaze so that I can have a cherry donut whenever I want.
I don't know what it is for me about a cherry donut, but there's something nostalgic about them for me. I can't figure out why I feel that way though! There's no particular reason that I can pinpoint or recall, but Baked Cherry Donuts with Cherry Glaze sort of remind me of happy times for some reason?? I'm sure this makes no sense.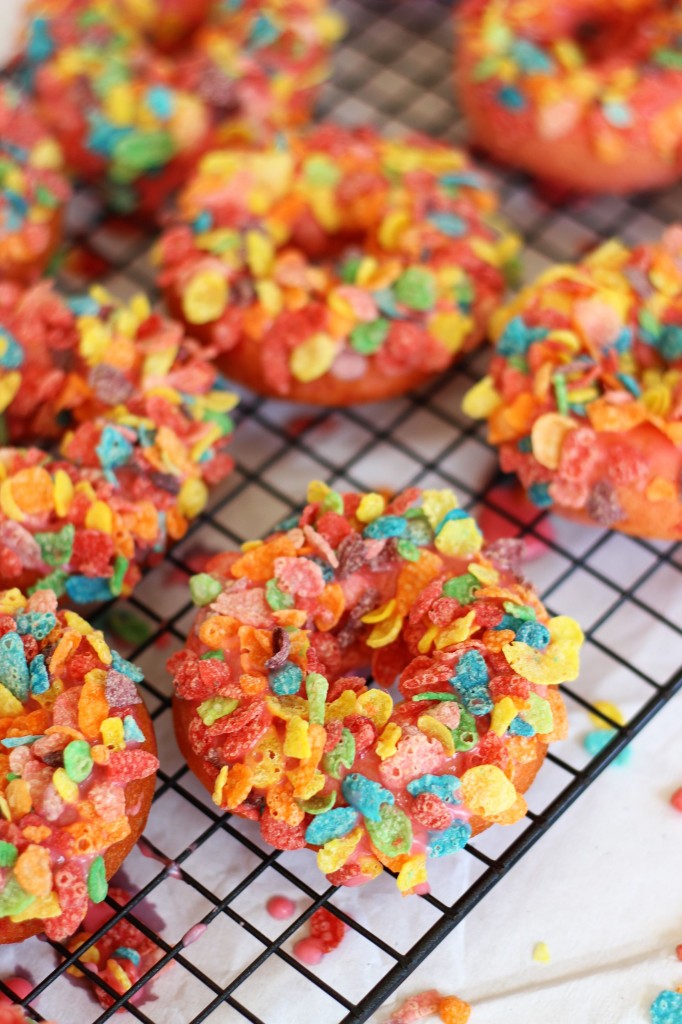 Maybe it's because donuts in general though are a kind of a source of nostalgia for me. They remind me of the days when my Grandpa would run out to buy a dozen at our favorite local donut shop. When I'm in Erie visiting my family, I try to make a point to stop at H&K Donuts to get a dozen… both for old times' sake, and because, um, we all love donuts, of course.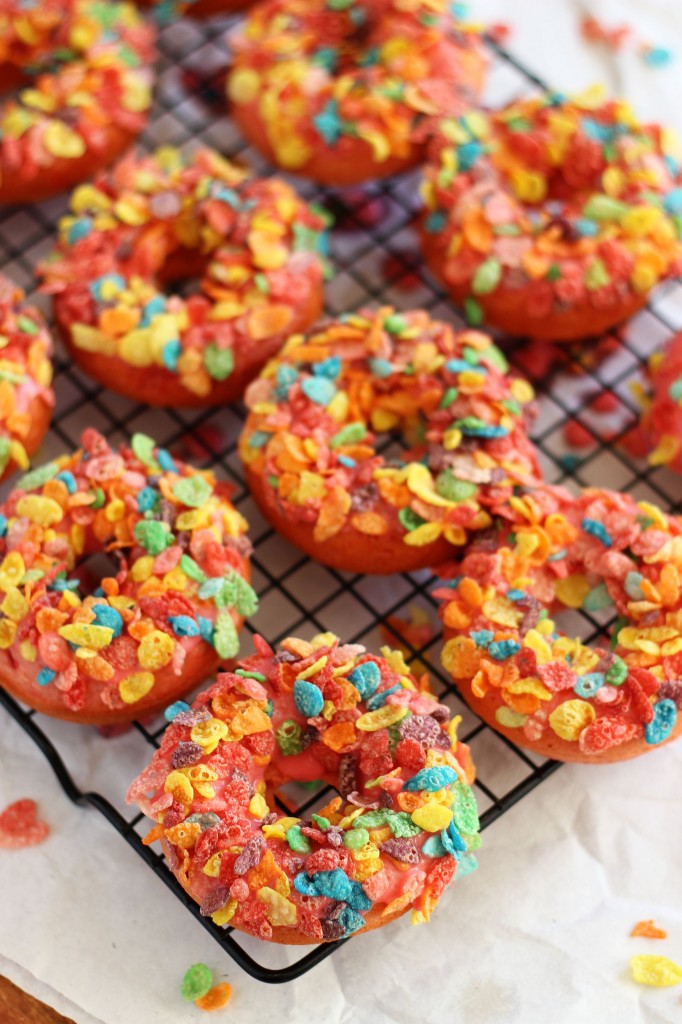 With cherry donuts on my mind, I really wanted to create an easy baked cherry cake donut with cherry glaze. And this is just that. They're very simple to make. The fruity pebbles? Well if I'm being perfectly honest, I thought they would look fun and colorful on top and would probably (hopefully) taste good too. They do. Yay!
We get to eat food that looks fun and cute, and tastes as good as it looks! I love when that works out. Sometimes ugly food is delicious, and sometimes really pretty food totally stinks in the flavor department. It's nice when the two line up. The fruity pebbles also enhance the fruity cherry flavors and they add a nice little crunch for texture for these Baked Cherry Donuts with Cherry Glaze.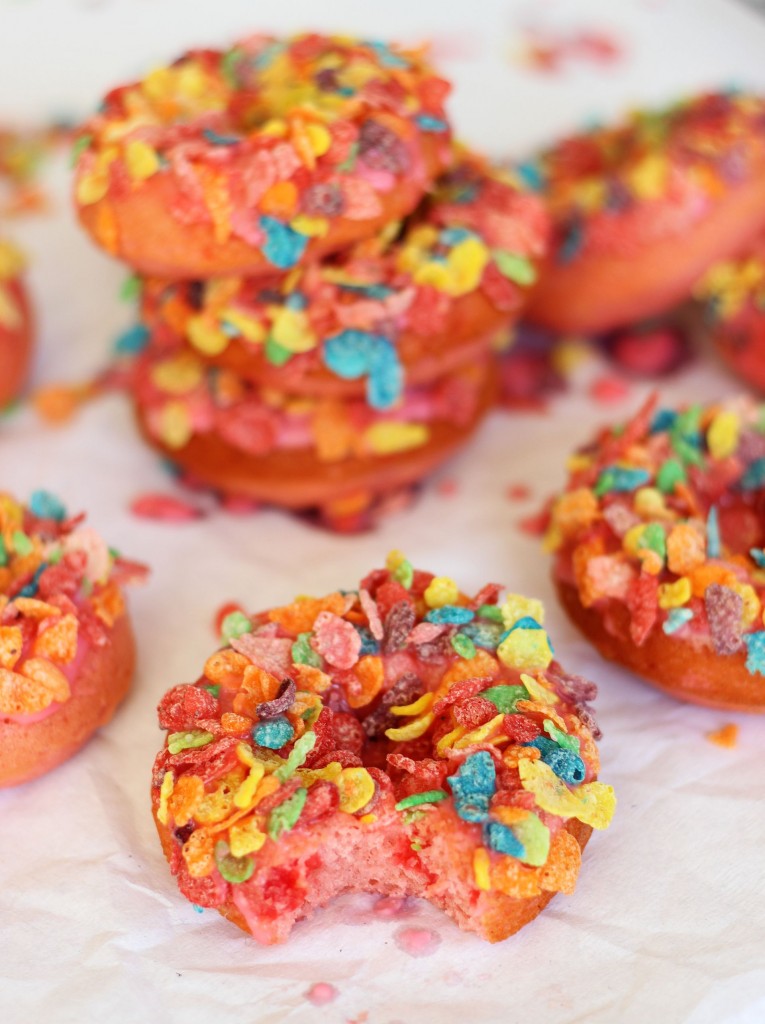 The batter whips up quickly, the donuts bake in about 15 minutes, and the glaze is a cinch – just whisk together the ingredients in the bowl. You could be eating these Baked Cherry Donuts with Cherry Glaze in about 25 minutes, start-to-finish!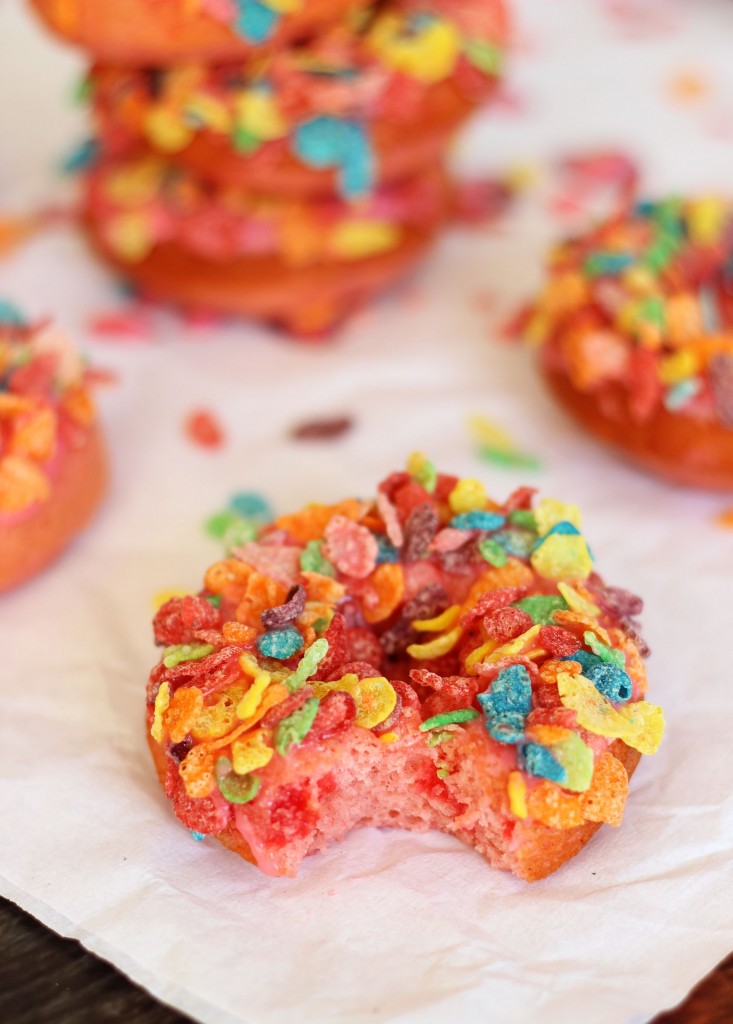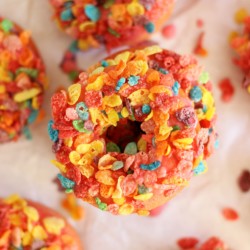 Baked Cherry Donuts with Cherry Glaze and Fruity Pebbles Topping
These simple baked cherry donuts have a cherry glaze and crunchy Fruity Pebbles as topping!
Ingredients
Cherry Donuts:
2

c.

flour

1

c.

sugar

2

tsp.

baking powder

1/2

tsp.

salt

1

egg

slightly beaten

1

c.

buttermilk or sour milk

3

tbsp.

maraschino cherry juice

1

tsp.

cherry extract

2

tbsp.

melted butter

1 - 10

oz.

jar maraschino cherries

drained well (reserve juice), chopped
Cherry Glaze:
1 1/2

c.

powdered sugar

1

tsp.

cherry extract

3

tbsp.

maraschino cherry juice
Instructions
For donuts:
Coat 2 regular-sized donut pans with cooking spray. (Regular-sized donut pans typically have 6 cavities.)

In a large bowl, combine flour, sugar, baking powder, and salt.

In another bowl, whisk together egg, buttermilk, cherry juice, cherry extract, and melted butter.

Mix the wet ingredients into the dry ingredients until just combined.

Fold in the chopped cherries.

Pour batter into a gallon-sized ziploc bag, and snip off the corner of the bag.

Pipe the batter into the baking pans, filling each donut cup about 3/4 full.

Bake at 350 degrees for 15-18 minutes, or until a toothpick comes out clean.

Allow to cool for 5 minutes, then flip the pans over and tap the donuts out onto a wire rack. Cool completely.
For glaze and topping:
Spread out the Fruity Pebbles on a small plate.

In a small bowl, combine powdered sugar, cherry extract, and cherry juice. Whisk until smooth. This consistency was just right so that the glaze wouldn't run off the donut, but you can thicken or thin the glaze accordingly, if needed.

To glaze the donut, dunk the donut into the bowl of glaze, covering about 2/3 of the donut. Allow the excess glaze to run off, then immediately dunk the donut into the plate of Fruity Pebbles.

Place the donuts back on the wire rack to set for about 10-15 minutes before eating. Enjoy!
If you're a fan of easy donuts, you may also want to try these Baked Chocolate Donuts with Peanut Butter Glaze and Reese's Cups (so decadent!), these Spice Cake Donuts with Pecan Streusel and Brown Butter Icing (to-die-for!), or this really lovely Baked Red Velvet Donut Recipe. They're so simple, delicious, and pretty.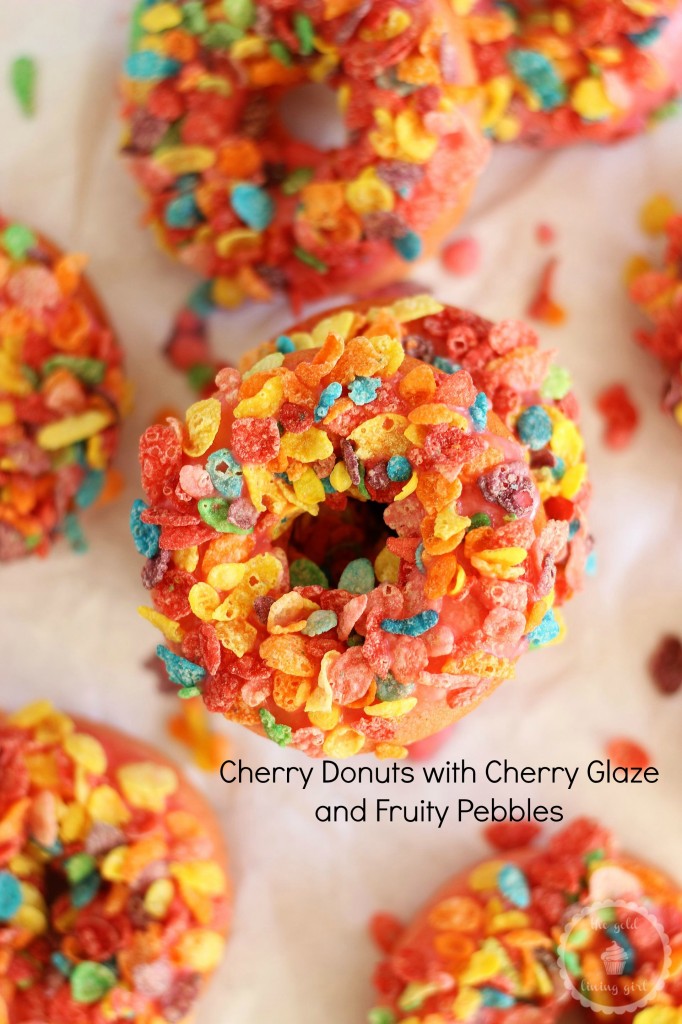 Won't these fun and colorful donuts lull you into believing that spring will be here soon? Let them brighten your morning!