Like the famous sundae, but in pudding pie form! This Banana Split Pie recipe doesn't require an oven, and is super simple to prep!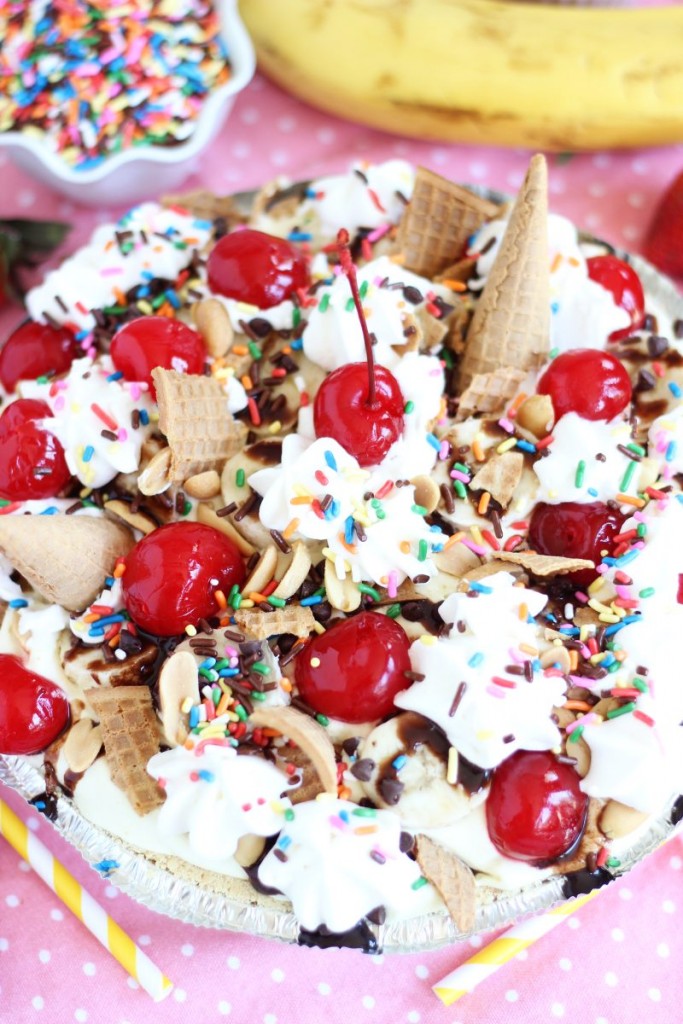 This was a messy pie, y'all. It's the kind of pie where you all just grab a fork and start digging in from the pan.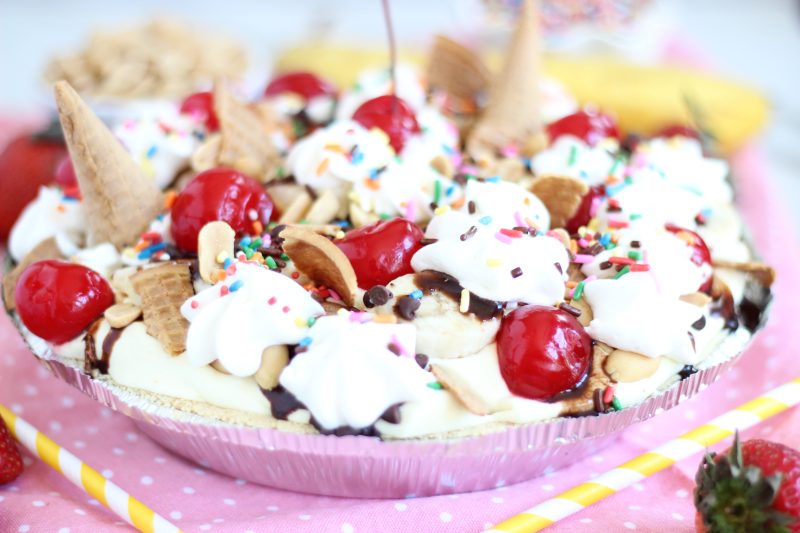 It was so much fun to make. There's a bunch of little layers to this pie. Once you complete the main pudding layers of the pie, you load it up with toppings, just like a sundae. Unlike the sundae though, this has no ice cream. It's a pudding pie, decked out as a banana split! Go here for a great frozen banana split ice cream dessert!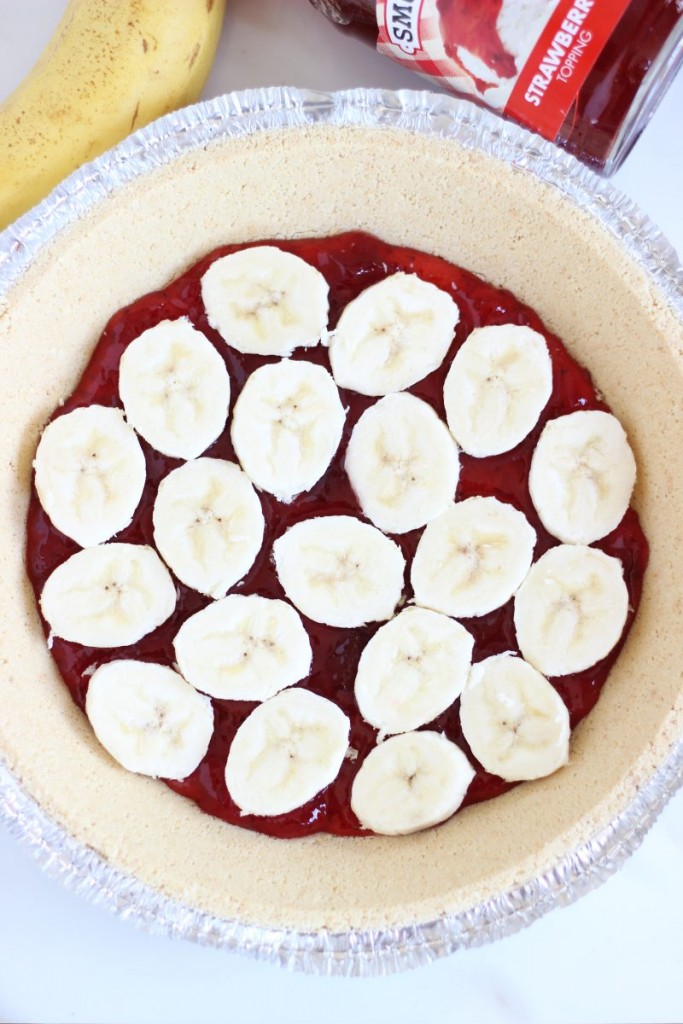 This pie is best for a small family picnic or a girls' night in when you all just want to throw your forks in and go to town. Nothing fancy and no pretenses. Perfect for when you don't need to have a beautiful presentation, you just want something fun, light, and delicious.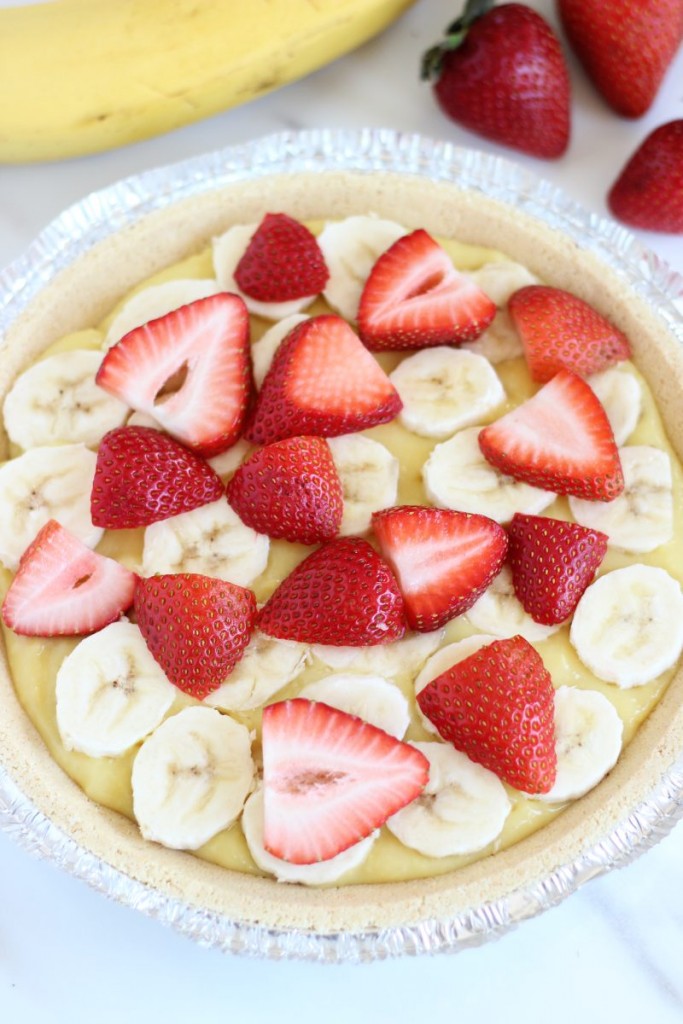 You can cut it into slices, sure, but freeze it first for about 2 hours so that it sets up pretty firm! It softens quickly, so it can be served shortly after cutting.
It's completely no-bake. You don't need an oven at all, so it's a great dessert for summertime when you don't want to heat up the kitchen.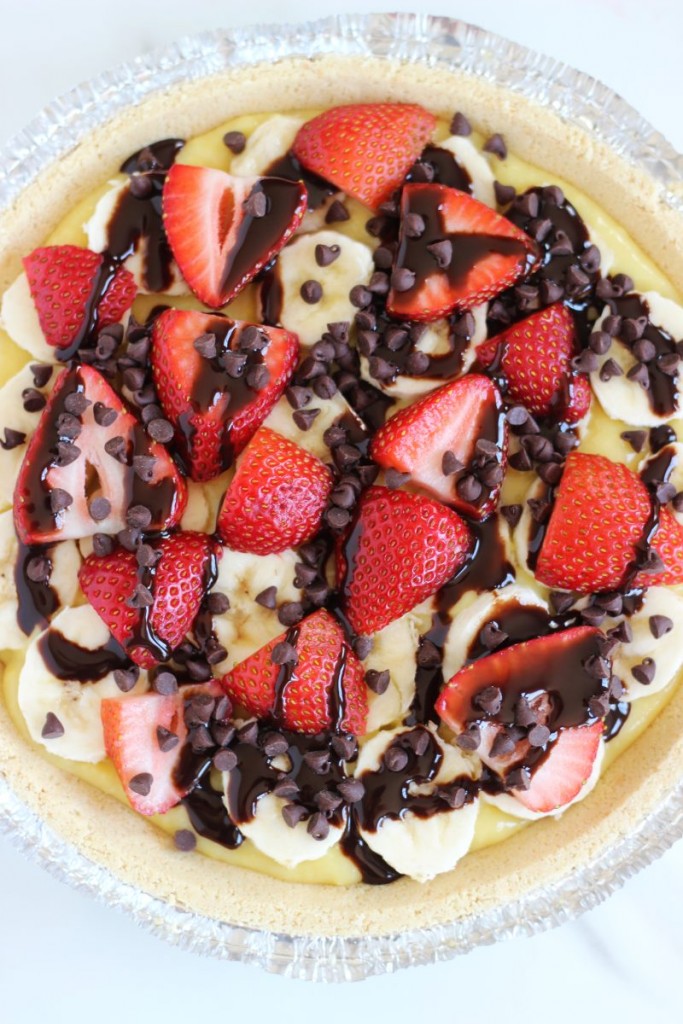 Fair warning: in addition to being messy, it's not a pie that keeps well. It's more of a one shot deal. Bananas just don't last more than a day or two in desserts, so you have to eat banana things up quickly. I know you know what I mean. It's just the nature of banana desserts, but I still wanted to make sure I give you notice!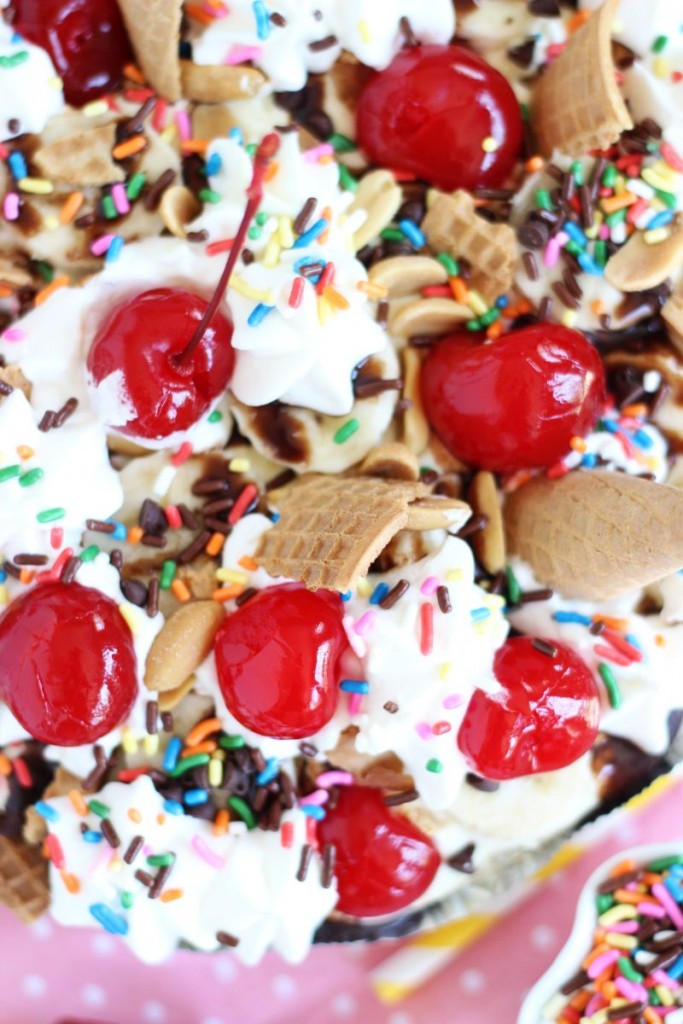 I started off this pie with a prepared shortbread crust (my favorite, and much better than graham cracker!), and spread the bottom of the crust with strawberry preserves for the first layer.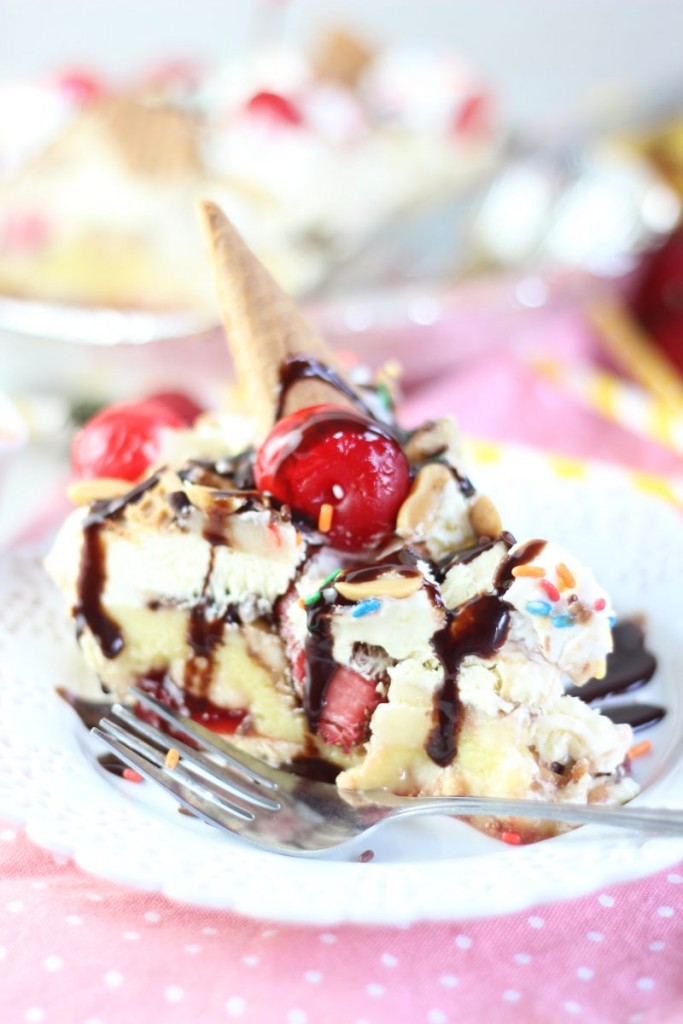 Next up, a layer of sliced bananas. You'll top that with a few layers of pudding, throw in some sliced fresh strawberries, chocolate chips, chocolate sauce, salted peanuts, and maraschino cherries, and you've got the ultimate banana split sundae in a pie!
Set it with a good chill, and you're ready to go.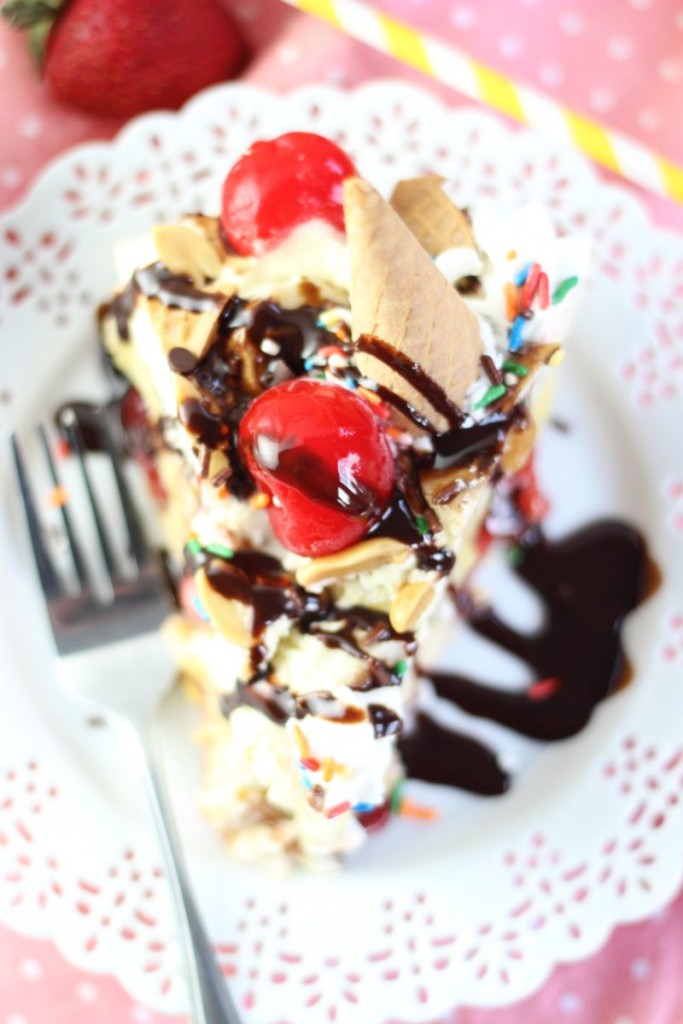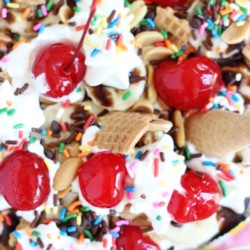 No Bake Banana Split Pie
Like the famous sundae, but in pie form! This Banana Split Pie recipe doesn't require an oven, and is super simple to prep!
Ingredients
1

prepared shortbread crust

1/2

c.

strawberry preserves

3

medium bananas

sliced into 1/2-inch thick disks, divided

2 - 3.4

oz.

boxes instant banana

or vanilla pudding

2

c.

milk

4-5

large strawberries

hulled, sliced

1/2

c.

mini semi-sweet chocolate chips

divided

1/4

c.

chocolate syrup

divided

1 - 8

oz.

container whipped topping

thawed

1/3

c.

chopped salted peanuts

1 - 10

oz.

jar maraschino cherries

drained well

sprinkles

1-2

ice cream waffle cones

crushed, optional
Instructions
Carefully spread the strawberry preserves onto the bottom of the pie crust, taking care not to dislodge any of the crust or crumbs.

Cover the layer of jam with a single layer of banana slices.

In a medium bowl, whisk together instant pudding and milk, stirring until thick.

Spread half of the pudding mixture over the layer of jam and bananas.

Top the layer of pudding with a single layer of banana slices, and the strawberry slices.

Sprinkle half of the chocolate chips and drizzle half of the chocolate syrup over the strawberries.

Add 2/3 of the container of whipped topping to the remaining pudding mixture, stirring until combined.

Carefully spread it over the pie.

Top with dollops of the remaining whipped topping, and with peanuts, maraschino cherries, sprinkles, remaining mini chocolate chips and chocolate syrup, and waffle cones. Garnish as much as you please!

Freeze for 2-3 hours, or until firm, and then pie can be stored in the refrigerator. It just needs a good freeze to "set" it. Cut and serve.