This is the easiest recipe for pull-apart bread, using a convenient short-cut. With a filling of pumpkin, brown sugar, and pecans, and topped with butterscotch sauce!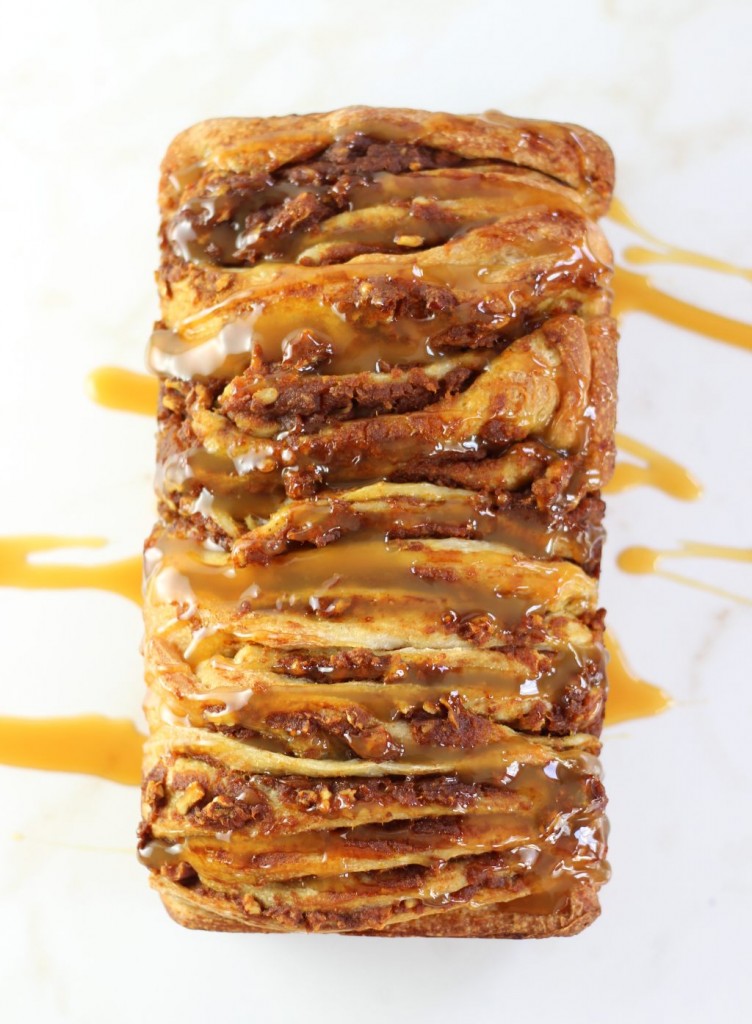 Woooow, it's November? That doesn't even feel close to being possible. 
I do not remotely feel ready for it to be the holiday season. Even though I'm super excited for it, I don't feel mentally prepared.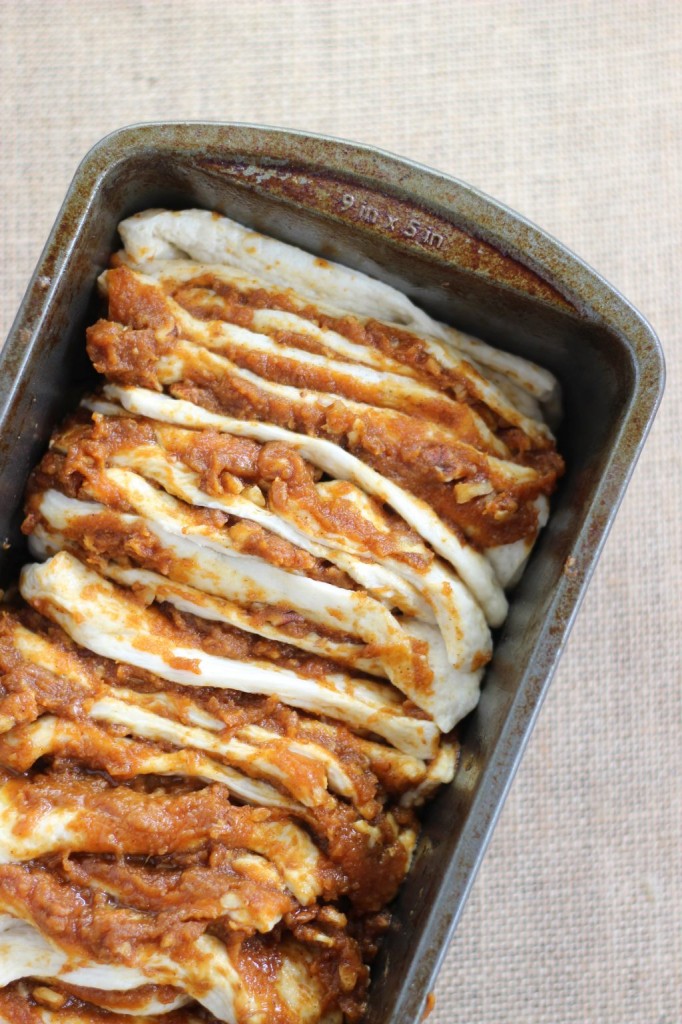 I love these next two months of the year, and my favorite holidays are approaching – I think Thanksgiving and Christmas are everyone's favorite holidays – but can I get an 'Amen' that it's all happening too fast? You would think that making pumpkin recipes for the last two months would have me closer to feeling ready, but I'm not.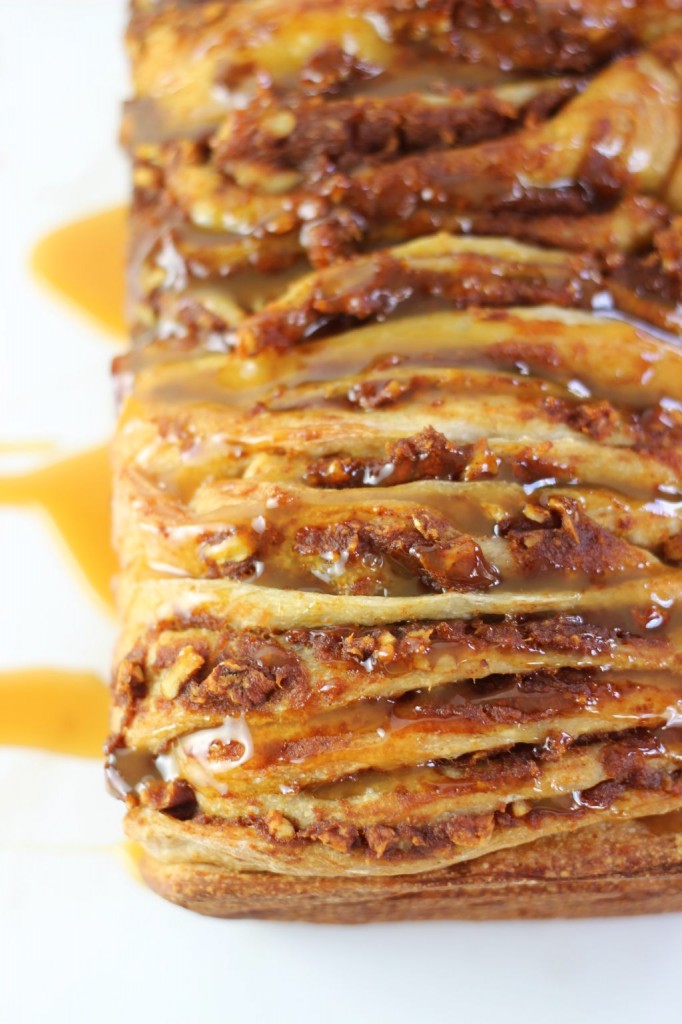 I was flipping through the tv channels a few days ago when it was still technically October, and I noticed that the Hallmark channel was already airing 24/7 Christmas movies. In October!! Before Halloween! Madness. I guess Hallmark doesn't have a lot of heartwarming Halloween movies to feature.
I have a bunch of holiday recipes to share soon, but until my head is in the right place, we'll just truck along with more general recipes involving pumpkin. They are still crowd-pleasers!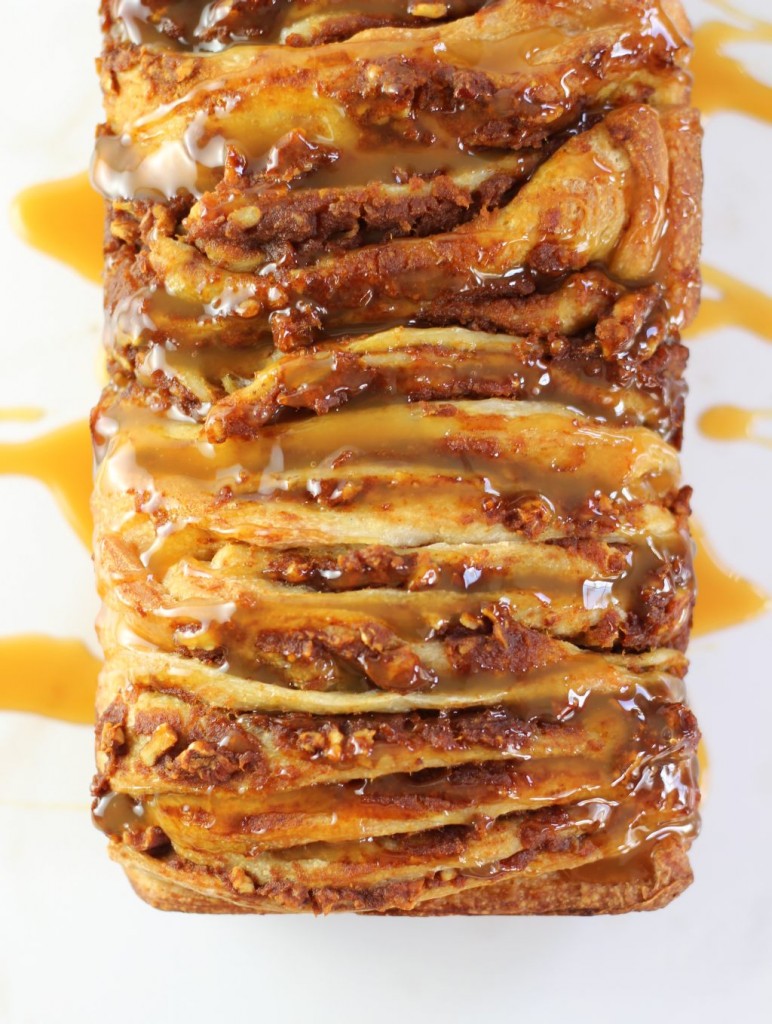 I've wanted to make pull-apart bread for the longest time, but being chronically petrified of baking with yeast, I've put it off time and again. When I stumbled on a video of this short-cut version of a pumpkin pull-apart bread, I had to try it.
I changed a few things to accommodate my own flavor preferences, but it was still ridiculously simple. This Easy Pumpkin Pecan Pull-Apart bread starts with cans of prepared pizza crust that you unroll, slather in a simple pumpkin pie and pecan filling, and top with butterscotch sauce.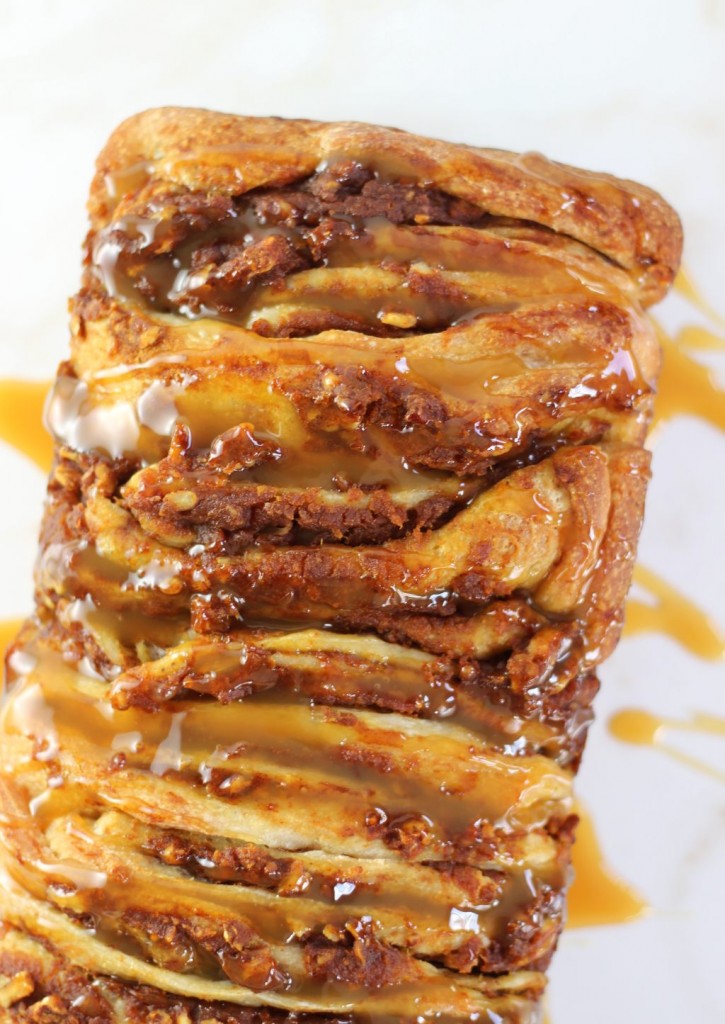 Prep time is 10 minutes, tops. The end result is an impressive, show-stopping pull-apart bread that is crispy at the edges, surprisingly pillowy and soft in the middle, and is full of pumpkin pie flavor, brown sugar, cinnamon, and pecans. This was an awesome recipe discovery, especially given how little effort it takes for such a delightful result!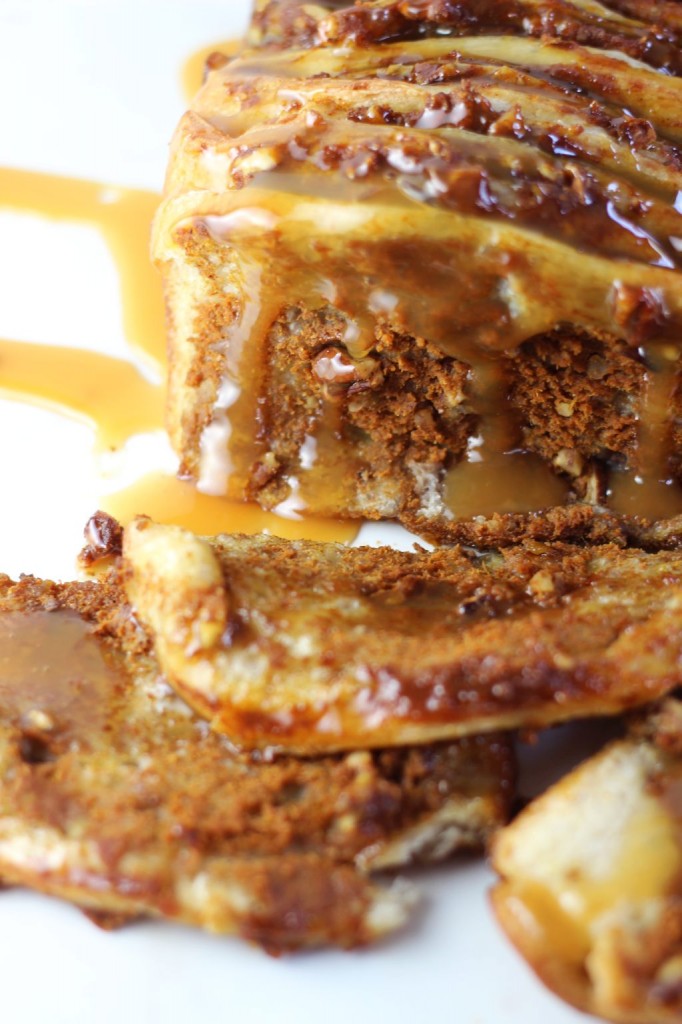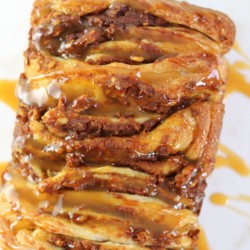 Easy Pumpkin Pecan Pull-Apart Bread
This is the easiest recipe for pull-apart bread, using a convenient short-cut. With a filling of pumpkin, brown sugar, and pecans, and topped with butterscotch sauce!
Ingredients
1

c.

canned pumpkin puree

1/2

c.

packed brown sugar

1/2

c.

chopped pecans

1

tsp.

cinnamon

2

tbsp.

unsalted butter

melted

2 - 7-

oz.

cans prepared thin-crust pizza crust

1

jar prepared butterscotch sauce

divided
Instructions
Lightly grease a 9x5-inch loaf pan.

In a small bowl, combine the pumpkin puree, brown sugar, pecans, and cinnamon, mixing well.

Unroll one of the pizza crusts onto a lightly floured surface.

Brush with 1 tbsp. melted butter.

Spread evenly with 1/2 of the pumpkin mixture.

Drizzle with 1/4 c. butterscotch sauce.

Using a pizza cutter or sharp knife, cut into 18 rectangles by cutting it length-wise into thirds, and width-wise into sixths. Basically, cut it 3x6.

Stack the squares and place them in the prepared loaf pan.

Repeat the process with the second pizza crust, stacking the squares into the loaf pan.

Bake at 325 degrees for 50 minutes, or until edges are golden brown, and the bread has risen in the middle.

Remove from heat, and allow to cool for 15-20 minutes before serving.

Drizzle with additional butterscotch sauce. DEVOUR!
Adapted from College Cook.