A marriage of the best summer and fall veggies, this Pumpkin Zucchini Bread With Brown Butter Icing is moist, dense, hearty, and simple too. It features LOTS of pumpkin & spice, throw in shredded zucchini, and top it generously with brown butter icing, and this Pumpkin Zucchini Bread is an instant fall classic!
To easily view all the blog recipes, follow along on Pinterest!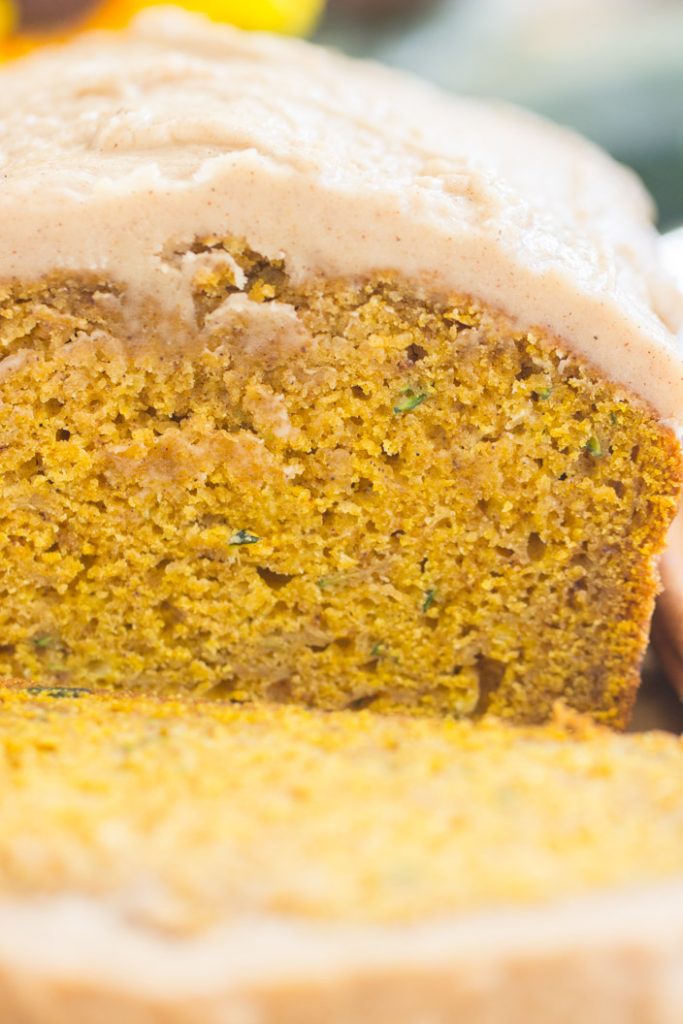 Can't believe I never thought to do this before, but we're doing it now: pumpkin and zucchini, TOGETHER! A lightbulb went off this year, and it's about time I had that lightbulb moment. We definitely needed to combine these best veggies, and the first product of this new partnership is this Pumpkin Zucchini Bread.
Botanically, both pumpkin and zucchini are fruits, I guess, but whatever.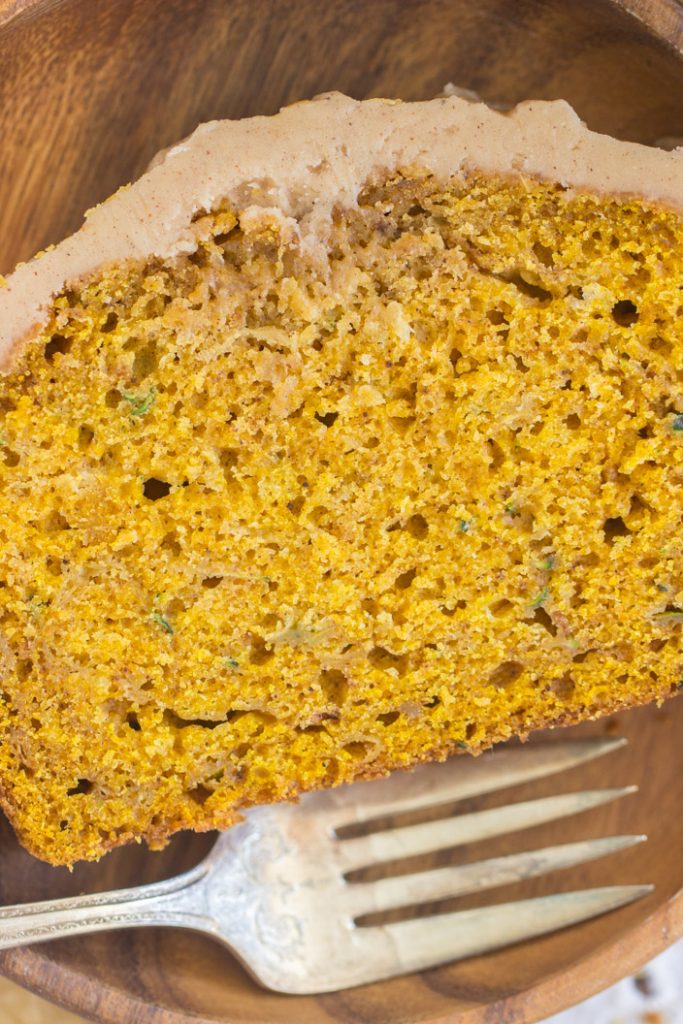 In the interest of full disclosure, I might've combined pumpkin and zucchini in at least two other upcoming recipes, so I hope you're down for this combo. You should be — it's quite fab!
I've become infatuated with zucchini the last few summers. I've always liked zucchini in baked goods, but it's on another level the last few years. Zucchini is like the pumpkin of summer to me.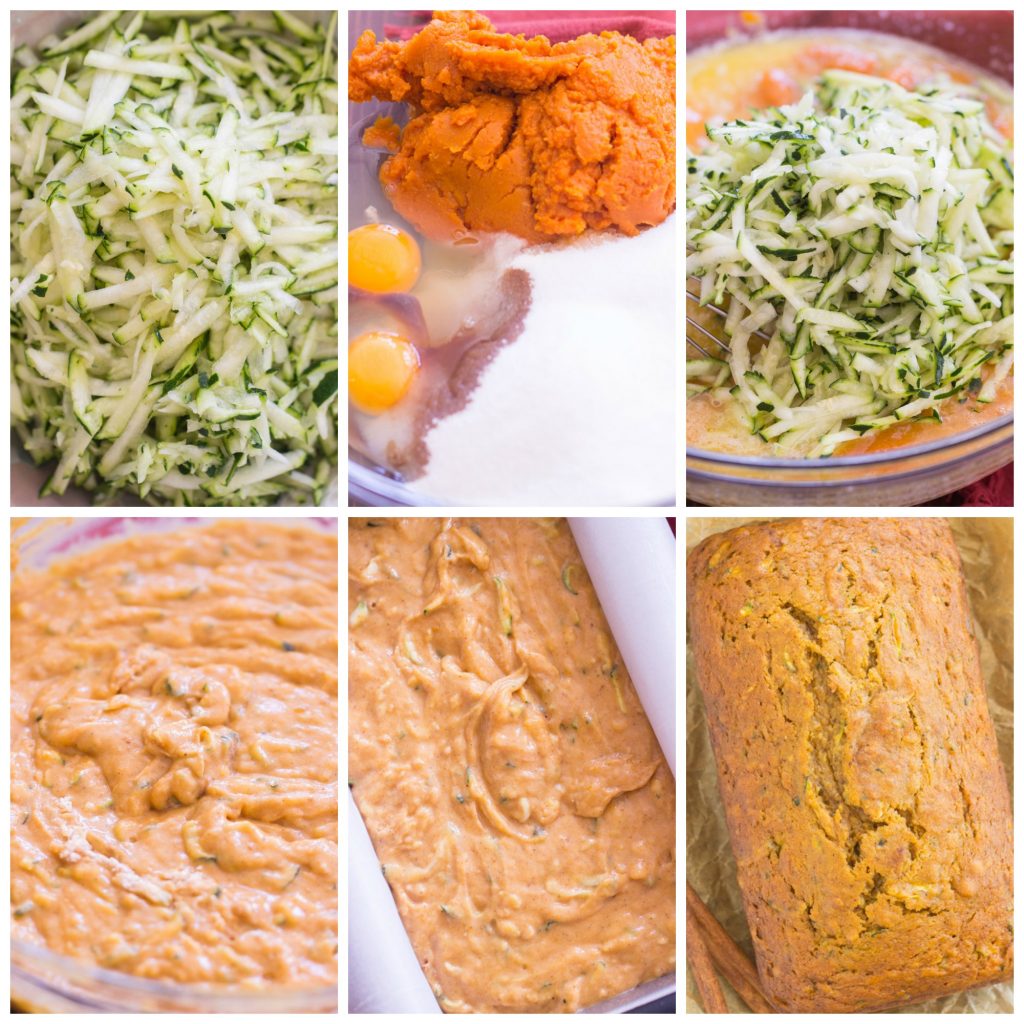 All I want during the fall is pumpkin stuff. And now, all I want all summer is zucchini stuff. Well, and no bake pies too. I'm really into simple pie recipes during the summer.
This Pumpkin Zucchini Bread is super special for a host of reasons. Let's discuss.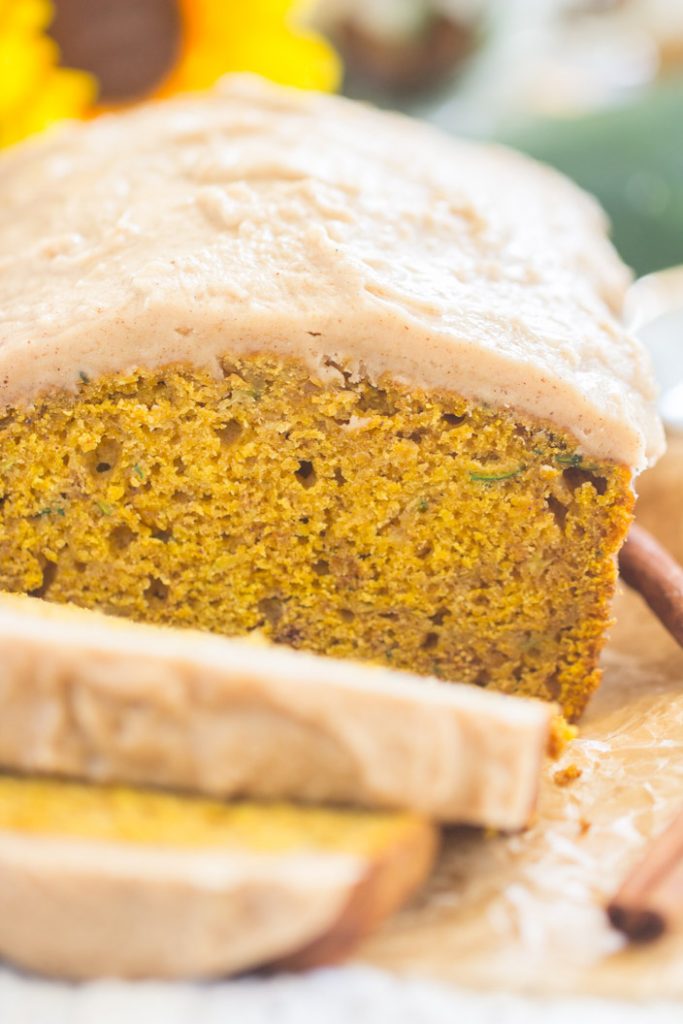 It may actually be easier to start with the icing than the bread. I've gone on and on about brown butter over the years, and it is one of the best food discoveries of my entire life. I adore brown butter, and it makes everything better. It's a magical substance. It's particularly amazing in icings and frostings where it can really stand out and shine.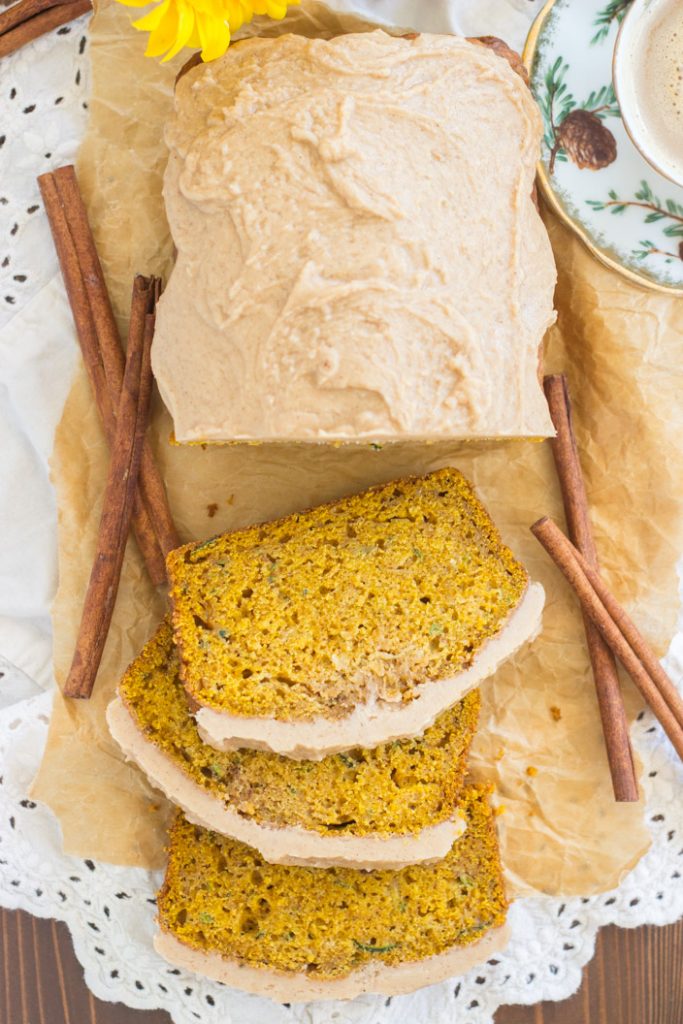 For example, these Pumpkin Cookies with Brown Butter Icing are epic. The icing is a huge reason for that. This Brown Butter Frosting recipe is thicker and more like a buttercream, and is transformative to anything it touches. A standard cake mix cupcake will knock your socks off if you top it with that brown butter frosting. I've also used it on these Zucchini Bars and these Gingerbread Latte Cupcakes, among other things.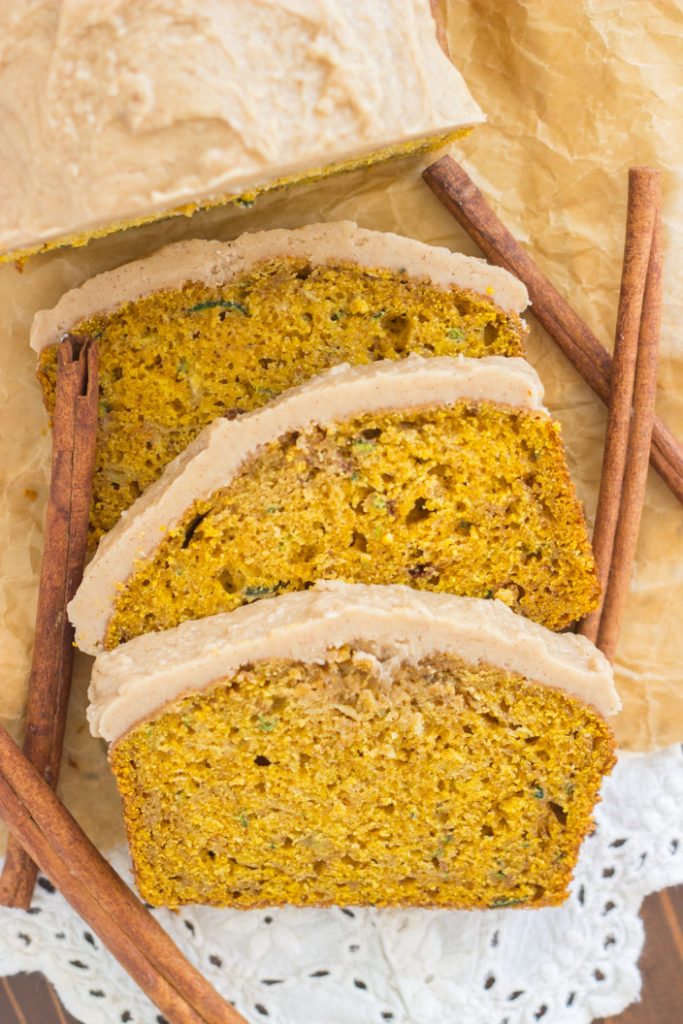 It's just the best on anything really, but I do especially love brown butter with pumpkin baked goods and zucchini baked goods, so it made the most sense to use brown butter icing on something that is BOTH pumpkin and zucchini!
The bread…. there'd be a few ways to arrive at this Pumpkin Zucchini Bread. You'd probably first think to tweak a classic zucchini bread recipe to include pumpkin, or vice-versa, but I took a more round-about approach.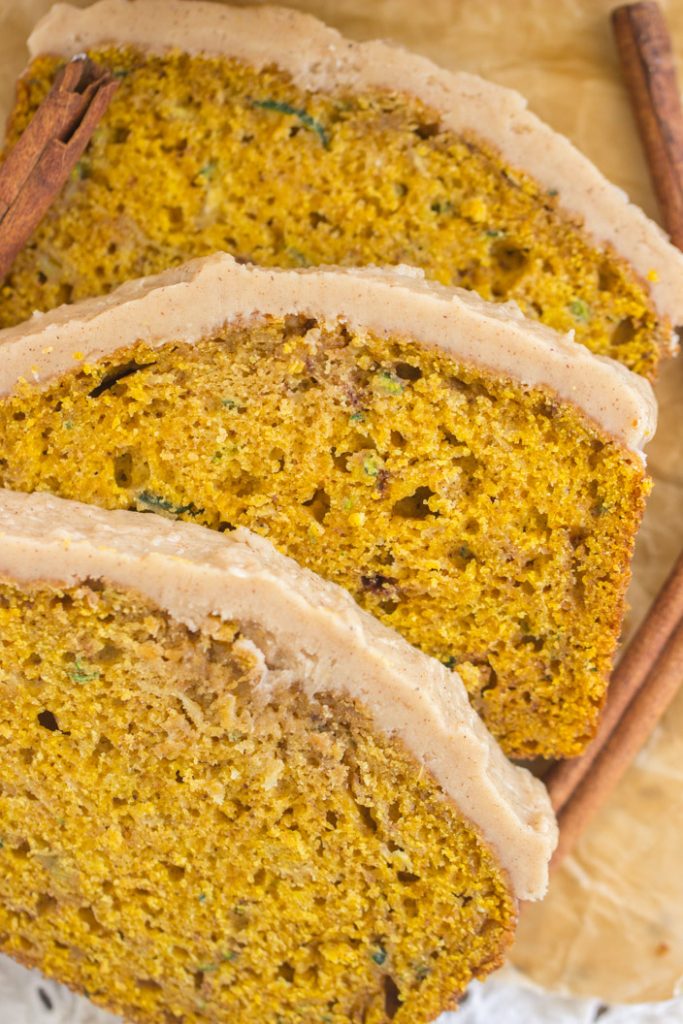 I actually started with my favorite Banana Bread recipe, one of the longest-standing, most tried-and-true recipes in my arsenal, tweaked it into Zucchini Banana Bread first, and then from there, eighty-sixed the banana altogether, added pumpkin instead, and here we are.
If you love pumpkin bread separately, and you love zucchini bread separately, this Pumpkin Zucchini Bread is a natural jump. It's a perfect mash-up. It's the best of both worlds, and it isn't just a gimmick. I'm not forcing these two ingredients together. Pumpkin and zucchini mesh beautifully.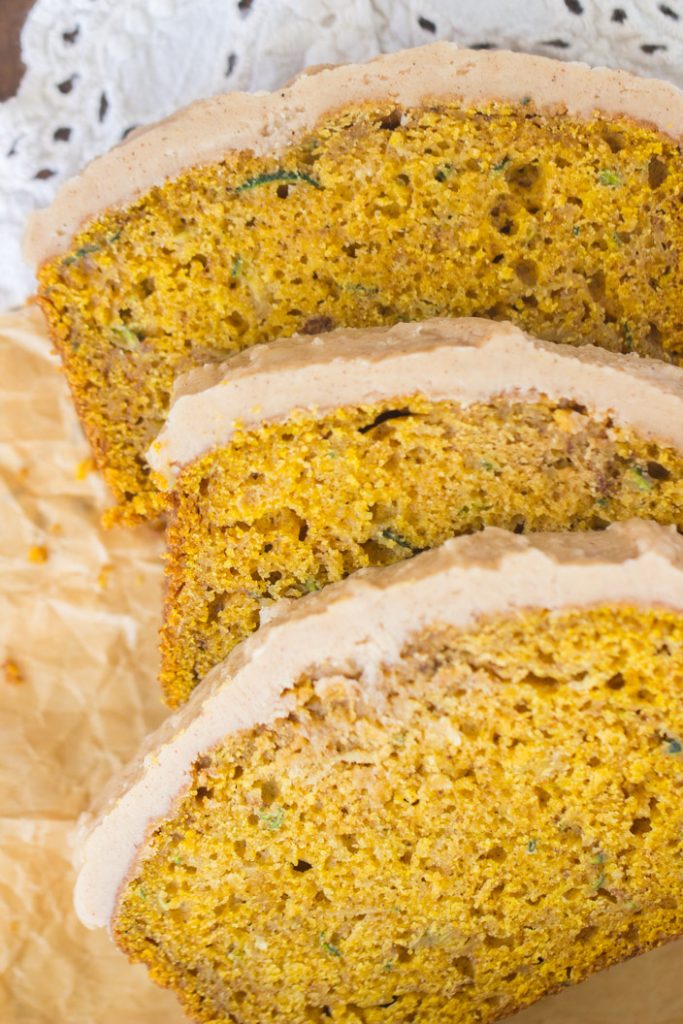 Pumpkin is slightly more prominent in this recipe, but the essence of zucchini is still there too. The zucchini adds very subtle flavor, a touch of sweetness, and extra moisture. They're extremely complementary.
With the right spices to enhance them, both pumpkin and zucchini show up to the party and make their presence known. Besides delightful flavor, this Pumpkin Zucchini Bread is insanely moist. It's hearty and substantial, but not heavy or weighed down. Dense, but soft. I really mean it when I tell you that it's an instant classic, a recipe I'll make every fall now.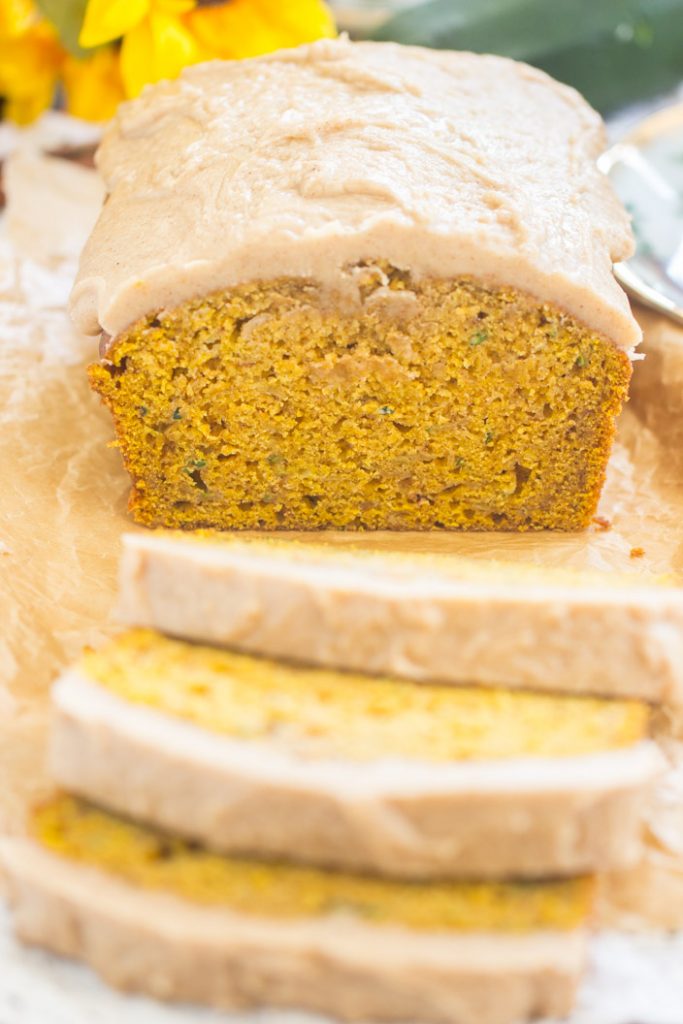 So will you be putting this Pumpkin Zucchini Bread with Brown Butter Icing on your fall baking list?? Give it a shot, and let me know what you think.
If you're still on a zucchini kick into fall, here are 12 of my most favorite, very best zucchini recipes. It's a little outdated and doesn't include some recent recipes, like this unbelievable Streusel Apple Zucchini Bread… my favorite zucchini recipe this year, hands down. Also new this year were these Oatmeal Raisin Zucchini Cookies. YUM.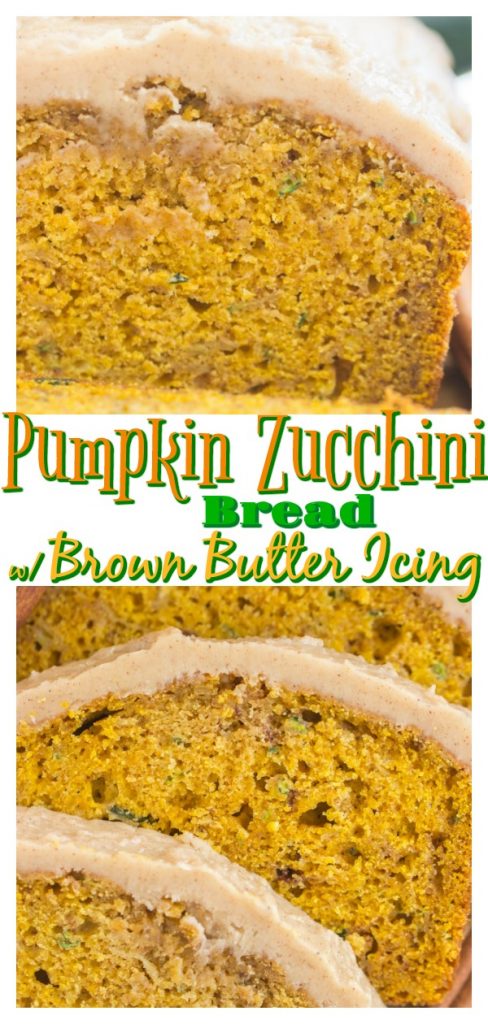 Other standouts are this Lemon Blueberry Zucchini Bread, and this Orange Zucchini Bread with Orange Glaze. Both have many positive reviews and high marks from readers.
Looking for more options for pumpkin bread-type things? These Pumpkin Apple Streusel Muffins are delightful, these Snickerdoodle Pumpkin Nutella Muffins are totally addictive, and these Streusel-Topped Pumpkin Pecan Scones blow Starbucks scones out of the water!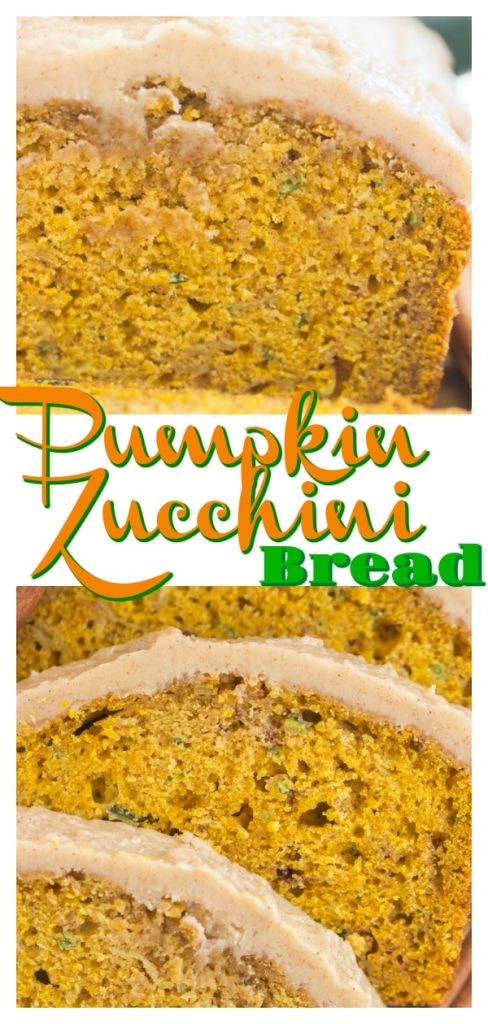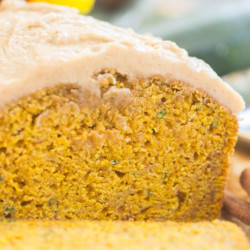 Pumpkin Zucchini Bread with Brown Butter Icing
A marriage of our favorite summer and fall veggies, this Pumpkin Zucchini Bread With Brown Butter Icing is moist, dense, hearty, and simple too. It features LOTS of pumpkin & spice, throw in shredded zucchini, and top it generously with brown butter icing, and this Pumpkin Zucchini Bread is an instant fall classic!
Ingredients
For pumpkin zucchini bread:
3

large

eggs

2

cups

granulated sugar

1

cup

butter

melted

2

cups

grated zucchini

about 2 medium

1

cup

canned pumpkin puree

2

tsp.

vanilla extract

3

cups

all-purpose flour

1

tsp.

baking soda

1/2

tsp.

baking powder

1/2

tsp.

salt

1 1/2

tsp.

cinnamon

1/2

tsp.

pumpkin pie spice

1/4

tsp.

nutmeg

1/4

tsp.

ground cloves
For brown butter icing:
3

cups

powdered sugar

1/2

cup

butter

3 - 4

tbsp.

heavy cream

1

tsp.

vanilla extract
Instructions
For pumpkin zucchini bread:
In a large bowl, whisk together eggs, sugar, butter, zucchini, pumpkin, and vanilla.

In a medium bowl, whisk together flour, baking soda, baking powder, salt, cinnamon, pumpkin pie spice, nutmeg, and cloves.

Add the dry ingredients to the wet ingredients, and stir until just combined. Do not overmix - a few lumps are okay.

Line two 9x5-inch loaf pans with foil or parchment paper, allowing the edges to hang over the sides. If using foil, spray lightly with non-stick spray.

Pour batter into loaf pans filling just over halfway each.

Bake at 350 degrees for 50-60 minutes, or until edges are golden and a toothpick inserted near the centers comes out clean. I recommend rotating pans about halfway through baking.

Remove to a wire rack to cool for 10-15 minutes.

Run a knife around any edges to loosen where the bread is directly touching the pans. Using the foil or parchment paper edges, carefully lift the breads out of the pans and cool completely on a wire rack.
For brown butter icing:
Prepare icing once breads are completely cooled. This icing 'sets', and while it can be revived once it sets by popping it in the microwave, it's best to make it fresh when you're ready to top the bread.

Place the powdered sugar in a medium bowl, and set aside.

Melt butter in a small saucepan over low-medium heat, stirring frequently, until it foams, the foam dissipates, it turns a deep golden brown, and develops brown flecks and a nutty fragrance, about 10 minutes or so. Toward the later stages, around the time it begins to foam, watch the brown butter very closely. It can go from 'brown' to 'burned' quickly.

Remove from heat, cool 2-3 minutes, and *carefully* pour over powdered sugar. Don't forget it's still hot.

Add 3 tbsp. heavy cream and vanilla, and vigorously whisk the mixture until smooth. If the icing seems to seize or separate, you just need to reeeeeeally mix it to emulsify. You can use an electric mixer, if preferred. But don't give up thinking it's ruined, it just needs to be emulsified, so give it a serious mixing! Icing should be thin enough to spread, but not runny or drippy. Add additional milk or powdered sugar, as needed, to achieve desired consistency.

Spread brown butter icing evenly over loaves. Allow to set. Cut and serve.

Store in airtight containers. At room temperature, loaves will keep for 4-5 days. They'll keep for about a week if stored in the fridge. They freeze beautifully if well-wrapped!