Gingerbread cupcakes, loaded with molasses and spice, spiked with coffee, and topped with the world's best frosting – brown butter buttercream. Quick to become a holiday favorite!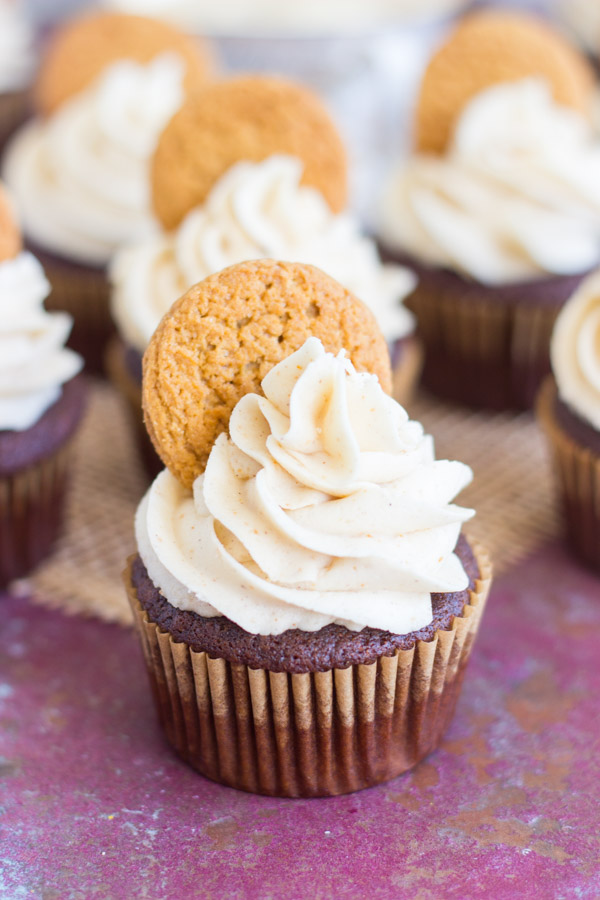 Happy Monday! I hope you're all enjoying the 12 Days of Christmas giveaways. There's a few running on the blog, and then there are also a few on Instagram and Facebook, so make sure to stop by there too. With 7 days to go still, there's a lot of opportunity to win.
I really appreciate you guys, and I love the community that we've built here. I get some of the nicest comments and feedback from readers, and these giveaways are the opportunity to thank you for the support.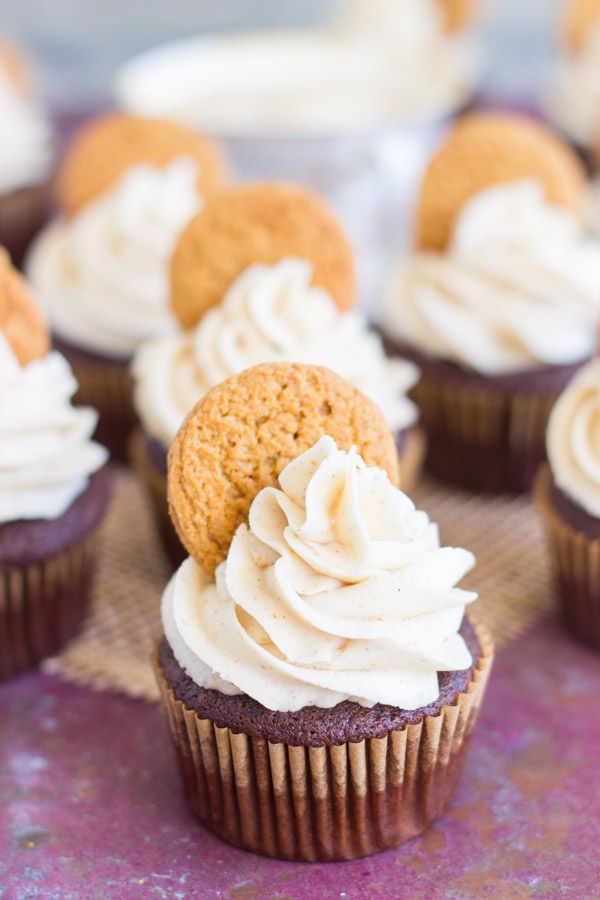 I'm excited about today's recipe and I'll be honest when I tell you that it has almost everything to do with the brown butter buttercream. The cupcakes are divine too, but I pilfered the recipe from King Arthur Flour, and all I did was spike them with coffee, so there wasn't a ton of innovation on my part with the cupcakes. I'm really proud of the brown butter buttercream and am basically losing my mind over how good it is.
I had the idea for it and made it before I ever even knew what I'd be putting it on. I wasn't sure it was going to work out to brown the butter, solidify it, and then whip it into buttercream. It works, and it's the best frosting imaginable.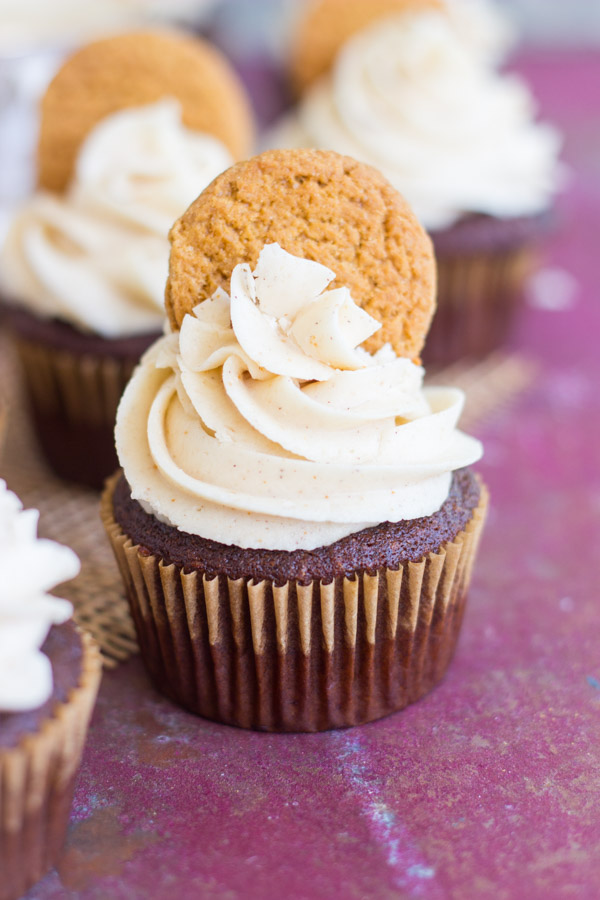 I knew I wanted to make gingerbread latte cupcakes for this holiday season, but I hadn't decided what I was topping those with yet. Caramel buttercream? Cream cheese buttercream? There were a lot of directions to go, but I threw some of the brown butter buttercream on top, and decided it was a win.
Honestly, there's not a whole lot that this buttercream wouldn't go perfectly with.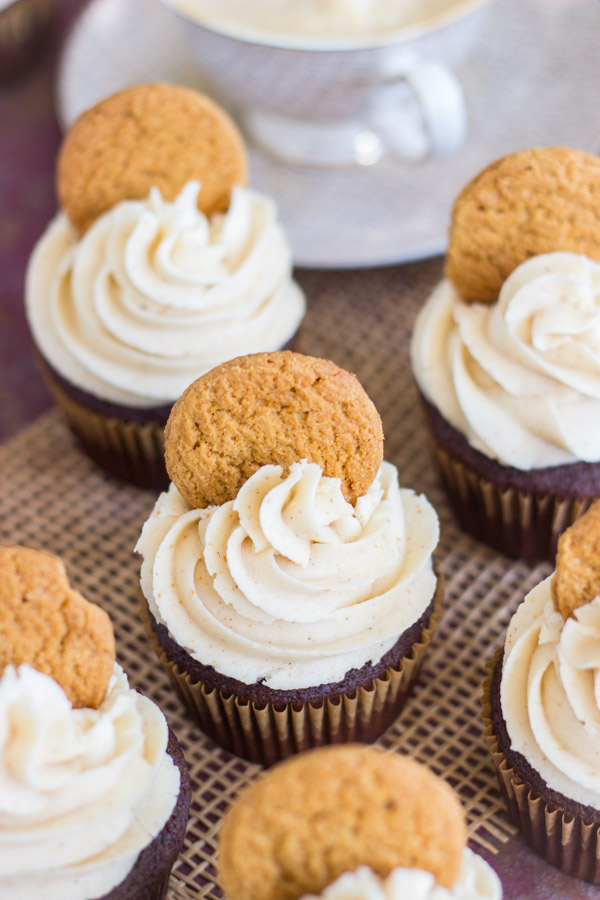 For these cupcakes specifically, I whipped a little ginger into the buttercream, and it really tied everything together. The ginger and spices from the cupcakes were brought into the frosting too.
Brown butter is one of my favorite foods on the planet, and the caramel-like flavors and nuttiness that you get with browning butter cannot be beat. It's just the best stuff, and please tell me you've tried it?? Because then I don't have to keep trying to describe it, but knowing that I will never be able to properly talk about how amazing it is.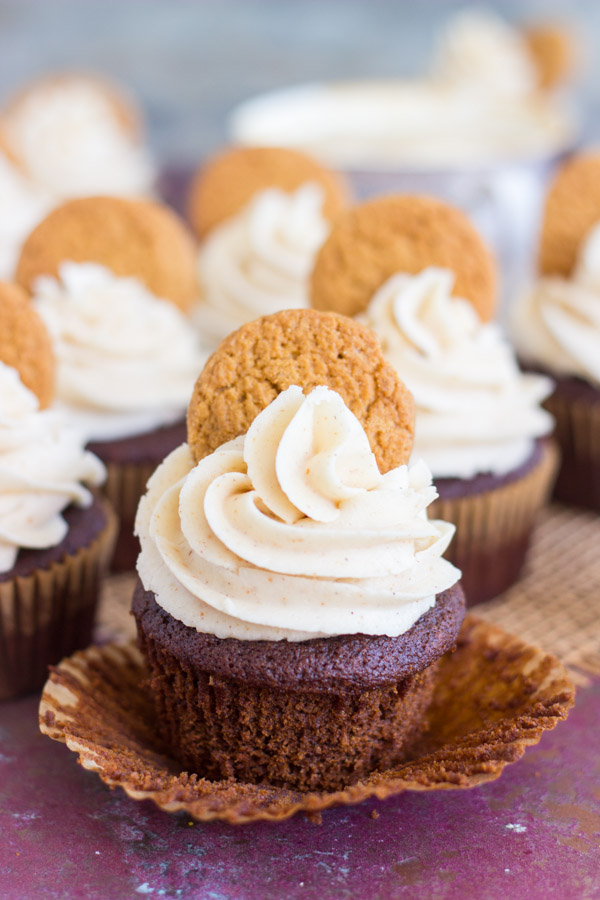 As much as I'm raving about the buttercream, the cupcakes are delightful too. They're really spicy with clove, nutmeg, and ginger, and they're packed with brown sugar and molasses, so they are long on 'gingerbread'. But they're moist and fluffy cupcakes too, and I didn't really fiddle a lot with the recipe, but to swap out boring ol' water for strongly brewed coffee = gingerbread latte. Much better, IMO. The coffee does a lot to enhance these, but without overtaking the gingerbread component!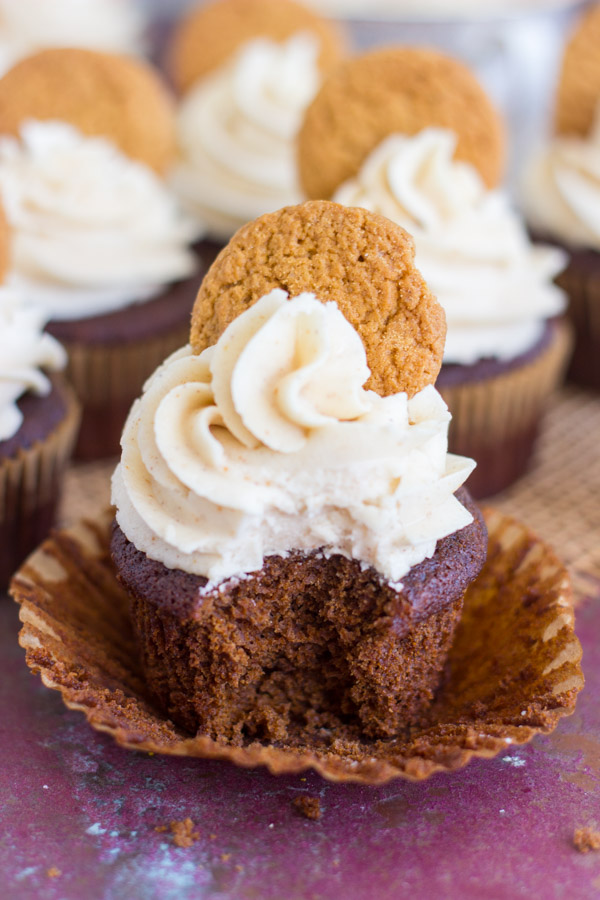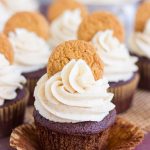 Gingerbread Latte Cupcakes with Brown Butter Buttercream
Prep Time
1
hour
30
minutes
Ingredients
For Gingerbread Latte Cupcakes:
1 3/4

c.

all-purpose flour

1

tsp.

baking soda

1 1/2

tsp.

cinnamon

2

tsp.

ginger

1/4

tsp.

ground clove

1/4

tsp.

nutmeg

1/4

tsp.

salt

1/2

c.

unsalted butter

melted

1/2

c.

packed brown sugar

1/2

c.

molasses

1

large egg

1/2

c.

strong brewed coffee

cooled
For Brown Butter Buttercream:
1

c.

unsalted butter

4 - 5

c.

powdered sugar

1/4

c.

heavy cream

1/4

tsp.

ginger
Instructions
For Gingerbread Latte Cupcakes:
In a large bowl, stir together flour, baking soda, cinnamon, ginger, clove, nutmeg, and salt.

In a medium bowl, whisk together butter, brown sugar, molasses, egg, and coffee.

Add the wet ingredients to the dry ingredients, and whisk until smooth.

Line regular-sized muffin cups with paper liners.

Fill muffin cups 1/2-full with batter.

Bake at 350 degrees for 18-20 minutes, or until a toothpick inserted near the center of a cupcake comes out clean.

Remove to wire racks to cool. Cool completely.

Meanwhile, prepare brown butter buttercream.
For Brown Butter Buttercream:
Melt butter in a small saucepan over medium heat, stirring frequently, until golden brown. It will develop brown flecks and a nutty fragrance. (About 6-8 minutes.)

Transfer to a small heatproof bowl, and refrigerate until firm, at least 1 hour.

In a large mixing bowl, beat butter until creamy.

Add 4 c. powdered sugar, 1/4 c. heavy cream, and ginger, beating until light and fluffy. Add more powdered sugar, as needed.

Pipe or spread frosting over cupcakes.
Cupcakes adapted from King Arthur Flour.