This simple Banana Cake recipe has only the most basic pantry staples as ingredients (plus bananas!). It boasts seriously intense banana flavor, yet it's not dense or weighty like banana bread. Nope, my Banana Cake is moist, fluffy, and tender. Brown Butter Icing, made with nutty, fragrant, toasty, rich brown butter, complements this cake with an irresistible caramel-like wonderfulness.
To easily view all of the blog recipes, follow along on Pinterest!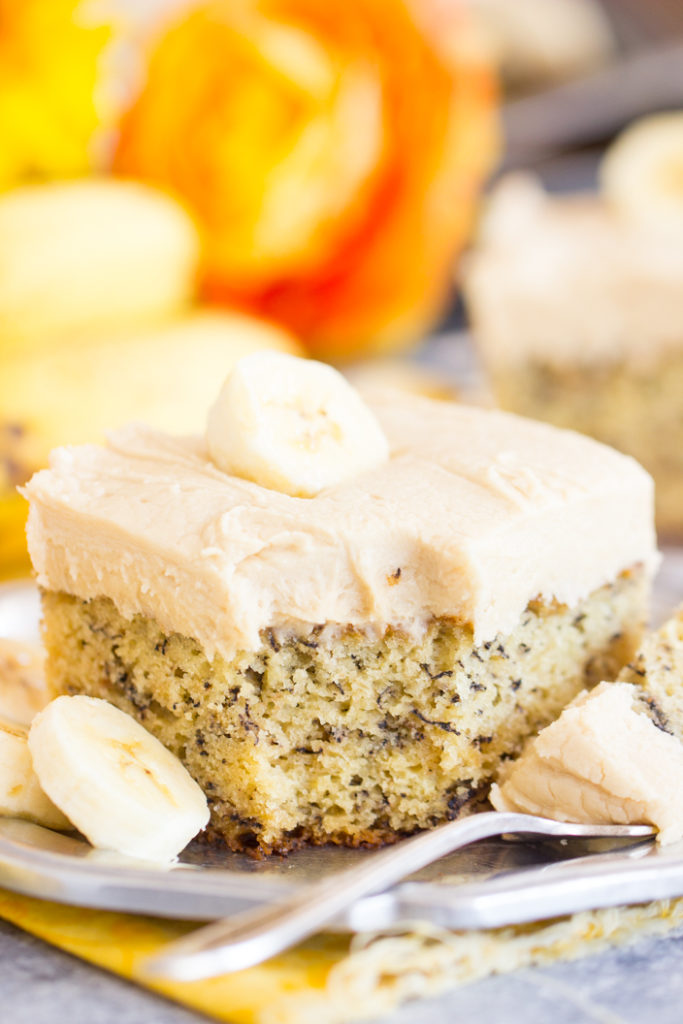 Good morning! How is everyone hanging in there? What happened to April? The whole month was a complete blur. Even though April felt like one of the longest months of my life — I'm sure it felt like that for many of us — it also feels like it never even happened. Every day was the same, and it all runs together.
I think we're still going to be home a lot, even as things begin to open up. So I hope it's not too late to share a banana recipe, seeing as though an obligatory activity in quarantine is apparently making Banana Bread! But switch it up — how about Banana Cake??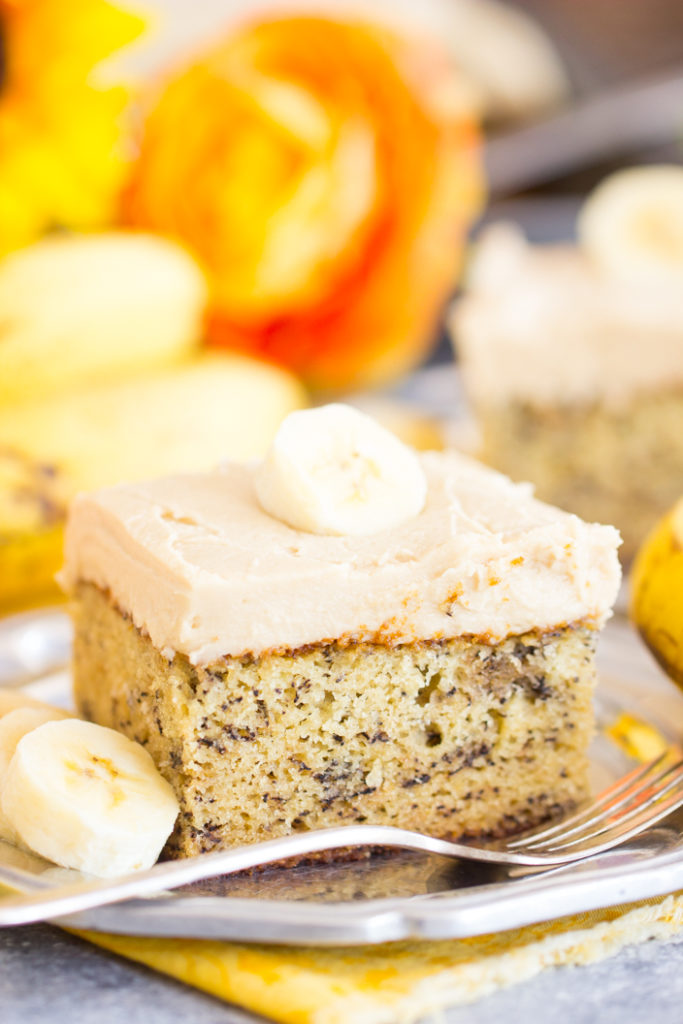 I have done soooo much baking. We're getting outside as much as possible… bike rides, walks, lounging in our 5-foot inflatable pool from Amazon ($23!). However, if I'm not outdoors, or working my day job, I'm baking.
As much as I can, I'm making things that only require pantry staples.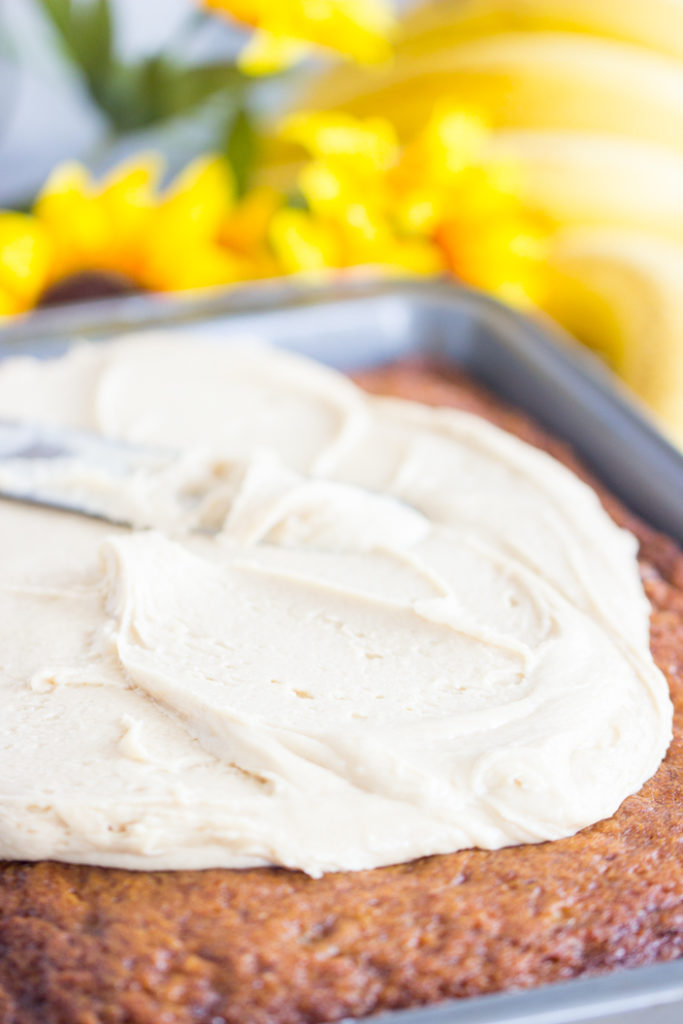 This Banana Cake is a good example. It really doesn't take any ingredients beyond your basics: butter, sugar, eggs, vanilla, flour, and baking soda. Oh, and bananas. Short, simple ingredients, top-notch end result.
I have yet to see a banana shortage in stores. What about you? If anything, I experience shortages in my own house, but that's about it.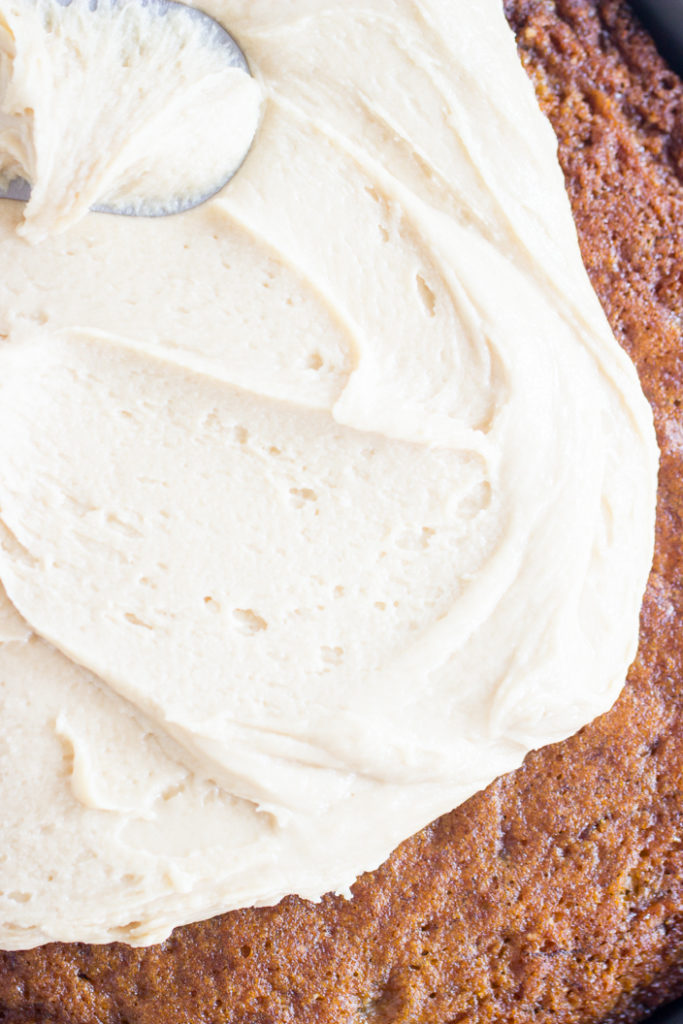 I've said this before, but it still holds true today — my S.O. eats about 3 bananas per 24-hour period, and it's nearly impossible for me to get my hands on any. I LOVE baking with bananas, but he plows through them so quickly.
The other thing is he gets panicked that the bananas are going bad, and that they'll go to waste before I bake something with them.
They'll only just start to get a little spotty and brown, and he eats them! I can't tell him enough times that I actually need the bananas to get brown, and that extremely ripe bananas make the best baked goods. He panics about it!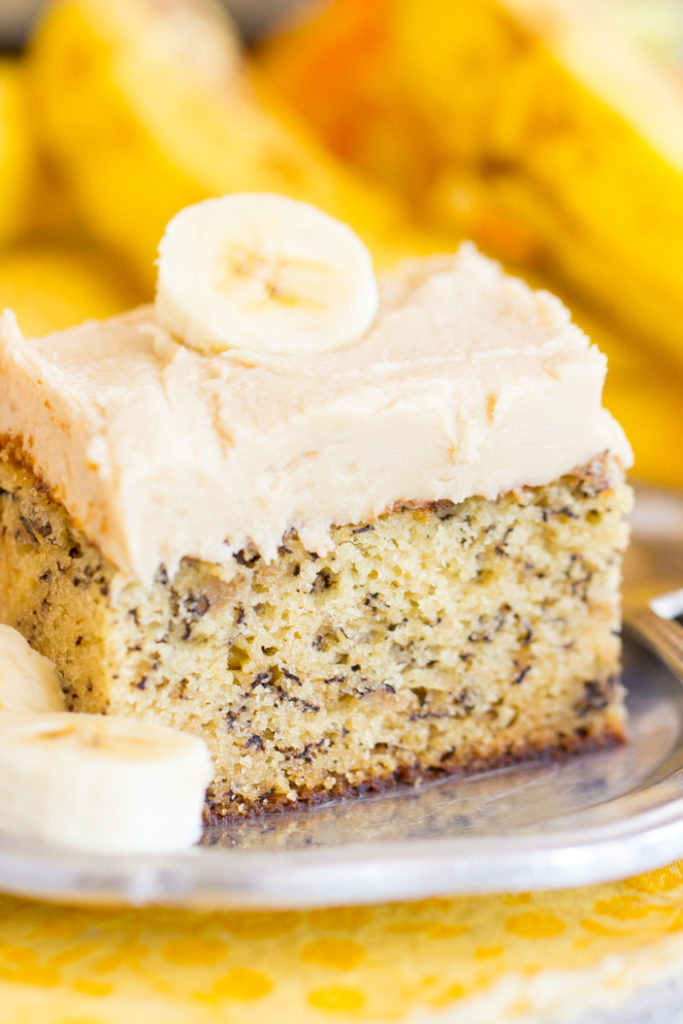 WHAT SHOULD MY BANANAS LOOK LIKE FOR BANANA CAKE?
That's what you want for this recipe though…. bananas that are VERY spotty, soft, and quite brown. Very ripe. Almost too ripe. If you don't want to wait for that to happen, and you're craving Banana Cake STAT, bake unpeeled bananas on a baking sheet at 300 degrees for about 12-15 minutes. Let them cool a few minutes, peel, and you're good-to-go.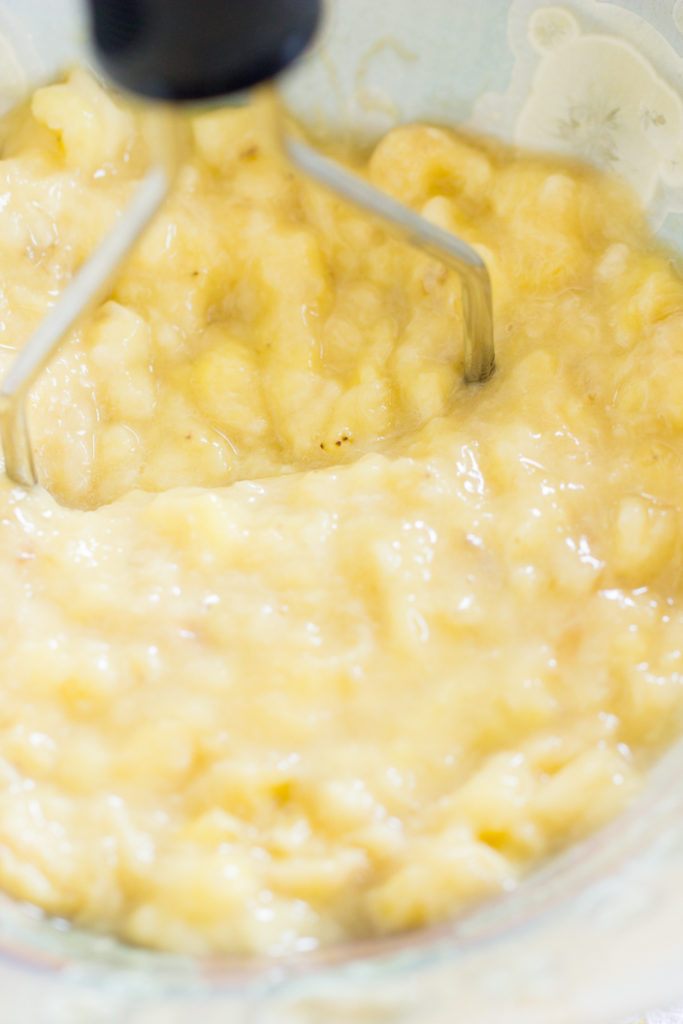 WHAT VARIATIONS CAN I MAKE WITH BANANA CAKE?
I've had this Banana Cake recipe for a lot of years now, and I come back to it again and again. I've made tall, layered cakes with this, I've spiked it with rum for a tropical effect, thrown in walnuts or pecans, made it into a sheet cake with cream cheese frosting, and today I'm sharing it as a sheet cake again, but with Brown Butter Frosting.
You can add coconut, any kind of nuts, and obviously vary the frosting. Cream cheese is a classic option, but brown butter is never a bad idea. I also suggest Nutella Buttercream or even Peanut Butter Frosting! So many things complement bananas, your options are many.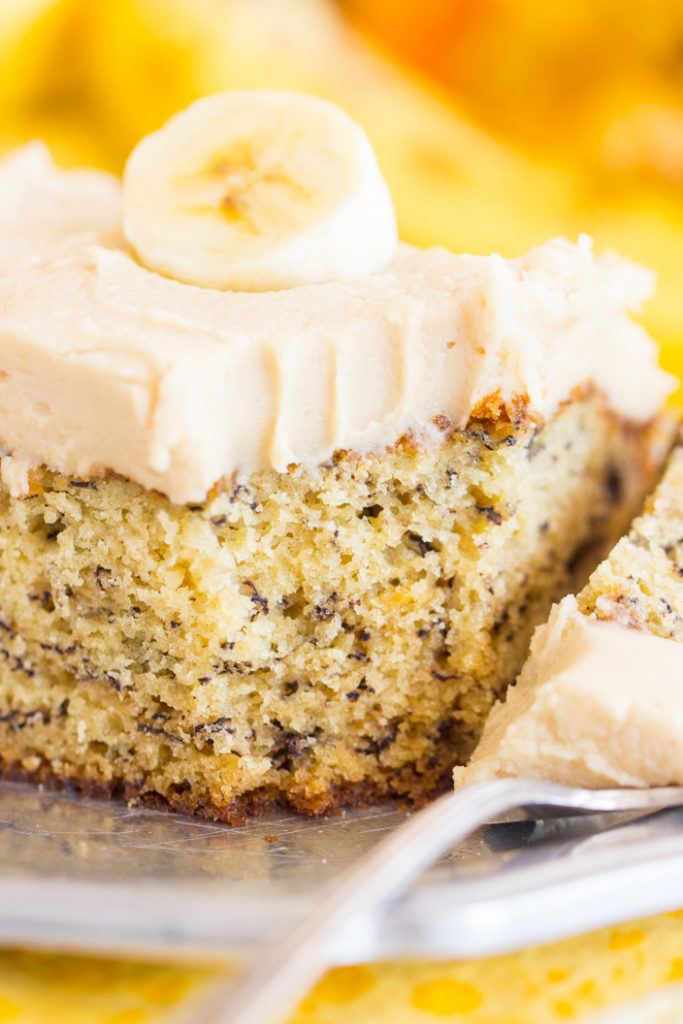 WHAT RESULT SHOULD I EXPECT FROM THIS BANANA CAKE?
This Banana Cake recipe produces a soft, sweet cake with serious banana flavor. Maybe more than a lot of banana bread recipes. It's intense with banana, but the cake is also very buttery and light, it's not dense, and not heavy. It has a soft crumb, yet manages to taste rich and luxurious, while also being intensely moist.
It's definitively cake, there is nothing bread-y about this. If you think this is banana bread masquerading as cake, it's not. It's cake. It's moist, soft, fluffy, and tender, yet a mass amount of bananas doesn't weigh it down.
Look, I'm not even that wild about bananas and I love. this. cake. It's fabulous.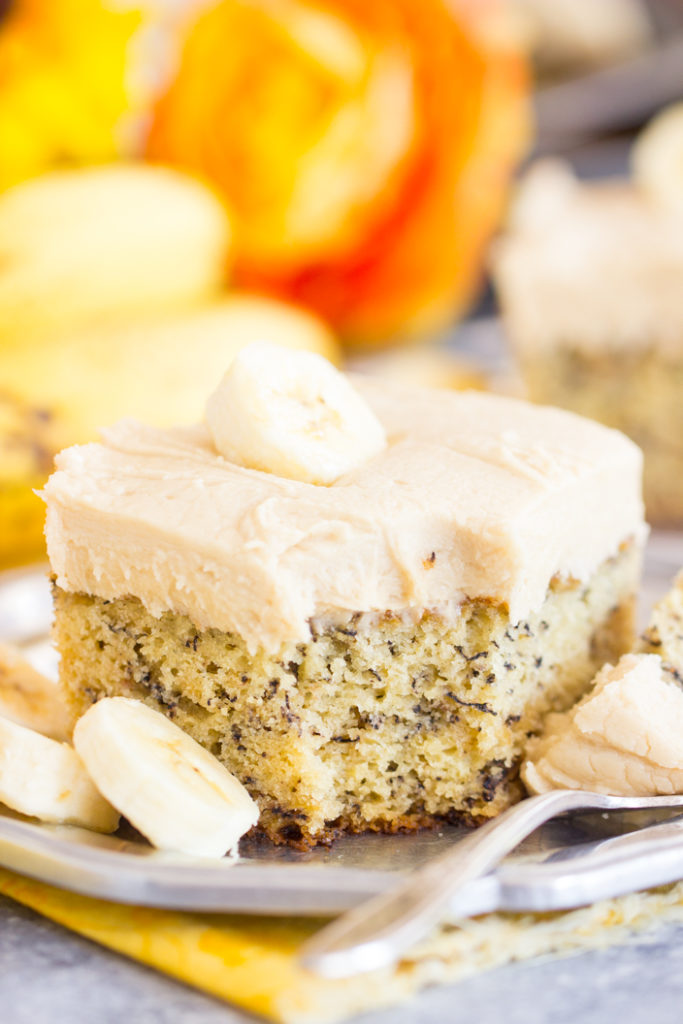 HOW DO YOU MAKE BROWN BUTTER ICING?
A tip I like to share if you're making brown butter for the first time: know that it goes from brown to burned really, really fast. Once it's very near being "done," it completes in the blink of an eye, so watch it closely. I've added notes to that effect in the recipe card.
As you're making it, the butter foams heavily, then the foam dissipates, and at that point, you're about 95% done. You'll want to watch it carefully. It'll get dark, kinda like honey-colored, and you'll see little brown flecks at the bottom of the pan. Your brown butter is done. Remove it from heat asap!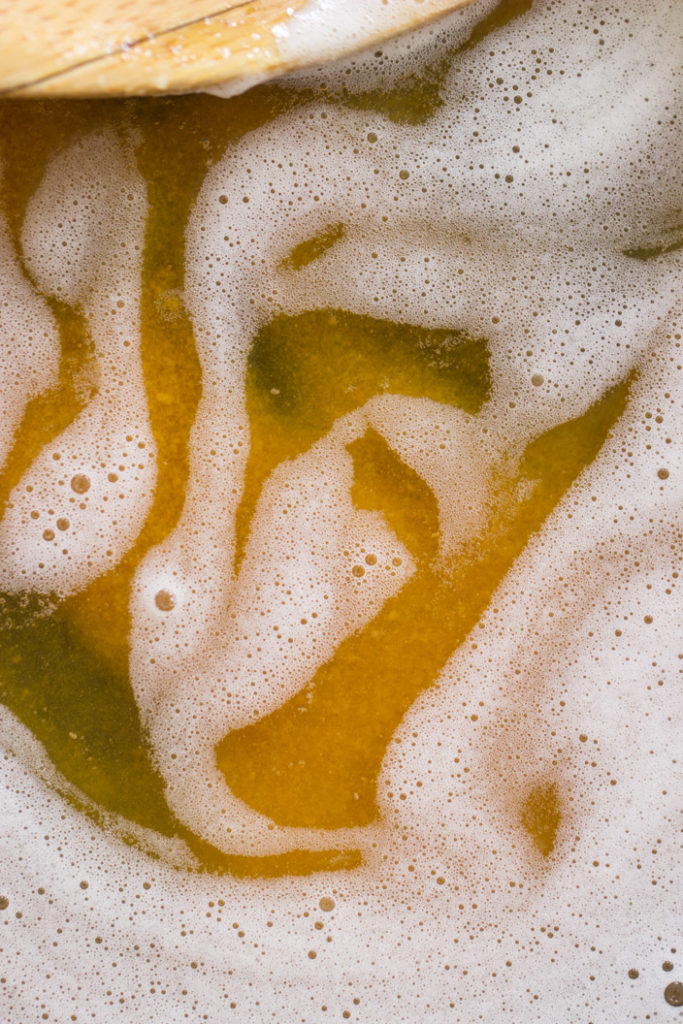 I've also added a note about troubleshooting this Brown Butter Icing. Occasionally it appears to seize and separate during mixing. That's okay, and your Brown Butter Icing isn't ruined — it just needs to be emulsified and thoroughly mixed. Whip it in an electric mixer for a minute or two, and it will come together.
For a thicker, stiffer alternative, one that you could pipe, check out this Brown Butter Frosting recipe.
WHAT FLAVOR & TEXTURE TO EXPECT WITH BROWN BUTTER ICING:
Brown Butter Icing is made with nutty, caramel-like, fragrant, toasty, rich brown butter. Just a batch of brown butter mixed with powdered sugar, vanilla, and your usual frosting suspects until smooth and creamy.
Despite lengthy tips about making brown butter, it's easy, and Brown Butter Icing is so special. It's actually magical.
Anytime I want to amplify a recipe and take it up a notch, I brown the butter that's going into it. Icing is no exception.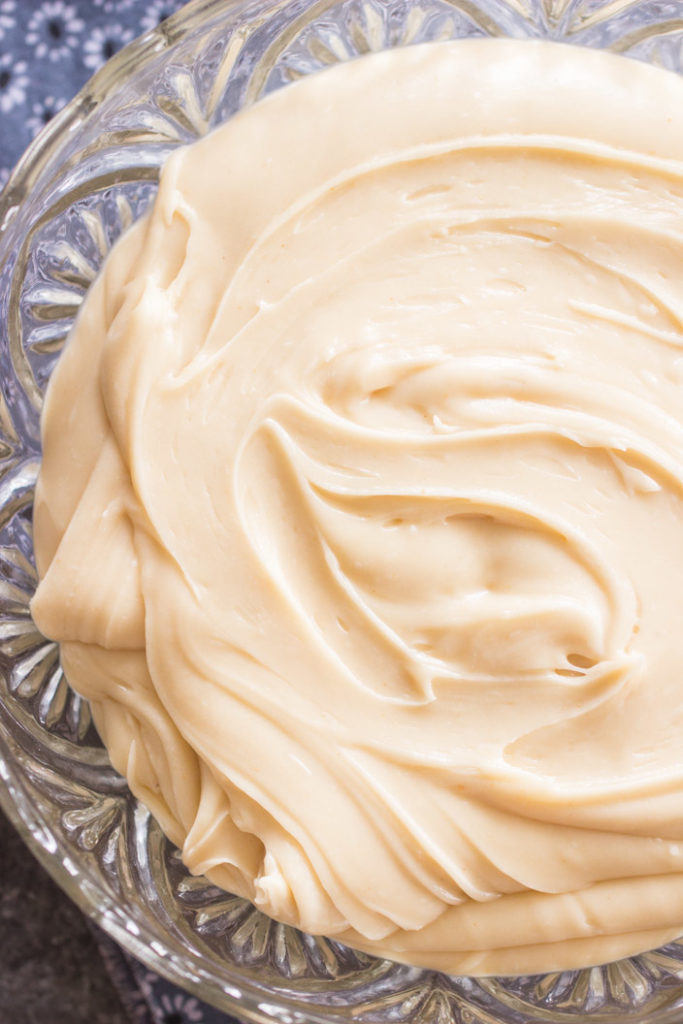 Here's what I like about this combination of Banana Cake and Brown Butter Icing. It's like getting the flavors of bananas foster in a cake: caramel, butter, and brown sugar (even though this recipe contains no brown sugar at all), but you get the essence of bananas foster in a cake. Gooey, caramelized bananas, rich butteriness, all in a simple cake. Glorious!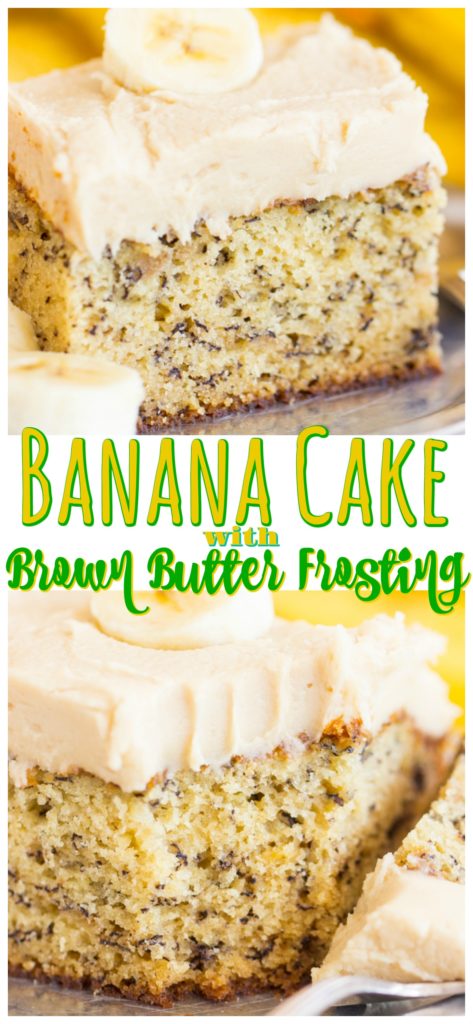 Other favorite banana recipes:
Other brown butter recipes: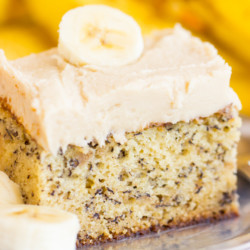 Banana Cake with Brown Butter Icing recipe
This simple Banana Cake recipe has only the most basic pantry staples as ingredients (plus bananas!). It boasts seriously intense banana flavor, yet it's not dense or weighty like banana bread. Nope, my Banana Cake is moist, fluffy, and tender. Brown Butter Icing, made with nutty, fragrant, toasty, rich brown butter, complements this cake with an irresistible caramel-like wonderfulness.
Ingredients
For Banana Cake:
1

cup

butter

softened

2

cups

granulated sugar

4

large eggs

at room temperature

2

tsp.

vanilla extract

2 1/2

cups

all-purpose flour

2

tsp.

baking soda

1/2

tsp.

salt

2

cups

mashed ripe banana

about 3 large or 4 medium bananas
For Brown Butter Icing:
4

cups

powdered sugar

3/4

cup

butter

cut into cubes

1/4

cup

heavy cream or whole milk

2

tsp.

vanilla extract
Instructions
For Banana Cake:
In a large mixing bowl, beat butter and sugar until creamy.

Add eggs and vanilla, beating until combined.

In a large bowl, combine flour, baking soda, and salt.

Add flour mixture to mixing bowl, beating until just combined. Do not overmix.

Pour batter into a well-greased 13x9-inch baking pan.

Bake at 325 degrees for 35-40 minutes, rotating the pan 180 degrees halfway through baking, or until a toothpick inserted near the center comes out clean. The cake will brown significantly on top - this is okay! It is not burning (provided you have checked the middle with a toothpick). It will be very brown at the edges and on top, but not burned.

Remove from heat, and allow to cool completely on a wire rack.

Meanwhile, prepare brown butter icing.
For Brown Butter Icing:
Place the powdered sugar in a medium bowl, and set aside.

Melt butter in a small saucepan over low-medium heat, stirring frequently, until it foams, the foam dissipates, it turns a deep golden brown, and develops brown flecks and a nutty fragrance, about 10 minutes or so. Toward the later stages, around the time it begins to foam, watch the brown butter very closely. It can go from 'brown' to 'burned' very quickly.

Remove from heat, cool 2-3 minutes, and *carefully* pour over powdered sugar.

Add milk and vanilla, and vigorously whisk the mixture until smooth. If the icing seems to seize or separate, you just reeeeeeally mix it to emulsify it. You can use an electric mixer, if preferred. Don't give up thinking it's ruined, it just needs to be emulsified, so give it a serious mixing! Icing should be thin enough to easily spread, but not runny or drippy. Add additional milk or powdered sugar, as needed, to achieve desired consistency.

Ice the cake. Cut and serve.
HOW TO STORE BANANA CAKE:
Covered, in a cool, dry place for 3-4 days, or refrigerated for about a week. It will freeze beautifully. I would freeze both components separately. Cover and wrap the banana cake well in plastic wrap and/or foil (I like to do a layer or two of plastic wrap, followed by a layer of foil). Store the frosting in a tightly-sealed plastic container. Thaw both components when ready to serve, and assemble at room temperature.