Soft, chewy, butterscotch brownies with a rich, fluffy, caramel-like, fragrant brown butter frosting! These Butterscotch Blondies with Brown Butter Frosting have the most amazing combination of flavors, and are the perfect brownie recipe for fall!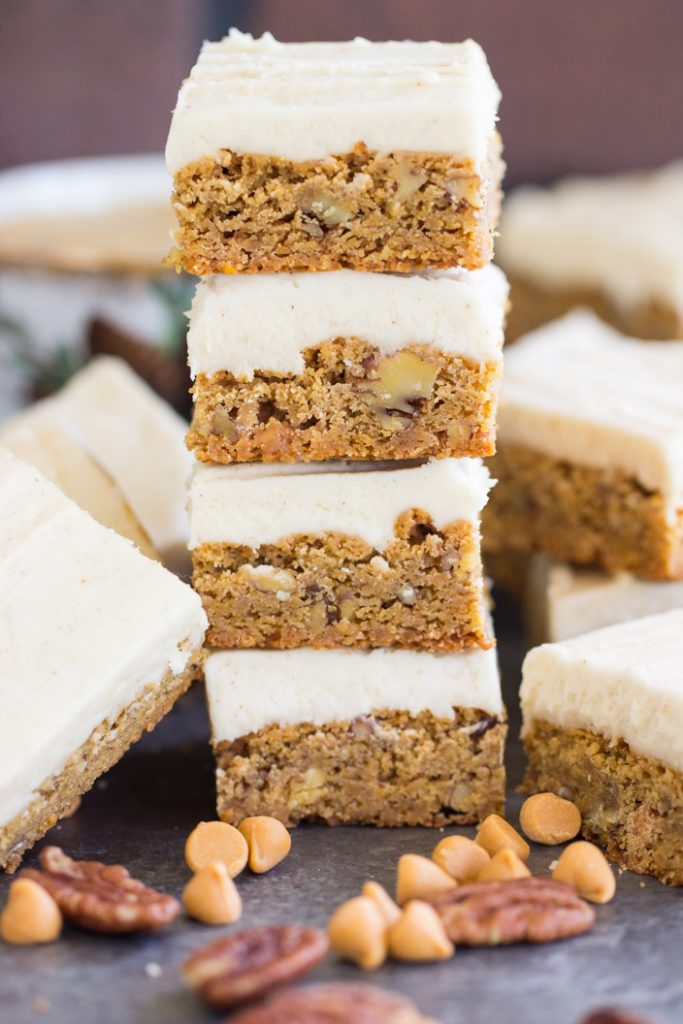 Obviously, I had a recipe coming that would use the Brown Butter Frosting from a few days ago. I would never leave you hanging with the best frosting recipe ever, and not give you something to put it on: Butterscotch Blondies with Brown Butter Frosting. Here you go.
But also, I've used this frosting before on these Gingerbread Latte Cupcakes with Brown Butter Buttercream, and similarly, these Pumpkin Cookies with Brown Butter Icing. Ah, and these Zucchini Bars with Brown Butter Frosting. Eep, love those.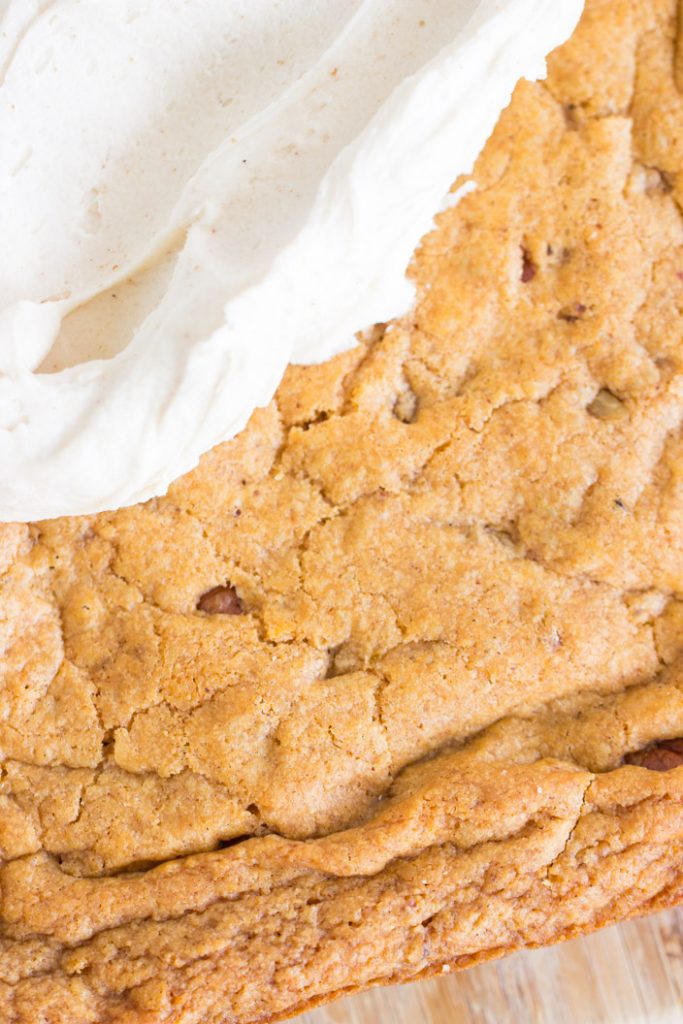 Remember the whole solar eclipse event from a few weeks ago? Doesn't that already feel like MONTHS ago? Maybe it's because we're all still reeling from Hurricane Irma down here, and the whole month of September has felt looooooong. We had a family picnic on eclipse day and it feels like an eternity ago.
Anyway, I flew to Pennsylvania to visit my family a few weeks ago, and the flight landed just in time for the start of the eclipse. We all met at a nearby park, and everyone packed food and snacks for a picnic.  I can't remember the last time we had a family picnic like that, and with the eclipse, it all felt very 1960s.
Not that I was alive but it very much felt like I could've been in a picture from the 60s… all the kids with cereal boxes and stuff.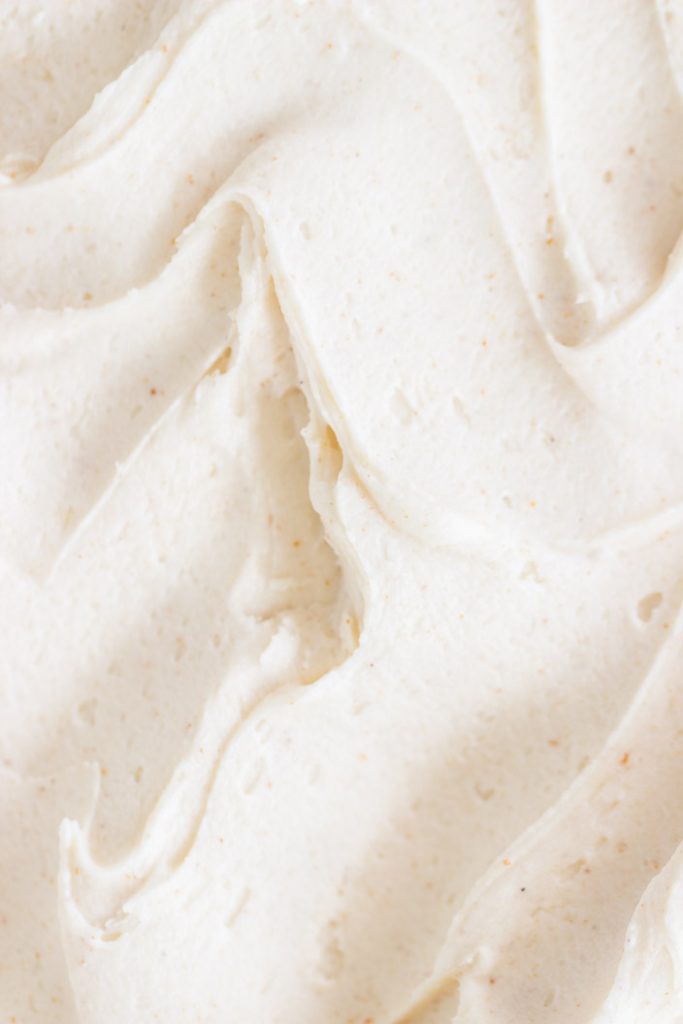 Since I knew we were meeting for our picnic immediately after I landed off the plane, I had the brilliant idea to pack a bunch of blog desserts that I'd stashed in the freezer. They were frozen and neatly wrapped. I tried to pick things that I thought would travel well, and I packed them into a small cooler in my luggage.
Our freezer is always LOADED with desserts, and I never have enough people to give them to. It was the perfect opportunity to unload some of them, but also to share them with my family at our picnic.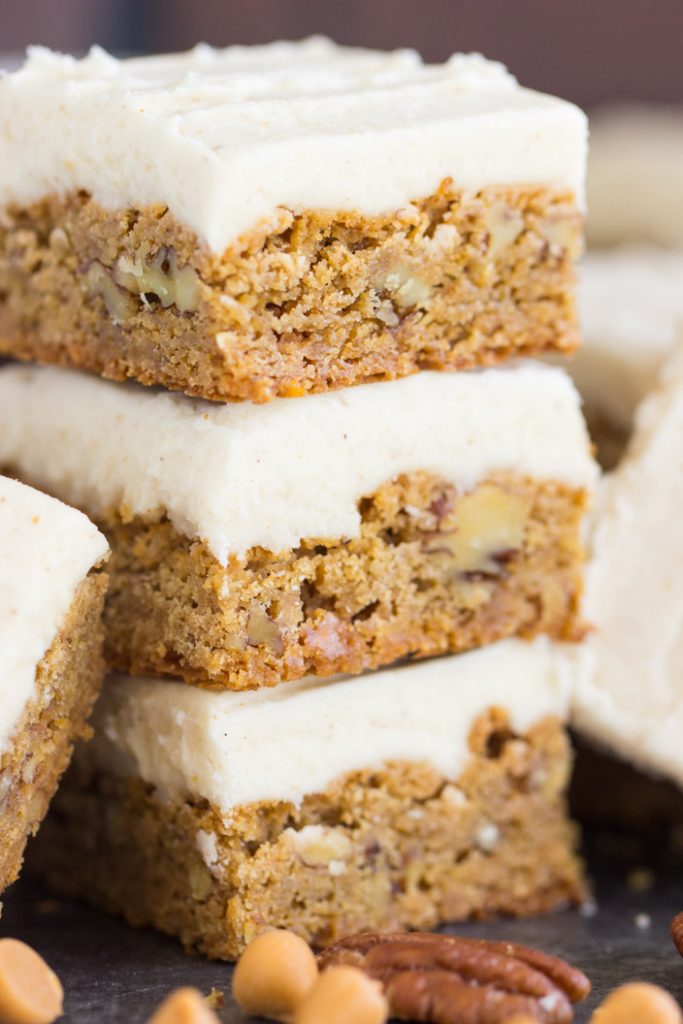 I grabbed 4 or 5 things and took them with me all the way to Pennsylvania. These Butterscotch Blondies with Brown Butter Frosting were one of the desserts that came with me.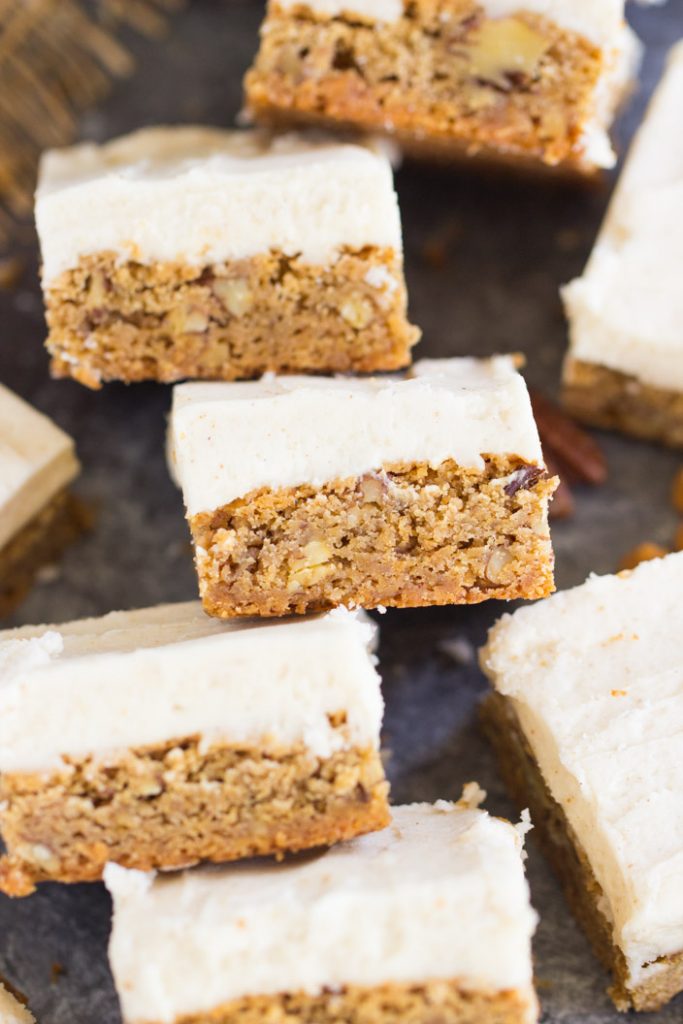 I've actually had the recipe for the Butterscotch Blondies for years and years, but I never used to frost them with anything. And they don't really need a frosting. Super soft and chewy, very buttery and rich. These are amazing because they not only have butterscotch chips stirred into the batter, but also melted as part of the batter. Butterscotch everywhere!
The brown butter frosting is such a natural fit though.
Brown butter takes on such caramel/butterscotch-like qualities that I felt like it would complement these bars nicely, and it does. Then again, there's really nothing that brown butter doesn't make better! These Butterscotch Blondies with Brown Butter Frosting are the perfect brownie for fall!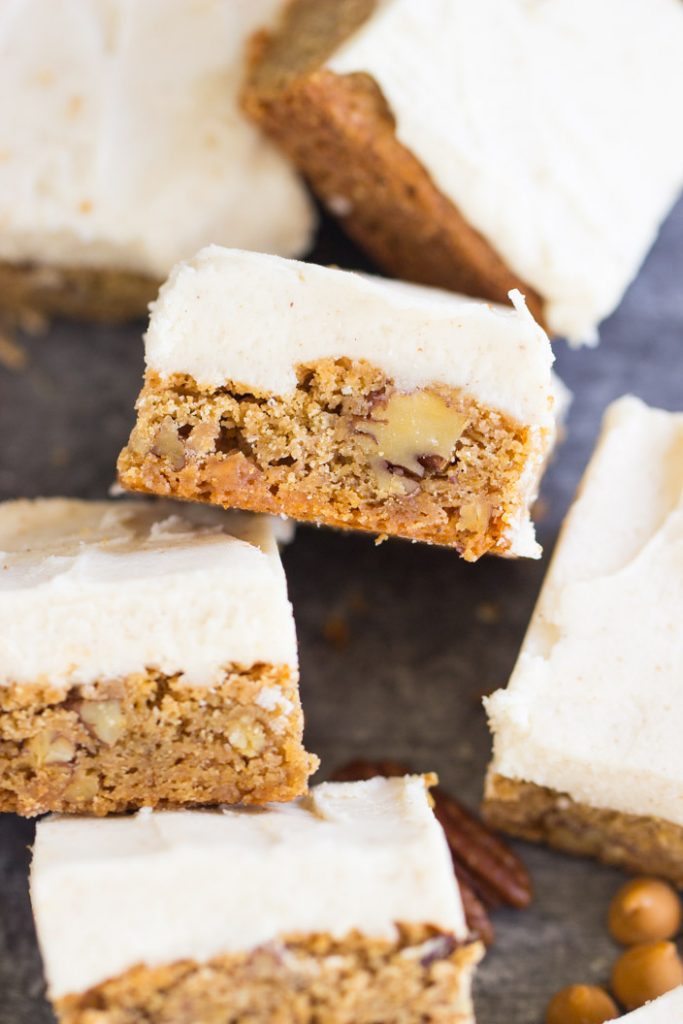 A few other favorite recipes that use brown butter are these Zucchini Bars with Brown Butter Frosting, and these Gingerbread Latte Cupcakes with Brown Butter Frosting.
And, omg, one of my fave recipes EVER: Brown Sugar Maple Bacon Scones.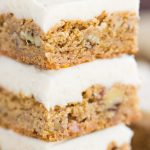 Butterscotch Blondies with Brown Butter Frosting
Soft, chewy, gooey butterscotch brownies with a rich, fluffy, brown butter buttercream!
Ingredients
For butterscotch blondies:
1/2

c.

butter

2

c.

butterscotch chips

divided

1

c.

chopped pecans

1 1/2

c.

all-purpose flour

2/3

c.

packed brown sugar

2

tsp.

baking powder

1/2

tsp.

salt

1

tsp.

vanilla extract

2

eggs
For brown butter frosting:
1

c.

unsalted butter

1

tsp.

vanilla

4 - 5

c.

powdered sugar

1/4

c.

heavy cream
Instructions
In a large skillet over medium heat, melt the butter.

Scatter 1 cup butterscotch chips in a single layer over the butter, and remove pan from heat. Do not stir. Set aside.

Meanwhile, in a large bowl, combine flour, brown sugar, baking powder, and salt.

Add vanilla, eggs, and butterscotch chip mixture to the dry ingredients, stirring until combined. The butterscotch chips will be quite melted, and will easily incorporate into the batter.

Fold in remaining butterscotch chips and pecans.

Line a 13x9-inch pan with foil, allowing it to hang over the edges.

Spray lightly with non-stick spray.

Spread batter into prepared pan.

Bake at 325 degrees for 25-30 minutes, or until edges are golden brown, and a toothpick inserted near the center comes out clean.

Remove pan to a wire rack to cool completely.

Lift the blondies by the foil edges to remove from pan.
For brown butter frosting:
Melt butter in a small saucepan over medium heat, stirring frequently, until golden brown. It will develop brown flecks and a nutty, caramel fragrance, about 10 minutes.

Remove from heat, and whisk in vanilla.

Cool for 10 minutes.

Transfer to a small heatproof bowl or jelly jar, and refrigerate until firm, at least 1 hour.

In a large mixing bowl, beat the browned butter until creamy.

Add 4 c. powdered sugar and ¼ c. heavy cream, beating until light and fluffy. You can add a little more heavy cream if needed to achieve desired consistency. It should be thick and fluffy, but spreadable!

Frost the blondies. Cut into bars.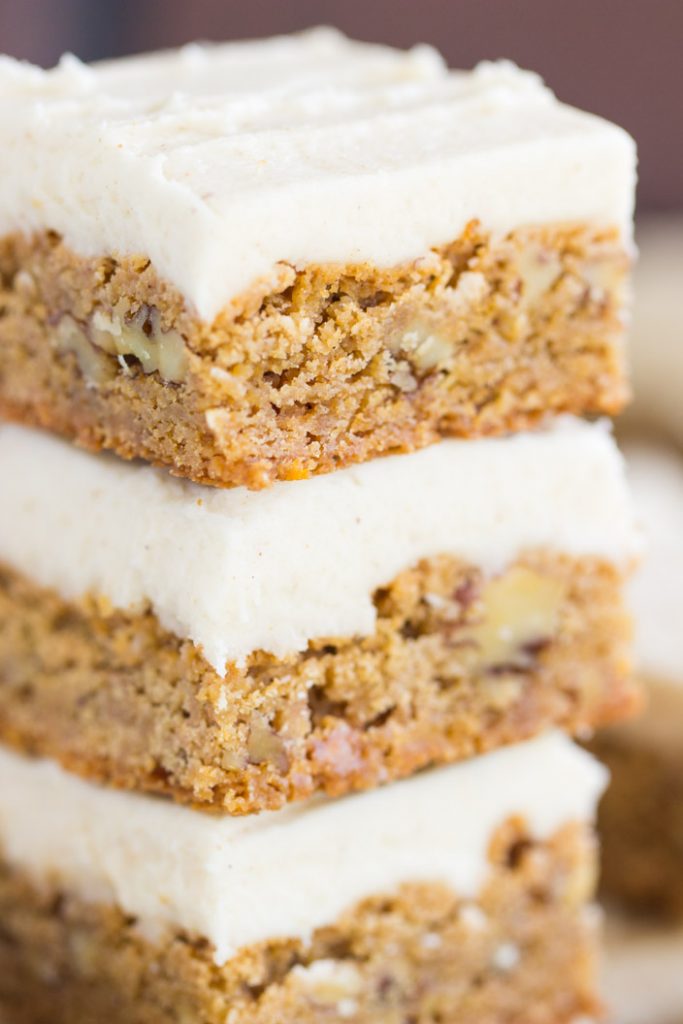 To easily view all the blog recipes, follow along on Pinterest!