This Orange Zucchini Bread with Orange Glaze is one of a whole slew of zucchini recipes coming up shortly! Zucchini is one of my new favorite ingredients. It's like the pumpkin of spring and summer.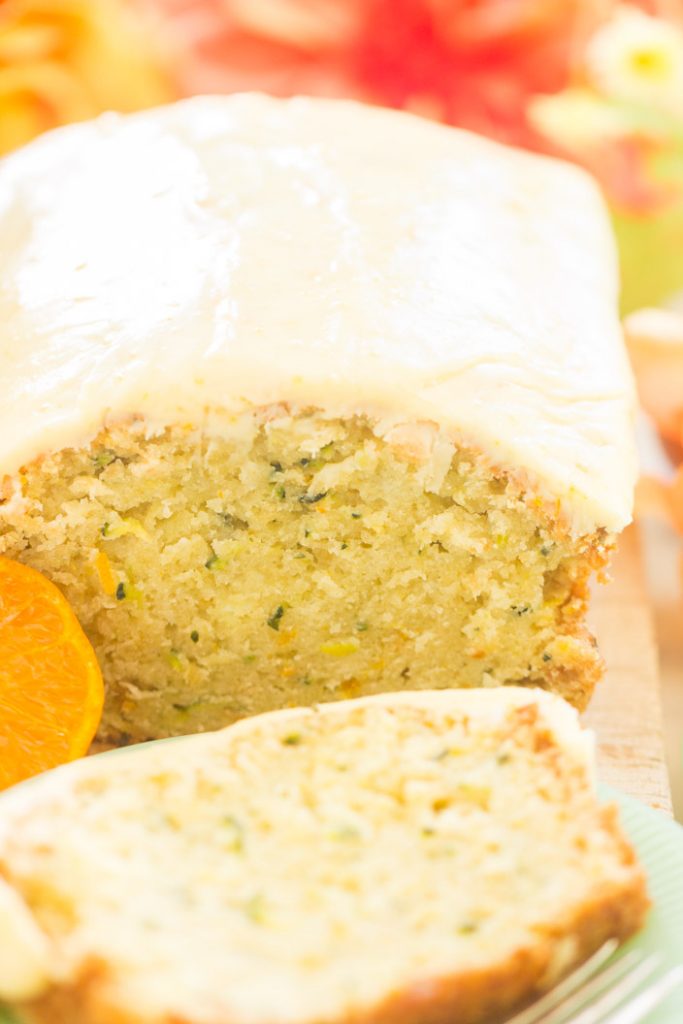 That's how I feel about it… the way I feel about pumpkin in the fall and near Thanksgiving is how I feel about zucchini around this time of year. It's a newer development, but I'm going with it.
It started last spring. I got really excited about zucchini, came up with a bunch of zucchini recipes that I adored, and now I want alll the zucchini things. Fortunately, zucchini is typically in great abundance.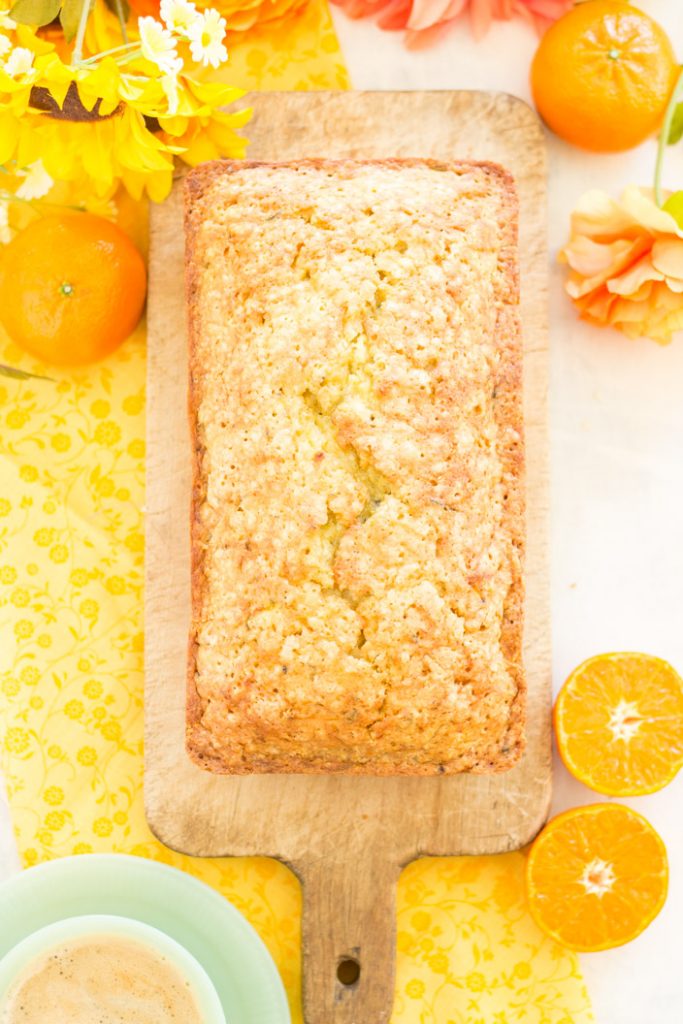 Do do you have a veggie garden? As soon as you have zucchini coming out your ears, make this Orange Zucchini Bread with Orange Glaze! It starts with a family recipe for Chocolate Zucchini Bread, which I used to make these Chocolate Zucchini Muffins too. It's a family recipe from my dad's mom, my Grandma Bessie, and it's older than me, for sure.
Tried and true, it stands the test of time! It makes great zucchini breads, whether you include the chocolate or not, or whether you substitute that chocolate for citrus, like in this Orange Zucchini Bread recipe.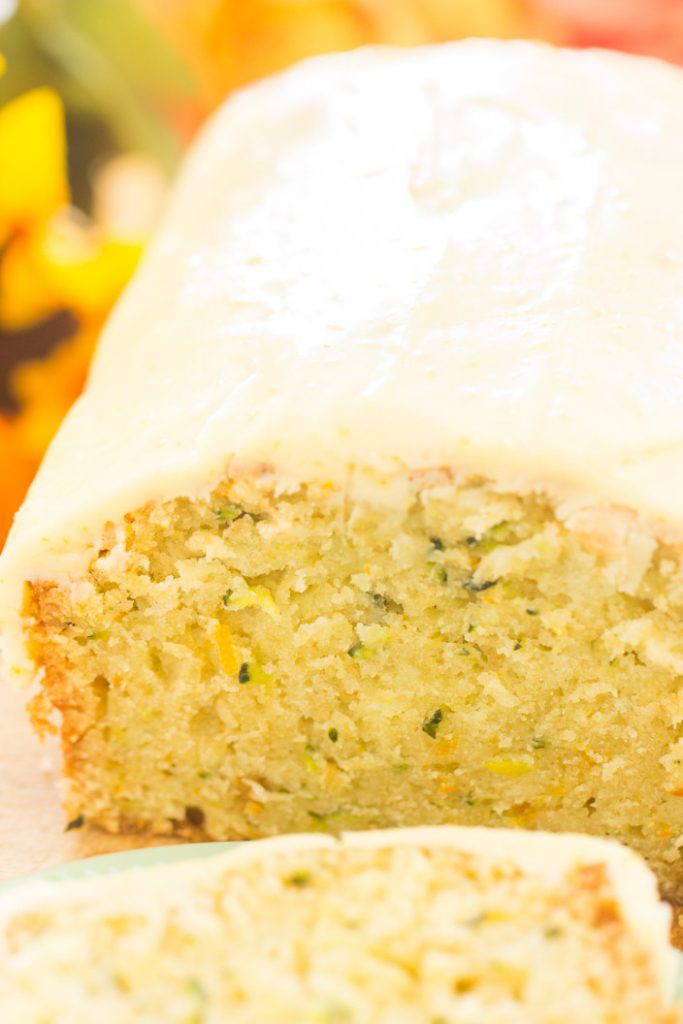 You'll never know there's zucchini in this bread, except for its best qualities. It adds intense moisture. It also adds the teeniest bit of sweetness. I know that's weird because it's a green veggie, and it has almost no actual flavor, but it most assuredly adds a hint of sweetness. Trust me because my tastebuds are just that sophisticated. Ha.
I notice sometimes, especially with breads and cakes, that citrus makes things sticky. I personally love it! When I add citrus to breads, I also notice that it seems to make the top a little crunchy and crackly. This is a consistent trend I've picked up on, so I'm thinking that the sugars in citrus must have this effect – sweet stickiness and a crackly, crusty top.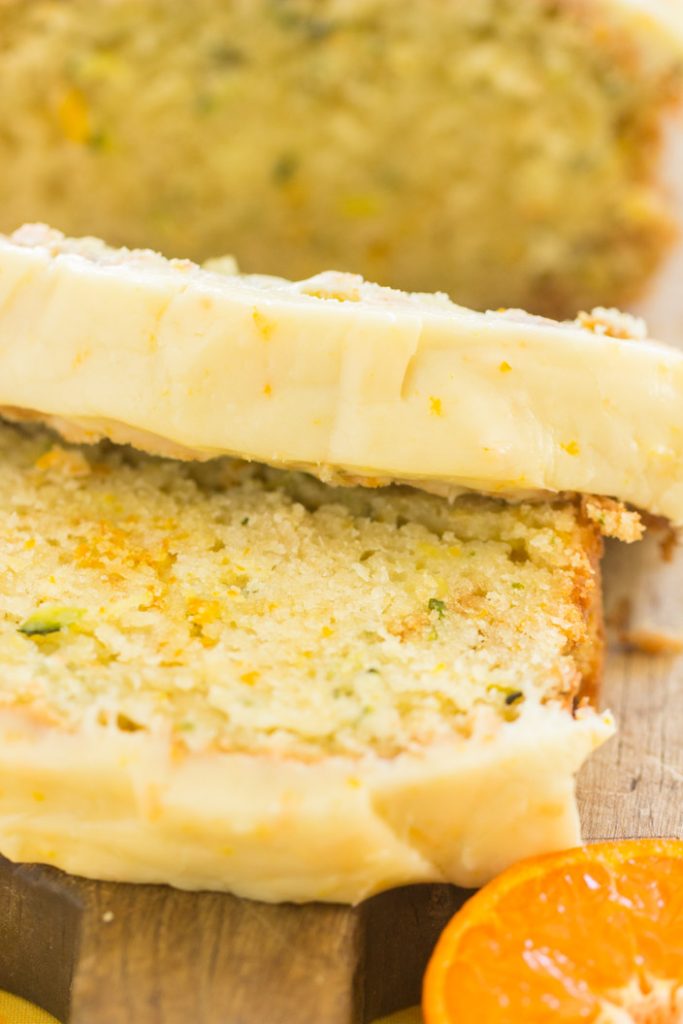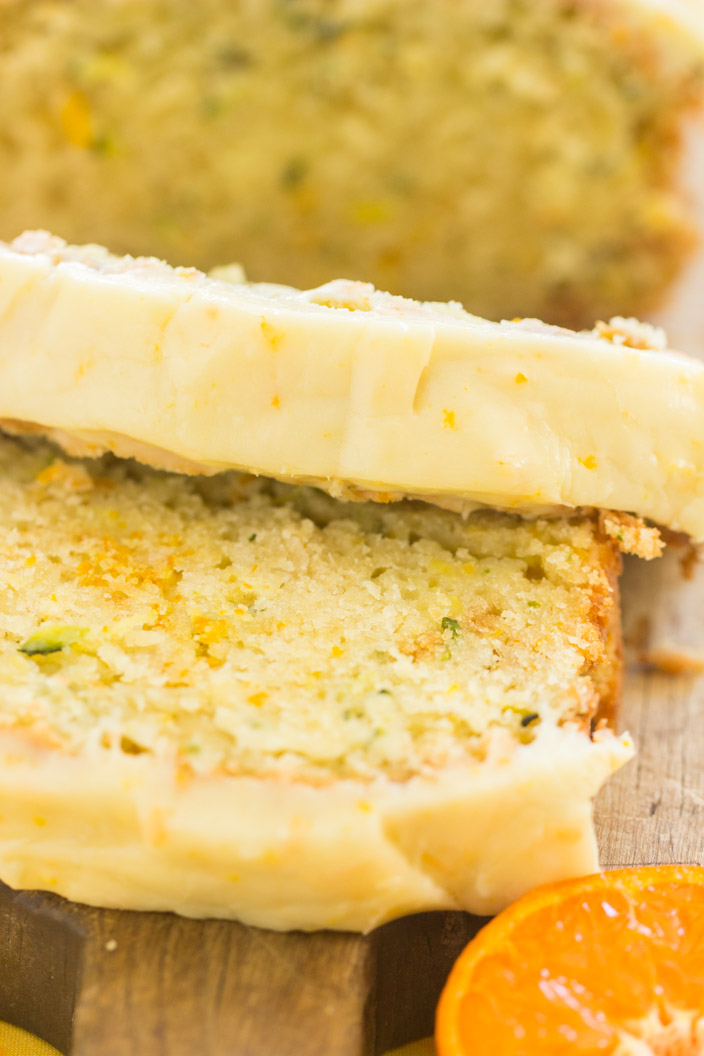 This Orange Zucchini Bread with Orange Glaze is almost like a pound cake or loaf cake! Very cake-like, but if we call it bread, we can eat more of it. Because it has green veggies in it, we can eat it guilt-free!
It's immensely moist, sticky sweet, dense, but with soft crumbs, and BURSTING with fresh orange! It's such a jolt of sunshine in this never-ending winter.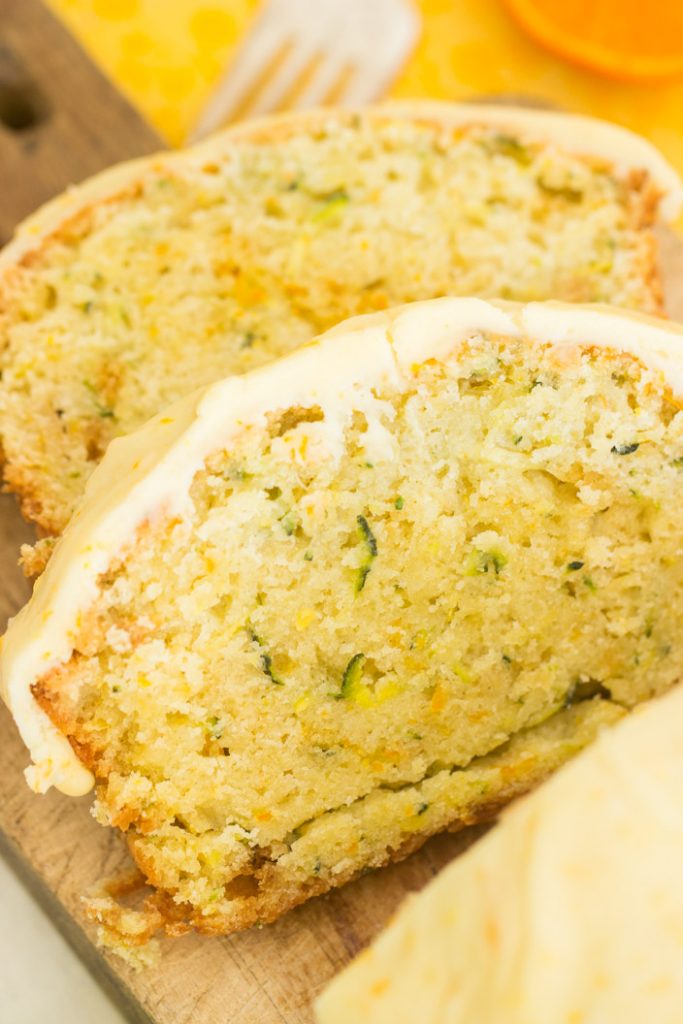 This Orange Zucchini Bread recipe comes together quickly (save for zesting the oranges!), freezes beautifully (with or without the glaze!), and is a crazy-moist, sticky sweet orange bread with touches of butter and vanilla, and a fresh orange glaze. We're totally hooked.
Let's quickly revisit some past zucchini recipes! This Chocolate Zucchini Coffee Cake is loaded with cocoa, chocolate, and even a chocolate streusel. Another brunch option – these Blueberry Zucchini Bread Pancakes are so light and fluffy!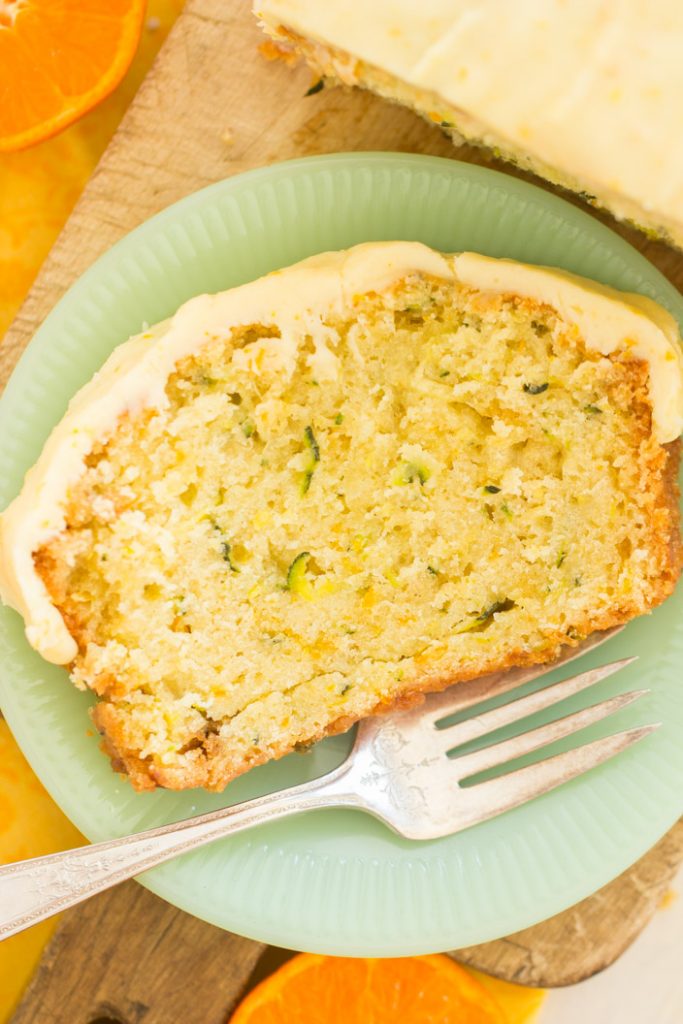 For more citrus + zucchini, I love these Lemon Zucchini Muffins with Lemon Glaze. For a dense, weighty, insanely moist banana bread, try this Zucchini Banana Bread with Streusel Topping. 🙂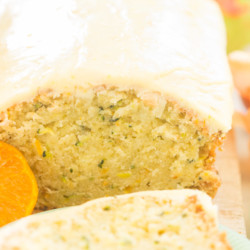 Orange Zucchini Bread with Orange Glaze
A crazy-moist, sticky sweet orange zucchini bread with touches of butter and vanilla, and a fresh orange glaze.
Ingredients
For bread:
3

large

eggs

2

cups

sugar

1

cup

vegetable or canola oil

1

tsp.

vanilla

zest and juice of 1 large orange

3

cups

all-purpose flour

1

tsp.

salt

1

tsp.

cardamom

optional

1/4

tsp.

baking soda

2

cups

grated zucchini
For glaze:
zest and juice of 1 large orange

3

tbsp.

butter

melted

1

tsp.

vanilla

3

cups

powdered sugar
Instructions
For bread:
In a large bowl, whisk together eggs, sugar, oil, vanilla, and orange zest and juice.

In another large bowl, whisk together flour, salt, cardamom, and baking soda.

Add the wet ingredients to the dry ingredients, along with the zucchini, and stir until just combined. Do not overmix.

If you'd like to add any nuts, fold in about 1 cup chopped nuts.

Line two loaf pans with foil or parchment paper, letting the edges hang over the pans. This is a MUST - bread wants to stick to pan. Coat with non-stick spray. 

Divide batter between prepared pans.

Bake at 350 degrees for 50-60 minutes, or until tops and edges are golden, and a toothpick inserted near the center comes out clean.

Remove pans to a wire rack to cool for 15-20 minutes. Do not cool in pan -- bread likes to stick.

Run a knife along any edges that may have seeped and stuck to the pan.

Remove loaves from pan using the foil or parchment paper edges. Cool completely.

Meanwhile, prepare glaze.
For glaze:
In a medium bowl, whisk together all glaze ingredients until smooth.

Depending on how juicy your orange was, you may need to add a little water or more powdered sugar! You should be able to drizzle or pour it, but it shouldn't easily run off the bread.

Drizzle glaze over cooled loaves. Cut and serve.
Notes
Recent reader feedback is that this makes two smaller 8x4 loaves versus 1 extremely large 9x5. Bake at 350 degrees for 50-60 minutes if making two smaller loaves