Your other option for a holiday-ish and seasonal weekend brunch, this Cranberry Cheesecake Crumb Coffee Cake, is also looking excellent.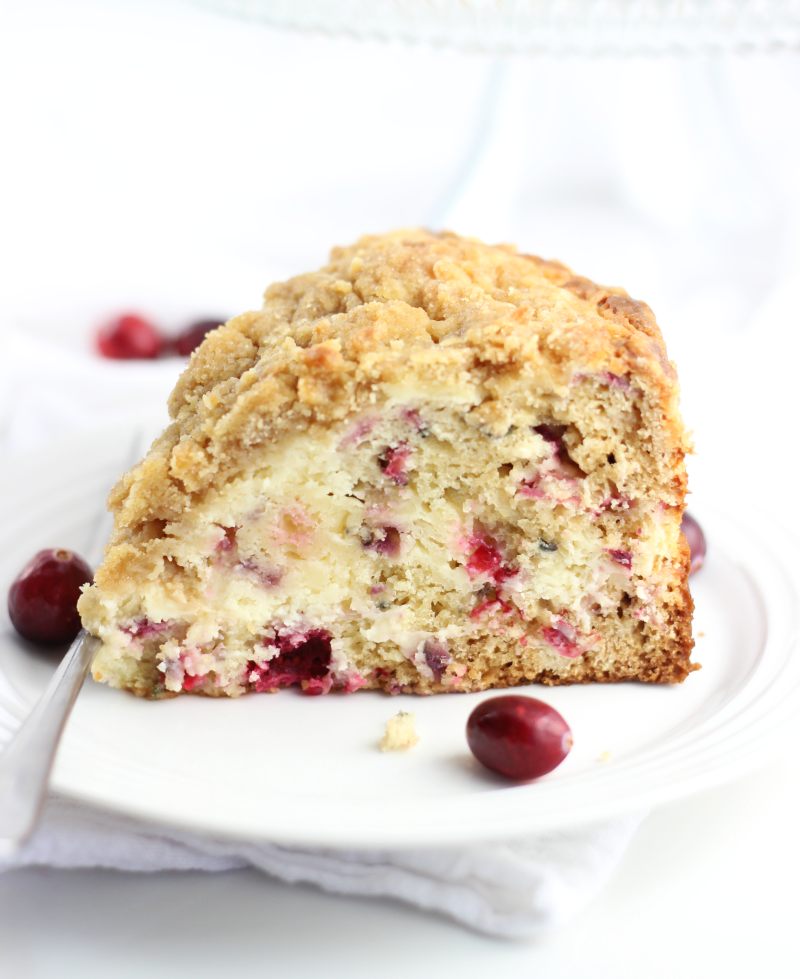 Yesterday I shared a recipe for Cranberry Apple Croissant French Toast Casserole, a perfect weekend brunch that we annihilated all of last weekend – morning, noon, and night. I woke up yesterday morning, and was disappointed that we didn't have a sweet and splurge-worthy 'dessert for breakfast' type of meal to look forward to.
So I ate healthfully. Hmph. I drank my black coffee, with a vanilla protein shake, and a spoonful of crunchy peanut butter. Booooo.
Actually, I like that meal quite well too, but it's certainly not the same as having croissant French toast casserole. Nope, not even close.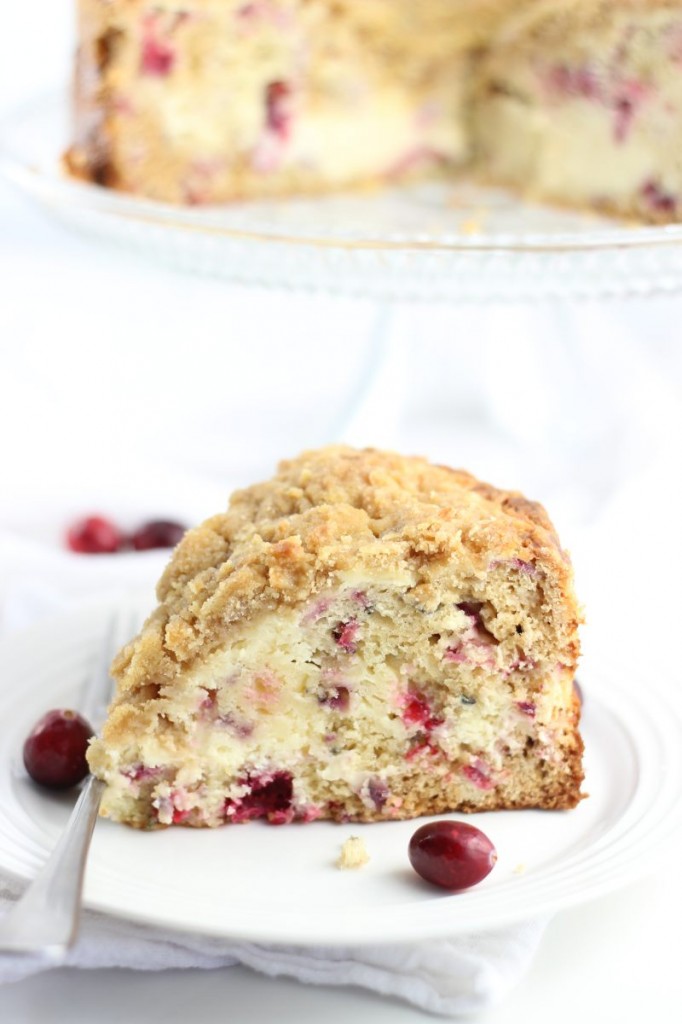 Now today, I woke up and remembered that I had the foresight to freeze half of this coffee cake. See, I'm doing this new-ish thing where I freeze more stuff. Almost immediately after trying a slice or two of something, and after taking all the photos for the blog, I stop right there and package it straight for the freezer.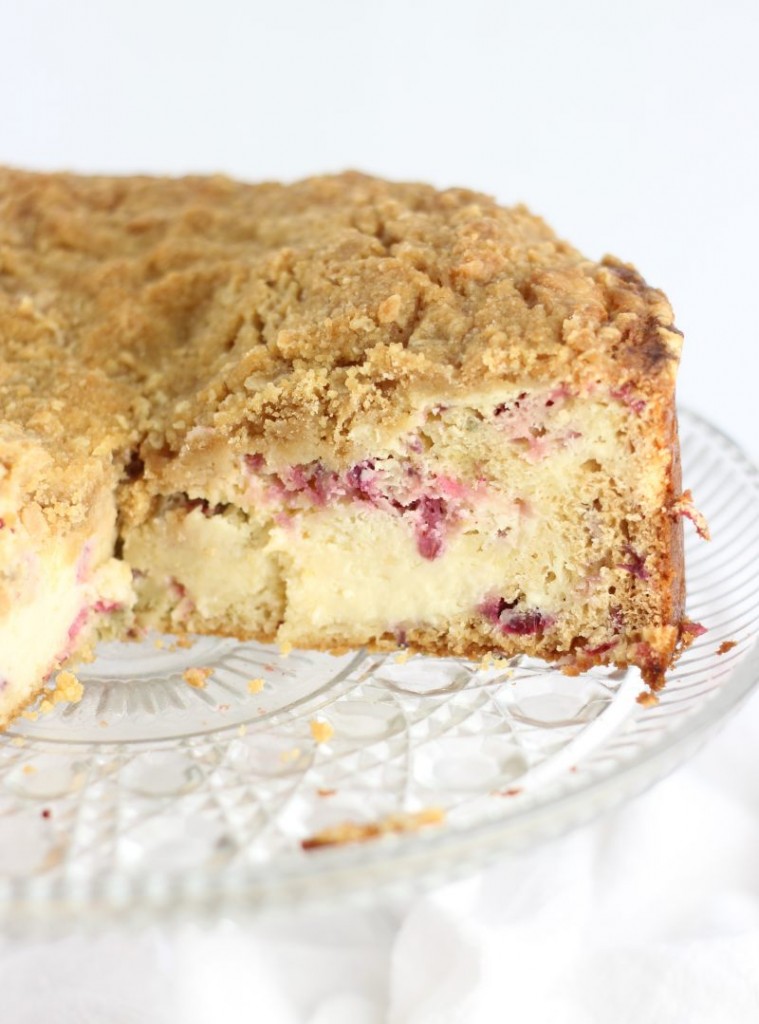 I make several recipes at a time, and if I leave them all out and accessible, we eat them in a few short days. Then when we want something sweet again, we've demolished it all already. We need to space things out, so I'm freezing more stuff. Much better system.
The only flaw to this system is that I'm way too impatient to wait for something to properly thaw. When you have a craving, you want it right.that.second. Frozen peppermint bark has not cracked a tooth yet, thankfully.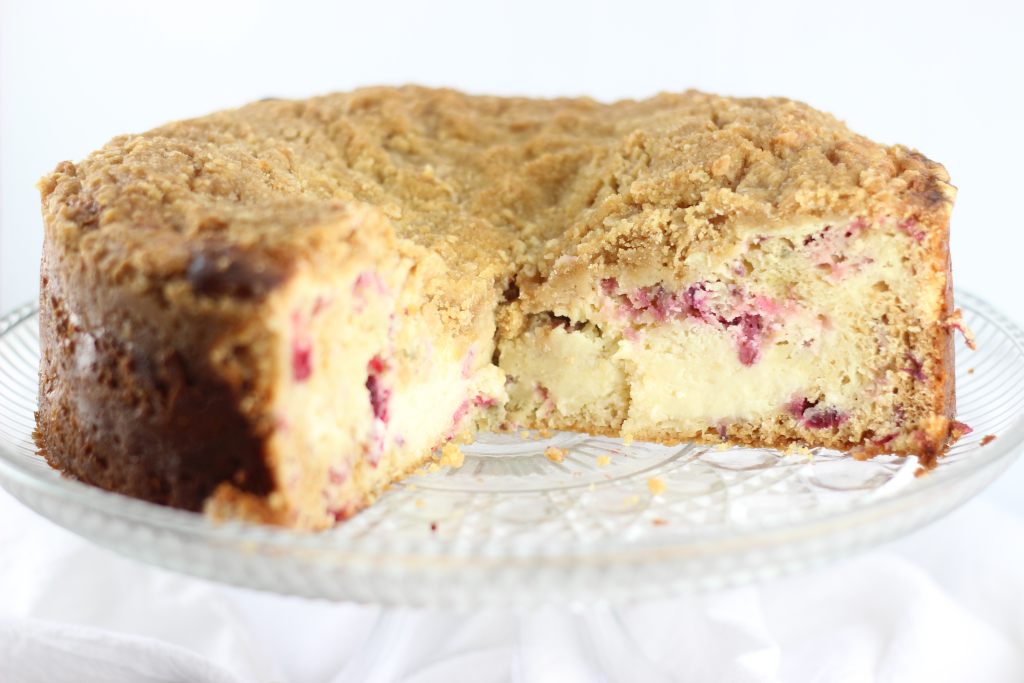 In any event, it meant that I got to wake up to this coffee cake this morning for breakfast! And since my S.O. is out golfing, I get to keep it all for myself.
I tried and loved this cranberry coffee cake recipe, but IMO, it needed more cheesecake. My version has double the cheesecake – two layers are swirled into the coffee cake batter. My version also has a little extra crumb topping too. You can never really have enough butter and brown sugar sprinkled on top, can you?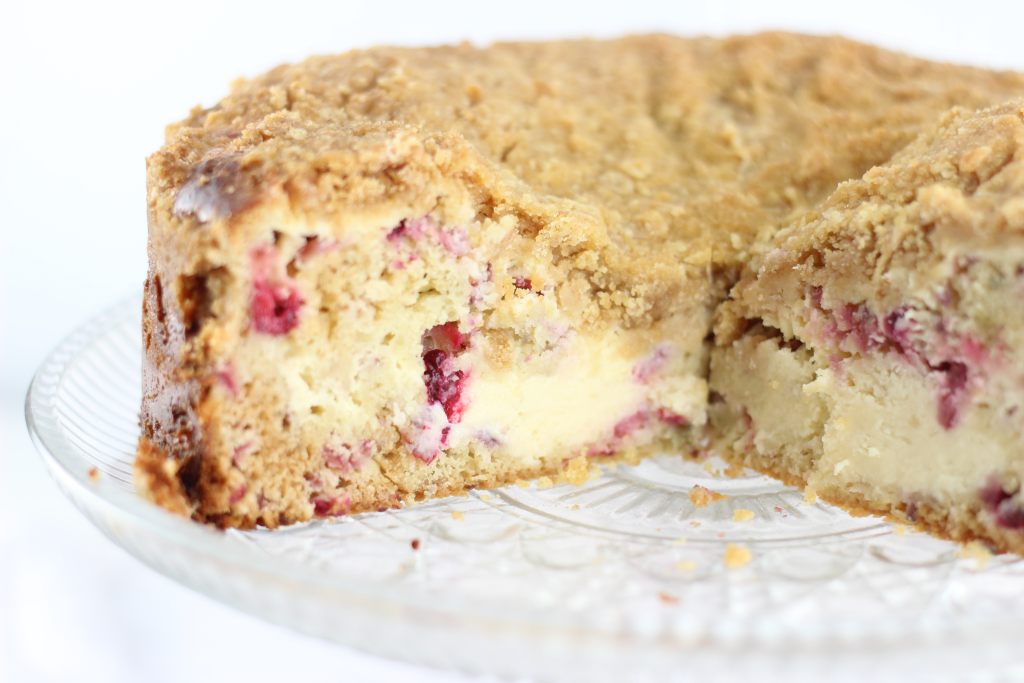 With fresh cranberries that burst with juicy, tart flavor, layers of cheesecake, a thick layer of crumb topping, and moist cake base, this coffee cake is a current favorite!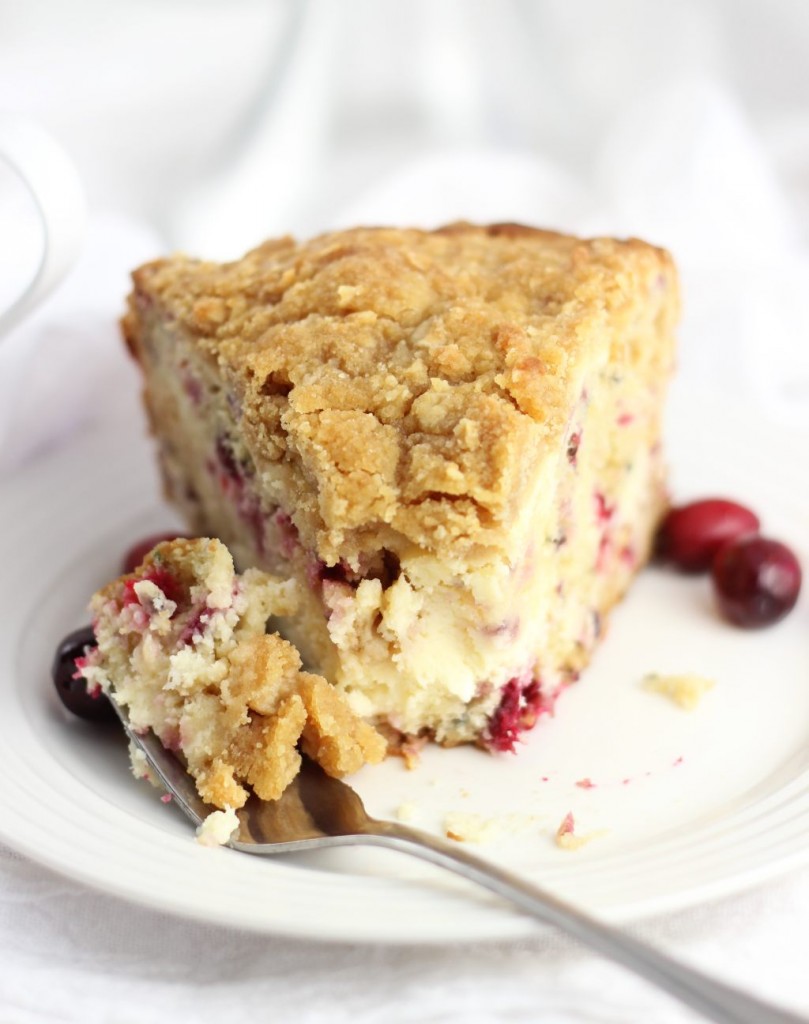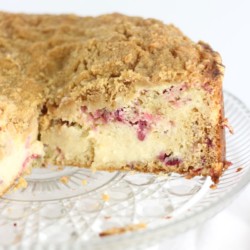 Cranberry Cheesecake Crumb Coffee Cake
Ingredients
Coffee cake:
2

c.

flour

1

c.

sugar

1 1/2

tsp.

baking powder

1/2

tsp.

baking soda

1

egg

3/4

c.

eggnog or milk

1/4

c.

butter

melted

1

tsp.

vanilla

2

c.

coarsely chopped fresh cranberries
Cream cheese filling:
2 - 8

oz.

packages reduced-fat cream cheese

softened

1

c.

sugar

2

eggs

1

tsp.

vanilla
Crumb topping:
1

c.

flour

3/4

c.

packed brown sugar

1/2

c.

cold butter
Instructions
Coffee cake:
In a large bowl, combine flour, sugar, baking powder, and baking soda.

In another bowl, combine egg, eggnog, butter, and vanilla.

Add the wet ingredients to the dry ingredients, stirring until just combined.

Fold in the cranberries.

Pour half the batter into a greased 9-inch springform pan. Set aside, and prepare filling.
Cream cheese filling:
In a small mixing bowl, beat cream cheese until creamy.

Add sugar, and beat until smooth.

Add eggs, one at a time, beating well after each addition.

Beat in vanilla.

Spread half the cream cheese batter over the coffee cake batter in the pan. Using a knife, swirl the cheesecake filling.

Drop remaining coffee cake batter by spoonfuls. Top with the remaining cream cheese batter.
Crumb topping:
In a small bowl, combine flour and brown sugar.

Grate in the butter, and mix until it resembles coarse crumbs.

Sprinkle over top of the batter, starting with the edges, and working toward the center.

Place the springform pan on a large baking sheet.

Bake at 350 degrees for 60-70 minutes, or until a toothpick inserted near the center comes out clean.

Cool on a wire rack for 15-20 minutes before removing sides of the springform pan.

Serve warm. Enjoy!