Ultra-chewy and rich white chocolate blondies are chock-full of sweet figs and buttery macadamia nuts for an understated, but amazingly rich and delightful cookie!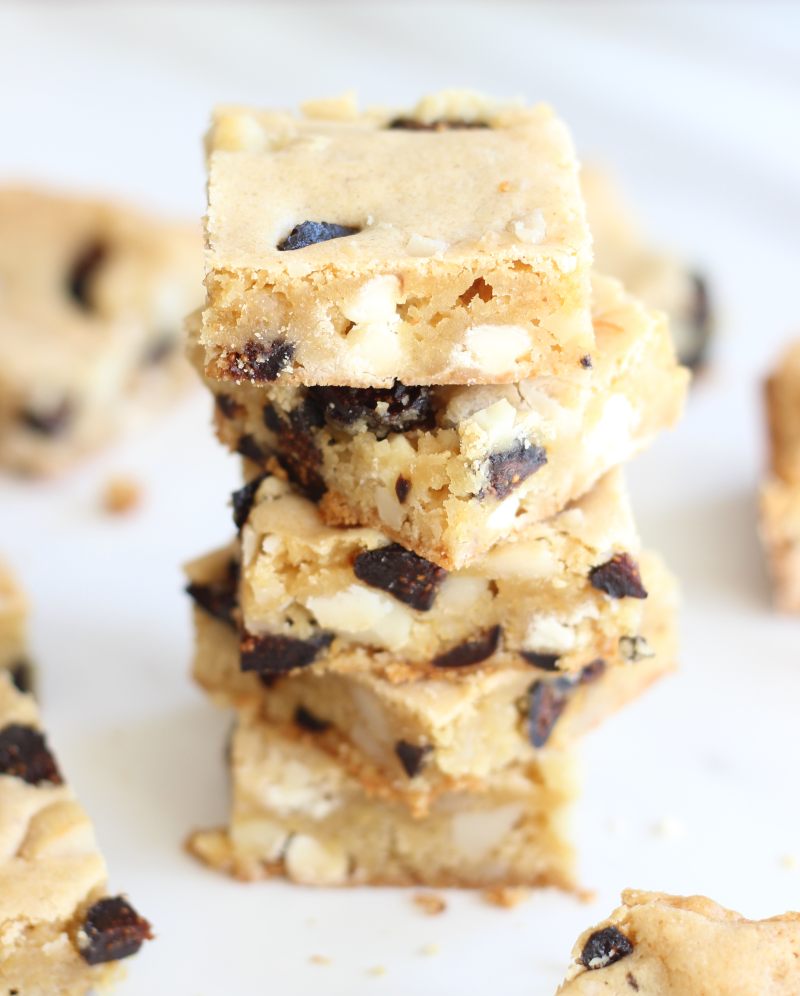 This was a recipe where I felt like I just had to know. I spotted it in a magazine (cannot find a link online!) and I never would've thought to put these ingredients together, but I was intrigued by the combo. After trying the recipe, these blondies are a game-changer.
I think that these might not seem that alluring at first glance, and they aren't the kind of over-the-top decadence that people might be drawn to in a dessert, but I think these blondies will surprise you.
Maybe they are not drenched in chocolate sauce, oozing with melted caramel, or slathered in a thick layer of buttercream frosting, but they are magnificent in their own right.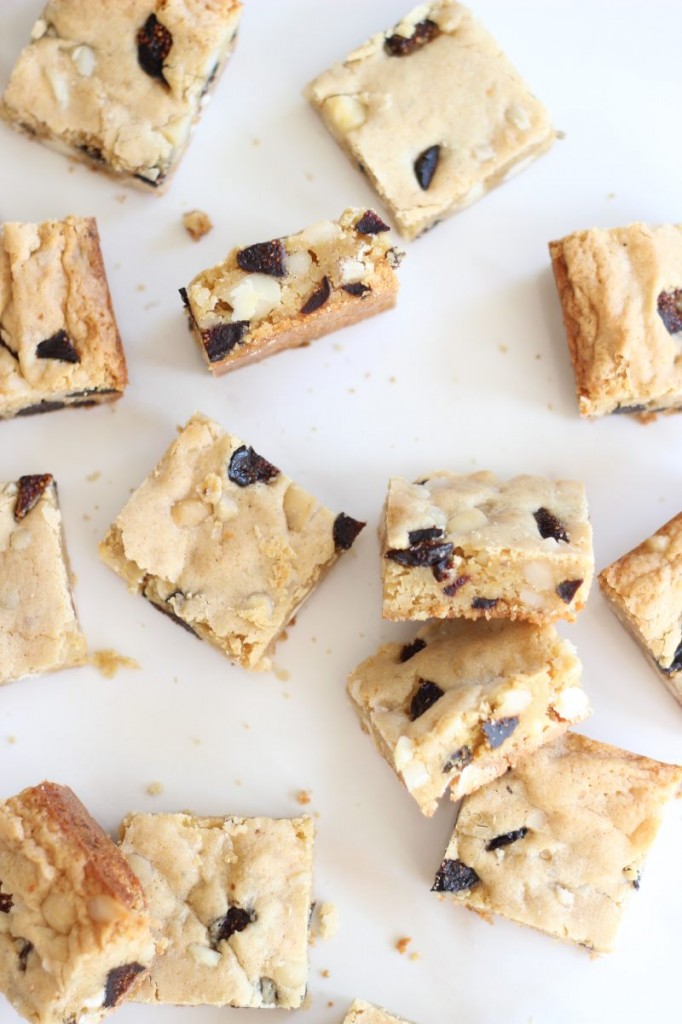 The base is my favorite white chocolate blondie base. The original recipe that I adapted this from started out with a different blondie base, but I prefer my tried-and-true base. It's ultra-rich, soft, and chewy.
It has melted white chocolate chips right in the batter, loads of brown sugar, and melted butter – all of which are the perfect makings of a chewy blondie. There is no way to improve upon it, and it's a great base for tossing in any fun mix-ins.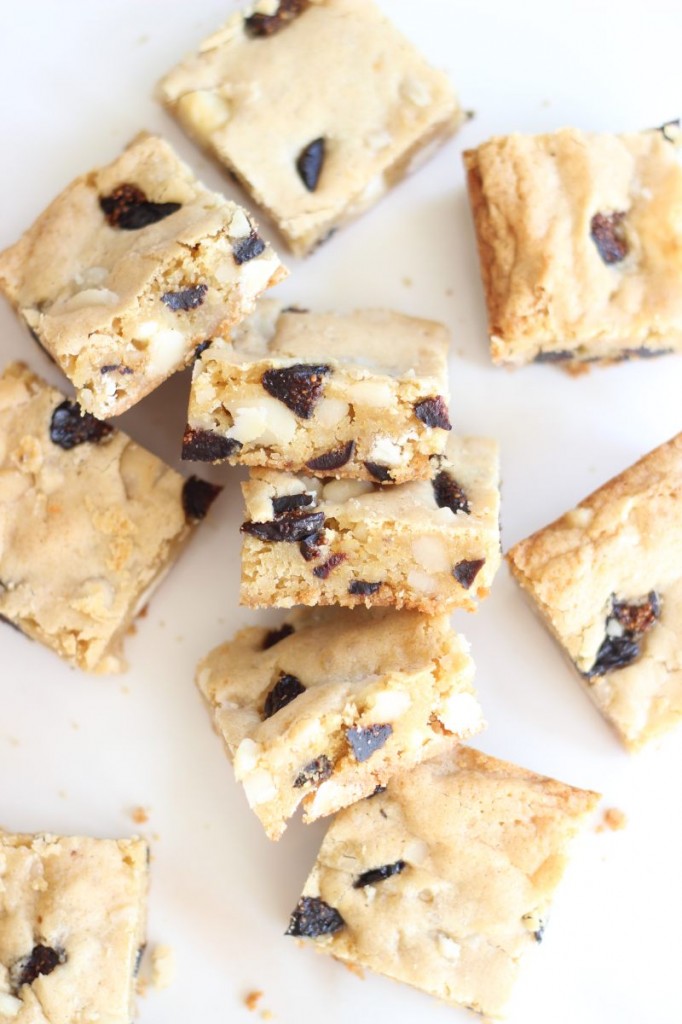 I use it to make these Candy Corn White Chocolate Blondies, and these White Chocolate Lucky Charms Blondies, and both those bars are delightful. I wouldn't change a thing about them.
I'd never considered the combination of macadamia nuts and figs, but I love both those ingredients, and I could see them forming an amazing trio with white chocolate.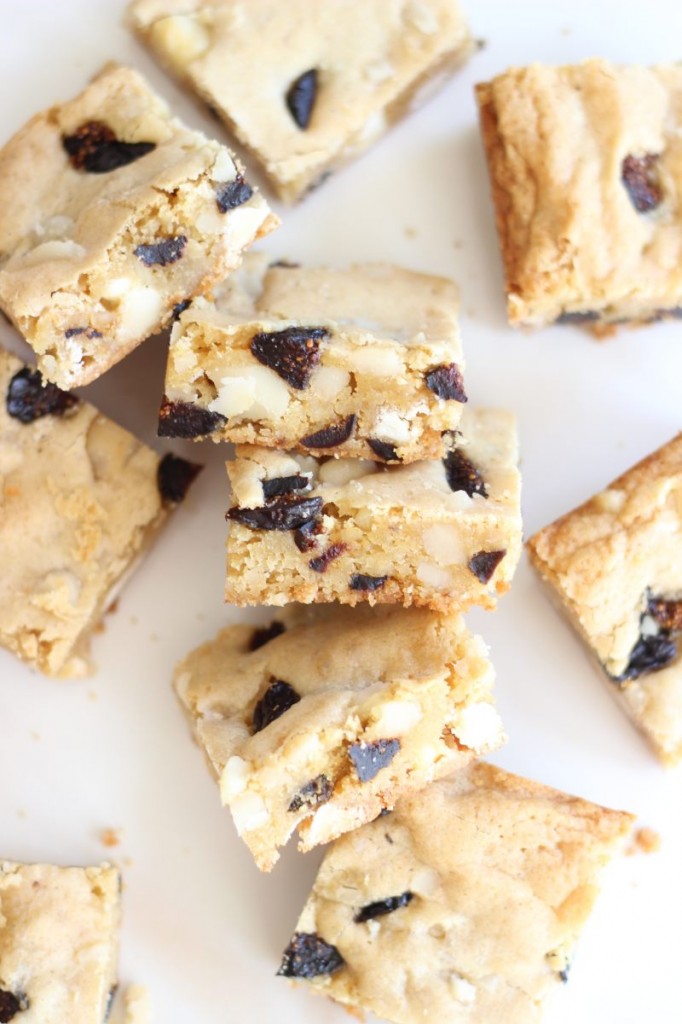 The salty, smooth, and sorta buttery macadamia nuts are the perfect contrast to the sweet and chewy figs. The slight little crunchiness from the fig seeds is also a welcome bit of texture. Combined with sweet and creamy white chocolate, and these blondies are really out of this world.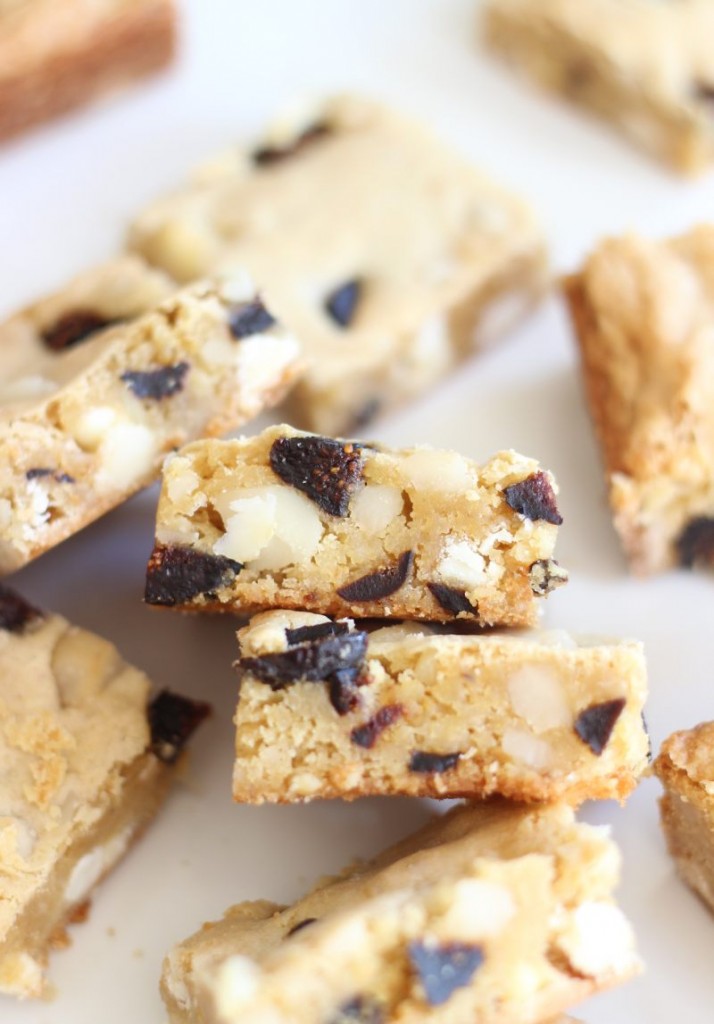 It feels pretentious to call them "elegant", but I do think that's one of the best ways to describe them. They're not in your face with any over-the-topness, absurd ooey-gooeyness, or ridiculous drizzles and drips. They're very simple, and the ingredients aren't super trendy, but they are PERFECTION.
Trust me. You'll see.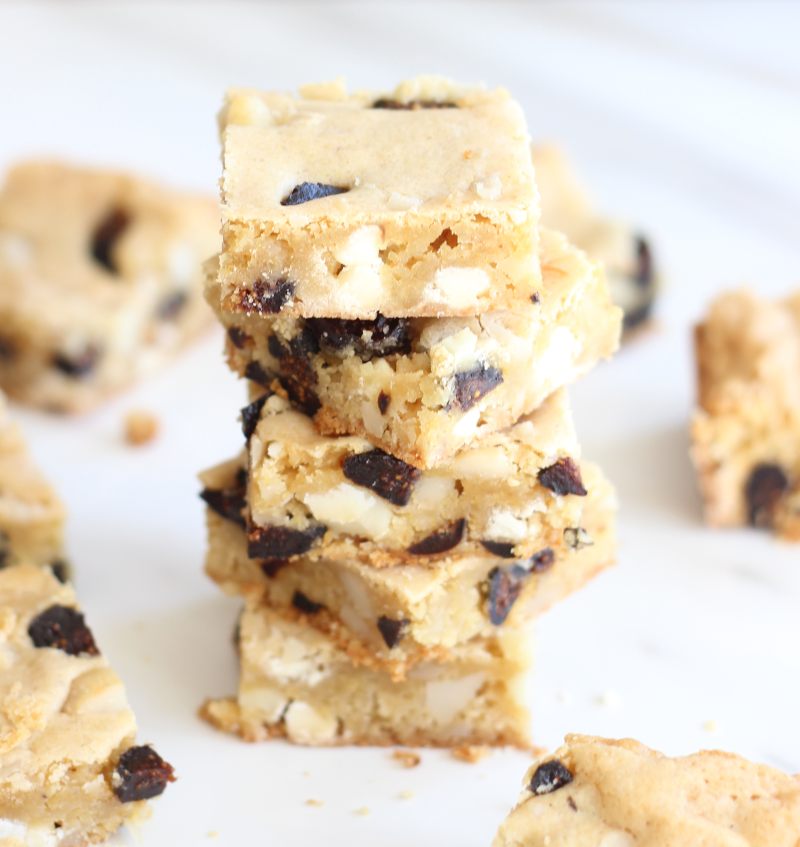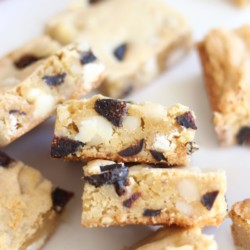 Macadamia Nut & Fig White Chocolate Blondies
Ultra-chewy and rich white chocolate blondies are chock-full of sweet figs and buttery macadamia nuts for an understated, but amazingly rich and delightful cookie!
Ingredients
2

c.

white chocolate chips

divided

1/2

c.

butter

11/2

c.

flour

2/3

c.

packed brown sugar

2

tsp.

baking powder

1/4

tsp.

salt

1

tsp.

vanilla

2

eggs

1

c.

chopped figs

1

c.

chopped macadamia nuts
Instructions
In a medium saucepan over low heat, melt the butter, and bring it to a simmer.

As soon as it simmers, remove from heat and scatter 1 c. white chocolate chips over the butter. Do not stir.

Allow to sit for 5 minutes, then gently stir the chips and butter together until mostly combined. Set aside to cool to lukewarm, about 10 minutes.

Meanwhile, in a large bowl, whisk together flour, brown sugar, baking powder, and salt.

Add the eggs, vanilla, and white chocolate mixture to the flour mixture. Mix until just combined.

Fold in the remaining 1 c. white chocolate chips, the chopped figs, and the macadamia nuts.

Spread into a greased 9x13-inch pan.

Bake at 325 degrees for 20-24 minutes, or until edges are golden brown and a toothpick inserted near the center comes out clean.

Allow to cool completely before cutting into bars. Enjoy!