This cocoa and espresso-infused pavlova meringue is topped with cherries, chocolate curls, and chocolate whipped cream, for a delightful and sweet treat to share with your Valentine!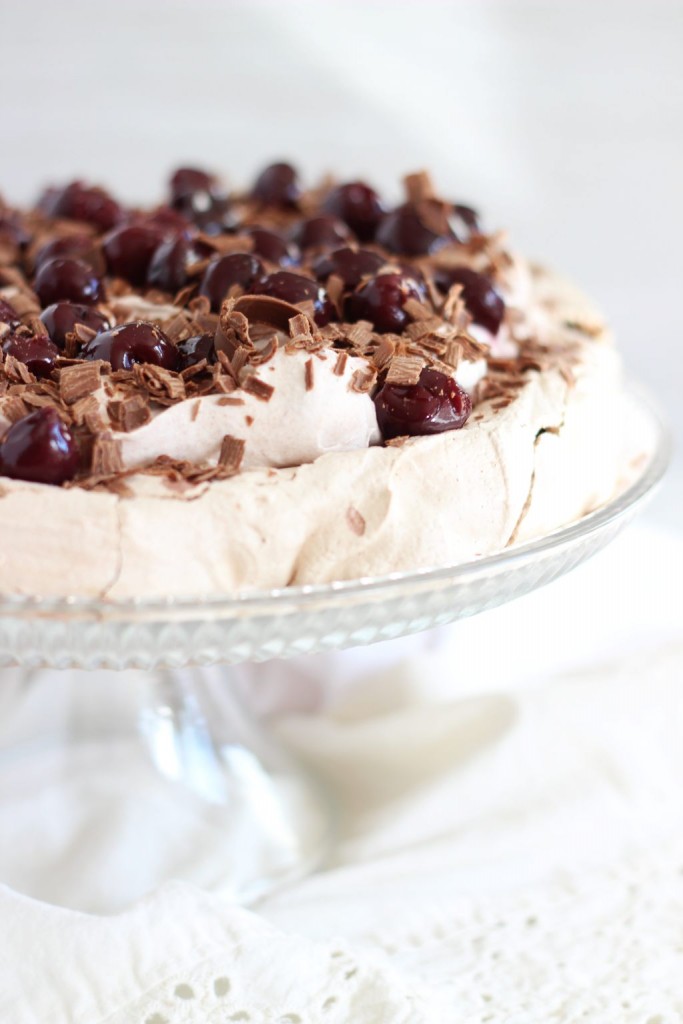 I really had pavlova on the brain for Valentine's Day. I'd already made the Triple Berry Amaretto Pavlova when I had the idea that I wanted to make a chocolate one.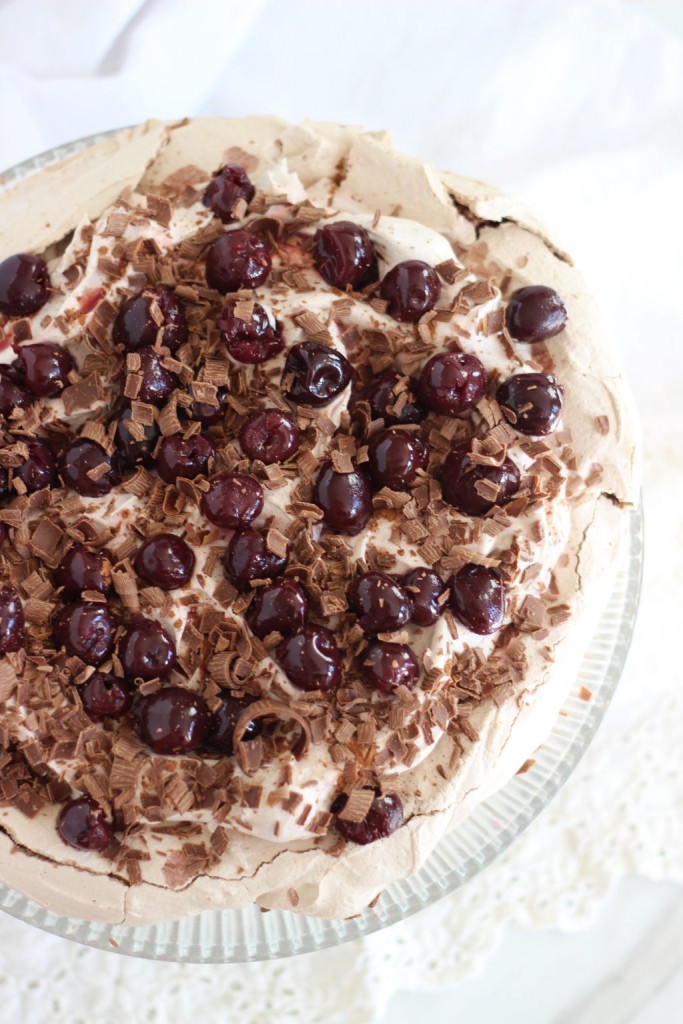 They're just so fun to make, it's hard to stop with just one. Whipping egg whites and sugar into oblivion, until they resemble big puffy clouds. It's just enticing.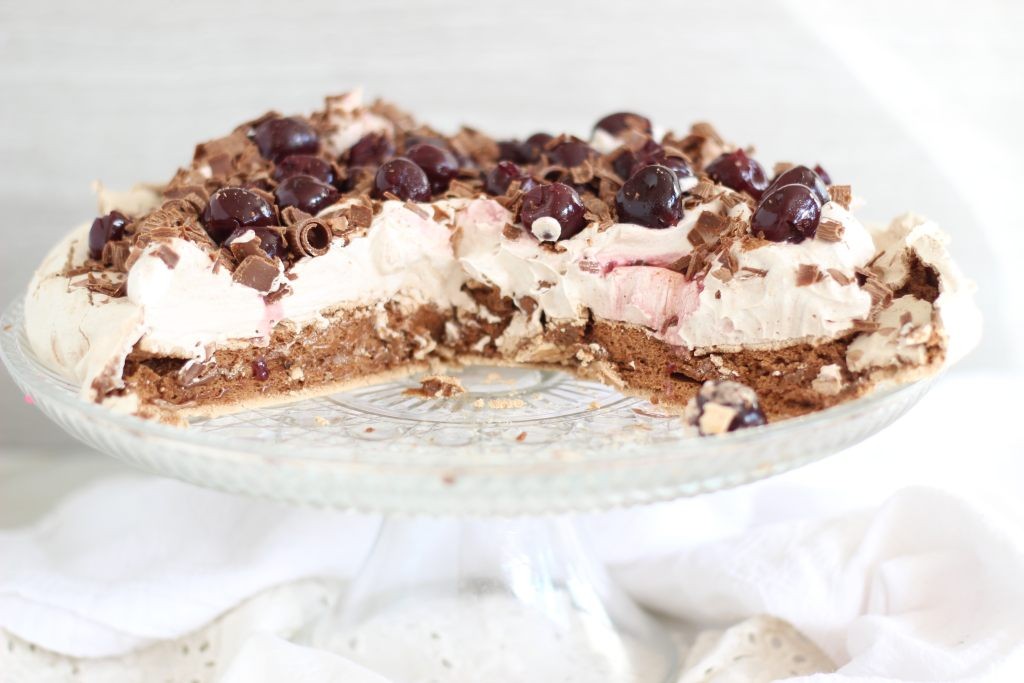 And they make for a great Valentine's Day dessert because they're pretty and elegant, but very light. Nothing that will sit heavy in your stomach once you've finished your filet mignon dinner with your special someone! It's the perfect light and airy dessert to accompany bubbly, refreshing champagne.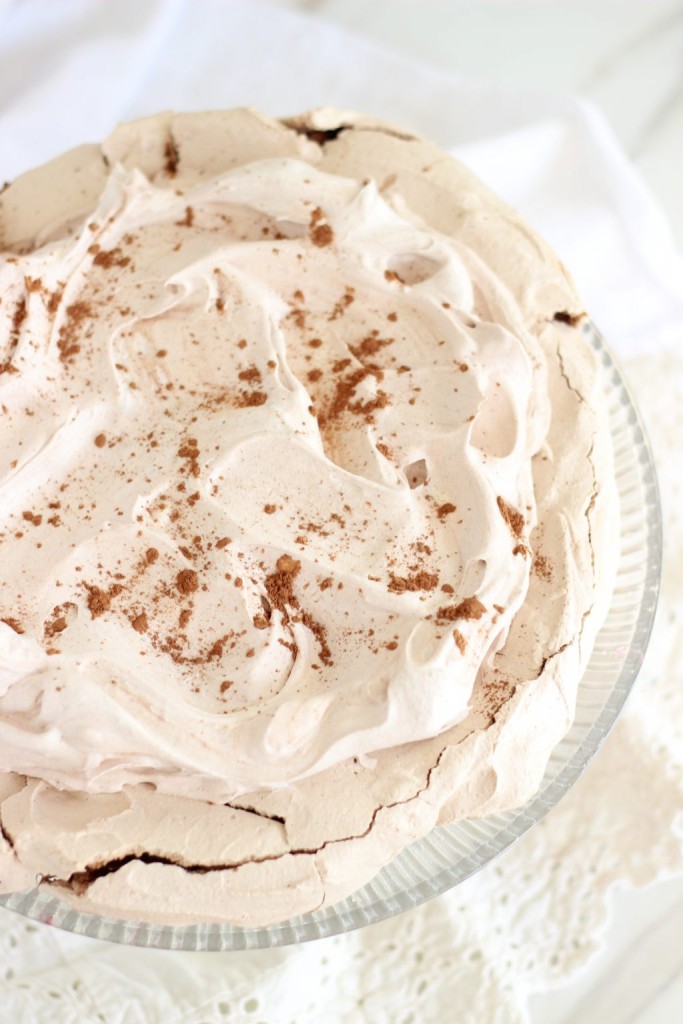 For Valentine's Day, I knew I somehow wanted to put together chocolate, espresso, and cherries, and when I thought about making a chocolate pavlova, I knew that I wanted to complete the idea by making it a Chocolate Espresso Black Forest Pavlova.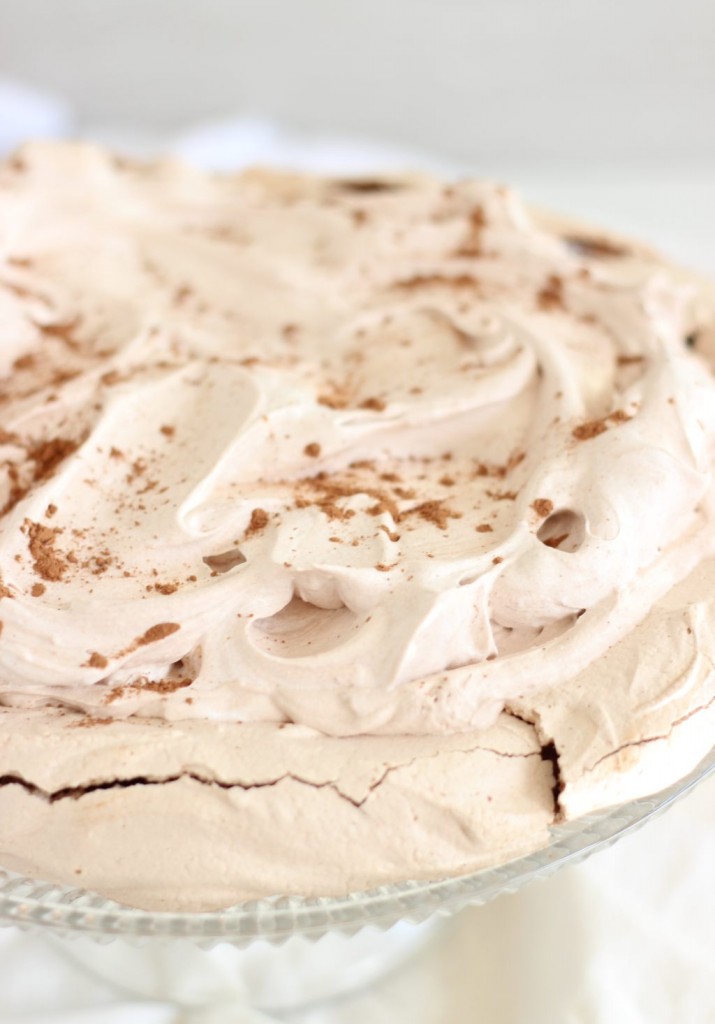 Will you all mind two pavlova recipes? Of course not – they are totally different versions of the same basic dessert. They couldn't be more different.
The first one is berries and cream, and almond flavors, and this one is chocolate, espresso, and cherries.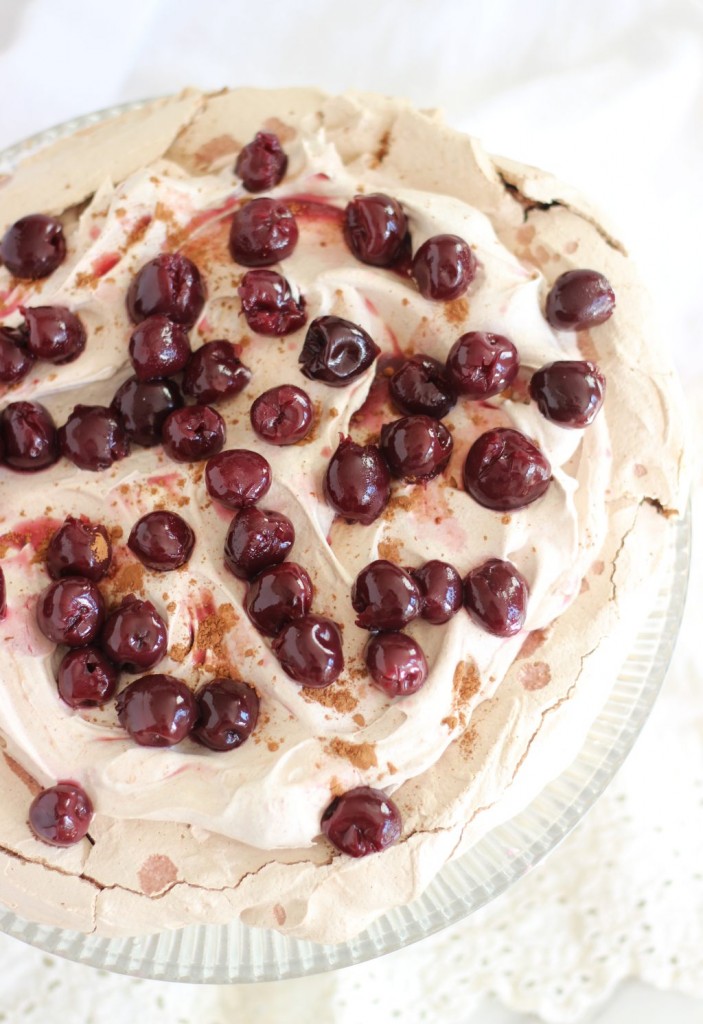 Once I whipped up the basic pavlova meringue, I added cocoa powder and instant coffee granules to give it its first jolt of chocolate and espresso flavors.
Next is a layer of cocoa and coffee-infused whipped cream, and a light dusting of cocoa powder!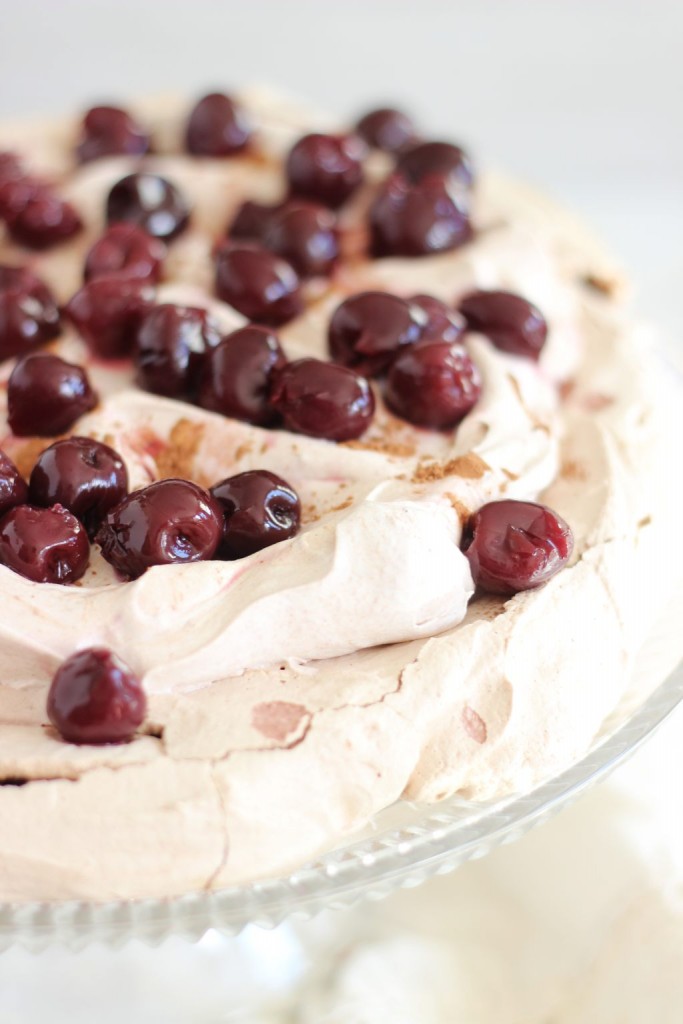 Followed by a smattering of dark sweet cherries, and a generous sprinkling of chocolate curls!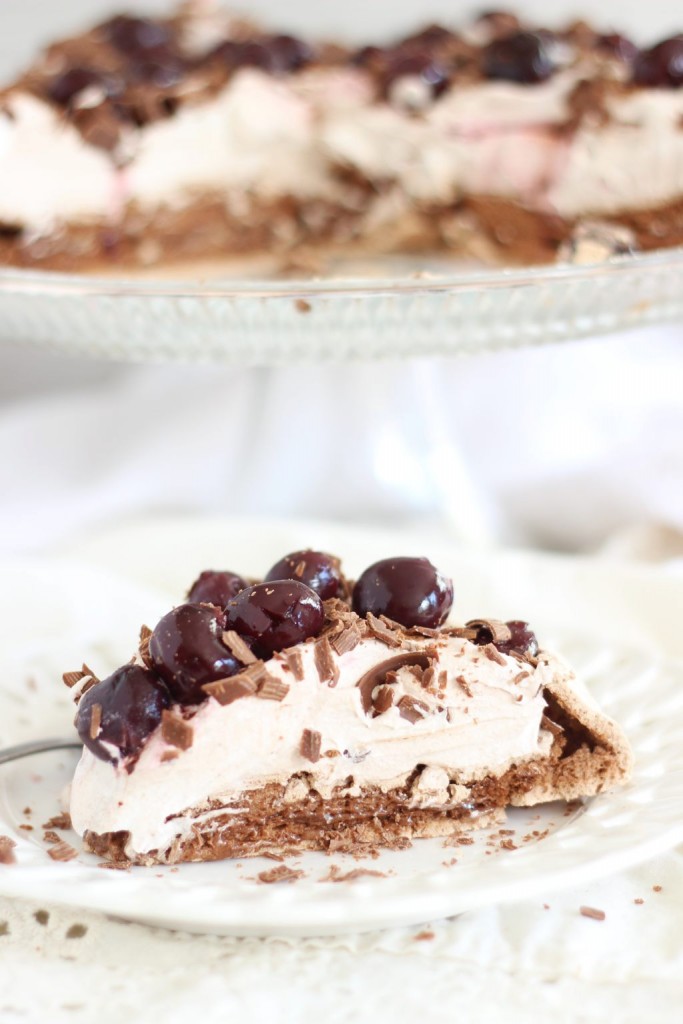 Just like it's counterpart, this pavlova has the signature traits of a traditional pavlova. It has crispy, but airy edges, and a pillowy, marshmallow-like center. The rich flavor combination of the chocolate, espresso, and cherries is both romantic, and to-die-for!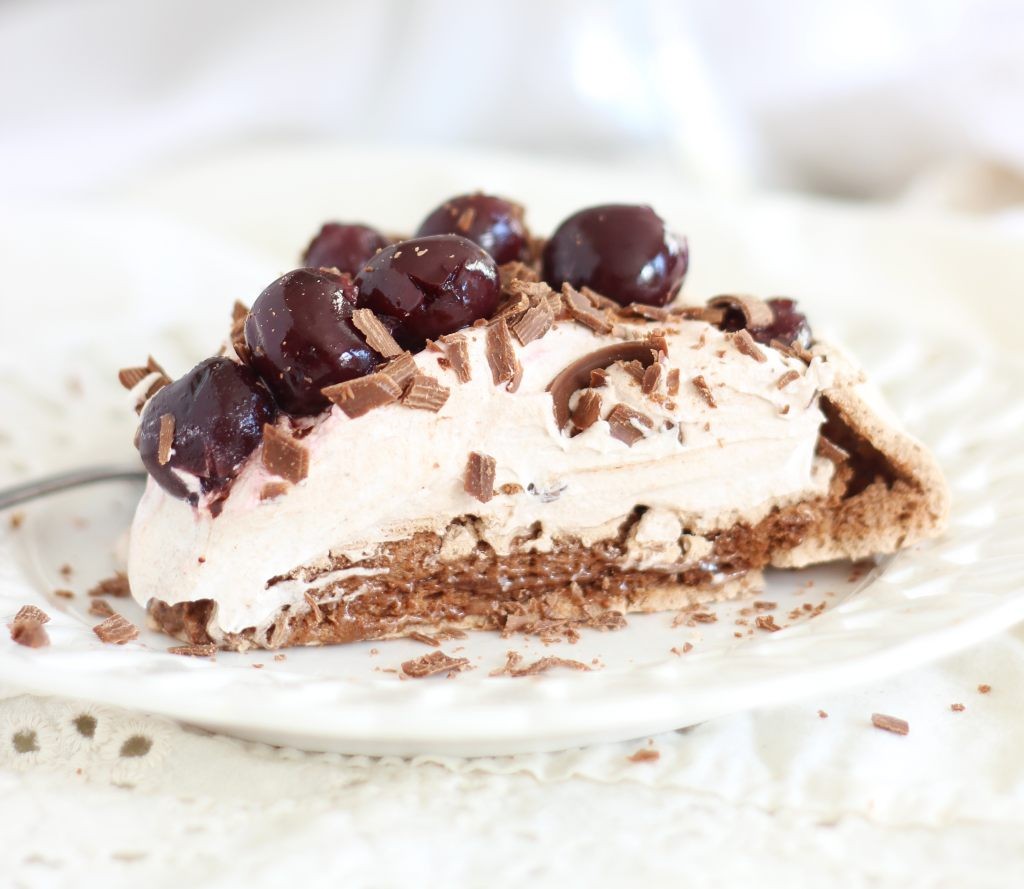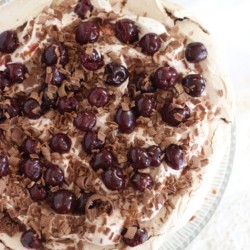 Chocolate Espresso Black Forest Pavlova
Ingredients
For Chocolate Espresso Pavlova:
5

large egg whites

at room temperature, and make sure they are not contaminated with ANY yolk

1/2

tsp.

cream of tartar

1

c.

sugar

1

tsp.

vanilla extract

3

tbsp.

cocoa powder

1

tbsp.

instant coffee granules

or 2 instant coffee packets for individual cups
For Black Forest Topping:
1 - 8

oz.

container whipped topping

thawed

1

tbsp.

cocoa powder

1

tsp.

instant coffee granules

1 - 15

oz.

can pitted dark sweet cherries

drained

1 - 4

oz.

milk or semi-sweet chocolate bar

shaved into chocolate curls
Instructions
For Chocolate Espresso Pavlova:
Preheat oven to 400 degrees.

Line a large baking sheet with parchment paper.

Trace a 9-inch circle on the parchment paper, using a plate as a guide. Flip the parchment paper over.

Spray it lightly with non-stick cooking spray.

In a large mixing bowl fitted with a whisk attachment, beat the egg whites and cream of tartar on medium speed until the egg whites are foamy, about 2 minutes.

Gradually add the sugar, a few tablespoons at a time.

Beat on high until stiff peaks form, and the egg whites are glossy and white, about 5 minutes.

Beat in vanilla extract.

Beat in cocoa powder and instant coffee granules.

Pile the meringue mixture onto the baking sheet in a round mound, using the traced circle as a guide.

Place in the oven and *immediately* turn the temperature down to 250 degrees.

Bake for 90 minutes, then turn off the oven, keeping the oven door closed. Do not open the oven door, or remove the pavlova. Allow it to cool in the oven for about 1 hour.

Remove pavlova from oven, cool completely on the pan.

Carefully shift the pavlova from the parchment paper to a cake plate or serving platter.
For Black Forest Topping:
In a medium bowl, fold together whipped topping, cocoa powder, and coffee granules.

Spread the cocoa whipped cream evenly over the cooled pavlova.

Scatter the drained cherries over the cocoa whipped cream.

Sprinkle with chocolate curls. Serve immediately!