Red velvet meets ooey, gooey, soft, chewy, buttery and brown-sugary cookie perfection! And loaded with semi-sweet chocolate chunks! This Red Velvet Chocolate Chunk Skillet Cookie couldn't be easier, and couldn't be any more delicious.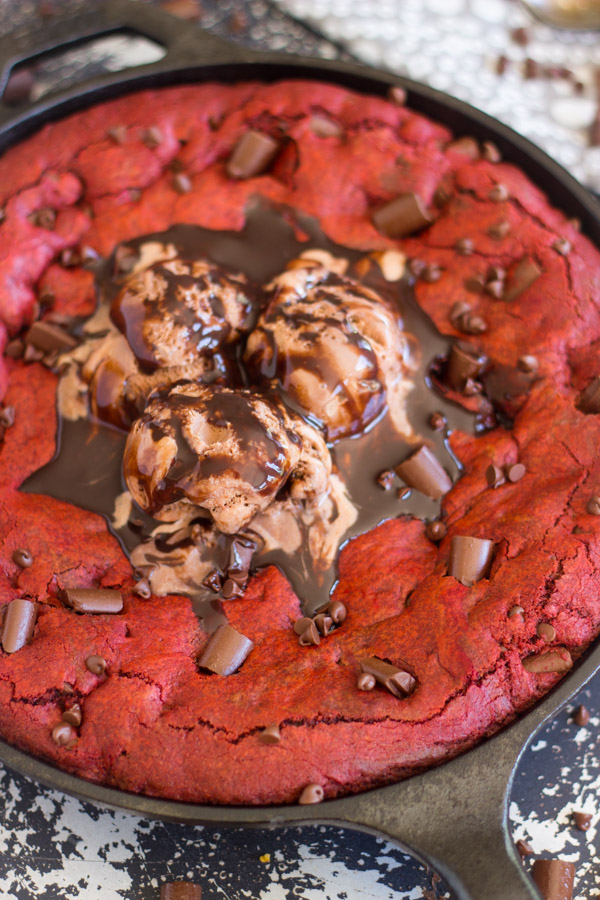 I didn't have a good cast-iron skillet for almost a year, but since finally getting a new one a few months ago, I haven't been able to stop using it. I had a fancy, expensive one that I bought at Crate & Barrel, and it was JUNK. It was trashed in a few uses, and there was no saving it, and the lesson to be learned here is that you only need about $13 and an Amazon.com account to get a basic Lodge skillet. It's all you need, and will last you for years.
It's one of the cheapest kitchen tools you can find, and is absolutely essential. I'm in love with my skillets, and have a bunch of sizes now. Cast-iron skillets do not need bells and whistles. Just fundamental function.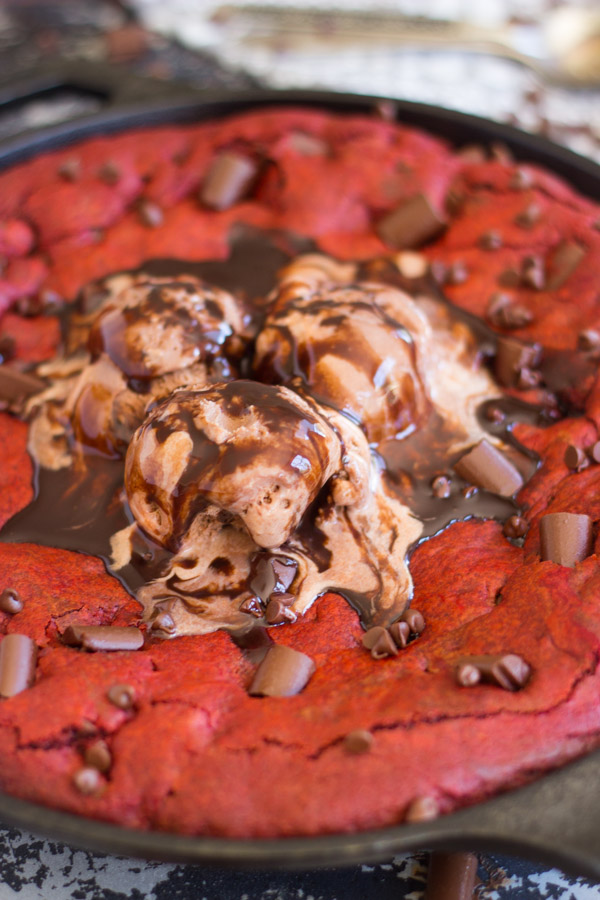 I've been reveling in all the things I missed making while I didn't have a cast-iron skillet. Mostly, that would involve skillet cookies. Hiiiii, best cookie ever. But I also made this Giant Pumpkin Caramel Pecan Skillet Cinnamon Roll in my skillet, and that bread is both beautiful and delicious.
But as for skillet cookies, they rank as one of the greatest discoveries of my life. Like, skillet cookies kind of ruin regular cookies. They're a fraction of the work, and you've got waaaaay more chewy, gooey middle. Which, we can all agree, is the best part of the cookie, no?
The center of a skillet takes up so much more real estate and it's all chewy, gooey, soft, chewy, perfection. Who doesn't love the center of the cookie best?
It's a bit like a cookie pie. So thick and chewy, and has a huge middle section that's all ooey-gooeyness.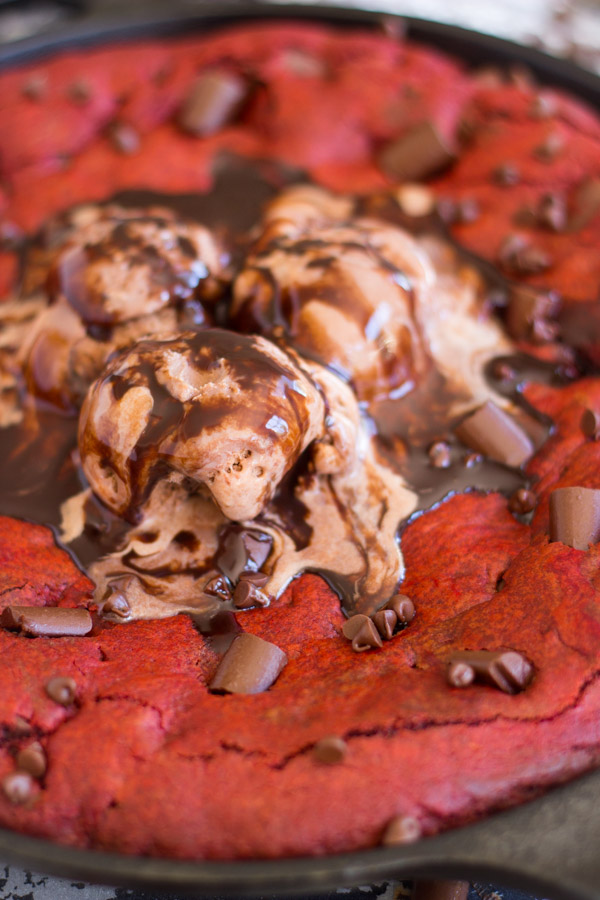 And the cookie dough whips up so fast. This recipe is a few basic ingredients. So, so basic. Egg, flour, brown sugar… ordinary stuff. But those usual suspects come together to create something INCREDIBLE.
All you do is spread the dough in the skillet, bake, and done. No dropping by tablespoonful, and replacing tray after tray of cookies in the oven. One and done. Much less work.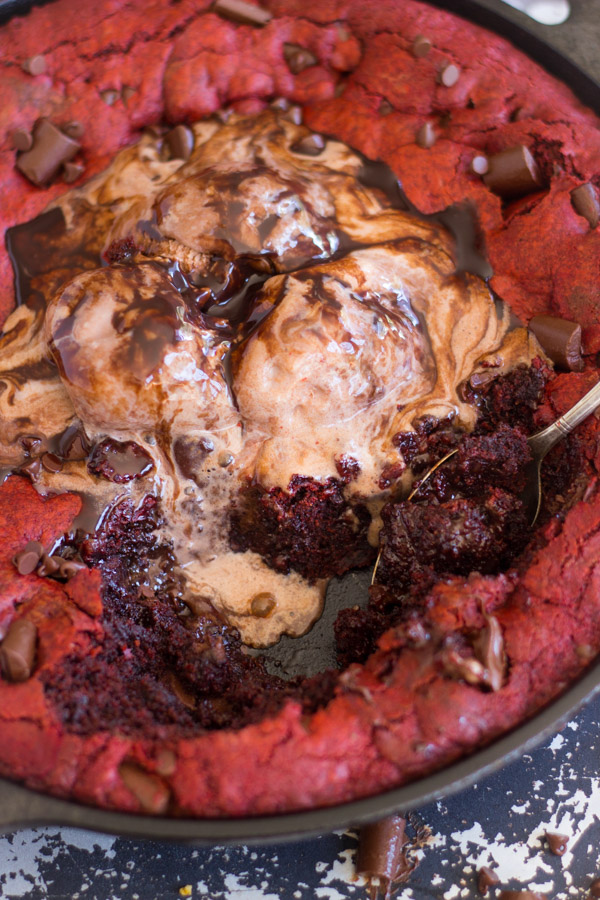 I have a few more skillet cookies coming up, but I had to get you this Red Velvet Chocolate Chunk Skillet Cookie so you'd have the recipe for Valentine's Day.
This is the kind of dessert you make for movie nights. Everyone just digs in. That's why it's perfect for Valentine's Day and date nights too – you and your S.O. or BFF or date can just grab spoons and dig in. No need to be formal. I mean, you can cut it into wedges if you want to get fancy about it, but it's perfect date night dessert so you can just find a utensil and have at it.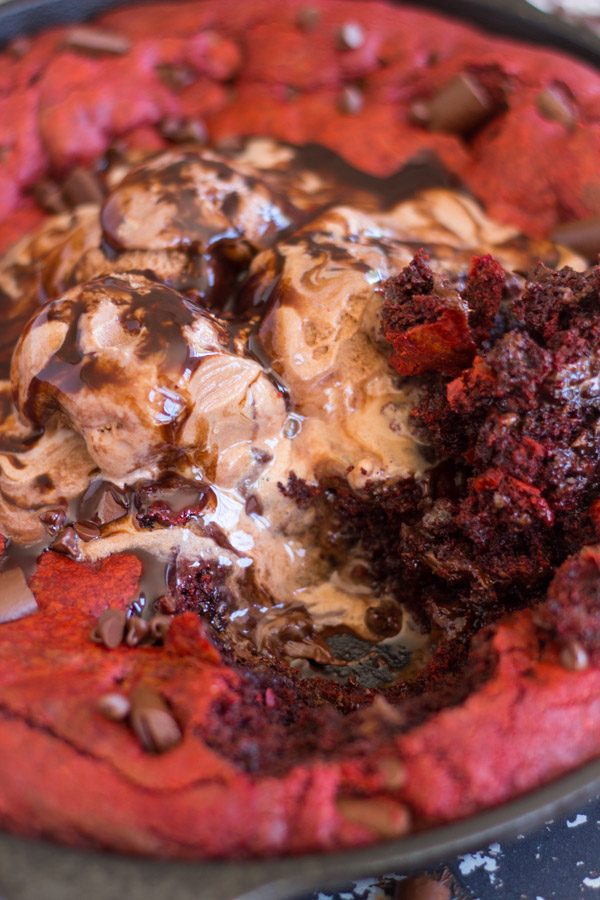 It's beautiful, so it impresses with it's vibrant red hue and big chocolate chunks, but no one needs to know how EASY it was to make!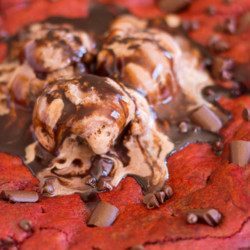 Red Velvet Chocolate Chunk Skillet Cookie
Ingredients
1

c.

packed brown sugar

1/2

c.

sugar

1/2

c.

butter

softened

1

large egg

1/4

c.

whole milk

1

tsp.

vanilla

4-5

drops red food color gel

2

c.

all-purpose flour

2

tbsp.

cocoa powder

1

tsp.

baking soda

1/4

tsp.

salt

1/2

c.

mini semi-sweet chocolate chips

1

c.

semi-sweet chocolate chunks

ice cream and chocolate sauce
Instructions
In a large mixing bowl, beat brown sugar, sugar, and butter until fluffy.

Add egg, milk, vanilla, and red food color, beating until combined.

In a medium bowl, whisk together flour, cocoa powder, baking soda, and salt.

Add to mixing bowl gradually, beating until combined.

Fold in mini chips and chocolate chunks.

Spray a 10-inch cast-iron skillet with non-stick spray.

Spread the batter evenly into the skillet.

Bake at 325 for 40-45 minutes, or until edges are golden and a toothpick inserted near the center comes out with a few moist crumbs, but mostly clean.

Cool for 15 minutes. Cut into slices.

Serve warm with ice cream and chocolate sauce.