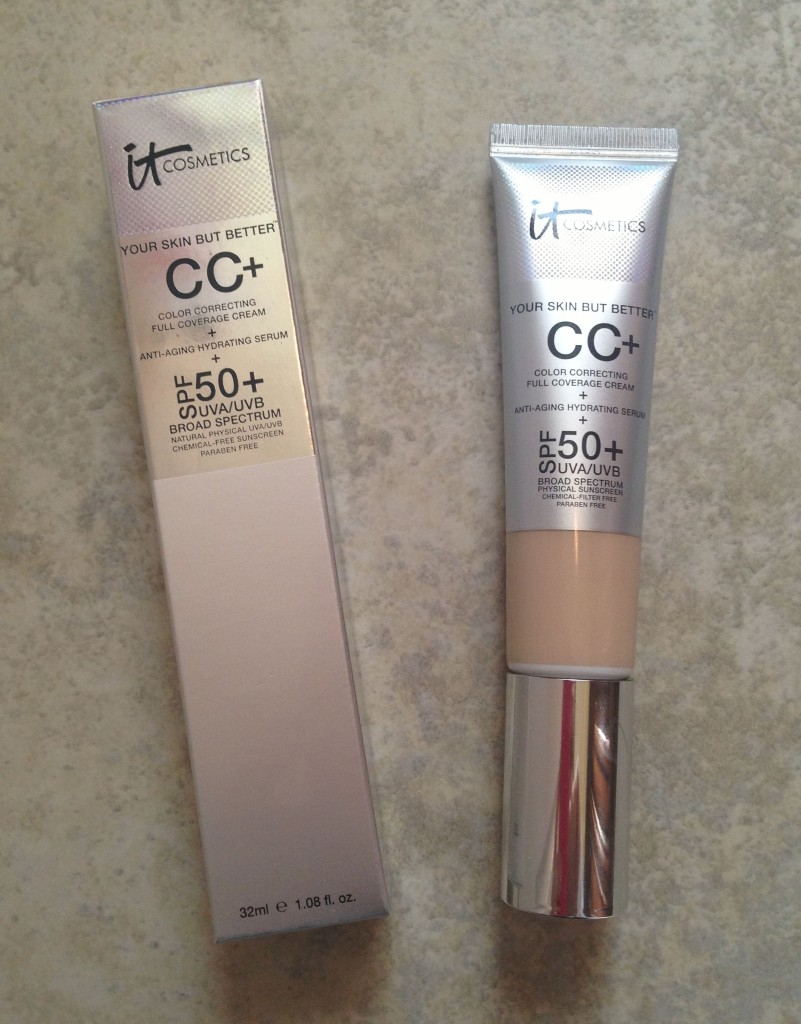 I have about 4 billion products right now that I'm anxious to review, but after a few days of using this one, I moved it straight to the top. I am *really* excited about this product. Much like the recently reviewed Kat Von D Saint palette, which is a total game-changer for me, this too, is a game-changer. I feel like it's quite rare to encounter a true life-changing product, but this It Cosmetics CC cream is a big deal. I first heard about it from one of my absolute favorite YouTube beauty gurus, MakeupbyTiffanyD, and I'm so grateful for her recommendation.
It Cosmetics is a fairly new brand to me. Other than the Naturally Pretty palette that I own and reviewed a few weeks ago, I don't own any other products, and I haven't really tried many either. The palette is really amazing though, and I have sampled the Bye Bye Undereye concealer a few times, but I'm still making up my mind about whether I want to take the plunge and actually purchase it. After watching TiffanyD's review of the CC cream, I was sold. I made a special trip to Ulta the same day to sample and purchase it. I was so convinced I would love it that I actually purchased TWO, and it is not cheap. (But, I had a coupon to use so I wanted to make sure I stocked up in case I love it.) Well, I do. I love it. Indulge me while I tell you all about it and why I think it's so great…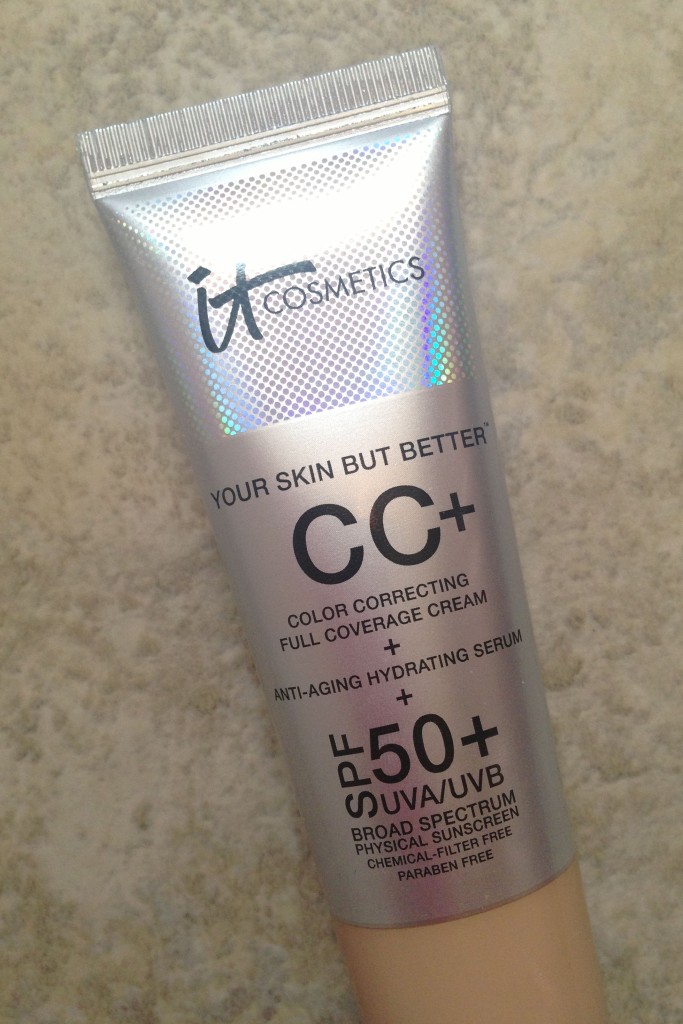 Product info/background: One way It Cosmetics is making a name for itself is that the brand strives to incorporate anti-aging ingredients into all of their products – eyeshadows included. They legitimately stuff skin-improving ingredients into everything. I love that. We all try to use good skincare products when we aren't wearing make-up, but it's very revolutionary to include those benefits into our actual make-up which we have on our skin for much of the day. Hence, this is why they are "Innovative Technology" Cosmetics. Get it?

This CC cream "includes peptides, niacin, algae, vitamins A, C, B, E, hyaluronic acid, and hydrolyzed collagen along with antioxidants and exotic natural botanicals for long-term brightening and color-correcting benefits." It also includes broad spectrum sun protection in the form of 9% Titanium Dioxide and 6.3% Zinc Oxide. These are physical, non-chemical sunblocks. I can't tell you how important this attribute is to me. As a person who lives in Florida and is prone to hyper-pigmentation and melasma, sunblock is absolutely essential. I also appreciate what this does not include, and that is parabens. I like to avoid them whenever I can. Also, it's worth noting that this product is cruelty-free. Always a plus.
The claims by It Cosmetics are that this is "full coverage foundation, brightening color, anti-aging serum, pore minimizing primer, dark spot corrector, moisturizing day cream, plus UVA/UVB broad spectrum physical only SPF 50+."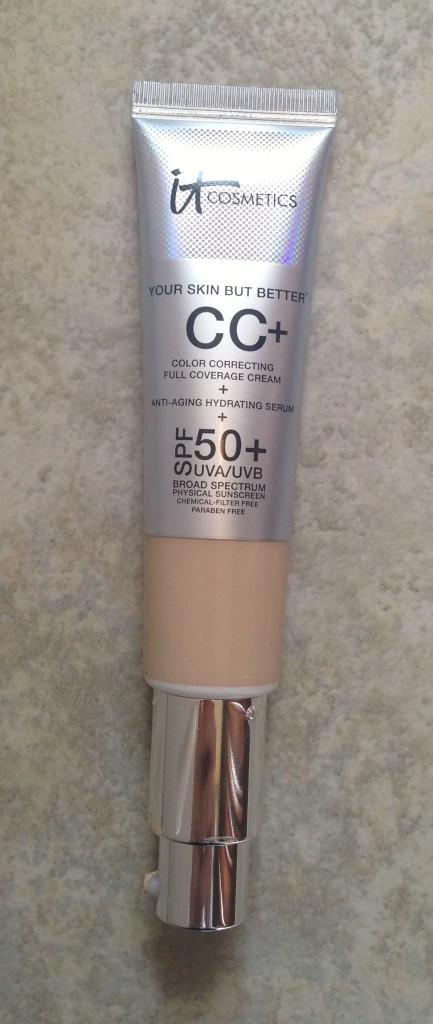 Packaging: It's a tube with a pump at the top. I like this for a few reasons. It keeps the remaining product hygienic, but it also allows you to easily control how much product you're getting. It's a very good pump. Also, it keeps things neater and tidier. It's a non-messy approach to packaging, and that's always appreciated.
Performance: Let's check these off one-by-one, shall we?
Full-coverage foundation: Well, I wouldn't personally label this full-coverage, but more like medium+. I think it surpasses a medium coverage, but it's not exactly "full." It's definitely pretty highly-pigmented though. It applies smoothly and evenly and it's very easy to blend. It feels like you're applying a thick, syrupy moisturizer. I do set this with powder, but you wouldn't need to because it really sets up well and you hardly feel like you're wearing anything on your face. It's a very comfortable, lightweight formula. It feels a little sticky and syrupy out of the packaging, but it doesn't sit on your skin that way. It even did a pretty good job of covering my undereye area, and it didn't bother that skin at all, which is where I'm typically uber-sensitive. My suggestion would be to add a touch of concealer anywhere you need a little extra coverage, and then just set with a powder. If you have decent skin to start out with, this CC cream may be the only thing you need.
Brightening color: Technically, the claim is that the brightening benefits of this CC cream will happen in the long-term. I honestly think that the cream itself has an immediate, slightly brightening effect to my overall complexion despite that it's quite mattifying. I feel like it just makes me look a bit brighter and more refreshed. As for long-term, I can't say yet. However, the packaging does list a number of ingredients that are known and accepted to be natural complexion brighteners over time.
Anti-aging serum: I looooove that it includes anti-aging ingredients and a number of other additions that are known to be beneficial to skin. I think it's a brilliant idea to include those items in makeup. After all, that's what's on my skin quite a lot. Why not be improving my skin while also wearing my everyday makeup? It's genius. It lists a number of skin-improving elements that I hope I see the benefit of in the long-term. But that takes time. I feel like they can't hurt though and so I'm really excited that this CC cream has this attribute.
Pore-minimizing primer: It does act as a primer in the sense that it stays put and seriously lasts.all.day. I certainly wouldn't use a primer underneath this – it's just not necessary. I don't make a habit of wearing make-up at the gym, but I wore this stuff to the gym after work and it was still going strong afterward. If I put it on in the morning, it's still chugging on through into the evening without needing retouched. It's impressive. It's mattifying and it keeps oil at bay, for sure, which I'm prone to in my T-zone. I also feel like it made an impact on minimizing my pores.
Dark spot corrector: I read this two ways. They could mean that it hides dark spots because the coverage is full, in which case it does pretty well but not entirely. Or, this could be read as treating dark spots over time. I can't attest to that yet. Dark spots and hyper-pigmentation can take a long time to resolve, and while I can see on the ingredient list where they include known natural skin-lighteners, it hasn't done that for me yet, nor would I expect it to at this point.
Moisturizing day cream: For sure. I don't feel like I need a moisturizer prior to applying this product, and that's coming from someone whose skin is usually insanely dry (not naturally, but based on topicals I use at night that are extremely exfoliating). It definitely has moisturizing and hydrating qualities.
Broad-spectrum physical sun protection: Check. It has broad spectrum, non-chemical sun protection at SPF50+ in the form of Titanium Dioxide and Zinc Oxide. Bam. I always check for those ingredients specifically, and it's got 'em. If you have melasma or hyper-pigmentation, you know how important sunblock is, and you know that it cannot be in the form of the much more common 'chemical' sunscreens. It has to be a 'physical' sunblock. It has just that.
Bottom line: This product has great coverage, is emollient and hydrating, contains skin-improving ingredients, and provides broad spectrum non-chemical sun protection. It's long-lasting, priming, doesn't enhance pores, applies smoothly and evenly, is easy to blend, and matches my skintone. It's truly an all-in-one. It generally does everything it says it will do, and does it well. For the foreseeable future, this will be my primary, singular product serving as a moisturizer, primer, foundation, and everything in between. I like that it really eliminates several steps from my daily regimen, and eliminates the need for a multitude of other products. It does almost everything I need for a flawless face. I purchased mine at Ulta for $38 for a 1.08oz. tube, but this can also be purchased at itcosmetics.com.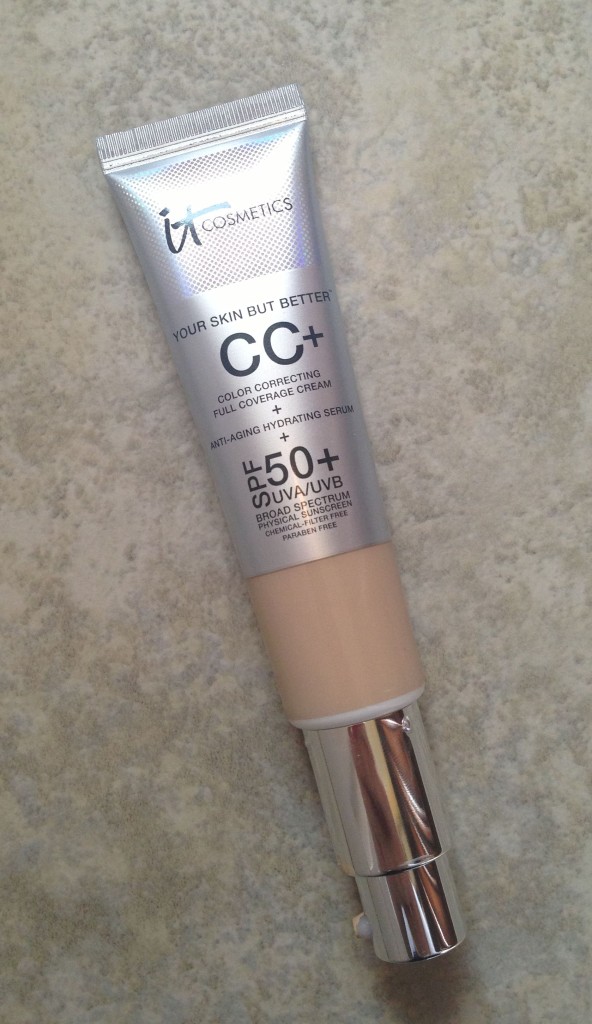 Related articles