Last, but not least: Mint Chocolate Chip Snowballs! I can't believe I said I was going to do a Snowball week, and I actually got every.single.post up for Snowball week, and on time! I planned to do one every day from Monday-Friday, and I DID IT. Things never work out as I plan, so I'm very proud that it actually happened.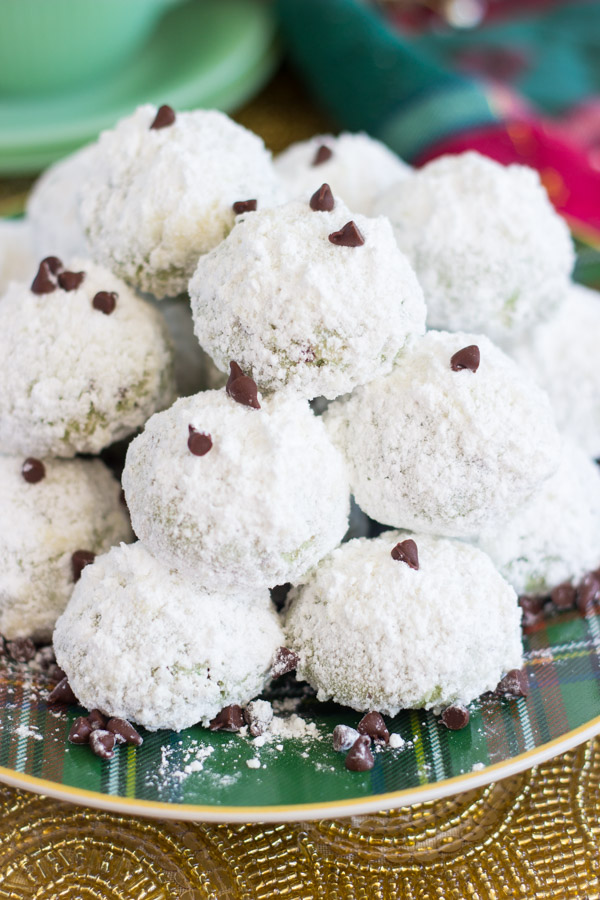 Last night I drank wine, watched football, finally worked on some Christmas shopping online, ate popcorn, and ate the last of the Snowballs! They're ALL gone. I gave a ton away, S.O. took them to the office holiday party, and I simply ate a lot of them. 15 dozen or so Snowballs, and the well has run dry.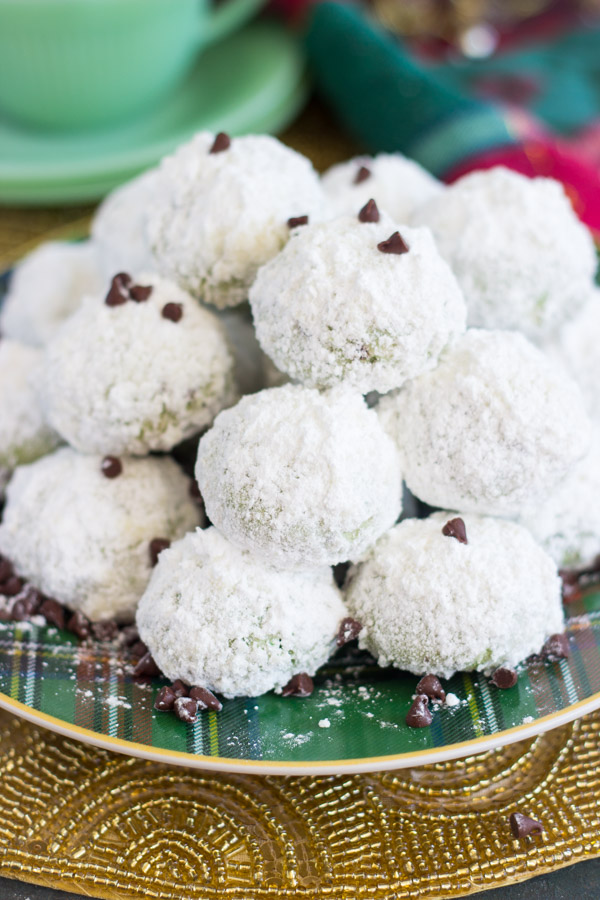 I have two more Christmas cookie recipes coming your way, a cake, and I have a few Christmas brunch recipes too, so we are still not done yet. Keep checking back! Meanwhile, I haven't planned a single thing for New Year's Eve – I never do. I really don't do anything for that holiday, so how can I portray that I do? Maybe next year (I say that every year!).
To recap, we've covered Chai-Spiced Snowballs, Cranberry Orange Snowballs, Lemon Snowballs, and Coconut Pecan Snowballs. Today I've got Mint Chocolate Chip Snowballs for you.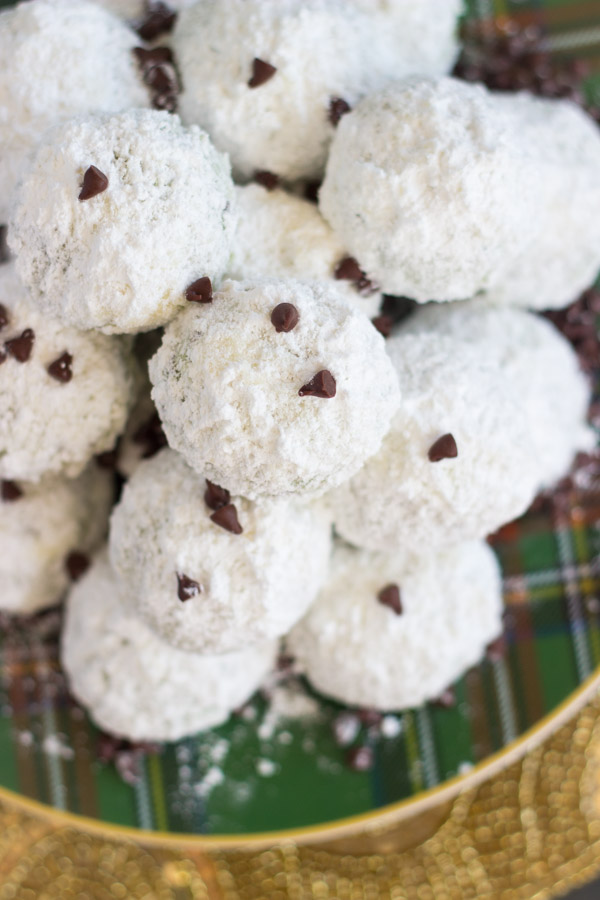 With a little bit of mint extract, mini semi-sweet chocolate chips, and green food coloring, you transform regular classic Snowballs into Mint Chocolate Chip Snowballs. Every variation of Snowball only takes a few ingredients, and you get a whole new cookie. Isn't it fun? The flavor options are pretty limitless.
Everybody loves Snowballs, so you can create a Snowball buffet for the holidays!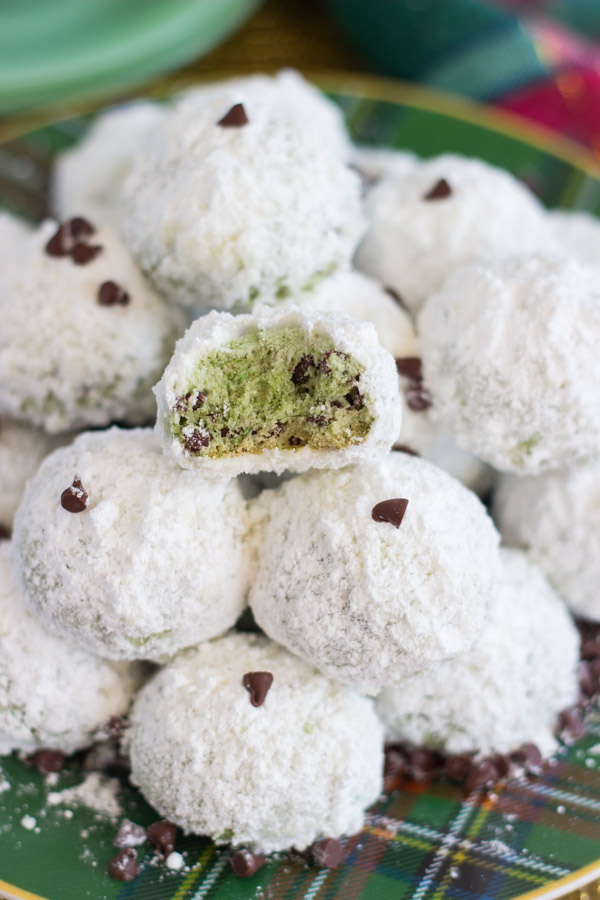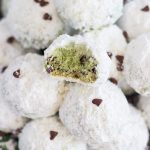 Mint Chocolate Chip Snowballs
Classic Snowballs spruced up with mint extract and mini semi-sweet chocolate chips!
Total Time
1
hour
20
minutes
Ingredients
1

c.

shortening

2

c.

powdered sugar

divided

2

c.

all-purpose flour

4-5

drops green food coloring

2

tsp.

mint extract

1

tsp.

vanilla

1

c.

mini semi-sweet chocolate chips
Instructions
In a large mixing bowl, beat shortening, 1/2 c. powdered sugar, flour, green food coloring, mint extract, and vanilla, until well-combined.

Beat in chocolate chips, until just blended.

Shape into scant 1-inch balls.

Place balls two inches apart on parchment paper or silicone mat-lined cookie sheets.

Bake at 325 degrees for 20-22 minutes, or until they appear set.

Place remaining powdered sugar in a medium bowl.

Immediately from the oven, carefully (they're fragile when hot, and they break easily) roll the cookies in powdered sugar. (PLEASE SEE NOTES FOR ADDITIONAL DETAILS ON DUNKING THE COOKIES!)

Move to wire racks to cool completely.
Recipe Notes
For dunking snowballs, I like to arrange the powdered sugar in a large deep dish pie plate. I use two small forks to lift the cookies from the cookie sheet, and then I set them in the pie plate, and basically bury them in powdered sugar using the forks to 'scoop' it over the tops of the snowballs. I usually can fit 5 or 6 at a time in the pie plate, so I'm not doing this one by one. I let them sit for a minute so that the sugar melts on the surface of the cookie, and it does a better job of sticking. I also don't really try to remove any excess. It usually 'sets' on the cookies pretty well as they cool.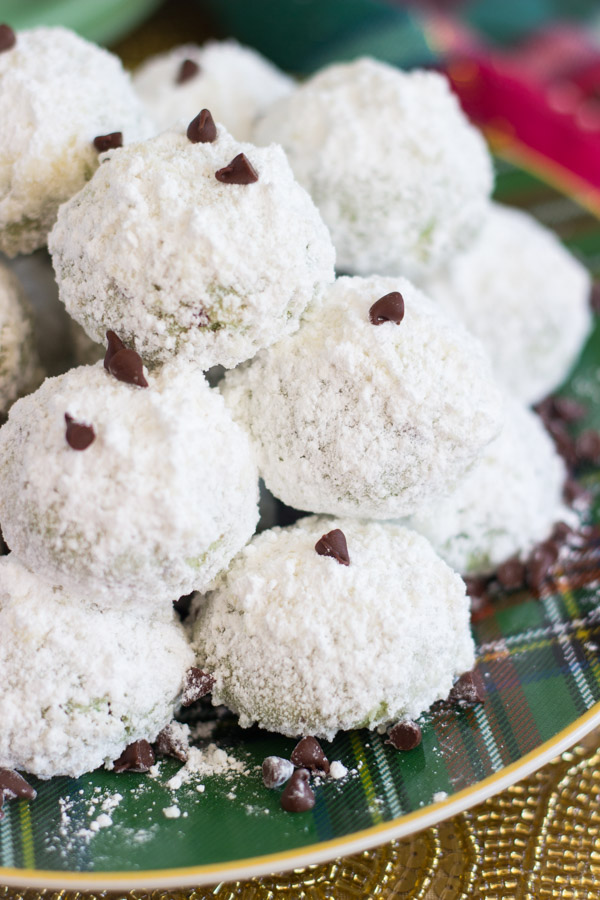 You may also like: