Banana cupcakes filled with Nutella, and topped with sweet and tangy cream cheese frosting!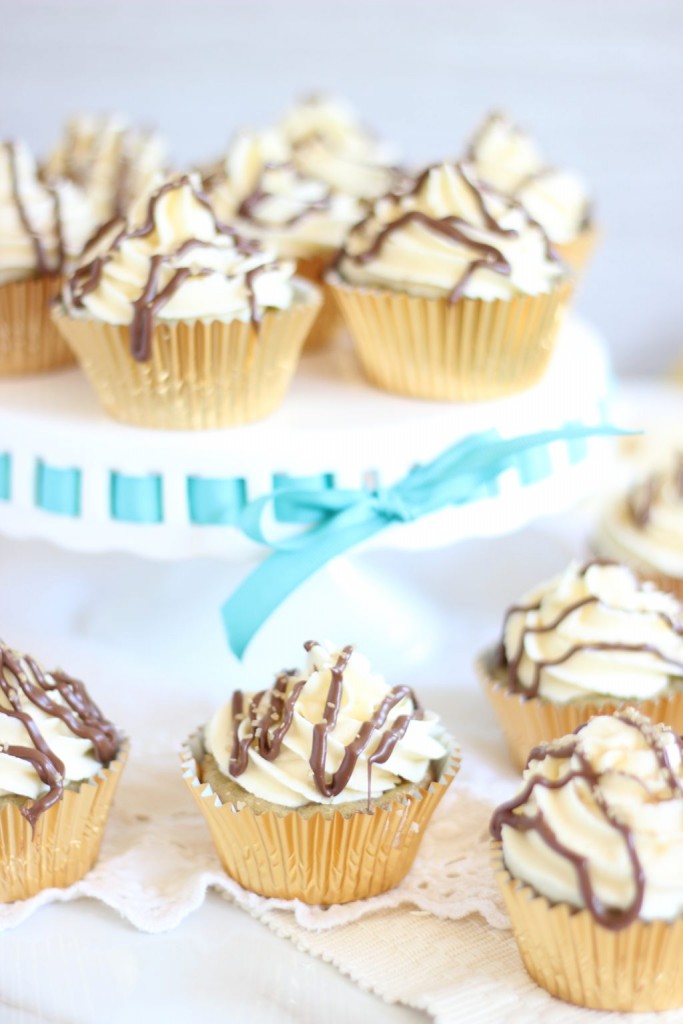 Nutella and banana… I don't have a reason why they are so great together, but they do make a special pair. If I'm in the mood for Nutella, I want it with bananas. There's just a natural connection between those two.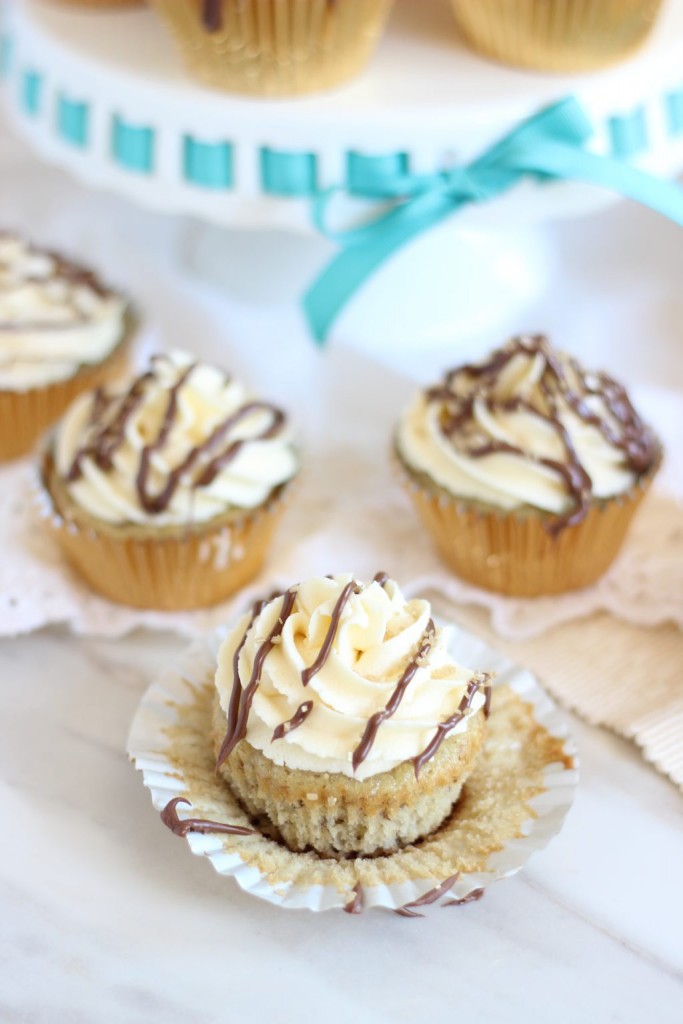 Sweet ripe bananas make for fluffy and moist banana cupcakes. The cupcakes are soft, light, and crumb-y, not dense like banana bread. They're made with three bananas, so there's no shortage of flavor.
Big scoops of Nutella fill the center of each cupcake. Creamy, chocolatey, hazelnutty-filled banana cupcakes. A whole jar of Nutella split between 18 cupcakes. No need to be stingy as you are filling the centers. There's nothing better than biting into a fluffy banana cupcake and finding creamy, rich, ganache-like chocolate-hazelnut goodness inside.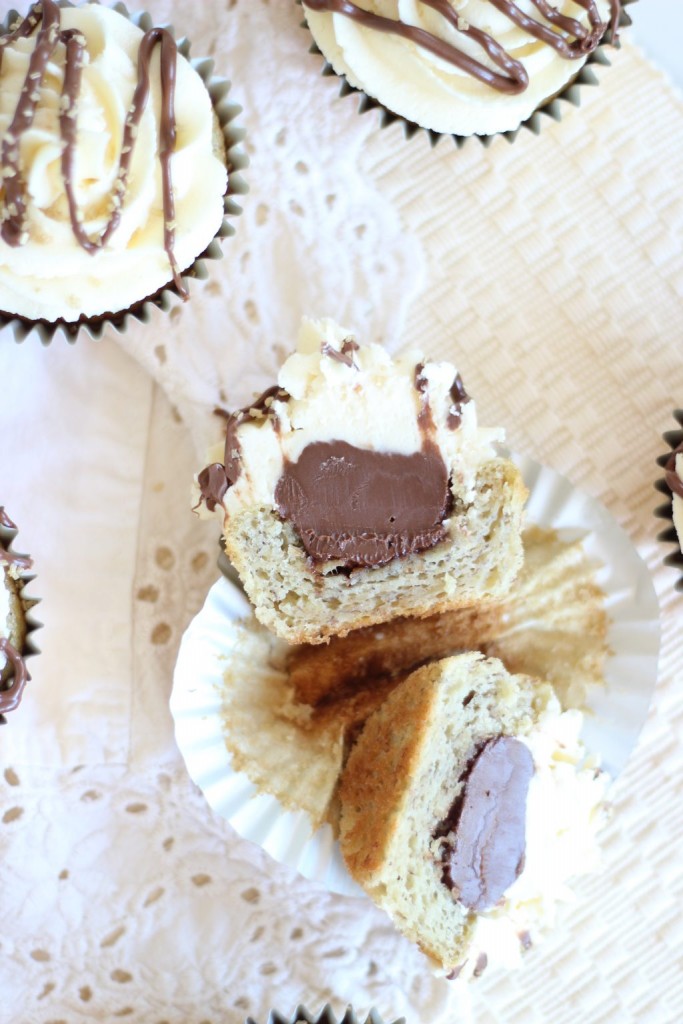 Complete with a heap of fluffy, rich, tangy cream cheese frosting on top – my favorite buttercream with anything banana. Cream cheese buttercream just perfectly enhances the rest of these cupcakes, without competing.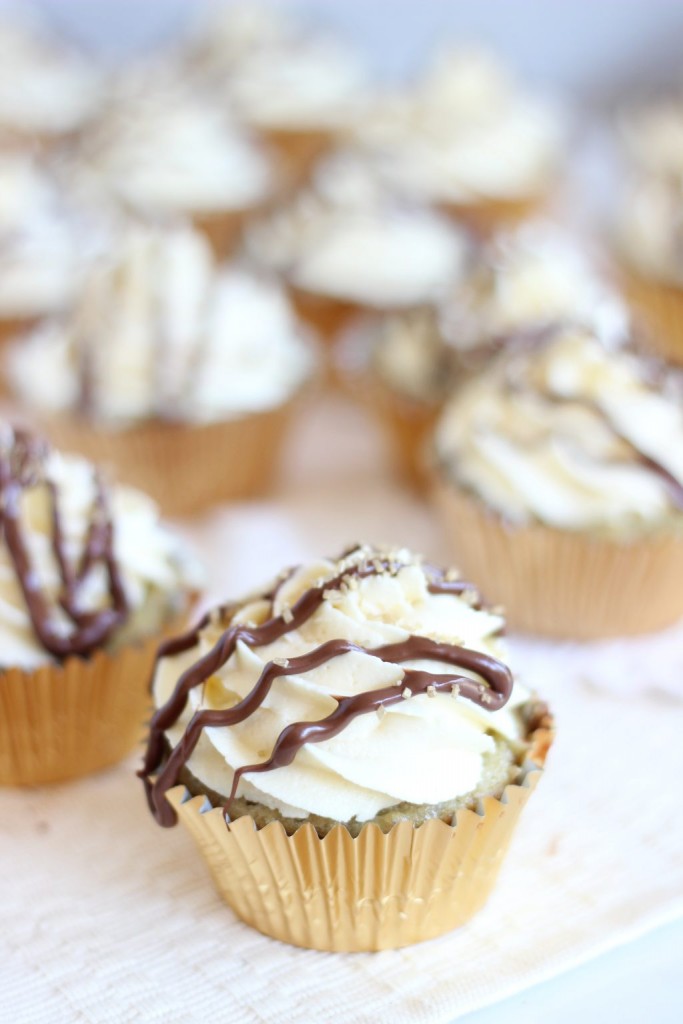 These are dangerous little cupcakes to see on the counter when you get home from the gym, but they're soooo good, that you won't regret splurging.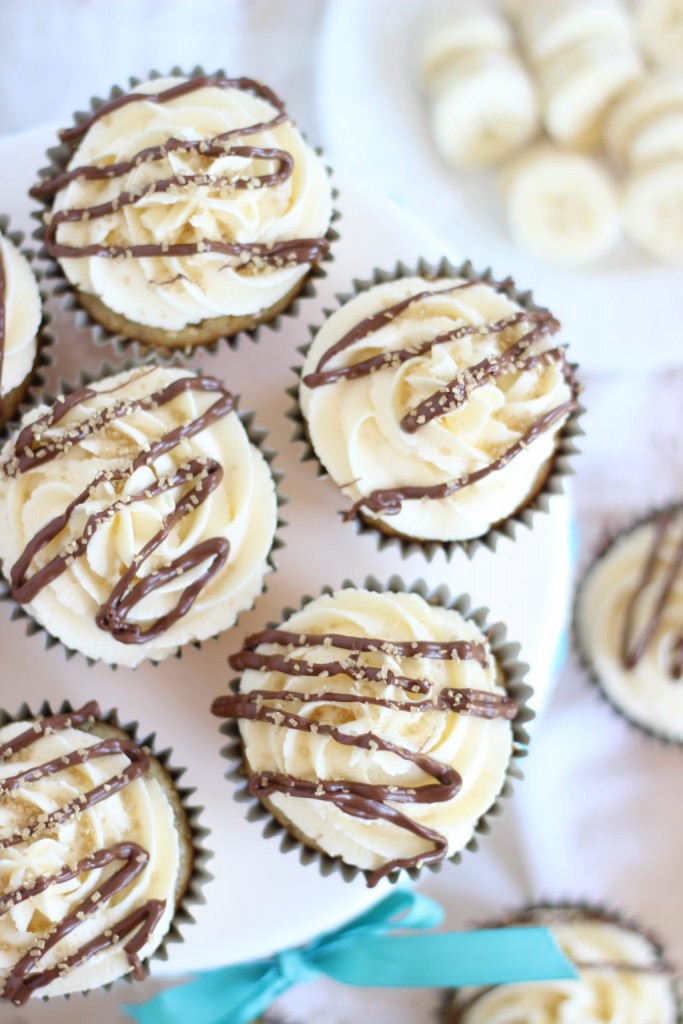 Nutella-Filled Banana Cupcakes with Cream Cheese Frosting
Banana cupcakes filled with Nutella, and topped with sweet and tangy cream cheese frosting!
Author:
Sarah @ The Gold Lining Girl
Ingredients
For cupcakes:
1½ c. all-purpose flour
¾ tsp. baking soda
¾ tsp. baking powder
¾ c. butter, softened
¾ c. granulated sugar
⅓ c. sour cream
2 tsp. vanilla
3 eggs, at room temperature
3 medium ripe bananas, mashed
1 - 13 oz. Nutella
For buttercream:
2 - 8 oz. packages reduced-fat cream cheese, softened
½ c. butter, softened
1 - 2 lb. bag powdered sugar
1 tbsp. vanilla
2-4 tbsp. milk
Directions
For cupcakes:
In a medium bowl, combine flour, baking soda, and baking powder.
In a large mixing bowl, beat butter and sugar until combined.
Add sour cream, vanilla, and eggs, beating until combined.
Fold in bananas.
Line 18 regular-sized muffin cups with paper liners.
Fill the cups ¾-full with cupcake batter - these don't rise a lot.
Bake at 350 degrees for 18-22 minutes, or until edges are golden brown.
Remove to wire racks to cool completely.
To fill: Using a small spoon or small cookie scoop, carefully scoop a 1-inch ball of cake out of the top of each cupcake.
Fill the divot with about 1-inch rounded scoop of Nutella. I used the entire jar.
You can replace the cake ball on top of the Nutella, or not! I sometimes frost right over the filling, without replacing it, but you can add the tops back onto the cupcakes if you'd like.
For buttercream:
In a large mixing bowl, beat cream cheese and butter until fluffy.
Add powdered sugar and vanilla, beating until combined.
Add 2 tbsp. milk, and beat until combined, adding more milk as needed to achieve desired consistency.
Beat for 3-4 minutes, or until light and fluffy.
Frost the cupcakes! Enjoy!