My favorite blondie cookie dough, loaded with leftover Halloween candy and candy bars, and baked into an ooey, gooey, chewy Candy Bar Cookie Pie!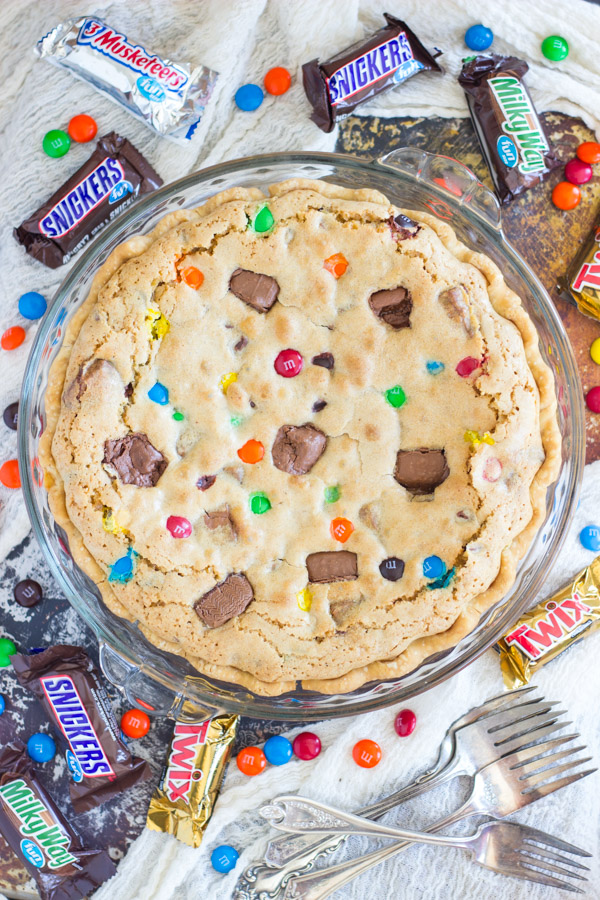 If you're staring down a large bowl of Halloween candy that didn't get handed out to trick-or-treaters, this Candy Bar Cookie Pie is another idea for what you can do to repurpose it. Besides, like, eating it.
I shared a Snickers Monkey Bread recipe, as well as a Candy Bar Brownie Pie. This is the chocolate chip version of the Candy Bar Brownie Pie!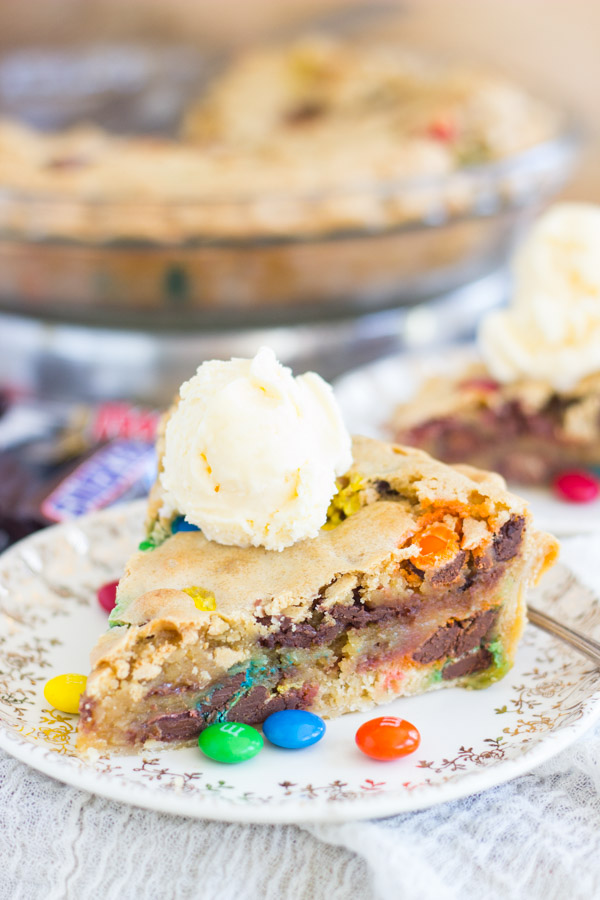 I didn't expect to have leftover candy, honestly, but I should've. Did you get a lot of trick-or-treaters? Year-to-year, it is so sporadic for me, I don't know what to plan for! In 5 years living in my neighborhood, I can't predict what kind of traffic we'll get, but I plan for a crowd just in case. Sam's Club bags of like 200 candy bars. I gave it out by the fistful, but I still have a ton of extra!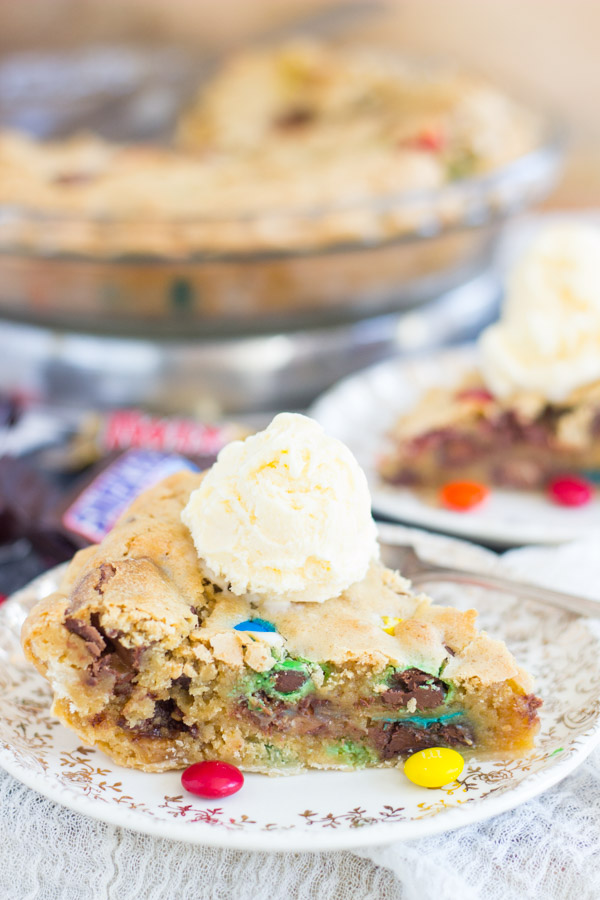 This Candy Bar Cookie Pie is the chocolate chip cookie dough version of the brownie pie. Swap chocolate chip cookie dough for brownie batter, and poof.
Both pies are so good. I'm sure your dilemma is deciding which to make. How much chocolate do you want in your life? I love chocolate, although I don't think of myself as a chocaholic exactly, but that brownie…. it's spectacular. When I want a massive, ooey-gooey chocolate chip cookie though, this Candy Bar Cookie Pie works like a charm.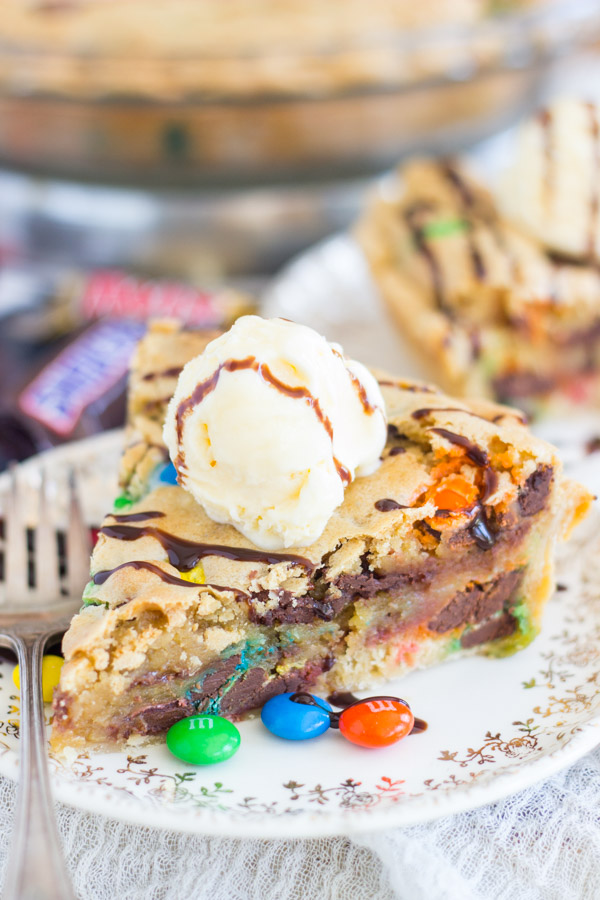 The best part of this pie – tied with how chewy the cookie is – is how the candy bars melt and meld with the cookie. They're everywhere, and they're melty and gooey.
The next best thing is how quickly you can prep it. With a store-bought pie crust, you can have this prepped in a few minutes. Hot from the oven, with a scoop of ice cream, it's a little bit of heaven on earth! It will keep you from being so generous to trick-or-treaters so that you have leftovers to make it. 🙂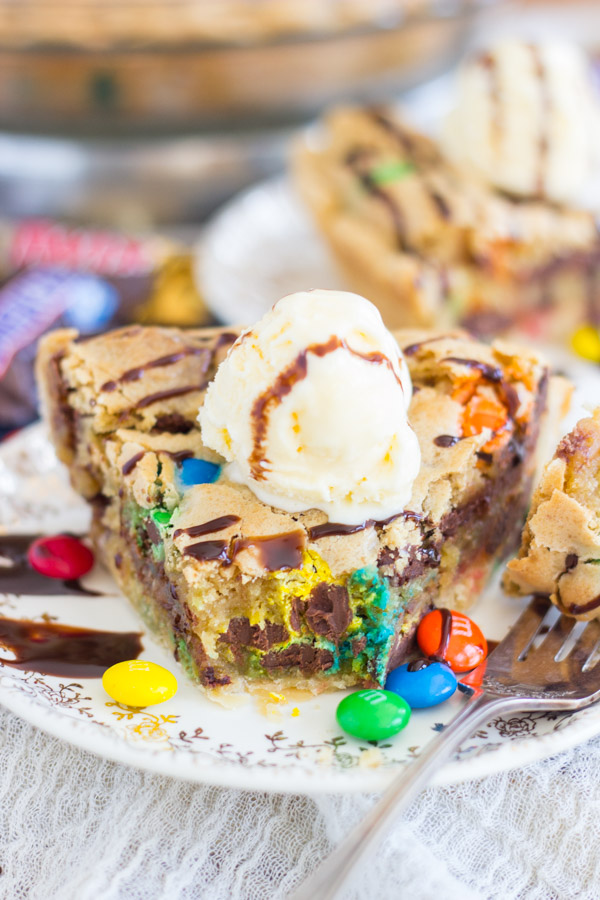 Candy Bar Cookie Pie
My favorite blondie cookie dough, loaded with leftover Halloween candy and candy bars, and baked into an ooey, gooey, chewy cookie pie!
Author:
Sarah @ The Gold Lining Girl
Ingredients
1 - 9-inch unbaked pie shell
1½ c. all-purpose flour
1 tsp. baking powder
½ tsp. salt
1½ c. packed brown sugar
¾ c. unsalted butter, melted and cooled
2 large eggs
2 tsp. vanilla extract
12 snack-sized candy bars, chopped (I used Snickers, Milky Way, Twix)
⅓ c. M&Ms
⅓ c. semi-sweet chocolate chips
Directions
Adjust pie crust in a deep dish pie plate.
In a large bowl, whisk together flour, baking powder, and salt.
In a medium bowl, whisk together brown sugar, butter, eggs, and vanilla extract.
Fold the wet ingredients into the dry ingredients, mixing until just combined.
Fold in the candy bars, M&Ms, and chocolate chips.
Spread into the pie crust.
Bake at 325 degrees for 40-45 minutes, or until edges are golden brown, the top is shiny, and a toothpick inserted near the center comes out clean.
Remove to a wire rack to cool completely. Cut and serve.